Here's some food for thought. When you travel to France you'd expect to start your morning with a cup of coffee and a croissant. When you travel to India you would, probably, like to dig into rice, chapati, and vegetarian curries. In other words, you'd like to try authentic food of the country, because where else if not there?
When it comes to Russia something really strange happens. First of all, Russians rarely eat out in restaurants specializing in Russian cuisine. You will be surprised, but the majority of restaurants are Italian and Japanese. Pasta Carbonara and Philadelphia roll are the bread and butter of XXI century Russia.
As a result, there are few restaurants serving traditional Russian food and even fewer restaurants serving regional cuisine. Russia is the biggest country in the world, so it goes without saying that culinary traditions vary from region to region. But for some reason, neither I nor any of my friends could say what is special about, say, cuisine of Ural Region, where I come from. The only dish anybody could name was Ural pelmeni, which is indeed traditional and delicious, but can it be all there is?
Searching for Ural cuisine in Ekaterinburg
I posted on Facebook asking my friends where I can find Ural dishes in Ekaterinburg — the capital of Ural region — where I am from. Only three people replied, recommending a newly opened restaurant 26/28 that is a fusion between European, Russian, and Ural cuisines. Other recommendations were of particular Ural dishes that you can find here and there on the menus of different restaurants. Well, this was something to start with.
I assume the reason behind this weird pattern goes way back to the times of iron curtain, when having American jeans was an elusive dream of every Soviet teenager and a lipstick brought from abroad – something to brag about. For the longest time it was common to think that imported is better than local. This kind of thinking infiltrated all areas of life, including food industry.
These days the situation is changing. Little by little, chefs try to reimagine Russian cuisine and introduce regional specialties to the public. The fact that 26/28, although a fusion of different cuisines, has opened in Ekaterinburg, is a step forward. When I met with Vladimir Olkinitskiy, chef at 26/28, he talked about his previous restaurant that specialized in Ural cuisine. At the time of the opening, his friends and colleagues did not believe in his success and tried to talk him out of it. I wish I could write that he proved them wrong, but it would be lie. The restaurant did close down eventually. It was a little ahead of its time. But now that digging into our own history and reviving traditions is a national trend, those same people are introducing long-forgotten recipes and use local produce in their dishes.
Steak House manager Natalia Fominykh agrees that this trend exists, but, as it often happens, "there are many people whose main goal is to make money on a trend and seek personal fame rather than actually promote Ural cuisine".
To my mind, as long as somebody tries to preserve the recipes of our grate grandmothers, I don't really care if along the way they seek out popularity. Just, please, do it before it's too late!
Below are the dishes I consider must-try in Ekaterinburg restaurants. It is not a compilation of traditional Ural recipes per se, but rather a list of foods inspired by Ural cuisine that you can only experience in Ekaterinburg.
Traditional Ural: Pelmeni at Pashtet
Let's start with the most famous dish of Urals – pelmeni. What is pelmeni if not a cousin of Italian ravioli and Chinese dumplings? Same idea: meat wrapped in thinly rolled dough and boiled.
Theories on origination of pelmeni are confusing and contradictory. Some of the researches think that the dish came from China, others that pelmeni were invented by Komi-Permyak tribes that inhabited the region of Urals and made their living by hunting. And what is easier to cook for a hunter who spends most of his time in the forest but pelmeni? They can be frozen and stored for months, and cooking only takes a few minutes. When Russians moved to Urals and Siberia they adopted the recipe.
The beauty of this dish is that you can find it pretty much anywhere: from a cheap student canteen to an upscale restaurant. Usually the filling is a mix of several minced meats: beef, pork, and lamb. Sometimes only beef and pork, sometimes beef alone. Traditionally, all three should be present, but nowadays there are many variations and you are free to choose what you like.
Pashtet – a cozy restaurant in Ekaterinburg city center – makes a classic version of this dish with all three types of meat. Pelmeni are served in broth with addition of Russian mustard, horseradish sauce, or sour cream.
Pashtet — 23, Tolmachev street, Ekaterinburg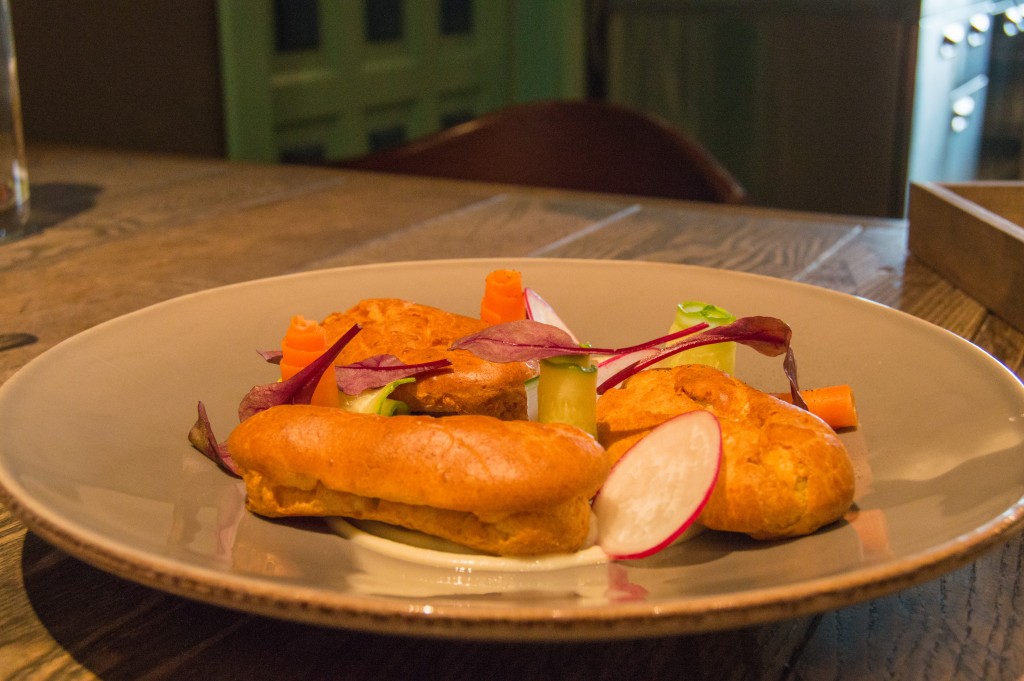 Contemporary Ural: 26/28 by Vladimir Olkinitskiy
26/28 is a newly opened venture of a chef who cares about preserving regional culinary traditions. Having said that, I must add that the menu at 26/28 is not your classic Ural food, but rather a mix of European, Russian, and Ural cuisines. Olkinitskiy, the chef at 26/28, confessed that his goal is not to hunt down the most authentic recipes and repeat them, but to rethink them and create something of his own based on traditions and history. This means a lot coming from a person who took time to travel to distant Ural villages and personally talk to babushkas (Russian grandmas).
Most of the items on the menu will astonish you with their unexpected ingredients and unimaginable combinations (think: soup of fried potatoes and red cabbage salad with Parmesan cheese). Do try eclairs made of spelt-wheat flour with mushroom mousse for starter. The mains include veal cheeks, pork belly, duck rillette, and selection of fish.
Tip: don't miss out on the restaurant's collection of special tea blends and designer cocktails. Think: Campari mixed with baked beetroot puree or a cocktail made with pine cone jam. Read more about chef Vladimir Olkinitskiy and his restaurant here.
UPDATE: Vladimir Olkinitsliy has left 26/28 to open a new restaurant Zames that specializes in pelmeni. Make sure to check it out when you are in Ekaterinburg! 26/28 is still open, but operates under a new chef.
26/28 — 26/28, Lenin Street (it's located in between 2 buildings with numbers 26 and 28)
Historical Ural: Naina Yeltsina's Bird Cherry Cake at 1991
Naina Yeltsina is the wife of Russia's first President Boris Yeltsin. If he was the first President can I say that she was the first First Lady? Is that a thing? In any case, Boris Yeltsin was born and raised in Urals and his political career started in the city of Ekaterinburg. Naina Yeltsina is famous for her hospitality, and her recipes are widely popular with Russian women.
The chef of 1991 personally visited the former First Lady to write down the recipes and try them out together with her, step-by-step. The authenticity of the recipes was later tested at the restaurant and approved by Naina Yeltsina herself and her daughter.
The most famous of her recipes on the menu of 1991 is bird cherry cake. Bird cherry is a berry common in the region of Urals, but is not widely-known outside of Russia. You better learn the Russian name of this berry – cheremuha – because if you ask for bird cherry nobody will ever understand you. The batter for the cake is made using bird cherry flour and the filling includes very rich sour cream.
1991 — 3a, Yeltsin street (inside Yeltsin Centre)
Ural American Fusion: EkaterinBURGER at Steak House
In short, EkaterinBURGER is a burger made in Ekaterinburg with all local ingredients. So, technically, Ekaterinburg is the only place where you can try it. The chef of Steak House, Mikhail Arakelov, made a trip to USA in order to track down the original recipes and best technologies. After returning back home, he worked on his own version of this classic dish.
The meat for the patty is chopped with axes so you can see the pieces of meat in your burger and be sure nothing is mixed in. The bun is made with milk sourced from a local village. The house special sauce features mayo produced in Ekaterinburg factory and honey brought from the neighboring region of Bashkiria. You can read the story of this burger and its creator here.
Steak House — 69/1, Lenin Street
This list is quite short so far, but I promise to add more dishes every time I travel home, to Ekaterinburg, and find something new!