The USA have cole slaw, Russia has salat "Vitaminniy". Both are essentially a fresh cabbage and carrot salad. The difference lies in the dressing: cole slaw is dressed with a mixture of mayonnaise and sour cream, while "Vitaminniy" — with oil-vinegar mix.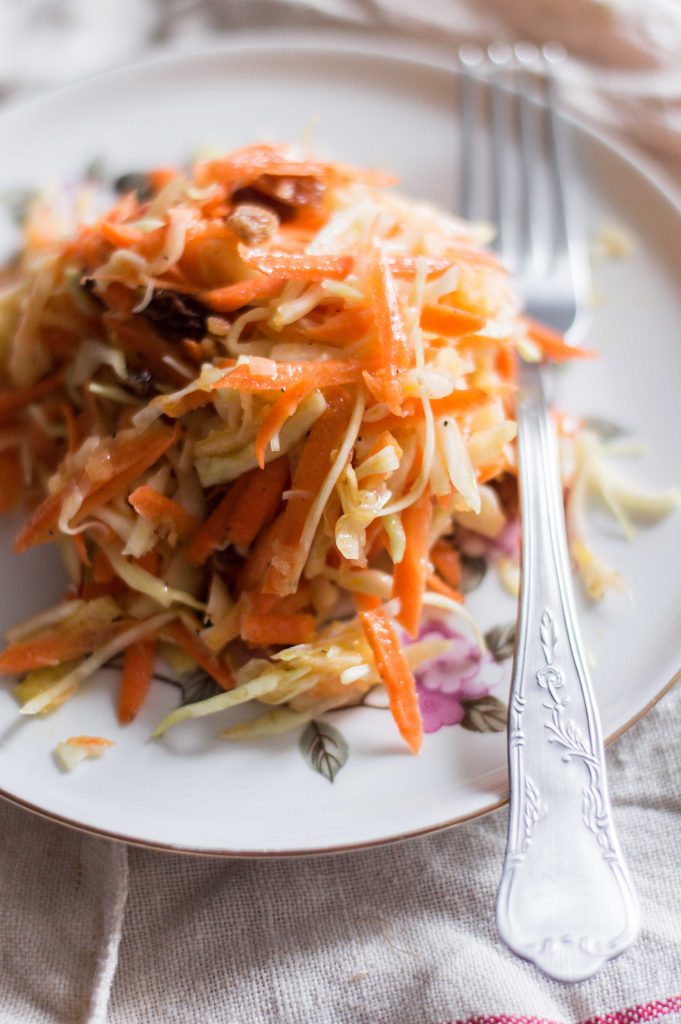 It's really quite ironic. Salat "Vitaminniy" is one of the two Russian salads I can think of that is not drenched in mayonnaise (the other one being vinegret). We love mayonnaise. So much so that Russia is on the top of the list of countries that consume the most mayonnaise in the world.
An average Russian eats between 2.5 and 5 kg of mayo per year. In the region where I was raised, that number goes up to terrifying 8 kilos.
People who think that salads are by definition healthy haven't tried Russian salads. So hearty and heavy, they could be a meal on its own, not simply a preamble to one.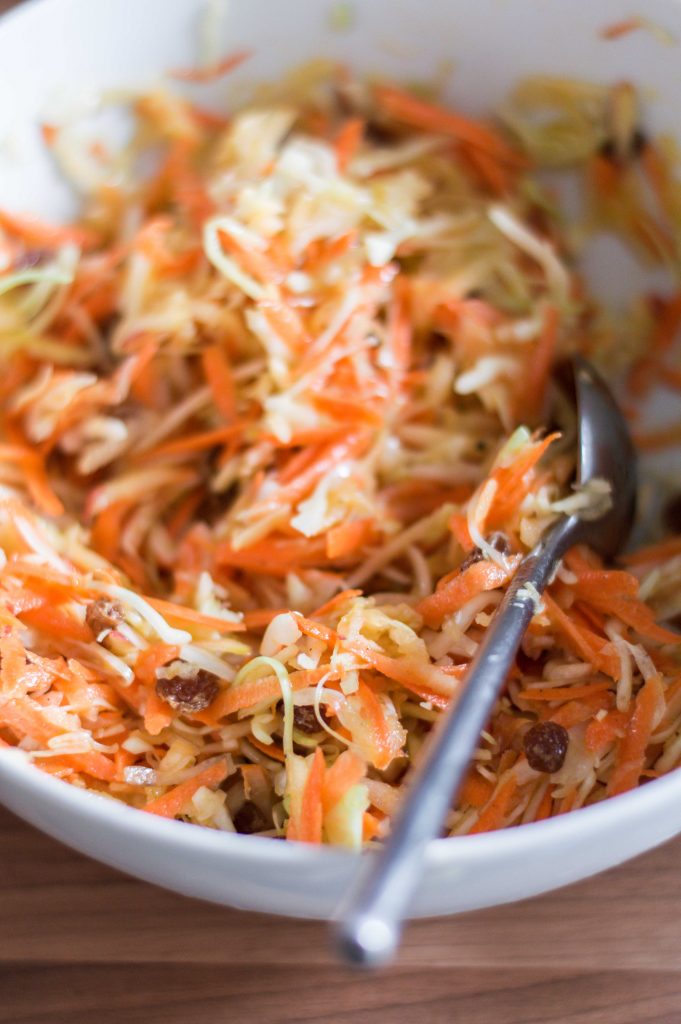 But salat "Vitamminiy" is true to its name — full of vitamins — which is why mayonnaise has no business being there.
I realize this is barely even a recipe. I learned to make this salad at the age of eleven at a home-science class at school. Girls learned how to cook and sew, while boys — to work with wood. Ah, the gender stereotypes!
The teacher would give us a list of ingredients we were supposed to buy for the class. We'd also bring loose tea leaves and something "k chayu", something sweet to have with tea after all that hard work at the class.
The Secret of a Perfect Cabbage and Carrot Salad
Salat "Vitaminniy" was the very first thing we made. And that's where I learned the trick no-one seems to be talking about when it comes to cabbage and carrot salad.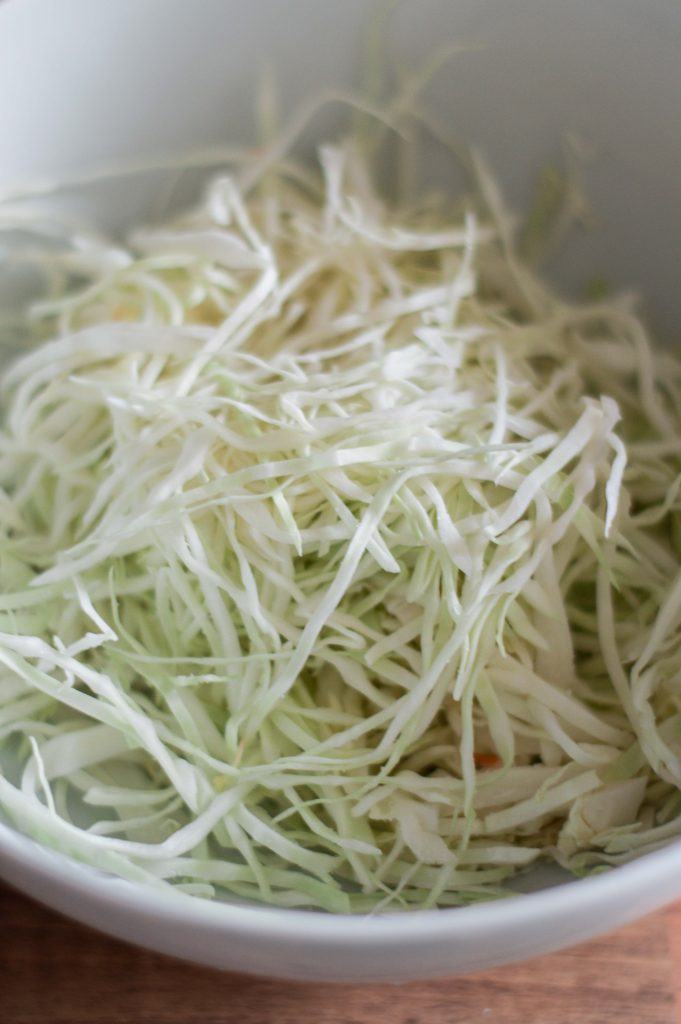 The trick is to squeeze some liquid out of cabbage with your hands first. Once you shred the cabbage, place it in a bowl, add salt, and work through it with your hands for a few minutes. The cabbage will still remain crunchy, but will be much softer and juicier. That's the one important thing.
The rest is up to you. You can add more carrots or apples to make it sweeter. I add raisins which are not part of the original recipe, but then again what is the original recipe? I've seen people add bell peppers, cucumbers, and even beets to salat "Vitaminniy", none of which I use.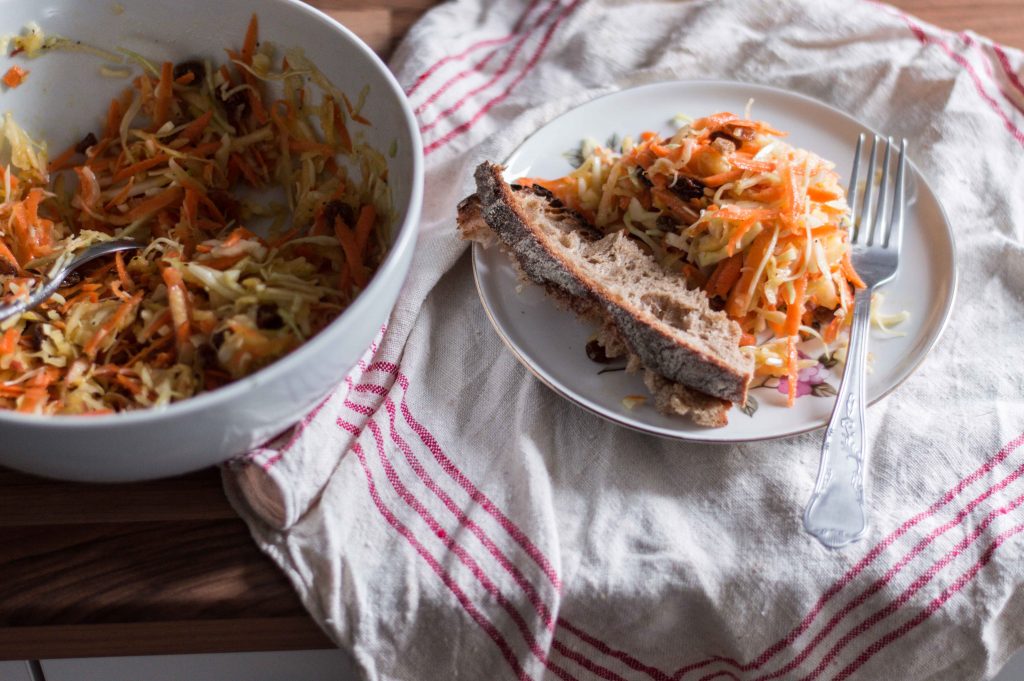 At that first home science class I was responsible for making tea. When there's only one simple salad to make and six eager girls, someone has to step down and make tea, you know.
I placed the tea leaves into a tea pot and was about to pour hot water when Anya, my classmate, snatched the pot away from me: "Don't you know you should splash the pot with boiling water first?"
Apparently, some eleven-year-olds are much more proficient in the kitchen than others. So I learned two important things at that class: to squeeze the cabbage and to splash the tea pot with boiling water before adding tea leaves. I then went home and made my parents the most amazing dinner or their lives, without having to fight for the right to grate carrots.
Yield: 950g
Salat "Vitaminniy"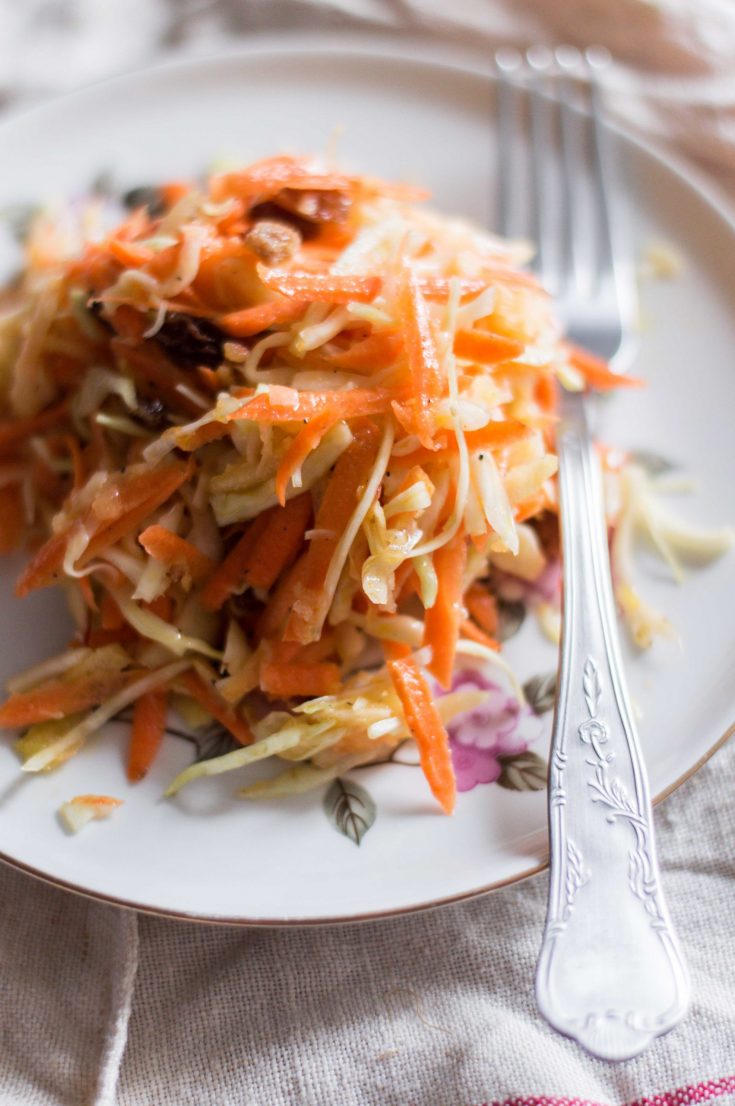 Russian cabbage and carrot salad full of vitamins. Excellent as a start of the meal or as a side with meat or vegetables.
Ingredients
1/2 medium cabbage (about 700g), washed, top leaves removed
1 tsp salt
2 carrots (230g), peeled
1 big sweet apple (200g)
60g raisins
4 tbsp olive oil (or sunflower oil)
2 tbsp apple cider vinegar
1 tsp cater sugar
Instructions
1. Place raisins in a bowl and pour hot water over them. Leave to soak.
2. Shred the cabbage thinly. Mandolin is best to do this quickly.
3. Place the shredded cabbage in a big bowl. Add salt and press the cabbage with your hands, turning it over as you go, to release some juices. Don't use too much strength, it should feel like a light massage.
4. Grate carrots on the large holes of a box grater and add them to the salad.
5. Grate the apple (no need to peel the skin off as that's where all the vitamins are) on the large holes of a box grater. Press some juice off the grated apple. This is important, otherwise you'll end up with too much liquid in the salad.
6. Make the dressing: mix oil, vinegar, and caster sugar in a bowl. Pour over the salad and mix well. Taste and see if it needs more salt.
7. Wash the raisins and mix them into the salad.
8. Place the salad in the fridge for at least 30 minutes before serving.
Nutrition Information:
Yield:
6
Serving Size:
1
Amount Per Serving:
Calories:

137
Total Fat:

9g
Saturated Fat:

1g
Trans Fat:

0g
Unsaturated Fat:

8g
Cholesterol:

0mg
Sodium:

399mg
Carbohydrates:

15g
Fiber:

2g
Sugar:

11g
Protein:

1g
Pin for later: