Vladimir Olkinitskiy must be the most popular and controversial chef in the city of Ekaterinburg at the moment. On my quest to find traditional Ural cuisine in the heart of Urals – Ekaterinburg – his name and that of his newly opened restaurant 26/28 came up time and again.
It's one of the most talked about new venues and everybody seems to have a strong opinion on every little detail: from interior design that boasts real moss on the walls to extravagant culinary experiments to non-existent address.
Talking about non-existent address, the restaurant is located in between two buildings numbered 26 and 28 on Lenin Street and doesn't have its own number, which proves the lack of address and explains the name of this place. Being situated in the city center the restaurant is not hard to find and when I step inside I get a chance to form my own opinion on design and the moss in particular. I find it refreshing. I like how the dining room is small and cozy, the floor looks like a XIX century cobblestone road, and the walls are a mix of rough red bricks, fluffy green moss and a colorful mural of a yellow fox in the back.
In a minute, though, I will have to form an opinion about the most talked about chef and, to say the truth, I feel slightly nervous. But from the first minutes of our encounter I realize that the man in front of me is the most humble and modest chef there can be whose priority is making great food and his own fame is the least of his concerns.
Dressed in the same checkered shirt, grey apron and a flat cap as other cooks Vladimir doesn't look like your regular chef: no white hat, no name embroidered on the jacket. The only thing that makes him stand out among others is, probably, his height. He is hands-on in the kitchen that is wide open for public view and prepares food shoulder to shoulder with his coworkers.
Vladimir Olkinitskiy, in fact, had never even thought of becoming a chef or showed any interest in food preparation until at the age of 17 he found himself in a culinary school by mere accident. The rest is history. He spent many years perfecting his skills and devoting his time and energy to discovering cuisine of Ural region and long-forgotten recipes of our ancestors. Just think of it: a person so dedicated to find the roots of local gastronomy that he travels to a distant village in order to talk to Russian babushkas (grandmothers) and see with his own eyes how they prepare food.
When you go off the beaten road the things you uncover can be really unexpected. Like the fact that the most popular Ural dish – pelmeni (similar to Chinese dumplings) – used to be served as appetizer, not as main dish like we are accustomed to have it nowadays. Or something that you intuitively felt to be true gets confirmation. Like in case with cucumbers which are one of Vladimir's favorite ingredients – who would have thought that something as unpretentious as a cucumber can be a chef's favorite? Turned out in XIX century cucumbers were grown in large greenhouses on lake Shartash in Ekaterinburg, thus proving to be one of the most important ingredients in Ural cuisine.
Although Olkinitskiy has spent many a day learning the traditional ways of preparing Ural dishes, he confesses that it is not his goal to seek out the oldest recipes and repeat them. His goal is to create something new, something of his own based on his knowledge of history. He draws a parallel with Scandinavian cuisine that was forgotten for many years until modern chefs got together and made a decision to create it from scratch. Today Scandinavian food is a point of attraction for travelers from all over the world. That's what Ural cuisine needs right now. As Vladimir Olkinitskiy puts it:
"Ural cuisine is cuisine created by Ural chefs using local ingredients".
So in the menu of his new venue – 26/28 restaurant – he is playing around with lesser-known flavors and textures, combining European, Russian and Ural cooking. Hence, eclairs are made of spelt-wheat flour here, filled with mushroom mousse and served as appetizer. The dough is soft and fluffy while tender mushroom mousse makes for a unexpectedly perfect filling.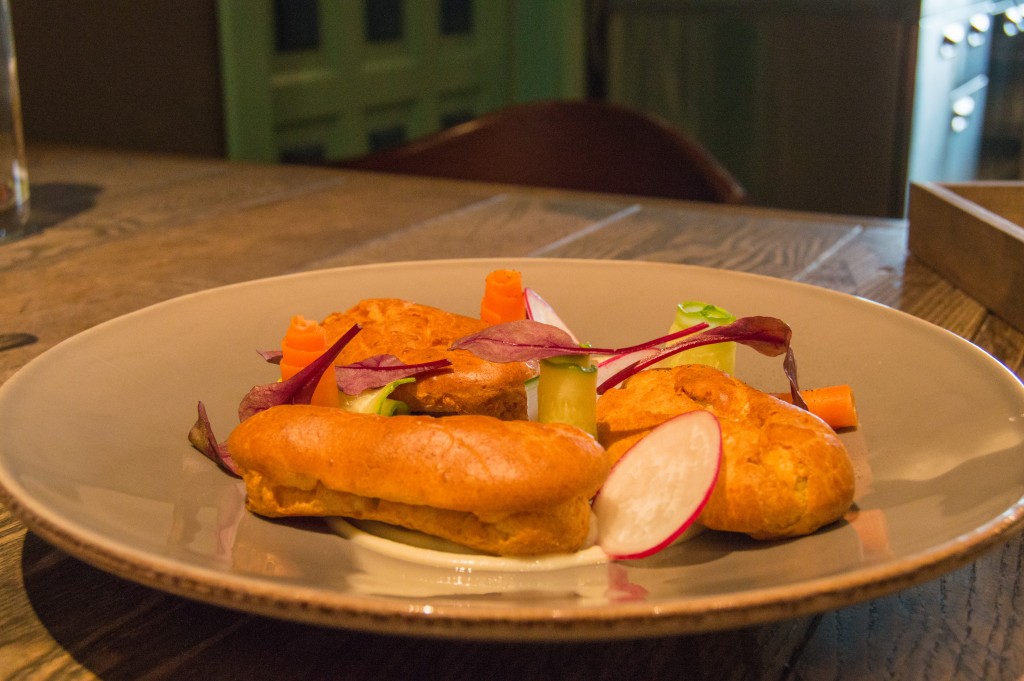 Chicken liver pate is served with pieces of Borodinskiy bread – oh, this bread! One of the things I miss the most when outside of Russia is this dark brown rye bread. Rye bread in America is just a pale-white forty-second cousin of Borodinskiy bread. And all this beauty is decorated with beetroot cream.
On a side note, ceramic plates are made by Ural craftsmen: the dishes are covered with fabric soaked in cream and then baked.
The rest of the menu will also impress you with original approach and not-your average choice of ingredients. You can have a soup made of fried potatoes or veal cheeks, slow cooked for 32 hours. Some of the more traditional options include salmon with a side of cauliflower…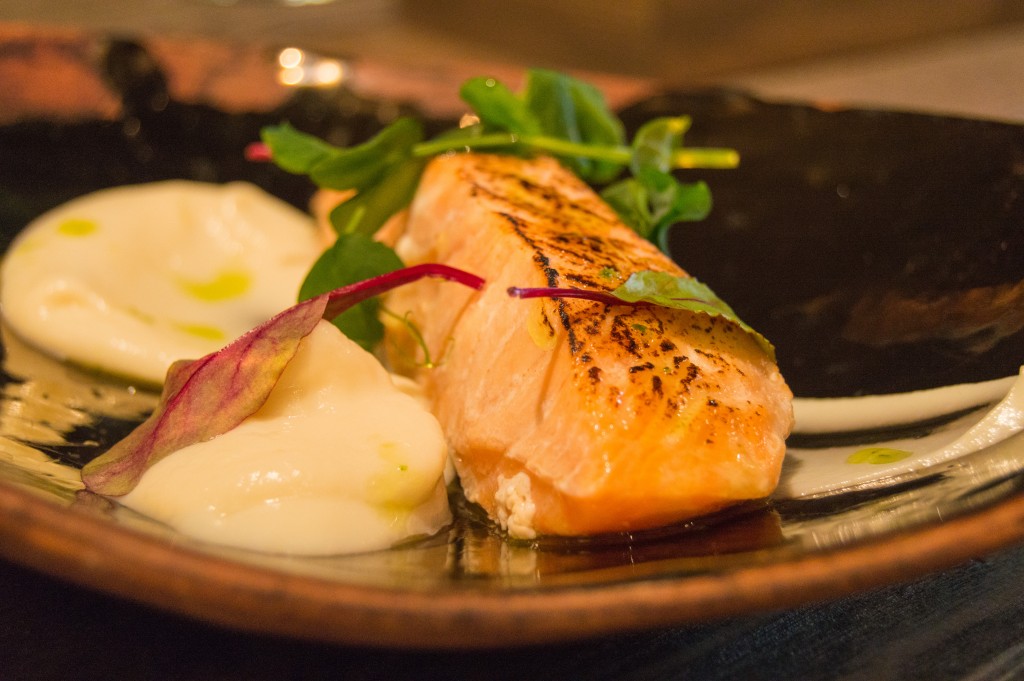 And zander served with boiled potatoes and hollandaise. But even such a simple and ordinary (for a Russian native) combination of fish and potato has something special and unknown in its flavor profile.
All in all I have a feeling of eating a hearty homemade meal prepared by a loving mother but with a twist of extravaganza and uniqueness brought by an experienced chef.
So no wonder that simple pan fried sirniki that many Russian women make on a Sunday morning for breakfast are reimagined at 26/28 and served as dessert. First of all, they have a ball shape instead of a patty-like shape and are deep fried. Second, they are presented with meringue pieces and dried apricot cream.
Third, and this is the most fun part, this dessert is meant to represent Chelyabinsk meteorite. Do you remember, when back in 2013 a meteorite hit the ground in Chelyabinsk (south of Ural region) causing a powerful blast wave? So this is it. Two balls of cottage cheese playing the role of meteorite, meringue pieces as debris and even dust are perfectly edible.
I feel like opening 26/28 is a small revolution, a first step in the direction of reviving local cuisine. It makes me happy that I can recommend a great place with Ural food to my out-of-town friends. Plus the menu is going to change several times a year in order to use seasonal ingredients. So there's always a reason to stop by and treat yourself to an honestly good food by Ural cuisine rebel Vladimir Olkinitskiy.
To try out one of the best Ekaterinburg restaurants head down to…
Address: 26/28, Lenin Street, Ekaterinburg, Russia (it's located in between 2 buildings with numbers 26 and 28)
Hours: 12 pm till the last guest
Pin it for later: