My mom makes killer pan-fried potatoes. I once told her it's her signature dish and she got offended. "Pan-fried potatoes? Really?" Not her solyanka, not her kholodets, not the "bear cake" she makes for every New Year celebration (no bears are harmed in the making of the cake), but the simple fifteen-minutes pan-fried potatoes.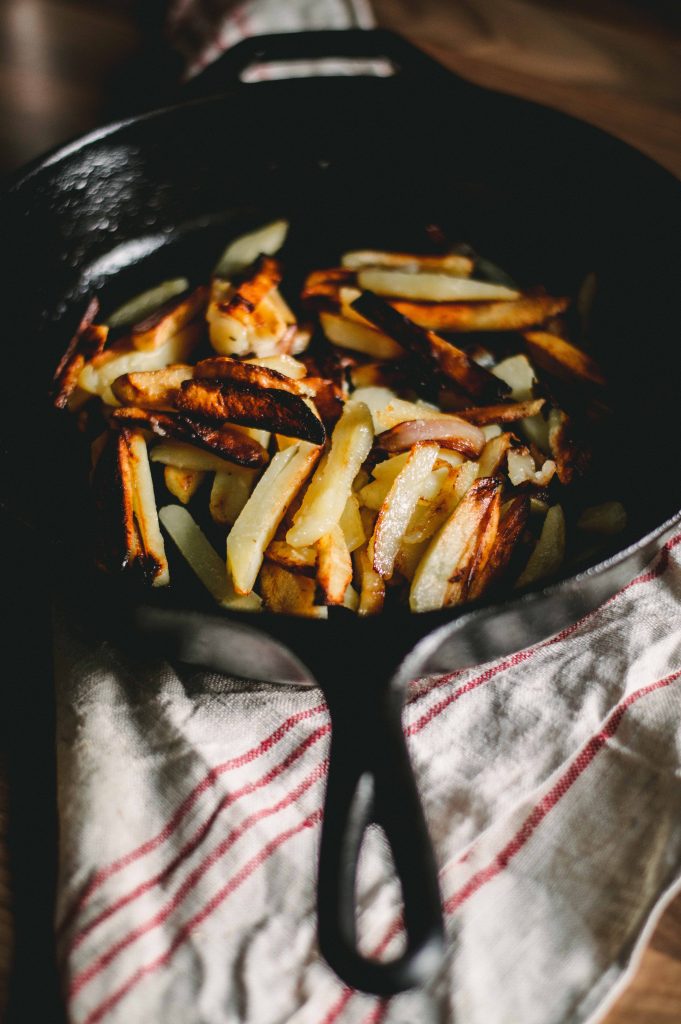 The way my mom sees it, fried potatoes are easy-peasy-lemon-squeezy. She makes them whenever there's nothing left in the fridge or when she doesn't want to spend much time cooking.
The way I see it simple food can be the trickiest to get just right. I watched my mom fry potatoes hundreds of times, then I tried to do it on my own… I can't say I failed. I could fry potatoes all right, but they were nothing like mom's. Delicious, but not my mom's.
When I asked her for the recipe, she sent me this:
"Fry on high heat under a lid, mix often."
This was not the most detailed recipe in the world, but it was a start. I was enthusiastic on my first try which, of course, was a flop. The second time around was no better. Neither was the third, the fourth or the twelfth. My potatoes got burned, stuck to the bottom, were too soggy, or raw on the inside.
I tried frying on high-heat and medium-high heat; using sunflower oil, raps oil, clarified butter; covering the pan with the lid and leaving it uncovered (contrary to my mom's instructions — I was desperate); drying potatoes with paper towels, cutting them thinner, frying fewer potatoes at a time. I even went down the rabbit hole of exploring the different varieties of potatoes and their characteristics.
I tortured my mom with questions over what kind of potatoes she uses, and her very specific answer was "normal potatoes". My mom is so badass she can fry any variety: old or new, waxy or starchy. In fact, she's so badass she doesn't even use a cutting board. She holds a potato in one hand and a knife in another and cuts the slices right into the heated pan. And then she uses the same knife to mix the potatoes. On a cast iron pan! That's how badass she is.
My parents own two cast iron pans that are about as old as I am. My dad bought one on a whim because there was an arrival of cast iron pans in the shop near the dormitory where they lived. That's how people bought everything back in the day: something or other hits the shelves of a store, you get in line and buy it. Who knows when you'll get another chance.
So dad came home victorious, with a cast iron pan. And mom immediately turned him around to get a second one. It's been thirty two years and these pans are literally — and I mean literally — indestructible.
All those rules like "don't scratch a cast iron pan", "rinse with warm — but not soapy! — water", "slip a single paper towel into the skillet for storage" do not apply to my parents' pans. I'll tell you more, we even leave them to soak sometimes! Gasp!
On the other hand, my newly-bought cast iron skillet is a demanding little brat. I hope that if I use it often enough it will repay me with non-stick surface, but so far it's been one disaster after another, especially when it comes to fried potatoes.
I could, of course, fry potatoes on a non-stick pan, but I feel like that would be cheating, like I finally gave up. And I wasn't ready to throw the white flag yet.
As you are reading this you probably realize that I did eventually succeed. What did the trick in the end was an accident.
I was batch-peeling and cutting vegetables one day and left my peeled potatoes in a bowl of water to avoid discoloration. These potatoes were meant to be fried for dinner (try number fifteen or fifty five — I lost count). What I didn't realize is that leaving peeled potatoes in water helps to remove the starch which, in turn, helps potatoes get crispy when fried.
I heated the oil until it was almost splattering before adding potatoes — prevents them from sticking to the bottom. Covered potatoes with a plate — by now I got a few tricks of my own — and mixed them every few minutes. About half way though my best attempt at fried potatoes Kroshka, my eight-month-old son, woke up. "Watch the potatoes! Don't let them stick!" I screamed at my husband while running to the bedroom. 
I didn't have high hopes. My husband doesn't cook. He can fry eggs all right, that's about it. "There goes another failed try", I thought. I put Kroshka back to sleep and came out of the bedroom to the most familiar, cozy smell of fried potatoes. He somehow did it. They didn't stick. They were not soggy. They were my mom's perfect fried potatoes. I took a picture for instagram, captioned it with "Mom, mom, look, mom! I did it!" My mom replied with a smiley face.
Tips for Making the Best Fried Potatoes
Choose waxy potatoes. They have lower starch content and hold their shape during cooking. I use what in Germany is referred to as festkochend potatoes.
Peel the potatoes and leave them covered in cold water for at least two hours. If you are planning to fry them for breakfast, you can leave the water bowl in the fridge overnight. This helps to remove the starch and get them crispy when frying. Wipe potatoes with a towel before cutting.
Cut the potatoes thinly. I had to look this up in Google, but I think the cut is called allumette ("matchstick" translated from French). The slices should be thin enough to cook through quickly.
Don't crowd the pan. The less potatoes you are frying at a time, the higher your chances to succeed are. Less potatoes = more crisp. More potatoes = still delicious, but less crispy.
Heat up the pan, add the oil and wait until it's almost splattering. Adding potatoes while the oil is cold will result in them sticking to the bottom and burning.
Fry under a flat lid (or a plate), don't cover the pan fully. This is something I figured the hard way. You need a lid to help potatoes cook through fast. At the same time, there should be space for steam to escape, so potatoes don't turn soggy. My mom's cast iron is rather big and she uses a flat non-matching lid to cover potatoes. The lid is smaller than the pan, so it simply rests on top of potatoes with the sides of the pan uncovered. I use a small plate.
Mix every 2.5 – 3 minutes. I fry on medium-high heat. On the one hand you should allow potatoes to turn golden and crisp up, on the other hand, crossing the border into burning is easy. So keep an eye on your potatoes and don't leave the kitchen.
Salt at the very end, once the potatoes are done.
My Mom's Pan-Fried Potatoes
Crispy fried potatoes made in 15 minutes
Additional Time
2 minutes
Ingredients
2 large potatoes (350g)
40 ml (8 tsp) sunflower oil
salt
Instructions
1. Peel potatoes, place them in a bowl with cold water for at least 2 hours.
2. Wipe potatoes with a towel. Cut them into thin sticks (allumette cut).
3. Heat a cast iron pan on medium high heat. Add sunflower oil and heat it until it's almost splattering.
4. Add the potatoes to the pan and cover with a flat lid or a plate (see my tips in the body of the blog post).
5. Fry for about 12-13 minutes, mixing every 2.5-3 minutes. Move the pan from the heat when mixing to avoid oil splattering on you.
6. Once done, salt to taste (I use about 2 pinches) and mix again. Serve immediately.
Nutrition Information:
Yield:
2
Amount Per Serving:
Calories:

450
Pin for later: