If you are visiting Sri Lanka for the first time, oh how I envy you! The first acquaintance with the country is always special. After living here for the past 8 years on and off I can finally share all my Sri Lanka travel tips, but I still remember my first time, when I looked around with eyes wide open, didn't know how to bargain with tuk tuk drivers (also didn't know that a regular tuk tuk can fit eight (!) people, very poor and drunk people at that), and saw locals eat rice and curry by hand for the first time which caused all kinds of emotions in me.
Little did I know that soon I will be cooking curries myself, eating by hand without making a mess, and expertly directing tuk tuk drivers in Sinhalese. Below are my most important Sri Lanka travel tips. I am sharing all the things you should know before going to Sri Lanka based on my personal experience of living in this country and traveling around since 2010.
Disclosure: this post contains some affiliate links which means if you buy something by clicking the link I will earn a small commission at absolutely no extra cost to you.
Visa
Before traveling to Sri Lanka, make sure to get your visa. While a few years back you could come to Sri Lanka and get visa on arrival, nowadays ETA (Electronic Visa Authorization) is required. It's an easy process. Go to ETA official website, click "apply", fill out the form and pay a fee. The permit for entering the country will be sent to your email within 24 hours. Technically, you can still get visa on arrival. There's a window at the airport where you can fill out the form and pay a fee, but 1) you don't want to waste time in line at the airport 2) nowadays, they ask for visa confirmation at the port of embarkation and you won't prove that it's possible to get visa on arrival.
Have a return ticket or at least a tentative booking of a return ticket. Immigration officers  don't usually ask for it, but it's officially required and if they do ask you don't want to be stressed out before you even came out of the airport.
Visa is valid for 30 days since the day of entry, but you can always extend for additional 60 days if you want to stay longer. You'll need to visit Immigration and Emigration Department in Colombo to extend your visa. Expect to spend at least half a day there. Usually you submit documents in the morning and pick up your passport after lunch. You don't have to stay and wait for hours while they are processing your visa. Go out for lunch or for a walk in Diyatha Uyana Park nearby. Water's Edge Hotel is located steps away from the park and its premises are very beautiful too.
Connection
Get a local Dialog sim card. You can use data to call home via Skype or Watsup. Data is also very handy when you are traveling and need to use Google Maps or simply stay connected with the world. A thousand rupees is enough for me for a month in Sri Lanka. To get a sim card you'll need a photo ID. It can be done right at the airport (there's a Dialog stand there), at the official office in Colombo, or in a small stand by the road. Dialog has a tourist prepaid plan. For approximately $9 you can get a sim card with 9 GB of data and Rs 350 worth of local calls. You can also choose post-paid option and buy scratch cards from small shops by the road whenever you need a reload.
Wifi is available at many hotels, hostels, restaurants, and cafes across the country. It's not always reliable and fast, but you'll find it in most touristy areas.
Standard voltage in Sri Lanka is 230 V, standard frequency 50Hz. D, M, and G type of power sockets are used throughout the country (the plug either has three round pins or three rectangular blades).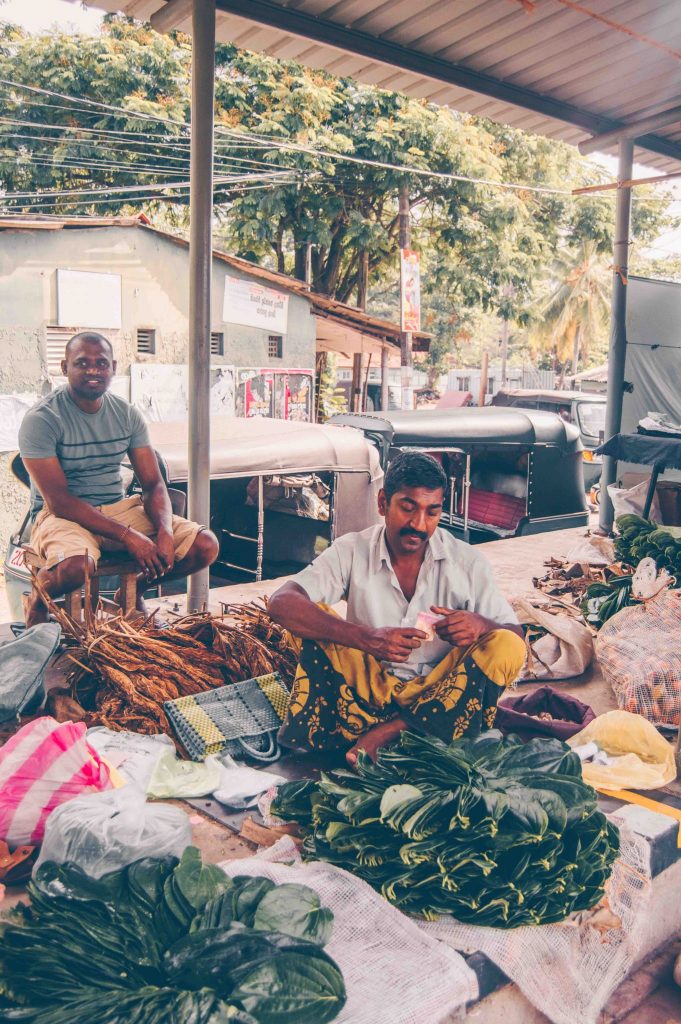 Money
The currency in Sri Lanka is Sri Lankan Rupee. You'll see a sign "Rs" on price tags, which means "rupees". You can exchange money at the airport, the rates are usually decent and it's safe and easy. The exchange centers are impossible to miss. When you get the luggage and come out to the airport lounge/hall (whatever you call it), you'll hear people screaming at you: "Madam! Dollar exchange! Sir! Rupees here!" You can also exchange money in one of the banks in bigger cities where you travel. ATMs are pretty easy to find too.
Have some change on you at all times. Although nowadays you can pay with credit card in hotels, restaurants, and supermarkets, there are still small shops in rural areas where only cash is accepted. Same goes for tuk tuks.

Transport: Tuk tuks
Tuk tuks (they are also called three-wheelers and  trishaws) are the most common way of covering small distances. One of the most important travel tips for those who are traveling to Sri Lanka for the first time: always (!) get a meter tuk tuk. It will save you money and keep your vacation stress-free. If a tuk tuk doesn't have a meter, wait for the next one. If there's a meter, but the driver says it's broken, get out and get another one. Going without a meter in most cases means you will pay two, three, or five times more.
In some areas (like Unawatuna because of great amount of tourists or in Kandy because there are many steep hills) the drivers don't use meter. That is not only a problem for tourits, but for locals too. In this case, ask around from locals how much it costs to get to your destination, then negotiate with the driver. If the driver doesn't agree, don't be afraid to let him go and find another one. It might take some time, but there's always another tuk tuk coming by. It's always better to have change. A common way to get more money from tourists is to say there's no change for your 500 Rs or 1000 Rs bill. Sometimes it's true, sometimes it's a scam.
Don't get into tuk tuks near touristy locations. That's where you usually find out that all the meters are "broken". Walk away, turn around the corner and catch a tuk tuk that's passing you on the road. It's important to walk away because there's "tuk tuk mafia" in such places. The driver you stop might get in trouble for picking you up if tuk tuk drivers near the tourist attraction see it.
Cover your mouth and nose with a scarf (this scarf is an awesome option for travelers as it has a hidden pocket for money/passport) and put your hair in a ponytail or a quick braid when riding in a tuk tuk. Since it's open from all sides all the dirt and smoke from passing by cars will end up on your face. And no hairbrush will help with your hair if it's loose on a tuk tuk ride.
Transport: Other Modes of Transportation
Ok, enough with the tuk tuks! It's not the only mode of transportation. In big cities like Colombo and Kandy it is actually easier and more comfortable to use ride sharing apps like Pick Me and Uber (Pick Me is a local app). Order beforehand, it might take 10-15 minutes for the car to arrive, but ultimately it's more convenient since you don't have to bargain and deal with change. Plus the price per ride is usually almost equal to that in a tuk tuk.
Another way to get around is by bus. I don't recommend using a bus in Colombo city area, especially during rush hour. I used to do it for the whole of my first year in Sri Lanka and it's ok, but there's a big chance someone will try to brush against you or touch you "by accident". It's really worth to spend a little more money on a tuk tuk or Uber in Colombo. On the other hand, traveling from city to city by bus is fine. There are luxury air-conditioned buses to some destinations. For example from Maharagama (close to Colombo) to Galle or from Colombo to Jaffna. You can also take a regular local bus to get to places. It's cheap, but it's possible that you'll have to stand the whole way.
If you are traveling down south (for example, Colombo to Galle) or to the hill country (Kandy to Ella), train is the way to go. One of the most scenic train rides is from Kandy to Ella. You can get a ticket right before the ride, but only for the second or third class which still doesn't guarantee that you'll get a seat. You might have to stay in between carriages which is fun if you do it once or twice since you get the best view, but can get boring if you have to do it often. First class tickets and observation compartment tickets have to be booked in advance.
Because getting a seat on a bus or train is not always easy, many tourists opt for renting a car or van with a driver for the whole trip (or parts of it). It's not as fancy as it sounds and is common practice. It especially makes sense if you have a big group. You can rent a van and share the price. It's cheaper to rent a car with no AC, but not as convenient, of course. You can hire a rental car through a tour agent. I wouldn't recommend renting a car without a local driver because…
… because driving is freaking insane in Sri Lanka. Even seating on a passenger seat makes me stressed, I wouldn't wish having to drive in Sri Lanka upon my worst enemy. The rules exist only in theory, people honk constantly for no reason whatsoever, parking in the city is a headache. Believe me, you don't want to deal with this on vacation.
Since Sri Lanka is a tiny island there's practically no space between cities and villages. One city ends and right away another one starts. You won't even notice. On my first trip out of Colombo I was waiting for two hours when the city was going to end and it never did. "Wow Colombo is really huge!" I thought to myself. Then someone explained that we were out of Colombo for hours by that time. A little travel tip to understand where in Sri Lanka you are at any moment is to look at the name boards of shops and cafes by the road. All of them have address written in small letters at the bottom. The last word in the address is usually the name of the town (or in Colombo the name of the neighborhood).
Be prepared that driving will take much longer than you expect. There are a few newly built highways in the country. One from Colombo to Matara (down south), another one from Colombo to the airport. Other than that the roads are in pretty bad shape, traffic is insane and covering 50 miles might take you two-three hours depending on the time of the day. Don't plan too many activities in different places in one day or you'll end up feeling stressed and exhausted.
Weather
The weather in Sri Lanka is not defined by seasons, but by monsoons instead. The southwest of Sri Lanka is hit by monsoon from April to September, while the northeast – from November to March. This means that any time of the year there are areas in the country where it's not raining and you can enjoy your vacation. You just need to plan your itinerary accordingly. Having said that, I want to mention that rains in Sri Lanka are quite brief. It rains cats and dogs for 15 minutes, then it stops completely and you can go on with your day. It's not ideal, but it never stopped me from traveling around the island. Just pack a light rain jacket in your luggage and you are good to go! This eco-friendly rain jacket is super cute, by the way.
The temperature stays consistent throughout the year at 26-30 C (78-86 F), but might go up even higher in the hottest months around April-May. The temperature goes down once you reach the Hill country. In Nuwara Eliya and Ella it can be as low as 10-15 C (50-60 F). Humidity is very high all over the island. The average is 60%, but in the southwest it can go up to 80-90%.
Attractions
Sri Lanka is tiny, but incredibly rich and diverse. In three and a half years of living here I still didn't cross off all the things to do on the island. My advice if you are traveling to Sri Lanka: don't try to fit everything in your two-weeks itinerary. Prioritize and account for the long traveling time, even though distances are not that long. It might take you more than one trip to get to know this island.
Don't get stuck on the beach. Sri Lanka has some of the best beaches in the world: you can explore Mirissa, surf in Weligama, or dive in Kalpitiya, but the island has so much more to offer! You can divide the country into 3 parts: beaches, mountains, and historic sites. My personal favorite are mountains: from an easy hike to little Adam's Peak in Ella to climbing 5000 steps to Sri Pada at dawn. The latter might sound like a challenge, but if these guys can do it with a baby, so can you! Historic sites include ancient cities of Polonnaruwa and Anuradhapura where you can see the temples and palaces built over a thousand years ago. If you are visiting Sri Lanka with kids, they will enjoy elephant safari in one of the many national parks.
The north and northeast of the country are way less crowded than the southwest. You'll have to spend more time getting there, but the serenity and the lack of tourists are worth it. Jaffna, the city on the north tip of the country, is one of the most unique and interesting places to visit.
Colombo is worth a one day stop. Two days maximum. While many tourists skip Colombo all together, I think the capital, although hectic, dirty, and busy, is worth checking out for two reasons: food and shopping. No other city on the island has such diverse and vibrant food scene as the capital. You can try cuisines from around the world as well as from different regions of Sri Lanka. You can find hole-in-the-wall cafes as well as hip coffee shops. And you can buy some awesome Sri Lankan-made goods like batiks, clothes, and china which are not to be found in souvenir shops in touristy towns by the beach.
Packing
If you are planning to travel around the island a lot, get a backpack. Unless you are going to rent a car and hire a driver, it will be hard to carry your luggage from bus to train to tuk tuk. The roads are not meant for wheeled suitcases. Even if your plan is to stay in a hotel by the beach and take short day-trips from there, it's comfortable to have a small backpack to take all you need for the day (I have this one).
Bring a shawl to cover your shoulders and a long skirt that covers your knees (long shorts for men) if you are planning to visit a temple (most likely you will).
Pack a jacket or a pullover if you are planning to go to the Hill Country. The temperature there goes down 10-15 C (50-60 F). It is especially cold at night and, unless you are staying at a fancy hotel, there might be no hot water. So layer up! A jacket will also be handy if you are traveling by a luxury bus. The AC works at full blast and you can easily catch a cold.
It's better to buy sunscreen and bring it with you, because it's ridiculously expensive in Sri Lanka. I recommend to get a mineral sunscreen (I use this one) that is eco-friendly and safe for coral reefs. Ladies, bring enough feminine hygiene products for the trip. Tampons are hard to find and expensive. Better yet, get a menstrual cup, if you are not using one yet. The toilets in roadside shops are not of high standards, usually small and always wet. Menstrual cup doesn't have to be changed for up to 12 hours which makes your life here much easier and hygienic.
Another travel tip for Sri Lanka. It might sound funny, but have some toilet paper on you. You don't have to bring it from your home country. Get a roll from a local supermarket or just grab some at the hotel. Roadside toilets usually don't have toilet paper.
Dressing up
In touristy towns by the beach, in the southwest of the island, you can wear pretty much whatever you like. There are way too many tourists so short skirts and shorts are fine. But if you are traveling to ancient cities or less touristy areas of Sri Lanka I would recommend for women to cover up a bit more. There are no official laws, but if you don't want to stick out in the crowd, it's better to wear a blouse that doesn't show cleavage and a skirt that's not too short (just above the knee is fine). If you are a white woman, you will attract a lot of attention anyways. Talking from my personal experience, you'll want to cover up as much skin as you can under the constant stairs of people on public transport and in the streets.
To enter temples, your shoulders and knees should be covered. I once had to lend my shawl to a friend in Kandy because his shorts were too short for the temple. You'll also have to remove your shoes before entering any temple, so wear something like sandals or Birkenstock that are easy to slip off and on.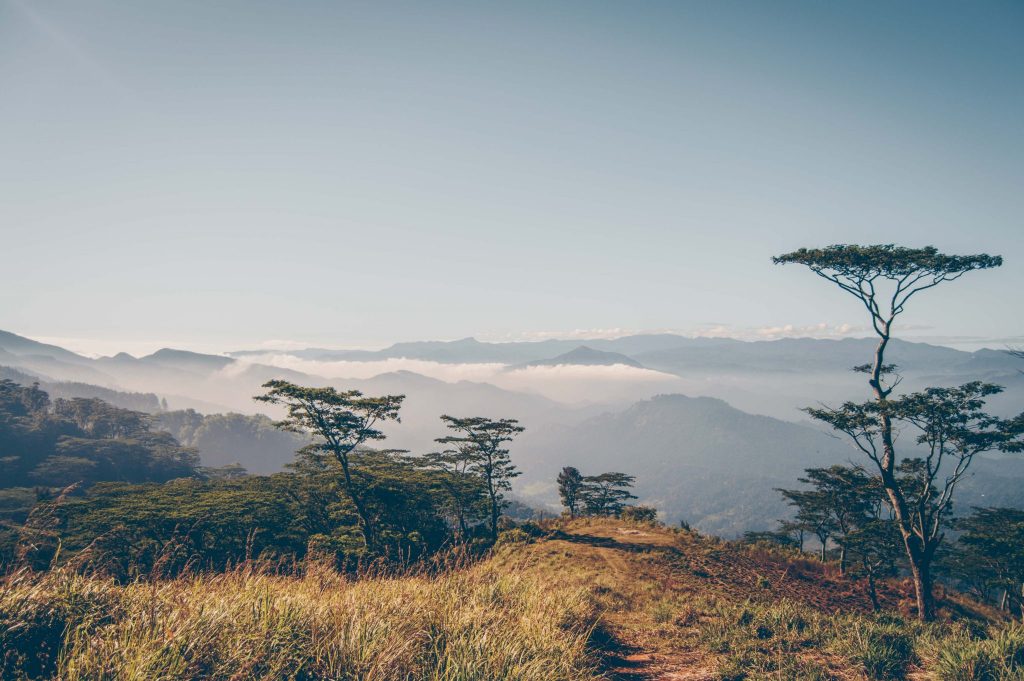 Safety
According to Lonely Planet, "The only vaccine required by international regulations is yellow fever. Proof of vaccination will only be required if, in the six days before entering Sri Lanka, you have visited a country in the yellow-fever zone." There's also a list of recommended vaccines on their website.
Dengue fever is widespread in Sri Lanka. It's a mosquito-borne disease. There's no vaccine, the only thing you can do is avoid mosquito bites. Most of the hotels around the island have mosquito nets hanging above beds to protect you at night. The nets are annoying, but you really should use them for your own safety.
Get travel insurance. During my last trip to the west coast of USA my husband got sick in Portland, I got sick in Seattle, and our luggage was stolen in San Francisco all in a span of 12 days. When you travel, things happen. It's better to be prepared. Although there are municipal hospitals in Sri Lanka, this is not where you want to end up in case of emergency. Private hospitals have better facilities, but they are expensive. Travel insurance, for example, from World Nomads, will help you avoid those expenses.
If you are white, be prepared to be stared at. It doesn't mean anything bad and it's not dangerous, people are simply curious because many of them haven't seen white people before. Tourism in Sri Lanka was practically non-existent during the war time, and it's still only picking up. It's strange at first, but then you get used to it and stop noticing it at all.
Walking alone at night as a single woman is not recommended. It is sad and unfair, but better safe, than sorry. If you have to go somewhere late at night it's best to use Uber or Pick Me. This way you won't have to look for a tuk tuk on the road, you'll have driver's information, and you will get from door to door without having to wander around the streets.
There are certain men in Sri Lanka that think of white women as promiscuous. They'll say things like "Hey, baby!", "Where are you going?", or the most ridiculous I've heard "I love you". Don't pay attention and walk away. It isn't worth it to stop and say anything in return, especially because many of them don't even speak English. If they try to touch you, push away and make a scene. Usually they get embarrassed when people around start paying attention and walk away.

Food and Drinks
Water is not as bad as they say. Ok, this is not to encourage you to drink tap water. Don't drink tap water. I don't drink tap water. But it's definitely not as bad as, say, in India. Locals drink tap water all the time. I use tap water to wash fruits and vegetables. I also drink boiled tap water sometimes. As a foreigner, you might not be used to the local bacteria, so don't blindly repeat what locals do. Filtered water should be your choice. Why I am saying this is because a lot of articles recommend to ONLY drink bottled water, which increases the use of plastic and is bad for environment. Have a reusable water bottle with you at all times and ask to refill it at hotels and restaurants. Or get a water bottle with a filter in it. Or use SteriPen. There are so many better options out there than buying plastic bottles of water!
In Sri Lanka eat Sri Lankan food. Sounds silly, but seriously, this is what they do best. If you come to Sri Lanka and order a salad at a small roadside cafe, it's kinda your own fault. Unless you are in a good restaurant located in a fancy hotel (Colombo and Galle are exceptions from this rule), do not order Western dishes like burgers, salads, and soups. They will be terrible and expensive.
Sri Lankans eat rice and curry by hand, you should try it too. I have to admit, it looks gross when you see it for the first time. So take it easy, watch people do it first, learn a little, then dive in. The reason you should do it at least once is because the taste is truly different when you eat rice and curry with a spoon vs by hand. You can only mix the curries well and make sure rice soaks up all the gravy if you do it by hand. Remember to wash your hands beforehand. Even the tiniest run-down cafe will have a sink for washing hands.
If you don't tolerate spices, ask for no spices when ordering food. Believe me, Sri Lankan "no spices" will be spicy enough for you. Saying "a little spicy" or "less spicy" won't work.
If you want to cook yourself, go grocery shopping to local supermarkets like Keels and Food City. In touristy towns there are fake Food Cities nowadays. Check out the official logo and location online to be sure you are going to the right one. Fruits and vegetables are better at the street markets and small roadside shops.

People and Culture
The pace of life is slower in Sri Lanka than in the rest of the world. Roll with it. It's ok to wait for your order in a restaurant for thirty minutes. It's ok if your Uber arrives twenty minutes after you requested it. It's ok if you agreed to meet a local and he shows up one hour late (it's called Sri Lankan time). Don't stress, because there's no point. My mom, when in Sri Lanka, couldn't look at the bank employee who took 15 minutes to exchange 100 dollars to rupees. You see, there were a lot of bills and he was counting them very carefully, one by one: lifting a bill, looking at it, placing it on the table. He repeated that movement another 25 times. All the while he was looking up at us smiling, not mockingly, he was just really happy to help us.
To say there are a lot of public holidays in Sri Lanka is an understatement. Because there are several ethnicities on the island and each of them has their own celebrations, the combined total of holidays is insane. There's always at least one public holiday a month on the day of full moon – Poya day. On Poya day and other public holidays many shops and restaurants are closed, especially outside of Colombo. It is also prohibited to sell alcohol.
The two official languages of Sri Lanka are Sinhalese and Tamil, but a lot of people speak English. The more touristy the city, the more people speak English. But even in the rural area you'll find someone who'll be able to help you.
Even though people speak English, it is handy to know a few words in Sinhalese. Ou – yes, Ne – no, Ayubowan – wishing someone a long life (usually a formal greeting), Estuti – thank you, Epa – I don't need/I don't want (for example, when a tuk tuk driver is offering a ride), Kelim – straight, Dakunata – to the right, Wamata – to the left.
Know when to bargain and when to let it slide. When I first came to Sri Lanka it was through a student exchange program. I worked as an intern and my salary was close to $300 per month. One third of that was spent on housing. That money was literally all I had to survive. I didn't even own a credit card to use in case of emergency. Local vendors and drivers always think that white people have money (on most occasions they are right). But even 100 rupees (less than a dollar) at that time made a difference for me. I always bargained. When I came back again and started earning more, I still had the same mindset and it was wrong. It's one thing when a tuk tuk driver tells you a price five times more than it should be. You should bargain then (or better find another tuk tuk driver who's not that impudent). But bargaining to reduce the price of king coconut from 70 Rs to 50 Rs is not worth it. A person who's selling coconuts in the street needs those 20 Rs more than you do.
It's not common to show your feelings in public. Feelings meaning affection to your partner, not that you can't show that you are happy or sad. Holding hands is probably as far as one can go. Kissing is definitely overdoing it.
Sri Lankans smile a lot. They are also some of the most kindhearted and welcoming people I have met around the world. When people smile at you, smile back. And, as Ellen says, be kind to one another!
Don't Forget About Travel Insurance!
I can't emphasize enough how important travel insurance is when you are planning a trip to a foreign country! So many things can go not exactly as planned (like that time I got food poisoning and got robbed of ALL my luggage in a span of a few days). I like World Nomads because you can buy and claim insurance online. You can even buy it if your trip has already started. And they provide travel insurance for travelers from over 140 countries. Get a customized quote below!
Pin for later: