It took me three years to write the most obvious post on this blog — about the best restaurants in Colombo. Not that I have been writing it for three years. But it occurred to me only now, three years after starting this blog, that I should probably share my favorite dining spots in a city where I lived for almost a decade. I'd go as far as to say that it's irresponsible and selfish of me to keep them a secret any longer.
So here you go, here are the 23 best restaurants in Colombo. And if you are wondering what makes them best — it's my extremely personal opinion. I am no Eater or Thrillist, guys, I am just an ordinary Russian girl sharing her favorite, tried and true restaurants in Colombo. Hope you enjoy them as much as I do!
The 23 Best Restaurants in Colombo
Baillie Street Merchants
I love to ask locals for only one restaurant recommendation in the city. I don't accept replies like "But what do you feel like?" or "What cuisine?" or "I have five options for you". Just one. Makes you put things into perspective. So if you asked me for one recommendation, I'd say Baillie Street Merchants is my favorite Colombo restaurant at the moment.
First of all, it's a speakeasy. Call ahead to make a reservation and ask for password. When you walk though the massive front doors and leave the streets of Colombo Fort behind, it feels like you stepped into a different world.
I love everything about this place: from chic ambience to their short and sweet menu, to sophisticated twist on traditional Sri Lankan dishes. Their cocktails deserve a special mention: I'd come here just for the sake of 1Sri1, a mix of arrack, port, pineapple, spices, and orange bitters.
Baillie Street Merchants — 15 Mudalige Mawatha
Price range: $$$$
August by Mama Aida's
My go-to restaurant in Colombo when I feel tired of Sri Lankan flavors (eating rice and curry every single day can do that to the most adventurous eater). In 1946 Aida Suby arrived to Sri Lanka from Lebanon, bringing with her family recipes. Three generations later August Cafe opened its doors to introduce classic Middle Eastern dishes prepared with a modern twist.
Located in a garden, under open sky, August is a perfect date-night spot. Like in all Middle Eastern restaurants, it's best to order lots of mezze (small plates) and share. I absolutely love their fatteh with aubergine, slow cooked lamb, and cauliflower with tahini.
August by Mama Aida's — 61 Dudley Senanayake Mawatha, Colombo 8
Price range: $$$
Jeewa's and Kuma's Natural Foods
I've had my fair share of rice and curry in Sri Lanka, and this little stall at Colombo farmers' market has been my personal #1 for years now. I truly believe they make the best rice and curry in the city, if not in Sri Lanka.
The only downside is that you can only try their food once a week, on Saturdays, at the Good Market Colombo. Finding them at the market is easy: they have the largest selection of curries and the pots are larger than life. Do not leave without trying their eggplant curry (batu moju), cuttlefish curry, and jackfruit cutlets.
Jeewa's and Kuma's Natural Foods — Good Market Colombo at Racecourse (only on Saturdays)
Price range: $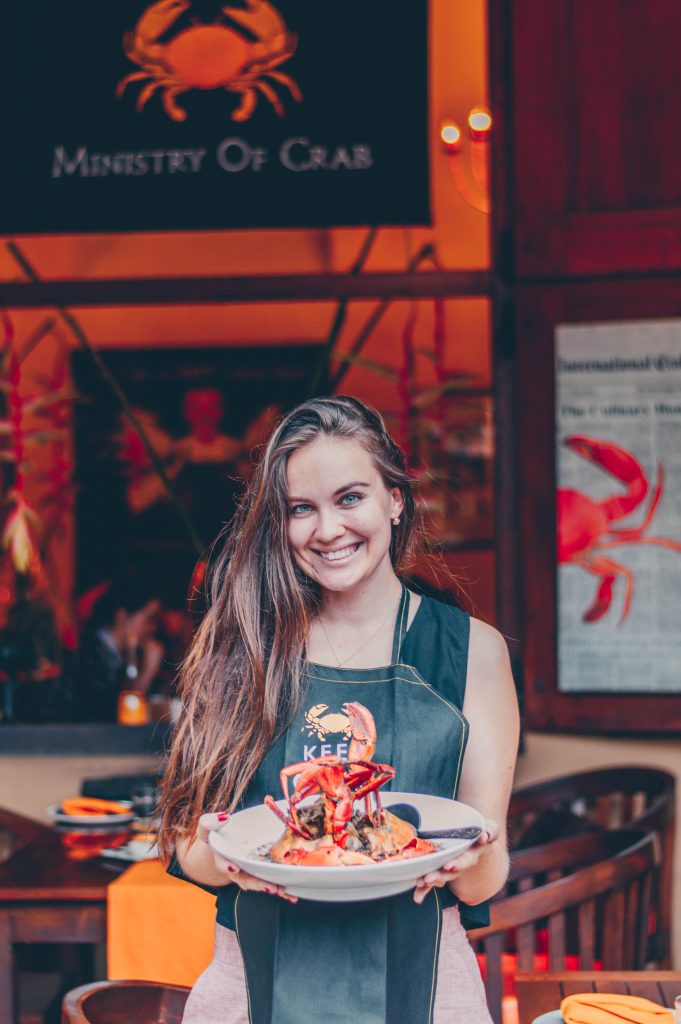 Ministry of Crab
You'll probably see their advertisement in the in-flight magazine on your way to Sri Lanka. Their slogan is "reservations essential". And you better make a reservation before you arrive. Located in Colombo Dutch Hospital, a popular shopping and dining district, Ministry of Crab was created by one of Sri Lanka's most innovative chefs, Dharshan Munidasa.
It has been listed on Asia's 50 best restaurants on multiple occasions, and rightfully so. Their crabs, reaching up to 2 kg in weight, are out of this world. Make sure to order some garlic bread with your crab curry to soak up all the gravy.
Ministry of Crab — Old Dutch Hospital Complex, 04 Hospital St
Price range: $$$$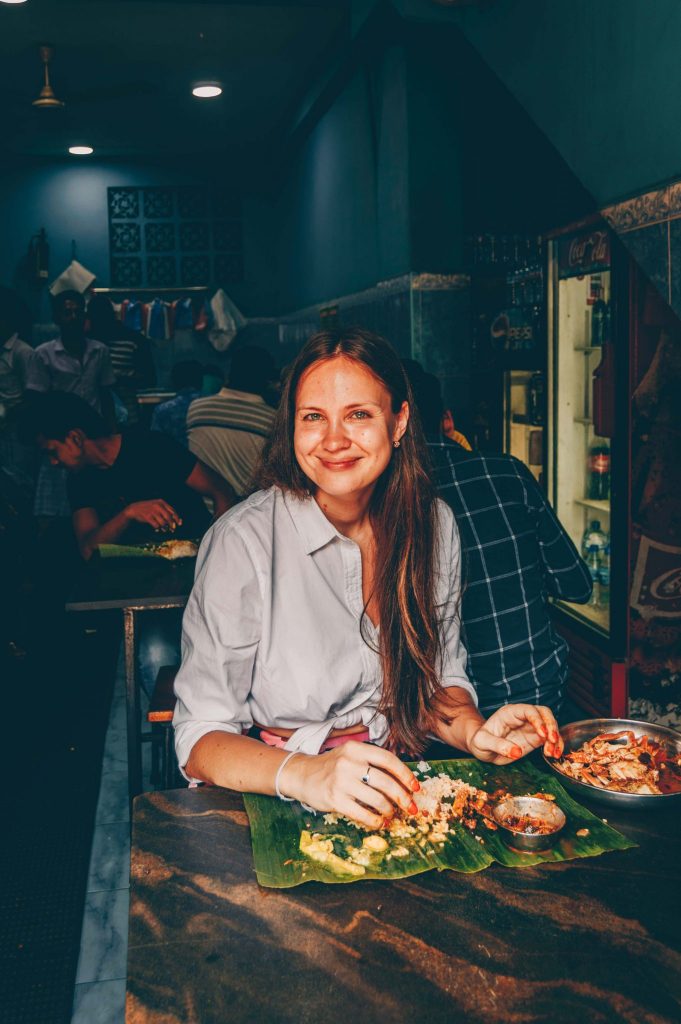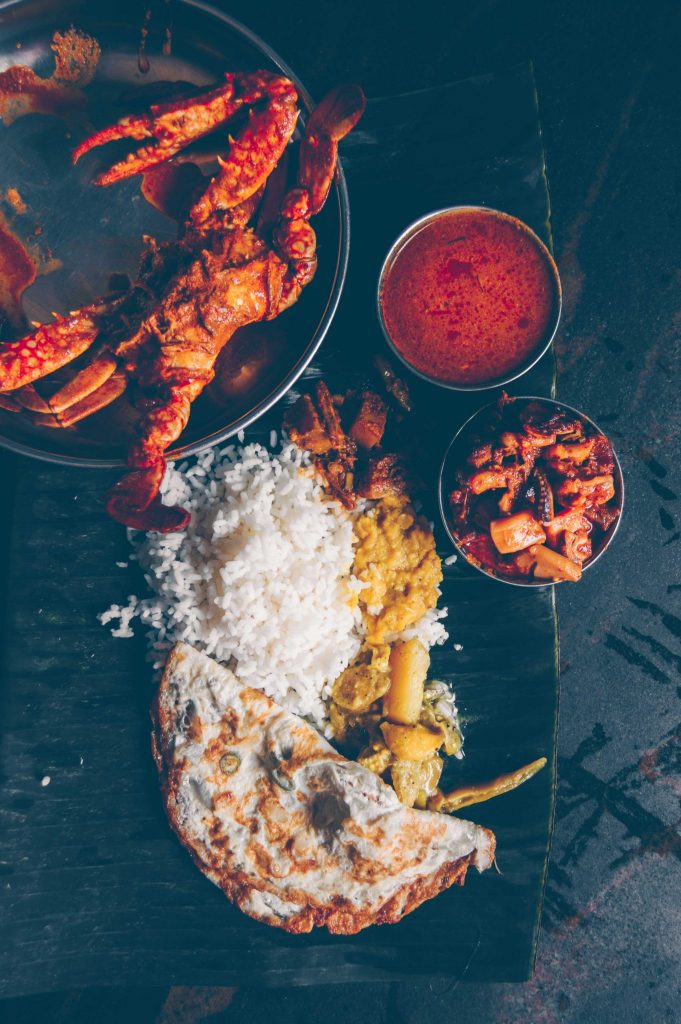 Mayura Hotel
Don't let the name confuse you: Mayura Hotel is not a hotel, but a tiny hole-in-the-wall type of restaurant in Pettah, Colombo's biggest market. If you are not scared of navigating the busy streets of Pettah by yourself, then Mayura will offer you some of the best crab curry in Colombo.
Here, you won't find big fat crabs like at Ministry of Crab. But while Mayura's crabs might be lacking in size, they overdeliver in the taste department. Pro tip: try their omelet! Heavily beaten and fried in butter, Mayura's omelet takes egg dishes to a whole next level.
Mayura Hotel — Sri Kathiresan St, Colombo 13
Price range: $
Upali's
Upali's is one of the most popular restaurants in Colombo serving traditional Sri Lankan food. It is conveniently located near major tourist attractions like Town Hall, Odel, and Viharamahadevi Park, making it a logical choice for dining while you are exploring Colombo.
It is, however, a popular spot among locals too. On a weekday, getting a table at lunchtime can be tricky, since many office workers choose Upali's for their delicious food and reasonable prices. If you are looking for a place to try traditional Sri Lankan rice and curry, Upali's is a good choice.
Upali's — 65 Dr C.W.W Kannangara Mawatha, Colombo 7
Price range: $$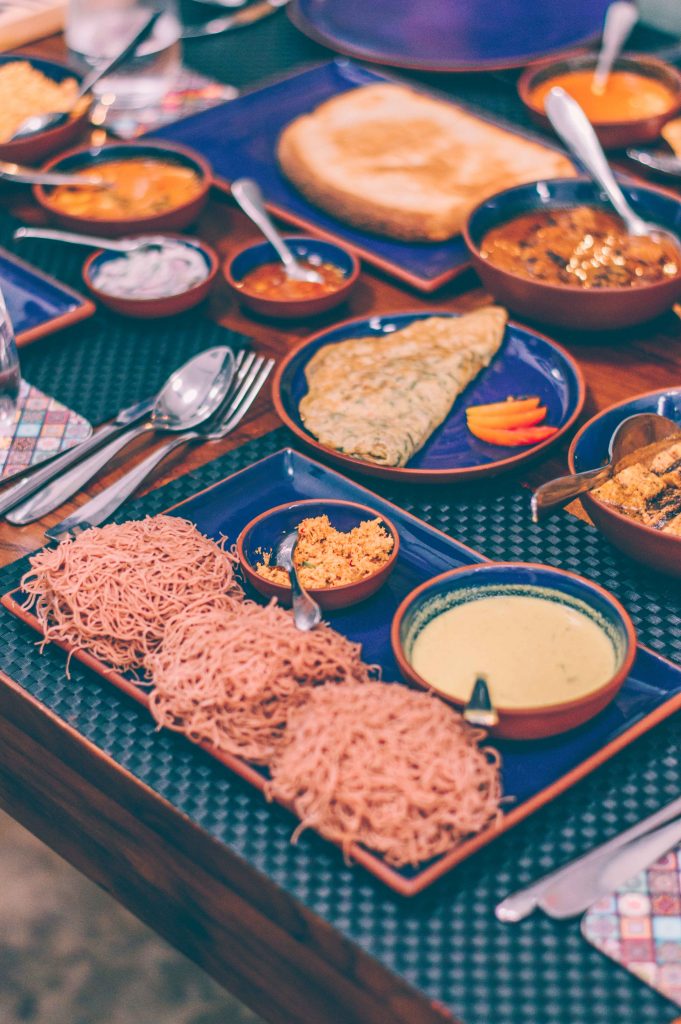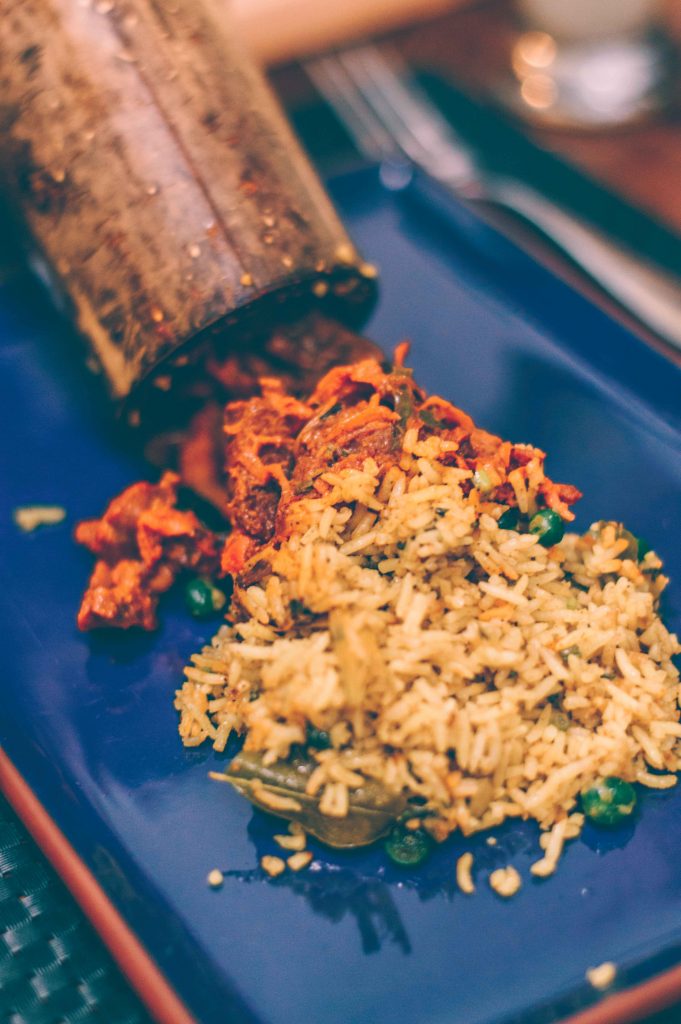 Culture Colombo
Newly opened Culture Colombo is another great place for traditional Sri Lankan food, only in a slightly more upscale setting. The restaurant is located in a beautifully restored house, with gorgeous old-school veranda and modern murals in the backyard. The menu gives you a great introduction to Sri Lankan food: from rice and curry to hoppers to buriyani. The latter, by the way, is served in a bamboo stick hollowed out inside — worth ordering for the presentation alone.
Culture Colombo — 25, Kensington Garden, Colombo 4
Price range: $$
Palmyrah
Palmyrah is a fine-dining restaurant located inside Renuka Hotel, on busy Galle Road. It offers traditional Jaffna dishes popular in the north of the country, like pittu, tossai, mutton curry, whole crab curry, and my personal favorite — milk hoppers. The latter, by the way, is so hard to come by in Colombo that I was the one who introduced my Sri Lankan husband and his friends to this delicacy (very proud of myself to this day).
Palmyrah — 328 Galle Road, Colombo 3 (inside Renuka Hotel)
Price range: $$
Kaema Sutra
For a modern twist on traditional Sri Lankan cuisine, head to Kaema Sutra, another creation of Dharshan Munidasa. While there are more and more restaurants in Colombo offering a contemporary take on traditional Sri Lankan dishes, Munidasa was the first one to take this courageous step.
At the time of the opening, the restaurant stirred controversy among locals not all of whom liked the idea of, say, a hopper with olive oil and sea salt at ten times the price of a regular hopper on the street. Today, Kaema Sutra is one of the most popular restaurants in Colombo with both local and foreign clientele. And that hopper with olive oil and sea salt, by the way, is one of the best things I've ever had in my life.
Kaema Sutra — 01, Galle Face, Colombo 2 (4th Floor, Shangri-La Hotel)
Price range: $$$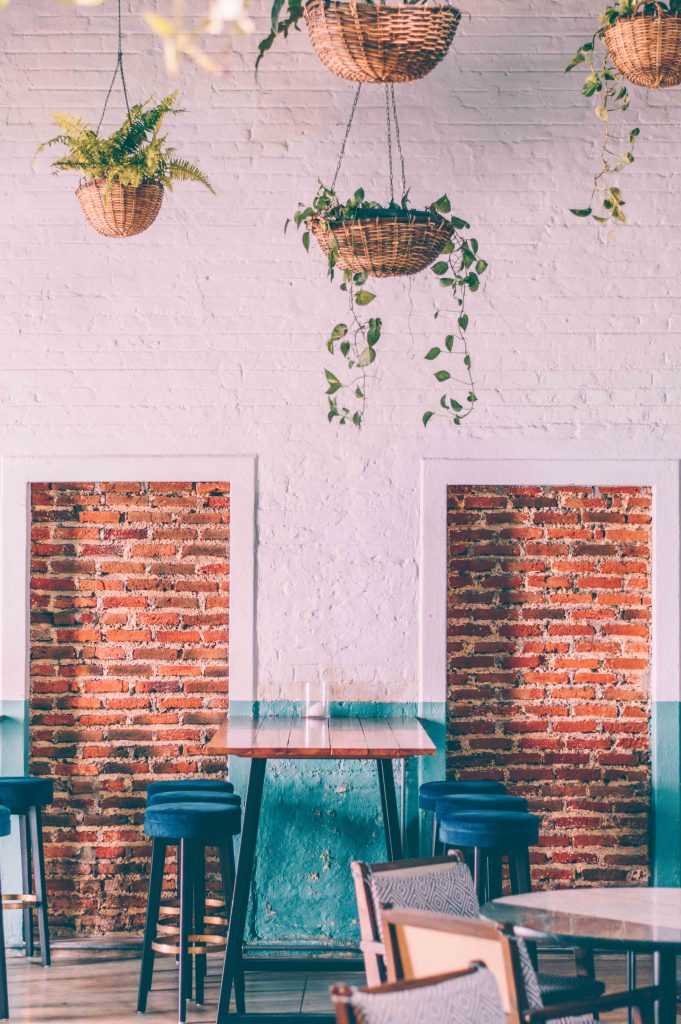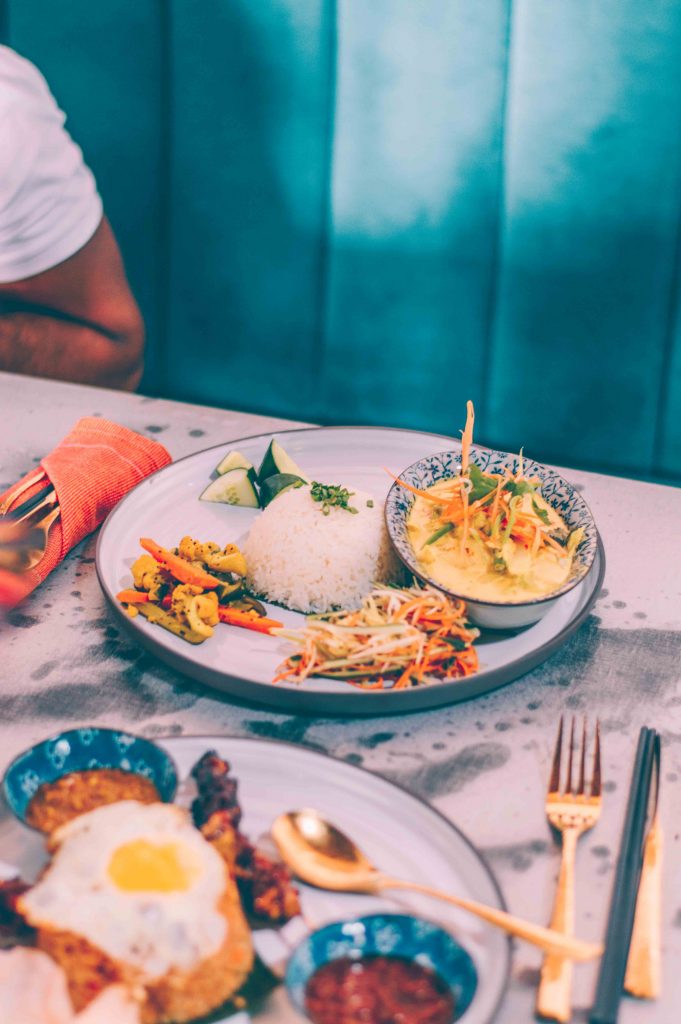 Monsoon
Monsoon is a relatively new addition to the busy Park Street that features several popular dining spots and boutique shops in Colombo. Monsoon is a fusion of cuisines from South East Asian countries like Malaysia, Singapore, Indonesia, Thailand and Vietnam.
The plates are served family-style and are meant to be shared. Monsoon is headed by two Indonesian chefs who pay close attention to the quality and freshness of ingredients and bring their love for home cooked meals to the table.
Monsoon — 50/2 Park Street Mews, Colombo 2
Price range: $$$
Agra
North Indian food at its best is served at Agra, a fine-dining restaurant that has been around since 2007. Once you step through the front door, you are greeted with live Oriental music that sets the mood right away. The food, like in any Indian restaurant, is best shared. Make sure to order butter naan, one of their mutton curries, and paneer butter masala. The food is rich, heavy, and oh-so-satisfying!
Agra — 100/10 Sri Lanka Foundation Mawatha, Colombo 7
Price range: $$$
Giovanni's
Admittedly, Sri Lanka is not the country where you'd be seeking out great pizza. For the longest time, Pizza Hut was the best you could get, and I made my peace with it. That is until my sister-in-law introduced me to Giovanni's, the most popular pizza spot in Colombo.
They have a wood-fired oven, high-quality fresh ingredients, and a beautiful garden in the back of the restaurant. And if they were stretching their pizza dough instead of rolling it, I'd love them even more. Go for the simplest, pizza Margherita, and you will not be disappointed.
Giovanni's — 145 Thimbirigasyaya Rd, Colombo 5
Price range: $$
Nihonbashi
For authentic Japanese cuisine prepared with the freshest Sri Lankan seafood head to Nihonbashi. Opened by Dharshan Munidasa, the restaurant has been a staple of Colombo dining scene for the past 25 years.
Nihonbashi serves some of the freshest tuna in the country delivered to the restaurant whole, like in the best restaurants of Japan. Dharshan Munidasa has a total of 3 restaurants in Colombo right now, and I have recommended all of them on more than one occasion in my blog. I truly believe that he is one of the most progressive chefs in the country and his food is unique and delicious.
Nihonbashi — 11 Galle Face Terrace, Colombo 3
Price range: $$$
Kuuraku
I rarely feature chain restaurants on my blog, always giving preference to local, one-of-a-kind spots instead, but Kuuraku made an exception. Kuuraku is part of a global chain that has 21 restaurants around the world (with only one in Sri Lanka). They serve some of the best Japanese food on the island, including delicious yakitori, gyoza and fresh sashimi. Try their pork belly skewers and spicy tuna maki.
Kuuraku — 48B Park Street, Colombo 2
Price range: $$$
Dao Krua Thai
Dao Krua Thai, a little unassuming joint in Colombo-4, literally translates to "Dao's Thai Kitchen". Opened by Ms. Dao, fun and cheerful woman who immigrated to the island from Thailand, this spot is arguably the best for authentic Thai food in the city.
Although it was opened as a street food joint, there are a few tables inside if you prefer a more comfortable experience. It's a popular place for late night eats, so even after 10 pm the place is bustling. Try their pad Thai or rice with a set of side dishes (chicken stir fry and bokchoy with mushrooms are great) and don't miss out on mango sticky rice for dessert.
Dao Krua Thai — 618 Galle Rd, Colombo 3
Price range: $
Cafe Kumbuk
Cafe Kumbuk pioneered in bringing the concept of locally-sourced, natural foods to Colombo's dining scene. Their menu features lots of healthy options, including vegetarian and vegan dishes, smoothies with coconut water, freshly squeezed juices, and vegan desserts. Apart from fresh delicious food, the space is another reason to stop by. Located in a gorgeous colonial house, the cafe boast beautiful tile floors, ornate windows and doors, and has lots of natural light.
Cafe Kumbuk — 3/1 Thambiah Avenue, Independence Ave, Colombo-7
Price range: $$
Plus Nine Four
Plus Nine Four is a sister-cafe for Cafe Kumbuk, opened by the same duo of mother and daughter. It is my favorite space in the city to spend a few hours (read: half a day) working on the blog and enjoying their locally sourced coffee and fresh food.
The menu is short, but every item is made to perfection. It has a few vegan options, like pesto humus toast and jackfruit burger, that are absolutely fantastic. Make sure to try pol sambol sandwich with poached egg and hollandaise if you are stopping over for breakfast. Their achcharu juice is an awesome twist on traditional Sri Lankan pickled fruits and delivers a punch of spiciness.
Plus Nine Four — 35 D. S. Fonseka Rd, Colombo 5
Price range: $$
Butter Boutique
The go-to spot for Colombo locals when in need of a cake fix. Butter Boutique started out 10 years ago as a home-based bakery before they got a stall at the Good Market Colombo and finally opened two brick-and-mortar locations in Rosmead Place and on Park Street.
My personal favorite are the cheesecakes and tres leches cake. The latter is somewhat of a legend in Colombo that everyone is raving about. Added bonus: their coffee is one of the best in the city which hardly comes as a surprise since their beans are delivered from Australia and the staff was trained by Davide Drummond, the founder of Niccolo Coffee.
Butter Boutique — 70 Rosmead Place, Colombo 7 and 48-C Park St, Colombo 2
Price range: $$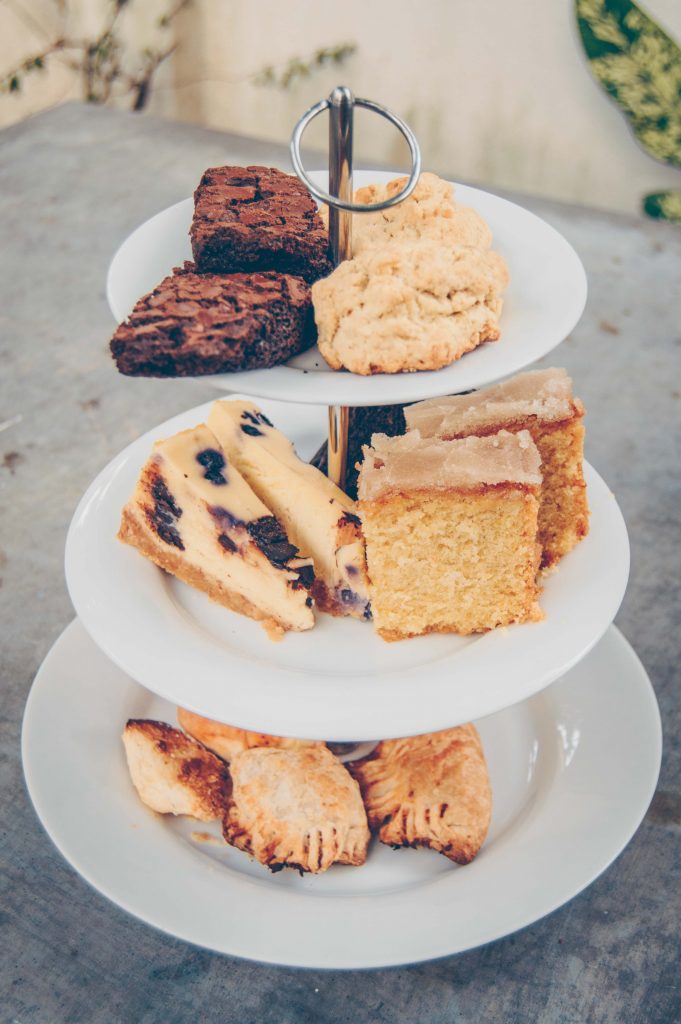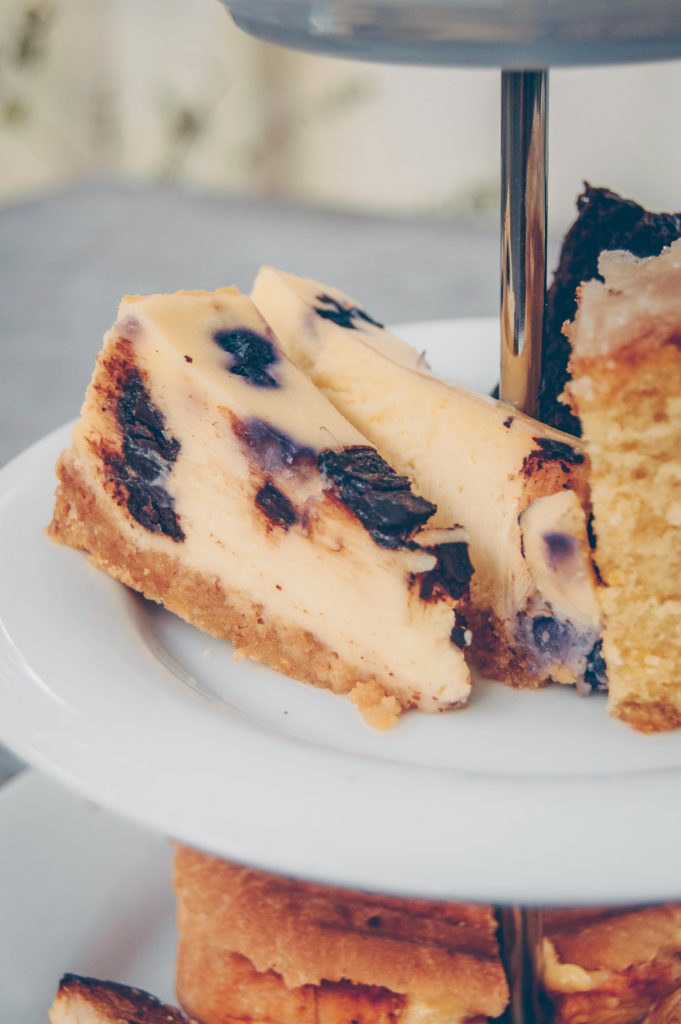 The Cakery (The English Cake Company)
The Cakery, like Butter Boutique and yours truly, started out at the Good Market (yea, I used to have a home-based bakery in Colombo). Today, they have a large shop on Sulaiman Terrace that, apart from cakes and cookies, offers sandwiches, breads, and drinks.
There's been some controversy lately about the quality of their service which deteriorated over the years. But despite long waiting time, I still think their cakes are the best in Colombo. Maybe just go for take-away option. In and out, without the stress of dealing with waiters. To me, the unparalleled taste of their cheesecakes and brownie are worth the wait.
The Cakery — 2A Sulaiman Terrace, Colombo 5
Price range: $$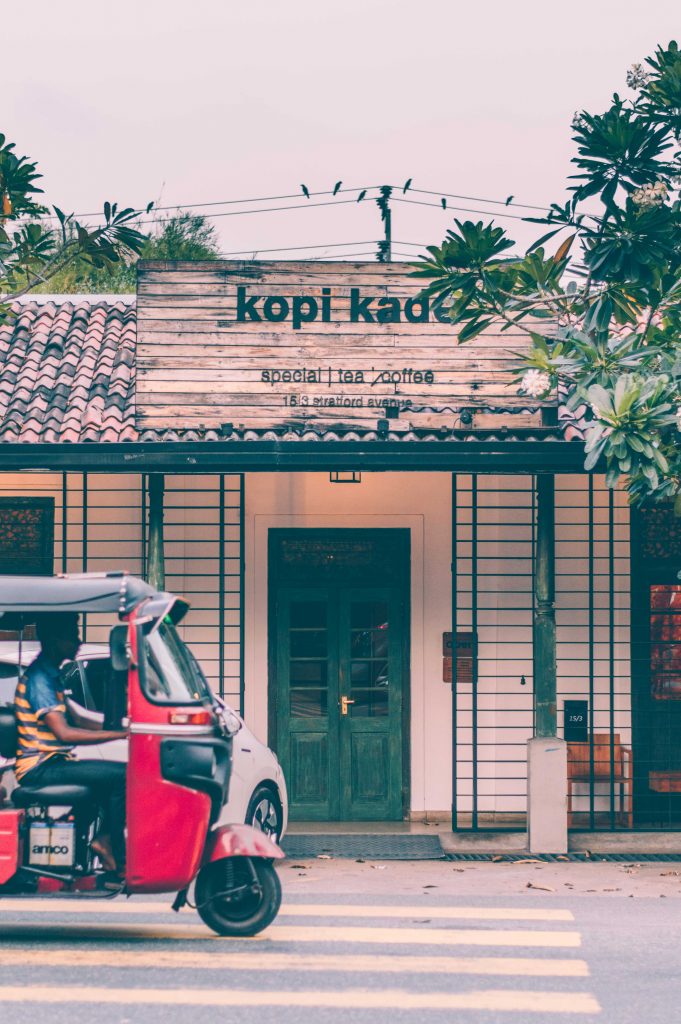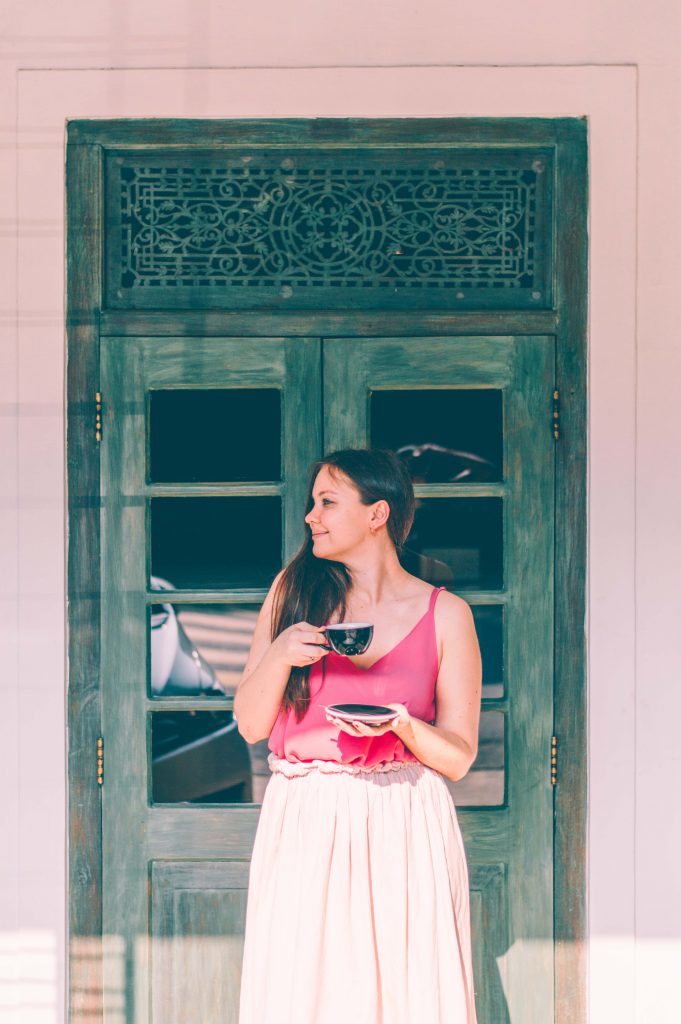 Kopi Kade
Kopi Kade, that is Sinhalese for "coffee shop", makes my absolutely favorite cup of coffee in Colombo. They use the best beans from around the world and get creative with drinks on the menu. How does a lemonade with homemade ginger syrup and coffee bitters sound? Or ice coffee prepared with king coconut water?
Apart from brewing amazing coffee, Kopi Kade takes a contemporary approach to Sri Lankan cuisine, serving tapas-style small plates. Make sure to order their salted kithul ice cream for dessert.
Kopi Kade — 15/3 Stratford Ave
Price range: $$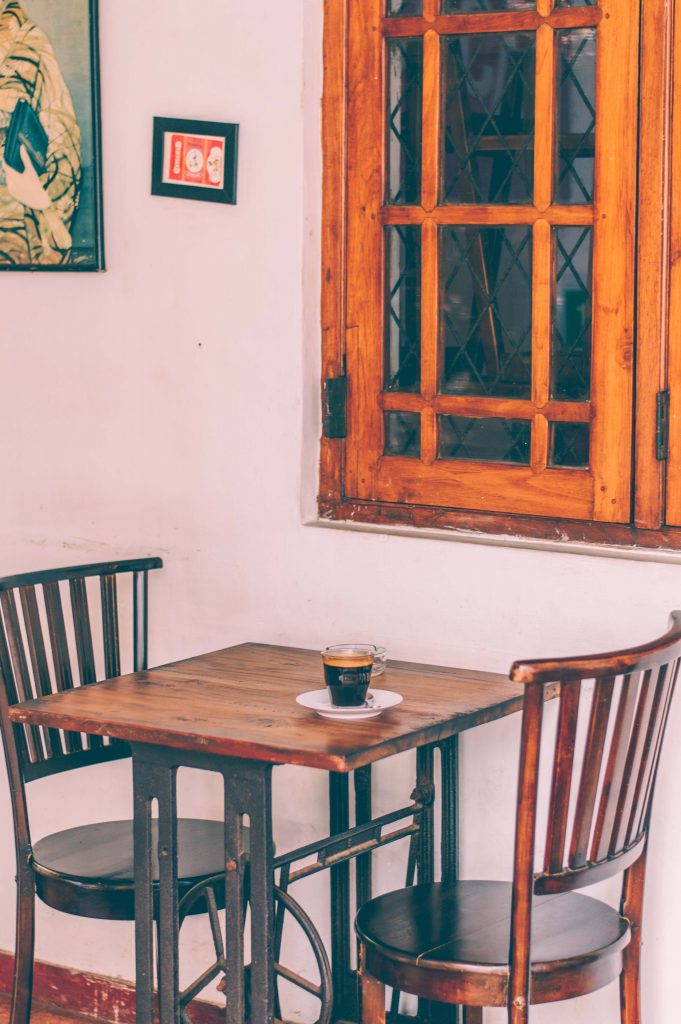 Black Cat Cafe
Black Cat Cafe is located on the ground floor of a gorgeous 1920's colonial mansion, decorated with vintage posters inside. The tables converted from old zinger sewing machines deserve a special mention. High-quality coffee grounds are imported from all over the world and roasted on the premises.
The cafe also offers a range of healthy dishes, prepared with locally-sourced ingredients. Black Cat Cafe is perfect for a satisfying breakfast, followed by a great cup of coffee.
Black Cat Cafe — 11 Wijerama Mawatha, Colombo 7
Price range: $$
The Grind Coffeehouse
A new addition to Colombo food scene, The Grind serves delicious, beautifully presented meals and good coffee. With items like avocado on toasted sourdough, omelette topped with quinoa kale salad, and superfood granola bowl, this spot is perfect for breakfast or brunch.
Besides, they offer a wide range of vegan options which shouldn't be taken for granted in Colombo. Even the milk choices for coffee include almond, soy, and oat milk. They also have a range of cold-pressed juices made of seasonal locally-sourced fruits and vegetables as well as homemade sweets.
The Grind Coffeehouse — 505/1 Union Pl, Colombo 2
Price range: $$
Ask for Fern
At last, I couldn't leave you without recommending a good place for late-night cocktails. Ask for Fern is another speakeasy in Colombo. Unlike at Baillie Street Merchants, you don't need a password to get in. All you need to do is find "The Little Flower Shop" board down the lane from Ramada Hotel.
The entrance is hard to miss with lots of fresh flowers on the staircase and a pretty blue door guarded by an old gentlemen in a bowtie. He'll show you in. Ask for Fern boast a large dining area, a bar, and a patio overlooking the city. I haven't had the chance to try their food, but the cocktails are top-notch. Make sure to try their Boozy Achcharu, a twist on traditional Sri Lankan snack of spiced and pickled fruits, prepared here with local arrack.
Ask for Fern — 32B Sir Mohammed Macan Markar Mawatha
Price range: $$$
* * *
Here my highly opinionated list of the best restaurants in Colombo comes to an end. If you are looking for more recommendations, check out this list of the best restaurants in Colombo specializing in Sri Lankan food.
I also wrote an article about my favorite coffee shops that make a mean cup of coffee. Or you might want to check out this ultimate guide to Sri Lankan food that features 50 must-try dishes.
For things to do in Colombo, read this post with my favorite spots in the city.
If you have recommendations for the best restaurants in Colombo (and I am sure you do!), let me know in comments. My search for delicious food in Sri Lanka is never-ending!
Pin for Later: