When I told my Sri Lankan friends I was going to stay in Sigiriya for two days, some were surprised. You see, mostly people come here with one purpose — to climb the Lion Rock. Half a day is more than enough to do that. Climb up, get down, drive to the next town. But after climbing the Lion Rock three times, I was looking for new things to do in Sigiriya and near-by Dambulla. Turned out, there's plenty! From riding a boat on a lake covered with lotus flowers to having coffee at a lush-green masterpiece of a hotel built by Geoffrey Bawa to spending the night at a tree house. Here are all the amazing things to do in Sigiriya and Dambulla in two days!
Disclosure: this post contains affiliate links which means that if you buy something by clicking the link I will earn a small commission at absolutely no extra cost to you.
The Best Things to Do in Sigiriya and Dambulla in Two Days
Day 1
5.30 AM — Pidurangala Sunrise Hike
Tip: it's best if you arrive to Sigiriya and check into a hotel the night before.
Hiking Piduranglala was, hands down, one of the best things to do in Sigiriya despite the early wake up call. Pidurangala Rock is located directly opposite the famous Lion Rock and provides an incredible view of the "eighth wonder of the world". I have to say, that the view from Pidurangala Rock is way better than the view from the Lion Rock simply because on top of the Lion Rock you can't see the Lion Rock. I know it sounds ridiculous. But it's only from Pidurangala Rock that you can see all the grandeur and majesty of the Lion Rock.
For the best views and to avoid crowds it's best to do the sunrise hike. We woke up at 5 AM and this was when my first elephant encounter could have occurred. The owner of our small hotel offered to drive a truck in front of us all the way to Pidurangala trailhead since there was a possibility of meeting elephants on the way.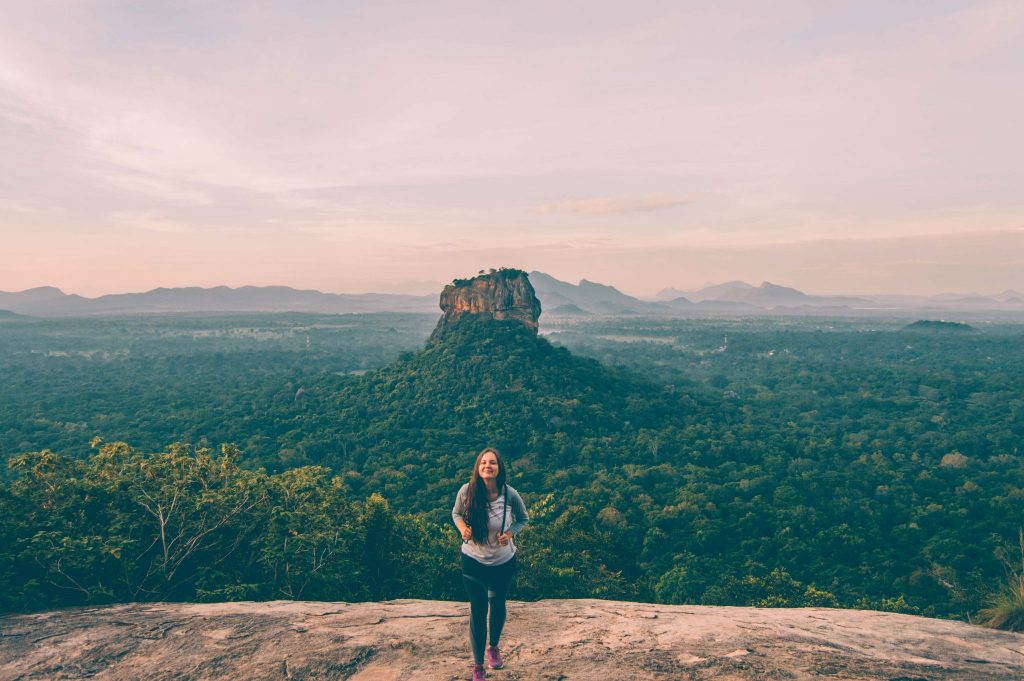 The hike is not long and somewhat easy even for unexperienced hikers. It took us 30 minutes to go all the way up. The only problem is that you have to climb up in complete darkness so make sure to bring a torch (or use the one on your phone) and wear very comfortable shoes that don't slip. The hike begins with steps, but turns into a rocky path afterwards. In the final stretch you have to literally crawl in between the rocks to get on top of Pidurangala. You can read a detailed guide to climbing Pidurangala Rock featuring pictures along the route, directions, and tips here.
Cost: 500 LKR (pay at the trailhead)
Tip: wear comfortable shoes, bring a torch since you'll start your climb in complete darkness.
8.00 AM — Breakfast
After the hike return to your hotel for a quick shower and breakfast. If your hotel doesn't offer breakfast, the town of Sigiriya has a strip with many restaurants and cafes where you can have a meal. Use Chooti Restaurant as a reference in Google Maps to find the strip.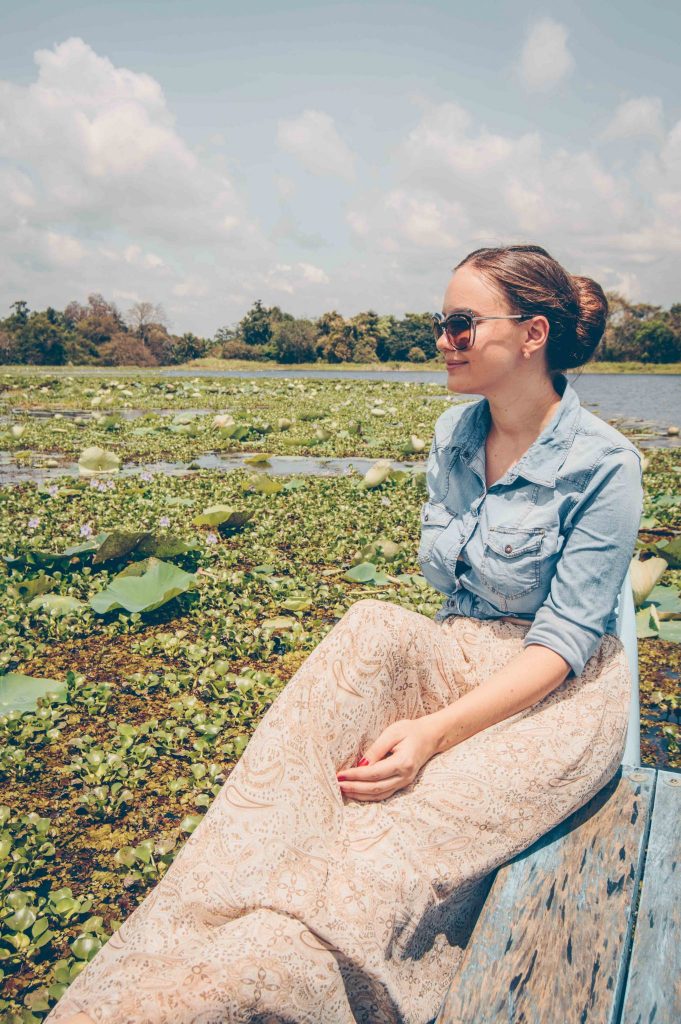 10.00 AM — Boat Ride on Hiriwadunna Lake
Boat ride on Hiriwadunna Lake is usually a part of a so-called "village tour", one of the most popular things to do in Sigiriya and Dambulla. It includes an ox cart ride, a boat ride, and a traditional Sri Lankan lunch in a village. You can easily find these tours online, but I felt it was a bit too touristy for my liking, so I chose to only do the boat ride.
Upon arrival to Hiriwadunna, ask any of the travel agents by the road if they do boat rides on Hiriwadunna Lake. We stopped by the office of a travel agent closest to the lake — Sandun Village and Jeep Safari. They quickly found a boat and a rower. The ride is approximately one hour and costs 500 Rs per person.
Hiriwaduna Lake is always fully covered with lotuses. You are in great luck if you come in season and see the flowers, but even off season the view is incredible.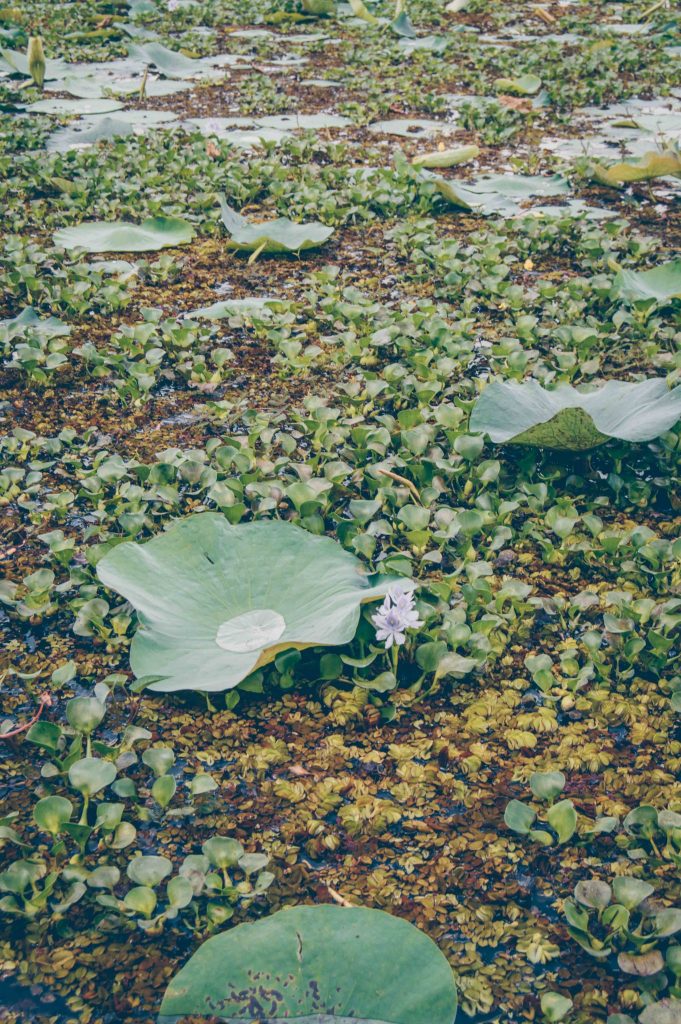 Cost: 500 LKR per person (+ tip to the rower)
Tip: bring a hat and sunglasses — by 10 am the sun will be merciless. Half way through the ride the rower stopped to make us hats of lotus flowers, fully natural, biodegradable, and really cute. Have some cash to tip the rower afterwards.
Tip: After the boat ride, book a safari in Minneraya or Kaudulla National Park for the next day with the same travel agent. You can read more about the safari below. (If you are coming to Sri Lanka with a help of a travel agent, you can ask them to book a boat ride and safari for you beforehand. If you are traveling on your own, like I did, just walk into a travel agent's office in Hiriwadunna or Habarana and book everything right there.)
12.30 PM — Lunch at Hela Bojun Hal
After the boat ride, head towards Dambulla which is located only 20 minutes-drive away. For lunch, stop at Hela Bojun, a chain of food courts offering traditional Sri Lankan dishes at incredibly low cost . As a matter of fact, wherever you are in Sri Lanka, check if there's a Hela Bojun nearby, this a full-proof option to get fresh and delicious Sri Lankan food every time.
This project was started by the Department of Agriculture to promote local produce and to empower women in rural areas. As Disna Ranasinghe, the Department of Agriculture's Principal Agriculturist for Food and Nutrition, told in an interview to Roar Media:
"We provide them [women] with space, and with the necessary training. They have to take care of their own resources, like the raw materials, electricity bills, rent for the building and such. Though the outlets provide meals at a lower cost, we calculate the cost of production and then the women simply produce more items. They make a good profit by increasing the number of items they make. They also go through a training programme which teaches them about health and hygiene, customer training, and finance management."
For 150-200 Rs (a little over $1) you can have a feast here. The branch near Dambulla is located in a beautiful green garden. You won't find many tourists here which is an indicator that the food is authentic and delicious.
Address: Hela Bojun Hal, Pelwehera Rd, Dambulla
Tip: try polos (jackfruit) cutlets.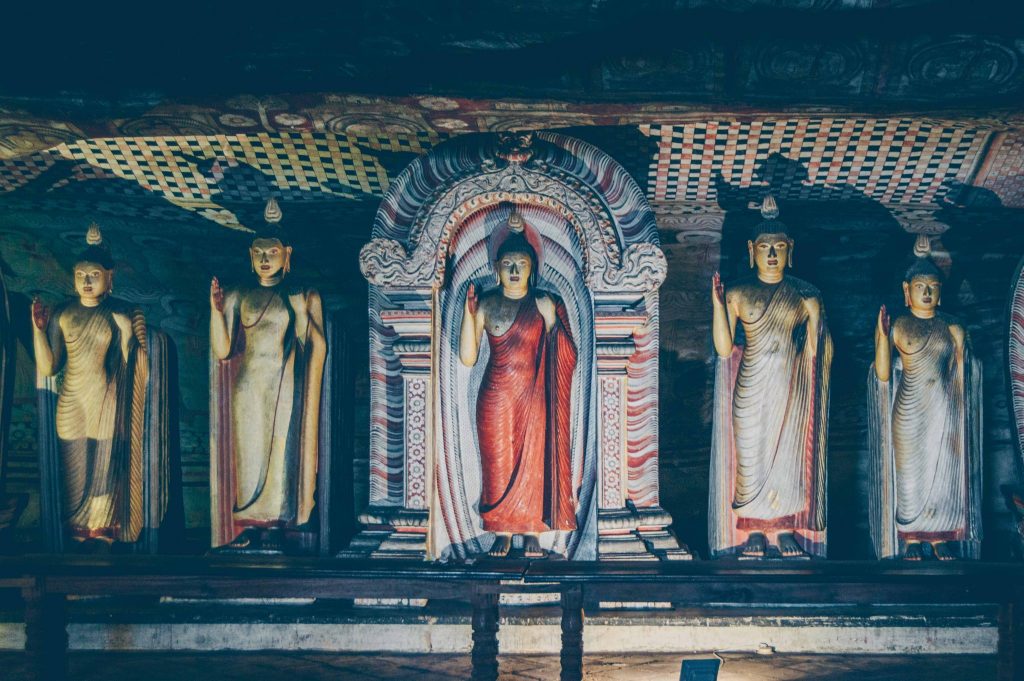 14.00 PM — Dambulla Cave Temple (Golden Temple of Dambulla)
Dambulla Cave Temple, named a UNESCO World Heritage Site in 1991, is the largest and best-preserved cave temple complex in Sri Lanka. The site includes five major temples situated under a vast overhanging rock with 157 statues of Buddha and mural paintings inside.
Cost: 1500 LKR (10 USD)
Tip: To reach Dambulla Cave Temple you'll need to walk up a long staircase. Make sure to buy your tickets at the bottom of the staircase — there's no ticket booth on the top of the rock.
Tip: You can get a tour guide inside the temple who will show you around the caves and tell the history of the place. The cost is around 1000 Rs (not included in the entrance fee).
17.00 PM – Coffee at Heritance Kandalama
Now, if you can afford to book a room in Heritance Kandalama and stay a night, go for it! For the rest of us, ordinary people, a cup of coffee with dessert is a great way to spend an hour or two at this masterpiece of a hotel built by Sri Lanka's most famous and incredibly talented architect Geoffrey Bawa.
I am not an architecture buff, but visiting the hotel was a dream of mine precisely because of its incredible design which represents an organic extension of the mountain side on which it is built and the surrounding greenery. Bawa's creations are so beautiful you hardly require any knowledge of architectural styles and techniques to admire them.
The two of my favorite features of the hotel are the cave-like entrance and the view over the infinity pool. Take your time to walk around the property and enjoy the views.
Address: Heritance Kandalama, 11, Dambulla, Sri Lanka
DAY 2
7.30 AM The Lion Rock Climb
Have a good breakfast at the hotel before heading out to climb the Lion Rock, one of the places Sri Lanka is most famous for. The ancient rock-fortress is one of the main places to visit in Sigiriya, and there are thousands of tourists coming every day. Given that the staircase leading to the plateau is not wide, you might encounter traffic jams on the way up.
My advice is to start as early as possible. The ticket booth opens at 7 am. From 7 am to 9 am is the best time to start.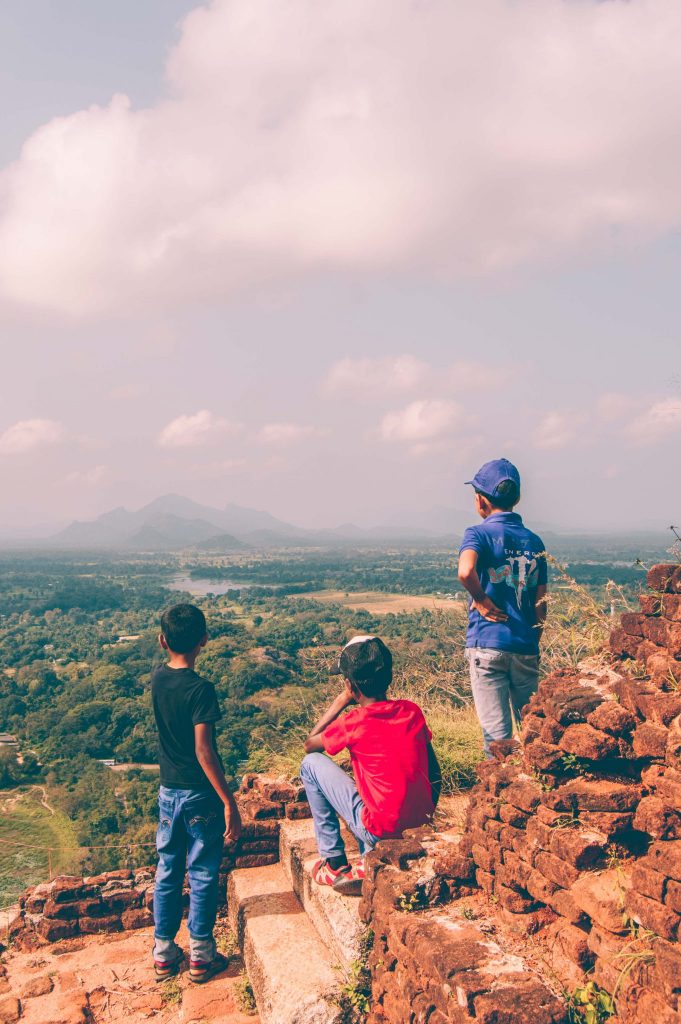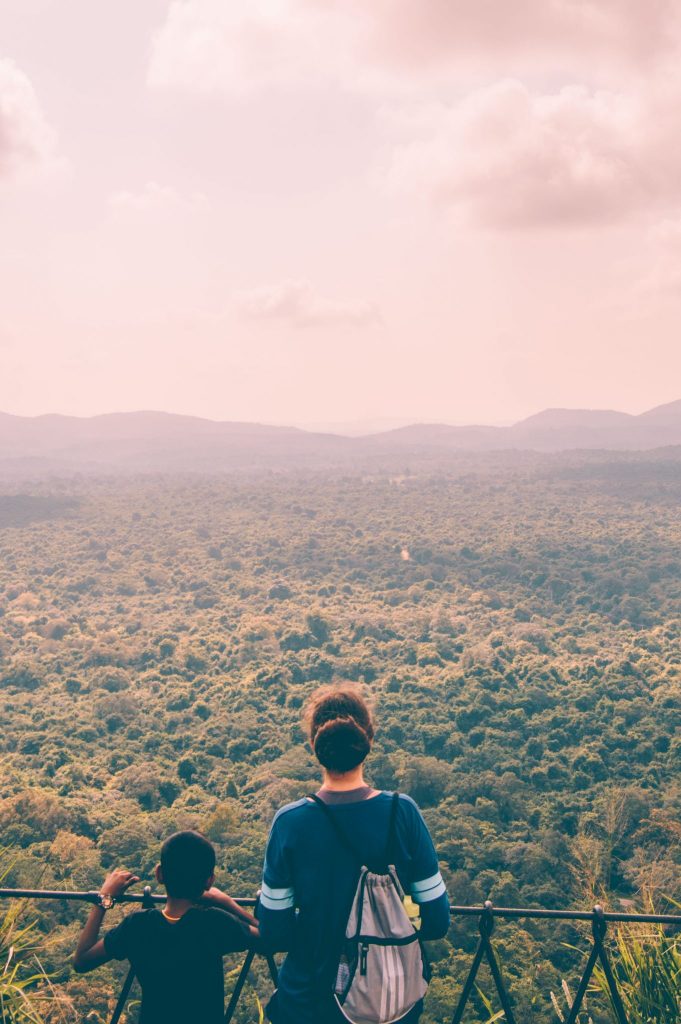 Sigiriya was once the capital of Sri Lanka, and the Lion Rock was chosen by King Kasyapa to build his palace on top of it. The rock fortress stands 200 meters high and is considered one of the most important urban planning sites in the world.
It features sophisticated water retaining structures, surface hydraulic systems, and man-made reservoirs, as well as some of the oldest frescoes you can find in Sri Lanka and the remnants of an enormous lion carved out of stone on a plateau about half way up. You can read more about the history of Sigiriya Rock and see some gorgeous pictures of the site in this post.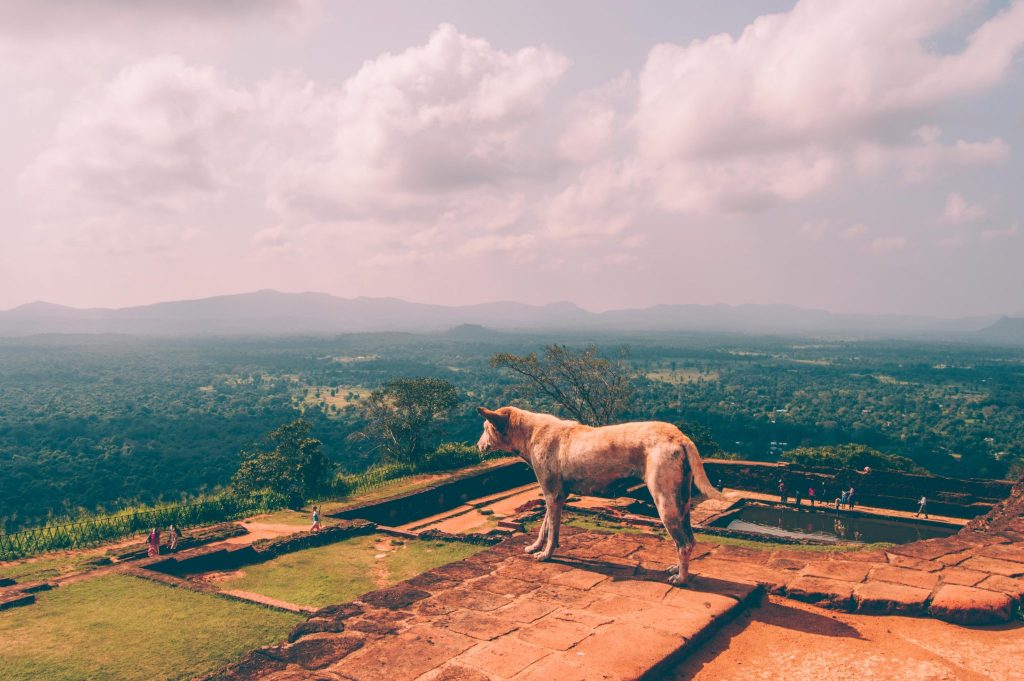 The hike up and down will take approximately three hours. Less if you are in good shape and start early, before the crowds arrive.
Cost: 4650 LKR (30 USD)
12 PM — Lunch and Rest Time
A few minutes-drive away from the Lion Rock is Sigiriya town with its many touristy restaurants where you can have a meal after hiking. We had a good lunch of rice and curry at Chooti Restaurant. There are plenty of restaurants on the street right next to the one we chose. All of them have more or less similar menus and prices.
Address: Chooti Restaurant, Sigiriya Road, Sigiriya
14.30 PM — Elephant Safari in Minneriya or Kaudulla National Park
Jeep safari in Kaudulla National Park was the first time in eight years I spent in Sri Lanka (on and off) that I saw a herd of over a hundred elephants in the wild, and it was mind-blowing!
You can watch elephants in many parks around Sri Lanka: from Udawalawe to Yala to Kaudulla. Safari is the best way to see these majestic animals without bothering or hurting them. It is a widespread practice in Sri Lanka to ride elephants. Please, avoid it at all costs.
While it may seem that an elephant is big and strong and you riding him is not going to hurt, there's a story behind. To make elephants submissive, they are abused, repeatedly beaten up, and punished from small age. Watching elephants in their natural habitat is a more ethically-conscious and kind way to go.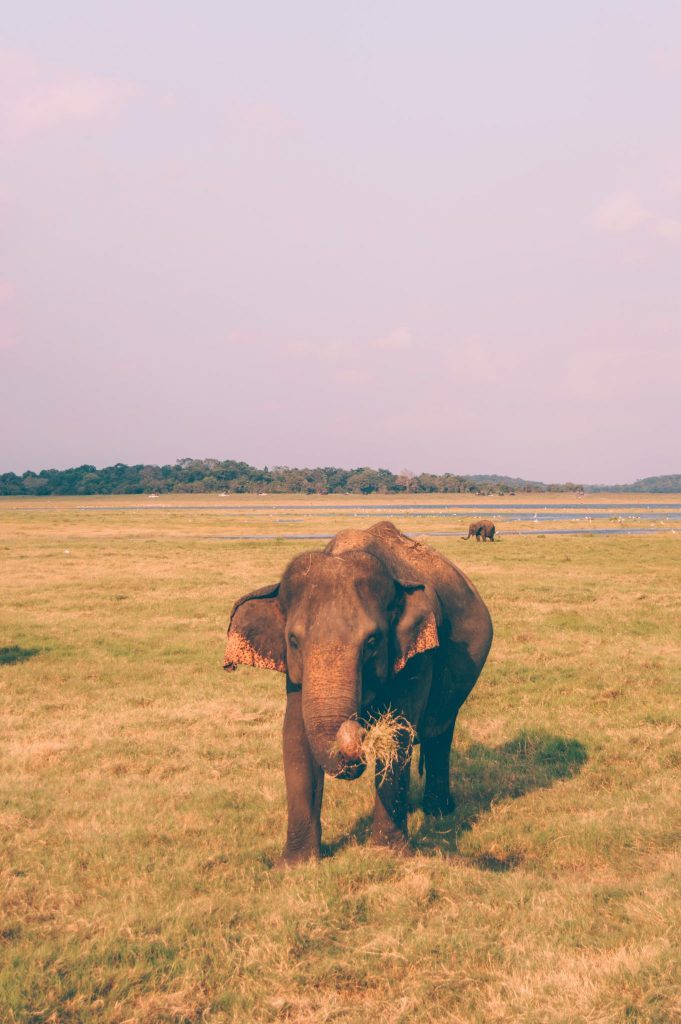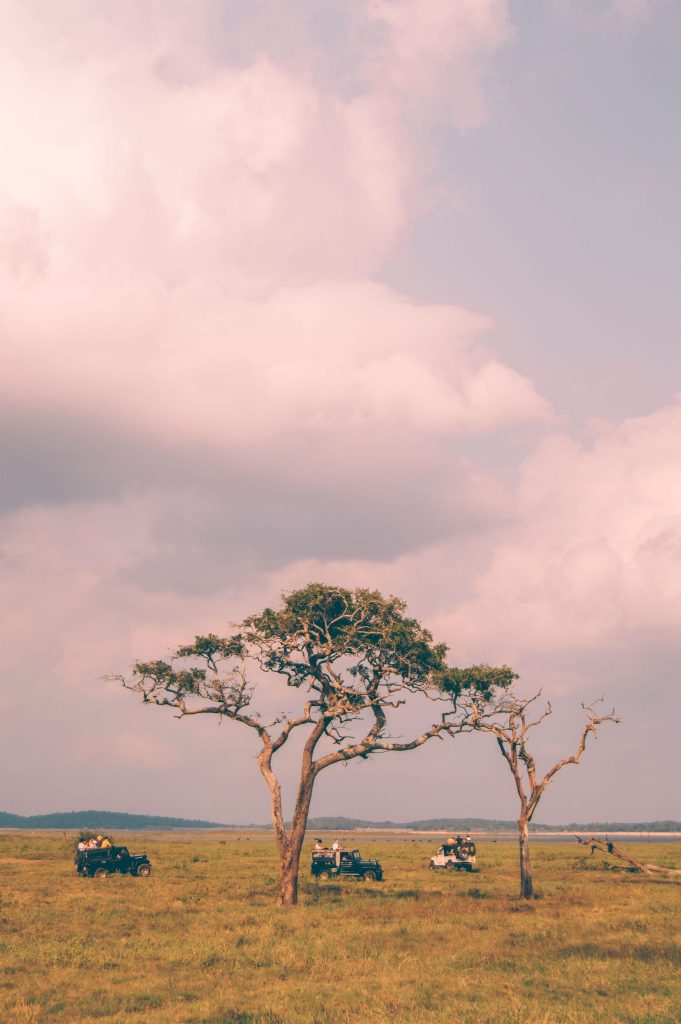 Both Kaudulla and Minneriya are within an hour drive from Sigiriya. Depending on the season elephants migrate from one park to another, so your safari tour guide will suggest where the best place to go is. The peak season in Kaudulla National Park is from August to December when you can see over 200 elephants as well as peacocks, wild boars, and deers.
Nearby Minneriya National Park is considered the largest known meeting place of Asian elephants in the world. The best period to visit is from May to October when you can see big herds of up to 300 elephants.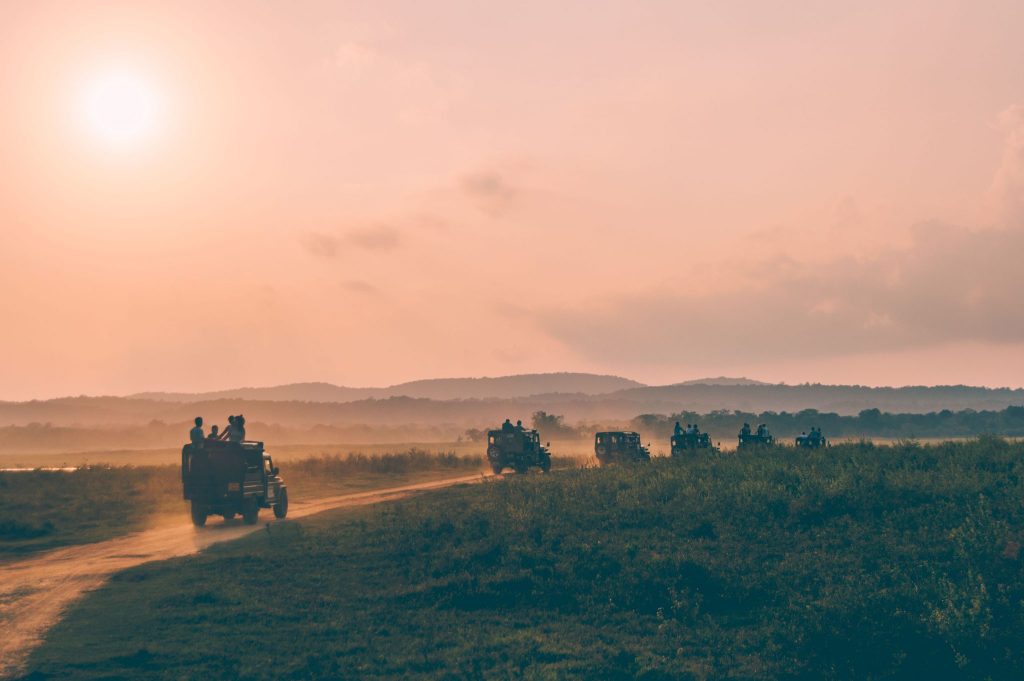 How does safari work?
There are local travel agents who do tours in both parks on a daily basis. For a fee, they provide a jeep with a driver who will take you to the park, drive you around and tell you (depending on how well he speaks English) about all the birds and animals, then drive you back to the city. You can't go into the park on your own unless you have a 4×4.
How to book a safari?
You can book a safari in Minneriya or Kaudulla National Parks in advance through your travel agent, book it online, or drop by one of the many travel agents' offices located in Sigiriya, Habarana, or Hiriwadunna (all cities are close to each other).
Make sure to book your safari at least a day in advance (in high season, book online well in advance). If you are doing the Hiriwadunna Lake boat ride with a local travel agent (I wrote about it above), ask them if they also do safari. We used Sandun Village and Jeep Safari (located on Dambulla road in Hiriwadunna). I've also heard good things about Pia Safari.
Another option is to book a safari through the hotel where you stay, it is usually more expensive, but more convenient too since they will pick you up right from the hotel and drop you back.
No matter which travel agent you choose, there are two slots a day when you can visit the National Parks: morning (around 9.30 am) and after lunch (around 2.30 pm).
Cost: You will need to pay for the entrance to the National Park and for the jeep rental. The parks have a slightly confusing fee breakdown. Foreigners pay more than locals and with every additional person the price of the entrance per person goes down. For three people (foreigners) we paid roughly 7000 LKR for the park entrance. The cost of the jeep depends on your travel agent, we paid 3500 LKR total. Plus 1000 LKR — a tip to the driver. From start to finish safari will take approximately 4-5 hours of your time.
Where to Stay in Sigiriya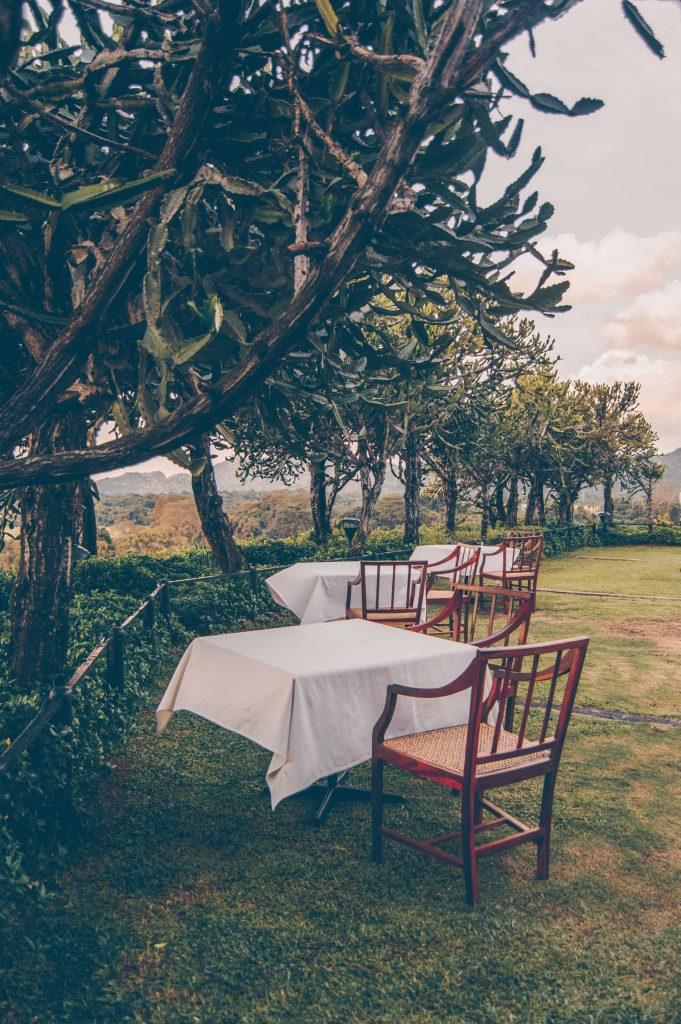 If you want to splurge on your visit to Sigiriya and Dambulla, this is the place to choose! Heritance Kandalama is a gorgeous hotel designed by Sri Lanka's most famous architect Geoffrey Bawa with surrounding nature in mind. The hotel is drowning in greenery, the entrance and lobby are carved into stone, and the pool is overlooking the beautiful Kandalama Lake.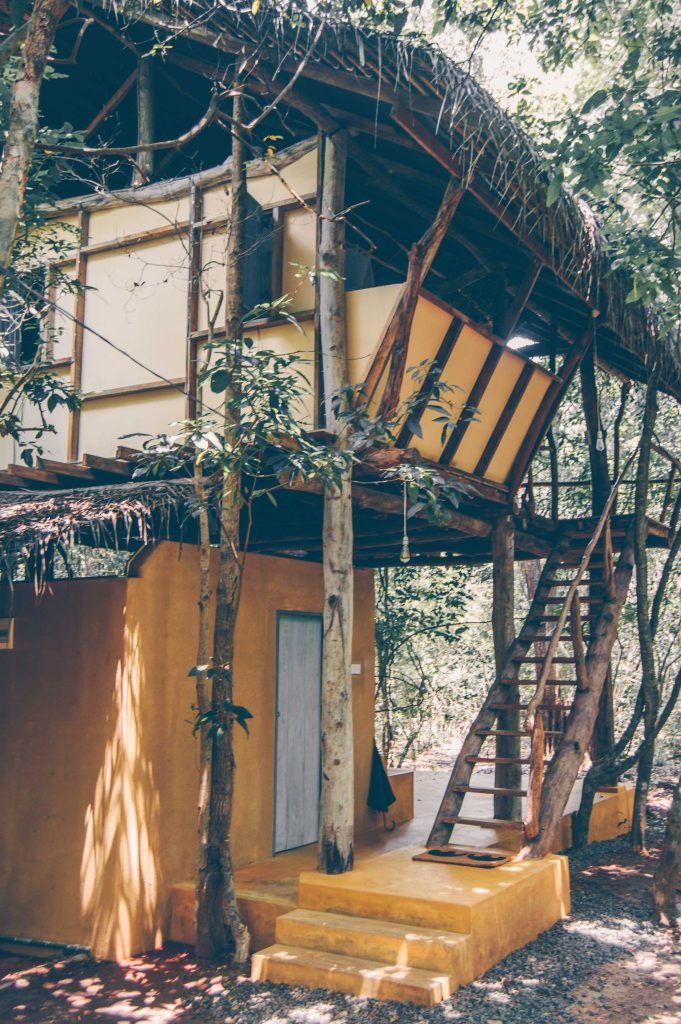 "Oh how pity you are checking in so late. Only two hours ago there were elephants passing by you house". I wasn't even sure whether to be happy or frustrated by this news upon our arrival to the hotel at the base of Pidurangala Rock.
If you love nature and have always dreamed of spending a night in a tree house, Back of Beyond is an amazing location. They have only a handful of tree houses on their property, which is why the place feels small, homely, and secluded. One wall inside our house was completely missing, open to the jungle. Waking up to the sounds of forest and birds chirping in the morning was one unforgettable experience.
Another major advantage of this hotel is the food. They source ingredients from local villages, and I've no idea who the cook is, but he's a genius. I've tried some of the best rice and curry in Sri Lanka here.
Shady Mango Villa is a more affordable option if you prefer budget travel. Unfortunately, the budget villa I stayed at in Sigiriya is not accepting reservations any more, but Shady Mango would be my next choice. I love smaller family-run properties that feel like homestay in Sri Lanka. This villa is located right by the Lion Rock which makes it so much easier to get around.
How to get around
As you can see from this itinerary there's a whole bunch of things to do in Sigirya, so the best way to get around is by car. It is very common for tourists in Sri Lanka to hire a car with a driver for the duration of stay or at least for parts of it (and won't cost you a leg and an arm). Usually you can rent a car (with a driver) through a travel agent.
If you are traveling by public transport, I'd recommend to at least hire a tuk-tuk/car for the first day of this itinerary, since the first day is especially busy and all the attractions are somewhat away from each other. It would be hard to figure out which bus goes to Hiriwadunna lake and there's definitely nothing that stops close by Heritence Kandalama. On the other hand, on the second day it will be more comfortable to simply catch a tuk tuk to get you to the Lion Rock and the office of safari travel agent.
Don't Forget About Travel Insurance!
I can't emphasize enough how important travel insurance is when you are planning a trip to a foreign country! So many things can go not exactly as planned (like that time I got food poisoning and got robbed of ALL my luggage in a span of a few days). I like World Nomads because you can buy and claim insurance online. You can even buy it if your trip has already started. And they provide travel insurance for travelers from over 140 countries. Get a customized quote below!
Know of any other cool things to do in Sigiriya and Dambulla? Let me know in comments!
Pin for later: