Before I get into all the cool and fun things to do in Colombo, allow me to tell you about my first encounter with this city. Have I told this story before? I think I have. But here goes. I found an internship in Colombo through a student exchange program (better said — the internship found me) and agreed to come half way across the globe, to a developing country after doing a ten-minute Google search on Sri Lanka. More specifically, I googled "Sri Lanka", opened "images" section and stared at the pictures of palm trees and sandy beaches. This looks good enough, I am coming! 
Then I landed in Colombo. What on Earth did I get myself into? Where are the beautiful beaches, the tropical paradise? Grey ramshackle buildings, bumpy roads, and occasional cows met me upon arrival. When I was preparing for the trip, the Sri Lankan girl who helped me  find the internship, sensing my fear and uncertainty, said that Sri Lanka is like cleaner, more organized India. That thought comforted me at the time. The problem was — I've never been to India, so the so-called more organized Colombo was pretty damn haphazard for me.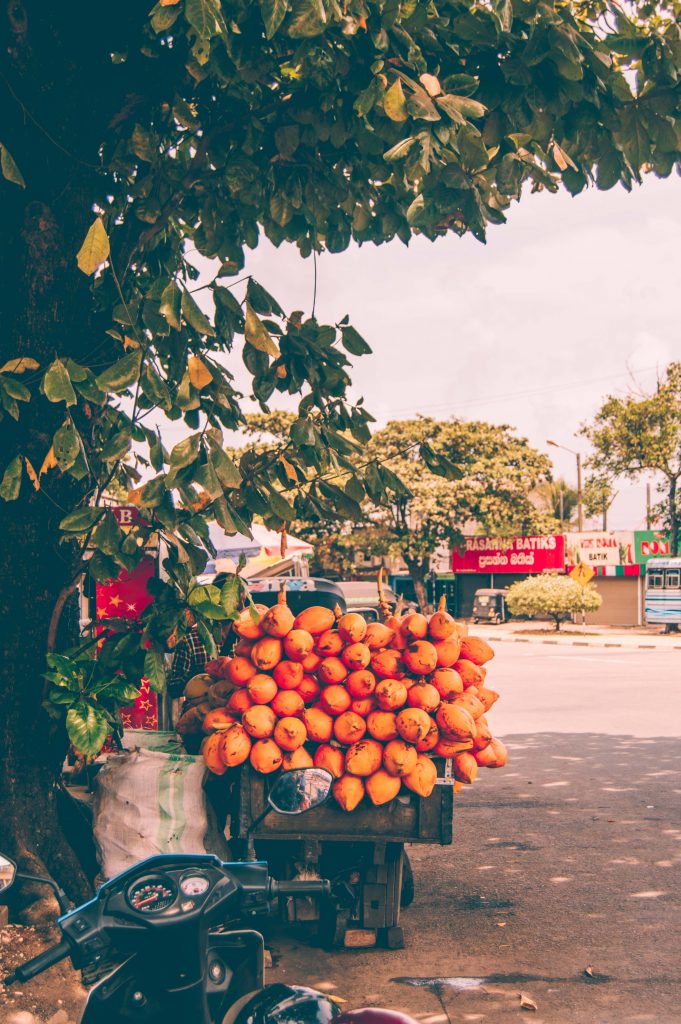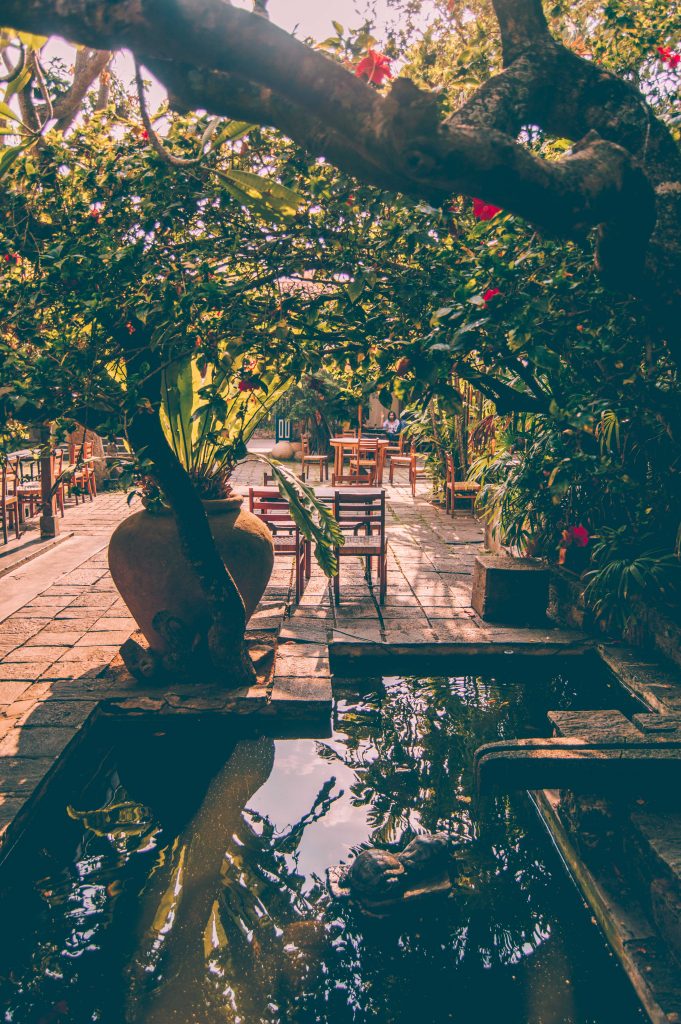 From the airport I went straight to the interns' house which was situated by a busy road — the noise was all-encompassing. There was no hot water, no washing machine, but there was a rat in the kitchen. I remember washing my clothes in a bucket of cold water on the second day and mumbling "If I can do this, I can do anything in my life" like a mantra.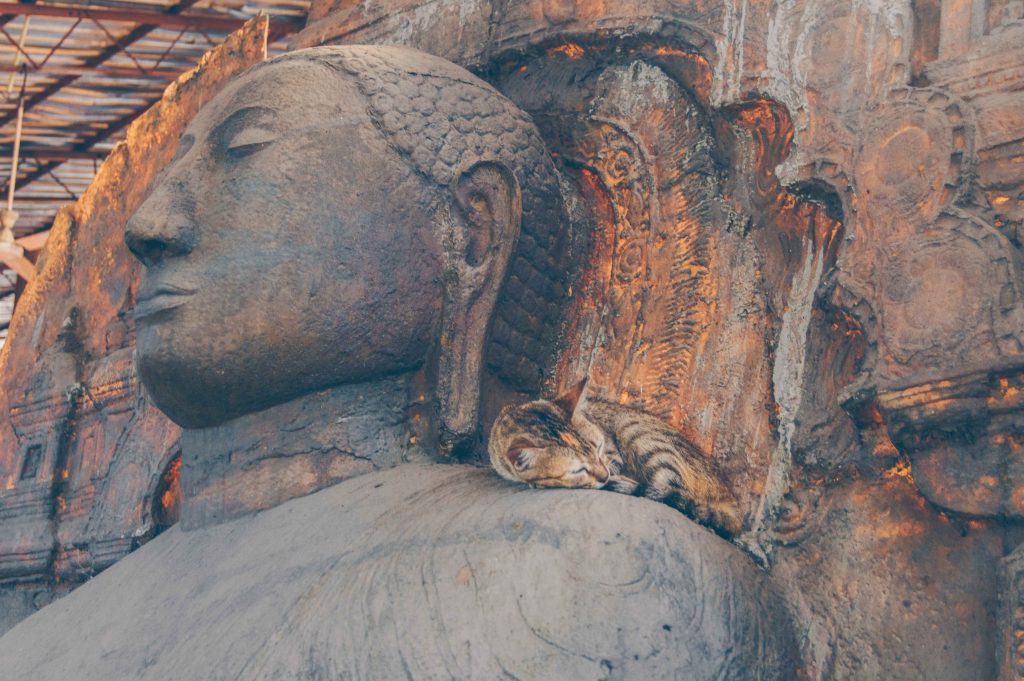 "I've never lived in conditions like this!" I would tell my friends afterwards. "Me neither!" would always add my Sri Lankan husband. Oh yea, I met my future husband two weeks after arriving. And he was as shocked as I was by that house. I moved to a better place shortly, but even in those first days I knew Colombo is not all that bad. Because what really makes or breaks your adventure is not the lack of hot water, but the people who you meet along the way and who are forced to wash their clothes in a bucket of cold water like you are.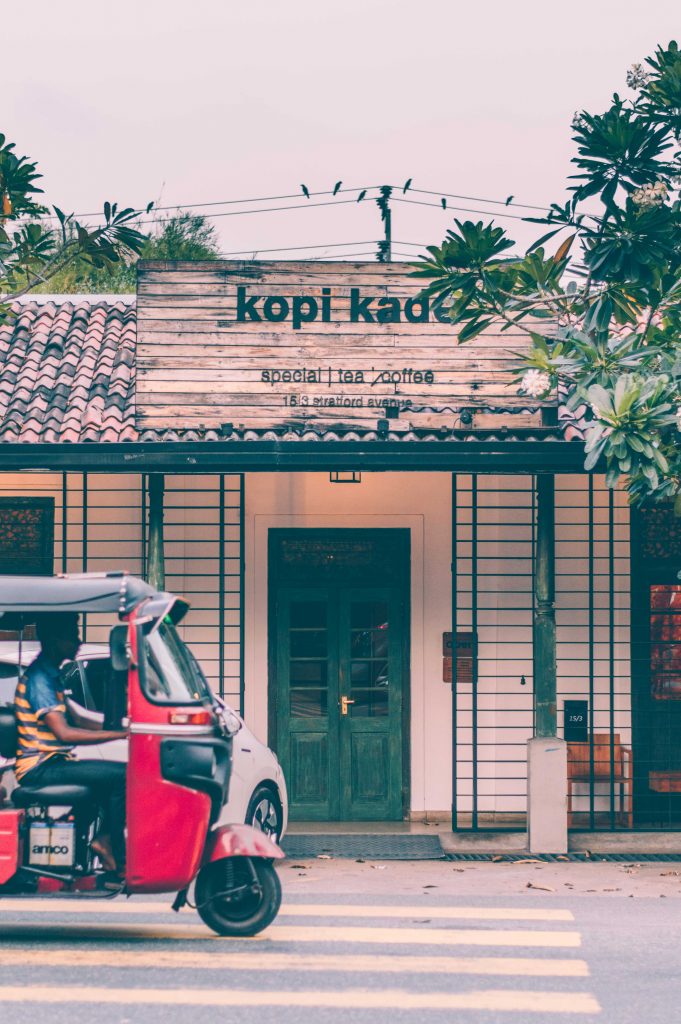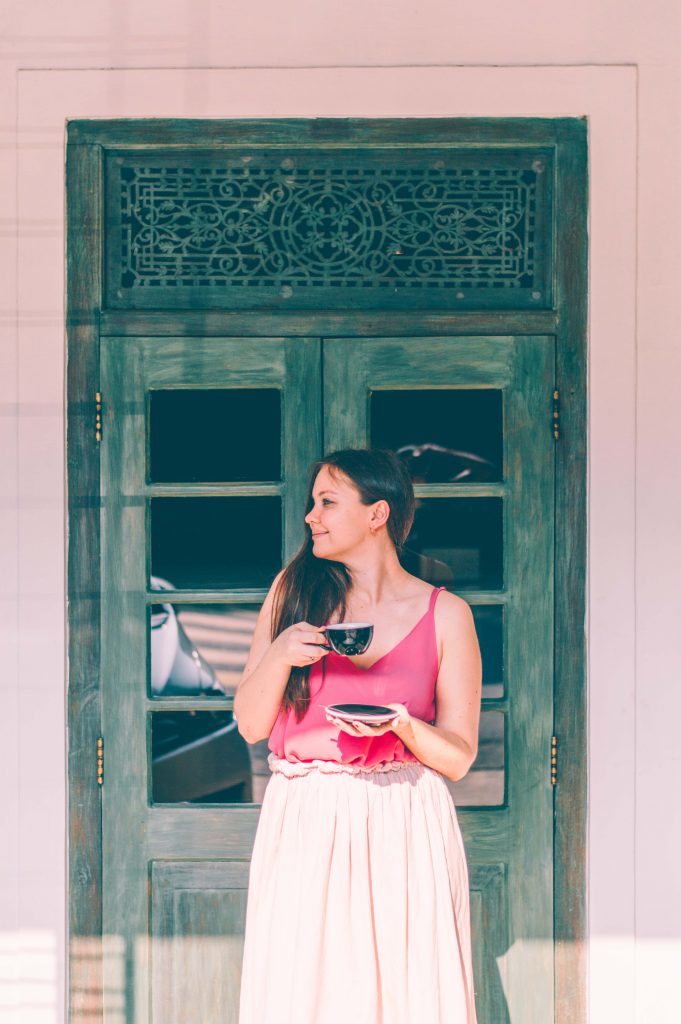 Colombo is not the kind of city you'll fall in love with at the first sight. Actually… it's not the kind of city you'll fall in love with. Period. But it grows on you. If you know that narrow side street that will take you to a pretty garden cafe with aaaaamazing coffee, or where to get a beautiful view of the city while sipping on a cocktail, or the park where you can find respite from the heat and noise. What? You don't know where all these things are? Don't worry, I am about to tell you all the best things to do in Colombo!
40 Things to Do in Colombo
For the Adventurous Traveler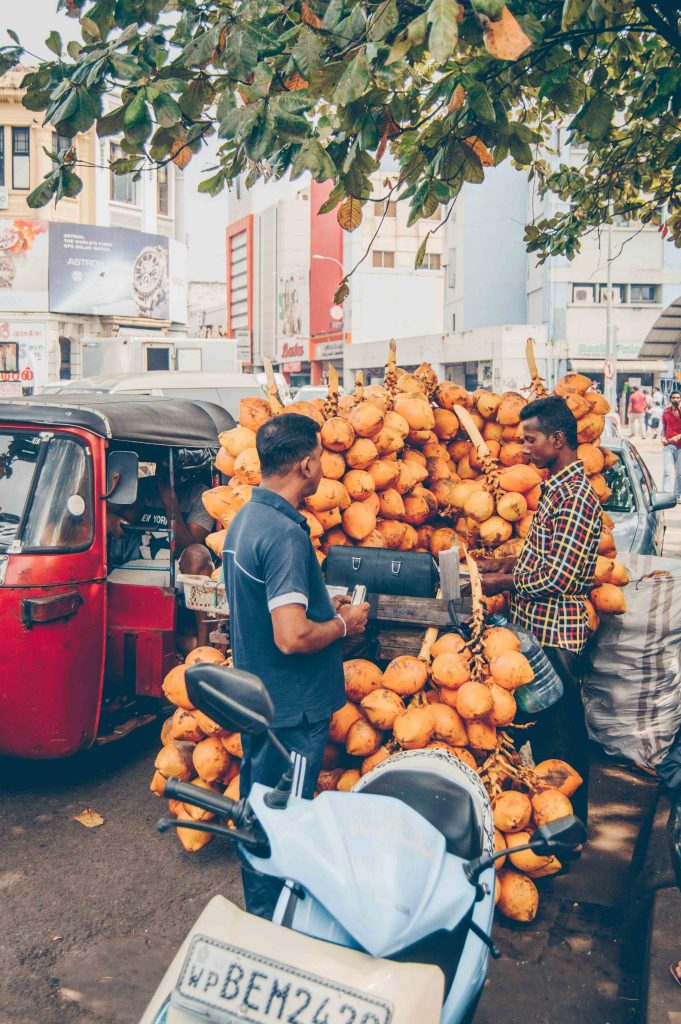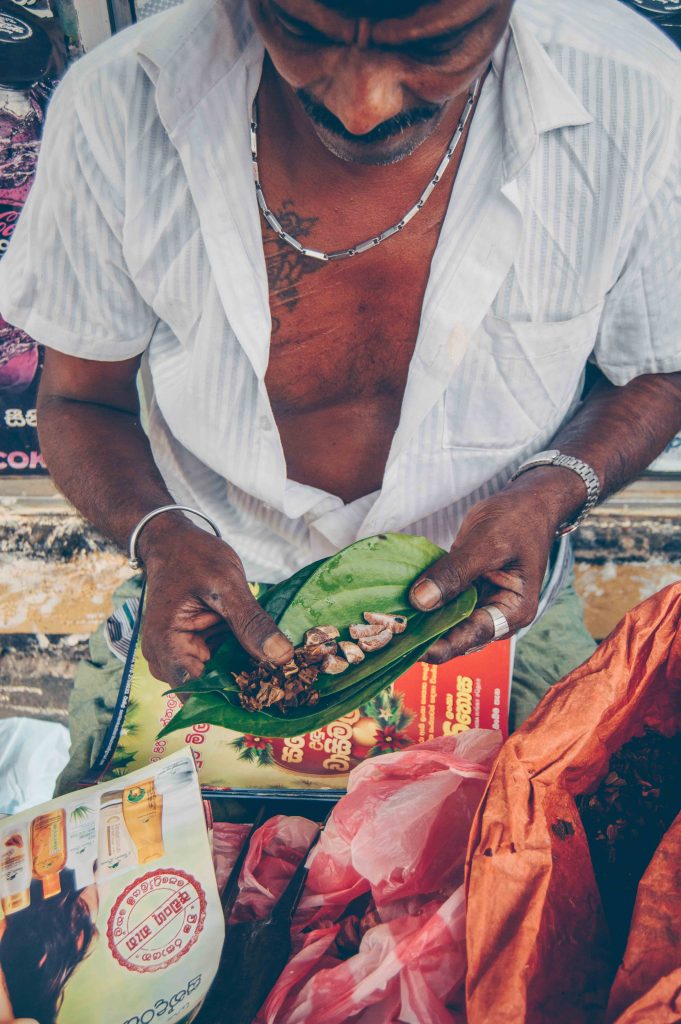 1. Pettah Market
To me, Pettah is the beating heart of Colombo, its biggest market place. I don't think it's for everyone. Pettah is dirty, busy, hard to navigate through. You'll be elbowing your way through a crowd of people, tuk-tuks, and cows. But if you want to see the real, down-to-earth local life, that's the right place. 
A word of warning: this is not the place for shopping, not for authentic Sri Lankan products at least. I see a lot of people recommending shopping in Pettah market as a thing to do in Colombo. Yea, right. Pettah has everything, and most of it is made in China. You should go to Pettah to see life as it is, to have a deep fried street snack, to drink a faluda, maybe buy a few fruits or vegetables. Do not come here for souvenir shopping and don't romanticize it. 
A piece of advice: wear comfortable shoes and some clothes you are not afraid to get dirty: you'll be sweaty and dusty after 15 minutes of walking around.
For the Architecture and History Buff
2. Geoffrey Bawa's House (Number 11 Colombo Residence)
If I had to recommend only one place to visit in Colombo, it would be Geoffrey Bawa's house. I might be biased, though, because I am obsessed with Bawa, the most famous Sri Lankan architect, and his works. Number 11 is the house where he used to live in Colombo. Tucked in a cul-de-sac of a narrow lane, the house is located in the fanciest residential neighborhood of the city. 
You can only visit during certain times of the day and only by appointment. Check their website for more details. Photography inside is prohibited, apart form the hallway at the entrance. So the pictures here are not representative of what it really looks like inside. Believe me, Bawa's house is a masterpiece!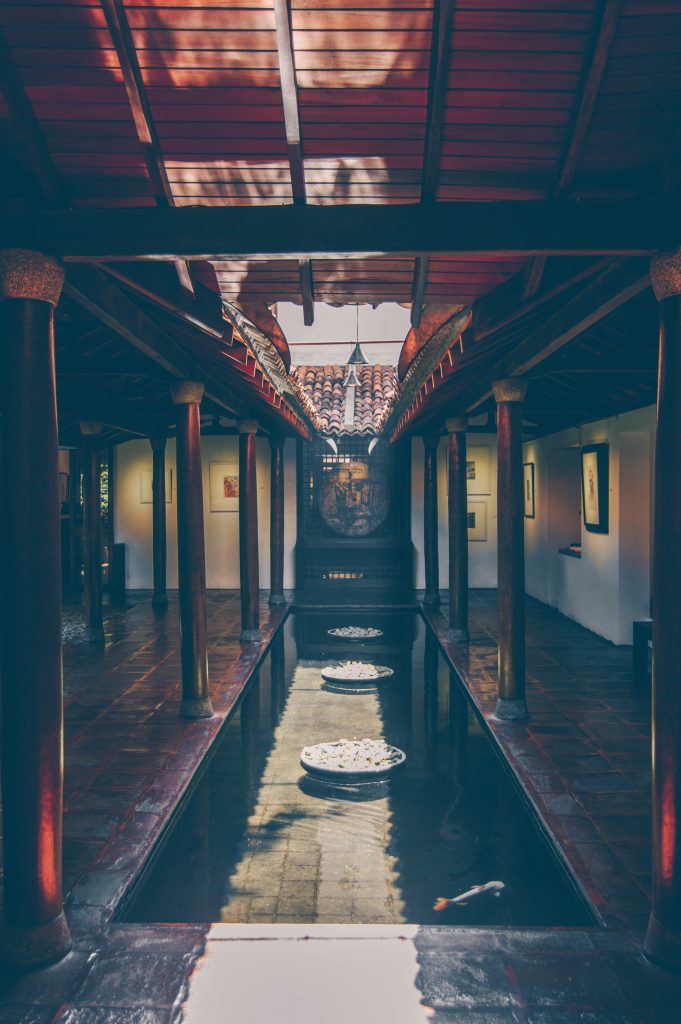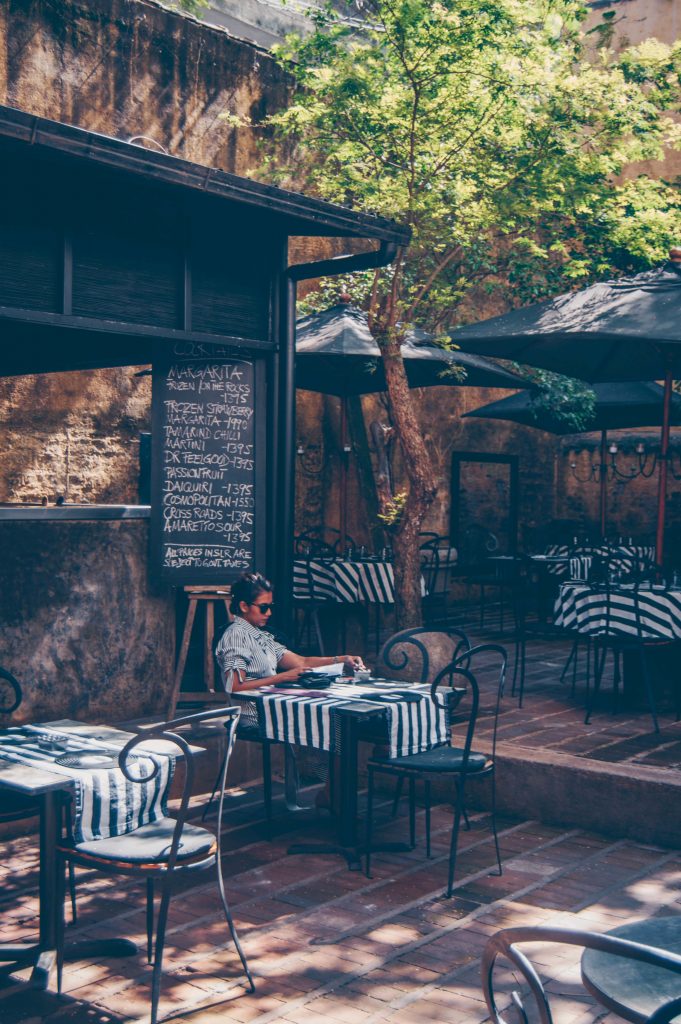 3. Gallery Cafe
Steps away from Bawa's House is Gallery Cafe, one of the upscale dining options of Colombo. Why do I recommend it for the architecture buffs? Because it is the former office of Geoffrey Bawa. I told you I am obsessed. It's a quiet garden cafe where you can take a break from the craziness of Colombo. I wouldn't necessarily have dinner there, it's quite expensive, but I like to stop for coffee, dessert, and people-watching. 
4. Colombo Fort
One of my favorite neighborhoods in the city, Colombo Fort houses many architectural gems built during Dutch ruling period. To give you an orientation mark, start at Chatham Street. De Mel Building with Pagoda Tea Rooms on the ground floor is one of the prettiest buildings in the street. You'll also find Fort Jumma Mosque and Old Colombo Lighthouse nearby.
On York Street is located the (second) prettiest supermarket you've ever seen (as a Russian, I have to say that the prettiest supermarket is this one in Moscow). The iconic Cargills building used to be the residence of the former Dutch military commander, then the home of the first British Governor of Ceylon until acquired by Cargills in 1896. Another worthy stop in the Fort is the Old Parliament Building. And while you are there, check out the Old Dutch Hospital (I'll tell you more about it below). 
5. Colombo Fort Railway Station
Although the name suggest that the railway station should be close to the buildings I described above, you'll have to take a tuk-tuk to get there. The station built in 1917 boasts beautiful design inside and out and is one of the liveliest places in the city.
If you are traveling from Colombo to the beaches on the Southern shore or to the hill country by train, arrive to the station a bit early to wander around. Otherwise, just buy the cheapest ticket (no more than 20 rupees) in any direction to enter (you can only enter with a valid ticket).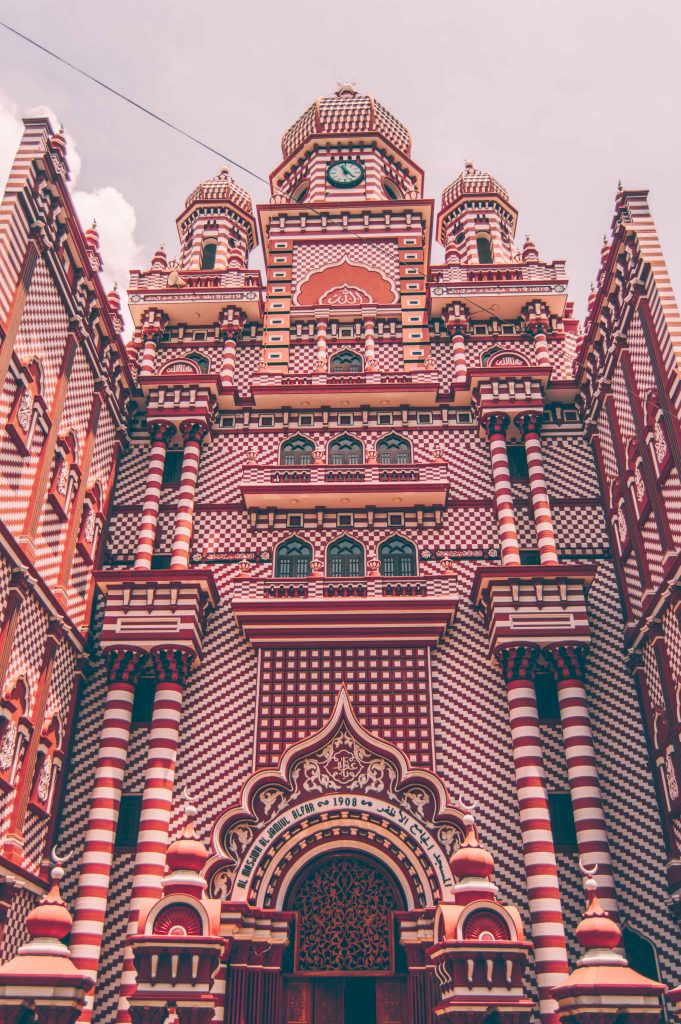 6. The Red Mosque (Jami Ul-Alfar Mosque)
One of the oldest mosques in Colombo, completed in 1909, Jami Ul-Alfar mosque reminds me of the colorful, candyland-like churches of Russia. It takes up almost a whole block in Pettah market and is best viewed from the Main Street or the Second Cross Street. Whether you can enter it as a woman is up for discussion. I've been told by several people that women are allowed, but in reality my every try of getting inside this mosque ended unsuccessfully (please, don't tell me I just need to dress appropriately, I do!). So give it a try, maybe you'll be lucky. Either way, the mosque is worth a visit, even if you only get to see it from the outside.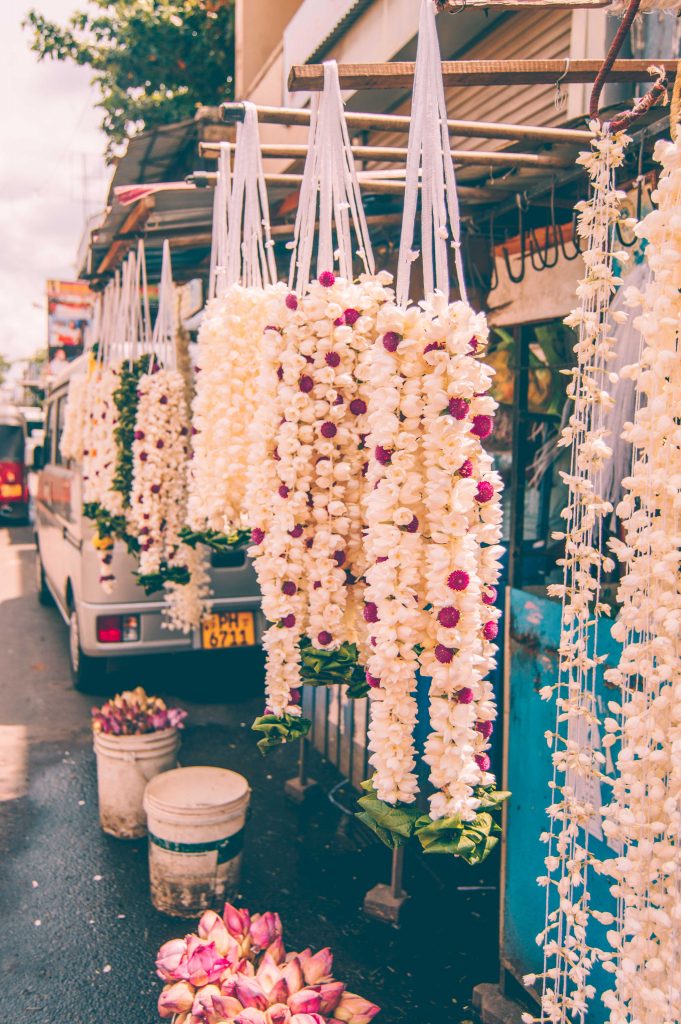 7. Old and New Kathiresan Kovils
Kovil is a Tamil term for Hindu temple. Old and new Kathiresan kovils are located next to each other on Sea Street of Pettah. They are only open early in the morning and late in the afternoon. The exterior of the new kovil is heavily decorated, so it's worth stopping by even during off hours.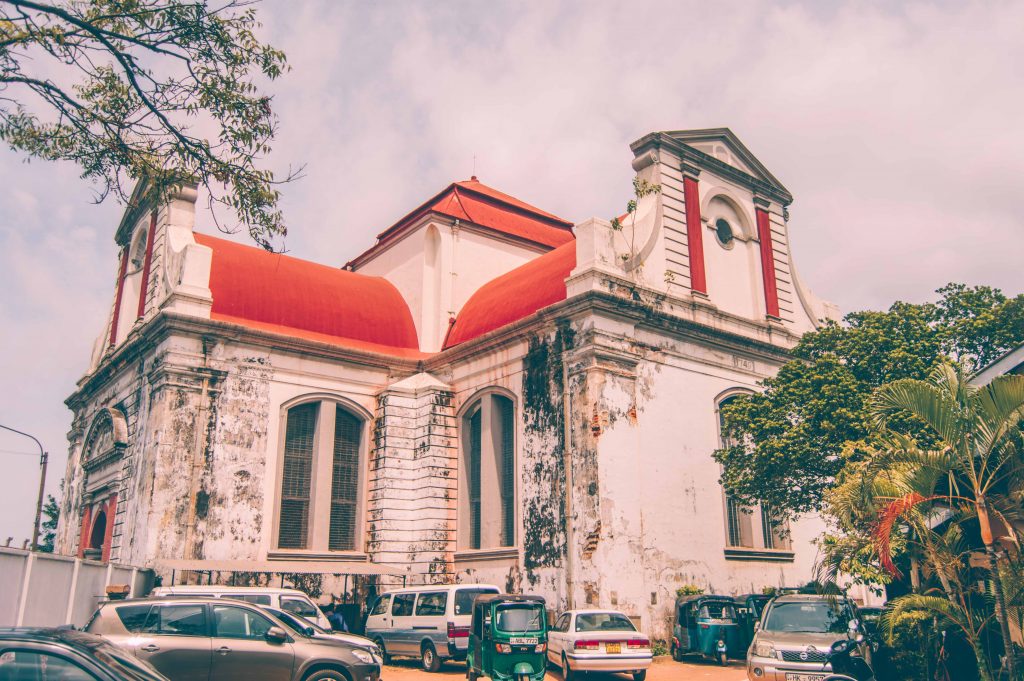 8. Wolvendaal Church
Wolvendaal Church, one of the oldest Protestant churches in the country, is also located in Pettah. So if you go to the market you can see a muslim mosque (Jami Ul-Alfar Mosque), Hindu kovils (old and new Kathiresan kovils) and a protestant church — we have covered all fronts. There's also a small Buddhist chapel not too far from Pettah (check for details below).
Wolvendaal church is considered an important Dutch colonial era building. I can't say that I am a big fan, it has rather simple architecture, especially after you've seen the Red Mosque. But the fact that it's the only Dutch church in Sri Lanka that has been continuously in use since 1757 is impressive!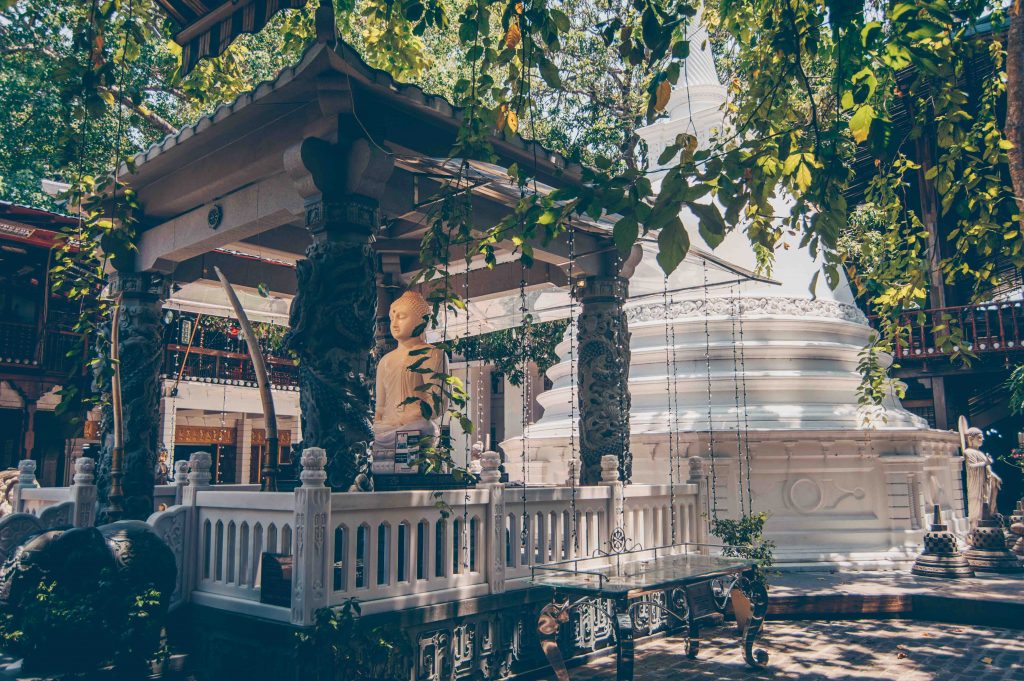 9. Gangaramaya Temple
Probably the most popular Buddhist Temple in Colombo and, therefore, the most touristy. I am not a big fan of temples turned into tourist hotspots that charge entrance fees, but Gangaramaya is indeed beautiful and conveniently located. You have to pay around 300 rupees to enter. Remove the shoes. If your knees are not covered, you'll be given a wrap-around. 
10. Seema Malaka Temple on Beira Lake
Seema Malaka is part of Ganagaramaya Temple, but located a few hundred meters away, on Beira Lake. The temple is used by monks for mediation rather than worship. The current structure was built by Geoffrey Bawa (this is the last time I am going to mention the man, promise) in 1976.
11. Independence Square and the Arcade
Strolling around Independence square is one of the best things to do in Colombo in the afternoon, when the heat is not as bad. The grounds feature Independence Memorial Hall built to commemorate the independence of Sri Lanka from the British rule, Independence Memorial Museum, and the Arcade, a shopping complex. People come here for their evening jog or to chill on the steps of the monument. 
The Arcade is housed in a group of beautiful renovated buildings, surrounded by green lawns and featuring a fountain and a glass-floor aquarium. One of the buildings used to serve as Jawatta Lunatic Asylum. The area was renovated keeping intact many original architectural features. 
12. National Museum of Colombo
The largest museum in the country, built in 1876, features a permanent collection of Sri Lankan ancient art and carvings, as well as weaponry and artifacts from the centuries of colonial era. The real treasure of the museum is the crown jewels and the throne of the last King of Kandy, which were returned to Sri Lanka by the British Government.
For the Traveler Who Goes Off the Beaten Track
13. Sambodhi Chaithya
Tucked away near Colombo Harbor, only a short walk away from five-star hotels, this Buddhist stupa is one of the best-kept secrets in Colombo. The stupa is floating over Marine Drive as it is built on a platform supported by two interlocking arches. There's a staircase that will take you on top and into the shrine inside. From the top you can see Colombo Port.
14. The Colombo Dutch Museum
One of the two things on this list that I haven't done myself is the Colombo Dutch Museum. Given how many times I've been to Pettah I have no idea how I missed out on this place, hidden on the Prince Street. The building used to serve as the residence of the Governor of Dutch Ceylon Thomas van Rhee. Today, it houses a museum covering the history of the Dutch colonial rule in Sri Lanka. 
15. Old City Hall
Another gem of Pettah Market that hides in plain site is the Old City Hall. I myself passed this shabby-looking building at least a dozen times before making it inside. And boy, was I surprised and freaked out. Go up to the second floor and find a man who's taking care of the building. For a small tip (100 Rs per person) he'll give you a brief tour of the halls inside. The main room features the weirdest installation you'll ever see — a bunch of wax figures placed around the table to recreate the first council meeting (look for W. Shakespeare among the figures, he's there, true story!).
For the Chill Traveler
16. Yoga Class at Prana Lounge
For those who want to escape the hustle and bustle of Colombo, Prana Lounge offers yoga classes. The lounge is located in Colombo-7, central and easily accessible area of the city. The space is gorgeous, with classrooms featuring beautiful paintings on the ceiling. And — added bonus — there's an awesome cafe Kumbuk connected to the lounge, so you can have a healthy meal prepared of locally sourced and often organic ingredients. Even if you are not into yoga, check out this space — it's beautiful!
17. Spa Session
Spa treatments in Sri Lanka are incredible! If you don't feel like spending time outside, in the hot sun, a spa session is an awesome idea. I have tried Spa Ceylon and Kemara. Both provide incredible service. Spa Ceylon is the most popular local brand of cosmetics with  many shops and several spa salons around the island. Kemara is a smaller business, with one location in Colombo. They also use their own cosmetics for treatments that is 100% natural and made from renewable sources.
18. Mani-Pedi at Nail Anatomy
If you choose to go for a spa-session at Kemara, only a few steps away is Nail Anatomy, a beautiful, high-quality salon where you can do manicure and pedicure. This is my go-to place whenever I am in Sri Lanka. I've spent years trying to find a good specialist, and these guys do the best job. 
Pro tip: there's also Lakpahana souvenir shop (high-quality locally made souvenirs) and Good Market Shop (organic and all natural Sri Lankan products, mostly food) nearby. So you can kill four rabbits with one shot here: have a spa session, do your nails, buy souvenirs and organic food.
19. Mount Lavinia Beach
Although Colombo is a water-front city, it's not easy to find access to the ocean. Whenever I feel like spending some time at the beach without driving down south to Unawatuna or Mirissa, I take a tuk-tuk and go to Mount Lavinia, a suburb of Colombo. It will take you approximately 30-40 minutes to get there. Check out Mount Lavinia Hotel, one of the most beautiful historic hotels in Colombo. Or have a cocktail at Sugar Beach, a popular ocean-front restaurant.
20. Pool Time at a Fancy Hotel
Five star hotels in Colombo are accessible. If you don't want to pay a pretty penny for a night, you can still drop by for a meal, a cocktail at the bar, or to spend some time at the pool. You can usually use the facilities after paying a small fee. Some of the hotels that allow access for the outsiders are Hilton Colombo Residence, Cinnamon Lakeside, Cinnamon Grand, and Mount Lavinia Hotel.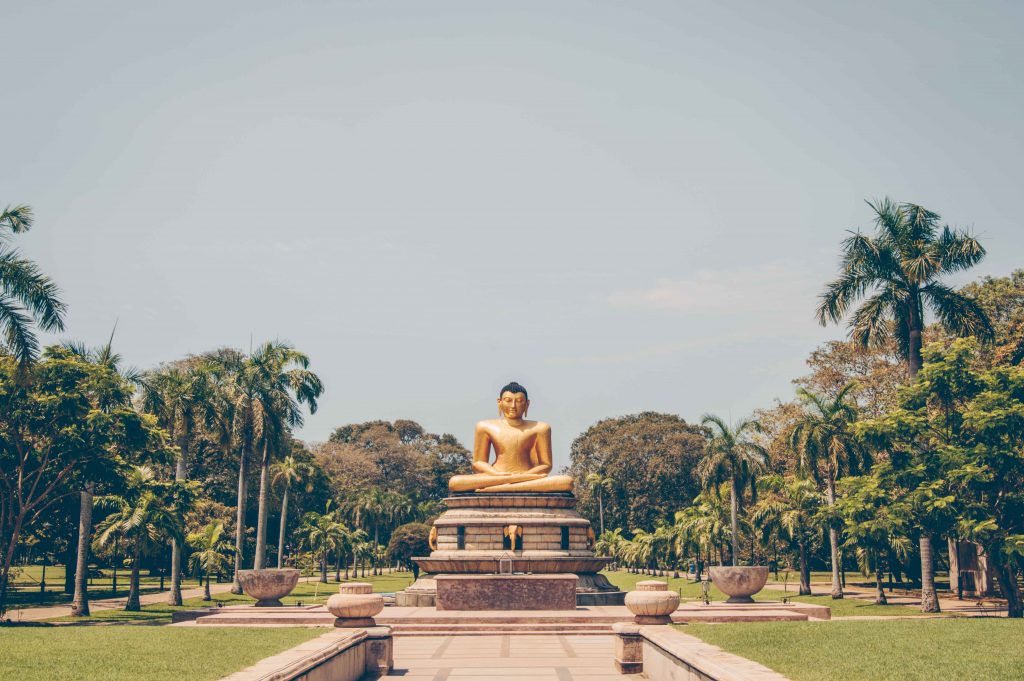 21. Viharamahadevi park
The largest park in Colombo with a golden Buddha statue, several water fountains, and a kids' playground. I wouldn't come here for the sole purpose of walking around in the park, but the area is full of great things to see, shops, and restaurants. Just steps away from Viharamahadevi park are the new Town Hall building and the beautiful Dewatagaha Mosque. Odel, one of the most popular shopping malls in Colombo, is also within walking distance. Come in the afternoon, when the heat goes down.
22. Diyatha Uyana Park
On the other hand, walking around Diyatha Uyana park is one of my favorite things to do in Colombo. It was built only a few years ago and has lots of greenery, outdoor market almost every day of the week, and a food court (I wouldn't eat there, though). Besides, just a few minutes walk away from the park is Water's Edge Hotel. Their property is so gorgeous, featuring several ponds with lilies, green lawns, and walking paths. 
For the Lover of Food
23. Ceylon Tea at Dilmah T-lounge
One thing you absolutely have to do in Ceylon? That's right, try Ceylon tea. And while you'll have plenty of opportunities to drink it all around the island, in Colombo you can try tea-inspired cocktails, mocktails, and even desserts. Dilmah T-lounge has two locations in Colombo: one in beautiful Fort, another — at the Independence Square Arcade. Whichever one you choose, make sure to try their T-kitch, strong black tea with condensed milk and spices — that's my favorite.
24. Ceylon Coffee
Before Sri Lanka became popular for its tea, the island was one of the biggest exporters of coffee in the world, along with Brazil. Nowadays it's not easy to find a good cup of coffee in Sri Lanka, let alone a good cup of locally sourced coffee. But I let you in on a little secret. There are two coffee shops in Colombo that brew awesome Ceylon coffee: Plus Nine Four and Whight & Co. The former is a beautiful garden cafe that works closely with Soul Coffee. The latter is a two-story cafe facing the ocean and railroad. They serve their own brand of coffee cold Ruby Harvest.
25. Colombo Dutch Hospital
The Dutch built the hospital for the officers and staff of Dutch East India Company in the 17th century. Since then, the building served as Colombo Fort Police Station, as well as housed the Colombo Apothecaries. In 2012 the building was renovated and transformed into a shopping and dining complex. Featuring all kinds of venues from souvenir shops, to spa salons, to some of the most talked about restaurants in the city, Colombo Dutch Hospital is where both locals and tourist hang out at night.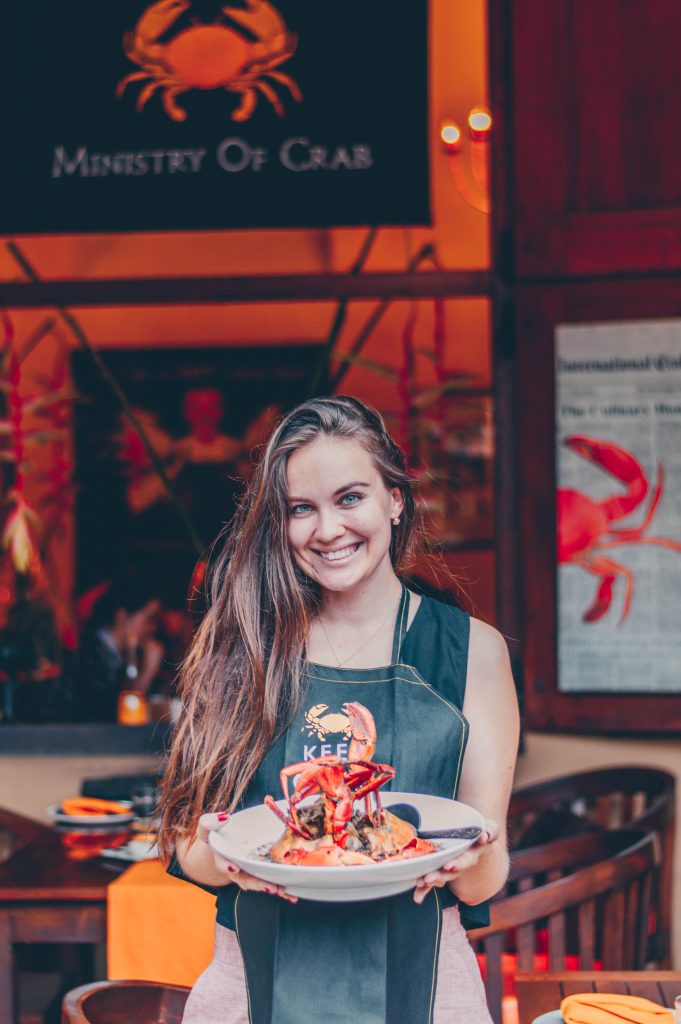 26. Dinner at One of Dharshan Munidasa's Restaurants
Dharshan is possibly the most popular chef in Sri Lanka who opened three restaurants in Colombo each of which provides a unique experience. First, there's Ministry of Crab. As their advertisement suggests, "reservations essential". Here you can try the famous Sri Lankan crab that can weigh up to 2 kilos. Then, there's Kaema Sutra that offers contemporary Sri Lankan cuisine. Last, but not least, Nihonbashi serves authentic Japanese cuisine prepared with fresh Sri Lankan seafood. Dharshan's Sri Lankan-Japanese origin shines bright through his creations. 
27. Snacks at Galle Face Green
Galle Face Green is the only promenade in the city and the place for afternoon walks and snacks. It stretches from Galle Face Hotel to the Fort and features multiple street vendors all of whom, for some inexplicable reason, sell the exact same thing: wade (deep fried lentil patties), shrimp wade, and crab wade. 
Although I love-love-love wade, I prefer to skip it here. The patties are kept outside for hours and then double deep-fried to be served hot. But if you see a cart with manioc chips or a seller of fresh pineapple pieces mixed with chilli— go for it, those are my favorites! Come to Galle Face Green after four o'clock to see kids running kites and watch the sun set into the ocean.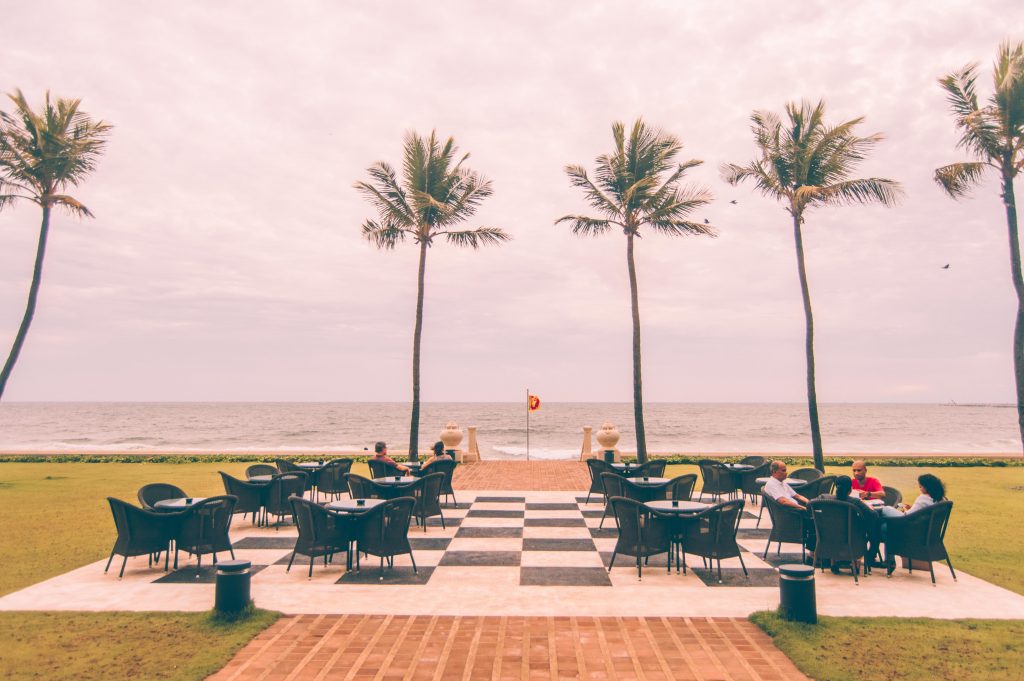 28. Cocktails to the Tunes of a Bagpipe
Right after taking a walk at Galle Face Green, head to Galle Face Hotel to watch sunset on their checkered patio with a cocktail in hand. Hands down, one of my favorite things to do in Colombo. Every evening at 5.30 pm they have a ceremonious lowering of the flag to the sounds of a bagpipe. Come a bit early to get a table. 
29. Afternoon Tea at a Fancy Hotel
While we are on the topic of fancy hotels, another awesome thing to do in Colombo is afternoon tea. This colonial tradition is alive and well in Sri Lanka where every self-respecting hotel offers Ceylon tea with a choice of petit sandwiches and miniature cakes. You can find two  types of afternoon tea: all-you-can eat buffet spread or a pre-set selection of sweets and treats on a cake stand. My favorite afternoon tea can be found at Hilton Colombo, Shangri-La, and Galle Face Hotel. All of them offer baked goods and desserts inspired by Sri Lankan cuisine. 
30. Kottu at Hotel de Pilawoos
Kottu is the most popular late-night street food in Sri Lanka, and Hotel de Pilawoos (by the way, not a hotel at all) is the go-to place for kottu in Colombo. Kottu is made by mixing roti (flat bread) with meats, vegetables, and gravy on an open grill. The cook uses two blades to cut up all the ingredients into small pieces while mixing them together. Kottu is the best thing that can happen to you after a boozy night, given how much carbs and fat it contains. 
31. Kollupitiya Market
If you want to experience a local market, but Pettah seems a bit too intense, head to Kollupitiya market, conveniently located in Colombo-4, a short tuk-tuk ride from all the major hotels. The building seems quite shabby from the outside, but inside you'll find some of the freshest produce. The ground floor features fruits and vegetables, first floor is dedicated to meat and fish (in the evening you'll find lots of cats there), and the second floor has two shops specializing in imported goods, like nuts, candies, and cheese.
32. Aunty's Sri Lankan Cooking Class
Aunty's cooking class tops my list of things to do in Colombo when I return to Sri Lanka. I haven't tried it yet, but this class got a lot of buzz on social media and some awesome reviews from a few of my friends, so I feel confident recommending it. You'll learn how to break open and scrape a coconut, how to prepare rice and curry, and then get to eat it all. What's not to love?
For the Art Aficionado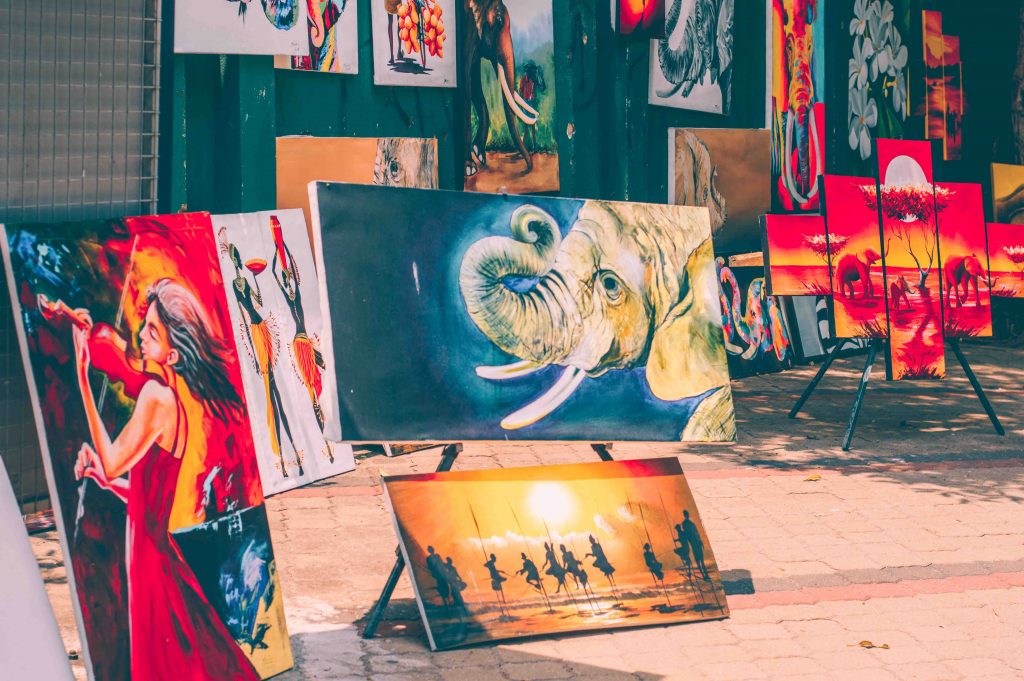 33. Open-Air Art Market at the Green Path
Green Path (also known as Ananda Coomaraswamy Mawatha, but Green Path is way easier to say), is a street running by Viharamahadevi Park. Every day of the week, young artists display their works by the side of the road, so the street turns bright and colorful. Come to admire local art or maybe even buy a painting to take home. Bargaining is acceptable.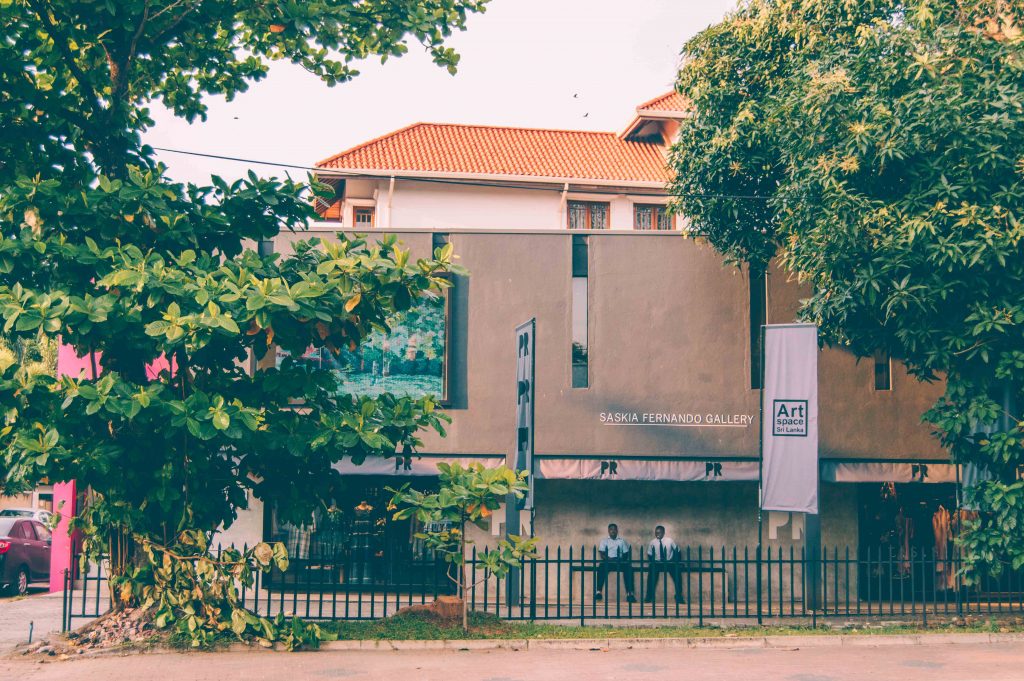 34. Art Galleries Around the City
Although large art museums supported by government are not a thing in Colombo, you will find many private art galleries sprinkled around the city, sometimes in the most unexpected places. One of the most popular spaces is Saskia Fernando Gallery showcasing the works of both well-establish and up-and-coming Sri Lankan artists.
There's a great art gallery at Barefoot (the space also features a souvenir shop and a garden cafe). Besides, Gallery Cafe has a curated collection of local art displayed at the entrance hall and in the courtyard. 
For the Shopping Addict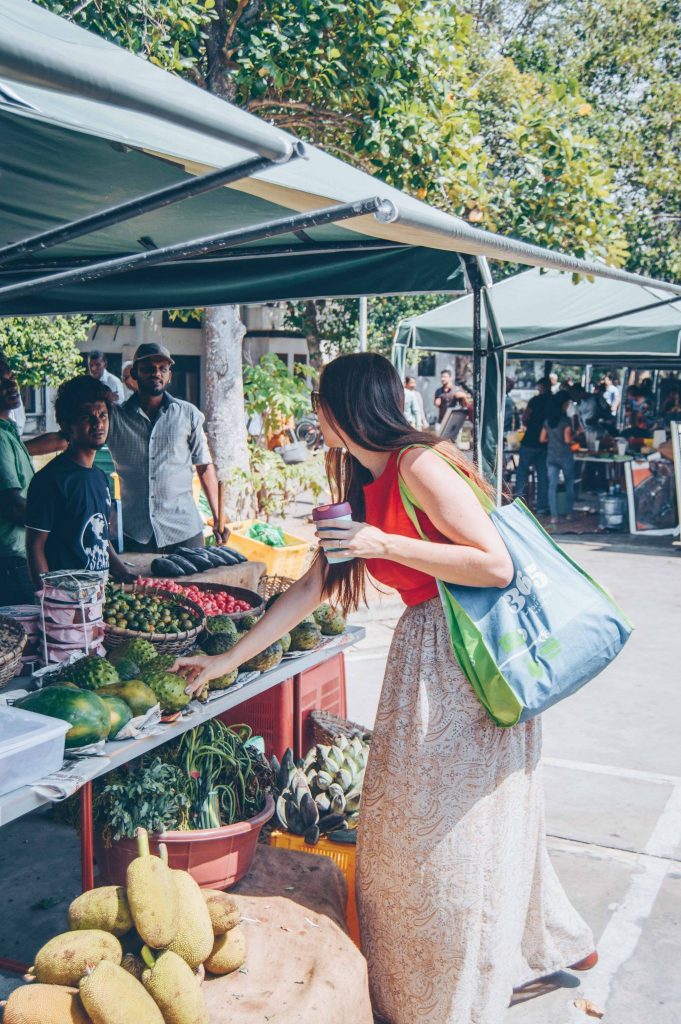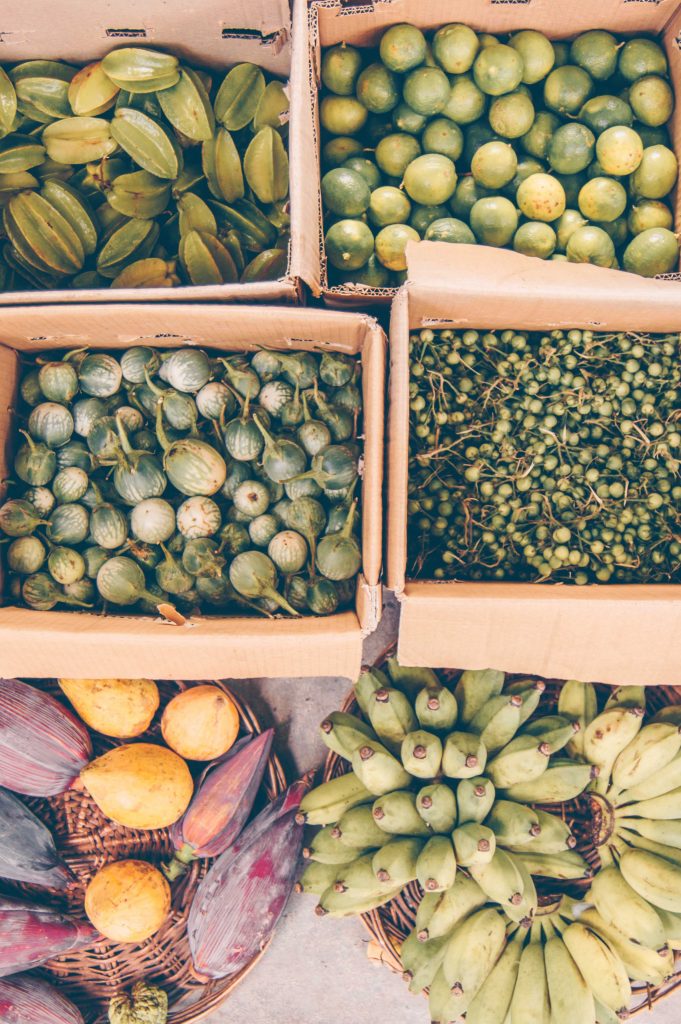 35. Saturday Good Market
Hand down, my favorite market in the city! I might be biased, though, since I used to be a vendor here. The Good Market Colombo is an awesome local initiative that started over five years ago to promote locally produced products and sustainable practices. The criteria for the vendors at the market are incredibly high. One has to prove that his business is eco-friendly, supports local community, and produces all-natural or organic products. You'll find plenty of souvenirs you can take home, like spices, tea and coffee, and local fabrics.
Tip: if you miss Saturday market, check out Good Market Shop that is open daily.
36. Shopping Malls
To be honest, not my cup of tea, but if you want to spend a few hours shopping for everything your heart desires in one place, check out one of the malls. The newest and biggest mall in the city is Colombo City Center. It features five floors of local and international shops and a "food studio" where you'll find a few dozen restaurants. Another popular mall (in fact, one of the first malls in Sri Lanka) is Odel, a real tourist hot spot. The one mall I personally think is not worth your time is House of Fashion. It features a whole bunch of incredibly mediocre goods made in China.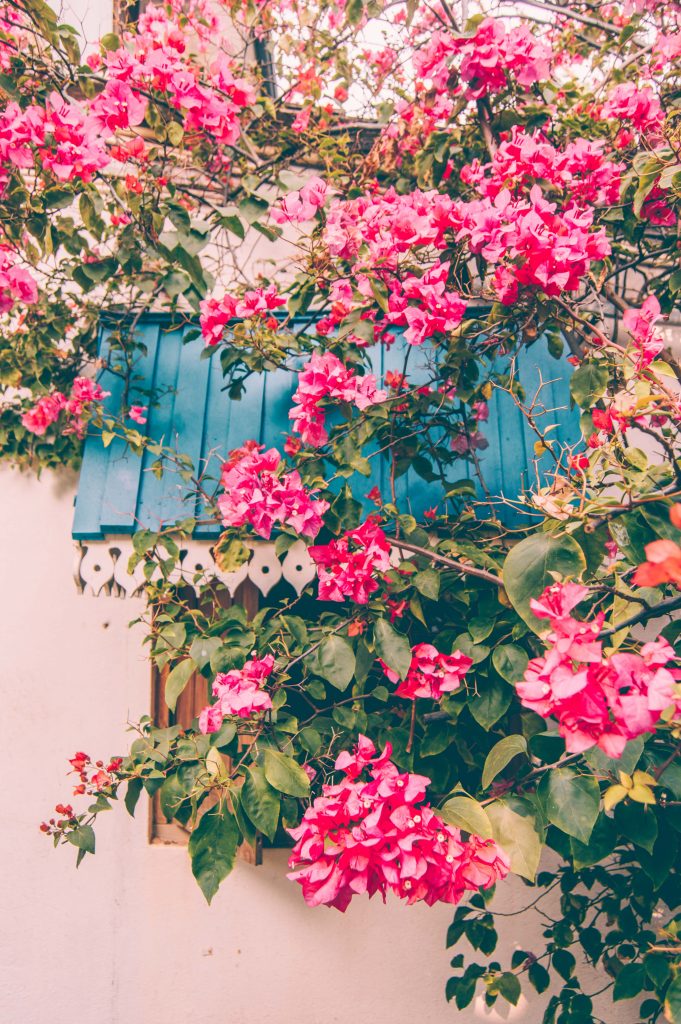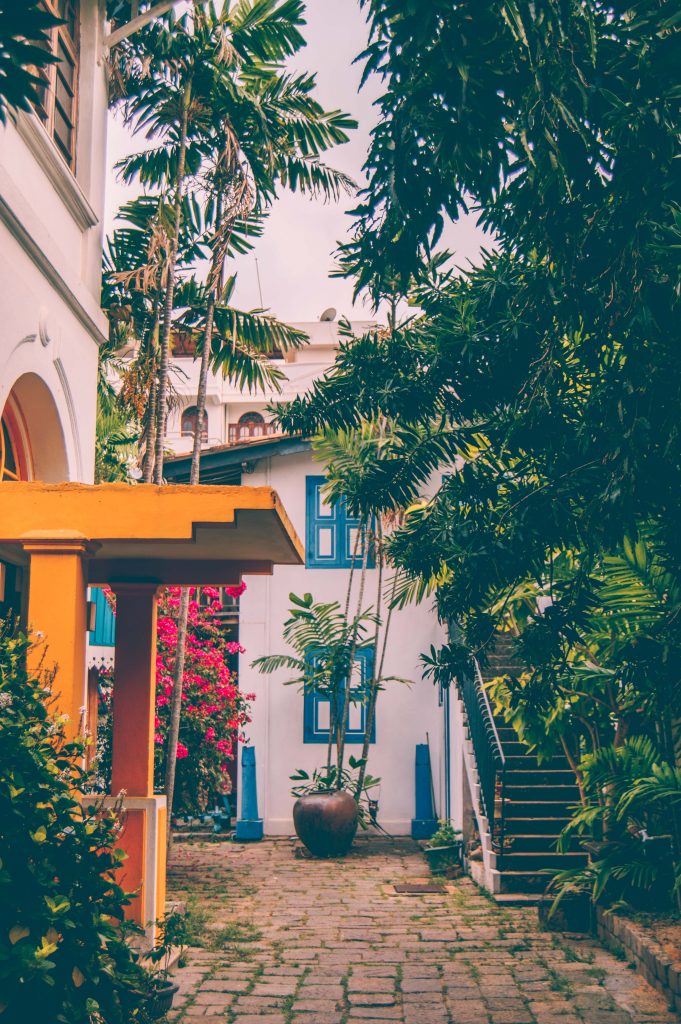 37. Local Boutique Shops
Instead of spending time at the malls that, believe me, are no different from the malls in your home town, better check out one of the many one-of-a-kind boutique shops. Barefoot, that I mentioned earlier, is one of the most prominent souvenir shops where you'll find hand-loomed fabrics, locally made clothes, books written by Sri Lankan authors, and interior decorations. Paradise Road is another great boutique shop where you'll find anything and everything to decorate your house with a Sri Lankan touch. Design Collective has some amazing clothes created by Sri Lankan designers. 
For Late-Night Explorers
38. Rooftop Cocktails
I've already mentioned sunset cocktails at Galle Face Hotel, but if you prefer to see the city from bird's eye view, I've got you covered. Some of the most popular rooftop bars in Colombo include Cloud Red at Cinnamon Red hotel, 41 Sugar, and Ward 7 at Jetwing Colombo Seven hotel.
39. Clubbing
I think the last time I went clubbing in Colombo was in 2011. As detective Roger Murtaugh would say, "I am too old for this sh*t". I asked around and it seems like the cool kids are partying at Amuseum, Flamingo House (not a club per se, but a great place for late night fun), 41 Sugar (rooftop bar with good music), R&B, and King of the Mambo.
40. Salsa Nights
If salsa and bachata are not just foreign words to you, check out Salsa Nights on Thursdays at Disques, a club inside Colombo Race Course. Salsa community is rather small in Sri Lanka, but Thursday parties attract a good crowd.
* * *
Done and dusted! These are 40 of my favorite things to do in Colombo! If you know of other fun and cool things to do, let me know in comments! I am forever looking for the new and uncovered gems in Sri Lanka's capital. 
Looking for More Things to Do in Colombo?
Check out my list of the best restaurants serving Sri Lankan food in Colombo. Here you can find a list of the best Sri Lankan souvenirs for the foodie in you. And these are the best coffee shops serving excellent coffee in Colombo. 
Where to Stay in Colombo?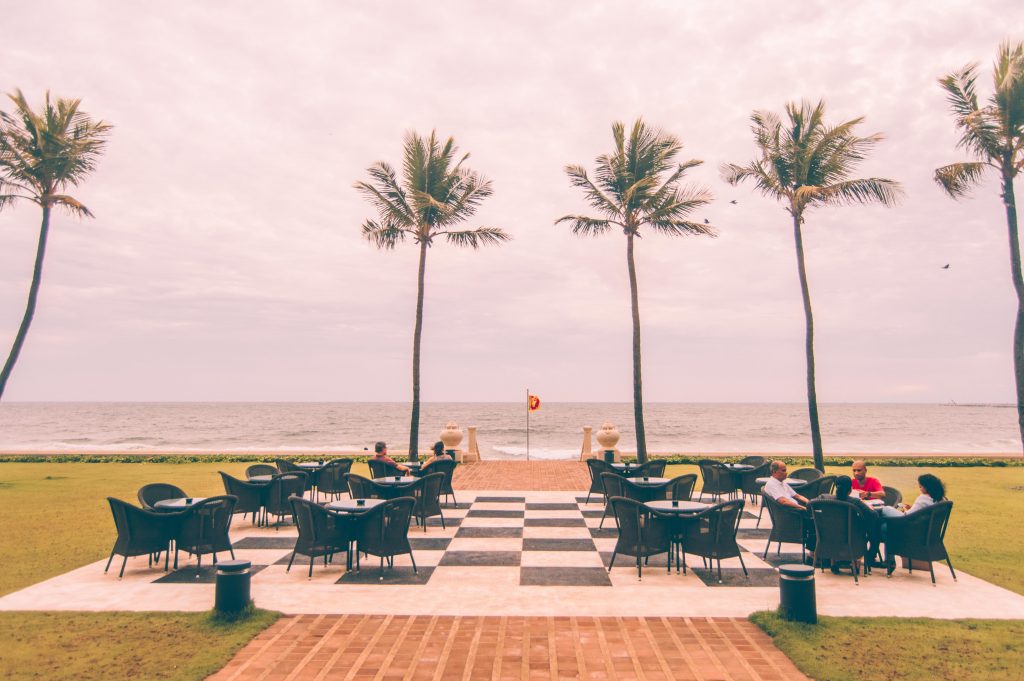 One of the oldest and most impressive hotels in Colombo was built in 1864 and boasts fantastic ocean views. I am usually the one to opt for small boutique stays, not enormous fancy hotels, but Galle Face Hotel is an exception. Imagine colonial grandeur combined with modern amenities. Then add a pinch of history on top. Enjoy afternoon tea on veranda after 3 pm. And if you are into cocktails and beautiful sunsets (who isn't?) stay on the patio after 6 pm to see the ceremonious lowering of the flag.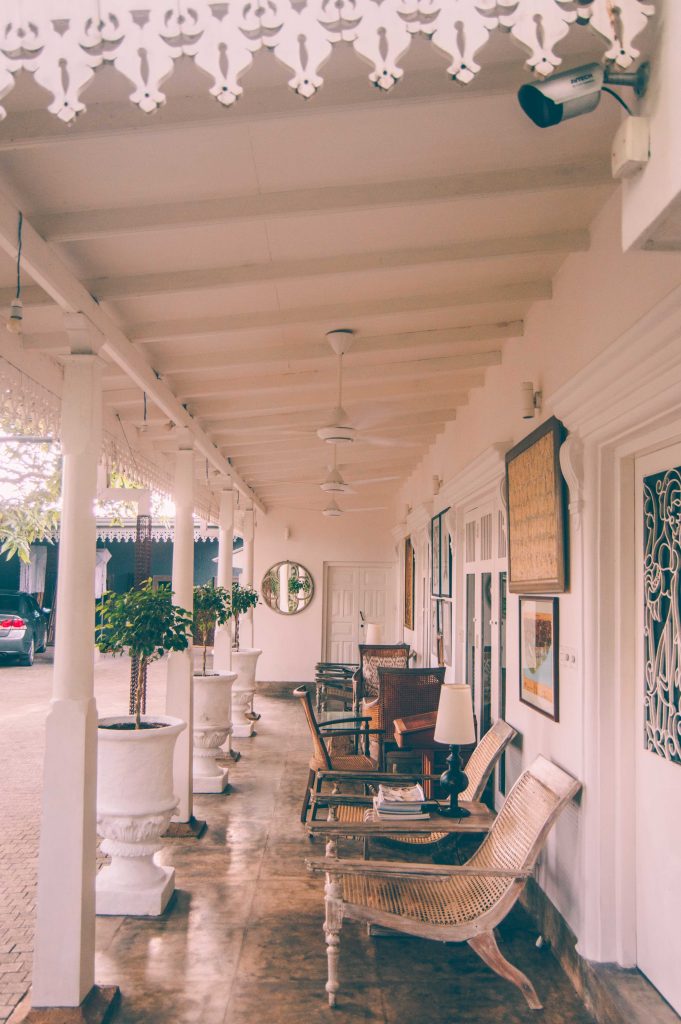 Affordable Artsy Option — 55TG
55TG is a former-house-turned-boutique-hotel by architect Thanuj Goonewardena. Hence the name: TG are initials, 55 is the number of the house which used to belong to his parents. Goonewardena redesigned the 4 rooms of the house into artistic suites. Every little corner is filled art pieces, paintings and sculptures. If you book this place, make sure to leave some time to just hang around and enjoy the atmosphere. This is not the kind of hotel where you only come to sleep. 
I've never personally stayed in a hostel in Colombo, after all I live here and never had the necessity. But here are a few options that have been on my radar: Drift BnB, Hangover Hostels Colombo, and Clock Inn Colombo.
Pin for later: