If I come across one more blog post that tells me to walk around the city lake as one of the top things to do in Kandy, I'll lose it, I swear. The lake is all right, but you'll pass it at least ten times a day anyways since it's located right in the heart of the city, next to the Temple of the Tooth Relic. 
Sri Dalada Maligawa, as it's referred to by the locals, is the main attraction in Kandy. So much so that buses with tourists arrive to Kandy with a sole purpose to visit the temple. Way to explore the last royal capital of Sri Lanka! 
I might be all sarcastic now, but I'll admit I did the same mistake. On my first two trips to Kandy, the Temple of the Tooth and the aforementioned lake were the only places I visited. Not surprisingly, I didn't fall head over heels in love with Kandy. The temple, although grand and beautiful, is a crowded place with a commercial rather than spiritual feel to it. I always find it odd to pay an entrance fee at the churches and temples, and Sri Dalada Maligawa features a proper ticket booth on the premises. 
I am not saying all this to discourage you from visiting the temple. I personally think the temple is a must. Just like Eiffel Tower in Paris or Red Square in Moscow, you have to visit it at least once, no matter how many tourists are in line to the ticket booth. Just don't stop there, Kandy offers a lot more amazing things to do.
Disclosure: this post contains some affiliate links which means that if you buy something by clicking the link I will earn a small commission at absolutely no extra cost to you.
Things to Do in Kandy Beyond the Temple of the Tooth Relic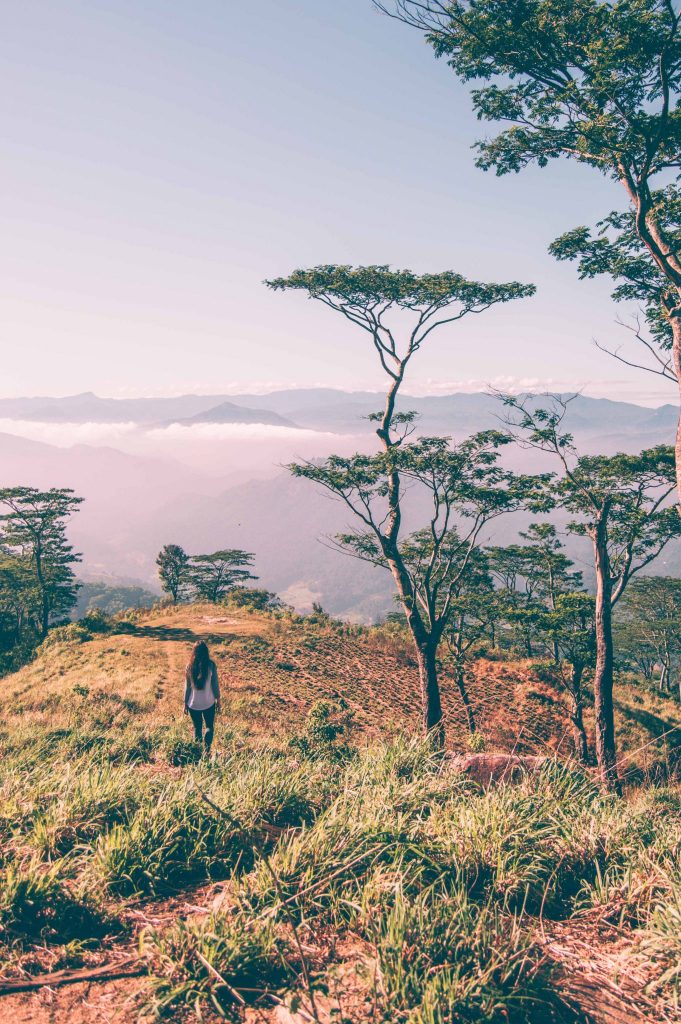 1. Hiking in the Knuckles Mountain Range
When it comes to hiking and exploring mountains in Sri Lanka, Nuwara Eliya and Ella come to mind first. Not many travelers realize that Kandy can serve as a comfortable base if you want to see the beautiful Knuckles Mountain Range.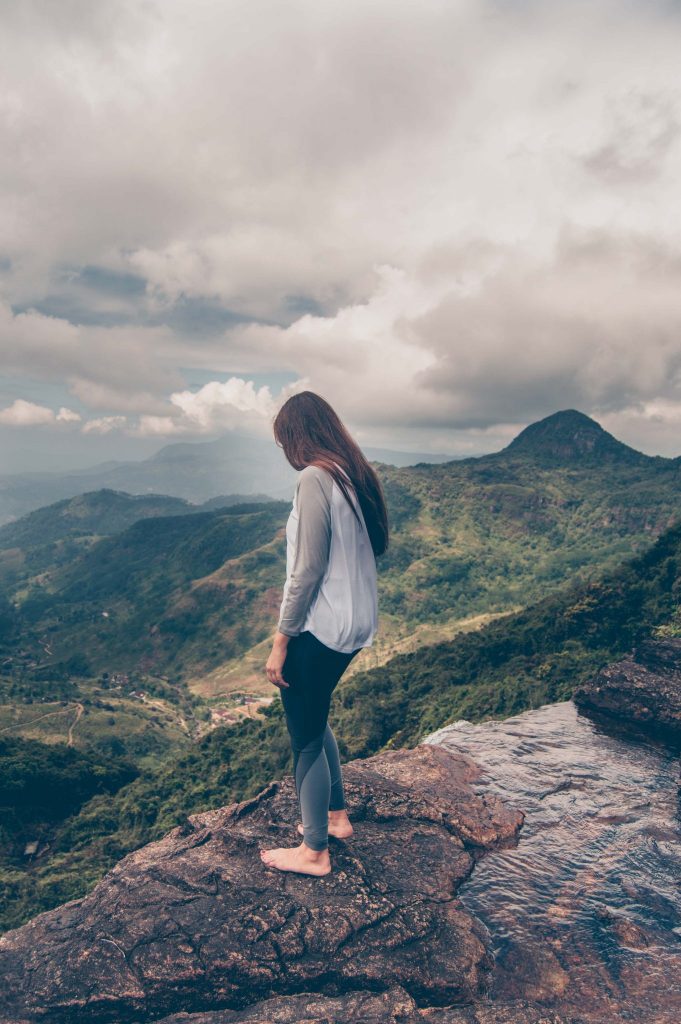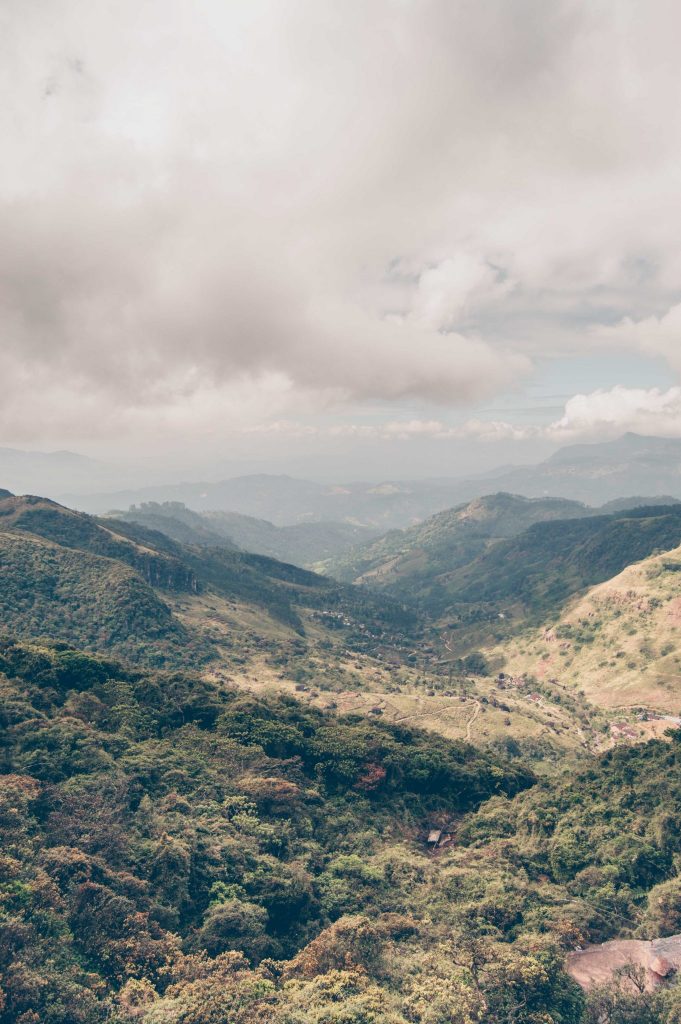 The name of the range, assigned by the first British explorers, comes from its resemblance to the knuckles of a clenched fist when viewed from certain locations in Kandy. The locals call the it Dumbara Kanduvetiya, meaning Misty Mountain Range.
Exploring Knuckles on your own is not a great idea. Unlike national parks and forests in developed countries, the parks in Sri Lanka are not always tourist-friendly. There are no signs pointing you in the right direction, no clear paths, and no-one for miles and miles around to ask help from.
If you are traveling with a tourist agency, ask them to find a guide who can take you around. The hike can be as long as you want it to be. I chose a one day hike up and down, but it is possible to do a multi-day hike and stay overnight in the mountains.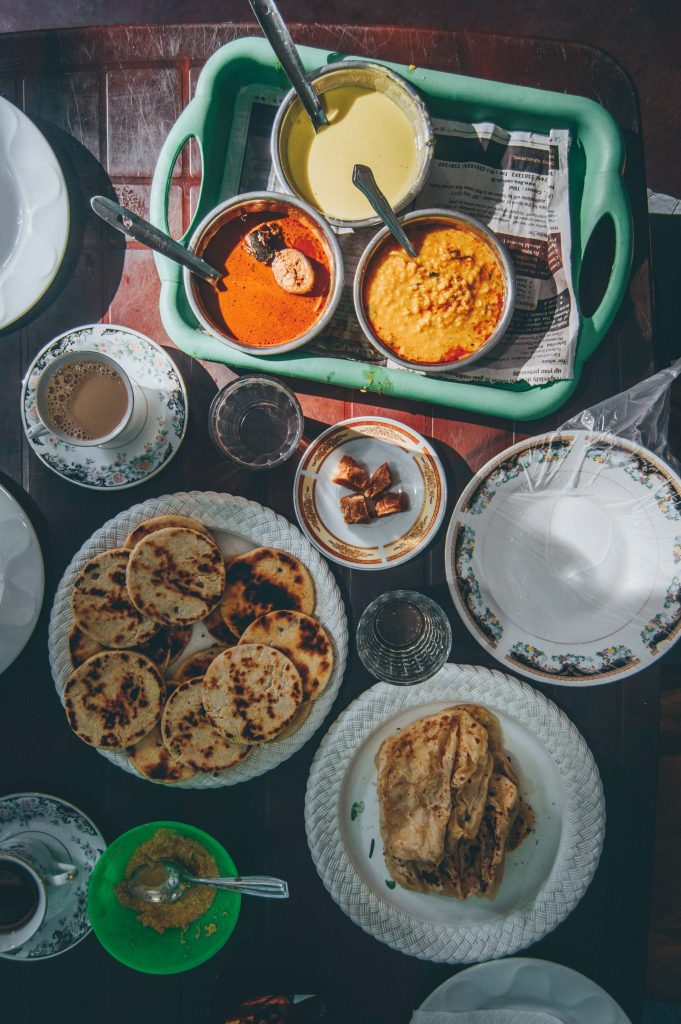 My guide Sudesh was the brother of my husband's best friend because that's how you do it in Sri Lanka. There's always a cousin of your grandfather's neighbor or an auntie of your classmate's mother who can help solve a problem. The guide usually picks you up from the hotel early in the morning, hikes the whole day with you, and takes you back to the hotel. If your guide is as awesome as Sudesh, he'll also find a good place for breakfast and lunch in a nearby village. 
Cost: depends on the guide, but approximately Rs 8500 – 10 000 for a day of trekking
2. Hiking in Hanthana Mountain Range
Another great place for hiking if you are in Kandy is Hanthana Mountain Range that consists of seven peaks with the highest peak, Uura Kanda, reaching 3800 ft. The drive to the base of Hanthana is shorter than to Knuckles and took us only thirty minutes.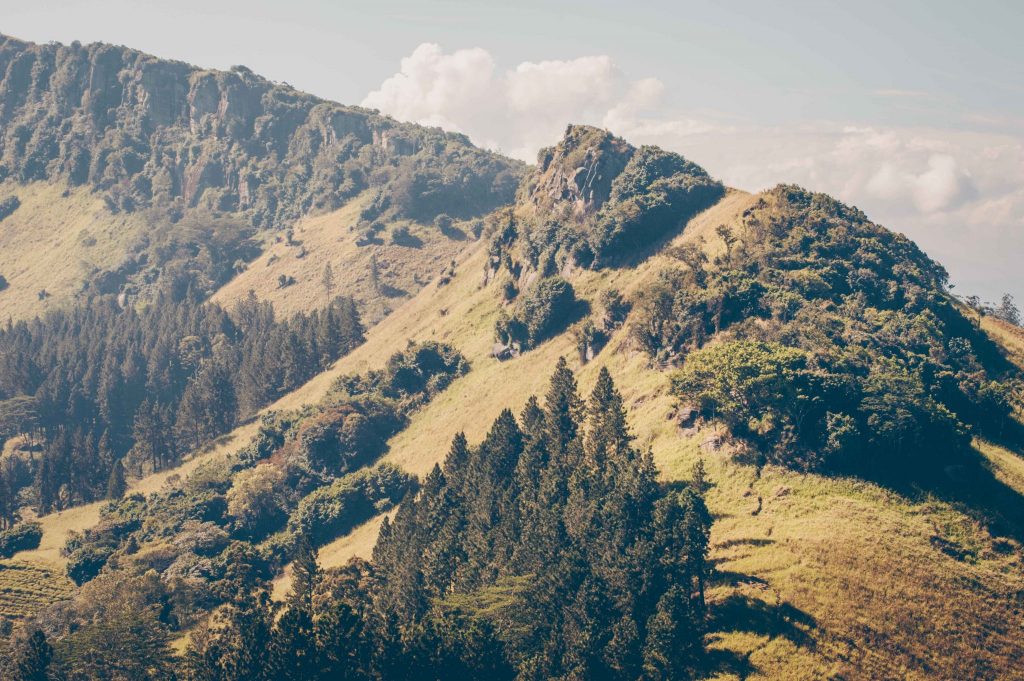 Given that there are seven peaks and multiple treks, the guide should help you choose a suitable option. We went for a relatively easy three-hour trek that took us through gorgeous sun-lit tea plantations, onto a summit with magnificent views and back through the jungle where we had to jump over a snake sleeping on the narrow path we took. Another reason you require a guide! 
Cost: depends on the guide, but approximately Rs 8500 – 10 000 for a day of trekking
3. Lankathilaka Temple
Lankathilaka Temple, as well as the two temples I mention below, are located outside of the city of Kandy, not too far from one another. In comparison with the Temple of the Tooth Relic, they give a better understanding of what Buddhist temples in Sri Lanka feel like. There are few tourists and the entrance to each of the temples is only 300 Rs, as opposed to 1500 Rs at Sri Dalada Maligawa. 
Out of the three, Lankathilaka was my personal favorite. This ancient temple built in the XIV century by King Bhuvanekabahu IV, is located in Udunuwara, about thirty-minutes-drive from Kandy city.
The temple was built upon an uneven rock surface, named Panhalgala. Along with Embekke Temple, Lankathilaka is considered one of the most architecturally advanced buildings of Gampola Kingdom era.
Cost: Rs 300
4. Embekke Temple
The most unusual Buddhist temple I have come across in Sri Lanka, Embekke Devalaya boasts woodcarving on its pillars, doors, beams, and rafters. While most of Sri Lankan temples are built of stone or brick, Embekke with its ornate wooden pillars reminded me of my home, Russia, where the tradition of wood carving dates centuries back.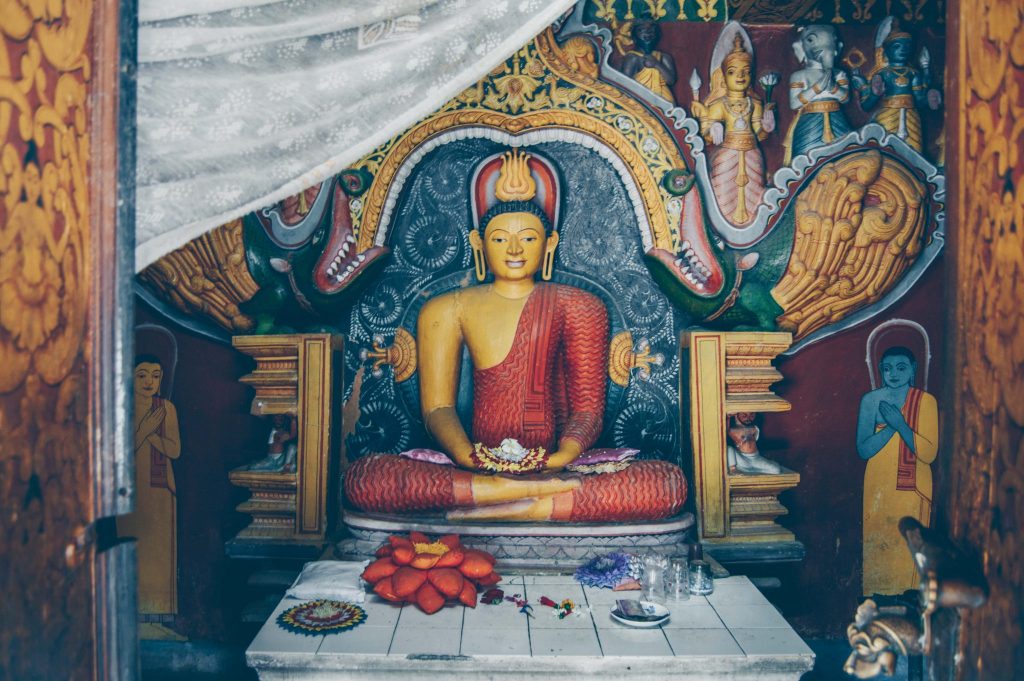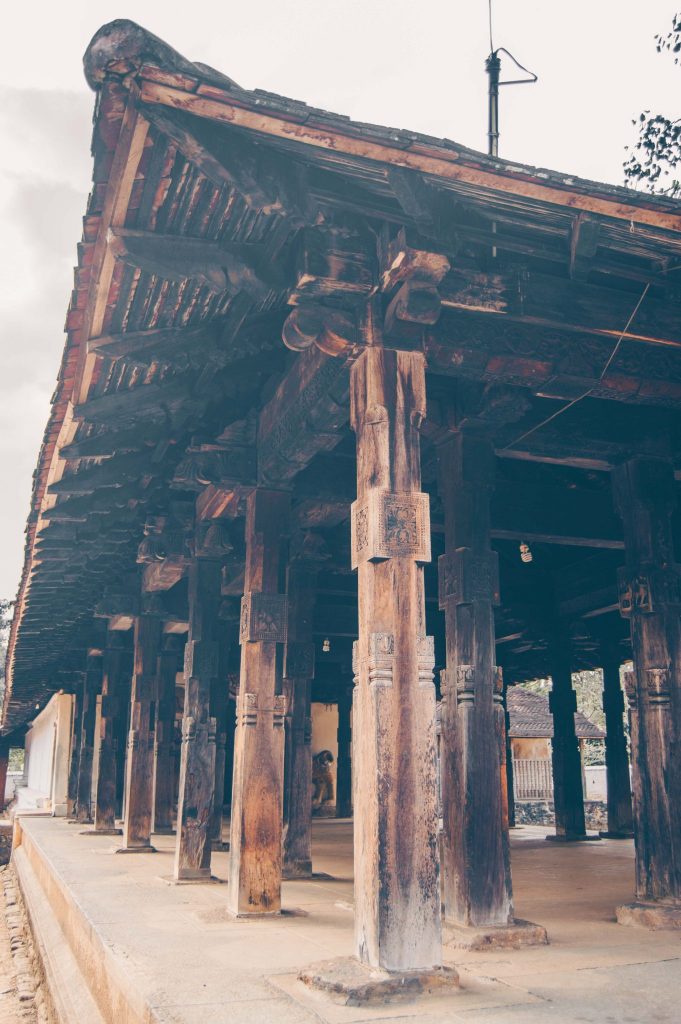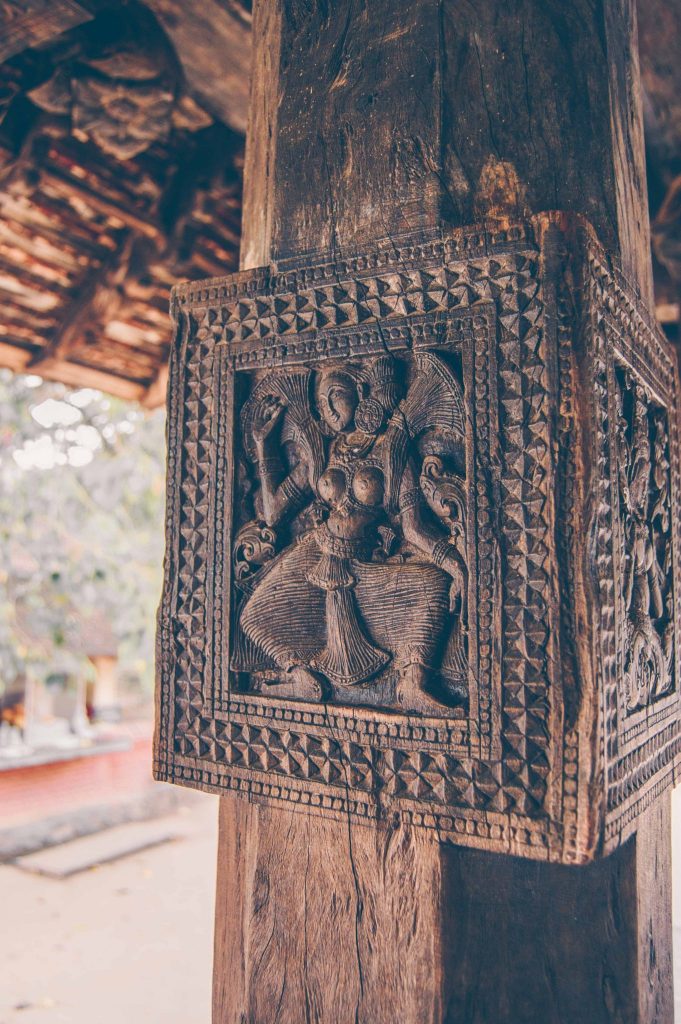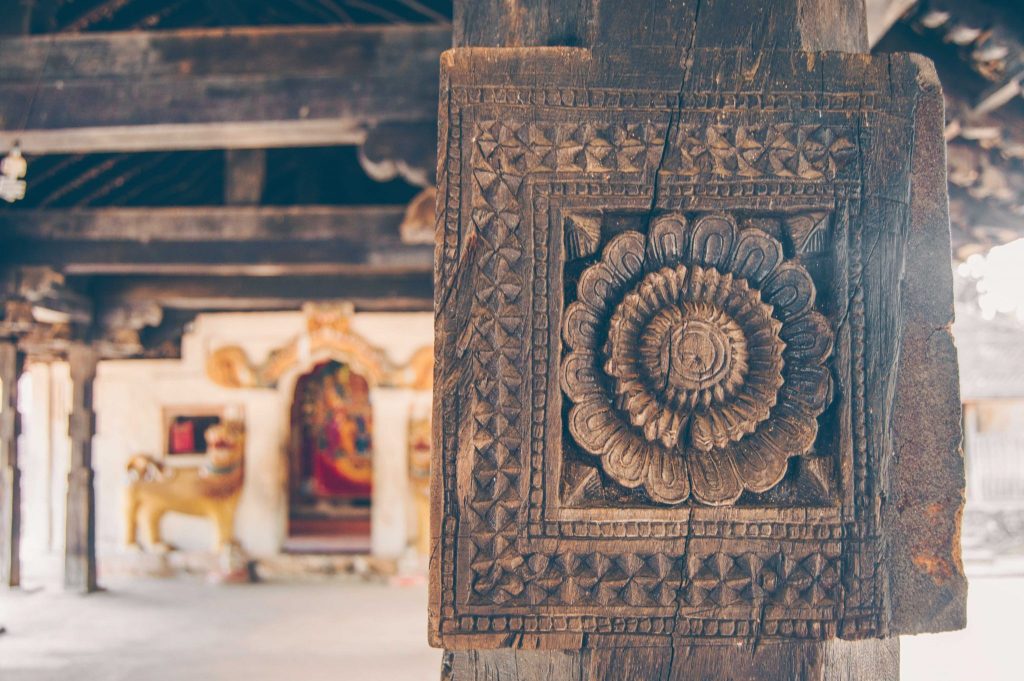 Embekke was built in the XIV century by King Vikramabahu III during Gampola Era and features three sections: Sanctum of Garagha, Dancing Hall, and the Drummers' Hall. The latter is where you find the pillars. 
Cost: Rs 300
5. Gadaladeniya Temple
Gadaladeniya Temple is located a short drive away from Lankathilaka Temple and was built around the same time, in 1344, by King Bhuvanekabahu IV. It is believed that the temple used to be named Dharma Kirthi Viharaya after the founding monk and was designed by an architect from India which is why the design is distinctly South Indian.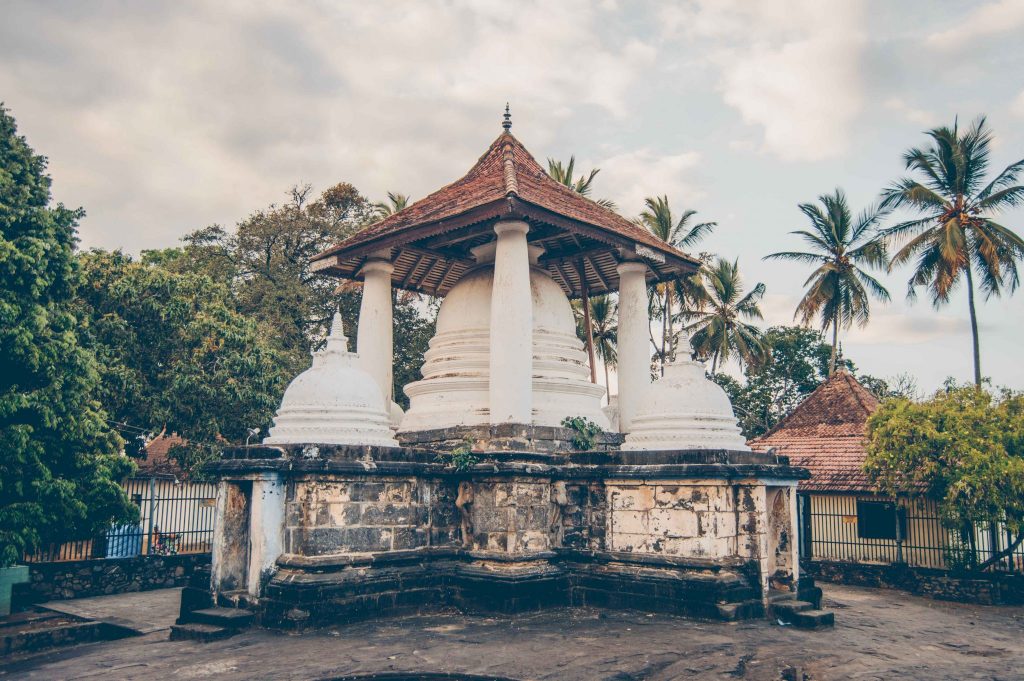 All three temples (Lankathilaka, Embekke, and Gadaladeniya) are located away from Kandy city, but not too far from each other. It's best to hire a tuk-tuk for three-four hours to cover all three temples in one go. I paid approximately 3000 Rs for a tuk-tuk from the hotel to all three temples and back.
Cost: Rs 300
6. Bahirawakanda Temple
If you don't want to go outside of the city, there's another, less crowded temple in Kandy – Bahirawakanda Viharaya. You'll see the large Buddha statue set on top of a hill from almost anywhere in Kandy city center. The Buddha statue is 88 feet tall and is one of the tallest in Sri Lanka. This temple is relatively new, built in 1970's.
You can get on top of the hill on foot if you are in good physical shape. The road up is not long, but rather steep and left me breathless by the end. Luckily, there's a small booth selling king coconuts right in front of the temple. You can also take a tuk-tuk up, a much easier and less sweaty option. 
Cost: Rs 200
7. Peradeniya Royal Botanical Gardens
One of the most popular attractions for tourists who visit Kandy, Royal Botanical Gardens are located about five kilometers away from Kandy, in the city of Peradeniya. You can easily get here by tuk-tuk in fifteen minutes. They say, close to two million people visit the garden yearly.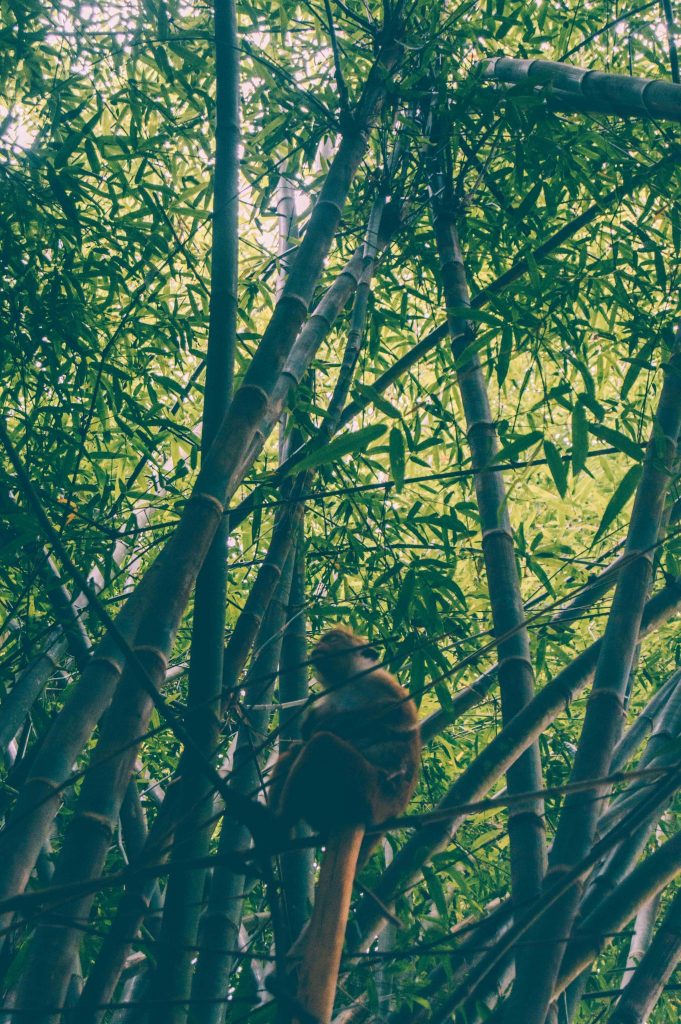 The gardens spread through 147 acres near Mahaweli River, the longest river in Sri Lanka. They were formally established in 1843, but it is believed that their origin dates back to XIV century. Some of the most popular sites in the gardens include a collection of orchids, a palm avenue, a forty-meter high bamboo tree, and a suspension bridge across Mahaweli River.
Cost: 1100 Rs 
8. University of Peradeniya
University of Peradeniya is located close to the Royal Botanical Gardens. If you are taking a train from Colombo to Kandy, you can get down one stop before Kandy, at Peradeniya, to explore the premises of the University, wander at the Botanical Gardens, and have lunch at Hela Bojun.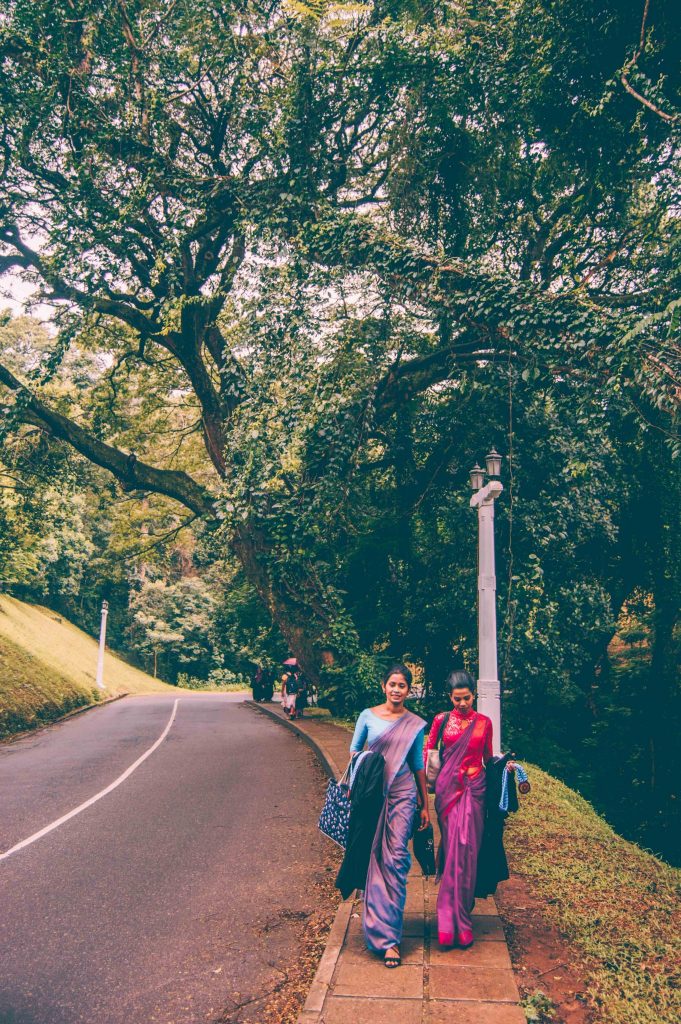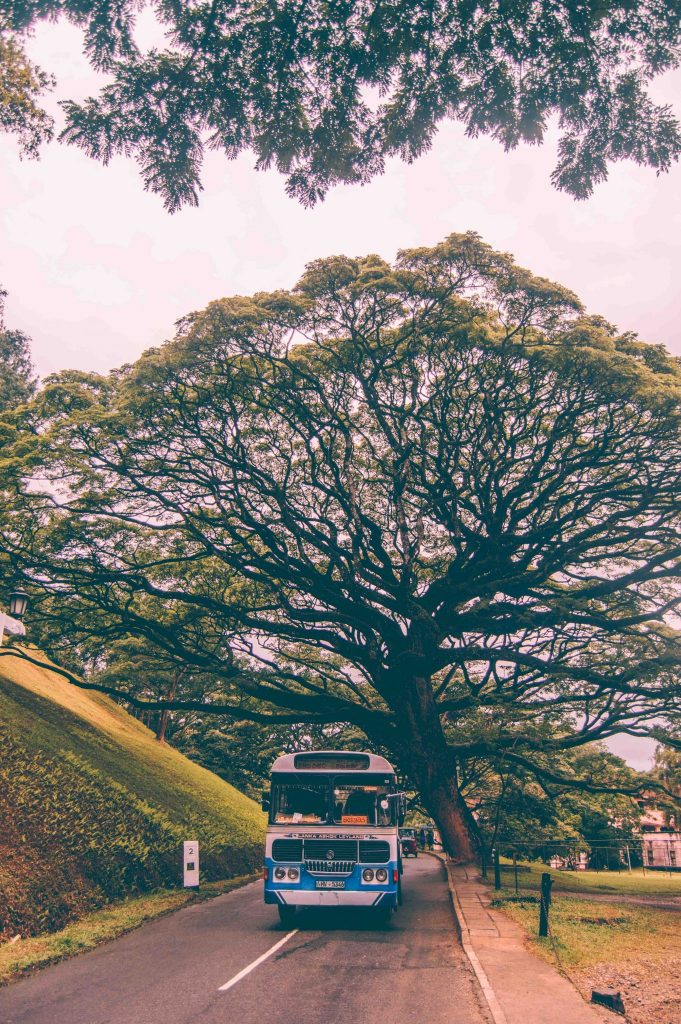 The University has several grounds located not far from each other. To see the most beautiful sites, look for the department of arts. Once you arrive, just roam around — the premises are incredibly beautiful. Make sure to stop by a giant of a tree growing next to the milk bar — yes, that's a thing, I was surprised too. Then find the Sarachchandra open-air theatre, the only one of its kind in Sri Lanka. It was built in the architectural style of ancient Greek theaters and named after a Sri Lankan playwright. 
Cost: free
9. Ambuluwawa Biodiversity Complex
One of my personal favorite things to do near Kandy. The drive is a little long, taking almost one and a half hours to get to Gampola, where it is situated. But on the bright side, Gampola is on the way to Nuwara Eliya. So you can stop by Ambuluwawa on your way from Kandy to Nuwara Eliya if you are traveling by car. 
Located at over three thousand feet above sea level, Ambuluwawa mountain hosts a biodiversity complex with a large white spiraling tower resembling a Buddhist stupa on its peak.
Once you arrive at the ticket booth, you can pay a small fee for the car to continue driving to almost the very top of the mountain. Nevertheless, if you are in good physical shape, I think it's best to leave the car at the gate and walk up on foot, because the gorgeous views you get from the tower have to be deserved. You can climb up the tower which gets narrower and narrower the closer you get to the top, until at some point you have to walk up the staircase sideways with strong winds blowing you off your feet. This climb is definitely not for the faint of heart. 
Cost: Rs 300 + Rs 100 (for the car to pass)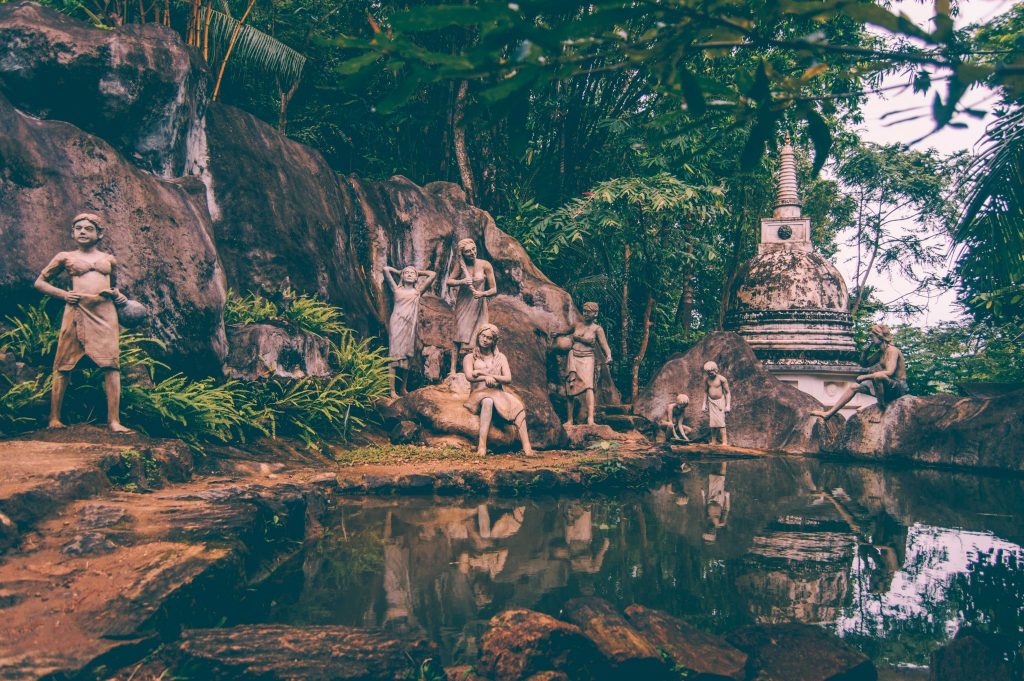 10. Saradiel Village
This weird, fun and little known attraction near Kandy is mostly visited by local school kids. Saradiel is Sri Lankan Robyn Hood who lived in Uthuwana in the XVIII century, stole from the rich and redistributed the goods among the poor. How cool is that? Sri Lanka had its own Robyn Hood! 
Ten years ago a village was constructed near Uthuwankanda rock, where Saradiel used to hide from authorities, to help visualize the life of Ceylon in XVIII century. The premises are surprisingly large spanning across six acres. 
There's an English-speaking tour guide who explains the customs and traditions of the XVIII century Sri Lanka. They say it's possible to climb Uthuwankanda rock, but you'll need a guide to take you there.
This is not one of the things I'd do on my first visit to Kandy if you only have a few days. But if you have already been to all the major attractions in the area, this can be a fun way to pass time. 
Cost: Rs 500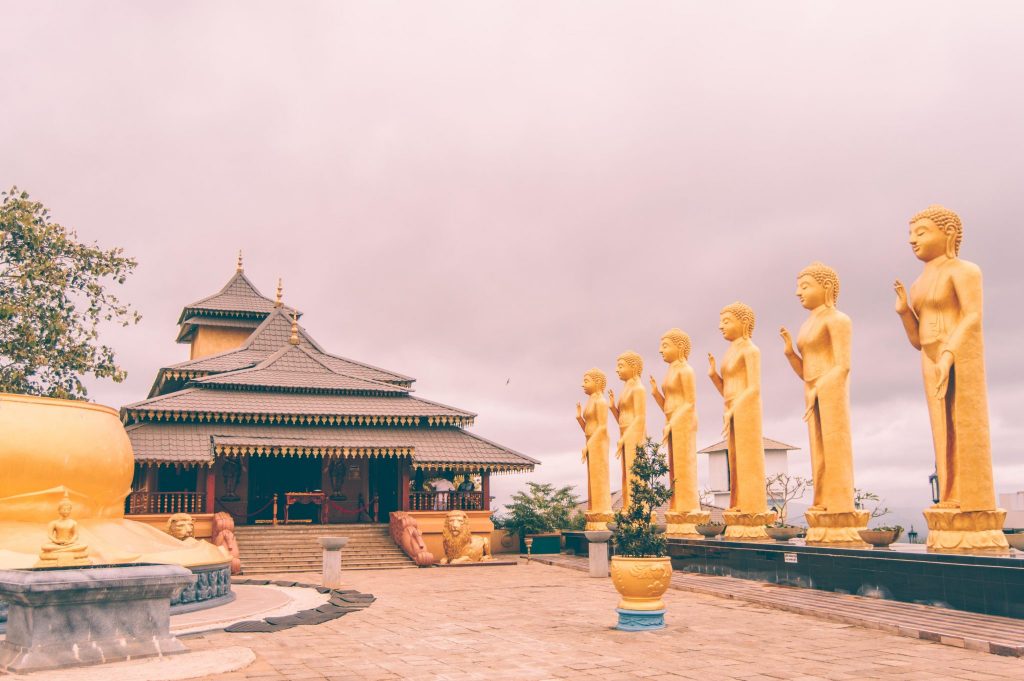 11. Nelligala International Buddhist Center
I cannot believe how few people know of this incredibly gorgeous place! One of the most beautiful temples I have seen in Sri Lanka, Nelligala is built on a rocky mountain and features seven large golden Buddha statues on the top. The place is calm and quiet, with very few people around and the most amazing views of the hill country. 
Cost: free
Where to Eat in Kandy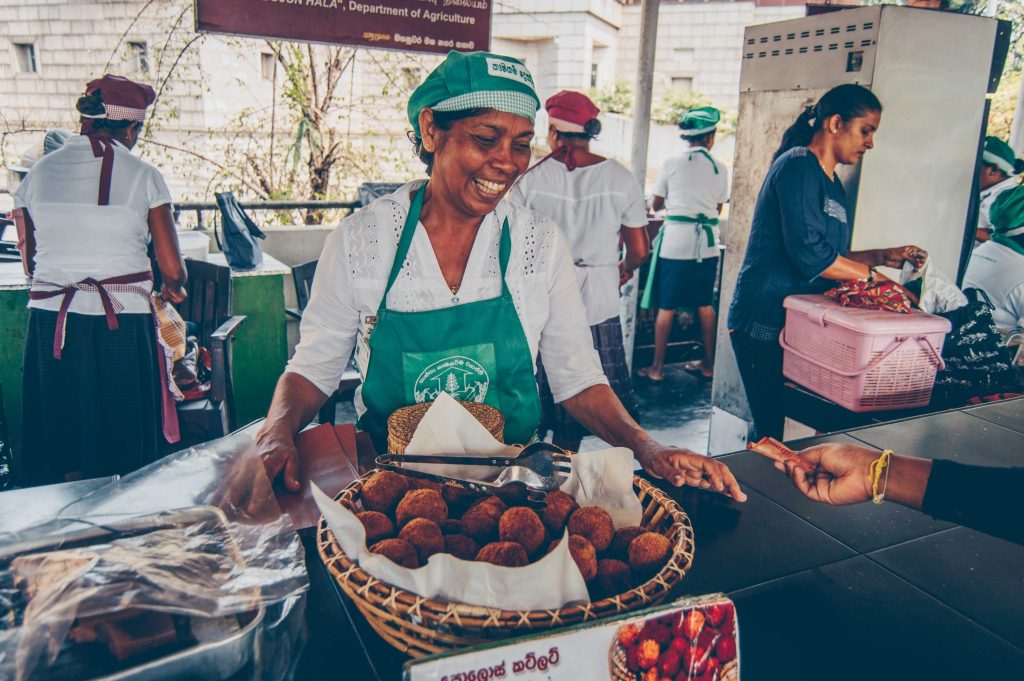 Hela Bojun — the place I most recommend in Kandy if you want to try authentic local food. This local chain of food courts offers traditional dishes at extremely low cost. The chain is a project of the Department of Agriculture started with the goal of promoting local produce and empowering women in rural areas.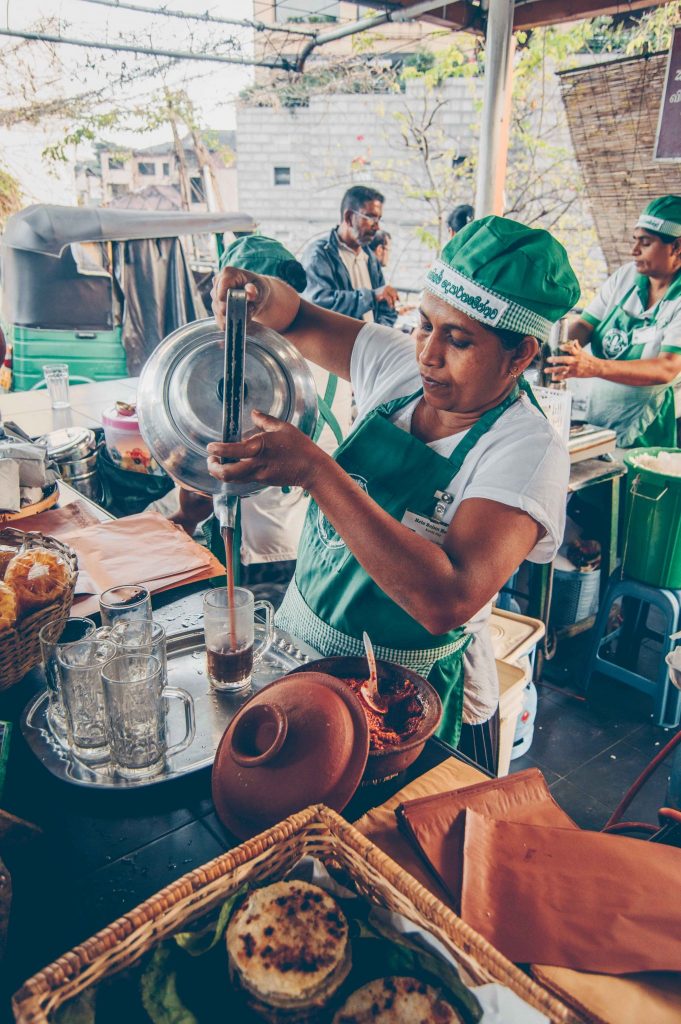 Each woman who sells her food at this open court is provided with necessary training, and the rent of space comes to only about 1000 Rs per month. The food is fresh, cooked from scratch every morning, and delicious. The crowd is mostly locals which is always a good sign.
Cafe Secret Alley — a little hipster cafe tucked away in an alley, serving awesome smoothie bowls. Highly recommended for breakfast!
Licensed to Grill — a rooftop restaurant serving wraps, burgers and grilled meats. Looks unpretentious, but the food is seriously good.
The Empire Cafe — a touristy spot right next to the Temple of the Tooth Relic with funky design and a good choice of Sri Lankan and Western dishes.
Slightly Chilled — a perfect dinner spot with a good view of Kandy City, cocktails and diverse menu with Western, Sri Lankan, and Chinese influence. The place gets really crowded and loud at night. 
Natural Coffee — a coffee shop next to the Temple of the Tooth serving good locally grown coffee. Have a cup of Joe or grab a bag of beans here as a souvenir. 
Buono — another coffee shop in Kandy serving Ceylon coffee. I loved their rooftop access and ambience.
Where to Stay in Kandy
One of the most beautiful hotels in and around Kandy with gorgeous views of the hills, The Elephant Stables is situated in a secluded location, away from the hustle and bustle of the city. At the same time, the main Kandy attractions are only two miles away, or a 10-minute ride by tuk-tuk. 
The hotel used to serve as the home for several elephants in the past — hence the name. Today, its architecture is a delicate balance between colonial-era furniture and sculptures and modern fittings. I haven't stayed here personally yet, but it's on the top of my must-try in Kandy list. 
Quirky and Moderately-Priced Option: Helga's Folly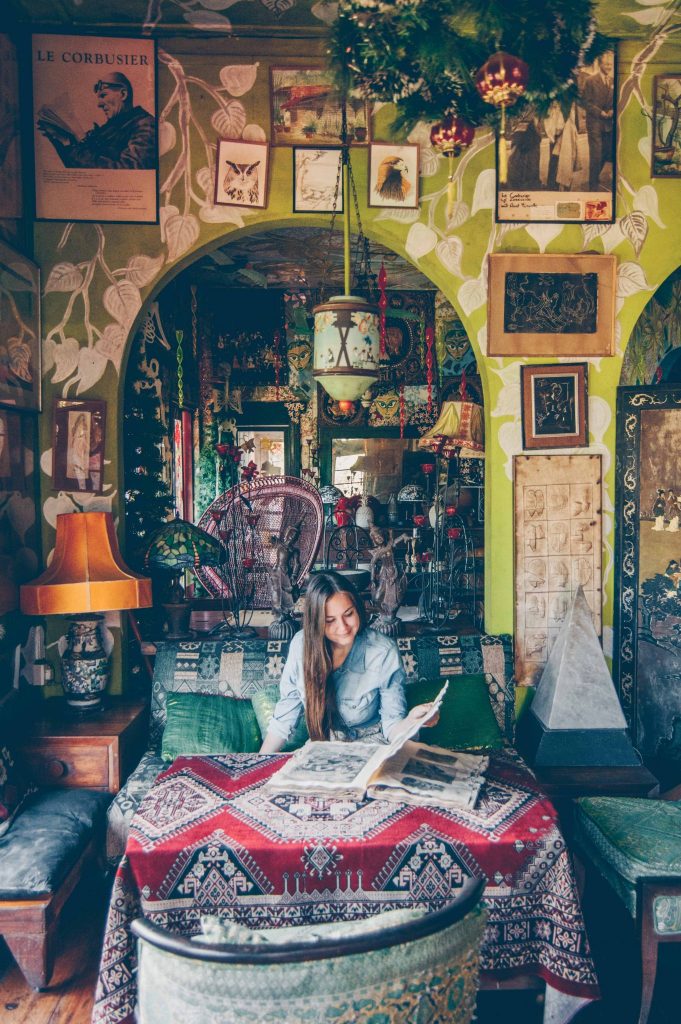 Staying at Helga's Folly is an experience in itself. This is not a place to just spend a night, you have to plan at least three-four hours for exploring this insane, trippy, out-of-this-world home. Covered with paintings, murals, and antiques, Helga's Folly doesn't provide much rest for eyes, but oh my! what an incredible space it is! I have to say, it's not for everyone. If "quirky" is your word, then you'll love it.
If all you need during your stay in Kandy is a simple hotel with a bed and a shower, Kandy City View is a good choice. Located within 20-minute walk from the Temple of the Tooth Relic, the hotel is very affordable, clean and provides amazing views of the city.
Don't Forget About Travel Insurance!
I can't emphasize enough how important travel insurance is when you are planning a trip to a foreign country! So many things can go not exactly as planned (like that time I got food poisoning and got robbed of ALL my luggage in a span of a few days). I like World Nomads because you can buy and claim insurance online. You can even buy it if your trip has already started. And they provide travel insurance for travelers from over 140 countries. Get a customized quote below!
What to Do After Kandy?
If you have checked all the things to do in Kandy off your list, head to Sigiriya next! I wrote a detailed two-day guide to Sigiriya and Dambulla with things to do and places to eat.
If you are planning to return to Colombo after Kandy, check out my guide to Colombo restaurants serving Sri Lankan food and the best coffee shops in the city.
Pin for Later: