In my mind this cake goes by blinniy tort, not crepe cake. Crepe cake sounds so French, so chic. Blinniy tort, on the other hand, sounds rather simple and rustic, at least to someone who speaks Russian. Blinniy means "made of blini".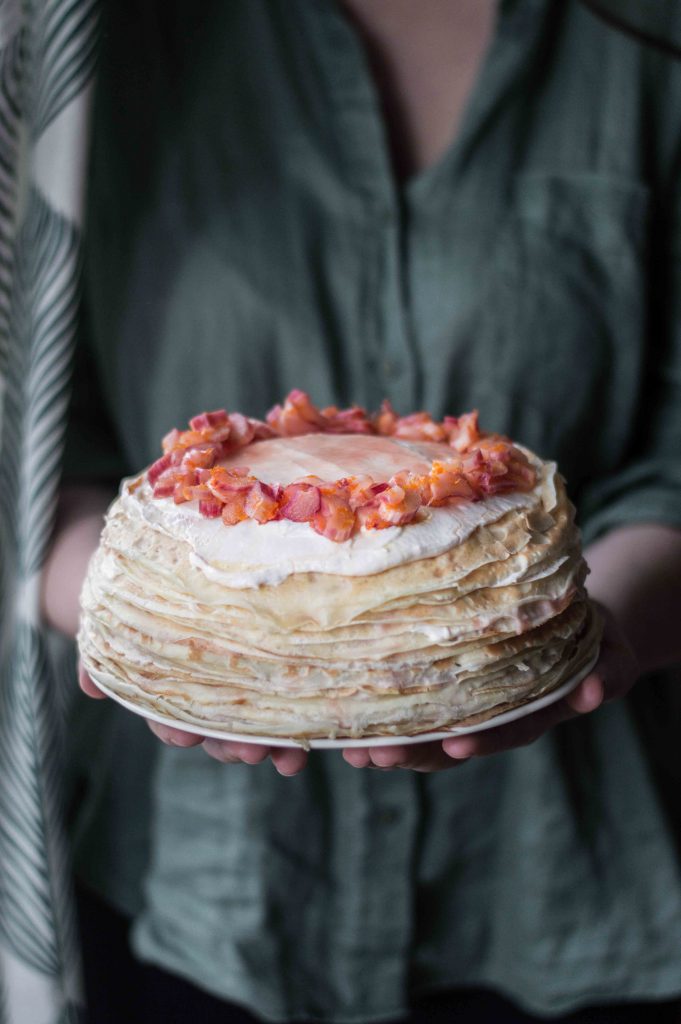 For the ease of it, you can think of blini as a Russian version of crepes. I wish I could say that you should think of crepes as the French version of blini, but the reality is everyone knows crepes and few know blini. What's the difference, you ask? Almost none. Both are made of wheat flour and milk. I could make an argument that blini are often made of buckwheat flour, but the French have a buckwheat crepe that hides its identity under the name "galette".
Both are large and thin, compared to American pancakes, but crepe is definitely the larger and thinner of the two. The main difference lies in the cooking method. Blini used to be baked on a cast-iron pan inside a pech, a traditional Russian stove that works on firewood. No flipping necessary, as the heat in a pech comes from all sides. These days, however, most Russians prefer an electric stove and a non-stick pan.
So is there really a difference? I want to think there is, as I grew up eating blini, not crepes. So if you allow me, I'll refer to this crepe cake as blinniy tort.
This blinniy tort in particular is layered with cream made of rhubarb ginger compote and sour cream. I first made it for Maslenitsa, a celebration of coming spring in Russia. That's right, the winter in Russia is so bad, when it's over we celebrate by making blini for a whole week. A blin (singular form of blini) represents the sun.
The exact date for Maslenitsa varies every year, but always falls on the period in the end of February — beginning of March, the exact time when the first crops of forced rhubarb hit the shelves of grocery stores here in Germany. The decision to use a seasonal vegetable — did you know that rhubarb is a vegetable? — was an easy one.
Blinniy tort is not a quick affair, but neither is it complicated. The trick is to plan ahead and make parts of the cake in advance. Let's break it down.
How to Make This Crepe Cake
The crepe cake consists of three parts: blini (crepes), rhubarb ginger cream (which is made of rhubarb ginger jam and sour cream), and macerated rhubarb topping.
Rhubarb Ginger Jam
Up to a week in advance, prepare rhubarb ginger jam. It's as simple as simmering rhubarb and ginger in sugar syrup until rhubarb completely disintegrates. Then you throw out pieces of ginger and strain the jam through a mesh sieve — this is the only part that requires some patience and muscle power — and simmer it for a bit longer to achieve thicker consistency. Pour it into a clean glass jar and keep refrigerated until needed. The recipe produces about 900 grams (32 ounces), but you'll only need 650 grams (23 ounces) for the cake. Use the leftovers on oats, yogurts, or as a sauce for savory dishes.
Sour Cream
The night before you are planning to make the cake, place sour cream into a muslin cloth and tie it well. Place the muslin cloth in a mesh sieve over a large pan. Put a heavy weight (I use a cast-iron pan) on top. Leave it overnight to allow the whey to separate from sour cream. By the morning, sour cream will become a lot thicker and achieve almost cream-cheese-like consistency. Refrigerate, until you are ready to make the cream. For the cream, mix the strained sour cream with the rhubarb ginger sauce.
Macerated Rhubarb Topping
The topping, like sour cream, should be prepared the night before. Not only does it make the cake look complete and festive, it provides a sharp note and a crunch to an overall soft and tender cake. Don't skip it. I gave a few slices to my neighbors and they came back asking how I made the topping. Not the cake, the topping. It's that good. I wish I could take credit for it, but the idea belongs to Anna Jones. She posted a recipe for overnight oats with rhubarb macerated in orange juice a few days ago, and I thought it would make a great decoration on my blinniy tort. All you have to do is slice rhubarb thinly, add orange juice and zest, sugar, and orange blossom syrup (optional) and leave it in the fridge overnight. When ready to decorate the cake, strain the liquid (use it later on yogurt or cottage cheese) and arrange the rhubarb slices in a circle on top of the cake.
Blini (Crepes)
Now, to the main event! Make blini on the day when you are serving the cake. You can read all my tips and tricks on how to prepare them here. Wait until they cool down completely before stacking them on top of each other and spreading the cream. This recipes makes 30 blini, but I burned two in the process and another two were ruthlessly stolen by my husband. But 26 layers still sounds impressive.
Crepe Cake with Rhubarb Ginger Cream
26-layer crepe cake with sour cream rhubarb ginger filling
Ingredients
For the cream:
1150 grams/2.5 pounds rhubarb, trimmed and cut into 1.5 cm (1/2 inch) slices
450 grams (2 cups + 1/4 cup) sugar 
160 grams/5.5 ounces ginger, peeled and cut into 2.5 cm (1 inch) thick pieces
1400 grams/50 ounces (almost 6 cups) sour cream, left in muslin cloth under weight overnight to strain the whey. Total weight after straining is 1000 grams/35 ounces (about 4 cups)
For the topping (make it the night before):
80 grams/3 ounces rhubarb (1 stalk) 
20 grams (4 teaspoons) sugar 
Juice and zest of half an orange
1/8 teaspoon orange blossom syrup (optional)
For blini (crepes):
50 grams (1/4 cup) butter
500 grams (4 cups minus 2 tablespoons) all-purpose flour, sifted
1/2 teaspoon salt
6 tablespoons sugar
1/2 liter (2 cups + 1 tablespoon) milk (3.8% fat)
1/2 liter (2 cups + 1 tablespoon) water
4 eggs
butter for frying
Instructions
Make the cream
Start by making rhubarb ginger jam - this can be done up to a week in advance. Place rhubarb and ginger in a heavy-base pan, add sugar and a splash of water. Put the pan over medium heat and let the sugar dissolve, mixing every so often to help it. Reduce the heat to low and let the jam simmer, until rhubarb is completely disintegrated (for about 30 minutes).
Take the pan off the heat, remove ginger slices and push the jam through a mesh sieve with the back of a tablespoon to achieve smooth silky consistency. This may take 10-15 minutes and some muscle power.
Put the strained jam back on the stove and simmer on low heat for 15 minutes to thicken it. Pour the jam into clean glass jars and refrigerate until the day when you are making the cake.
Make the cream (on the day when you are making the cake) by combining 650 grams (23 ounces) of rhubarb ginger jam with strained sour cream using a hand mixer. Refrigerate until needed.
Make the topping (the night before)
Slice the rhubarb stalk thinly on the diagonal. Place rhubarb, sugar, orange juice and zest, and orange blossom syrup (if using) in a bowl. Cover it and leave to macerate in the fridge overnight. When you are ready to decorate the cake, strain the liquid (this liquid is incredibly good and goes well with oatmeal or yogurt).
Make blini (crepes)
Melt butter in a saucepan over medium heat and set aside.
Mix sifted flour, sugar and salt in a bowl. Add milk and water to the flour mixture and whisk everything together, making sure all the flour is dissolved. Whisk in eggs, one at a time. Strain the batter through a sieve to remove any bits of undissolved flour. Add melted butter to the batter. If you insert a spoon the batter should coat its surface, but run down easily.
Place a 24-cm (9.5-inch) pan over medium-high heat. Once hot, grease it with butter. Lift the pan with one hand and pour the batter into it with another. The trick is to use less batter than you think you need in order to get the thinnest blini. About 1/3 of a ladle should be enough. When the batter touches the hot surface of the pan start rotating your hand to spread the batter. Place the pan back on the stove and wait for about 1-1.5 minutes till the batter becomes golden brown on the bottom. Flip the blin with a spatula and fry for another 20-30 seconds or until the other side is also golden brown. Repeat with the rest of the batter and let blini cool completely before assembling the cake.
Assemble the cake
Stack blini on top of each other spreading two tablespoons of the rhubarb ginger cream on every blin. Spread the cream on the top blin too. Arrange macerated rhubarb slices in a circle along the edge of the cake. Pour a tablespoon of rhubarb ginger sauce in the middle to make it lightly pink.
Leave the cake in a cool place (I leave it on the counter with the kitchen window open during the colder months, in summer — on the lower shelf of the refrigerator) for an hour to let the cream set. If you have any leftovers, they can be refrigerated for the next day.
Pin for later