In one of my favorite Soviet movies — frankly, one of my favorite movies of any origin and era — Moscow Doesn't Believe in Tears, the main character is introduced as "Georgiy Ivanovich, also known as Goga, also known as Gosha, also known as Yuriy, also known as Gora, also known as Zhora". It seems to me, that similar fate befell Russian blini, also known as blinis, also known as blinchiki, also known as blintzes. What we are making today is blinchiki with tvorog, but let's get the verbal confusion out of the way first.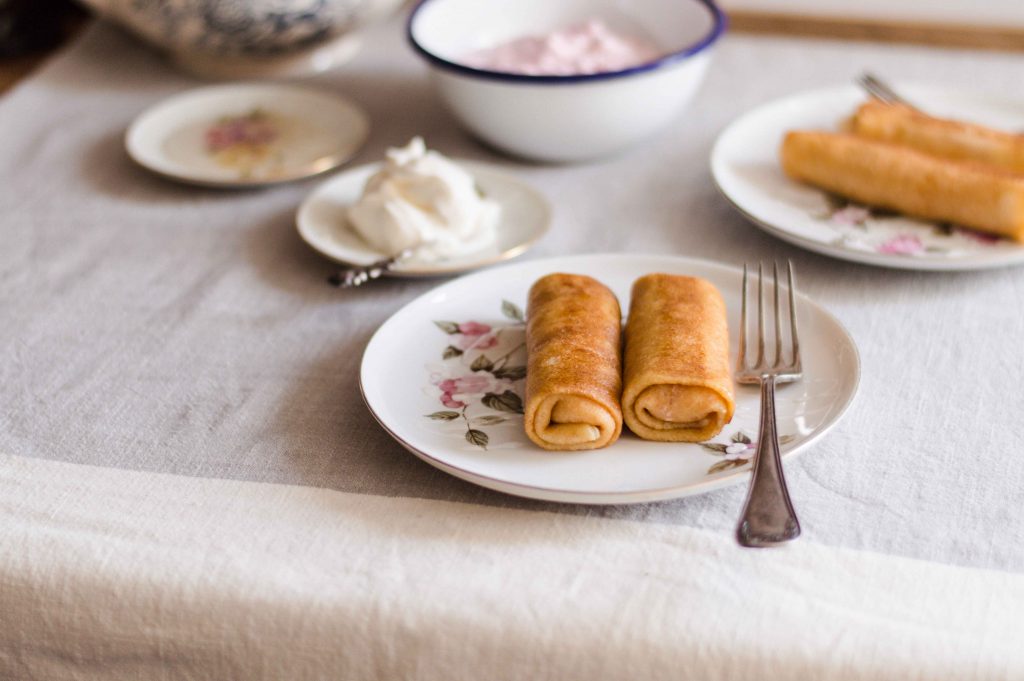 It all starts with blin, a Russian-style crepe — singular! But who wants a singular blin, anyways? What you want is a stack of blini — plural — so buttery that you could bury your face in them with no shame or regrets. What you shouldn't have are blinis, simply because they are grammatically incorrect, albeit refer to the same exact thing. Making a plural form of something that's already plural is a no go.
Now, blinchiki are not just another name for blini, blinchiki are structurally different. They are blini with a filling inside. And when it comes to blintzes, I must say I am not the person you should ask, because blintzes are Jewish, although they seem to be awfully similar to Russian blinchiki with tvorog — both are thin crepes stuffed with cheese and fruit compote and double-fried. I've heard blintzes can be deep-fried, which has never happened to blinchiki, so let's leave it at that.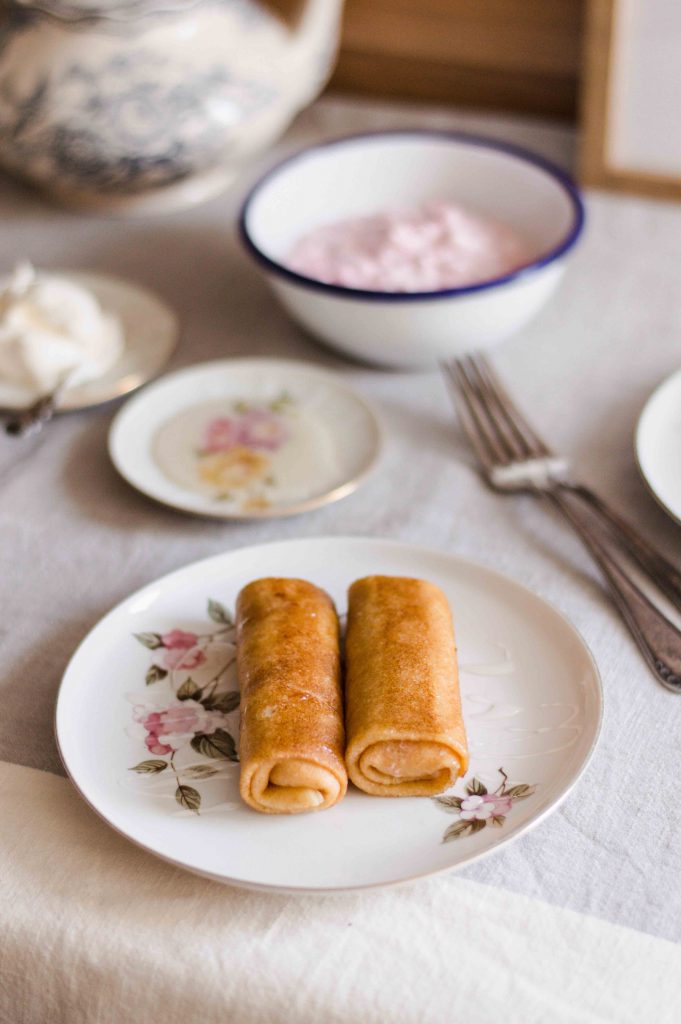 The recipe for these blinchiki with tvorog was born out of my desire to utilize every last scrap of food I have in the kitchen. Namely, when I prepare tvorog at home, I am left with a lot of whey. In summer, one could use it for okroshka, of course, but what if it's not summer? I thought, I'll make blini "na sivorotke" — blini with whey as the main ingredient — and stuff them with tvorog. Two birds with one shot. (If you are planning to use store-bought tvorog for the filling and have no whey, use milk as a substitution. You can also go with 50% milk and 50% water.)
I add boiling hot water to the batter at the very end — a trick I've heard so much about and was curious to try. The result is more porous blini that soak up butter, sour cream or what have you beautifully.
As for the filling, I added mashed strawberries to the tvorog, because strawberry season is finally upon us here in Germany and I could not wait any longer. The most important thing to remember: berries must be mashed, not cut. Kinda like "shaken, not stirred" if James Bond was into all things health, smoothies and fruits.
Smashing strawberries with the back of a fork or a potato masher helps to release juices and is — by absolute coincidence — immensely satisfying, of which I wrote about a year ago, when the first lockdown was underway.
If you are using store-bought tvorog, which is usually dry and crumbly, add 3 tablespoons of sour cream to make it softer and paste-like. If using homemade tvorog, which is already soft and moist, you might not need sour cream at all.
Blinchiki will last in the fridge for two days. If you are planning to make them ahead of time, place them into refrigerator after stuffing blini with tvorog, but before frying them for the second time. Once ready to serve, simply brown them on a pan.
Yield: 15 blinchiki
Blinchiki With Tvorog and Strawberries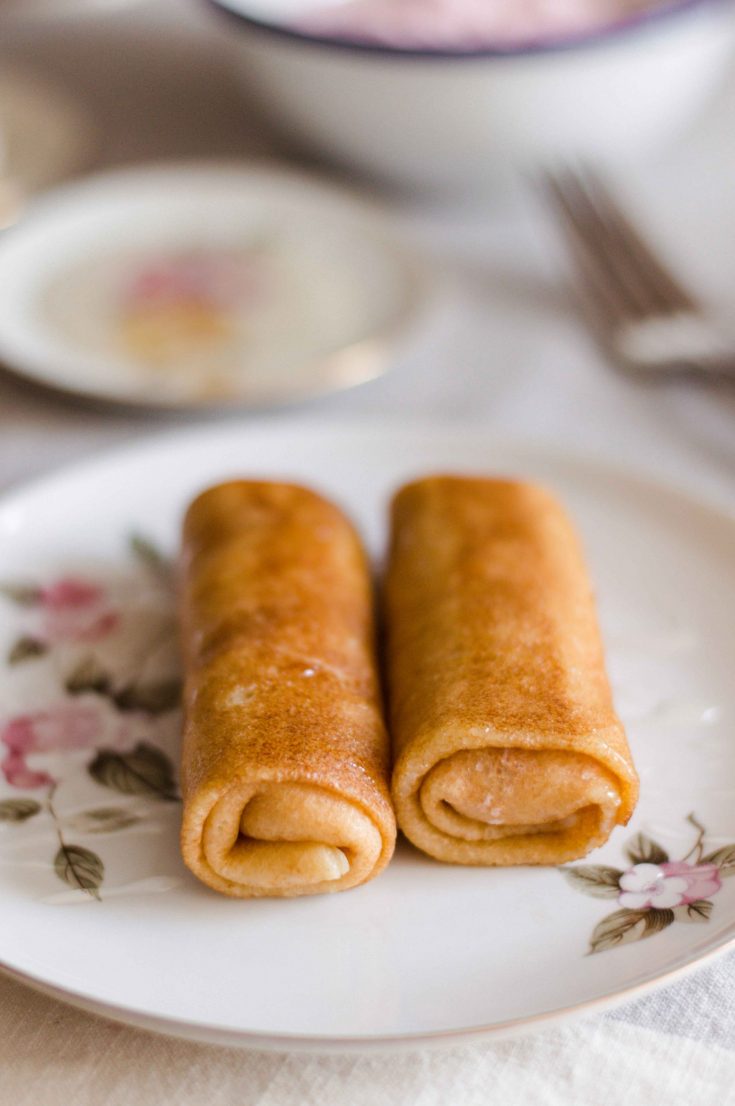 Thin Russian crepes stufed with tvorog (farmer's cheese) and fresh strawberries, double fried and drizzled with honey.
Ingredients
For the batter
25 grams (2 tablespoons) butter
250 grams (2 cups) wheat flour, sifted
1/4 teaspoon salt
2 tablespoons sugar
400 ml (1 2/3 cups) whey*
3 eggs
110 ml (1/2 cup minus 1 tablespoon) boiling hot water
butter for frying
For the filling
250 grams (2 cups) strawberries
1 tablespoon sugar
250 grams tvorog, homemade or store-bought
up to 3 tablespoons sour cream
For serving
Instructions
Make blini

Melt butter in a saucepan over medium heat and set aside.

Mix flour, salt and sugar in a bowl. Add whey to the the dry ingredients and whisk everything together. Whisk in eggs, one at a time. Strain the batter through a mesh sieve to remove any bits of undissolved flour. Add the melted butter and the boiling hot water to the batter. If you insert a spoon the batter should coat its surface, but run down easily.

Place a 24 cm (9.5 inch) pan over medium-high heat. Once hot, grease it with butter. Lift the pan with one hand and pour the batter into it with another. The trick is to use less batter than you think you need in order to get the thinnest blini. About 1/3 of a ladle should be enough. When the batter touches the hot surface of the pan start rotating your hand to spread the batter. Place the pan back on the stove and wait for about 1-1.5 minutes till the batter becomes golden brown on the bottom. Flip the blin with a spatula and fry for another 20-30 seconds or until the other side is also golden brown. Repeat with the rest of the batter. Place blini in a stack, on top of each other, so they stay warm.

Make the filling
In a bowl, smash strawberries with a back of a fork or a potato masher. They should release a lot of juice. Add sugar and mix to combine. In a different bowl, mix tvorog with sour cream (if using**) to get paste-like consistency. Combine tvorog with strawberries.

Assemble blinchiki

You can do this while frying blini. Take one blin and put it on a plate (the less pretty side should be facing you). Place 2 tablespoons of the filling along the lower edge of the blin. Fold the sides of the blin inwards. Fold the lower edge inward too. Now roll. Repeat to all the blini.

Heat up a pan (you can use the same pan on which you were frying blini) and add butter. Once it's melted, add as many blinchiki as will fit on a pan (the open edge of the roll should be pressed on the pan first to seal it together) and fry for about 30 seconds, until golden brown. Then turn the blinchiki and fry for another 30 seconds.

They taste great both warm and at room temperature, but if possible, serve immediately, drizzled with honey.
Notes
*If you don't have whey, use full fat milk or milk and water in equal parts.
**You might not need sour cream if using homade tvorog as it is already soft and moist.
Pin for later