Sirniki make for a fancy breakfast. On a normal day, morning starts with eggs, open-faced sandwiches, or tvorog — Russian-style cottage cheese — mixed with a tablespoon of sour cream and jam. In other words, something that takes a few minutes to put together.
Sirniki, while not particularly difficult to make, take a bit more time. In this regard, they are like pancakes: Sunday seems like the best day to take on this project.
Sirniki are often described as cheese pancakes, which, to my mind, gives a false impression of them being doughy. And they are most certainly not. Sirniki might resemble pancakes in shape, but taste a lot more like a warm cheesecake than an actual pancake.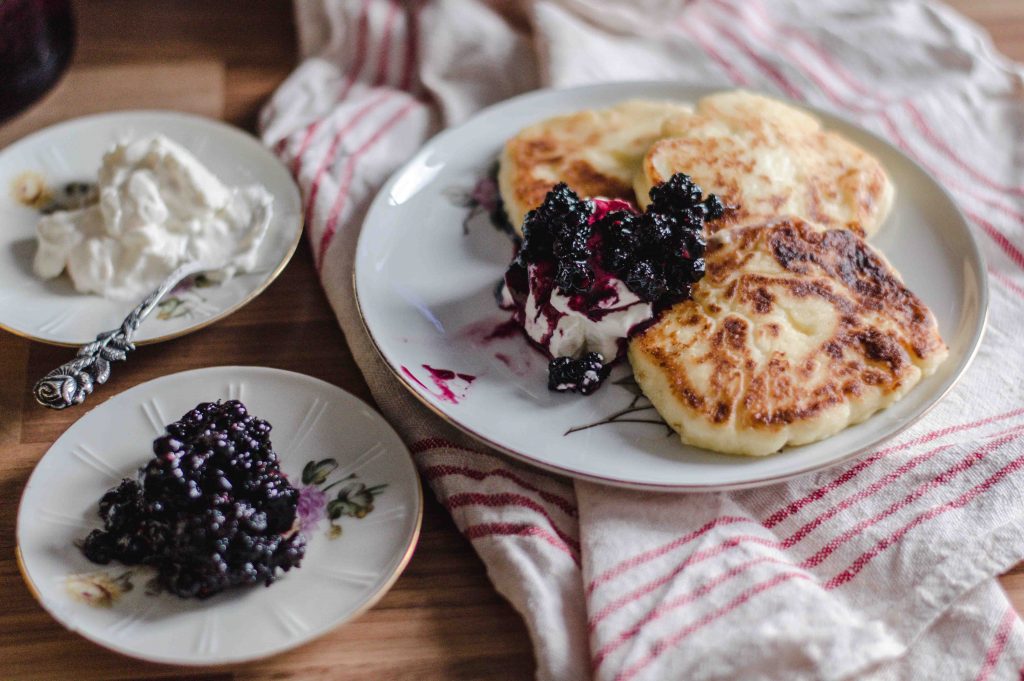 What Cottage Cheese Do I Use for Sirniki?
Most certainly not the cottage cheese you find in a regular American supermarket. Russian cottage cheese (tvorog) is a lot dryer and fattier. While full-fat cottage cheese in the USA contains 4% fat, in Russia full-fat tvorog is 9% or 15%. It's also quite crumbly and dry, unlike its milky American cousin (maybe even a cousin twice-removed, the two are very different).
If you don't mind a few extra steps, prepare Russian tvorog from scratch. It will take several days, but fear not, the active work is minimal. Most of the time you just wait until bacteria does all the work of curdling the milk for you. As a reward, you'll get the silkiest softest cottage cheese you've ever tasted.
Another option is to find an Eastern European (or international) grocery store in your city. They almost always sell tvorog for frustrated Russians, like myself, who miss sirniki in their new home.
I've also seen other food writers refer to Russian-style tvorog as farmer's cheese. Personally, I haven't come across farmer's cheese, but if you do, give it a try.
I Got Tvorog, Now What?
Now, there are two scenarios. If you used my homemade tvorog recipe, it will come out a little too wet for sirniki. Usually, I wrap it in a piece of muslin cloth and ring out excess liquid.
On the other hand, store-bought tvorog might be a bit too dry, so I add a few tablespoons of sour cream to soften it. Mix in one tablespoon at a time and check the consistency. For the recipe below I use about 3-4 tablespoons.
And sometimes tvorog is just right, but you'll only know it once you prepared sirniki a few times and learned the right consistency.
Got it! So How Do I Make Sirniki?
Once you got the right tvorog, making sirniki is a breeze. Mix tvorog with egg yolks in a large bowl: homemade tvorog can be mixed with a fork, but I prefer to use a hand mixer or a food processor for store-bought tvorog as it's a lot more crumbly.
I used to add a whole egg, but switched to egg yolks after trying Darra Goldstein's sirniki recipe from Beyond the North Wind. It only makes sense: you get all the creaminess of egg yolk and no additional liquid of egg white that will make the batter runny.
Add flour, baking powder, and as much sugar as your heart desires, but keep in mind that sirniki are usually served with jam or sweetened condensed milk. The batter should be smooth, but rather dense.
Form a patty about 7 cm (2.5 inches) in diameter, coat it in flour and immediately place on a hot pan. Fry on each side for about three minutes, until the sides are set and the patty is golden brown. Serve hot with sour cream and jam on top.
These are classic Russian sirniki. You can add raisins to the dough for added sweetness (soak them in hot water or, better yet, in freshly-brewed black tea beforehand) or grated lemon zest. You can also make a fancy sauce to go with your sirniki instead of the simple combination of sour cream and jam.
In the recent years, sirniki have moved from cosy grandma's home into professional chef's kitchen. Every self-respecting Russian restaurant has sirniki on their breakfast menu. And I have seen sirniki with coconut condensed milk and blueberries, sirniki with salted caramel, and even savory sirniki with salmon and artichoke sauce. For now, I've got this classic recipe for you that I've been using for years.
Yield: 8-9 sirniki
Sirniki
Cottage cheese pancakes perfect when served hot off the pan with sour cream and jam for breakfast.
Ingredients
400 grams (1 pound minus 2 tablespoons) tvorog (Russian-style cottage cheese)
4 tablespoons sour cream (optional)
2 egg yolks
2 tablespoons sugar
1/8 teaspoon salt
60 grams (1/2 cup) flour, sifted
1/2 teaspoon baking powder
40 grams flour (1/3 cup) for coating
4 tablespoons sunflower oil for frying
Sour cream and jam for serving
Instructions
Prepare the tvorog. If you are using homemade tvorog and it's a little too wet, ring out excess liquid using a muslin cloth. If using store-bought tvorog which is usually dry, add up to 4 tablespoons of sour cream to make it soft.

Mix 2 egg yolks into tvorog: use a fork for homemade tvorog; a hand mixer or food processor — for store-bought. As store-bought tvorog is usually quite dry, you want to break all the bits and pieces and get uniform texture. Add sugar, salt, flour and baking powder and mix well to incorporate all the ingredients and get smooth batter.

Prepare a plate with extra flour for coating. Place a pan (I use a 24-cm/9.5 inch pan) over medium heat and pour 2 tablespoons of sunflower oil. Once the oil is hot, reduce the temperature to low.

Wet your hands so it's easier to handle the batter. Take 2 tablespoons of the batter and form a patty, 7 cm (2.5 inches) in diameter and 1,5 cm (1/2 inch) thick. Coat it with flour on both sides and place onto the hot pan. Repeat with the rest of the batter, which makes 8 sirniki — I fry them in 2 batches.

Fry for 3 minutes. Once the patties are set on sides and the bottom is golden brown, flip them, and fry on the other side for another 2.5-3 minutes.

Serve hot with sour cream and jam or sweetened condensed milk.
Nutrition Information:
Yield:
3
Serving Size:
1
Amount Per Serving:
Calories:

292
Total Fat:

25g
Saturated Fat:

5g
Trans Fat:

0g
Unsaturated Fat:

19g
Cholesterol:

136mg
Sodium:

180mg
Carbohydrates:

15g
Fiber:

0g
Sugar:

12g
Protein:

2g
Pin for later