This beetroot dip is the fastest a recipe went from an idea in my head to a blog post. Yesterday I've been contemplating what to do with a few rhubarb stalks that have been lying around for a tad too long, and then I remembered that Nigella has a whole chapter on rhubarb in her new book Cook, Eat, Repeat. The chapter features such delights as pickled rhubarb, toasted marshmallow and rhubarb cake, and rhubarb and custard trifle, but what immediately caught my attention was the beetroot and rhubarb soup.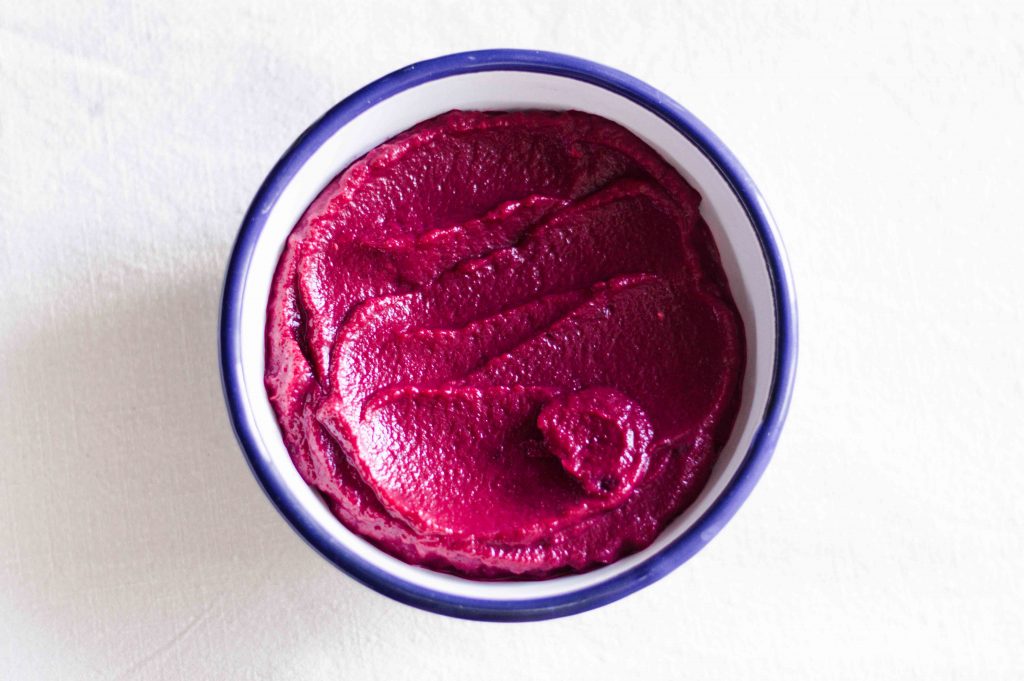 A soup of the most unimaginable pink color, so bright you almost doubt the natural origins of it. And on top — just a few streaks of green, which turned out to be — upon reading the recipe — green tahini sauce made with coriander and parsley. "Beets and rhubarb go well together?", was my first thought. And then, "but of course, they do! How wild!"
"The rhubarb undercuts what can, for me, be the cloying candied intensity of beet", writes Nigella. And while the intense sweetness is exactly what draws me to beets, I can see how a tang of sour would add depth to flavor. I had a beetroot in the fridge — as I always do, I am Russian. So an experiment was meant to be. Only I wasn't quite craving a soup.
I hate to use "if you have been following me for a while", because chances are you haven't (and if you haven't why don't you?), but if you have, then you'll know that one of my favorite beetroot recipes is Ottolenghi's beetroot and za'atar dip. I even included it in my favorite recipes of 2020 list.
And so I decided to marry Nigella's recipe with Ottolenghi's one: it would be the wild combination of beetroot and rhubarb, but in the shape of a dip. While I borrowed the idea of bringing beets and rhubarb together from Nigella, the way I go about cooking them is different. For her soup, Nigella sautés onions and garlic, then adds water and simmers beets and rhubarb for about 1.5 hours. She flavors the soup with cumin and fresh ginger. 
For the dip, I chose to bake the beets and poach rhubarb in orange juice. Then I bring them together in a blender and flavor the way Ottolenghi does with his dip: yogurt, salt, chili flakes.
As for the finishing touch, you can go the Nigella-way and add green tahini sauce. She suggests to use a combination of coriander and parsley, or, when in season, ramps (I only had sorrel and it worked well too). Or go the Ottolenghi-way and top the dip with goat cheese, toasted hazelnuts, and za'atar. Either way, this beetroot dip tastes fresh, sweet-sour and quite unlike anything I have tried before. And how could it be any different when the recipe is a brainchild of Nigella Lawson and Yotam Ottolenghi, even if they don't know of it.
Beetroot Dip with Rhubarb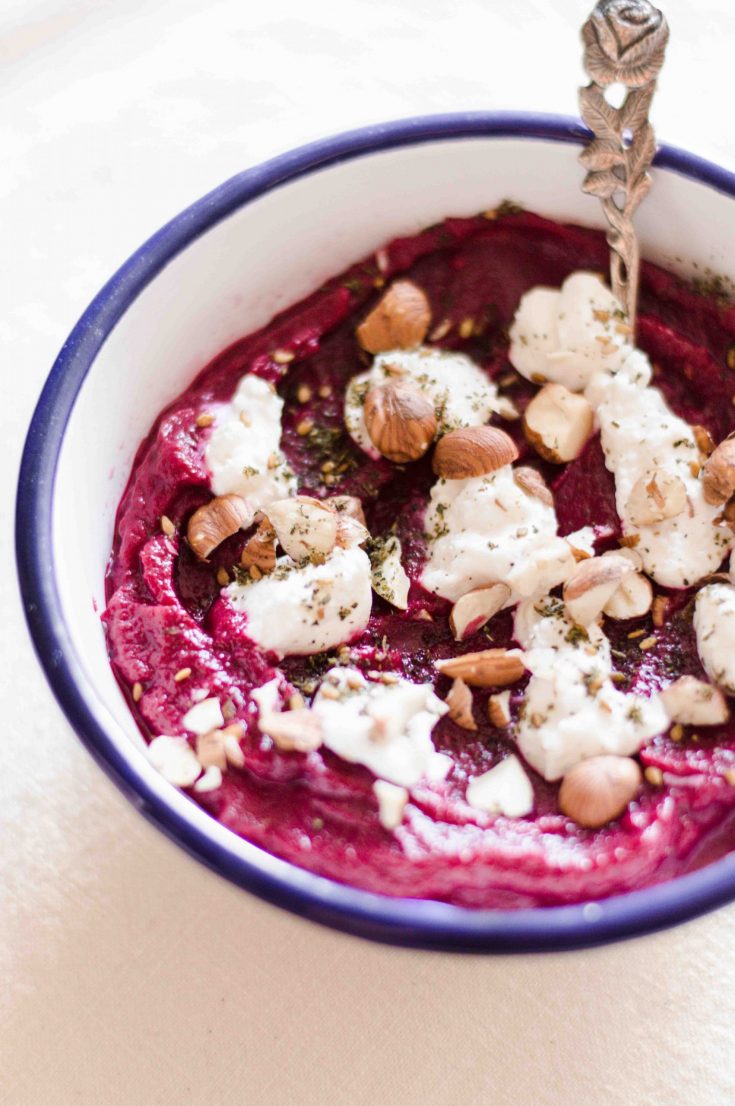 Sweet and sour beetrot and rhubarb dip
Total Time
1 hour
10 minutes
Ingredients
For the dip:
2 medium beets (450 grams/1 pound)
2 slender stalks of rhubarb (220 grams/1/2 pound), trimmed and cut into 1.5 cm (1/2 inch) pieces
2 tablespoons sugar
Juice of 1/2 orange
2 tablespoons full-fat yogurt
1 small clove of garlic 
1/2 teaspoon salt
1/4 tsp chili flakes
For the Nigella-style topping — green tahini sauce:
100 grams/3.5 ounces sorrel, stalks removed (see notes)
75 grams/2.6 ounces (4 tablespoons) tahini paste
75 ml (1/4 cup + 1 tablespoons) cold water
2 medium cloves garlic, peeled
2 tablespoons lemon juice
1/2 teaspoon salt
For the Ottolenghi-style topping:
30 grams/1 ounce (1/4 cup) soft goat cheese, crumbled
15 grams/0.5 ounce (1/8 cup) hazelnuts, toasted and roughly chopped
1 teaspoon za'atar
Instructions
Make the dip

Preheat the oven to 200°C (390°F). Wash the beets and place them, unpeeled, on a tray in the middle of the oven. Bake for about 1 hour, until they are completely soft and a knife can be inserted through the center easily. Take the beets out and let them cool. Once the beets are cool enough to handle, peel them.

Meanwhile, prepare the rhubarb. In a heavy-base pan, combine the rhubarb, sugar, and orange juice and place over medium heat. Bring to a boil and let the sugar dissolve. Reduce the heat to low, cover the pan with a lid and let the rhubarb cook for about 7 minutes, until the pieces are soft, but still hold their shape. Take the rhubarb pieces out with a slotted spoon, leaving the syrup behind (you can use it to top oats or yogurt), and place them into a blender.

Add the beets, yogurt, garlic, salt and chili flakes to the blender and blitz everything until you get a smooth paste. Transfer the dip into a serving dish and use the back of a spoon to smooth the surface.

Make Nigella-style topping: green tahini sauce

Put all the ingredients into a blender and blitz to get a thin sauce. Spoon it over the beetroot and rhubarb dip.

Make Ottolenghi-style topping

Scatter the goat cheese and hazelnuts over the beetroot and rhubarb dip and sprinkle with za'atar as a finishing touch.

Notes
Sorrel can be replace with a mix of coriander and parsley or with ramps, when it's in season.
Pin for later