I went to Boston's Little Italy. I tried pasta, pizza and cannoli. I was pretty sure I had the most authentic Italian food. Then I met my Italian friends who shook their heads in disappointment when I mentioned the name of the place. Turns out, the food I tried wasn't so Italian after all. Here goes the "wah-wah-waaaaaaaah" cartoonish failure sound. I described this experience here.
But I am not the one to give up easy! Where do I go if I want to try the most authentic Italian pizza in Boston? I asked my Italian friends, and they recommended restaurant MAST' in Boston's historic Beacon Hill. "Just the way it is in Italy" – are the exact words my Italian friends use to describe pizza in MAST'.
But first: a drink! I know I am going to fall in love with this place two minutes after we enter: these guys have aperol spritz! I have to explain myself right away that pictures are blurry not only because I took them after having a couple of drinks, but also because it was dark and it's awkward to bring a tripod to a restaurant. Ok, now we can continue.
I tried this cocktail made of Aperol bitter and Prosecco one and a half years ago for the first time during a trip to Montenegro. I have been obsessed with it ever since. Believe me, it is not an easy task to find it in the USA, most of the places don't even know what I am talking about. After two glasses of aperol spritz I am a happy cat, as one of my friends calls me. It means I am so content all I can do is observe everything around me silently with a silly smile on my face.
Second: bread. You know you are in a great restaurant when bread they bring before serving food is of excellent quality. Bread and olive oil. Honestly, I don't even need any more food. I am good with this bread! I can eat this bread and go home satisfied.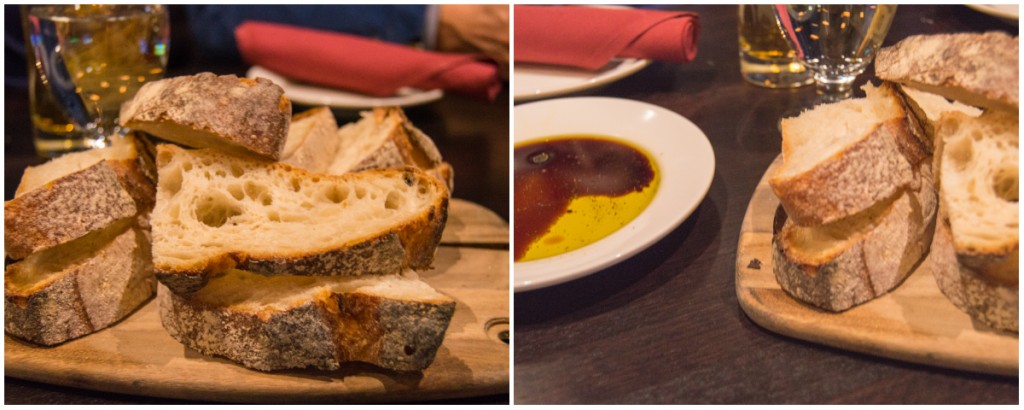 Third: appetizer. In any Italian restaurant I always opt for a plate of cured meats and cheeses. This place is no exception. I can't help but saying: "wow! It's so good" and my new Italian acquaintance gives me a look saying "No kidding! Really?" Captain Obvious is my best friend, I know.
Then: pizza! Pizza, pizza, pizza! A new level of pizza that I never achieved before. Who knew that pizza dough can be thin and chewy? I thought it is either thin and crunchy or thick and chewy. The only way your pizza is going to be crunchy is when it's burnt, our friends explain, since it should take no more than 90 seconds to cook.
When I ask what are the rules for making a perfect pizza they say: firstly, wood-fired oven, secondly, simple ingredients. Original pizza was made with just 3 components – tomatoes, basil and cheese – that represent the colors of Italian flag. Funnily enough, all the foreigners at our table order fancy pizzas with prosciutto, mushrooms, ricotta cream and what not. All the Italians order pizza Margherita – as simple as it gets and so delicious. One more rule: eat pizza with your hands, no fork and knife needed.
At last: espresso. To finish off a great dinner you need a shot of espresso. Don't you dare order a cup of coffee with milk if you want the experience to be authentic Italian. You can add a little sugar, though, but not too much.
This is the best part of having Italian dinner with Italian friends: I get to ask everything I was so curious about for years. And they are eager to explain.
Address: 45 Province St. Boston, MA
Hours: Mon – Wed: 11am to 11pm, Thu – Fri: 11 am to 2 am, Sat: 4 pm – 2 am, Sun: 4 pm – 11 pm
Pin for later: