"I guess no true Bostonian would trust a place that was sunny and pleasant all the time. But a gritty, perpetually cold and gloomy neighborhood? Throw in a couple of Dunkin' Donuts locations, and I'm right at home."
Rick Riordan
Before going into details on how to spend 48 hours in Boston, let me tell you a little about my relationship with this city. I lived near Boston for over a year. I wish I could substitute "in" for "near", because it would be wicked awesome to be a Bostonian for a little while. To look smart, act snobby, and say "Hahvahd Yahd". Although, that last one might be particularly hard since I am Russian and like to roll my r's.
I lived 40 minutes away, in less pretentious, less expensive, and overall less cool New Hampshire. I would come on weekends to the Bean Town – which is what no Bostonian ever called their city – and brave the cold and snow to celebrate my first ever Thanksgiving Day, to have a bite of original Boston Cream Pie, or sip a drink at the bar where scenes from Good Will Hunting were filmed.
In those memories, Boston is always cold, windy, and gloomy. That is the part of the Riordan's quote I can relate to. The part about Dunkin' Donuts – not so much. I don't like chains, deep-fried foods, and, in my opinion, Dunkin' Donuts coffee is what they serve in hell as a punishment for the worst kind of crimes like mass murder and drizzling ketchup on pasta.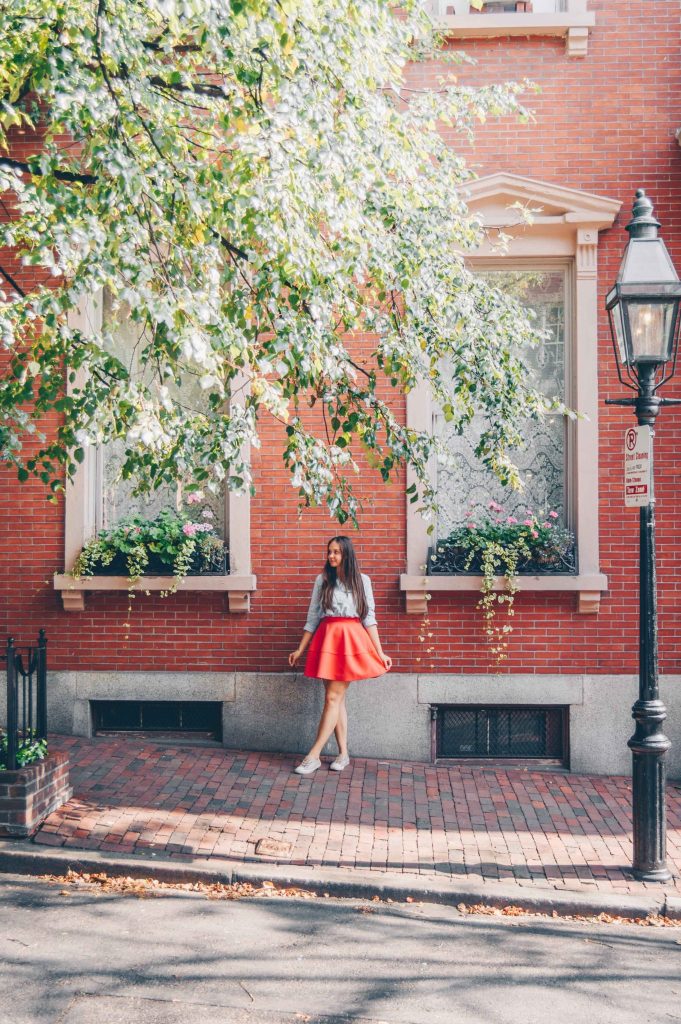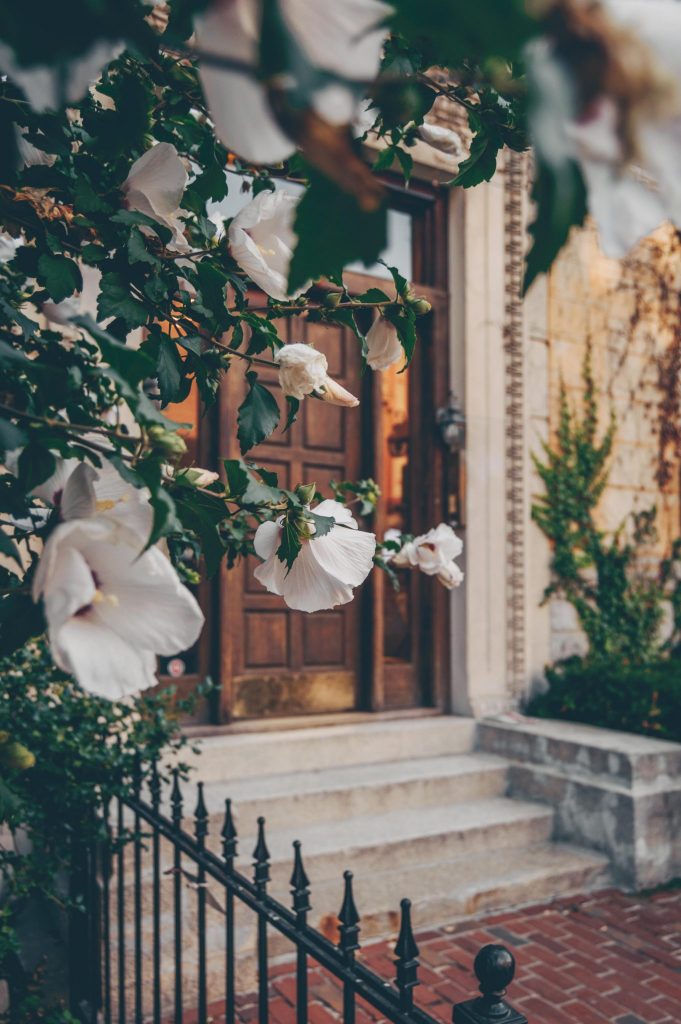 Last summer I got a chance to visit Boston once again. And once again, I lived near, not in. But I didn't mind. It took me only 15 minutes by train to get from Canton to South Station which made me feel like part of the busy daily commute. Only upon arrival I didn't hurry to the office. I walked around aimlessly; ate lobsters and oysters for breakfast, lunch, and dinner (mom says I am a bourgeois, but lobsters for Boston are what grits for the South, right?); and couldn't get enough of red brick buildings, cobblestone roads, and sun.
For the first time, I felt warm in Boston. Warm to be outside without layers of clothes and the fear of getting frostbites, but also simply welcome. This 48 hours in Boston guide was born out of five weeks of explorations. It involves ridiculous amounts of walking simply because I finally could walk in the sun-lit streets, and so I did. Here's how to see the best of Boston in 2 days!
Disclosure: this post contains some affiliate links which means if you buy something by clicking the link I will earn a small commission at absolutely no extra cost to you.
48 Hours in Boston: Day 1
Neighborhoods: Waterfront, The North End (Little Italy), Downtown, Chinatown, Beacon Hill, Back Bay
Distance: 5.4 miles (8.7 km)
9.00 am – Breakfast from James Beard Award Winning Chef at flour
One of my go-to places in Boston, flour bakery boasts a great selection of scrumptious pastries which makes it a perfect choice for breakfast. Who wouldn't like a warm banana bread, a ham and cheese croissant, or brown butter cinnamon rolls to start the day? Besides pastries, they offer a variety of sandwiches and grain bowls.
flour offers consistently delicious, fresh, and affordable (very important in Boston) meals. The owner and pastry chef of flour, Joanne Chang, is a source of inspiration to me. A graduate of Harvard College with a degree in Applied Mathematics and Economics, Chang turned into a pastry chef, opened eight locations of flour in Boston and Cambridge, wrote several cook books, and received James Beard Foundation Award for Outstanding Baker. Pretty awe-inspiring, right?
Out of many flour locations, the one on Farnsworth Street is the most comfortable for this guide's purposes.
flour Bakery – 12 Farnsworth St.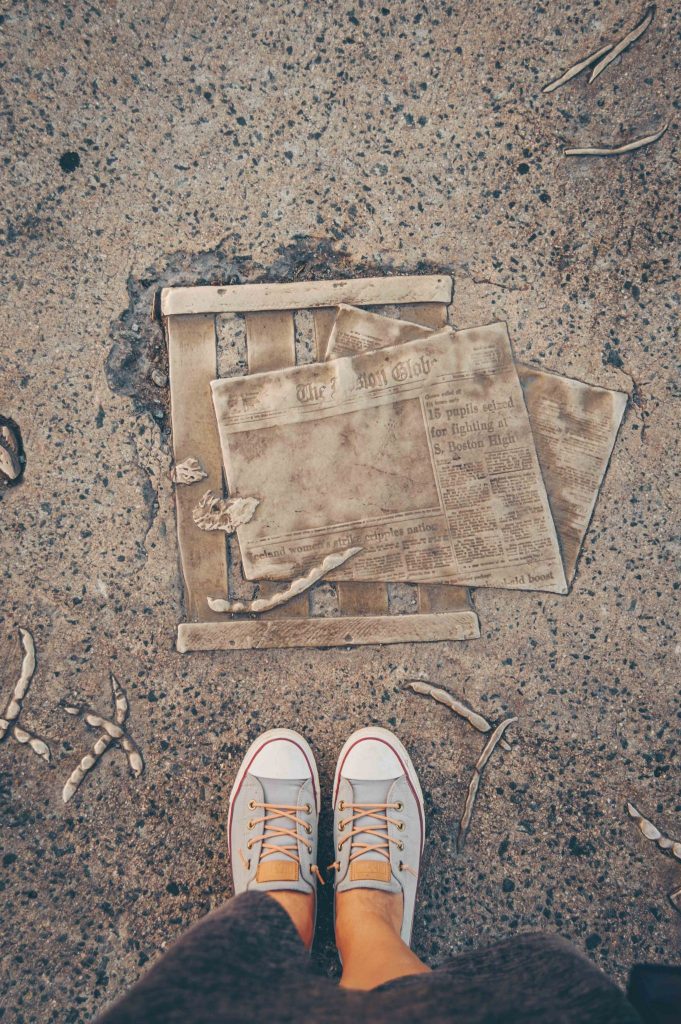 10.00 am – Refreshing Walk at the Waterfront
From flour bakery start walking towards the North End (Little Italy). Cross the Seaport Boulevard Bridge and stroll along Harborwalk which is public walkway that stretches 43 miles along Boston's shoreline. Don't worry, I am not going to make you walk the length of 1.5 marathons. Walking from flour bakery to the North End will take no more than half an hour. Make sure to stop at one of the wharves to get beautiful views of the harbor.
10.30 am – The North End, Little Italy of Boston
The North End is Boston's first neighborhood also referred to as Little Italy. Although incredibly small (only 0.36 square miles), it is one of liveliest neighborhoods in the city with its many Italian restaurants, coffee shops, delis, and bakeries. The North End is also a great way to learn about the history of American Revolution: the Paul Revere house, Copp's Hill Burying Ground (Boston's second-oldest cemetery), and Old North Church are all located in Little Italy. Check out a more detailed guide of Boston's North End here.
11.30 am – the Rivalry of Cannoli
I can't emphasize this enough: trying the legendary cannoli from Mike's Pastry and Modern Pastry is a must. Both shops are located in the North End, almost exactly across the road from each other. There are people who say Mike's cannoli are the best cannoli you can find outside of Italy. There are others who claim Modern Pastry's cannoli are the most authentic and delicious. You have to try both and decide whether you are on team Mike's or team Modern. You can also decide to be on team Cannoli and just eat a whole bunch from both shops.
Tip: Bring some cash, neither of the shops accepts credit cards. The lines are long, but they move quickly.
Mike's Pastry – 300 Hanover St.
Modern Pastry – 257 Hanover St.

12.00 pm – Boston Market District
Boston Public Market is located a few minutes-walk away from the North End and is open seven days a week. This indoor year-round marketplace offers fresh local foods produced in Massachusetts and New England. On Fridays and Saturdays from dusk to dawn, you can also visit historic Haymarket located nearby, on Blackstone, Hanover, and North Streets. Merchants gathered at the location of current Haymarket from around 1830-s. The produce is usually several times cheaper than in supermarkets, especially if you come by the end of the day.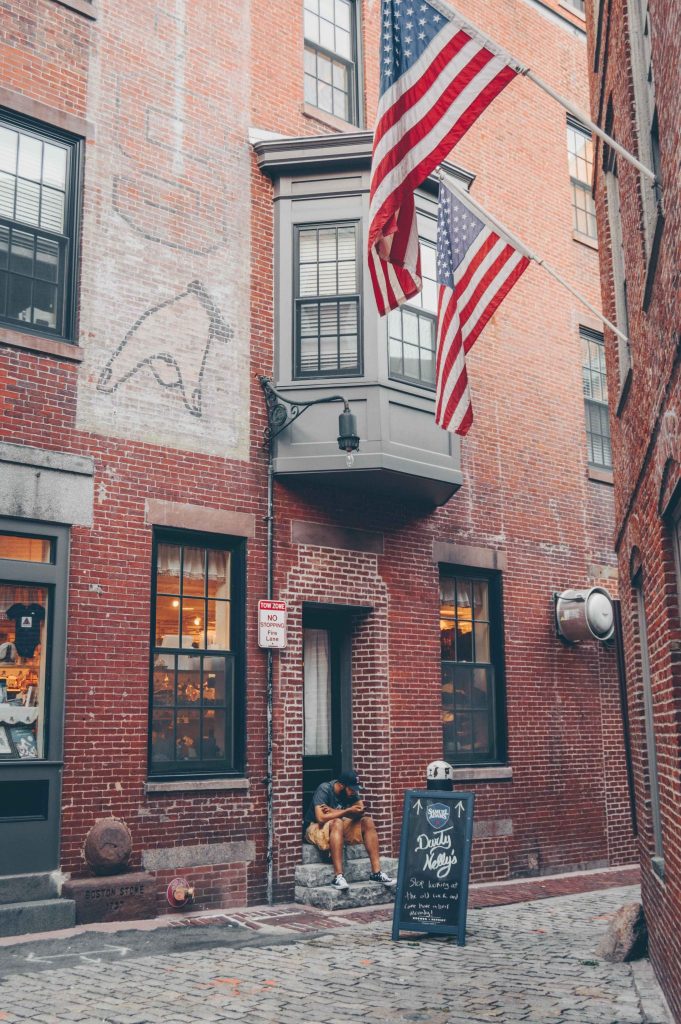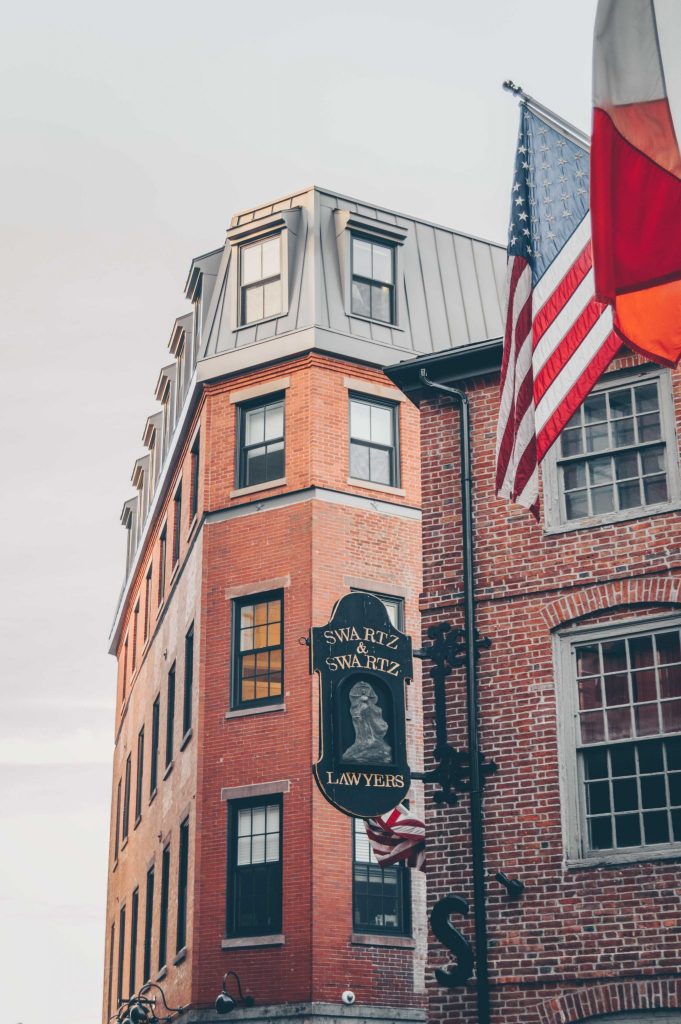 Tip: stop by Taza Chocolate shop inside the Boston Public Market. They offer Mexican-inspired stone-ground organic chocolate, made in Sommerville, MA.
Boston Public Market – 100 Hanover St.
12.40 pm – Original Boston Cream Pie at Omni Parker House
From Boston Public Market walk to Omni Parker House (10 min), a historic hotel in downtown Boston. The hotel, formerly known as Boston's Parker House, has been around for the past 160 years. It is here, in Parker Restaurant inside the hotel, that Boston cream pie was invented. Although this is not my favorite version of Boston cream pie in the city, it is really good and I think it must be obligatory to try the original Boston cream pie when you are in Boston. By the way, the hotel is worth stopping by even if you are not in the mood for sweets. The decorations inside are gorgeous.
To learn how to get the pie without having a dinner at Parker Restaurant, check this post about the history of the legendary dessert.
If you want to know who makes my favorite Boston cream pie check out this guide to the best desserts in the city.
Omni Parker House – 60 School St.
13.00 pm – Brattle Book Shop, a Book Lover's Paradise
One simply cannot spend 48 hours in Boston and not visit Brattle Book Shop, one of my favorite places in the city. Housed in a three-story building, Brattle is one of the largest used book shops in the country with 250 000 books in stock. Two floors feature general used books, while the third floor is dedicated to antiquarian books and first editions. My favorite space in Brattle, though, is the open lot outside with books for sale. Located in between two red brick walls, the lot houses carts with books that cost as low as one dollar.
Brattle Book Shop – 9 West St.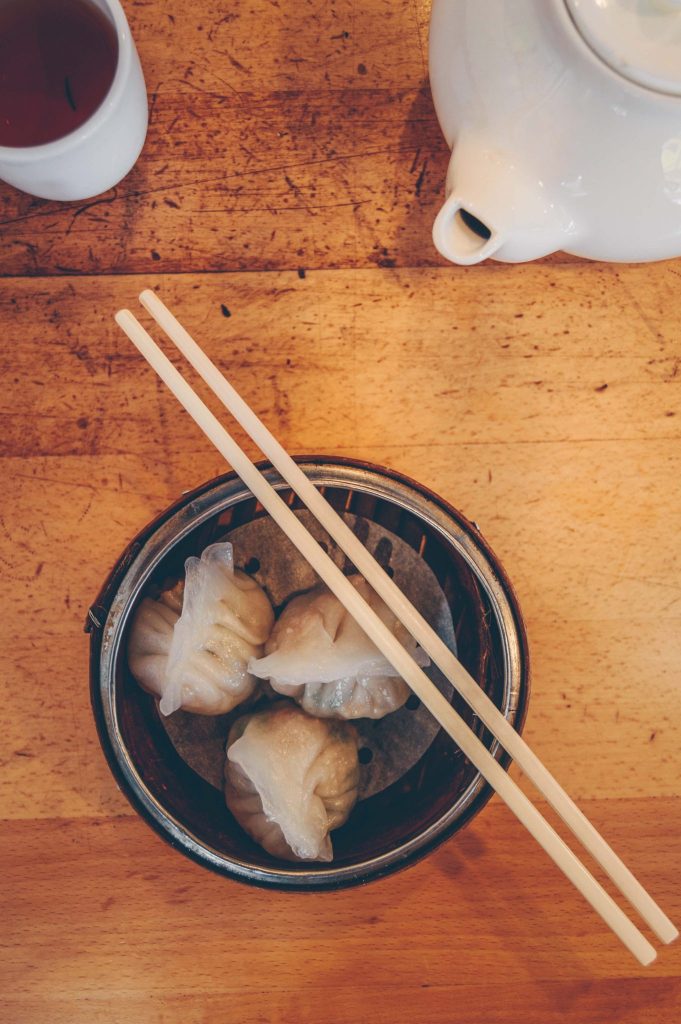 14.00 pm – Dim Sum in Chinatown
Boston's Chinatown is the third largest in the United States, right after New York and San Francisco. It is also the only surviving ethnic Chinese area in New England since the demise of Chinatowns in Maine and Rhode Island in the 1950-s.
The best way to explore Chinatown is through its many amazing foods. Wander around the neighborhood, pop into some of the Asian grocery shops, and eat dim sum in one of the many restaurants in the area. Winsor Dim Sum Café is an unassuming little restaurant serving great dim sum at reasonable prices. A big satisfying lunch for two will set you back $20-25.
Tip: they don't accept credit cards for orders less than $10.
Winsor Dim Sum Café – 10 Tyler St.
If you are not in the mood for Asian food, check out Marliave for French cuisine, oysters, and inventive oysters, or Mast' Restaurant for one of the best pizzas in the city. Both are located in downtown.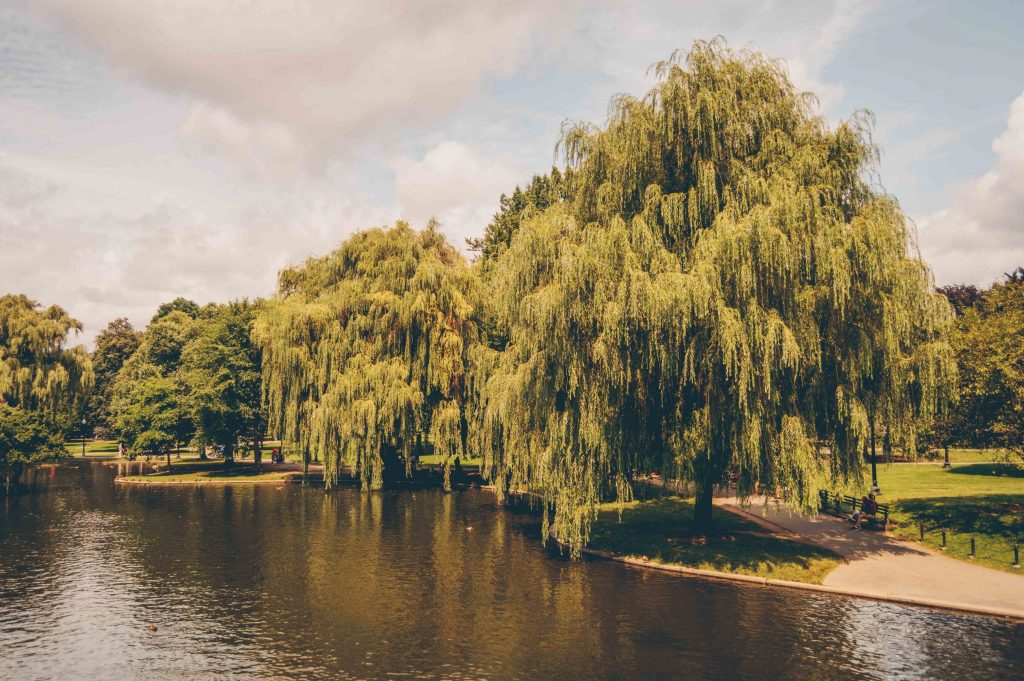 15.00 pm – Book-Inspired Art and Movie Locations at Boston Public Garden
After lunch, head to Boston Public Garden, a beautiful green park adjacent to Boston Common. Whenever I am in the area, I never skip a chance to walk around the garden, if only for a few minutes.
One of the most classic tourist attractions is swan boat rides, which started back in 1877. Another fun thing to do, especially if you have kids, is to find Make Way for Ducklings statue. The bronze ducklings are dressed in ridiculously cute outfits for Christmas, Saint Patrick's Day, Super Bowl, and other occasions.
And if you are a fan of visiting movie locations, find the Good Will Hunting bench, on which Robin Williams and Matt Damon had a talk in the Oscar-winning movie. Use this map to find the bench, it is marked #5.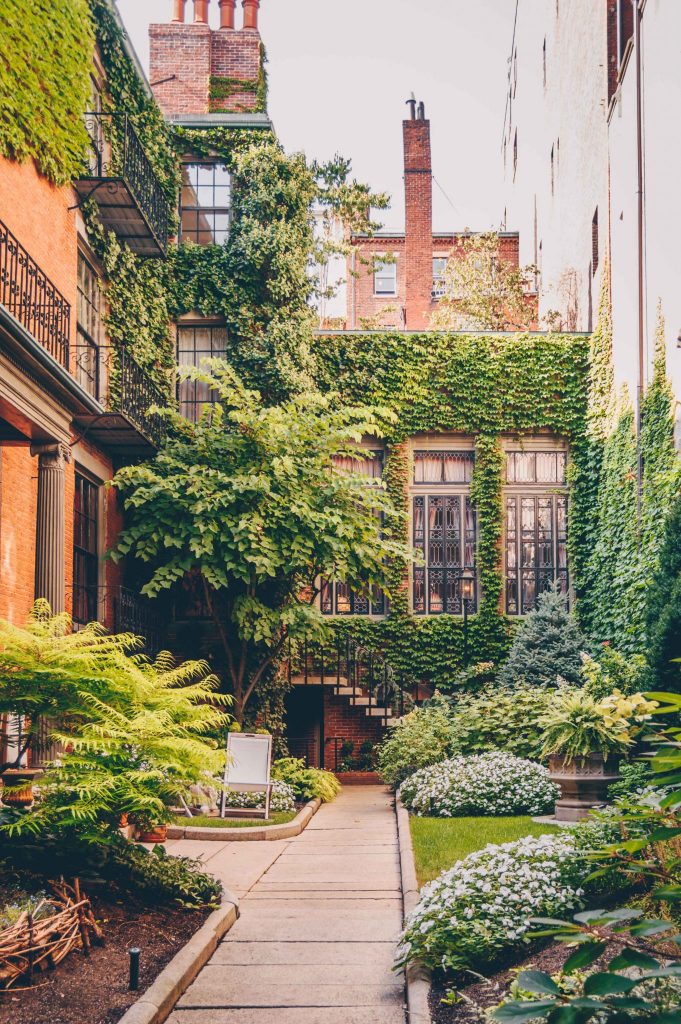 16.00 pm – Beautiful Super-Expensive Houses of Beacon Hill
North of Boston Public Garden is located one of the most beautiful neighborhoods in Boston – Beacon Hill. With its narrow streets, brick sidewalks, historic homes with intricate iron work, and brass door knobs, Beacon Hill is one of those places where you wander around imagining what your life would be like if you had a couple million dollars laying around.
You can follow this map for a self-guided tour of Beacon Hill or simply walk around aimlessly – you'll find gorgeous historic homes at every turn. Make sure you stop by Massachusetts State House, which is impossible to miss thanks to its grand golden dome, and take a picture at Acorn Street, the most photographed street in Boston built of river stones from Charles River.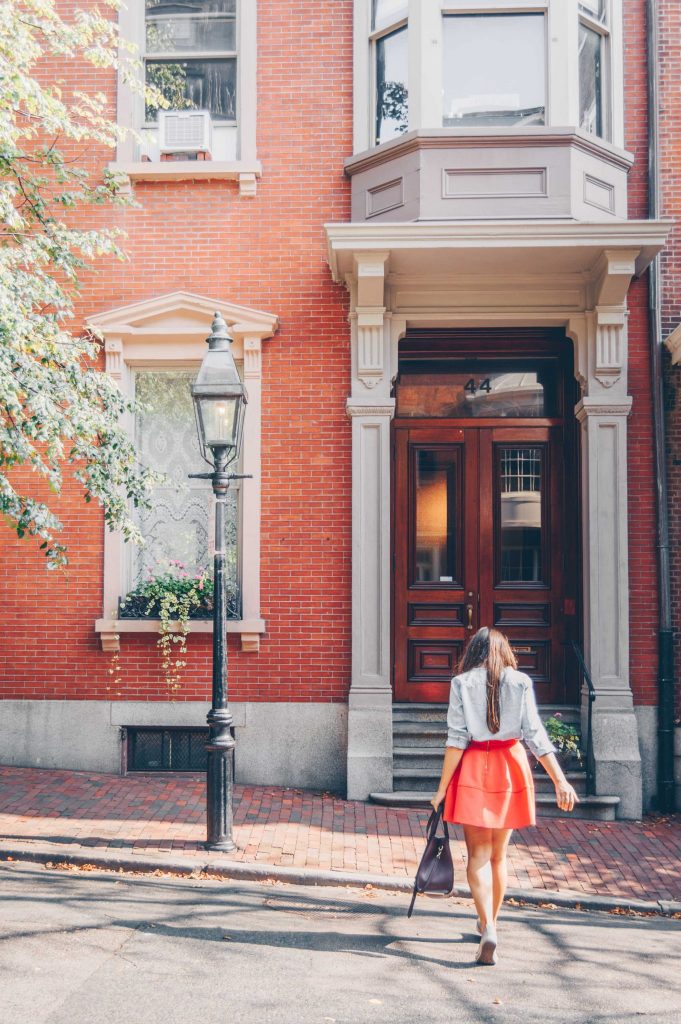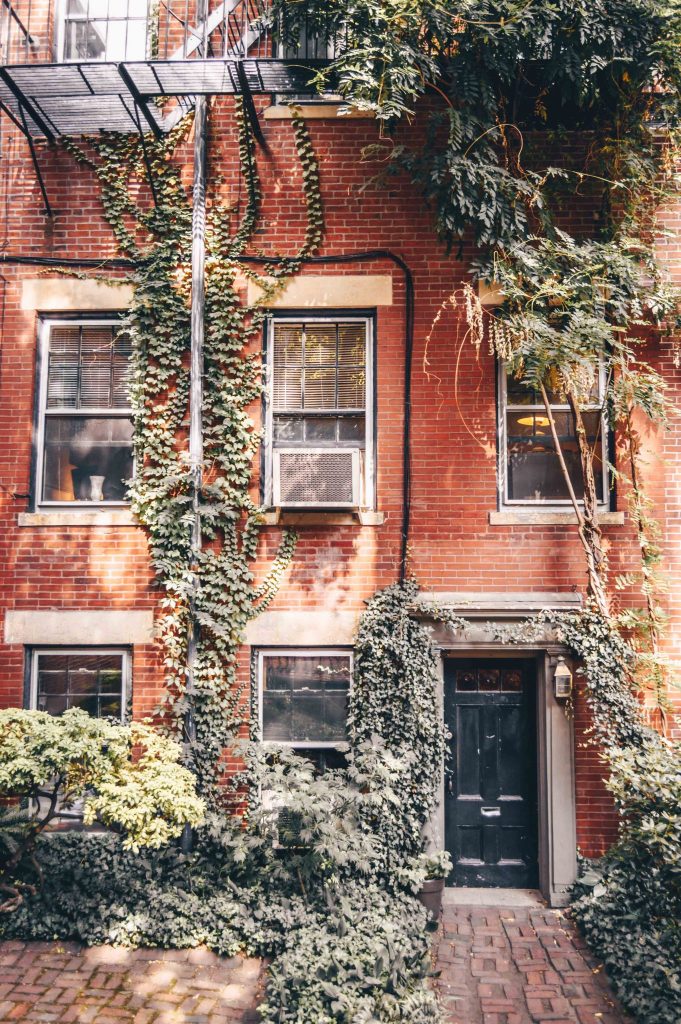 Tip: If you are a fan of the TV-show Cheers, the famous Cheers bar is located just outside of Boston Public Garden. Stop there for a beer on the way to Beacon Hill. Or, if you are more of a coffee fan, take a rest from all the walking at Tatte Bakery and Café in Beacon Hill, a local's favorite, for a cup of Joe and a pastry.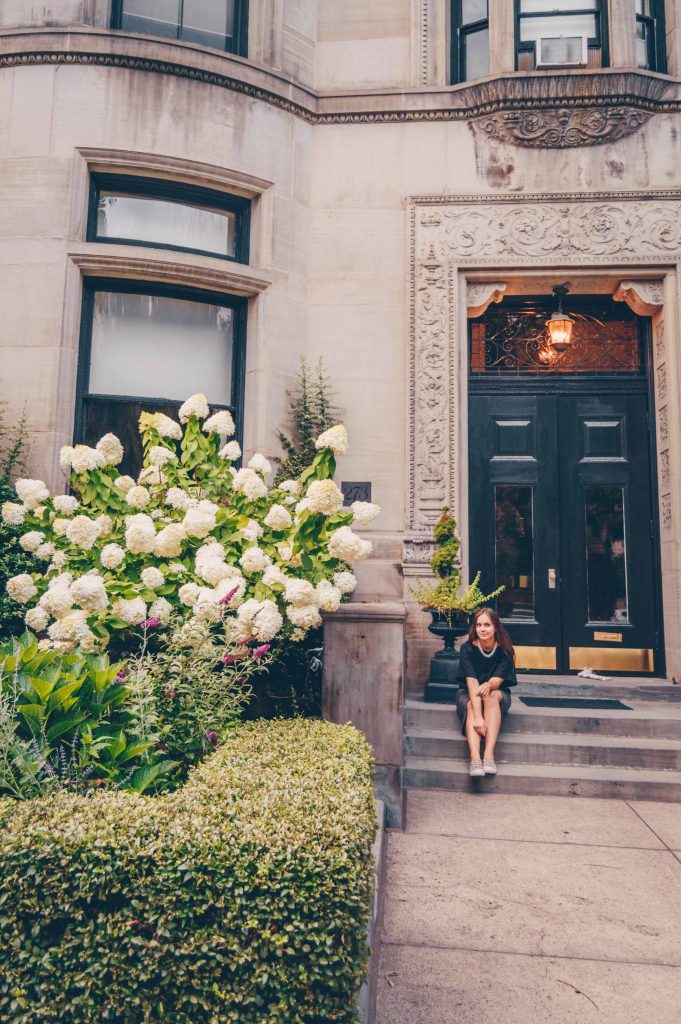 17.30 pm – More Beautiful Super-Expensive Houses on Commonwealth Avenue
From Beacon Hill head towards Harvard Bridge using Commonwealth Avenue, which starts at the Western edge of Boston Public Garden. Commonwealth Avenue is divided in the middle by a wide greenway, called Commonwealth Avenue Mall with many statues and memorials. The avenue will take you through Back Bay neighborhood that boasts some of the most beautiful houses in Boston.
18.00 pm – Sunset at Harvard Bridge
The Harvard Bridge connects Back Bay neighborhood with Cambridge, MA, and provides gorgeous views of the city. Ideally, you should make it here by sunset to admire Boston skyline at golden hour. But even if you come earlier, the Harvard Bridge is a perfect overlook at any time of the day.
There's a fun story about a unit of measurement called Smoot, invented by Harvard students to define the length of Harvard Bridge. You can read more about it in my post about Cambridge, MA.
19.00 pm – Fresh Seafood and Wine at Select Oyster Bar
Select Oyster Bar is one of the best seafood spots in Boston, located in historic Back Bay. It was named the Best New Restaurant in 2015 by Boston Magazine; Best Seafood Restaurant in 2015 and 2016 by Improper Bostonian; and Best New Wine Bar in America in 2016 by Food and Wine magazine.
The space is small, cozy, and reminds of a bistro. The menu features oysters, crudo, ceviche, and local shellfish, prepared simply to showcase the top quality of local seafood.
Select Oyster Bar – 50 Gloucester St.
48 Hours in Boston: Day 2
Neighborhoods: The South End, Back Bay, Fenway
Distance: 5 miles (8 km)
9.00 am – Breakfast at South End Buttery
Start your second day in Boston at South End Buttery, a café located in the South End neighborhood of Boston. Their menu features a wide selection of breakfast items from muffins and croissants, to sandwiches and burritos, to oatmeal and yogurt parfaits.
South End Buttery is also one of the filming locations for Academy Award winning movie Spotlight. In the movie, the Boston Globe journalist Sasha Pfeiffer (played by Rachel McAdams) interviews one of the victims in the case she is investigating at South End Buttery.
South End Buttery – 314 Shawmut Ave.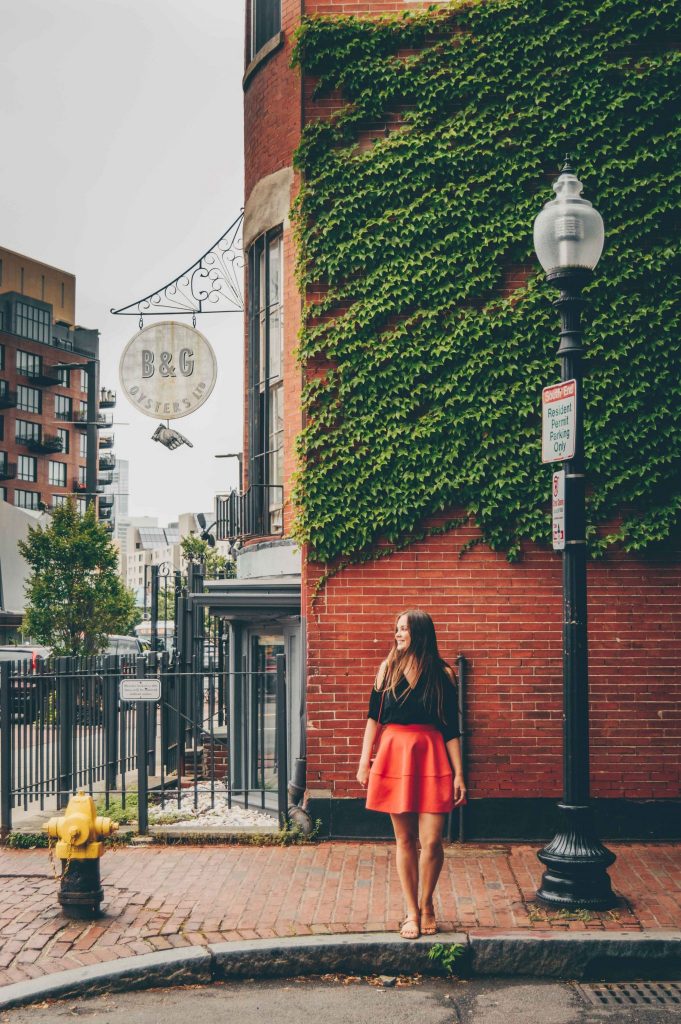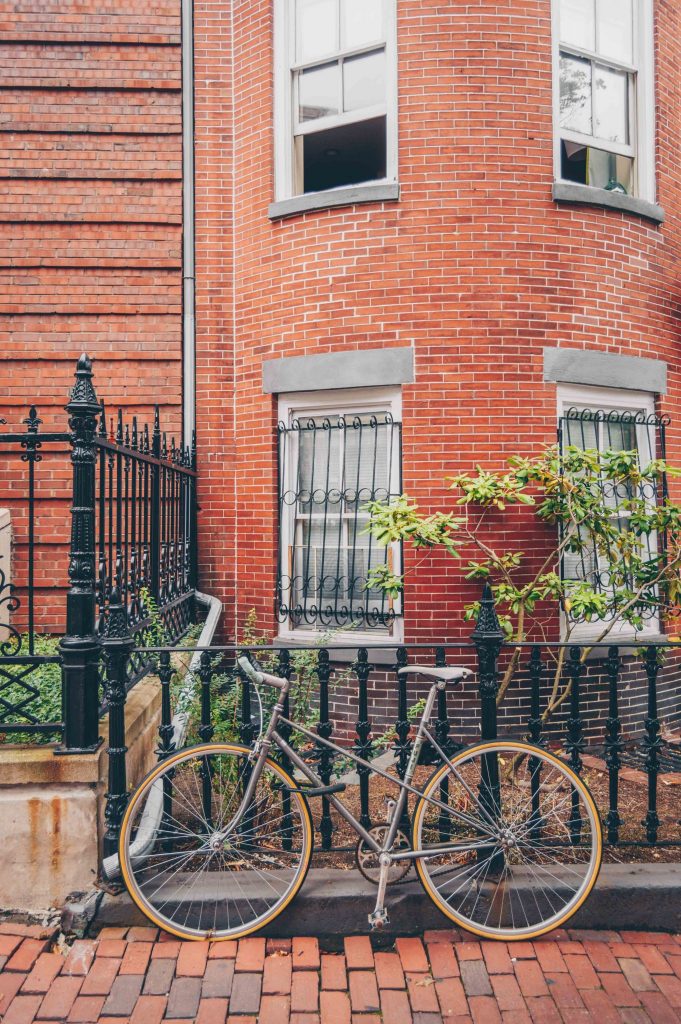 10.00 am – Lots of Walking in the South End
The neighborhood of South End was designed from scratch by Charles Bulfinch, the architect who also designed Massachusetts State House and the Boston Common. Despite the name, the neighborhood is not located directly to the south of downtown Boston and should not be confused with South Boston (also known as "Southie").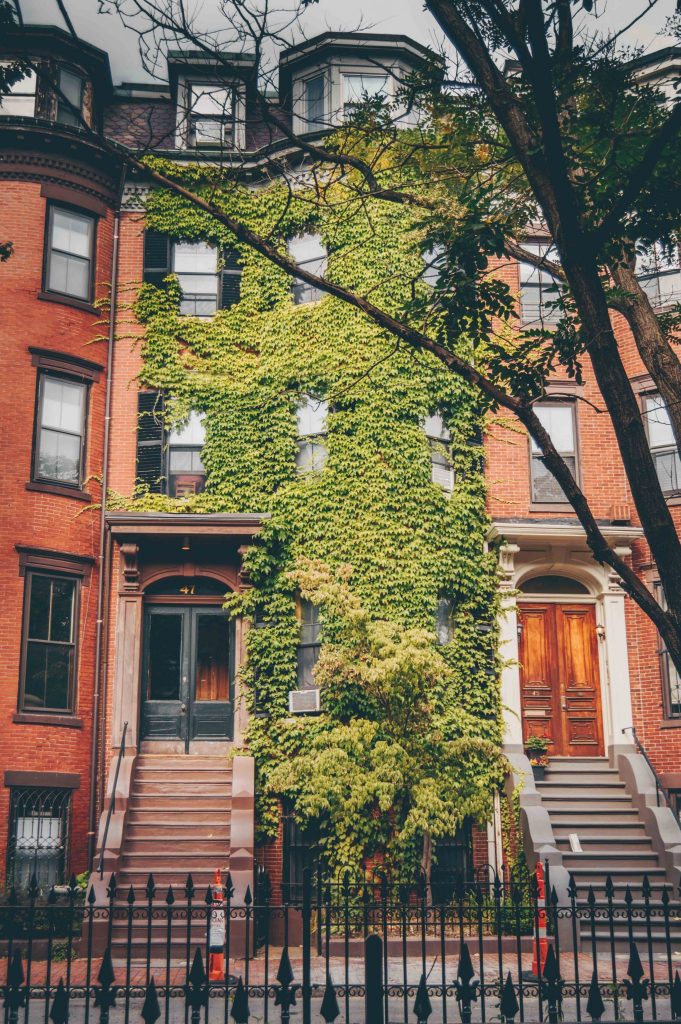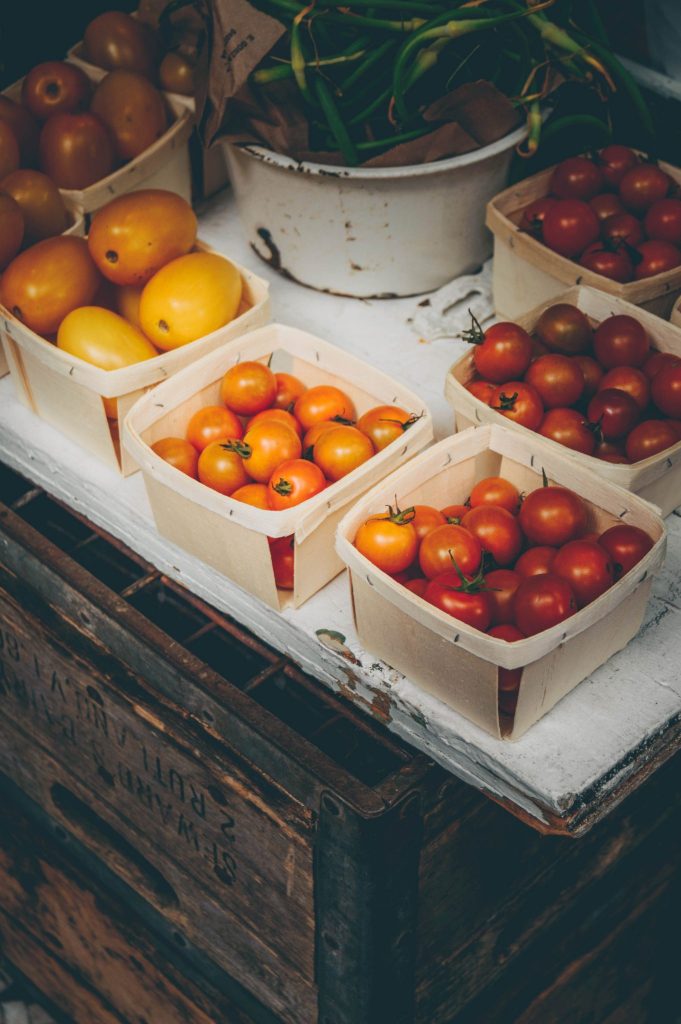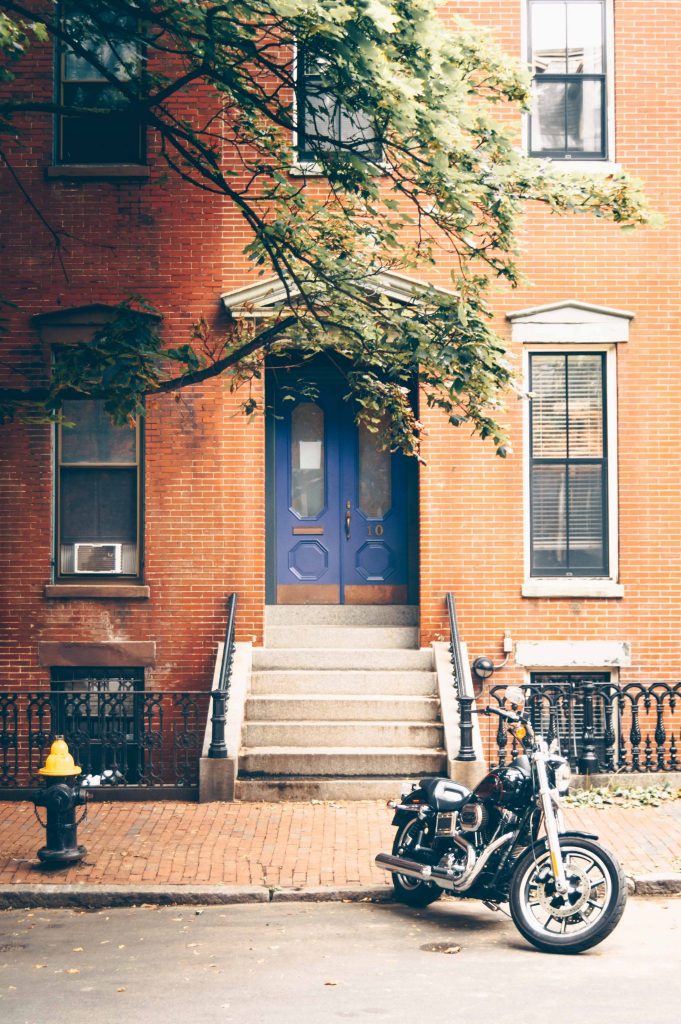 The South End is famous for its Victorian style houses, many green parks, and artistic vibes. The SoWa Art and Design District (south of Washington Street) boasts many art galleries, studios, showrooms, and boutiques, as well as events like SoWa Open Market, SoWa First Fridays, and SoWa art walks.
11.00 am – Trinity Church, an Architectural Masterpiece
From South End head to Back Bay neighborhood, parts of which we explored yesterday. Stop by Trinity Church on Copley Square built by one of the most famous American architects Henry Hobson Richardson. Known for reinterpreting European forms and styles, Richardson combined Romanesque traditions with his own ideas in designing Trinity Church to create a unique look. American Institute of Architects named Trinity Church one of the "Ten Most Significant Buildings in the United States".
Tip: you can take a guided or self-guided tour of the church interior for $7 per person.
Trinity Church –  206 Clarendon St.
11.30 am – Awe-Inspiring Architecture and Cakes at Boston Public Library
Across the road from Trinity Church is Boston Public Library. With 23 million items, including books, maps, manuscripts, and electronic resources, it is the third-largest public library in the United States behind only the Library of Congress in Washington D.C. and the New York Public Library.
The library offers free daily guided tours focused on the architecture of the building as well as the art works inside. Check the information about tours here. If you are exploring on your own, make sure to visit magnificent Bates Hall, the reading room on the second floor of the library.
Tip: The Courtyard Restaurant located inside Boston Public Library offers fantastic afternoon tea with a view of the library's courtyard from Monday to Saturday. I wrote about my experience having afternoon tea at the library here.
Boston Public Library – 700 Boylston St.
12.00 pm – Italian Foods Galore at Eataly Boston
For those who love Italian food (therefore, for everybody) Eataly is a three-story paradise in Boston's Back Bay. From Boston Public Library it will take you only five-minutes-walk down Boylston Street to get to Prudential Center, where Eataly is located.
You can grab something to go, eat at one of the casual cafes, or opt for a fine-dining experience. Afterwards, wander around 45 000 square feet filled with Italian produce and try not to give in to temptation of buying every single item you see on the way.
Eataly Boston – 800 Boylston St.
13.30 pm – Slightly Overpriced Views of Boston at Skywalk Observatory
While you are in Prudential Center, go up to the 50th floor and check out bird's eye views of Boston at Skywalk Observatory. The price is pretty steep at $19 per person, but this is the only vantage point with 360-degree views that include Boston's Hancock Tower, Fenway Park, the Boston Common and Public Garden, the Charles River, MIT, and Harvard University.
Skywalk observatory is the only place in this guide that I didn't visit personally. But I find it worth mentioning, since Prudential Center is in the guide anyways. If you are not willing to spend $19 for a visit to observatory, check my budget guide to Boston. There's an alternative to Skywalk Observatory and you won't have to pay anything for it.
Skywalk Observatory – 800 Boylston St.

15.00 pm – Venetian Vibes at Isabella Stuart Gardner Museum
Isabella Stuart Gardner Museum is, hands down, one of the most beautiful museums I have ever been to. Maybe, because it doesn't look like a museum, but rather like a royal palace. Although it contains beautiful pieces of art inside, people come here to admire the beautiful building itself.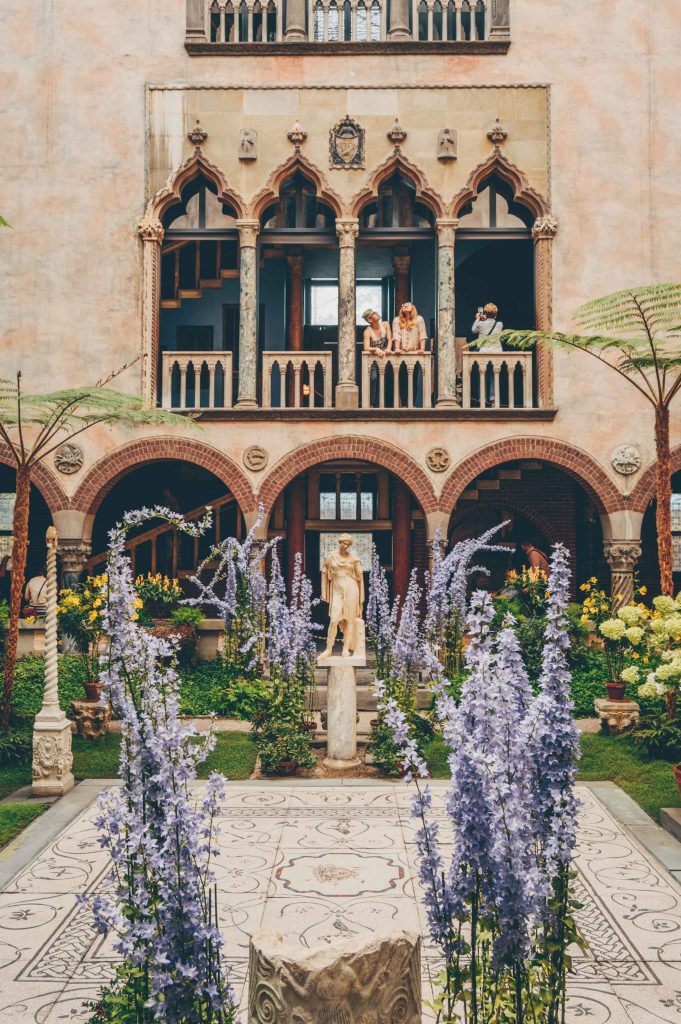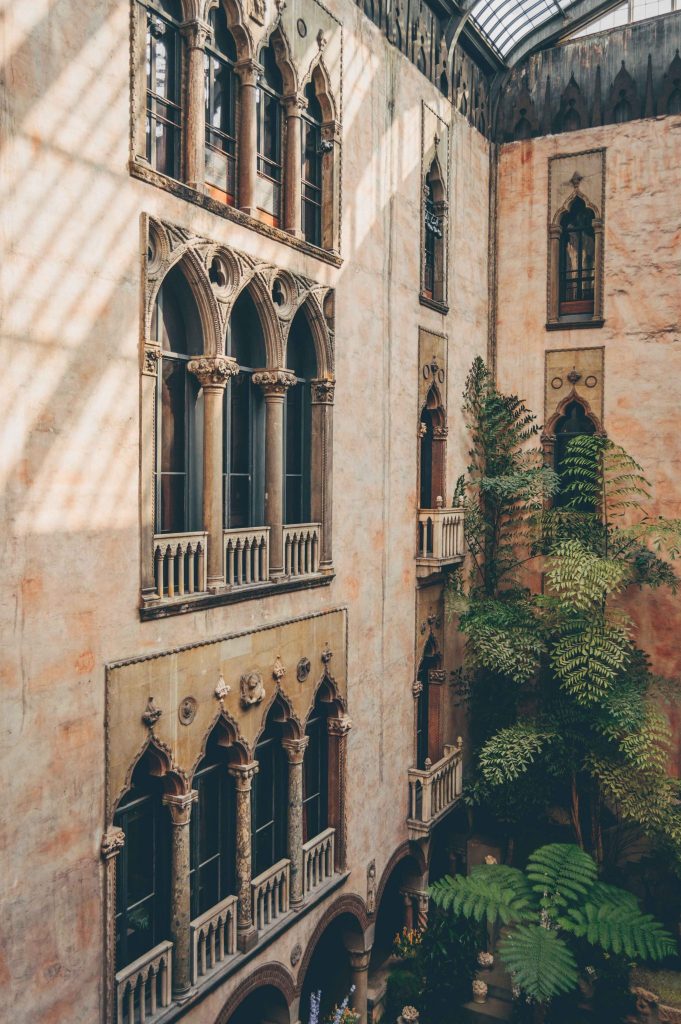 Isabella Stewart Gardner, the creator of the museum, was inspired by Venice and its architecture while working on the project. During her trips to Venice, Florence, and Rome she purchased columns, windows, doorways, and balustrades for the gallery.
Tip: if your name is Isabella, admission to the museum is free.
Isabella Stuart Gardner Museum – 25 Evans Way
18.00 pm – Dinner, Drinks, and Jazz
After exploring Isabella Stuart Gardner Museum head back to the South End, where we started the day. An Uber ride will be the most convenient way to get there. You can also take orange line in metro. Walking back will take about 40 minutes, but you get to see the city.
When people ask me what my favorite dining experience in Boston was, I always name Kava Neo-Taverna. Surprisingly, the best meal I've had in Boston didn't include lobsters or oysters, but a lot of Greek small plates. Try their feta psiti (feta cheese wrapped in phylo dough and drizzled with honey), gemista (bell pepper stuffed with rice, zucchini, and eggplant), and loukaniko (grilled sausage).
Kava Neo-Taverna – 315 Shawmut Ave.
Afterwards, head for drinks to Wally's Café, one of the oldest family-owned jazz clubs in the city. It has been in operation since 1947 and features live music every night of the week from 6.00 pm to 2.00 am.
Tip: bring cash since Wally's Café doesn't accept credit cards.
Wally's Café – 427 Massachusetts Ave.
If you want to combine dinner, drinks, and live music, check out The Beehive, also located in the South End. They serve comfort food inspired by the Middle East, Eastern Europe, and America. The drinks menu includes exotic cocktails, beers, and a diverse selection of wines and champagnes. The Beehive features live music that includes jazz, blues, R&B, Latin, and country on a nightly basis.
The Beehive – 541 Tremont St.
What Else to Do in Boston?
If you are staying for more than 48 hours in Boston and looking for other things to do, check out this guide by Our Escape Clause.
If you have an additional day, I recommend spending it in Cambridge, and here's what you should do there!
Prefer to explore the city with a local guide? You can choose one of the many guided tours: from sunset cruise to historic pub crawl to a food tour of Little Italy! Here are just a few options:
Where to Stay in Boston?
Food being my focus on any trip, no wonder I first learned about Omni Parker House because of the legendary Boston cream pie. It is here, at Omni Parker House that this popular dessert was created over a century ago! Apart from the pie (which is not really a pie, but a cake), the hotel offers old-world charm, elegance, and convenient central location. 
There's another luxurious option that is on the top of my must-do-in-Boston list — The Liberty that once used to be a jail! Imagine that? Charles Street Jail, a national historic landmark built in 1851, was reinvented as a hotel and now its rooms are overlooking Charles River. It costs a pretty penny (which is why it's been on my wish list for a while), but staying in a former prison would be a cool experience. 
Cozy and Moderately-Priced Option: The Copley House
If you are looking for a mid-range hotel, check out cozy rooms at The Copley House. Located inside a red-brick building in the Back Bay neighborhood, it has distinct Boston vibe. The location is unbeatable, Newbury Street and Boylston Street are 10 minutes away as well as a train station.
If you are looking for something simple during your stay in Boston, a bed at a hostel might be a good option for you. HI Boston located in Theatre district, a short walk from Boston Common, is one of the highest rated hostels in the city. 
Pin for later: