I didn't have a chance to visit Italy… yet. So I am compensating for my non-existing experience of this country as best I can. Making pasta Bolognese at home, ordering aperol spritz wherever I manage to find it, and reading Eat, Pray, Love – the "eat" part is, obviously, my favorite.
The closest I have gotten to Italy was a couple of weeks ago while walking around Boston's North End as locals call it. Or Little Italy of Boston as most tourists know it. I, of course, am going to refer to it as North End hereafter – I want to sound Bostonian, you know.
Disclosure: this post contains affiliate links which means if you buy something by clicking the link I will earn a small commission at absolutely no extra cost to you.
The North End is Boston's first neighborhood that takes up less than one square mile and in an hour you can probably cover the whole area twice. But for such a tiny piece of land it has incredible concentration of historic sites, tourist attractions and restaurants. Shop windows were still proudly showcasing decorated fir wreaths and red bows.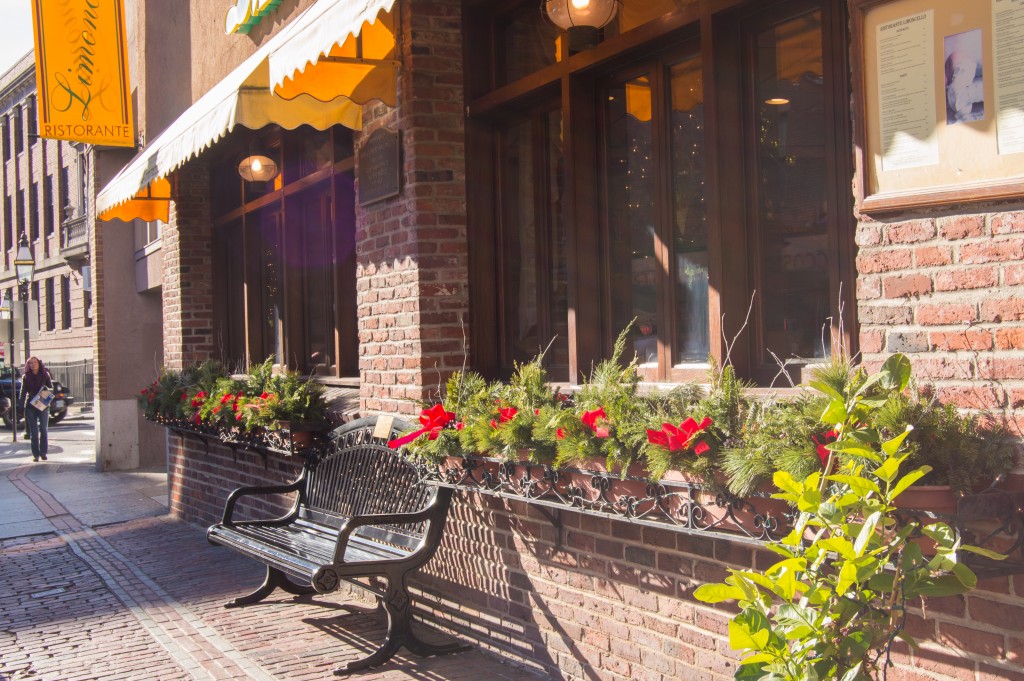 To explore the North End, you can take a walking tour (or even a food walking tour) or do it on you own. If you choose the latter, stroll down Hanover or Salem streets – the main streets of the neighborhood – and enjoy a beautiful mixture of architecture from all periods of American history.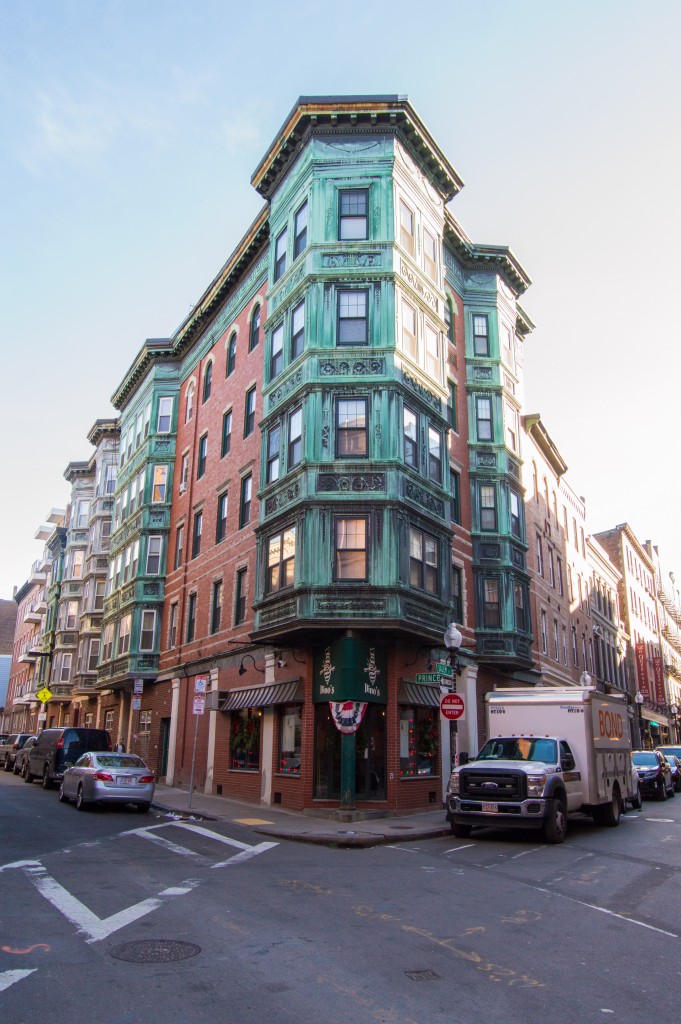 Stop by the Old North Church, the oldest surviving church building in Boston.
Just steps away from the church located at the Clough House is Captain Jackson's Colonial Chocolate shop. The setup inside is meant to transfer you back to XVIII century to showcase the way colonial Americans prepared and consumed chocolate. Turns out milk was never used to make hot chocolate. If you mix cocoa and water in equal proportions it will taste just as creamy.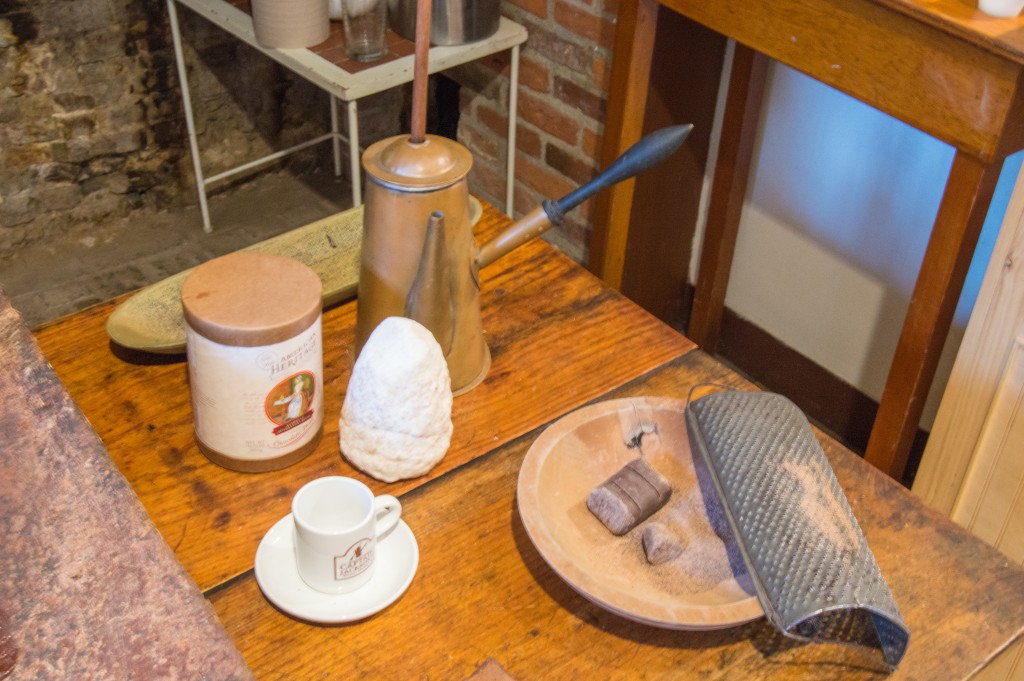 Quick tip from a chocolate lover: they give tiny cups of freshly-made hot chocolate for free – so you might as well come inside just to sample a cup of steamy drink the way Revolutionary-era patriots did.
There's more to colonial history in the Clough House: you can witness an XVIII century printing press in action at Printing Office of Edes & Gill.
It might not look like it but the demonstration is actually very entertaining thanks to this young gentleman. He even printed a paper right in front of us.
After a chocolate pit stop you may continue roaming the streets, take a picture by the statue of Paul Revere, the famous American Patriot. A mere five-minute walk will take you from the statue to the house where he lived and where he started the midnight ride to Lexington.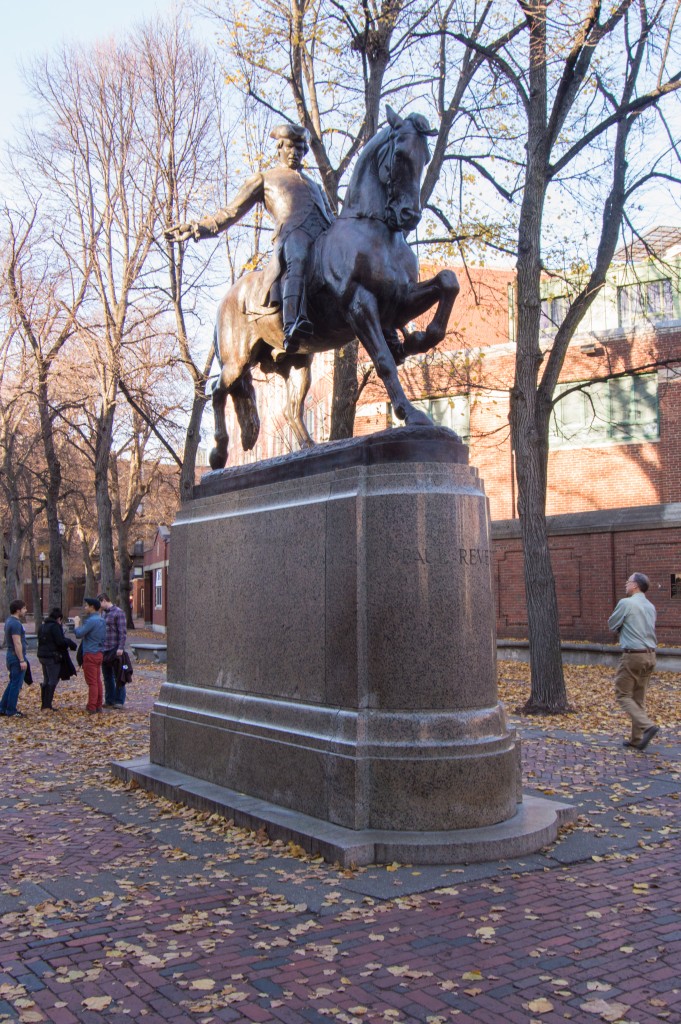 The historic sites are, no doubt, fascinating. But let's admit it the main reason we come to Italian neighborhood is to get our hands on delicious food. First of all, there are plenty of Italian grocery shops so take your time and stock up on some pasta, olive oil and cold cuts.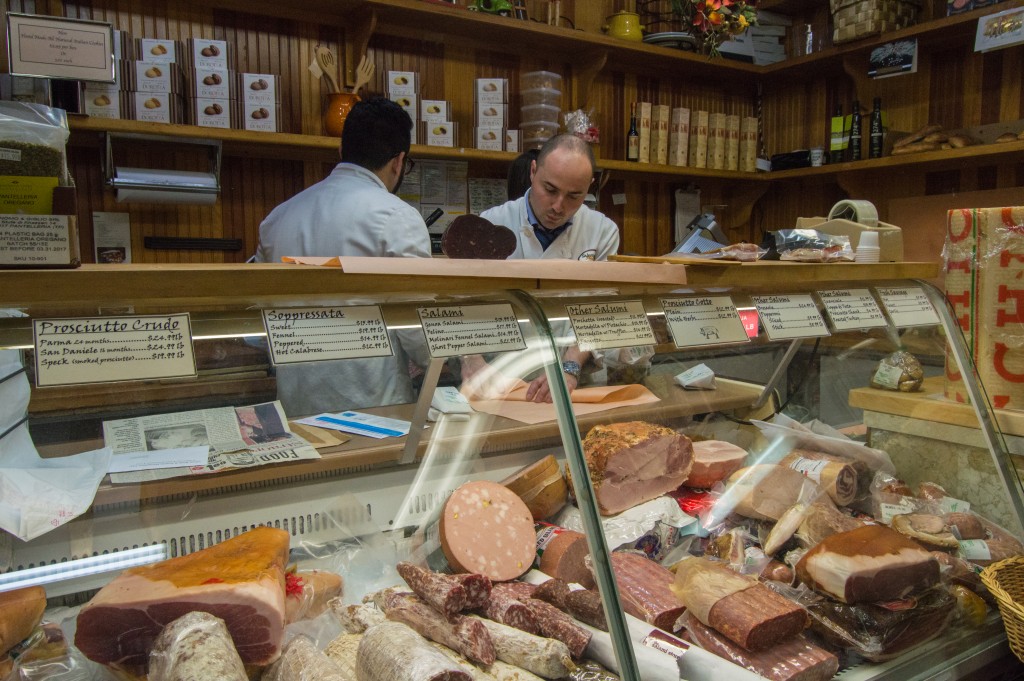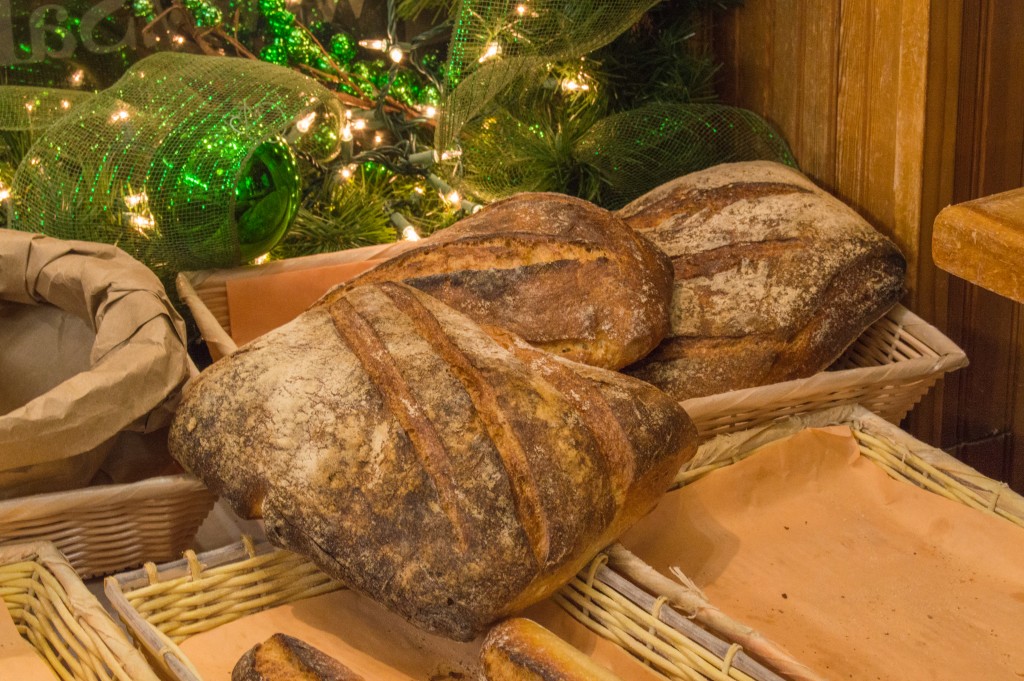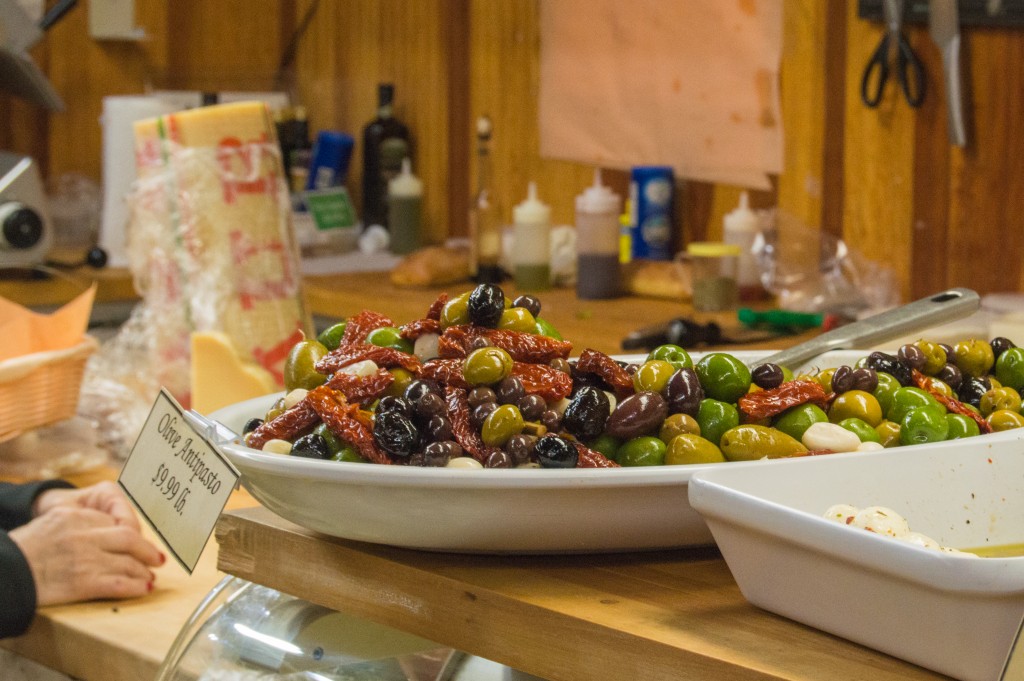 Second, there are small take-out cafes serving subs, baked goodies and sweets. Get those to make your walk around the neighborhood a more cheerful and enjoyable one. Sun is shining brighter when you are biting on a fresh piece of bread filled with prosciutto and cheese.
Third, you obviously have to try one of the local restaurants. Although I started the post by showing the streets of North End, in reality we stormed into an Italian restaurant 5 minutes after arriving to this part of the city. The decision is tremendously harsh with more than a hundred of places to choose from. I will leave this difficult task to you. There are numerous ratings of North End eateries in Internet, each of them assuring you they know the best restaurant in the whole neighborhood.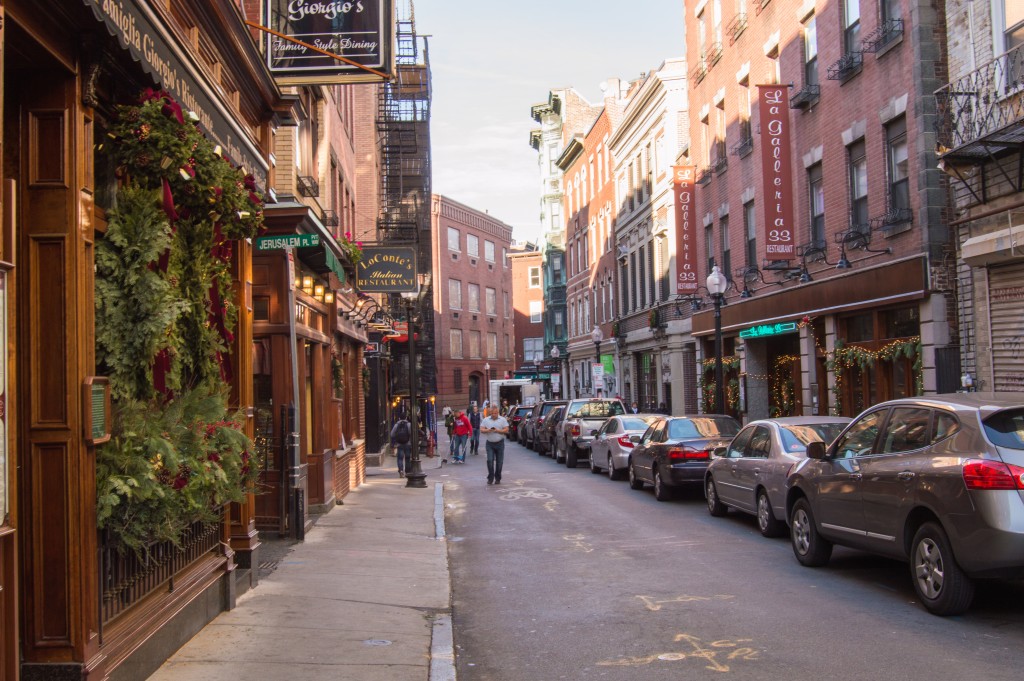 But here's why I am not going to recommend anything. Just a couple of days after our little tour we had a dinner with Italian friends. Turns out, they don't really frequent the North End and, more importantly, rarely eat there. Every name I was throwing in was greeted with a compassionate smile and a shake of the head.
– How about this one? It's in top 10 restaurants to visit…
– Not authentic.
– And that one? It has the highest ranking…
– Oh, they don't even have a wood-fired oven!
– But that other place? Everybody recommends it!
– Well…
The main thing all of my Italian friends agree upon is that most of these restaurants are not authentic. Owners being third or fourth generation Italians change recipes over time to suit American taste. That being said, food here can still be delicious and if you love your chicken pizza – by all means, dig in and enjoy! Only that's not how it's done in Italy.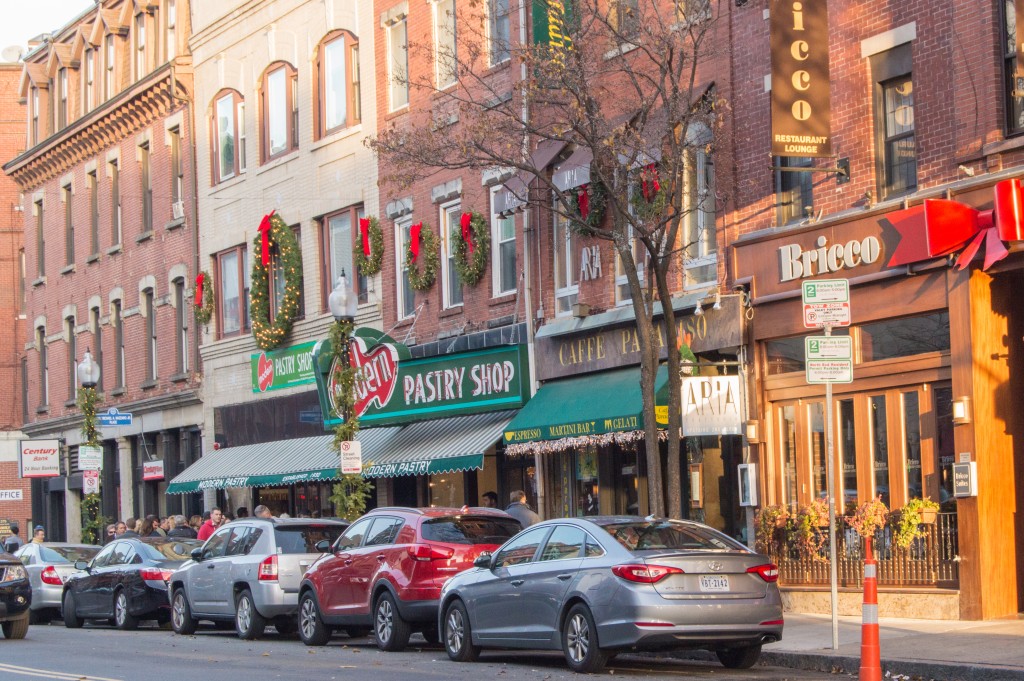 The restaurant we chose had great food but it didn't raise an immediate wish in me to move to Italy and spend the rest of my days gorging on pizza and drinking wine.  That's what authentic Italian experience should be in my stereotypical romanticized imagination.
So browse through many lists on Internet or better yet browse through the streets of Boston's North End and find a place that will suit your best notion of Italian cuisine.
But I cannot possibly leave you without telling where to find the most authentic pizza in Boston. I will give you a hint – it is not in the North End. Check out this post to find out where Italians living in Boston go for pizza!
What Else to Do in Boston?
If you are spending a weekend in the city, check out my 48-hour guide to Boston.
If you have an additional day, I recommend spending it in Cambridge, and here's what you should do there!
For the best sweets to try in Boston, read this list of my favorite desserts or this review of afternoon tea at Boston Public Library (I know! Afternoon tea at a library — a dream come true!)
If you are a fan of visiting movie locations, then a drink at the bar from Good Will Hunting is a must!
Traveling on a budget? These 9 cheap (of free) things to do in Boston are for you.
Where to Stay in Boston?
Food being my focus on any trip, no wonder I first learned about Omni Parker House because of the legendary Boston cream pie. It is here, at Omni Parker House that this popular dessert was created over a century ago! Apart from the pie (which is not really a pie, but a cake), the hotel offers old-world charm, elegance, and convenient central location.
There's another luxurious option that is on the top of my must-do-in-Boston list — The Liberty that once used to be a jail! Imagine that? Charles Street Jail, a national historic landmark built in 1851, was reinvented as a hotel and now its rooms are overlooking Charles River. It costs a pretty penny (which is why it's been on my wish list for a while), but staying in a former prison would be a cool experience.
Cozy and Moderately-Priced Option: The Copley House
If you are looking for a mid-range hotel, check out cozy rooms at The Copley House. Located inside a red-brick building in the Back Bay neighborhood, it has distinct Boston vibe. The location is unbeatable, Newbury Street and Boylston Street are 10 minutes away as well as a train station.
If you are looking for something simple during your stay in Boston, a bed at a hostel might be a good option for you. HI Boston located in Theatre district, a short walk from Boston Common, is one of the highest rated hostels in the city.
Pin for later: