I have a question. Say, I want to write travel guides for food lovers (doing it already), or develop recipes (doing it rarely, but would like to devote more time to it), or review restaurants (do not want to do it at all, actually, but let's assume)… whose permission should I get?
Who is to say that I am qualified and what does "qualified" mean? Should I be cooking every day? Or should an X number of years pass before I ask people to cook what I cook? Should I have a formal education? Formal experience as a cook or restauranteur? It seems like the answer to all of the above is "no". But then: why should you trust me?
I've been contemplating on publishing more recipes on this blog, what with the travel industry in shackles in 2020. I have a few around here, but they've never been my focus. And I wonder why, because I've been cooking for the past ten or so years. Three times a day. Seven days a week. Am I qualified?
I am confident in the kitchen, but not confident that someone out there needs to know what I made for dinner last night — which is an irony as I am a food and travel blogger. Let me rephrase that: I am not sure someone doesn't already know how to make what I made for dinner and posted on Instagram last night. That's better.
I feel like the dishes I prepare are too obvious, too familiar, not sophisticated enough. As my mom likes to reply when I ask how to cook a certain dish: "What's to cook there?"
Publishing my recipes feels like explaining to someone how to fry an egg. Funny enough, if you search "how to fry an egg" in Google, you'll be served over 200 million results with videos and step-by-step instructions. Somebody wrote those! What am I waiting for?
I grew up in Russia in the 90s. You can draw a lot from that. But in the context of our conversation, I'd like to point out that my family didn't eat out. Most families didn't eat out. We didn't order in either. It wasn't a thing. My mom cooked all the meals.
When I moved to a bigger city to study in University I started cooking on my own. It was a natural progress of life. One needs to eat so one must know how to cook. This is where my preconception that everyone knows how to cook stems from.
Who needs a recipe of goulash, meat patties or pancakes when 1) there are already a million recipes online and 2) what's to cook there?
Another side of the same coin is that I often think that my way of cooking is not the right, professional way. When I develop a recipe the thought of someone reading it (let alone trying it) and commenting: "You bake your vegetables at 200°C? You should do it at 175°C!" terrifies me. Who am I to say that 200°C is just the right temperature? I don't even own a kitchen thermometer.
Over the past weeks of contemplating all of the questions above I figured that in order to publish recipes and feel good about them I need two things. First is confidence. Confidence should be based upon something, of course, something being testing a recipe multiple times and understanding how things work.
Sometimes, when I try someone else's recipe and it turns out mediocre, I question myself: did the recipe not work or did I screw up?
Same goes for writing travel guides. When a highly-recommended place doesn't live up to my expectations, I give it the benefit of the doubt: maybe it was a bad batch? Maybe I ordered the wrong thing? But maybe the place is actually not as great as everyone says it is and I should trust my own opinion?
Second, even more important thing is to bring something new to the table. The way I could do it best is by turning to my roots and drawing from my cultural background and memories.
There might be a thousand recipes of fried potato, but there's only one that belongs to my mama and that I screwed up about twenty five times before getting it just right.
Yes, it's the same fried potatoes I've been trying to recreate in May, June and July! I was about to switch to a non-stick pan (a clear sign of giving up) when an accident happened and my potatoes turned golden brown, crispy and just like my mom's.
I published the story and the recipe. Yes, I did. I've decided to give myself permission to lean more into food blogging than travel blogging at this time of worldwide obsession with sourdough and banana bread.
In August I've been cooking a lot of Russian dishes (which I do either way), but I also made it a point to weigh the ingredients and write down detailed instructions (which I never do, eyeballing is my preferred method of cooking).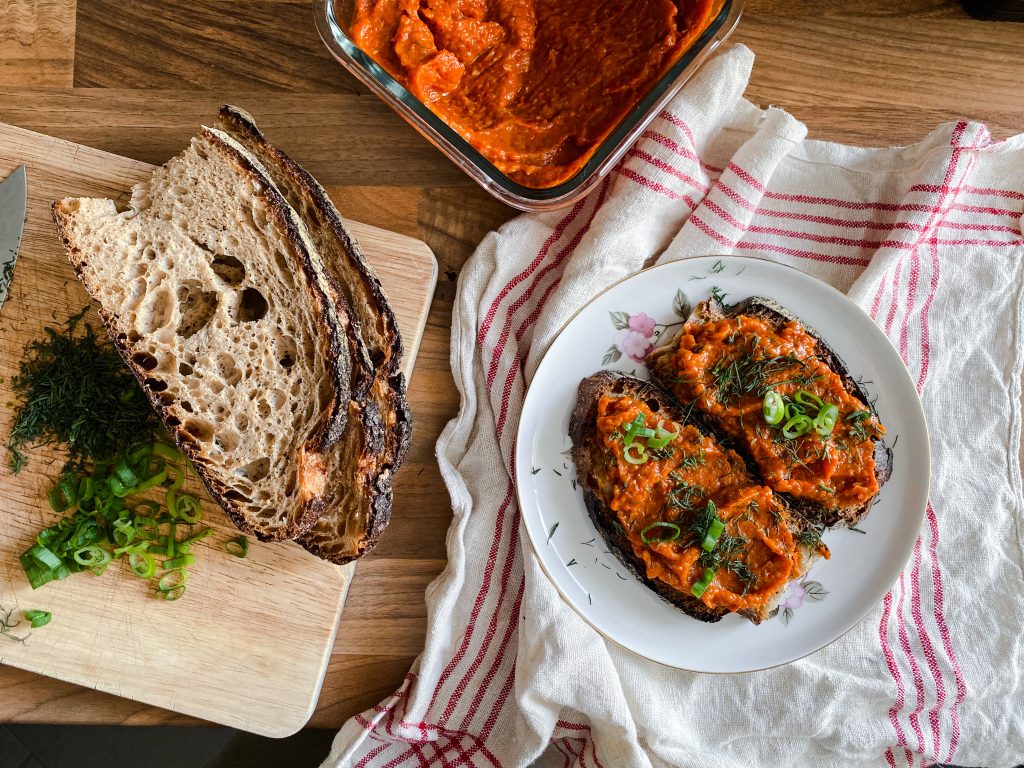 Apart from frying potatoes like an obsessed woman, I've also made eggplant caviar several times over. Eggplants are in season and caviar is the best way I know how to deal with them. As fancy as it sounds, caviar is really code word for spread or dip. But I'll stick to caviar, it makes vegetables sound so much fancier.
It's amazing on sourdough bread or as a side for potatoes. Add to that a pickle and you got the most Russian of all Russian meals.
During the heatwave, I made a big bowl of okroshka, a cold summer soup. It's one of my favorite dishes to explain to foreigners because okroshka is essentially a salad that you turn into soup by pouring either kefir or a kombucha-like drink over it. Crazy, right?
I dutifully measured all the ingredients, made a video of the process, and then procrastinated until the summer was over. So now I am not sure what to do with all that information. I think I'll publish it anyways and let it wait for its moment of glory next year.
Since I had some kefir left over after okroshka, the next morning I fried oladushki. Topped with sour cream and homemade black currant jam, three dozens of Russian mini-pancakes were consumed in one sitting by me and my husband.
I made black currant jam a few days in advance, and it is truly one of those "what's too cook there?" things. Place berries and sugar in a pan, simmer for fifteen minutes, jam is done. Use on pancakes, on yogurt, with cottage cheese, or eat it with a spoon while drinking strong black tea.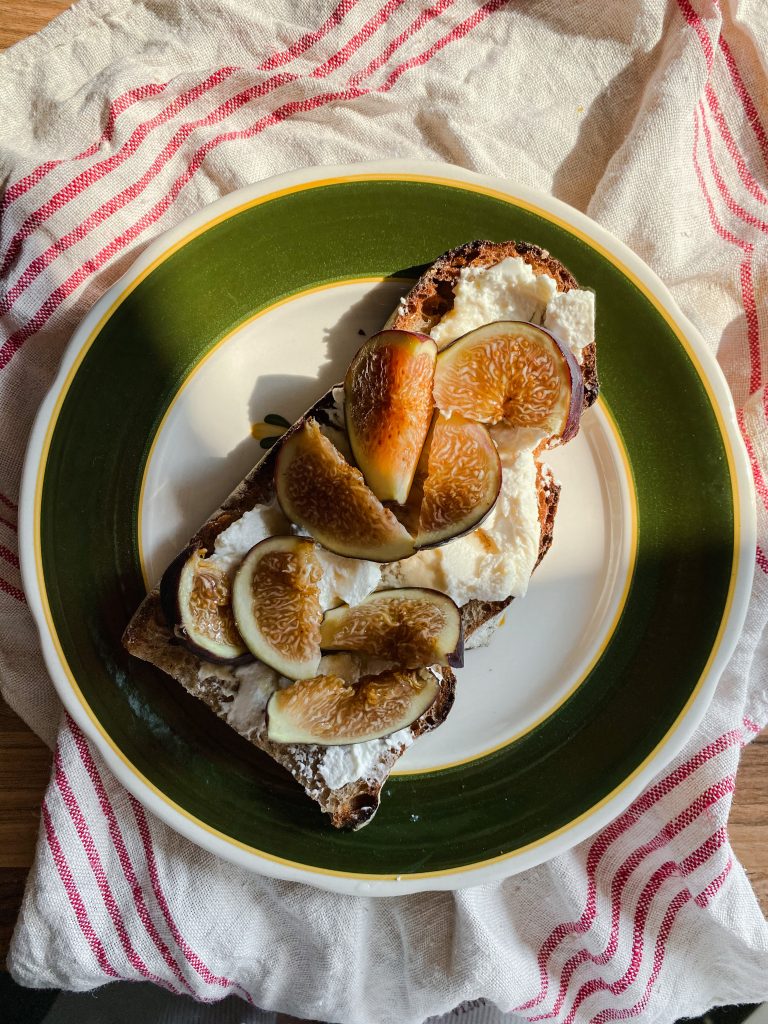 The whole of August I've been eating figs and plums. Figs were consumed on top of sourdough smothered with ricotta; along with prosciutto and burrata; and in the form of jam with French comté. Cheese and figs were pretty much the base of my diet during the heat wave: no cooking, no washing the dishes. Perfect.
As for plums, I've been crazy about mirabelles! They are tiny yellow and sweet and are only available briefly in the end of summer. This was my something new this month. I honestly wanted to make a mirabelle tart, but these plums are so delicious when fresh that I gave up on the idea.
On the other hand, damsons (Zwetschgen in German) are dense and tart and are perfect for cooking which I figured the hard way after buying a big bag of organic damsons and trying to eat them raw. That astringent taste is not for everyone. Correction: that astringent taste is not for anyone.
I saw David Lebovitz on Instagram bake damsons in the oven with a little bit of honey, vanilla and lemon and thought it was a neat idea. So I halved my damsons, poured some local honey over, added a split vanilla pod and off into the oven the tray went.
Then I had to attend to Kroshka and forgot all about it. Fifty minutes later I took the tray full of what looked like a damson soup out of the oven. A sour, pretty nasty-looking damson soup. I wish I had a picture to show you, but it looked so bad, with damson completely disintegrated, that I was sure I was going to throw it.
Then I decided to save the damsons by making jam. I have a picture of it and as you see it doesn't look particularly good either. It did taste great, though, after I added a generous helping of sugar.
In my final attempt to make something both good-looking and delicious of the damn damsons I strained the jam to use it for Schorle, which is German for cordial. My efforts resulted in enough pulp to make about two glasses. I bought sparkling water the next day and voila! Zwetschgenvanilleschorle!
After this adventure I still had a bunch of damsons left, so I turned to Yotam Ottolenghi and his sweet and sour sausages and plums. Apart from my obvious desire to get rid of the damsons, I was excited about the recipe because sumac and pomegranate molasses made an appearance.
Maybe, for some these are everyday ingredients, but I've never used or tasted pomegranate molasses before. I found a bottle of pure concentrated pomegranate juice: thick, aromatic, rich. It tastes like a million pomegranate seeds explode in your mouth at once.
As for sumac, I tried it for the first time last month in a cherry pancake, and since then it has been in my cabinet, waiting for a chance to shine again.
The sausages with plums (damsons in my case) turned out so well that I made them twice. Even my conservative — when it comes to food — husband loved it. And he is not easily convinced that meat and fruits are a good combination. This was hands down, the best thing I cooked in August.
Finally, I want to share a baked chicken which is not particularly seasonal, but it was my first attempt at baking a whole bird. I know, only took me 32 years. I was inspired by Alison Roman's newsletter and crazy high prices for organic chicken parts. Buying it whole was almost twice cheaper.
I coated it with olive oil and stuffed lemon, thyme, rosemary, and bay leaf inside. When the chicken was done, I used its juices left in the pan to soak pieces of torn baguette, then roasted them for a few minutes. Such a brilliant idea (I can say so, because the idea is not mine).
Aaaaaand that was August! What was the most amazing thing you cooked or ate in August? What was your favorite ingredient? I am excited for all the plums, corn, apples, and beets (yes, you heard it right, a woman can be excited for beets, especially if she's Russian) that September is bringing. Talk to you soon!