I am tired. Tired of root vegetables, of having to cook with potato, celeriac and squash over and over again, tired of winter comfort food, tired of having fewer and fewer options at my farmer's market every week.
Last time I checked, selection of fruits at the market has dwindled to apples. You can choose between sweet apples and sour apples, but if you want fruit it has to be apples. Most of the winter it was apples and pears, but in February we are way past such luxuries.
Of course, I get imported bananas and oranges at the supermarket occasionally. In January I also got persimmons which — not unlike avocado — are almost impossible to be eaten at the moment of perfect ripeness. They are either underripe and make your mouth feel like you've swallowed a spoonful of glue or overripe with brown spots all over. Sometimes, inexplicably, the two states collide in a single fruit. I've bought several batches of persimmons and waited and waited and waited until they ripen so I could make Emiko Davies's persimmon cake, but it never happened.
According to Joshua McFadden, the author of Six Seasons: a New Way with Vegetables, it's called "the hunger gap" — the time in the end of winter—beginning of spring when last year's crops are over, but new crops are not there yet. And while I don't feel hunger in its literal sense, I am hungry for fresh new green vegetables that hardly require any cooking and can be enjoyed raw, straight off the garden bed. Not that I own a garden, in fact, I hate gardening, but I do enjoy tearing pea pods off a bush and eating the peas by handfuls right then and there. A fond memory from my overall not so happy days in my grandma's garden as a child.
Until new crops make its way to the market I wait. I persevere. I cook cabbage. Thankfully, Six Seasons has a full chapter dedicated to cabbage recipes and I started with comforting cabbage farro soup.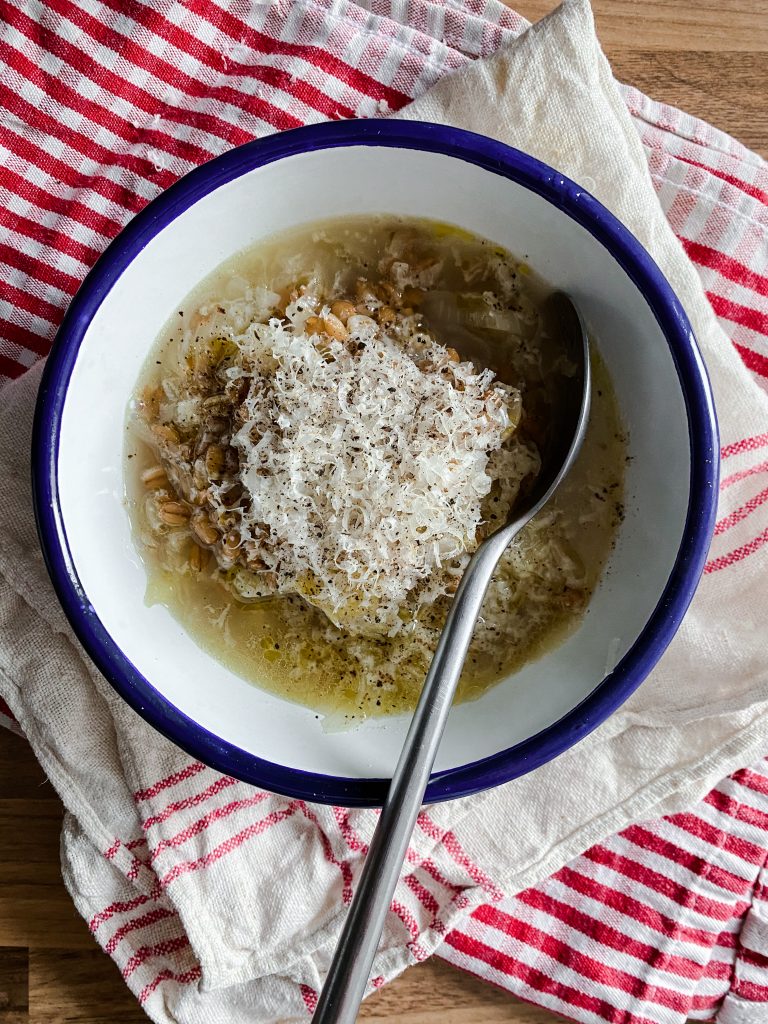 While looking for an online recipe for this cabbage farro soup (so you can make it too, in case you don't own the book yet), I came across this adaption by Smitten Kitchen. In the blog post, Deb Perelman makes her best case to convince her readers to give this soup a go:
"You're about to tell me that you don't want to eat a cabbage soup. That you don't find cabbage "comforting." That you have nightmares of having to eat stewed or braised cabbage growing up, and you're an adult and you're not going to do that anymore. You're probably thinking that this soup is very brown and beige, not exactly a looker, amiright?"
And then she goes on to describe how really it is "the coziest, warmest, most filling thing". But all I could think about while reading the post was "Who doesn't like cabbage?" It's probably no one's favorite vegetable, but to hate it?
Cabbage is the definition of comfort in shchi, my favorite go-to soup in winter. It's wonderfully bright and crunchy in salat Vitaminniy; mellow and fatty stewed with sausage; a perfect wrapping material for the meat and rice in cabbage rolls (or deconstructed cabbage rolls, if you are feeling lazy, which I am, often). But my favorite is, perhaps, cabbage hand pies. In other words, cabbage deserves its moment of glory in your kitchen. And Joshua McFadden's cabbage and farro soup is a great place to start.
If you find yourself enamored by cabbage after making this soup, may I also suggest you try shchi? You are probably thinking, what kind of name is that and how do I even pronounce it? You see, all that "shch" madness is really just "щ" in my mother tongue. One powerful letter.
There's probably no better way to explain it than as a combination of sounds "sh" and "ch" and I am pretty sure you are butchering it right now, but that's not the point. The point is the soup is good. It's meaty broth, cabbage, potatoes (of course, there are potatoes in a Russian soup) and you serve it with sour cream and dill and spring onions. I am working on the recipe right now, so I am extremely sorry for leading you on and leaving you without a satisfying culmination, by which I mean a recipe, of course. Please, bear with me. I need just a little more time. (Update: the recipe is here!) 
In case you've got a craving after all my talk about cabbage, stewing it is as simple as it gets. You don't need a recipe, not really. Shred a quarter of a large cabbage thinly, preferably use a mandolin, but if you have mad knife skills, that's ok too.
Heat up a tablespoon of olive oil and a tablespoon of butter in a heavy-based pan. Add an onion (peeled and cut into half rings) and a few garlic cloves (peeled and crushed), fry for about five minutes without letting them brown. Then add the cabbage, salt, splash some water — it should take up 2 cm (1 inch) — cover with a lid and let stew for about 20 minutes. Mix every once in a while to make sure it doesn't stick to the bottom. It's ready when the cabbage has softened. Try and adjust salt. Add some more olive oil and a squeeze of lemon juice when serving.
I think I am done with cabbage for now, but not quite done with Joshua McFadden's Six Seasons. I've been cooking through the winter chapter of his book for two months now, and I have to say, it is simply brilliant. So many amazing, unexpected ideas for the months when scarcely any produce is available.
I made the kohlrabi, citrus and poppy seeds salad, substituting something called "wildewiese" greens, or "wild meadow" greens that I found at my market, for arugula. In this adaptation of the salad, radicchio is used.
The simple, but so deeply flavorful, mashed celery root with garlic and thyme served as a perfect base for ragu. I used potatoes in place of half the celeriac root.
Lastly, I prepared rutabaga, new ingredient of the month of January, by roasting it with maple syrup and rosemary. If roast potatoes sound boring to you, rutabaga is an excellent if unusual substitute.
I didn't cook as much meat this month as I did in January (at least not the new-to-me meats and cuts), but the one dish I prepared — tonno del chianti — was nothing less of mind-blowing. Does it really come as a surprise then that it is Diana Henry's recipe (possible paywall)?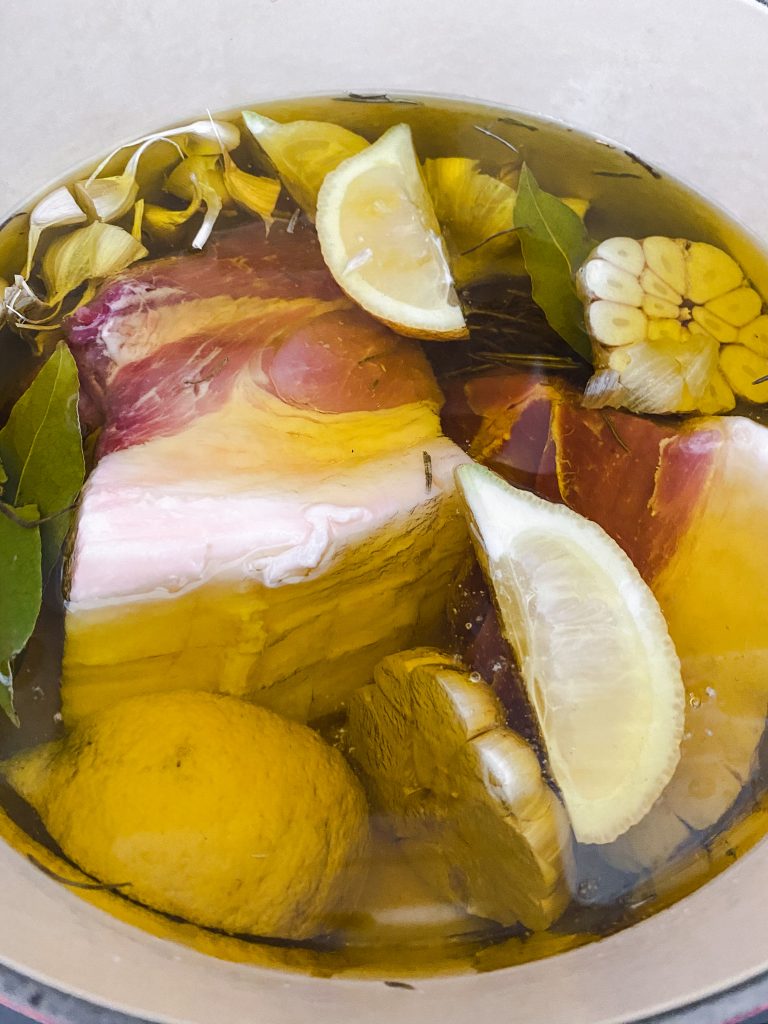 To make it, you submerge a piece of pork shoulder into over a liter of olive oil, add lots of garlic, rosemary, bay leaf and lemons and bake it for several hours. Pouring a whole bottle of oil into a pan (and then some) was a strange experience. The pork doesn't turn out oily, but beautifully juicy and tender instead. And the leftover oil doesn't go to waste: it becomes infused with aromatics and can be used later to pour over beans or grains.
I served the pork with rice and the recommended by Diana Henry white beans, parsley and lemon salad. This outrageously luxurious dish could not be served on any ordinary day, as you might imagine. It was my way of celebrating five-year anniversary of blogging.
It was a simple lunch with my little family, accompanied by a glass of non-alcoholic wine. Five years ago I'd imagine celebrating this milestone in a much more loud, crowded and boozy manner. Yet today cooking a terrifying in its novelty dish from my favorite Diana Henry and eating it with my husband and son was what felt best.
The new ingredient of the month of February was chestnut flour. But wait, you might say, weren't chestnuts your new ingredient in November? And didn't you make Mimi Thorisson's ricotta pancakes with chestnut flour back then? (I am assuming here you are my devoted reader who never misses a post. If it is not true, do not tell me.) The answers are "they were" and "I did".
But hear me out! I made a friend on Instagram many years ago. A woman who loves good food as much as I do, but lives in Mugello, Italy. Mugello is a region in Tuscany famous for many specialties, like Gran Mugello cheese, salami with fennel, and chestnut flour. We've been following each other's journeys online and living vicariously though each other's photos and stories.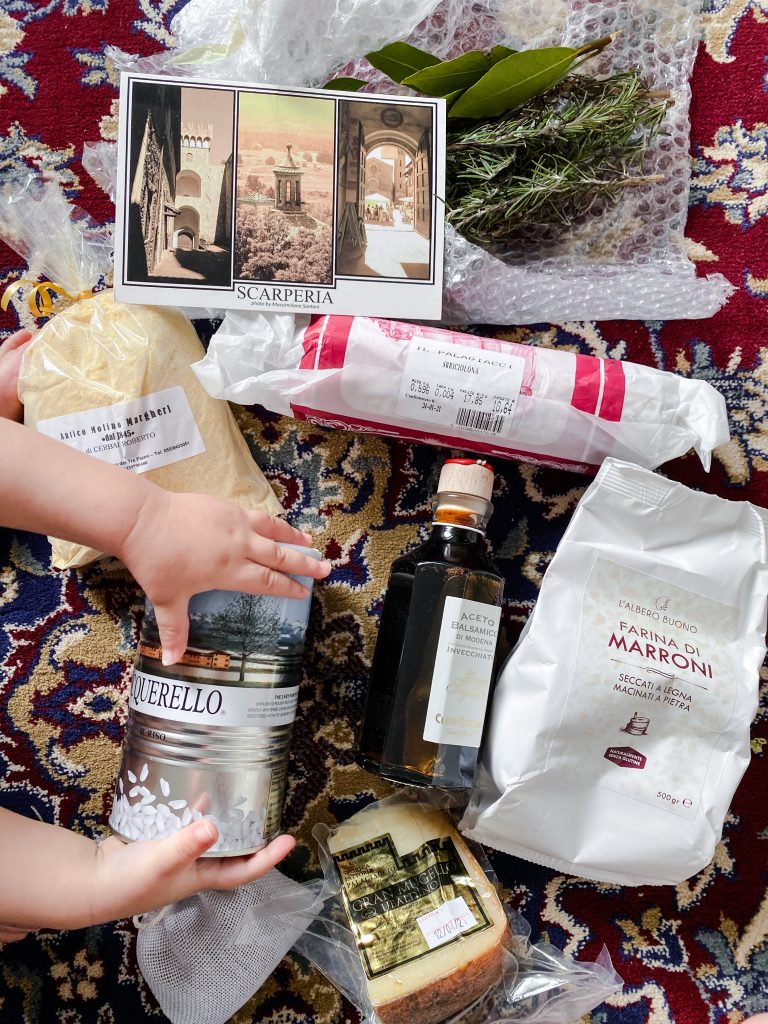 And while we've never actually met in real life, in February, I got a physical token of our friendship — a parcel with regional specialties from Mugello. In it, were the aforementioned cheese and salami, bay leaf and rosemary from Yana's mother-in-law's garden, a tin of risotto rice, a pack of fresh corn meal (of which you'll hear more in a bit), a bottle of balsamic vinegar, and a half-a-kilo (one pound) bag of freshly milled chestnut flour.
If the biggest discovery and revelation of 2020 for me was Maldon salt and za'atar, both of which completely blew my mind and changed my breakfast game, then the biggest surprise of 2021 (it came early, I must admit) is freshly milled chestnut flour from Tuscany.
The chestnut flour I bought for Mimi Thorisson's pancakes at a local supermarket, although organic, does not stand comparison to the one Yana sent me. Tuscan flour is made using century-old techniques and freshly milled to be sold only during late fall and winter months. It smells so intensely that you want to bury your face in the bag and once you try it… you'll just know that all the other chestnut flour you've used before doesn't count.
Half a kilo is decidedly not enough to satisfy a craving of a woman who's just discovered the pleasures of cooking with fresh chestnut flour. I rationed and savored every gram. 150 grams for a simple chestnut cake (no cream, no filling, just the most intense chestnut flavor).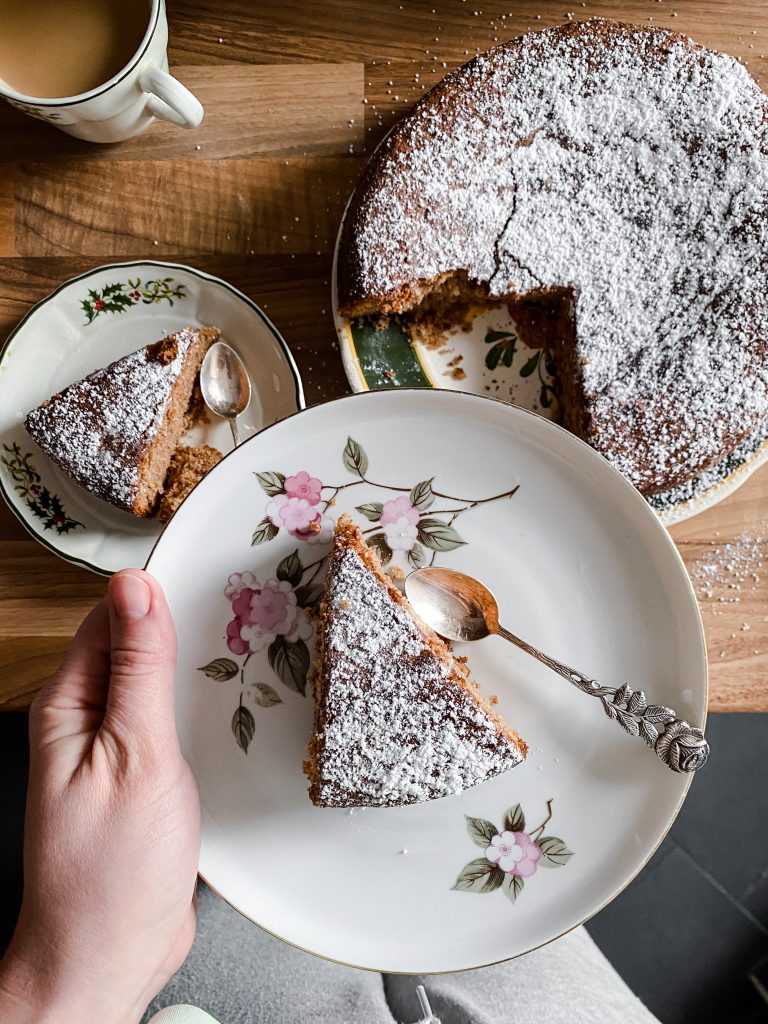 130 grams for crepes of which I have no photos, you'll have to believe my word. 200 grams for Emiko Davies's chestnut panforte.
And now I have 20 measly grams left in the bottom of the jar that I smell from time to time to remind myself of how lucky I am to eat this impossibly good food.
Tuscan cornmeal, also freshly ground, was, of course, used to make polenta. I followed Joshua McFadden's instructions to combine one part polenta with five parts water. But where he suggests to cook it for two-three hours I took a short cut — 45 minutes while stirring it every five minutes. Topped with fried Franconian sausage (Franconia being the region where I live) and baked squash and pepper.
With the rest of the cornmeal I made Letitia Clark's blood orange polenta olive oil ricotta cake.
There's one line prefacing the recipe on her blog: "A perfect cake". You might think that is conceited or even arrogant. But that is only until you make and bite into the cake. In that moment you'll know that it is simply the truth. A perfect cake. Maybe even, the perfect cake.
I started writing this post a week ago. But I am finishing it today, on the 5th of March, having returned from a grocery store. I just saw rhubarb there. And I bough four stalks. Their bright pink color gives me hope that fresh radish and white asparagus and snap peas are soon to follow. We are almost there. In a few more cabbage soups and potato mashes spring will arrive!