Russian eggplant caviar might be one of the easiest and most affordable things to make during summer months, while eggplants are in season, but it sure sounds fancy. You could, of course, call it an eggplant dip or spread, but then a certain flair is gone. And if I have to eat vegetables in place of sturgeon roe I want them to at least sound bourgeois.
"Would you like some caviar d'aubergines, Monsieur?" I imagine asking my husband when serving a plate of potatoes with eggplant caviar to him. Not that he knows French. Not that I know French either. I just like the sound of it.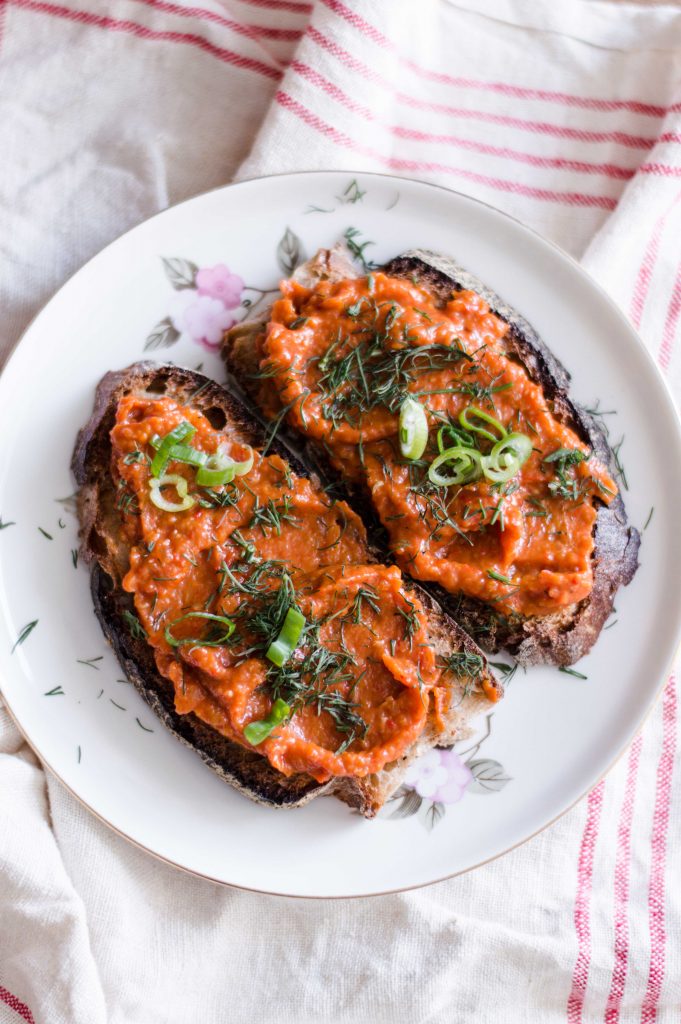 How Eggplant Caviar Shot to Fame in the USSR
Eggplant caviar appeared on the shelves of Soviet grocery stores in the sixties. The customers weren't too thrilled about a vegetable spread pretending to be a luxury. The word "caviar" on the label caused a sarcastic smile rather than desire with Soviet public.
What shot a simple eggplant dip to stardom was an iconic comedy "Ivan Vasilievich changes profession" created by Leonid Gaiday in 1973. In the movie, an ordinary Soviet man Ivan Vasilievich Bunsha goes back to XVI century and is mistaken for Ivan the Terrible, while Ivan the Terrible is transported into Soviet Russia.
During a feast at the palace all sorts of delicacies are served: from a whole baked fish to a suckling pig to smoked rabbit kidneys. "Black caviar, red caviar, caviar from overseas — eggplant caviar!" At these words the camera shows a dish overflowing with sturgeon roe, another one full of salmon roe, and a tiny plate with a teaspoon of eggplant spread.
At the sight of "overseas eggplant caviar" the public exploded with laughter. According to Russian food historian Pavel Syutkin, at the time eggplant caviar was so abundant and unpopular that it was fed to cats on occasion. While Gaiday's intention was to make fun of the wildly unpopular dip, the movie has actually made it a hit. The joke lives on and many Russians, me included, call eggplant dip "overseas caviar".
Store-bought vs Homemade
Of course, there has always been a homemade version too. In Russia, where spending all summer at dacha — a country house with a garden — is a way of life, women preserve vegetables with passion. Cucumbers, tomatoes, and cabbage are pickled. Berries and fruits go into jams and kompot. And eggplants, as you might have guessed, are turned into caviar.
Homemade caviar is never made in small quantities to have at the moment. Instead, one cooks a few liters at once, pours the caviar into sterilized jars, and patiently awaits winter to try it.
I grew up with a store-bought version which I dearly love. You'd think homemade is always better than store-bought, but here I make an exception. Granted, I always check the ingredients list to make sure it only contains vegetables and oil.
This summer was the first time I prepared eggplant caviar at home. My first try was all right, but nothing to write home about. I baked eggplants, added some fried onions and garlic, and blended everything together. Turned out, baked blended eggplants do not look particularly appetizing.
So the next time I added some bell peppers, carrots and tomatoes to the mix, and that did the trick both in terms of flavor and appearance. Now, some will say that adding carrots to eggplant caviar is an abomination, but as with any classic dish, there are as many recipes as there are people.
Some bake eggplants and others cook them directly on the stovetop, over open fire. I do the former simply because I have an induction cooktop, otherwise, you bet I'd go with the latter, more live-dangerously option.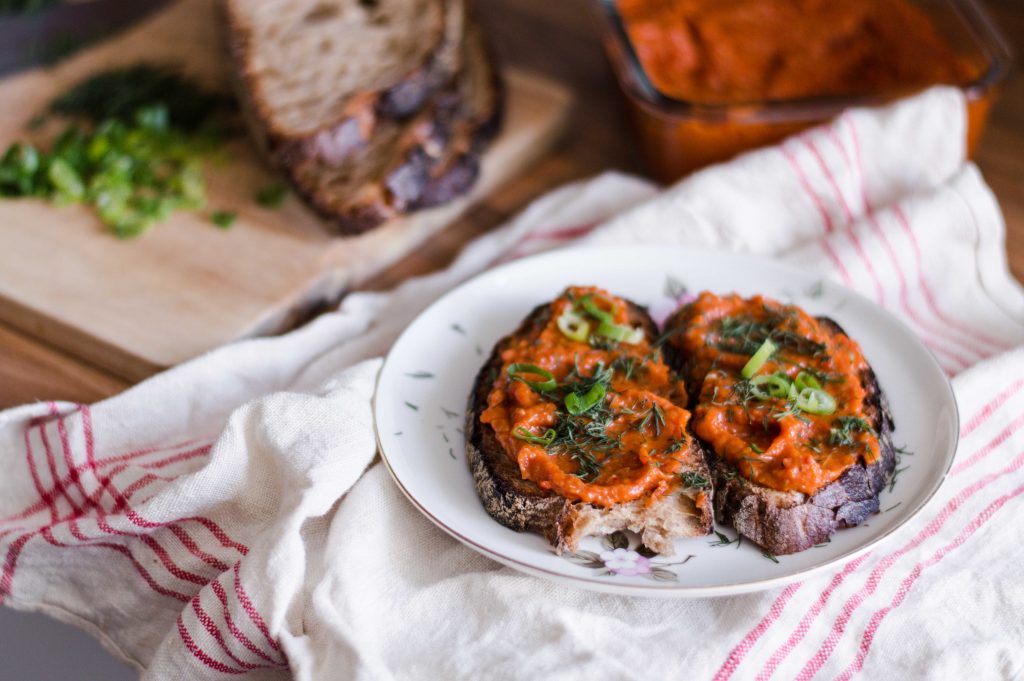 Olive, vegetable, or sunflower oil — the choice might be up to debate for some, but my devotion to sunflower oil is unswerving. If you want to make a dish taste Russian, choose sunflower oil for the win. The first time I tried olive oil was in my twenties. And as much as I love and appreciate it now, it is the smell of heated sunflower oil that reminds me of my mom's kitchen.
Some leave the caviar chunky, others blend it into a smooth dip. I prefer the latter. Not hummus-smooth, but more on the spread-it-with-a knife side of the scale rather than spoon-it side.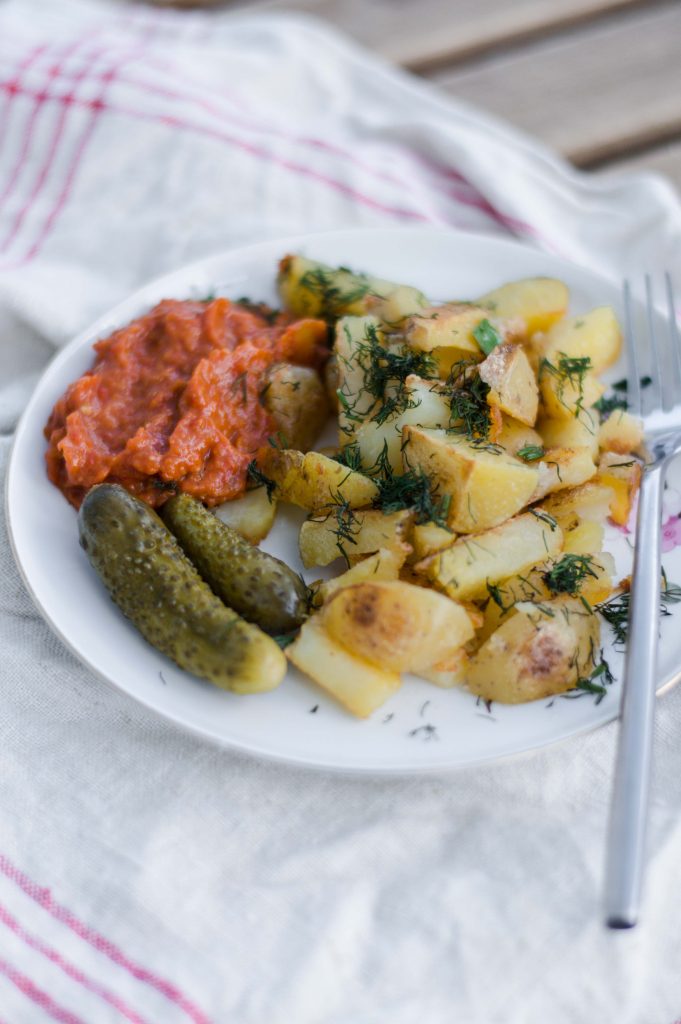 As for serving suggestions, it is good on a slice of rye bread, obviously. But my favorite is with potatoes — boiled, baked or fried is up to you. Add to that a couple of pickles and you got yourself the most Russian of all Russian meals.
Eggplant Caviar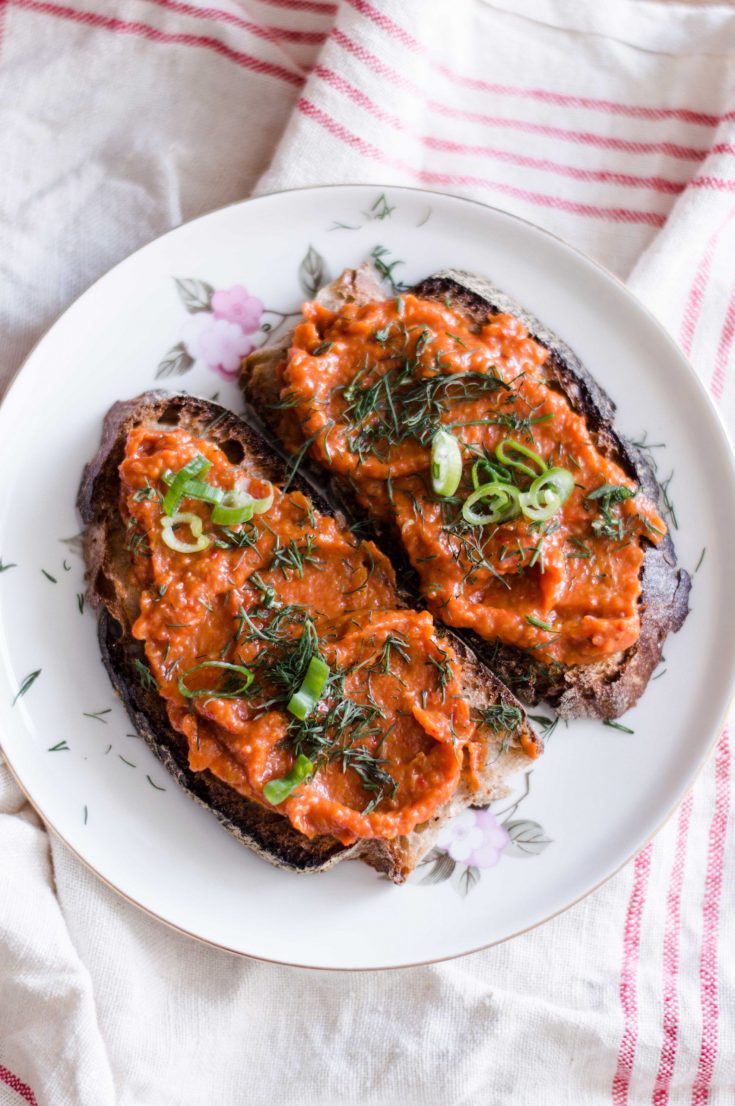 Russian eggplant caviar (spread)
Total Time
1 hour
10 minutes
Ingredients
2 eggplants (730 g)
2 red peppers (270 g) 
2 tomatoes (200 g)
2 carrots (170 g)
2 red onions (160 g)
2 large garlic cloves (15 g)
1 cup tomato purée
Sunflower oil
Instructions
1. Preheat the oven to 190C.

2. Wash eggplants, red peppers, and tomatoes. Cut every vegetable in half. Remove the seeds from peppers. Make diamond-shaped cuts on eggplant halves (this way the oil can go into the flesh of eggplant).

3. Line a tray with baking paper. Arrange eggplants, peppers, and tomatoes on the tray. Pour sunflower oil over the vegetables to coat them evenly.

4. Bake for 35 minutes, then roast for another 10 minutes.

5. While the vegetables are in the oven, peel onion, garlic and carrots. Grate the carrots. Chop onions and garlic. You don't have to chop them finely, as they will be blended in the end.

6. Heat up sunflower oil on a pan, then add carrots, onion and garlic. Fry for 10 minutes on medium heat.

7. Add a cup of tomato puree, reduce the heat to low and cook for another 7 minutes.

8. Once the vegetables in the oven are cooked, take them out and let them cool down. Scrape out the flesh of the eggplant with a spoon. Remove the skin from peppers and tomatoes.

9. Place the flesh of eggplants, peppers, and tomatoes into a blender. Add the carrot-onion-garlic mix to the blender. Salt and pepper to taste. Pulse a few times to achieve a smooth texture. Taste and add more salt and pepper, if needed.

10. Store caviar in a jar in refrigerator. The caviar is best a few hours after cooking when flavors combine.
Nutrition Information:
Yield:
7
Serving Size:
1
Amount Per Serving:
Calories:

121
Total Fat:

3g
Saturated Fat:

0g
Trans Fat:

0g
Unsaturated Fat:

2g
Cholesterol:

0mg
Sodium:

23mg
Carbohydrates:

25g
Fiber:

6g
Sugar:

11g
Protein:

3g
Pin for later!