I keep a running list of all the dishes I cook with seasonal produce, so that by the end of each month I can write this post. But whether because the choice of fruits and vegetables in March is wildly underwhelming or because I kept testing and retesting my own recipes this month, the list is not terribly long.
While waiting for the crops of asparagus, radishes and new potatoes that should hit the shelves of the markets in April, I dedicated March to cooking with winter vegetables, the first and most exciting of which was black salsify.
In all honestly, I've been looking at it since November, but was slightly intimidated, having read that peeling it is a sticky and messy affair. Schwarzwurzel, directly translated from German as "black root", is exactly that: long black root, completely covered in soil. One has to wash and scrub it first, then peel, preferably in gloves, because of the sticky resin released by the vegetable.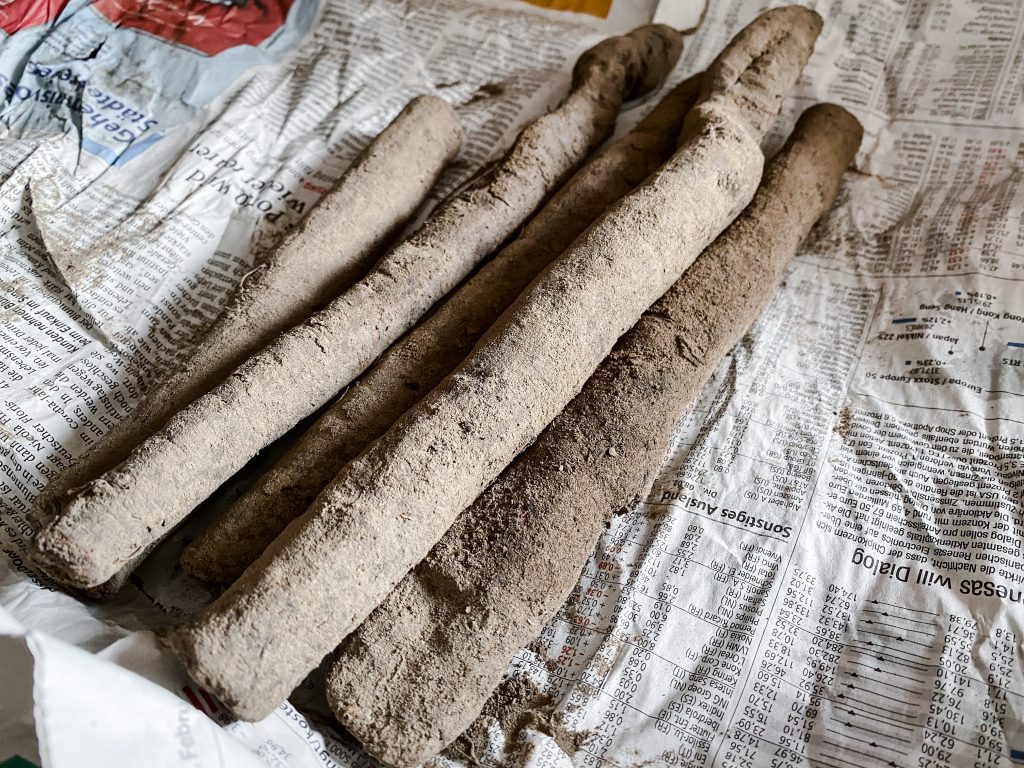 And if that wasn't enough to prevent anyone who loves quick and easy recipes from buying black salsify, it also oxidizes within seconds and turns from milky-white to unappetizing orange. A bowl with lemony water should be prepared beforehand to avoid discoloration.
In good news, once you are done with the prepping stage, cooking black salsify is not too different from cooking potatoes: a soup, a gratin, or fritters are all rewarding options for your effort. But, in comparison with potatoes, the taste is somewhat creamier and more delicate.
On my first try, I went with the salsify and roast garlic soup recipe by Niamh of Eat Like a Girl. I topped it with croutons that I quickly made on a frying pan, by tearing a slice of white bread and frying the pieces in olive oil for a few minutes.
On the second try, I took a different route: roasted black salsify with tahini sauce and walnuts from Exceedingly Vegan. As a rule of thumb, I try to cook a new ingredient in three different ways in order to truly understand its taste. Then I can experiment on my own. That leaves me with one more recipe to make and I think it's going to be these fritters.
The other winter vegetable that found home in my kitchen was rutabaga. It was my new ingredient of the month of January when I baked it with a duck breast. This time I ate it raw in a salad with radishes and lemony vinaigrette. There's no step-by-step recipe, as I made it on a whim after seeing this post by Darra Goldstein. But you hardly need one, anyways. Peel and grate rutabaga. Add thinly sliced radishes. Dress with a vinaigrette made of olive oil, lemon juice and zest, salt and pepper. Goldstein suggests to use mustard in the dressing too.
But one of my favorite ways to cook rutabaga was by steaming and smashing it. The recipe is in Joshua McFadden's Six Seasons. You steam rutabaga with tart apples, flavor them with butter and garlic, and then add cubes of ham in the end. I only regret that I tried it so late in the game. Next winter smashed rutabaga is going to reign in my kitchen.
Lastly, onions, cabbage and potato, the most reliable of winter vegetables as we figured in February, were still around. I braised beef with lots and lots of onions. That is the actual name of the recipe, another one from Joshua McFadden. It is incredibly easy, doesn't require any advanced skills or complicated techniques, yet provides the coziest most satisfying result.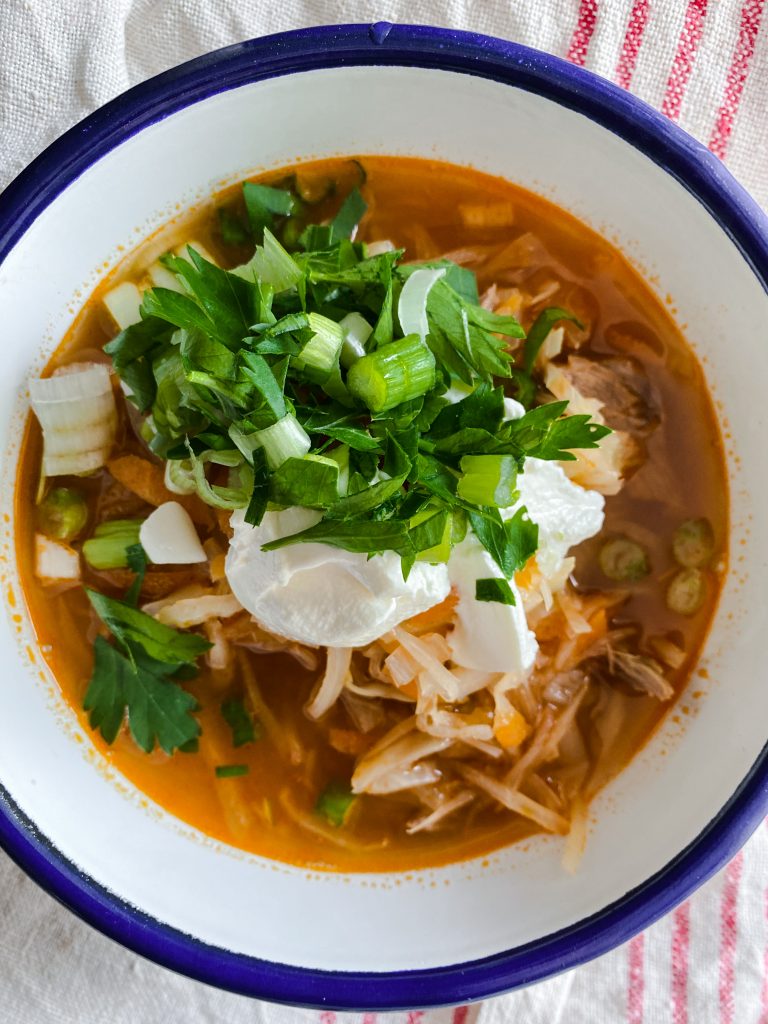 As bored as I was with cabbage, I made shchi, classic Russian cabbage soup, three more times, so now you can try my recipe, read the story of the soup and, most importantly, learn how to pronounce it.
What about spring vegetables, you ask? Nothing at all on this front? I've got something for you. It's not much, but if March can teach you anything, it is to be happy about and grateful for the smallest things.
There was one bright pink spot on the otherwise colorless and dull market shelves, and it was rhubarb.
I bought rhubarb every time I could get my hands on it and turned most of it into jam and then macerated some, using Anna Jones's recipe, to put on top of my morning oats.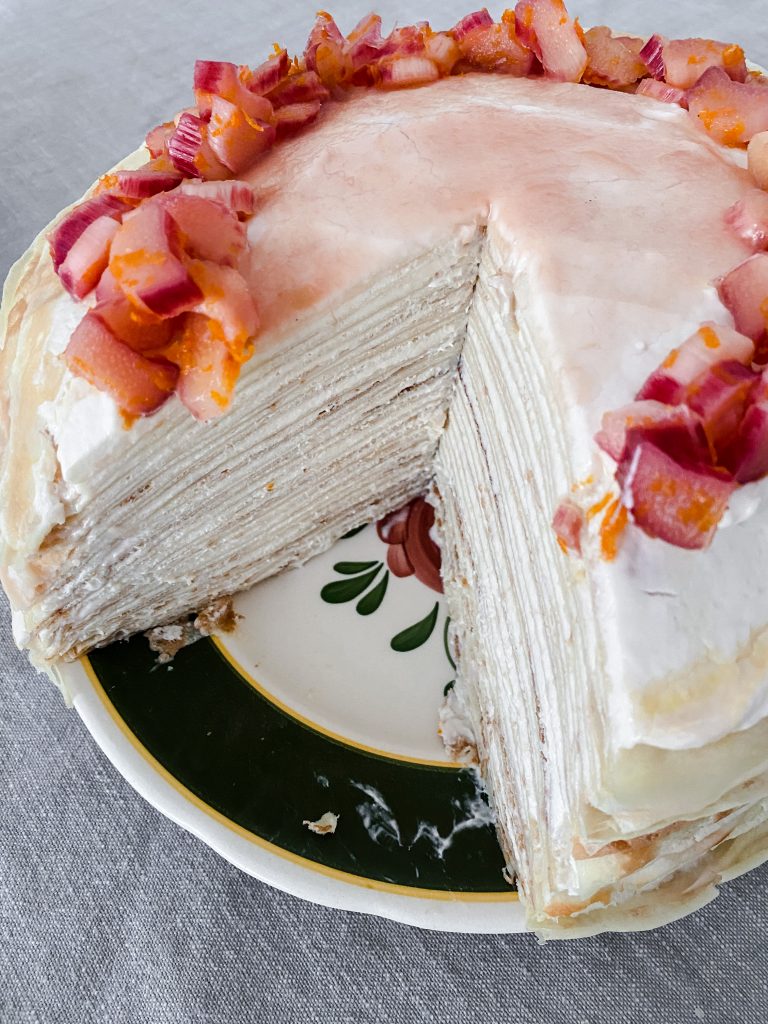 But the star of the show, undoubtedly, was my blinniy tort (or crepe cake for the ease of it) that I prepared for Maslenitsa, the celebration of coming spring in Russia. 26 crepes — it was supposed to be 30, but I burned two and my husband impudently stole another two — layered with sour cream and rhubarb ginger jam. You can find the recipe here. Maslenitsa may be over, but any day is a good day for crepes and, especially, for a 26-layers crepe cake.
Finally, the most exciting ingredient of March, a clear sign that other green vegetables are soon to follow, was wild garlic, or ramps. It was, coincidentally, my second new ingredient of the month. Bewildered by how something that looks so much like grass in my backyard can taste and smell so vividly of garlic, I used it with much excitement in every dish possible.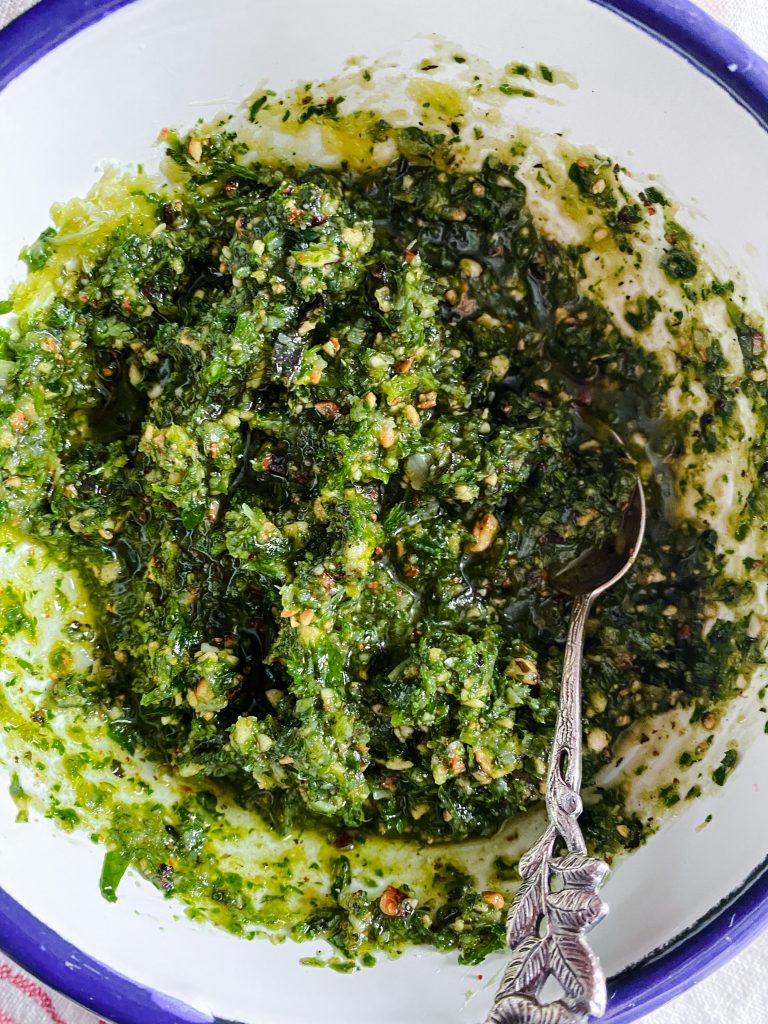 First, in this wild garlic pesto with cashews and pumpkin seeds.
Then in eggplant rolls with tvorog (Russian-style cottage cheese), baked peppers and walnuts.
And even in Swiss chard pancakes, recipe courtesy of Smitten Kitchen.
I know it's not the season for Swiss chard but, as we say in Russia, "when there's no fish, crawfish is also fish" ("На безрыбье и рак — рыба"). I am not sure if the translation makes any sense in English, but the basic idea is that when the food is scarce, anything will do. And it seems like the best motto for the month of March.