Time to reveal my favorite meals of the year and where you can find them! Actually the right time would have been before New Year, but I was too busy celebrating and missed the deadline… by two weeks. Well, better late than never right? Here are my favorite meals of 2018 and where you can find them!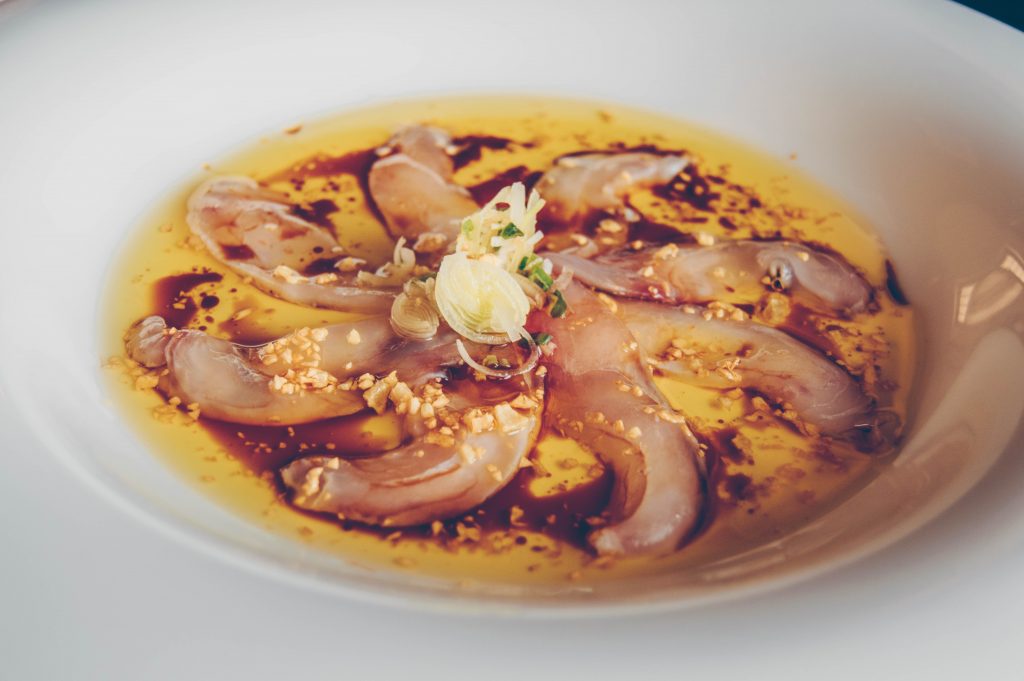 Olive Oil and Soy Sauce Sashimi at The Tuna and The Crab (Galle, Sri Lanka)
I spent most of 2018 living in Sri Lanka which is why a lot of the meals on this list come from the island. And what better food to eat on an island than freshly caught fish? Although fish and prawns are some of the most common ingredients in Sri Lankan cuisine, 99% of the time you'll see it cooked as a curry. Serving raw fish is as far from traditions as it can be, but Dharshan Munidasa, a local chef of Sri Lankan and Japanese origin, knows how to do it right. Locally sourced fish, Japanese-style raw preparation, warm olive oil with soy sauce and garlic poured on top of the fish slices in what I can only describe as Italian (?) twist will blow your mind. 
The Tuna and the Crab — Dutch Hospital Shopping Precinct, Hospital St, Galle, Sri Lanka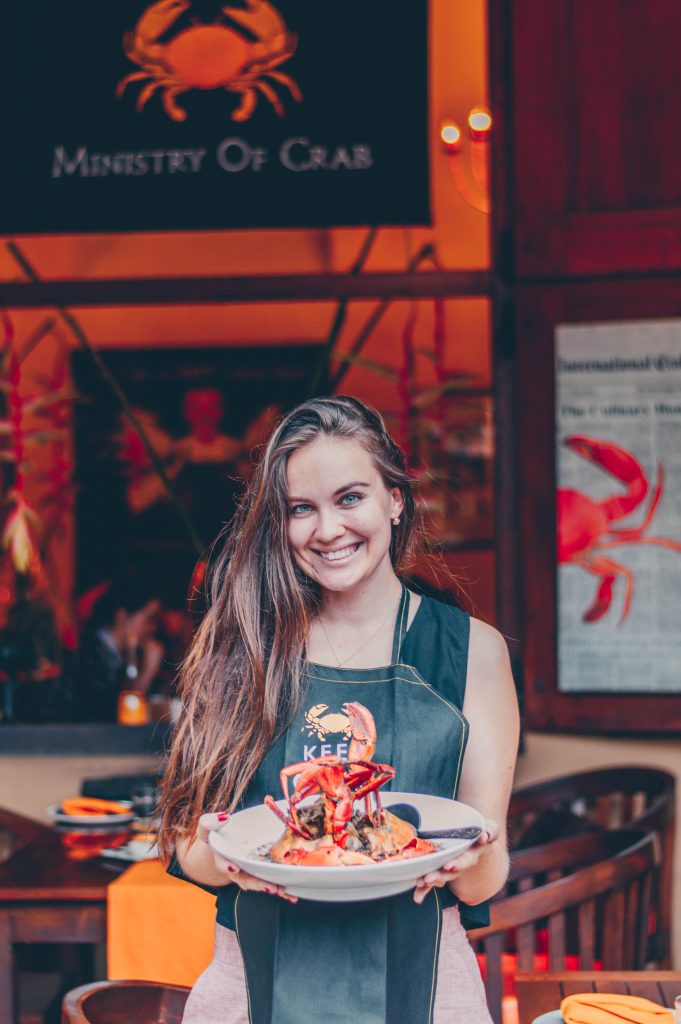 Pepper Crab with Garlic Bread at Ministry of Crab (Colombo, Sri Lanka)
"Why is Sri Lankan crap so popular?" asked my Uber driver in Singapore when he learned I live in Sri Lanka. I was completely thrown off. What does he mean by Sri Lankan crap? Is that some kind of a joke I don't get? "Sri Lankan crap… crap! crap!" he insisted. "Oooooh Sri Lankan craB!" I finally got him.
Why is it so popular, really? Maybe, because the crabs can reach 2 kg (4.4 pounds) in weight. Maybe, because it is one of the best things you can try in this world. You know the frustrating thing, though? It's almost impossible to try these crabs in Sri Lanka because absolute majority is being exported. One of the few places where you can find them is Ministry of Crab. Another creation of Dharshan Munidasa (and, probably, his most famous one), Ministry of Crab is a jewel of Colombo dining scene. 
My crab was cooked using hand crushed pepper corns (rolled on miris gala, traditional Sri Lankan stone grinder), whole pepper corns, and pepper stock. The crab was insane, but the best part? Dipping slices of house-made garlic bread — wood fired and glazed in garlic butter — into the gravy and eating all of this messy affair like no one's watching!
P.S. This crab is included on my Sri Lanka food tours in 2019. Read all about the tours here.
Ministry of Crab — Old Dutch Hospital Complex, 04 Hospital St, Colombo, Sri Lanka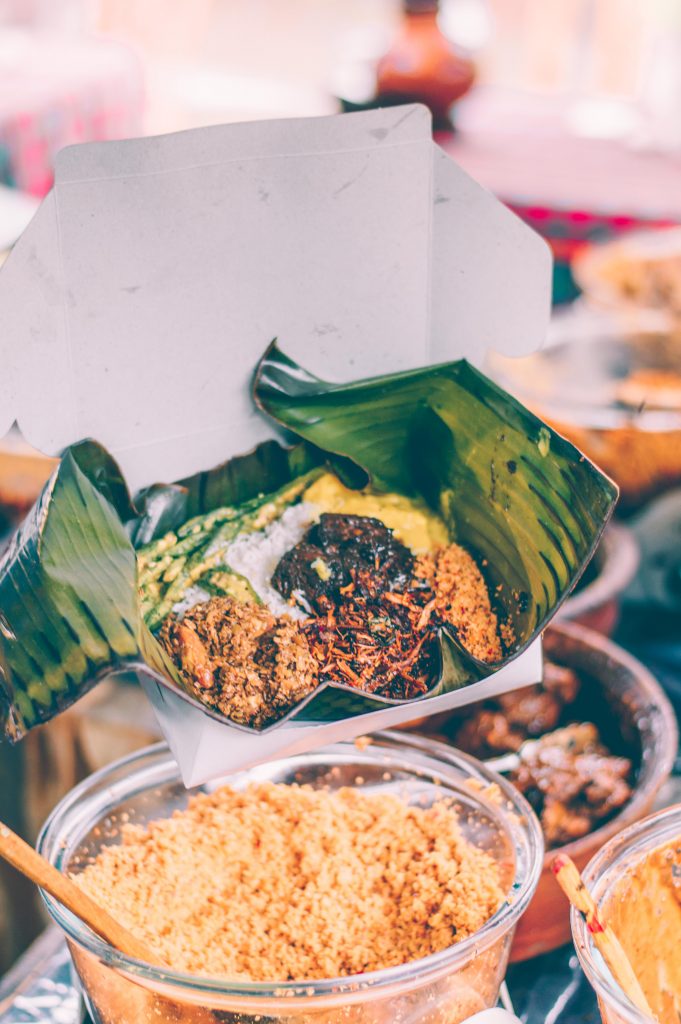 Rice and Curry at Jeewa's Polos & Kuma's Natural Foods (Colombo, Sri Lanka)
The. Best. Rice. And. Curry. In. Sri Lanka. There, I said it! I know that coming to a country like Sri Lanka, any street food stall looks tempting and "authentic". But just like not every burger in the USA is a great burger and not every pizza in Italy is fantastic, so not all rice and curry in Sri Lanka is equally good. As we say in Russia, "same flour, different hands". 
Jeewa's Polos & Kuma's Natural Foods is not a restaurant, but a simple stall at a local farmers' market. You can only try their food on Saturdays, when the Good Market is open. So if you happen to be staying in Colombo over a weekend, do not miss this chance. I introduced this stall to my family and local friends, and everyone is crazy over their delicious curries.
Tip: their jackfruit cutlets are amazing too. 
Jeewa's Polos & Kuma's Natural Foods — find them at the Good Market at Racecourse on Saturdays (rain or shine).
"Kasha Iz Topora" at Cococo (Saint Petersburg, Russia)
In April, I went to Russia to visit my family and spend some time in my home country, reconnecting. One of the most memorable meals was a so-called "kasha iz topora" — literal translation is "porridge made of an axe" — at one of the most talked about restaurants in Saint Petersburg, Cococo.
The porridge is made of green buckwheat with porcini and stewed beef cheeks and served in a ceramic pot. On the side is a little, but very realistic axe made of butter dyed with squid ink. One has to stir the porridge with an axe until the butter blade fully dissolves. If you are interested why in the world a porridge is served with an axe, there's a Russian folklore story behind it, and I wrote the story as well as all about my experience at Cococo here. 
Cococo — Voznesensky Ave, 6, Sankt-Peterburg, Russia.
Khinkali and Adjarian Khachapuri at Khmeli Suneli (Ekaterinburg, Russia)
While in Russia, I went out for dinner at a Georgian restaurant with my parents (followed by a theatre play) where we all had what I can only describe as food coma. Georgian cuisine is big in Russia and we looooove their hearty delicious food. 
Khinkali are prepared by Georgian women by hand and cooked to order. One is supposed to pick khinkali by its "tail" (the top twisted part), bite a small piece of the dough, drink up all the juices inside, then eat the rest, leaving the tail. 
Adjarian khachapuri is a boat of dough served piping hot with cheese and runny egg inside that you mix together with a fork as soon it arrives — wait a few minutes and the hot cheese will start setting. 
The real joy, though, hides in little details, like a shot of chacha, Georgian pomace brandy, served as a compliment upon arrival, or walnut jam that comes with tea. 
Khmeli Suneli — Lenin Ave, 69/10, Yekaterinburg, Sverdlovskaya oblast, Russia.
Cocktails at Baillie Street Merchants (Colombo, Sri Lanka)
Baillie Street Merchants was one of the biggest and most pleasant surprises of the year. This forward thinking restaurant with a short, but well thought through menu, and special attention to quality ingredients is yet another proof that Colombo is developing at a breakneck speed. 
I loved everything about this place (bar the crazy high — for Sri Lankan standards — bill at the end of the night): from the speakeasy vibe when you need to say password at the entrance and walk through a giant locked door, to the glam interior design, to a modern twist on traditional Sri Lankan dishes (think: grilled fish served with kiribath foam and lunu miris dust), but the highlight was the cocktails. 
My favorite, the 1Sri1, is made with local arrack, port, cocoa and orange bitters, and spices, and served with chocolate shavings on the side. 
Baillie Street Merchants — there's no official address on the web, but it's located along Mudalige Street in Colombo Fort.
Hazelnut Madeleines at Dominique Ansel Kitchen (New York, USA)
In November, I traveled to the USA, mainly for Saveur Blog Awards 2018 in Memphis, but I couldn't skip New York on the way to Tennessee. I used to think that going to the same places is not fun or necessary. Why travel to the same country if there hundreds out there I still haven't seen? Why return to a restaurant and eat the same dish or even a different dish by the same chef? Idiot.
One of the first chefs I started following religiously was Dominique Ansel. I visit his bakeries every time I am in NYC and get excited just thinking about the next time I get to try another one of his creations. I've stayed in line for cronut before, I also tried his DKA. 
On this trip I finally got to taste mini-madeleines. On the first glance, nothing special… just tiny cookies. But the trick is they bake them fresh to order. Piping hot madeleines are a dream and you have to eat them right away. Wait five minutes — and it's juts not the same anymore. Although who in their right mind is going to wait?
Dominique Ansel Kitchen — 137 7th Ave S, New York, USA.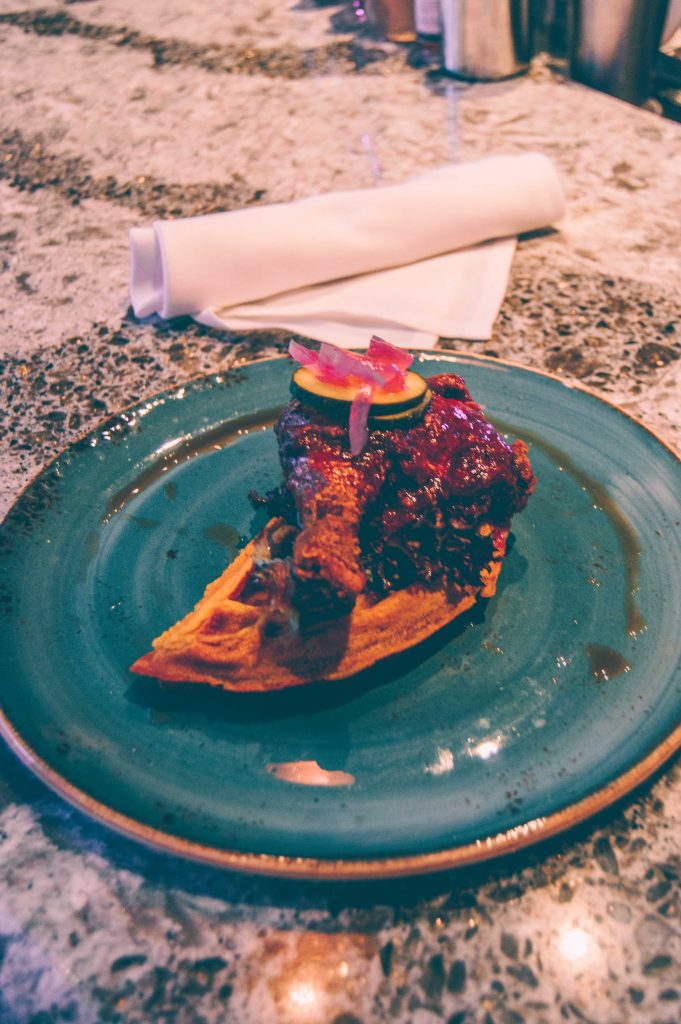 Chicken and Waffle at Red Rooster Harlem (New York, USA)
I wanted to try the food of Chef Marcus Samuelsson ever since I watched a Parts Unknown episode where Samuelsson and his wife Maya were showing Anthony Bourden around Ethiopia. As luck has it, I stumbled upon his restaurant by chance, after a walking tour of Harlem. The timing was perfect — around 4 pm, in between lunch and dinner — so I managed to get a table quickly. 
I ordered what I consider the weirdest combination of foods — chicken and waffle — and it was the first time I truly enjoyed this southern classic. Fried chicken leg was covered with honey-chili sauce and placed on a bed of a sweet potato waffle. Not greasy, not heavy, just pure delight. 
While at Red Rooster, I met quite a few characters who made my meal even more memorable. One of them was a man dressed in a superman costume who I had seen a few hours earlier playing violin at a train station not far from Times Square. What are the chances of us meeting again on the same day and of all places in Harlem! The other one was an elderly black man dressed in a bright blue suit who kept asking where I got my iPhone and couldn't believe that one can get and iPhone in Russia. I think I'll remember this meal for a long time.
Red Rooster Harlem — 310 Malcolm X Blvd, New York, NY, USA.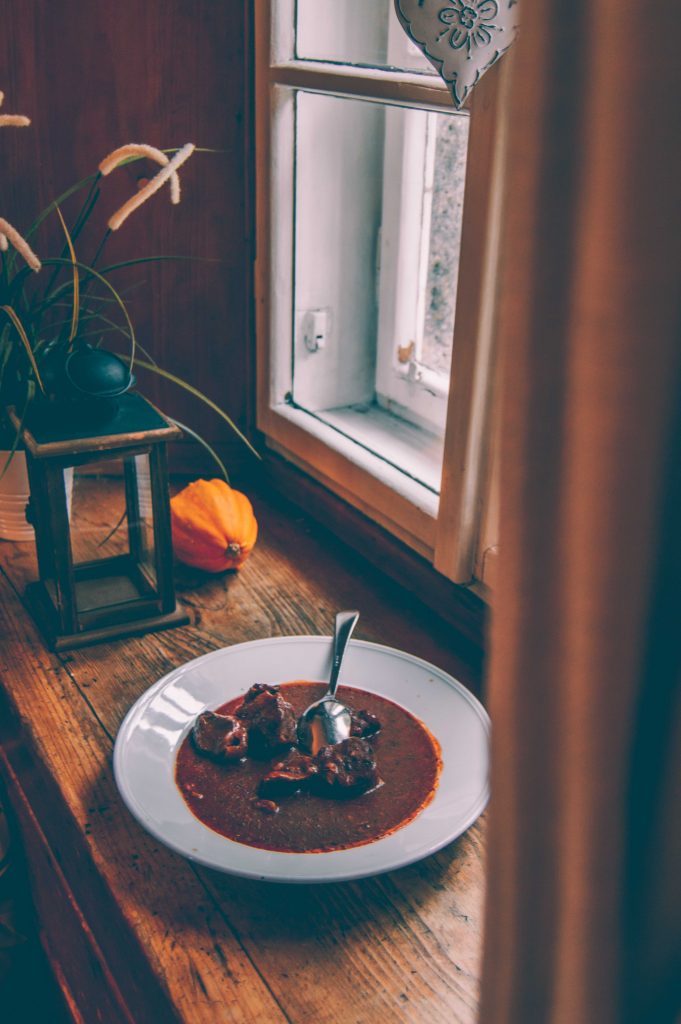 Goulash at Bärenwirt (Salzburg, Austria)
With only two days in Salzburg, I took meal planning for the trip seriously, researching and asking for tips in advance. Unfortunately, upon arrival meal after meal were mediocre if not disappointing. That is not to say that Salzburg doesn't have good food, but rather that I didn't have much luck that weekend.
That is until I stopped by Bärenwirt for one last meal before leaving. I ordered goulash. I thought I'd had goulash before in my life. Nope. This perfect, rich, meaty goulash made every other goulash I'd tried before not worthy of the name. At Bärenwirt, it comes with bread so I hardly even used a spoon, dipping pieces of bread into thick gravy instead.
Bärenwirt — Müllner Hauptstraße 8, Salzburg, Austria.
Burger with Pork Belly and Bacon at Naše Maso (Prague, Czech Republic)
You'd think that pork belly AND bacon in one burger is too much. You'd be wrong. It is not. It is pure perfection. I had it late at night (as all burgers should be consumed) at Naše Maso, a butchery and a restaurant in the heart of Old Town of Prague. 
The restaurant provides just a few tables, and people are forced to occupy every square centimeter of the tiny space inside, but the meat is so good no one minds. This burger was on their specials board that night, so I am not sure they make it regularly. Either way, check out this place if you are in Prague — it's on every possible guide to Prague's dining scene for a good reason!
Naše Maso — Dlouhá 727/39, Prague, Czech Rebublic.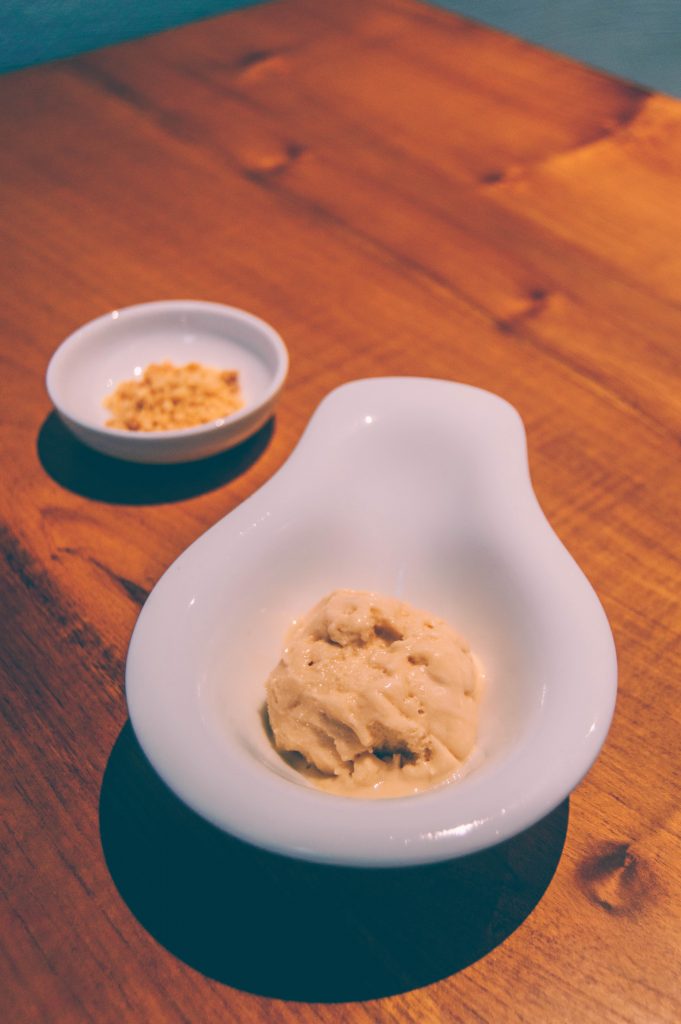 Salted Kithul Ice Cream at Kopi Kade (Colombo, Sri Lanka)
And for dessert — a scoop of salted kithul ice cream from a coffee shop in Colombo. A Sri Lankan play on salted caramel ice cream using a locally produced sweet kithul syrup. Kithul, or fishtail, is a palm tree common in Sri Lanka. The sap of kithul flowers is collected by tappers and boiled down until it becomes sticky and intensely sweet. It reminds of honey or maple syrup, but has a distinct floral flavor. Kopi Kade has a short, but sweet menu with focus on modern Sri Lankan food, and kithul ice cream is only one of many unusual combinations they offer. 
And that's all she had in 2018! Well, not all, but the best of it. I never set a limit for this list. It is intentionally not "10 best" or "25 best". I just sit down and think of my favorite meals of the year, minus the home cooked foods because I want you to be able to try my favorite meals too.
Kopi Kade — 15/3 Stratford Ave, Colombo, Sri Lanka.
* * *
One last thing, I have an honorable mention and it goes to all the German bread. Not one particular bakery or type of bread, but to all German bread in general because it is glorious! Since I moved to Germany in September, bread and butter got me though adapting in a new country and I am incredibly grateful for that!
Oh and one more thing! If you love to read check out That's What She Read in 2018, a round-up of my favorite books!
What was your favorite meal in 2018? Let me know in comments!