Cooking other people's recipes is a joy. Because once you make it, it feels almost like the amazing result belongs to you wholly. You were the one who went out and did groceries. You peeled, and washed, and cut, and grated, and stirred, and added more salt than the recipe called for, and sprinkled some chili on top which wasn't even in the recipe — you did all the work and the dinner was a success, which should mean the dish and the creative genius are all yours.
That's what a good recipe can do: make you feel like you are amazing in the kitchen. Without the struggle of testing and retesting, without failures, wasted food, and unrealized expectations.
This year I am sharing 10 recipes that did that trick for me. Ok, 2 of the 10 are my recipes so the jury is still out on those. I hope you give them a try and let me know how it went. The other 8 belong to the extraordinary cooks and food writers who I adore: Diana Henry, Letitia Ann Clark, and Ottolenghi to name a few.
I debated whether this year I should share the best foods I prepared at home or the best foods I've eaten around the world, as was the tradition before 2020. But looking back I realized that I spent half of 2021 in lockdown, and the other half in Germany, busy with the move to Hamburg. My yearly round-ups from the early years would include dishes I've tried in Sri Lanka, Russia, Czech Republic, Austria, the U.S. and beyond. And now, for the second year in a row, the geography of my favorite foods has shrunken to the city where I currently live.
So favorite recipes it is! I am somewhat happy about it too, because sharing my favorite recipes from 2021 means you can recreate the dishes I loved so much at home. If you do, please leave a comment or tag me on social media, it will make my day! Now let's get to it!
Diana Henry's Spatchcocked Chicken with Pangrattato
You probably already know what "spatchcocked" means, but, in case you are anything like me, and find the word hilarious, but utterly meaningless, "spatchcocked" refers to a chicken that was flattened by cutting out the backbone. It's much easier than it sounds and Diana Henry gives detailed instructions on how to do it (you can also always watch a video online).
The chicken is marinated in olive oil mixed with lots of garlic and salt and then baked on top of onions. Pangrattato, a spiced mixture of breadcrumbs, parsley and almonds, is scattered over the chicken, giving it a satisfying crunch. Ever since I tried this recipe at the start of 2021, this has been my go-to for cooking a whole chicken.
Get Diana Henry's spatchcocked chicken with pangrattato recipe here.
Letitia Clark's Blood Orange, Ricotta, Olive Oil, and Polenta Cake
I posted a photo of this cake on Instagram with the following caption:
"There's one line prefacing the recipe for blood orange, ricotta, olive oil and polenta cake on Letitia Clark's blog: "a perfect cake". You might think that is conceited or even arrogant. But that is only until you make and bite into the cake. In that moment you'll know that it is simply the truth. A perfect cake. Maybe even, the perfect cake."
I still stand by this description.
Get Letitia Clark's blood orange, ricotta, olive oil and polenta cake recipe here.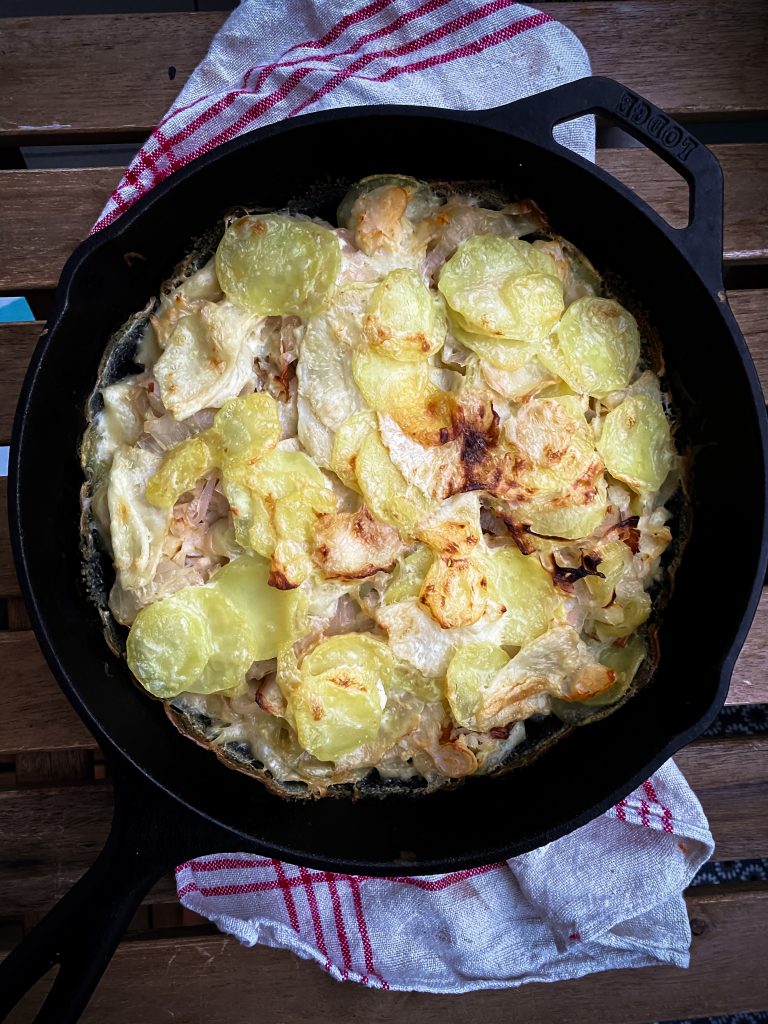 Diana Henry's Smoked Haddock and Celeriac Gratin
Another recipe by Diana Henry because she is amazing and her recipes are magic. This one in particular gave me the courage to cook and actually fall in love with rather weird-looking — so as not to say ugly — celeriac. I used to only add celeriac to stocks for deeper flavor, so making a gratin was a gamble. The dish turned out so well, I ate almost half of it right off the pan. Celeriac isn't the star of the show here, but is simply irreplaceable in its supporting role.
Get Diana Henry's smoked haddock and celeriac gratin recipe here.
Rachel Roddy's Squash and Rice Soup (Adapted by Luisa Weiss)
I know it doesn't sound like much, just your everyday (in winter that is) squash and rice soup — that was my sentiment exactly when I decided to give it a try — yet, somehow it became a staple in my kitchen. I've made it over and over again, using chicken, vegetable, and beef stocks, trying different types of squash, adding greens in the end (highly-recommended!).
Don't skip that last step where you drizzle olive oil, grate Parmesan, and sprinkle red pepper flakes on top of soup in each individual plate — it takes this simple dish to a whole new level!
Get Rachel Roddy's squash and rice soup recipe here.
Michał Korkosz's Parsnip Walnut Dip
Michał Korkosz is a Polish food writer and Saver Blog Awards winner. Although his blog and Instagram are predominantly in Polish, I follow him for visual inspiration. His food is veggie-forward, and it was this video on his IG that inspired me to make the parsnip dip.
Up until that point I baked parsnip with other vegetables and boiled it to make a mixed-vegetable mash. But a dip! For which you boil parsnip in milk! And then blitz it with walnuts! I had to make it. It turned out creamy, with deep rosemary flavor and a slight crunch from nuts. Such an unusual, unexpected flavor. I have to mention, though, you can't eat much of it in one go (I can't that is), but it would be perfect for a gathering or a festive dinner table to surprise your guests with something unique. The recipe is in Polish, but Google does a good job at translating it.
Get Michał Korkosz's parsnip walnut dip recipe here.
Joshua McFadden's Parsnip, Date, and Hazelnut Cake
While we are on the topic of parsnip, let me tell you about this parsnip, date, and hazelnut cake! The recipe is from Joshua McFadden's book Six Seasons that I use often in my kitchen. From it, I mostly draw inspiration for new ways to cook familiar ingredients (and unfamiliar too) for lunch or dinner, but the parsnip cake in winter section was too much of a surprise to skip.
I mean, it's a vegetable cake! You could argue that so is a carrot cake, but somehow carrot cake by now is quite banal (although delicious) and I am yet to see anyone else post a recipe for parsnip cake. It is moist, fragrant, sweet, with distinct parsnip hint, although were you to try it without knowing what's inside, I doubt you'd ever guess it's parsnip. The top is covered by intensely lemony glaze with a few twists of black pepper — a little detail that makes all the difference.
Get Joshua McFadden's parsnip, date, and hazelnut cake recipe here.
Eggplant Rolls with Tvorog, Walnuts, and Ramps
The first of the two recipes from my own blog that I offer in this round-up and hope it can become a staple in your home too. Inspired by Georgian cuisine, these eggplant rolls are best made in spring since that is the season for ramps, but if you simply cannot wait, parsley and garlic can be substituted during other seasons.
Tvorog (Russian-style cottage cheese) can be made at home or bought at Eastern-European grocery shops. I won't say it's an easy recipe, because it involves slicing eggplants on a mandolin, baking, stuffing, and rolling, but it is easier than it looks and is well worth the time, especially if you have company for dinner.
Get my eggplant rolls with tvorog, walnuts, and ramps recipe here.
Chocolate-Glazed Syrok with Dulce de Leche
Syrok is a typical Russian snack (or maybe dessert) made of tvorog (yes, again). It resembles a cheesecake bar, only in miniature form, can be consumed in a few bites and leaves you feeling like you've actually nourished your body, not put a ton of sugar in it (questionable).
This is probably the recipe I am most proud of in 2021. Maybe because I never thought I would make syrok from scratch — in Russia you just buy them from a supermarket. Maybe because it turned out even better than its supermarket cousins (and without the stupid additives too). The recipe is easy and only takes 30 minutes of active work.
Get my chocolate-glazed syrok with dulce de leche recipe here.
Yotam Ottolenghi's Confit Leeks With Lentils, Lemon and Cream
If you follow me on Instagram, you've probably seen me prepare these confit leeks multiple times this year. Such a simple, yet unexpected pairing, with allium playing the star role for once. The leeks are mixed with plenty of olive oil, thyme, and garlic, then braised slowly, for over an hour, until completely tender. The NYT suggests to have it alongside roasted potatoes, but I find it to be a sufficient meal on its own. I also often skip the cream to make things easier and washing up faster.
Get Yotam Ottolenghi's confit leeks with lentils, lemon and cream recipe here.
Fanny Singer's Easy Tomato Confit
I have only myself to blame, but I managed to live for 33 years without ever trying slow-roasted tomatoes. Why? How? Don't ask, I am flabbergasted myself. However, in a fortunate turn of events, last fall I finally got my hands on a bunch of fresh locally-grown tomatoes and then came across this post by Fanny Singer, a food writer and the daughter of the revered restauranteur Alice Waters, on how she makes easy tomato confit.
Once I prepared it there was no stopping me. Until the end of fall I kept buying tomatoes and roasting them, mostly with the goal of making sauce or using them in bowls and salads, but somehow most of those tomatoes were eaten straight off the tray as soon as they were out of the oven. The minuscule amount of effort that goes into making this recipe is disproportionate to the incredible flavor you get at the end.
Get Fanny Singer's easy tomato confit recipe here.
These are my favorite, tried and true recipes of 2021. What was the best food you've cooked or tried this year? Let me know in comments!
P.S. If you want to read more of my yearly reviews, here is what I had in 2016, 2017, 2018, and 2020. 2019 is missing because I was taking care of a newborn and had no energy whatsoever for anything else.