Looking at the list of my favorite meals from the past year, once again, I realized that it's not the food alone that makes me love a meal. The people I am with, the physical space where it's served, the vibe, the view, all play a big role. From a lobster I ate sitting on a deck overlooking harbor because there were no available seats in the restaurant to biscuits and gravy cooked in the middle of nowhere by cowboys to the best barbecue in Texas at Franklin (as of this year, second best, actually), these meals were the most memorable in 2017.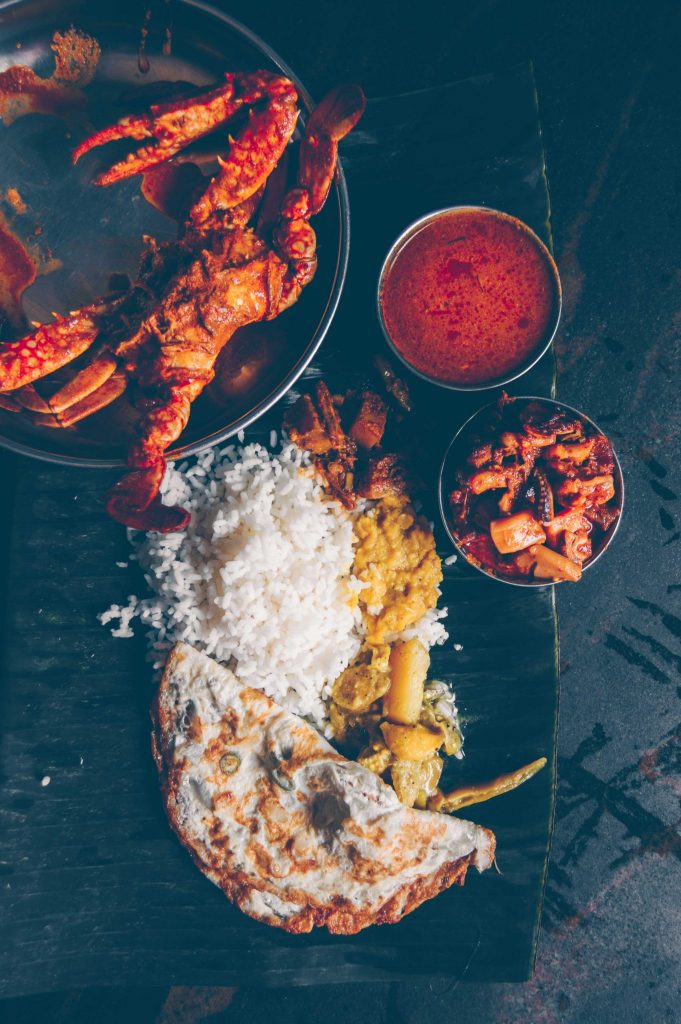 Crab Curry at Mayura Hotel, Colombo, Sri Lanka
Although I am not ranking the foods in this post, I will make one exception for the rice and curry I had at Mayura Hotel, a hole-in-the-wall type of restaurant in Colombo. This was, hands down, the most delicious meal of the year. Also, notice how the restaurant is called Hotel. Many small roadside cafes and restaurants in Sri Lanka are named "hotels" for some inexplicable reason. Don't be fooled by that name, you won't find any rooms inside, but you might find some amazing food.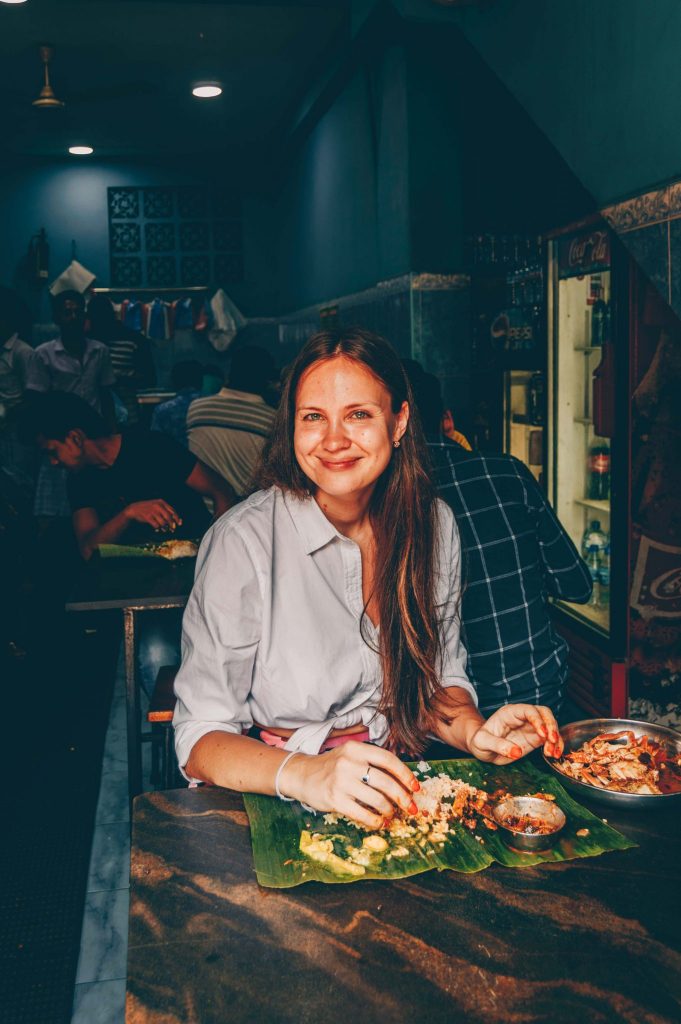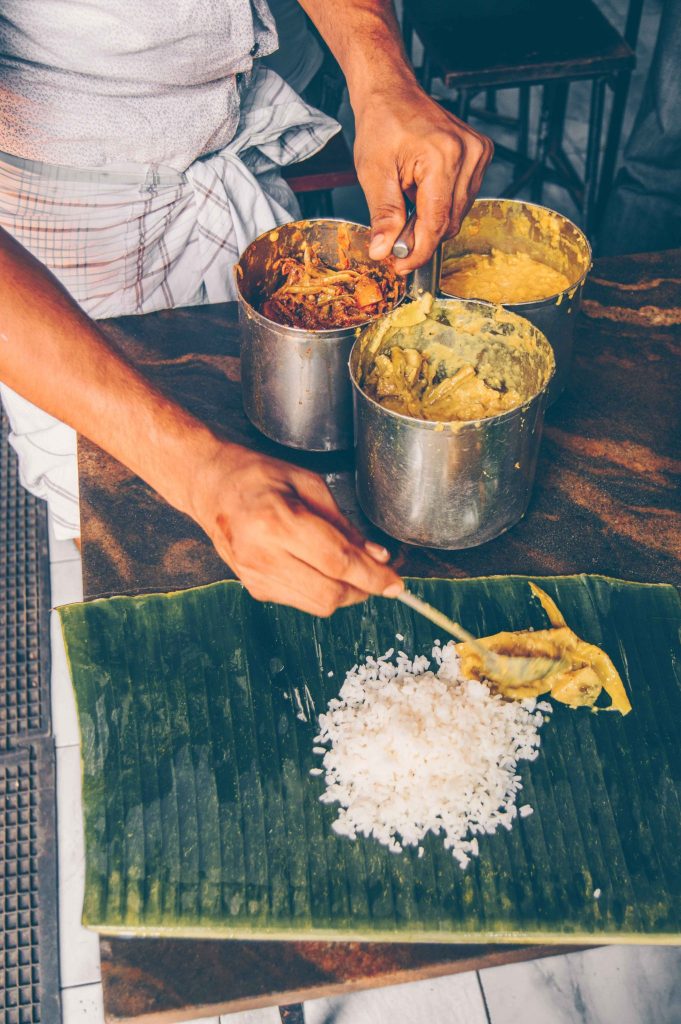 Mayura Hotel is located at one of the busiest markets in Colombo – Pettah. The crowd consists primarily of market vendors and tuk tuk drivers. White foreign girls, like myself, don't come here often and therefore attract a lot of attention. Rice and curry are served on top of a banana leaf instead of a plate. Forks, knives, and napkins are unheard of. But then again, who needs a fork to eat crab curry? And to be fair, although there are no napkins, you'll find cut up pieces of paper to use instead. 
As for the food, it will make you cry tears of happiness… and tears of spiciness too. Can I say that? Is that a thing? Sucking the juices out of crab legs while wearing a white shirt and no bib in a tiny Sri Lankan "hotel" is one of the most memorable moments of the past year. 
Mayura Hotel — 46, Sri Kathiresan Street, Pettah, Colombo, Sri Lanka (not surprisingly, they don't have a website)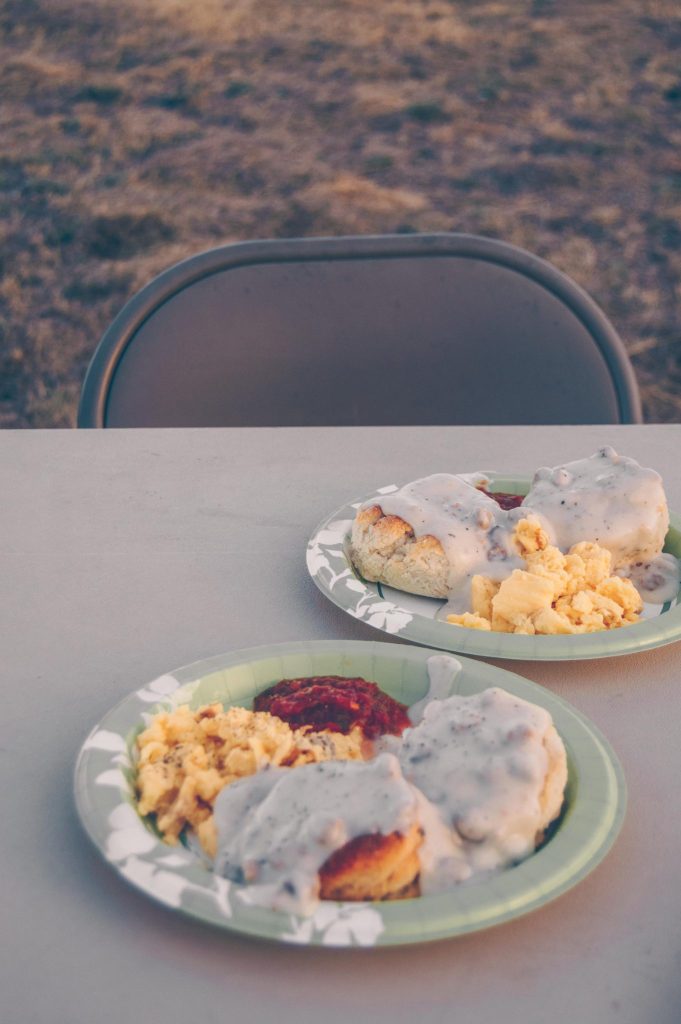 Biscuits and Gravy at Cowboy Poetry Gathering, 
Alpine, TX
There were moments in my life in the USA that I consider to be very American. Like ordering a stack of pancakes and coffee in an old-school diner. Like watching a college football game with a funnel cake in hand. Like waking up at six in the morning to have biscuits and gravy with cowboys somewhere in West Texas countryside. 
If Mayura Hotel's crab curry wins the most delicious food of the year award, then biscuits and gravy cooked by cowboys in the middle of nowhere take the prize for the most unbelievable straight-out-of-a-movie kinda experience. If you are wondering where I found cowboys who would agree to cook for me, it was pure coincidence. While in Alpine, TX, for one night, I got to know that a Cowboy Poetry Gathering took place in the city on the same day. I spent the night in a concert hall listening to real working cowboys from all over the country and beyond reading their own poems and singing songs.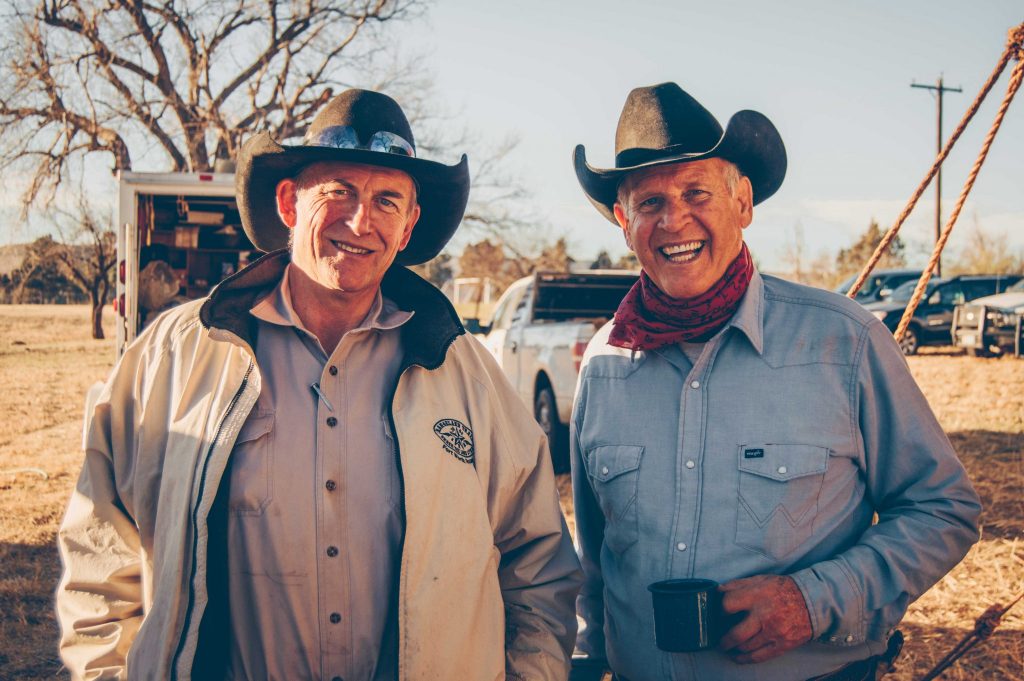 In the morning they gathered in a field outside of the city to prepare breakfast. Biscuits were cooked in pans buried into a pile of ashes, coffee boiled in tin kettles hanging over fire. But the best of all was sharing the food with  people who were calling me "darling" with heavy Southern drawl. You can read all about the breakfast and watch a video here.
Chuckwagon Breakfast at Cowboy Poetry Gathering — Poet's Grove, Alpine, TX
Tip: it's an annual event that usually takes place in March, check their website for more details.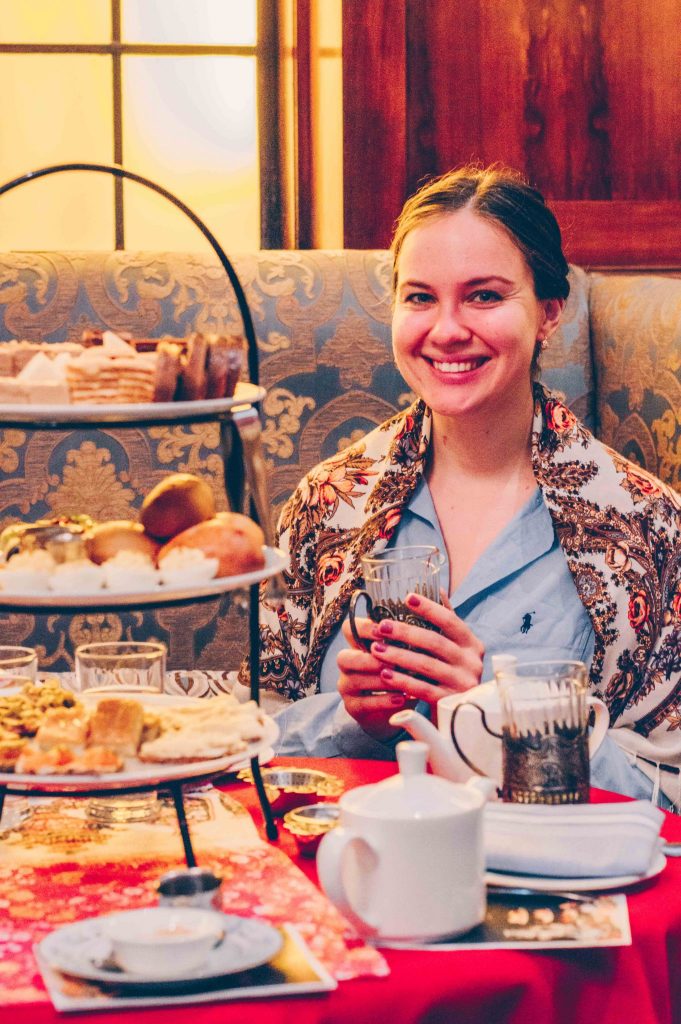 Russian Tea Experience at Headwaters, Portland, OR
More often than not Russian restaurants abroad are a disappointment. Sorry to say that. The food is ok at best, the menu features very stereotypical Russian dishes, interior design is meant to transport you into Soviet Union era which usually means tacky.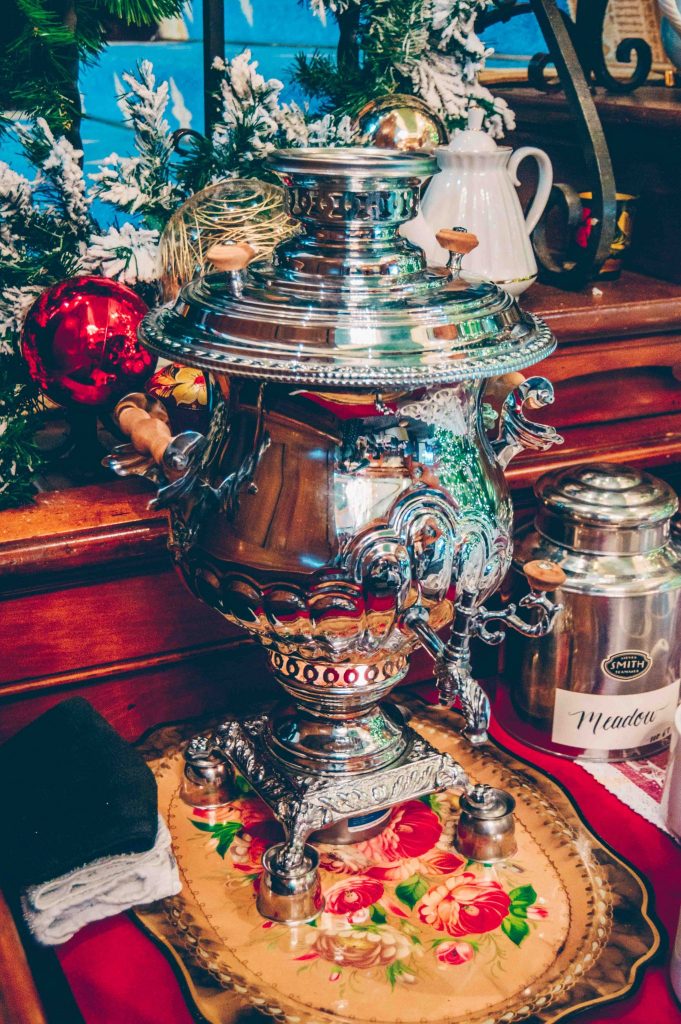 Despite all of the above, I decided to give Russian Tea Experience a try, and it turned out to be the highlight of my stay in Portland. The menu included both foods that Russia is famous for abroad, like piroshki and blini, as well as some lesser known traditional pastries like halva (sesame candy) and rulet s makom (poppyseed roll).
The tea selection was beyond creative with custom-made blends prepared in collaboration with Smith Teamaker, a local tea company. The ambience was distinctly Russian instead of Soviet. Wins all around. On the day, I also happened to wear my Russian shawl which played well for the pictures. 
Russian Tea Experience at Headwaters — 1001 SW Broadway, Portland, OR
Tip: make a reservation beforehand, especially if you are planning a visit during weekend. They are booked for days ahead.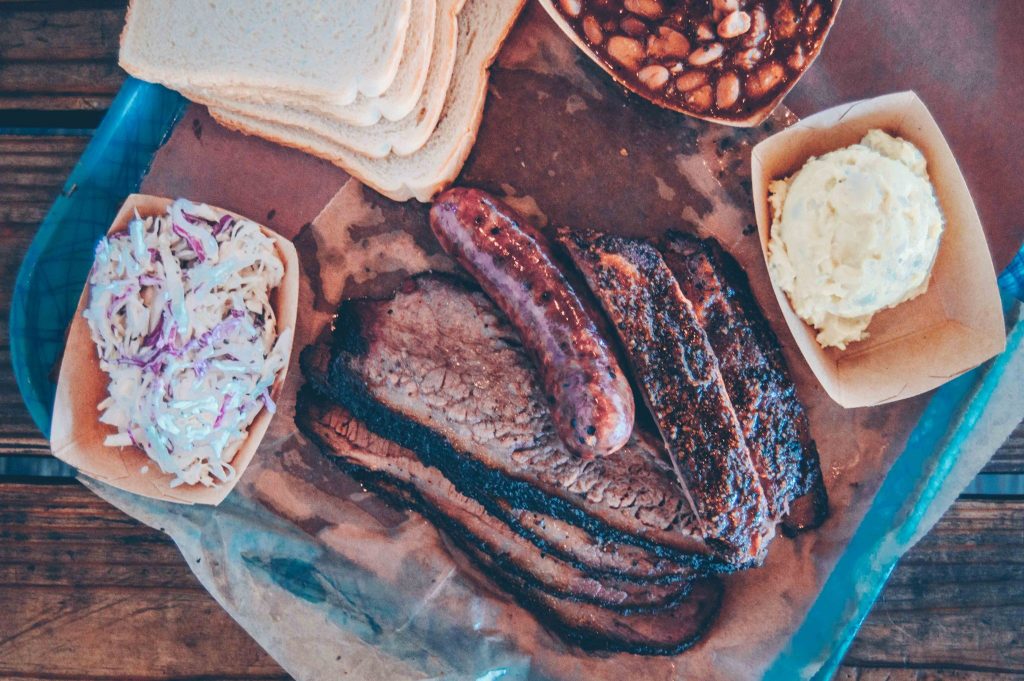 Fatty Brisket at Franklin BBQ, Austin, TX
Waking up at six in the morning and waiting in line for four hours is the craziest thing I have done to get my hands on some good food. Yet. You never know what this love for all things edible might make me do. 
"Was it worth it?" is the most frequently asked question about Franklin BBQ. I reply with a resounding "Hell, yea!" First of all, the line is not as scary as it sounds. With a foldable chair, a good book, and a cup of coffee, waiting outside for brisket is pure joy. Ok, maybe I am taking it too far. What I am trying to say is that you hardly notice four hours fly by as long as you have something to sit on, a couple of friends to chat with, and food.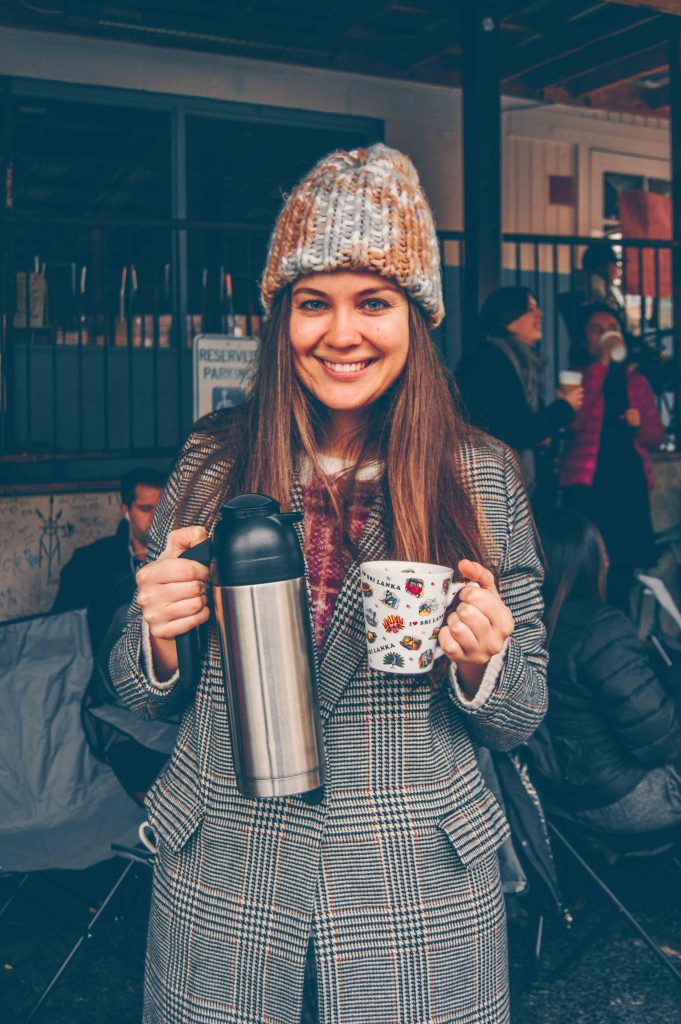 Second of all, that fatty brisket is as good as everyone says it is. Franklin BBQ wasn't named the best BBQ joint in Texas for nothing. Also, if Gordon Ramsay, Barack Obama, and Anthony Bourdain say it's good, then you just go and stay in line. Read more about my experience of staying in the famous line here.
Franlin Barbecue — 900 E 11th St, Austin, TX
Boiled Lobster at Ray Moore Lobster Co., 
Rockport, MA
I lost count of how many lobsters I ate during my stay in Boston last summer. How bourgeois does that sound? But the most memorable lobster of all was the one in a small touristy town of Rockport, MA.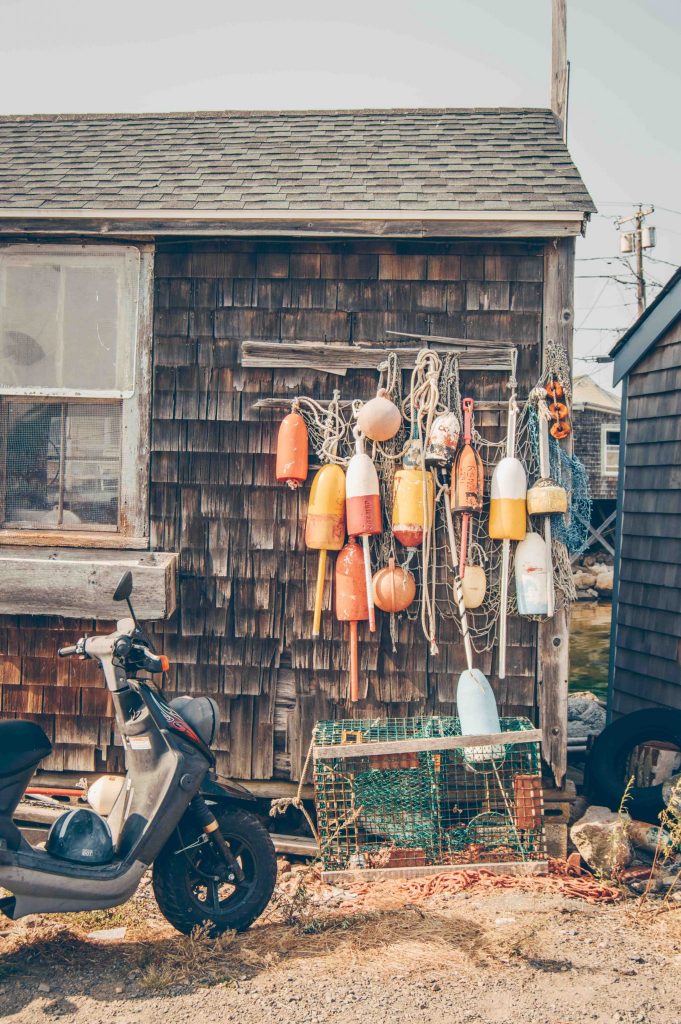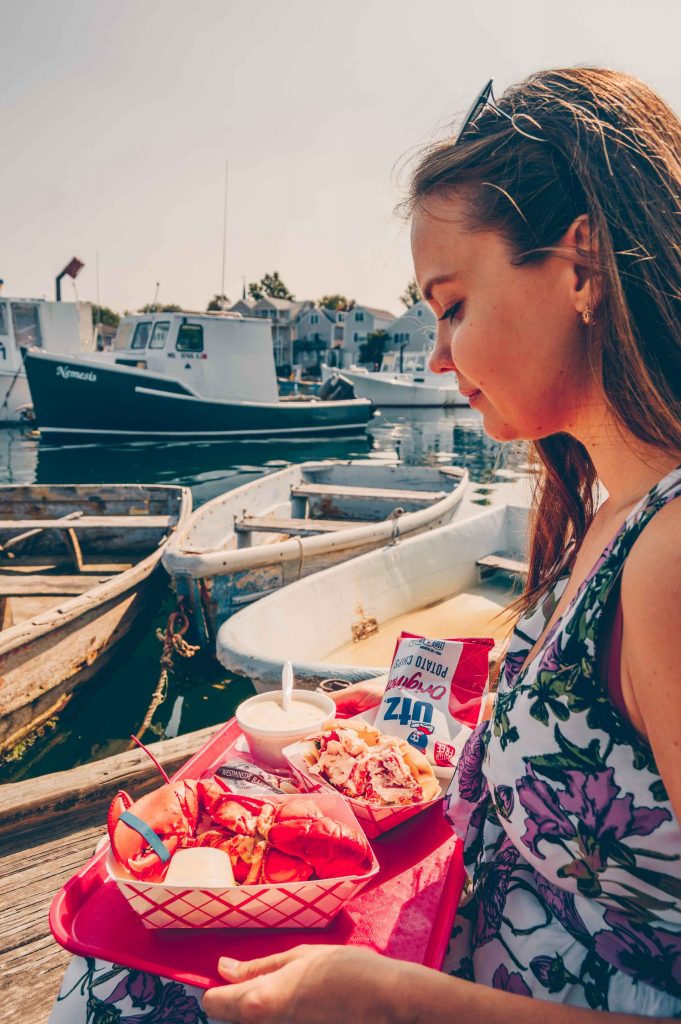 Roy Moore is a real deal if you are looking for some fresh seafood and no fuss. The men working inside look weathered, tough, and very much like they stepped out of a Hemingway's novel a few minutes ago. With only a few tables outside, it was hard to find a place to sit down. I went behind the restaurant, found a floating deck with a view of the harbor, sat down with a tray of food on my lap, and devoured that lobster. So. Freaking. Good.
Roy Moore Lobster Co. — 39 Bearskin Neck, Rockport, MA
Tip: There are two restaurants within walking distance from each other: Roy Moore Lobster Co. and Roy Moore's Fish Shack. The former is the one you are looking for. The latter is a sit-down type of a restaurant with an up to an hour wait on weekends.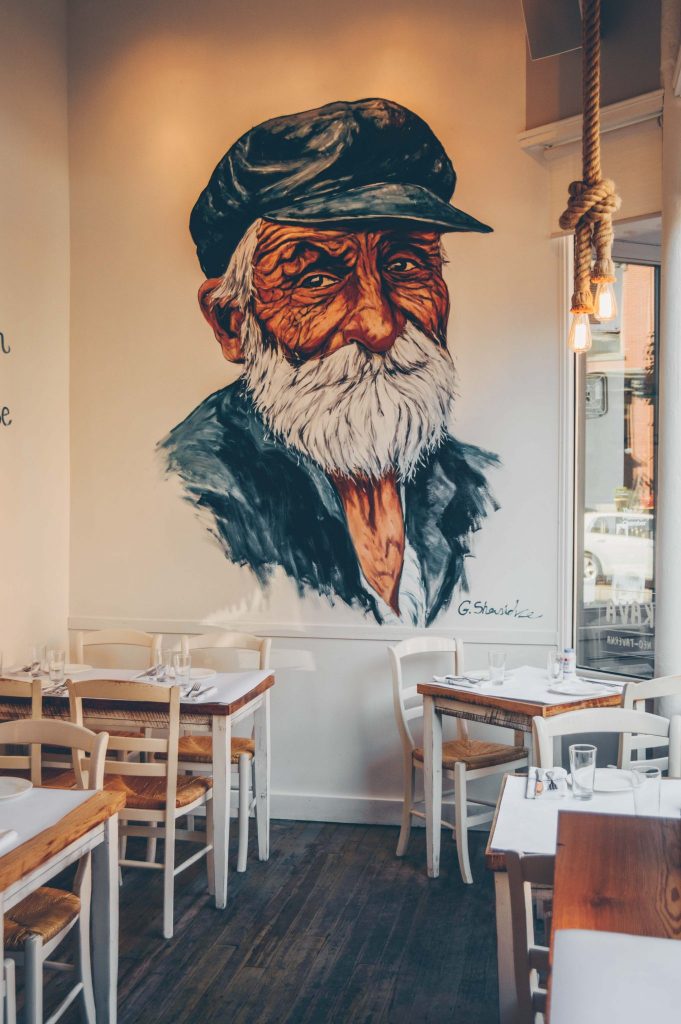 Greek Food at Kava Neo-Taverna, Boston, MA
The problem with this delicious meal is that I took no photos of it, so you'll have to take my word. It was a quick late night dinner in Boston, completely unplanned, which is why I didn't have a camera with me. And boy, did I regret it after the first bite! The menu consists mainly of small shareable plates. Feta psiti — feta cheese wrapped in phylo dough, soaked in honey and sprinkled with sesame seeds — was my personal favorite. Close behind were gemista — bell peppers stuffed with rice, zucchini, eggplant, and herbs, and pork souvlaki — marinated grilled skewers. 
The next day I was in the South End, where the restaurant is located, again, so I popped over and took the picture of the space. The food at Kava is as good as the design is beautiful.
Kava Neo-Taverna — 315 Shawmut Ave, Boston, MA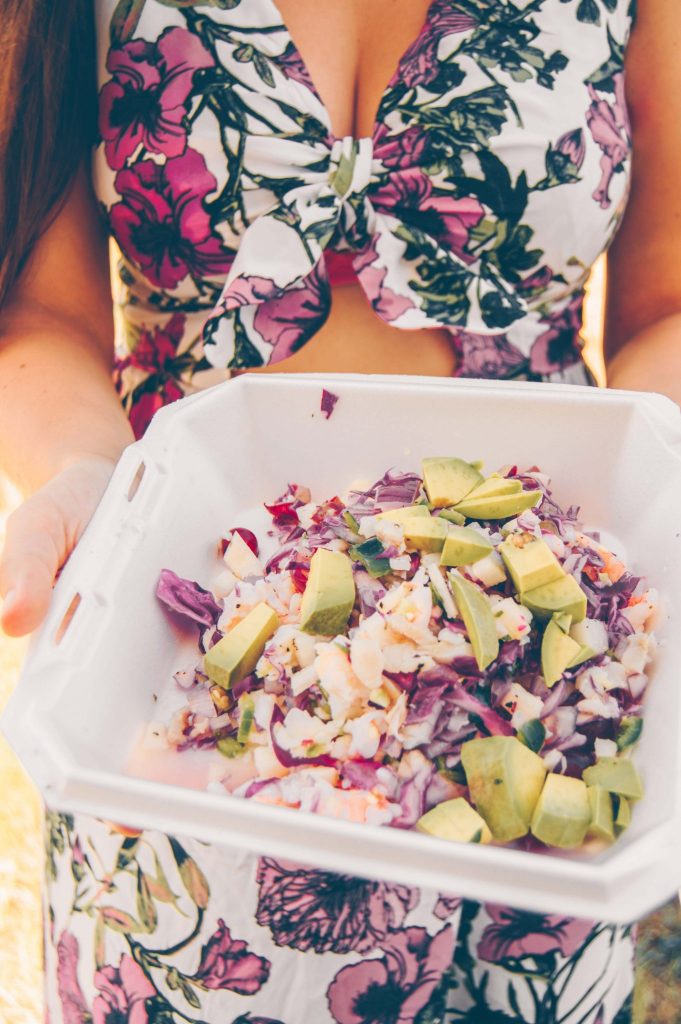 Custom Ceviche at Ceviche Ceviche, South Padre Island, TX
My summer trip to South Padre Island in Texas is also known as the taco trip. After a thorough research, I made a map of the best tacos in state to try on the way to the island and back. There was one exception from the "tacos only" rule, and it was Ceviche Ceviche. The fish and shrimp used at this local joint come straight from the Gulf of Mexico. You can  top off the pieces of fresh fish and shrimp with the most unimaginable ingredients like cantaloupe, orange, or cucumber. Mine was a combination of avocado, purple cabbage, and grapes. Also, I didn't plan for ceviche to match my dress. Just so you know. 
Ceviche Ceviche — 1004 Padre Blvd H1, South Padre Island, TX
Contemporary Sri Lankan Food at Kaema Sutra, Colombo, Sri Lanka
This meal wasn't a surprise. I knew it was going to be good because it's one of my favorite restaurants in Colombo. Sri Lankan food, elevated. I know a lot of locals who refuse to eat here because the idea of upscale Sri Lankan cuisine seems absurd to them and the prices are higher than in other restaurants serving local dishes. While usually I consider advice from locals to be the most trustworthy, in this case, I have to say: don't listen to locals, go there and try the food for yourself. Dharshan Munidasa, the chef at Kaema Sutra, takes Sri Lankan cuisine to a whole new level.
My personal favorites are Euro hopper — a local pancake with crispy edges, a dollop of yougurt inside, drizzled with olive oil; kottu; and sweet hopper served with strawberries, cream, and kithul syrup. 
Kaema Sutra — Shangri-La Hotel, 1, Galle Face, Colombo, Sri Lanka
Breakfast Taco at Juan in a Million, Austin, TX
Don Juan El Taco Grande is somewhat of a legend in Austin. Many a friend told me this enormous breakfast taco got them through college years and especially college parties. No wonder Juan in a Million was named one of the Best Hangover Eats in Austin by Eater. It also made the list of Top 50 Breakfast Tacos in the U.S. by Business Insider. 
Although my first visit didn't include late Sunday morning and a headache, "the secret combination of potato, egg, bacon and cheese in a deliciously hot tortilla" made for a satisfying lunch. Don Juan taco is grande indeed! It comes with additional tortillas because it's physically impossible to pick it up and stuff it in one's mouth. Instead, you have to transfer parts of the filling into extra tortillas which makes one taco easily enough for two starving people or even three moderately hungry people. And it's only $5.65! 
Juan in a Million — 2300 E Cesar Chavez St, Austin, TX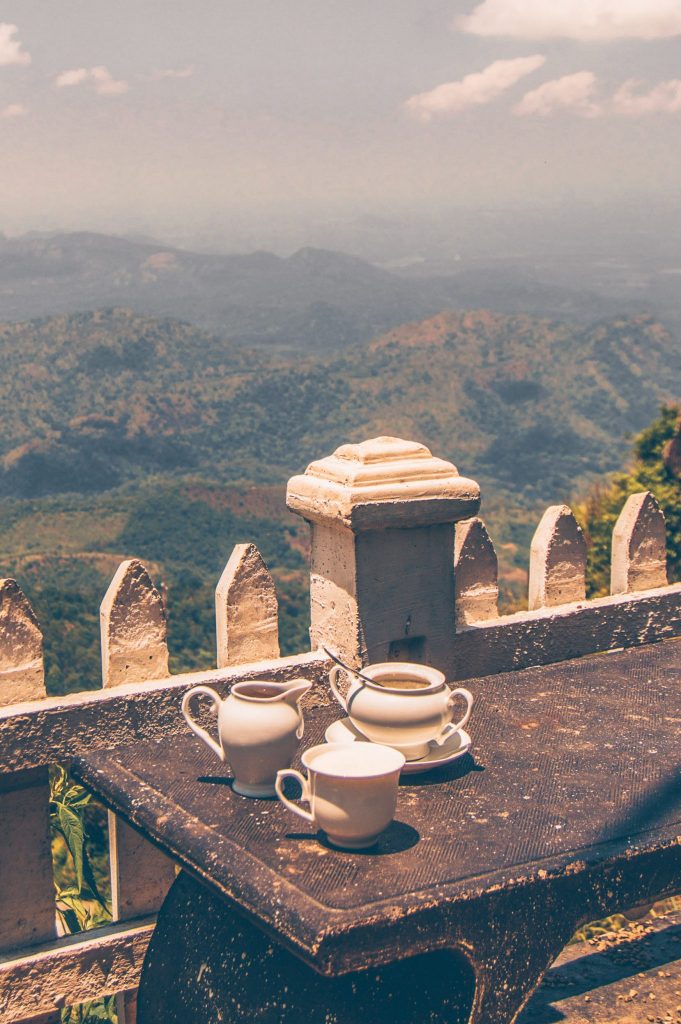 Kiri Kahata in the Hill Country, Sri Lanka
Just to make it clear, this is not a view from the garden at a five star hotel. In fact, this is the only place on the list that doesn't have an address, because it's a small roadside shop in the hill country of Sri Lanka. 
On the way from Nuwara Eliya to Colombo, I have stopped at a little shop serving lavariya and kiri kahata. While lavariya, a Sri Lankan sweet treat made of noodles and jaggery, was familiar to me, kiri kahata was a complete mystery.
You know how when drinking black tea some people add a little bit of milk to it? Kiri kahata is the exact opposite. You are given a cup full of fresh steaming hot milk and a teapot with very strong black tea. Add a few drops of tea into the cup with milk, mix in a little sugar, and enjoy the magnificent views of Lankan mountains!
Tip: there's no address, but if you are driving through the hill country in Sri Lanka, you'll see small shop set up by the main road. Stop by and have a cup of steaming hot kiri kahata.
* * *
In my Best Meals of 2016 post I have mentioned that in 2017 I would love to have a meal at a Michelin-starred restaurant (which came true, but surprisingly didn't make the cut), try fatty brisket at Franklin BBQ (which came true and made the cut) and devour Neapolitan pizza in Napoli (didn't come true, but I am sure would have made the cut). 
I am starting to think the blog has some power in making my wishes come true. So in 2018 I hope to eat at one of the Top 50 Best Restaurants in the World. White Rabbit in Moscow (#23) would be a great start. I would like to have a meal in a castle — whatever that means, I don't know myself. Slowly eating my way through Italy is a life-long dream of mine. But honestly, as long as I get to share fresh local food with the people I love, I am a happy girl. 
What were the best meals you've had in 2017?