When two unlikely things come together, it usually leads to beautiful results. Just try to search for unlikely animal friendships on Youtube and not awwww at the videos of a chimpanzee hugging a baby-tiger. Or rewatch the first Step Up… Chaning Tatum was so young and still single and did backflips at the car park wearing a tank top… ok, I am getting carried away. The point is he was a street-dancer and she was a ballerina and who would have thought they'd fall in love and create an awesome dance in the end of the movie? What an unimaginable twist! Long story short, in the spirit of mixing up the unexpected I brought together Russian and Sri Lankan cuisines to create a perfect breakfast item.
It was at the highway rest stop on the way to one of Sri Lanka's pristine beaches that the idea came to me. We stopped to have some coffee and snacks. Neither the former, nor the latter were particularly inspiring. Rest-stop-material, you know. Until my father-in-law brought Sri Lankan pani pol pancakes. Sweetened coconut the color of burnt sugar was rolled inside a thick yellow pancake.
The pani pol pancakes reminded me of Maslenitsa that was running full speed in Russia that week. During Maslenitsa Russians celebrate the end of winter for a whole week with games, dances, fights (scheduled, wall-on-wall, no-particular-reason type of fights) and pancakes. Let it sink in: the winter in Russia is so bad we celebrate the end of it for a whole week. A pancake, or blin in Russian, symbolizes sun and the start of spring and warm weather.
I was in the middle of telling my parents-in-law all about the custom of burning a doll representing winter at the end of the festival (again: how bad is winter in Russia that we have to burn a symbolic doll when it ends) when it dawned on me: I should make some blini and stuff them with pani pol.
Not an eye-opener, not a tremendous discovery, I know. Pancakes filled with pani pol were already in front of me on the table. But the idea of hot Russian blini with soft center and crispy edges stuffed to the brim with sweet coconut was irrisistable. "We should make it on a weekend!" I turned to my mother-in-law. "I make blini, you make pani pol" I continued in a true spirit of division of labour.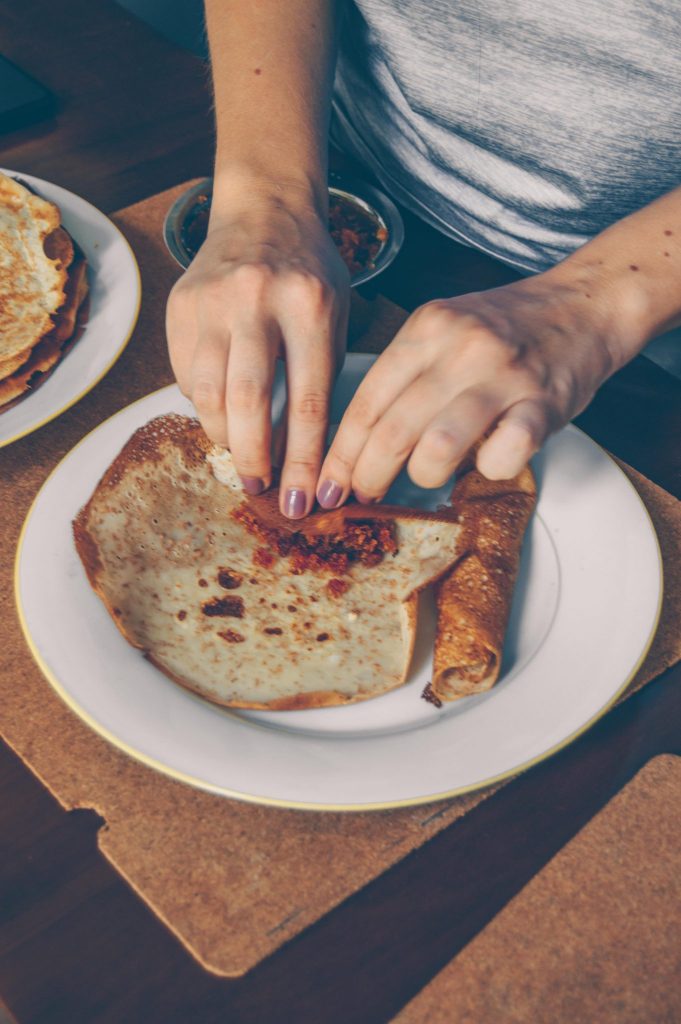 It was one of those things I just knew would work. There was no other way. It had to. And it did.  My mother-in-law and I stood at the stove on a Saturday morning, me flipping blini on two pans at once, her caramelizing sugar and mixing in freshly grated coconut. I think of those blini now as a perfect end of my Sri Lankan winter. When you spend three months under burning sun surrounded by palm trees instead of braving the cold and snow, it makes perfect sense to stuff Russian pancakes with coconut instead of, say, caviar. For every blin I stuffed with pani pol and rolled up I put another one straight into my mouth, doubling down the total amount of pancakes left for the family. I was celebrating the end of a tropical winter, give me a break!
Pani Pol Blini
Traditional Russian blini (pancakes) with Sri Lankan pani pol (sweet coconut) filling
Ingredients
For Pani Pol
1/2

fresh coconut

(or 1 cup frozen grated coconut flesh)

2

tbsp

sugar

1

cup

kithul treacle

1/4

cup

water

2

clove buds

2

cardamom buds
For Blini Dough
1

cup

wheat flour

(130 g)

1/2

tsp

baking powder

1

pinch

salt

1

tsp

sugar

1

cup

milk

1

cup

water

2

eggs
Instructions
For Pani Pol:
Break a coconut and grate 1/2 of coconut flesh. Ok, I know how it sounds if you don't live in Asia! If there's no way to find a fresh coconut in your country, try searching for frozen grated coconut in supermarkets (in isles with Asian food) or in Indian stores. If you are using frozen grated coconut, thaw it, measure 1.5 cup and set aside.

Add 2 tbsp of sugar to a pan with heavy bottom and place over low heat. Wait until it caramelizes. You don't have to touch it or mix it. Just let it be and watch sugar melt first, then turn golden brown in color. Make sure it doesn't burn as it can happen very quickly. Caramelized sugar will give pani pol its dark brown color.

Add kithul treacle (see notes) to caramelized sugar slowly and stir until combined. Let it stay over low heat for a minute. Then add water and mix again.

Add grated coconut flesh to the mixture and mix well with kithul treacle. Add clove and cardamom to add aroma.

Leave the mixture over low heat for about 5 minutes stirring occasionally to make sure it doesn't stick to the bottom. Keep over low heat until the liquid evaporates and you have a moist mixture of coconut left. Remove cardamom and clove buds.
For Blini:
Sift flour (see notes) and baking powder into a bowl. Add sugar and salt and mix together.


Add water and milk and mix well using a whisk.



Add eggs and continue whisking. The mixture should be runny. If you insert a spoon the dough should coat the surface of the spoon.

Place a pan over medium heat and grease it with butter.


When the pan is hot use a ladle to pour the dough into the pan. 1/3 of a ladle should be enough to cover the surface of the pan. Hold a ladle with your left hand and the pan with the right one. When the dough touches the hot surface of the pan start moving your right hand in circular motions to make sure the dough spreads all over the pan. Place the pan back on the stove and wait for about a minute till the dough becomes golden brown on the bottom (see notes).

Flip the dough with a spatula and fry for another 30 sec.


Repeat with the rest of the dough.


While blini are still hot, fill each blin with pani pol and roll up.
Recipe Notes
You can replace half the amount of white flour in the recipe for whole wheat, kurakkan, rice flour, or pretty much any other type of flour to make it healthier or add a different flavor.
When pouring the dough on a hot pan, try to use as little of the dough as possible and really spread the dough around instead of adding more to cover the surface of the pan. This will help to make blini thinner. It will also create extremely thin and crispy edges.
Kithul pani (or kithul treacle) is a sap of kithul tree that is a very popular natural sweetener in Sri Lanka. It's liquid and in consistency reminds of bee honey. Sri Lankan pani pol is traditionally made with kithul treacle, but if you don't have access to it, increase the amount of caramelized sugar. Kithul treacle has a vey distinct flavor. Without it pani pol will taste different, but still good.
Pin for later: