This recipe for buckwheat pumpkin pancakes is not the first gluten-free recipe on my blog. It is, however, the first gluten-free recipe in which I openly admit that it is gluten-free on purpose, because I am gluten-free. I hope that's not too confusing, but if you are new here: I have been known (or, rather, I like to think of myself) as an adventurous eater up until a few months ago I turned to a gluten-free diet because of health reasons. I wrote about the switch here.
I want to think that instead of restricting myself I am opening a world of opportunities. Everyone has made pancakes with wheat flour. But have you made pancakes with buckwheat flour? What about a mix of buckwheat and almond flours? Are you thinking right this moment that I am lying to myself? I may very well be. Don't shatter my illusions. These buckwheat pumpkin pancakes are still freakishly good. And that is not a testament to my recipe developing skills, but to those of Anna Jones, from whom this recipe is adapted.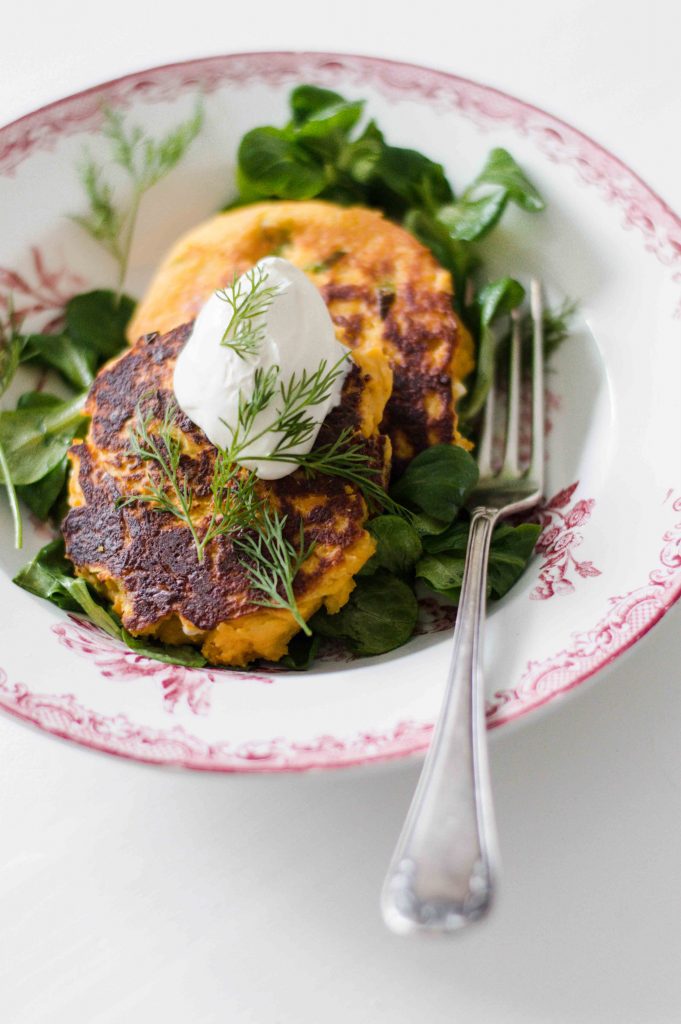 Buckwheat Pumpkin Pancakes: Original vs Adaptation
Here's the original recipe — I replaced wheat flour with buckwheat to make it gluten-free. I have also tried a mix of buckwheat and almond flours (50/50), which worked well, but almond flour being pricey this variation is reserved for special occasions.
Ricotta can be replaced with tvorog (Russian-style cottage cheese, also known as farmer's cheese). I make it at home on a weekly basis which is why the tvorog version of these pancakes is a lot more common in my house.
Anna Jones also suggests to separate egg yolks from egg whites and whisk the whites to stiff peaks before incorporating them into the batter. This way the pancakes will get extra fluffy. I usually find it a great technique for gluten-free pancakes, but lately taking an extra step in the recipe and cleaning an extra bowl afterwards has been a bit too much for me. I add eggs to the batter without separating them — the pancakes still turn out tall and soft.
I also use sunflower oil instead of butter, since its smoke point is higher: 232°C for sunflower oil vs 150°C for butter. More importantly, I just love the smell.
Lastly, Anna Jones suggests to serve the pancakes over rocket leaves with a little bit of herb oil. I much prefer sour cream and dill — that's the Russian in me. Actually, if you think of it, all of the changes I did to the original recipe are somehow there to Russian-nize it. Buckwheat, tvorog, sunflower oil, sour cream, dill — sounds like home to me.
I call these buckwheat pumpkin pancakes oladushki, the Russian word for small fluffy pancakes. If you want to make actual Russian oladushki (kefir-based pancakes) or apple oladushki I've got you covered too.
A Few Tips for Making Buckwheat Pumpkin Pancakes
I know most recipes for pumpkin pancakes call for tin pumpkin puree, but I prefer baking a pumpkin. First of all, pumpkin puree is not readily available in supermarkets in Germany, where I live now. Second, it's winter and we are not spoiled with vegetables so squash is my go-to when I shop at the market. Third, it's so easy to bake a pumpkin!
To bake a pumpkin, preheat the oven to 200°C (390°F). Wash the pumpkin, cut it in half and remove the seeds. Place the halves on a baking tray, spread olive oil over and stick the tray into the oven. Bake until the flesh is soft and you can insert a knife easily. When done, let the pumpkin cool and scrape the flesh out with a spoon.
I use a 26 cm (10 inches) cast iron pan for these (and any other) pancakes. The pan should be well-seasoned. Make sure you heat it up really well before adding oil and then heat up the oil before you add pancake batter. This way you will avoid pancakes sticking to the bottom. You can use a non-stick pan too, of course.
Low and slow is the way to go when it comes to frying. Low heat plus patience results in pancakes that are golden brown and cooked through.
These pancakes are more of a lunch or dinner affair for me: they are filling served over salad and are on the savory side rather than sweet. But I don't see why you couldn't serve them with honey or maple syrup, as long as you hold off on adding spring onions, parsley and black pepper to the batter. Sour cream is still highly recommended. Honey and sour cream are one of the most satisfying combinations on pancakes. 
Yield: 8 pancakes
Buckwheat Pumpkin Pancakes
Gluten-free pancakes made with buckwheat flour and pumpkin. Perfect for lunch or dinner, served over a simpe salad.
Ingredients
For the batter
200 grams (1 cup) baked Hokkaido pumpkin flesh
175 grams (1 cup minus 1 tablespoon) ricotta or tvorog
2 eggs
100 grams (2/3 cup) buckwheat flour
1 teaspoon baking powder
1/2 teaspoon salt
2 spring onions, chopped
1 small bunch parsley, stems removed, chopped
Grated zest of half a lemon
A good grind of black pepper
For frying:
For serving
Greens dressed with simple vinaigrette 
Sour cream
Dill
Instructions
With a fork, mash baked pumpkin flesh into puree. Add ricotta, eggs, buckwheat flour, baking powder, spring onions, parsley, lemon zest, salt and pepper. Mix to get uniform batter.

Place a cast-iron pan over medium low heat. Let it heat up well, then add sunflower oil. When the oil is hot, add a heaped tablespoon of the batter into the oil and flatten it into a round. Repeat to the rest of the batter. I make two batches, 4 pancakes each on my 26 cm (10 inches) cast iron pan.

Fry the pancakes for about 2-3 minutes. They should be golden brown on the bottom and the sides should start to get cooked through. Flip them, and fry for another 2 minutes.

Serve over green salad dressed with simple vinaigrette. A tea spoon of sour cream and dill on top will make for an even prettier presentation, not to mention the taste.
Pin for later