If ever there was a decadent dessert shamelessly hiding behind the cover of a snack — and a heatlhy-ish one at that — that would be Russian syrok (plural: syrki). If you know, you know. If you don't, let me try to describe it to you.
Syrok is like a cheesecake bar, only instead of cream cheese it's made with tvorog (Russian-style cottage cheese). Tvorog is considered a healthy food, so by extension syrok must be healthy too. Or that's what I tell myself, despite the fact that syrok has added butter, sugar, a sweet filling like jam or caramel, and is glazed with chocolate.
Small size — just a few bites — makes syrok a perfect afternoon snack. Back when I lived in Russia and had a corporate job, I would buy a cup of yogurt and a syrok almost daily. At 4 pm, the lunch was long gone and the dinner — a far-off prospect, preceded by a few hours in the office and a long commute home by bus. A sweet bar pretending to be nutritious was the perfect pick-me-up to continue with the day and feel good about my "healthy" choices.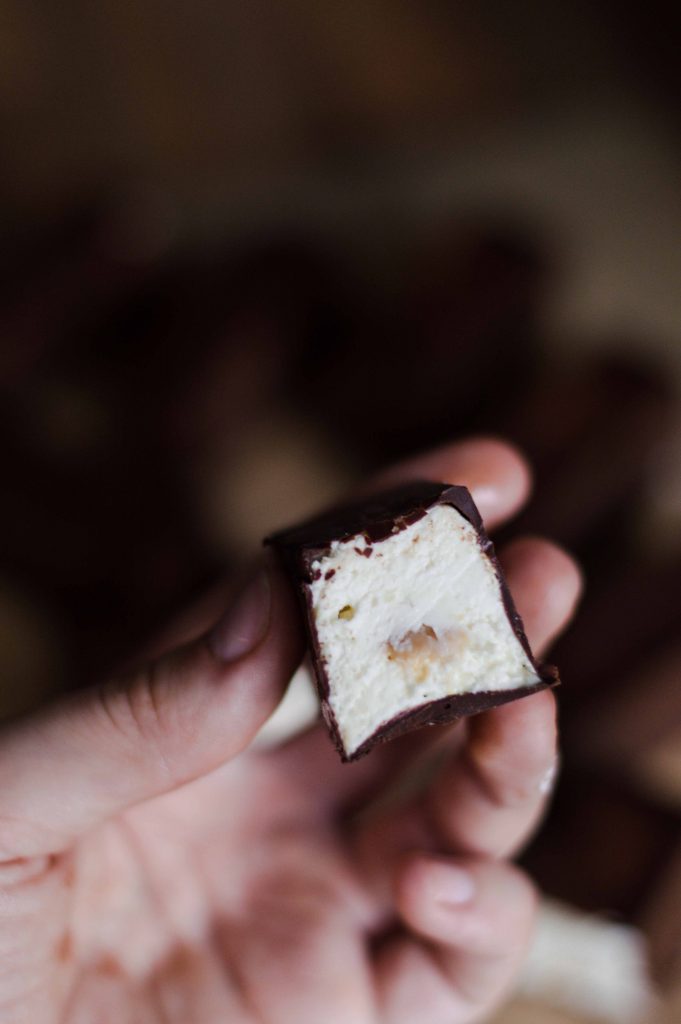 The thing about syrok is that you don't make it. The shelves of Russian supermarkets are filled with every variety imaginable: glazed and unglazed, filled with apricots or raisins, layered with strawberry jam or dulce de leche. It never occurred to me that one could — even theoretically — make syrok at home. But then again it never occurred to me to prepare tvorog from scratch while I lived in Russia and now I do it weekly.
The Russian grocery store in Nuremberg, where I live now, carries two or three brands of syrok, each of which has a dozen additives like soy lecithin, natural and artificial flavors, and emulators, so I set out to make my own.
A Few Notes on Ingredients for Syrok
Tvorog for syrki can be either homemade or store-bought. Although making tvorog takes a few days, the process is incredibly easy and requires very little effort on your part. Here's my recipe. You will be rewarded with the silkiest, softest cottage cheese you've ever tasted. Store-bought tvorog works great in this recipe too. However, as it is usually rather dry and crumbly, you'll need to push it through a sieve first.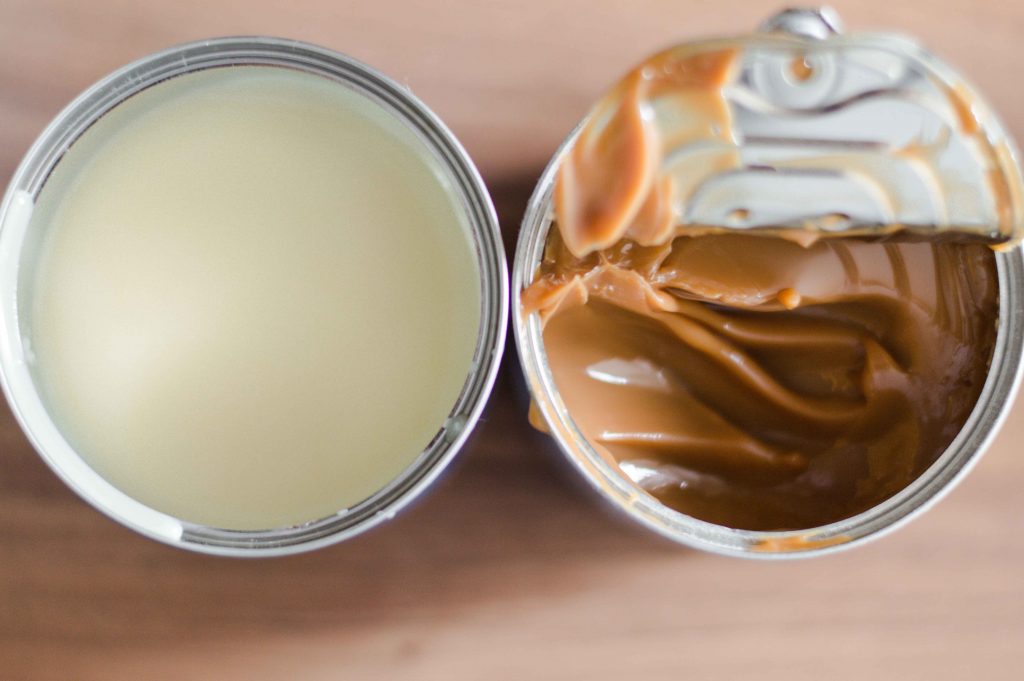 The filling is dulce de leche, or as it is called in Russian varenaya sgushenka. You can find varenaya sgushenka in Russian or Eastern European grocery stores or you can make your own. Place a tin of sweetened condensed milk into a large pot. Cover completely with water and bring to a boil. Reduce the heat to low and simmer for 3 hours. Make sure that the tin is covered by water at all times. I don't want to scare you, but if the water boils out, the tin will explode. Otherwise, it's easy-peasy-lemon-squeezy.
Once you have the tvorog mixture ready, there are two ways to shape syrki: using a pastry bag or a silicone mold. In the recipe below, I use a silicone mold, so I am going to give detailed instructions for how to use a pastry bag here.
Making Syrok with a Pastry Bag
This was my first preference, because I didn't want to buy a piece of equipment — a silicone mold — for just one recipe. And while I don't own a pastry bag either, it is easily replaced with a plastic bag. Fill it with the tvorog mixture, tie the open end, then cut off the tip of the corner. Pipe out bars that are about 8 cm (3 inches) long and 3 cm (1 inch) thick onto a cutting board or a small tray. Place the tray in the freezer for two hours, or until syrki are completely set.
Meanwhile, prepare the chocolate glaze by melting dark chocolate over water bath and adding some butter. Pour the chocolate into a tall glass.
Take out a few syrki at a time, insert a toothpick lengthwise through the center of each and dip them into hot chocolate. Do it fast and precise — the chocolate will set quickly. Don't take all of syrki out of the freezer at the same time because they thaw quickly and start sliding off the toothpicks.
There are several downsides to this method. First of all, you can't add the filling into the center. But plain syrki are still pretty amazing. It's all about the cheese, really.
Second, you'd have to use at least twice more chocolate because you need to have a full glass of melted chocolate for easy dipping. Otherwise, as the chocolate runs out, it will be trickier and messier to cover each syrok well.
Third, I don't know about you, but my piping skills are not on point. On the first try, I ended up with delicious, but rather hideous and mismatched bars. This would be the least of my worries, if I didn't have to post the pictures here.
Making Syrok With a Silicone Mold
I ended up buying a silicone mold, which made my syrki look very much like they are from supermarket. This video was helpful in figuring out how to give syrki their classic rectangular shape (it is in Russian, but you can get an idea of the process, nevertheless). My silicone mold is designed for 12 rectangular bars (7.9 x 2.8 x 3 cm/ 3x1x1 inches), but you can use any silicone mold you have.
When all fails, you can always just use your hands and form balls!
Yield: 12
Chocolate-Glazed Syrok with Dulce de Leche
Russian syrok is like a cheesecake bar, only made of tvorog. These syrki are stuffed with dulce de leche and glazed with chocolate.
Additional Time
2 hours
10 minutes
Total Time
2 hours
40 minutes
Ingredients
For the batter
450 grams (1 pound) homemade or store-bought tvorog 
100 grams (7 tablespoons) butter, softened
70 grams (1/4 cup) sweetened condensed milk (sgushenka)
Grated zest of 1 large lemon
For chocolate glaze
200 grams (7 ounces) dark chocolate (70%)
20 grams (1.5 tablespoons) butter 
For the filling
100 grams (1/3 cup) dulce de leche (varenaya sgushenka)
Instructions
Prepare the batter

If you are using store-bought tvorog — push it through a sieve to get uniform texture without crumbles first. If using homemade tvorog, omit this step.

Combine tvorog, butter, sweetened condensed milk, and lemon zest in a large bowl. With an immersion blender, blitz the ingredients together for about a minute, until you get a smooth paste.
Prepare the chocolate glaze

Break chocolate bars into smaller pieces and place in a bowl. Set the bowl over a pan with boiling water — make sure the bowl is not touching the boiling water. Let the chocolate melt, stirring it occasionally. Add butter and mix it into melted chocolate.
Prepare the filling

Fill a small pastry bag (or use a plastic bag with one corner cut off) with dulce de leche. You will only use half the amount, but it's easier to pipe when you have some extra.

Assemble syrki

Using a pastry brush, cover the sides and the bottom of silicone molds with melted chocolate. Place the molds in the freezer for 5 minutes, or until chocolate is set. Take the molds out and apply a second layer of chocolate, making sure there are no holes or missing spots. Place in the freezer again for 5 minutes.

Using a teaspoon, fill the molds with tvorog mixture half way. Make a depression lengthwise in each bar for the filing. Pipe dulce de leche into each depression. Then fill the other half of the mold with tvorog mixture.

Using a palette knife, spread melted chocolate on top of the tvorog. Place the molds in the freezer for at least 2 hours.
Take the molds out and release syrki carefully.
Store them in the refrigerator in a container or individually wrapped in foil. Put them in the freezer for longer storage. When you need a snack, thaw them in the fridge for about an hour.
Pin for later