There is a handful of memories that connect all the kids who went to a Russian kindergarten, no matter whether they grew up in the Urals, Siberia, or the Far East. Some of those memories are rather gross: lumpy semolina porridge, for example. Or a glass of warm milk with a sticky film on top. Why couldn't the cooks across the country remove and discard the film that forms as you heat up milk? It always ended up in some poor child's glass. But there are some good memories too, like tvorozhnaya zapekanka. 
Zapekanka is essentially Russian for "tray bake". It can be sweet or savory, made with cabbage or potatoes. But more often than not, when one says zapekanka, they refer to tvorozhnaya zapekanka (творожная запеканка), or a farmer's cheese cake, in case you don't want to struggle through terrifying Russian spelling. Although you can call it a cake, it is typically served for breakfast, like many dishes made with tvorog.
Tvorog, referred to in the West as farmer's cheese or cottage cheese, is one of the crucial ingredients in Russian cuisine. Unlike American-style cottage cheese, Russian tvorog is a lot fattier — up to 15% fat in tvorog vs 4% in cottage cheese — and dryer as the whey is pressed out rather than just drained off.
You can find tvorog in Eastern European grocery stores or make it yourself — I promise it's a lot easier than it sounds. All you need is milk, buttermilk and a little bit of time.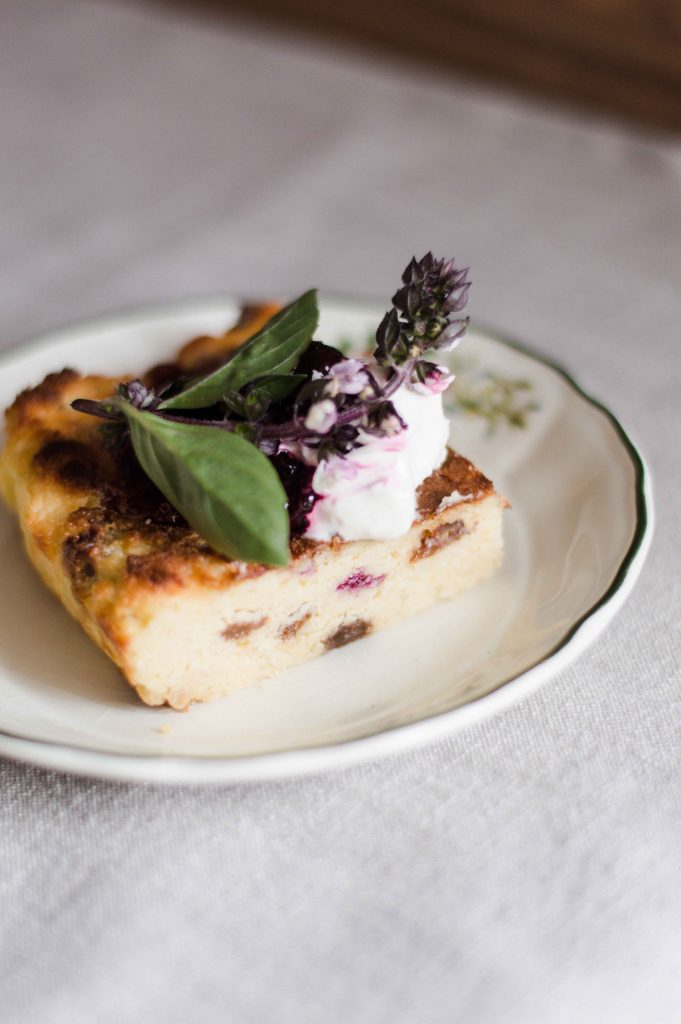 Fresh tvorog with a teaspoon of sour cream and jam each is the perfect breakfast, for me that is. But if I have a little more time on my hands, I might just cook it. And that's where zapekanka steps in.
It's a one bowl affair and the batter comes together fast. The only time-consuming step in this recipe is that, if you are using store-bought tvorog, you'll need to push it through a sieve. Store-bought tvorog is often dryer and crumblier than the homemade one, so zapekanka will also turn out crumbly. Homemade tvorog, on the other hand, is just perfect and ready to go.
I use egg yolks instead of whole eggs for batter. They provide all the creaminess and fattiness I need without giving zapekanka an omelette-y texture. Took me a while to figure it out, but third time was the charm.
I also swapped semolina that is used in classic zapekanka recipe for almond flour. Two birds with one shot: the cake has a nutty undertone and is gluten-free.
As for the sauce, honeyberries (zhimolost/жимолость) are common during summer months in Russia which is why I thought they'd work beautifully in this recipe. And they did, especially paired with Thai basil. While the latter has nothing to do with Russian cuisine, it gives the sauce a nice anise aftertaste.
A Few Tips on Making Zapekanka
You'll need slightly more store-bought tvorog than homemade one, because you'll loose some when pushing it through a sieve. You can do it the night before and refrigerate to save time in the morning. If using homemade tvorog, you are good to go, skip the first step in the recipe.
If you want to make a classic zapekanka, substitute semolina for almond flour.
Soak raisins in hot black tea for added flavor. Place 1 heaped teaspoon of black tea into a cup and pour 250 ml (1 cup) boiling water over. Cover and let steep for 5 minutes. Strain the tea to remove any particles and put the washed raisins inside. Let the raisins soak in tea and puff up for about 15 minutes. Strain the raisins.
I use a 23x14x4.5 cm (9×5.5×1.8 inches) baking dish. If you use a dish of a different size, just remember that zapekanka is rather flat, only about 2.5 cm (1 inch) tall.
Zapekanka should be golden brown on top. If it starts turning brown too quickly, cover the baking dish with foil.
I know honeyberries and Thai basil are not the most common ingredients, so if you can't get your hands on them, you can serve zapekanka with any berry sauce, berry jam or — the most traditional way of all — with sweetened condensed milk.
Yield: 6-8 slices
Zapekanka with Honeyberry and Thai Basil Sauce
Russian-style farmer's cheese cake served with a simple sauce of honeyberries and Thai basil. Not overly sweet, this cake is more of a healthy-ish breakfast than dessert.
Ingredients
For zapekanka
600 grams (2.5 cups plus 1 tablespoon) store-bought tvorog/ or 550 grams (2.5 cups minus 1 tablespoon) homemade tvorog
60 grams (4 tablespoons) butter, softened
80 grams (1/3 cup plus 1 tablespoon) caster sugar
3 large egg yolks
Zest of 1 large organic lemon
1/2 teaspoon salt
50 grams (1/3 cup) raisins, soaked in hot black tea (see tips in the body of the post)
60 grams (1/2 cup) almond flour, divided
For honeyberry and Thai basil sauce
130 grams (1 cup) honeyberries
12 grams (1 tablespoon) caster sugar
10 grams (2 stems) Thai basil
To serve
Instructions
Make zapekanka

Preheat the oven to 180°C (350°F). Butter a 23x14x4.5 cm (9x5.5x1.8 inches) baking dish and line it with baking paper.

If using store-bought tvorog, push it through a sieve to break up all the crumbles and get uniform texture. After sieving you should have 550 grams (2.5 cups minus 1 tablespoon). If using homemade tvorog, skip this step.

In a bowl, beat the butter and sugar together with a hand mixer for about 1.5 minutes. Add the tvorog, egg yolks, lemon zest, and salt and mix again until you get a uniform batter, for about 1 minute.

Mix raisins with 10 grams (1 tablespoon) of almond flour. Make sure every raisin has a flour coat (how fancy of raisins to have coats!). This way the raisins will spread in the batter evenly. Put raisins and the remaining almond flour into the batter and mix to incorporate.

Transfer the batter from the bowl to the baking dish and smooth it out with a spatula. The batter will be quite thick. Place the baking dish in the middle of the oven and bake for 40 minutes, until the top is set and golden brown in color.

Once ready, take the baking dish out of the oven and let zapekanka cool down slightly.

Make honeyberry and Thai basil sauce

Break up one Thai basil stem into leaves and flowers and keep them for decoration. Remove the leaves from the other stem — we'll use them to flavor the sauce.

Place a sauce pan over medium heat and add honeyberries and sugar. Let the sugar melt and break about half the berries with a wooden spoon while mixing the sauce. Keep it over heat for 2 minutes, then add Thai basil leaves and cook for another 1 minute.

Serve zapekanka

Cut zapekanka into squares while it's still warm. Serve on individual plates topped with sour cream, some honeyberry sauce, and a Thai basil leaf or flower on top for decoration.
Pin for later