When it comes to the famous Russian cabbage soup, the first thing you need to learn is how to pronounce it. Shchi. What nonsense, right? The "shch" combination looks terrifying even to me, and I am Russian. In Kachka: a Return to Russian Cooking, Bonnie Frumkin Morales spells it as "shci", while Anya von Bremzen points out in her Please to the table: the Russian Cookbook that Lewis Carroll in his Journal of a Tour in Russia referred to the soup as "shtshee", which is the next level of crazy.
You see, in my native tongue the name of the soup is simple. It's щи. Two letters. But since there's no sound in English similar to the Russian "щ", it has to be written in this complicated manner. The trick is to merge the sounds "sh" and "ch" into one, not pronounce them one after the other. Another way to think of "щ" is a softer version of "sh". I hope you give it a try, but proper pronunciation is, of course, not compulsory in order to enjoy this soup.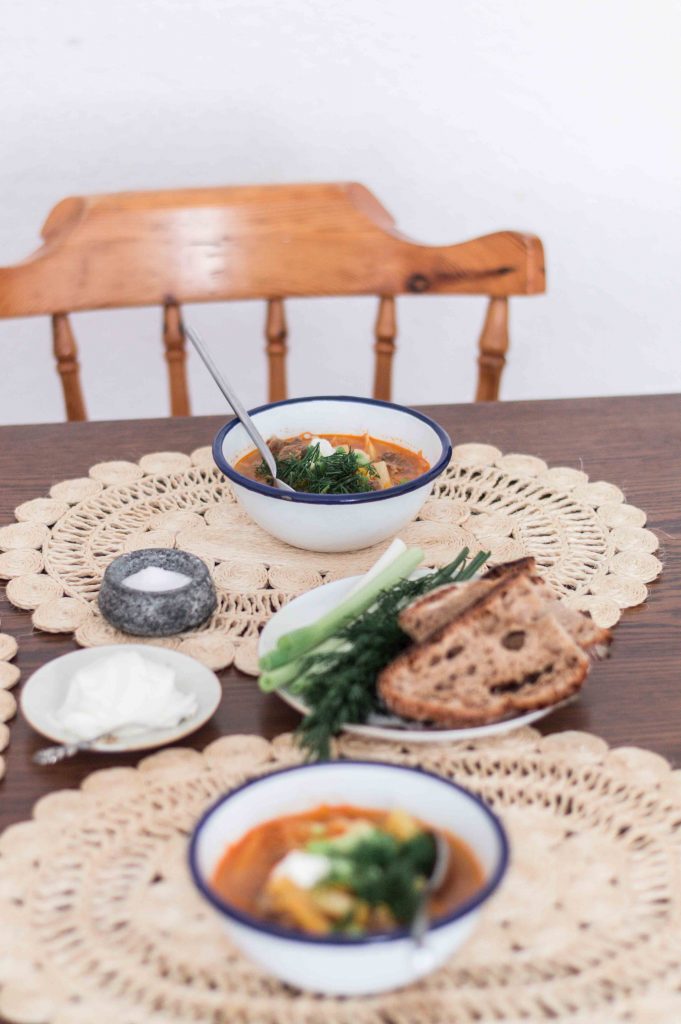 I've been making shchi a lot this winter. The choice of vegetables at the market might not be particularly exciting during the cold months, but one can always rely on cabbage and potato. I've been making shchi the way I know how. It's a rather simple affair. Or so it seemed until I sat down to write this piece and thought it would be amusing to look into how other people make it.
Three Types of Shchi
Let's start with the fact that there is more than one version of shchi. There are, perhaps, hundreds, if you talk about family recipes. But in a broader perspective, one could distinguish three major types: sour shchi with sauerkraut, lazy shchi with fresh cabbage, and green shchi with fresh greens.
The distinctive ingredient of sour shchi is sauerkraut that is added to the broth at the last stage. However, historically, the cooking process was more complicated. Darra Goldstein in her book Beyond the North Wind shares a recipe for 24-hour shchi (sutochniye shchi) that she adapted from Maksim Syrnikov's Russian Home Cooking.
The method includes braising sauerkraut first — given that you already have prepared sauerkraut — then freezing it for 24 hours. Afterwards, you thaw it and simmer in beef broth. I bet, you never imagined sauerkraut can undergo so many manipulations. I sure did not.
Now you understand why the version of shchi with fresh cabbage is called lazy. It signals the lack of time and womanpower to ferment cabbage beforehand, as Goldstein describes it. However, there's another simple reason for substituting fresh cabbage for sauerkraut: by late spring the stock of last year's fermented foods is over. Until the start of fall, when women begin to ferment foods for winter, fresh cabbage is all that's available.
Finally, green shchi is a spring-time soup made with nettle and sorrel.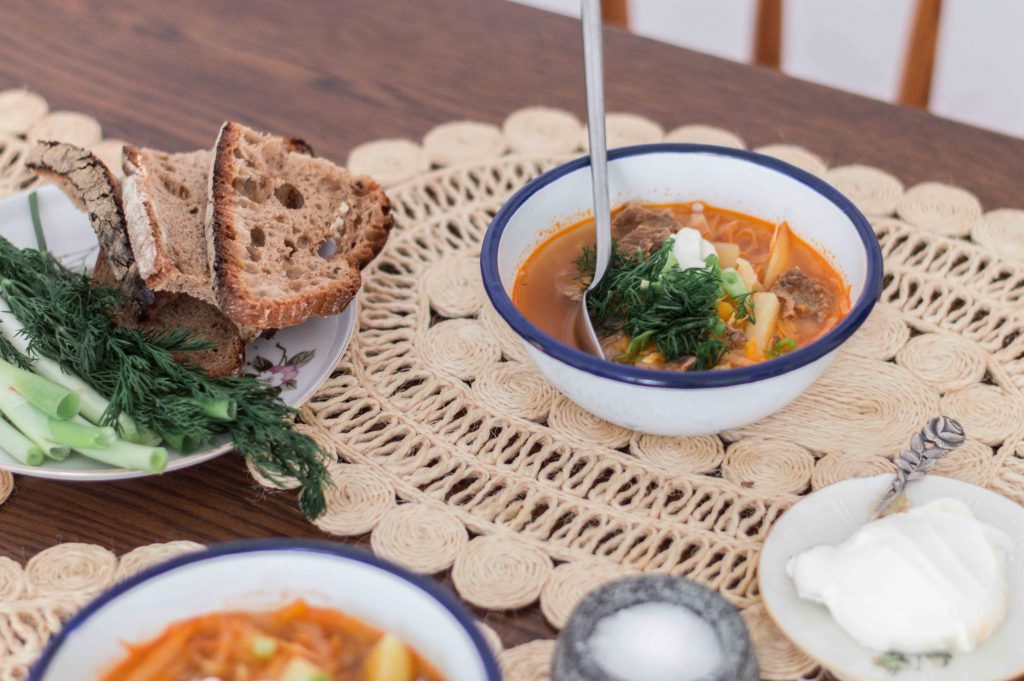 Shchi can also be rich or empty — prepared with or without meat. Beef, is probably the most popular variation. Goldstein suggests to use beef chuck roast for broth. Bonnie Frumkin Morales recommends pork ribs. Anya Von Bremzen makes shchi with beef brisket and marrow bones.
When asked which type of meat she uses for shchi, my mom replied with "any, whatever I have on hand". But then again, my mom is notorious for giving incredibly imprecise instructions.
Goldstein only uses beef and sauerkraut in her recipe, while Frumkin Morales adds dried mushrooms and potatoes (my mom and I are on board with potatoes). Von Bremzen makes an unexpected twist by including a purple turnip. Some people add tomatoes, but that only makes sense in summer, when they are in season.
What most people seem to agree on is obzharka — fried onions, carrots, garlic, parsley root and the like — that helps to build the flavor. Think of it as a kind of Russian sofrito.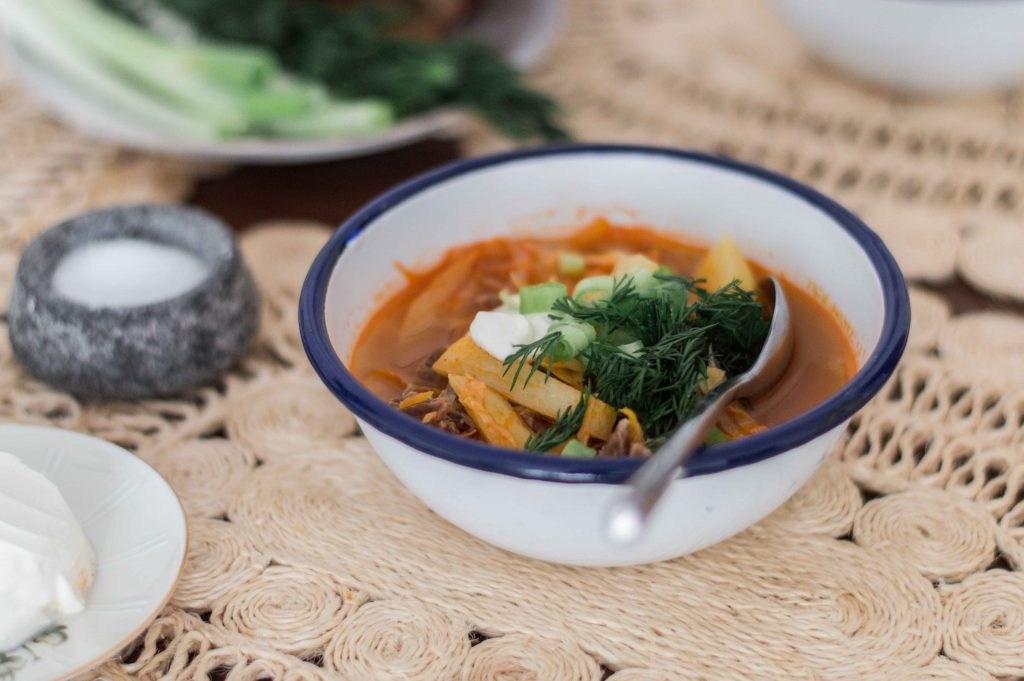 How to Make Lazy Shchi Even Lazier?
The recipe below is for lazy shchi with fresh cabbage. There are two ways to make it faster: cook the meat in a pressure cooker or omit it all together.
The first option, of course, requires a pressure cooker. The meat becomes fall-apart soft in about an hour instead of two and half hours it takes on the stove.
If you already have broth of any kind (chicken broth works well or use vegetable one for a fully vegan meal), then you can omit the meat — the soup will be ready as fast as the vegetables are cooked, which is about 30 minutes.
You can also make shchi over the course of two days: prepare the meat and broth on the first day (refrigerate both overnight), then make the soup on the second day.
In the end, as Bonnie Frumkin Morales puts it, "to really cook shchi like a Russian — to know its true soupy soul — you need less a recipe than a road map". And the road map looks like so: make the broth, add aromatics (such as bay leaf and black pepper corns), add base vegetables (cabbage and potato), add obzharka, serve with sour cream and lots of dill and spring onions.
Yield: serves 6
Lazy Shchi
A traditional Russian fresh cabbage soup
Additional Time
30 minutes
Total Time
3 hours
55 minutes
Ingredients
For the broth:
450 grams (1 pound) beef chuck
1 medium onion (60 grams), peeled
1 medium carrot (80 grams), peeled
1 stick celery (40 grams), trimmed
1/2 lemon
For the soup:
2 tablespoons sunflower oil
1 medium onion (60 grams), peeled and finely diced
1 medium carrot (80 grams), peeled and grated
1 tablespoon tomato paste
4 tablespoons tomato puree
1 large potato (280 grams), peeled and cut into batonnets (or cubes, if it's easier for you)
1/2 small cabbage (380 grams), finely shredded (use mandolin, if possible)
1 teaspoon salt
1 bay leaf
Sour cream for serving 
Spring onions, dill, parsley, finely chopped for serving
Instructions
Start with the broth: place the beef in a stock pot and cover with 2 liters (8 cups) cold water. Bring the broth to a boil and skim off any foam from the surface. Reduce the heat to low, add the onion, carrot, celery stick, and half a lemon and let it simmer for two and a half hours, until the meat is completely soft. Take the meat out and let it cool. Strain the broth —you should have about 950 ml (4 cups). When you can comfortably handle the meat, cut it into 1.5 cm (1/2 inch) cubes.
In a heavy-base pan, heat up two tablespoons of sunflower oil. Add the onions and carrots and fry over medium heat for about seven minutes, until soft. Add tomato paste and tomato sauce and cook for another minute. Put potatoes, cabbage, and beef into the pan, then pour the broth over. In case the broth doesn't cover the vegetables completely, add some water. Finally, add salt and bay leaf and let the soup simmer, partially covered, over low heat for thirty five minutes, until potato is soft when poked with a knife and cabbage still has a slight crunch. Switch off the heat and let shchi rest for another 30 minutes.
Serve with sour cream, spring onions, parsley, and dill.
Pin for later