It is common to lead with memories when talking about food. As the food we eat does not exist in vacuum, I like to give context to the dishes I suggest you prepare at your home. Having said that, my memories of svekolnik, a cold beet soup, are somewhat strange.
The first thing that comes to mind is a large stock pot of svekolnik in a bathtub filled with cold water. It is a flash of a memory, so I can only assume, there was no space in our little fridge, and mom had to get creative to cool the soup down. Svekolnik is always served cold, so the first tablespoon feels like jumping into a lake on a hot summer day.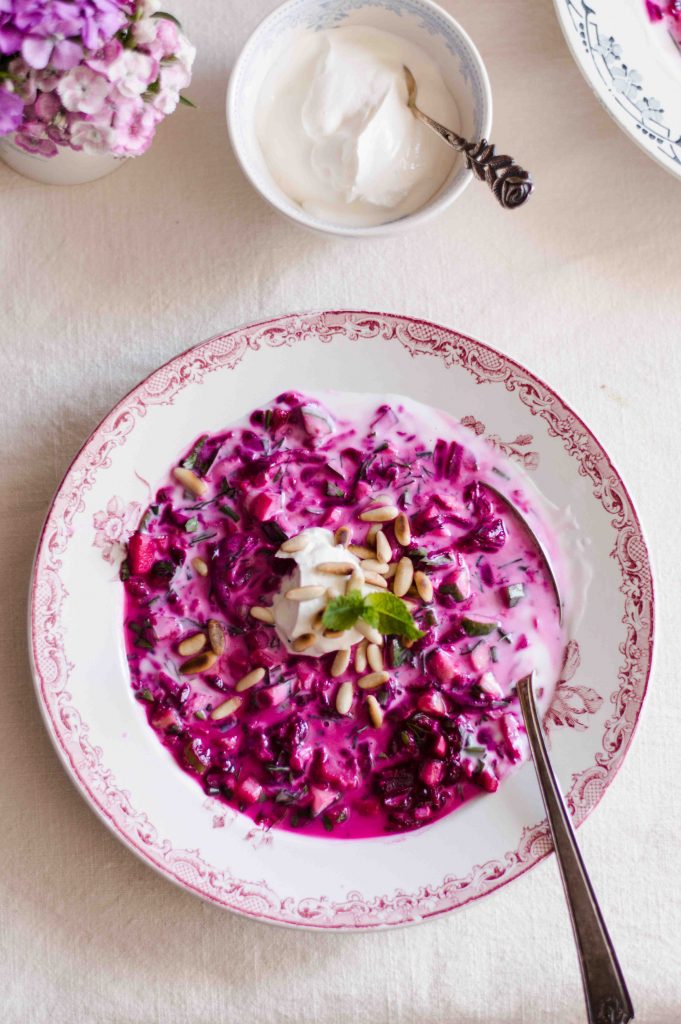 The other memory is not as strange as it is silly. It is summer — as it always is when it comes to svekolnik — and I am twelve. My friends and I are playing outside when someone has an epic idea of arranging a picnic in the backyard of our apartment building. Each one of us is to go home and bring some food. By "food" I mean fruits, sweets and drinks — what else might a bunch of preteens need?
The only problem is that between the decision to have a picnic and the picnic itself is only thirty minutes. I come home to find a pot of svekolnik in the kitchen and my mom sleeping. Having rummaged through the kitchen cabinets with no success, I wake her up and announce that I am taking svekolnik to the picnic. My mom is happy neither about being woken up, nor about me taking dinner somewhere, but gives up after endless badgering.
I pour a few ladlefuls of the soup into a jar and off I go. I make it down exactly one flight of stairs when the jar slips out of my hands and shatters on the floor, pieces of glass, beetroot, and egg flying in all directions, kefir pooling before my feet.
My mom wasn't going to waste any more of the precious svekolnik on my shenanigans, so I had to go empty-handed. I realize now it must have been the Universe saving me from the embarrassment of showing up at a picnic with a jar of beetroot soup.
And that is it: no memories of cooking svekolnik with my mother or eating it as a family; just the bathtub and the broken jar. Maybe it's better this way. Maybe that's what makes svekolnik special.
Svekolnik, Holodnik, Cold Borsch, or Simply Cold Beet Soup
I made svekolnik the other day and then spent three days trying to figure out what the difference between svekolnik, holodnik and cold borsch is since they look awfully similar to each other.
Cold borsch is rather easy: it is a way to simplify the name and avoid explanations since borsch is popular world-wide. It is, however, misleading because borsch is cooked in a different manner and were you to simply eat it cold, it wouldn't be a joyous event.
There are two major ways to prepare a cold beet soup: by boiling beetroot and using the beet-infused water as the base for soup or by using kefir as the base. The ingredients that constitute the body of the soup are the same for both: potatoes, eggs, radishes, cucumbers and lots of greens like chives, dill, and parsley.
My online research led me to believe that a soup made with beet-infused water is svekolnik and a soup with kefir base is holodnik. There was a discrepancy, though: my mom always made beet soup with kefir and called it svekolnik. So I dived into every book on Russian cooking I had at home.
Bonnie Frumkin Morales in her book Kachka. A Return to Russian Cooking prepares the soup by grating a raw beet and chopping up its leaves; she then boils everything and uses the resulting stock as the base. There's no kefir involved, however, she calls the soup cholodnik.
Alissa Timoshkina in her Salt and Time. Recipes from a Russian Kitchen also suggests to prepare a cold beet soup — which she calls svekolnik — by boiling the beets and its leaves to get an infused stock. However, where Bonnie Frumkin Morales leaves the cooked leaves and grated beets in the stock, Timoshkina suggests to strain the infusion and discard the vegetables. She also serves svekolnik with horseradish cream, which I thought was a fabulous idea.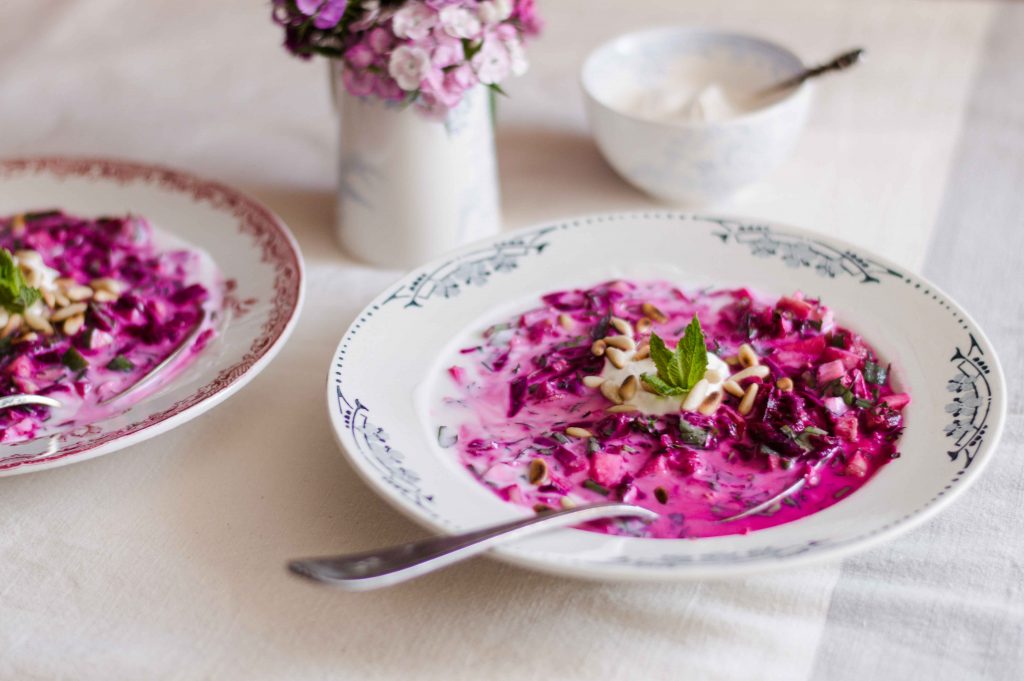 In Please to the Table: a Russian cookbook, Anya Von Bremzen refers to the beet soup as cold borscht and, just like Morales and Timoshkina, uses beet-infused stock as the base.
Darra Goldstein in Beyond the North Wind brings homemade beetroot kvas into play, which is made by fermenting beets for two weeks. She refers to the soup simply as summer beetroot soup.
But the most surprising of all was the recipe by Jennifer Eremeeva in the Moscow Times, in which she puts a modern spin on the Russian classic by adding pomegranate juice and blackberry jam to the soup for added sweetness. She calls the soup svekolnik and uses kefir (or buttermilk) as the base.
The only logical conclusion I could draw from this — limited, but still somewhat telling — research is that the name does not depend on the base of the soup. Rather, it depends on where you come from. In Russia, a cold beetroot soup is commonly called svekolnik, while in Ukraine, Belarus, Lithuania and some other Eastern-European countries holodnik is more popular.
The way I prepare svekolnik is with a little twist. Apart from the usual beets, potatoes, cucumbers, eggs and radishes, I throw in a diced apple for added sweetness and top the soup off with toasted pine nuts for a bit of a crunch. A mint leaf goes on top both for decoration purposes and to symbolize the freshness and coolness that svekolnik brings to the table. 
A Few Tips on Making Svekolnik
Boil the beets, potatoes and eggs a day ahead. This way the soup will come together in 10 minutes the next day.
The greens are not simply used as a decoration to top off the soup — they are an essential part of the dish, so go crazy! You can change the proportions of the greens to your liking.
If kefir is too thick mix some cold water in. Add a little at a time to achieve the consistency you like. I add 250 ml (1 cup) water to 1 liter (4 cups) kefir. Buttermilk can be substituted if you can't find kefir.
Refrigerate the soup before serving — it must be cool and refreshing.
Yield: serves 6
Svekolnik, Cold Beet Soup with Apple and Pine Nuts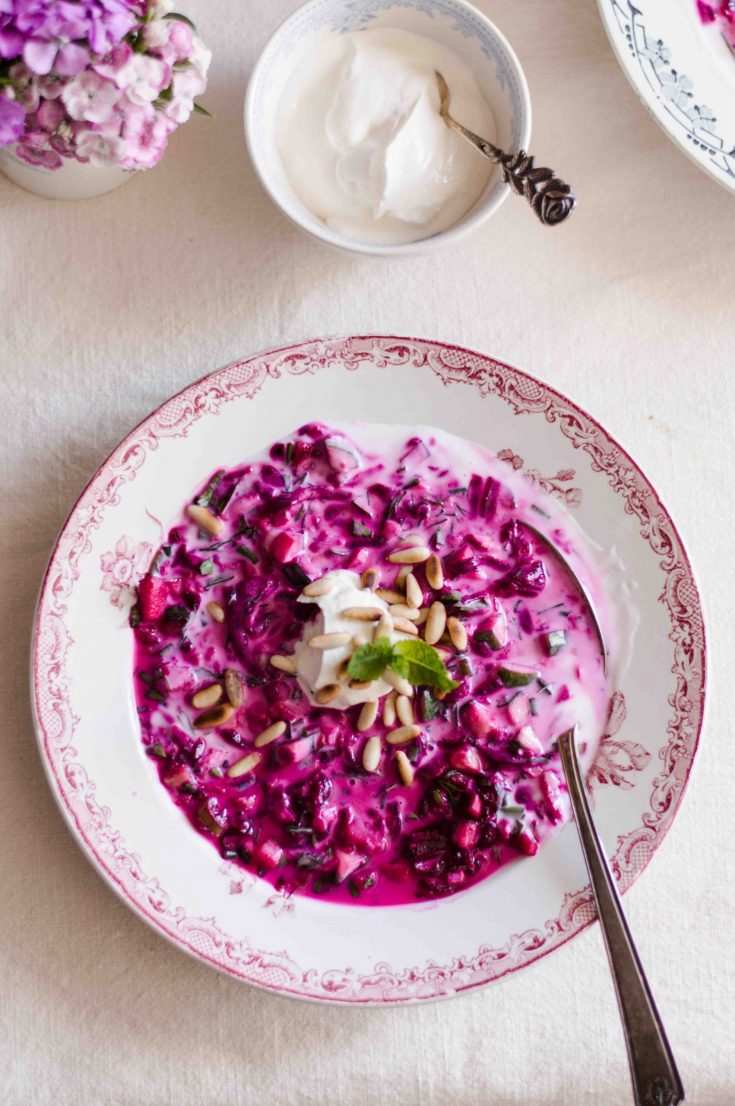 Svekolnik (also called holodnik or cold borsch) is a cold beet soup poular in Russia and many Eastern-European countires during hot summer months. My spin on svekolnik includes apples, pine nuts and mint leaves.
Total Time
1 hour
10 minutes
Ingredients
1 large beetroot (250 grams/1/2 pound), boiled and peeled
3 large eggs, boiled and peeled
4 medium radishes (130 grams/5 ounces)
2 medium potatoes (250 grams/1/2 pound), boiled and peeled
2 medium cucumbers (250 grams/1/2 pound)
1 medium sweet apple (180 grams/6 ounces), cored
40 grams/1.5 ounce dill, finely chopped
40 grams/1.5 ounce chives, finely chopped
40 grams/1.5 ounce spring onions, finely chopped
40 grams/1.5 ounce parsley, finely chopped
4 small cloves garlic, peeled and grated
1 teaspoon salt
A good grind of black pepper
1 liter (4 cups) kefir
Sour cream (to serve)
60 grams/2 ounces pine nuts, toasted (to serve)
Mint leaves (to serve)
Instructions
Grate the beetroot, eggs, and radishes on the large holes of a box grater. Dice the potatoes, cucumbers and apple. In a large bowl, mix together all the vegetables, eggs, and greens. Add the garlic, salt, and freshly ground black pepper. Taste and add salt, if needed.

Pour kefir into a pitcher. If kefir is too thick, add cold water a little at a time until you reach a consistency you like. I use 1:4 proportion: 250 ml (1 cup) water for 1 liter (4 cups) kefir.

Add a few tablespoons of the vegetable mix to each plate and pour the kefir mixture over. Top with sour cream, toasted pine nuts and mint leaves.
Nutrition Information:
Yield:
6
Serving Size:
1
Amount Per Serving:
Calories:

205
Total Fat:

10g
Saturated Fat:

2g
Trans Fat:

0g
Unsaturated Fat:

7g
Cholesterol:

94mg
Sodium:

410mg
Carbohydrates:

24g
Fiber:

4g
Sugar:

7g
Protein:

8g
Pin for later