I am not a working mom. I am a hobbying mom. MS Word keeps marking it red, so I guess, "hobbying" is not a word. I am a mom with a hobby, all right. What constitutes work, anyways? According to the IRS, in the U.S. one must dedicate a minimum of five hundred hours per year to a venture to call it a business, otherwise it's a hobby.
By this logic, taking care of my son is a full-scale business and running this blog is a mere hobby. Merriam-Webster — I am sorry, but I have to do this — defines "hobby" as "a pursuit outside one's regular occupation engaged in especially for relaxation". Once again: especially for relaxation. I have to say, my hobby is anything but. Case in point: testing and shooting the recipe for these eggplant rolls with tvorog the other day.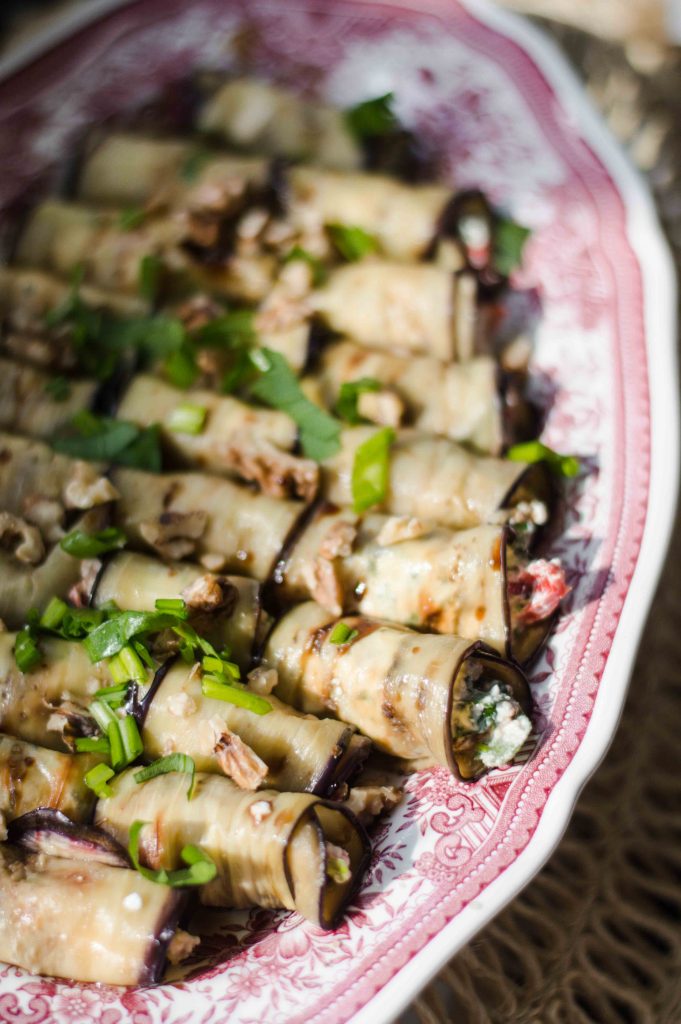 I thought they'd make for a great lunch, accompanied by roasted sweet potatoes. And they totally would and even kind of did, were it not for the fact that in the time it took to turn raw ingredients into a meal I gained a few grey hairs and a twitching eye.
The root of the problem lies in the paradox that cooking with a one-year-old is never a great idea, however a one-year-old must eat. So I rolled up my sleeves and started by thinly slicing eggplant on a mandolin. A mandolin has the power to make even the most amateur of cooks feel like a professional: fifteen neat uniform slices instead of six crooked ones were I to try cutting the eggplant by hand.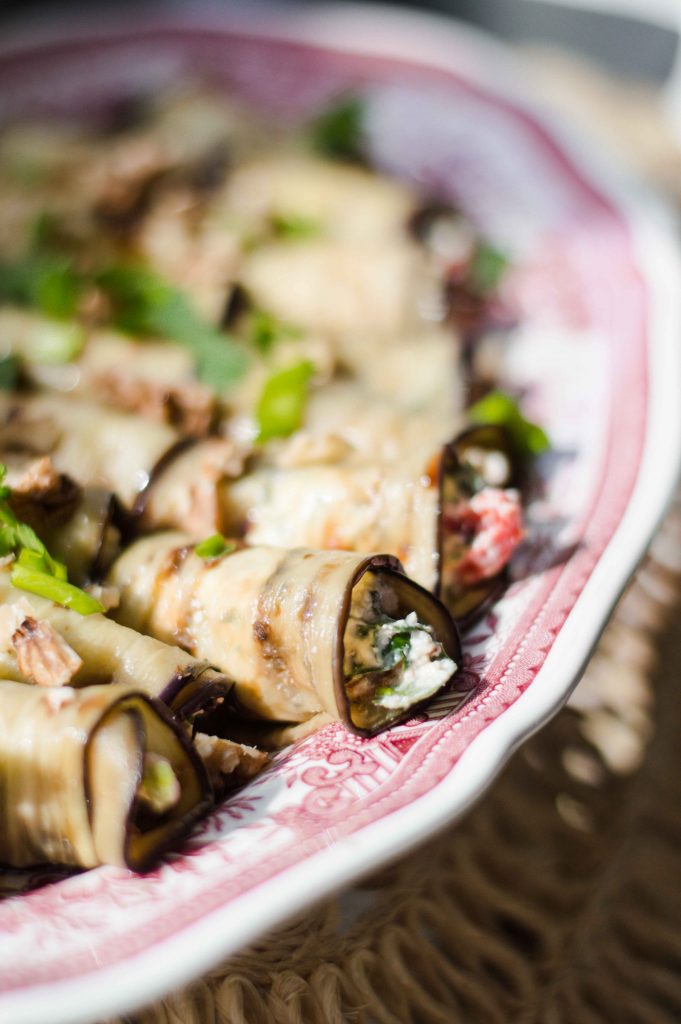 The reason mandolin is important — apart from making me look like a seasoned chef — is that eggplant rolls are served as zakuska and should be bite-sized. Zakuski is Russian for starters. When we gather at the table, the first round of food is always zakuski which, unlike appetizers, are shared by everyone.
Eggplant rolls have their roots in Georgia, where they go by the name nigvziani badrijani. I can only assume that in the XX century they made their way all across Soviet Union — with slight and not-so-slight modifications. The original recipe calls for walnut paste as a filling, but the version I am most familiar with features cheese and garlic. Besides, the eggplant for nigvziani badrijani is deep fried, while I chose the faster way of roasting mine.
Somewhere between weighing the tvorog, chopping the ramp, and attempting not to step on a ladle, an apple, or a cookie rack, that my son carefully arranged on the floor, I decided it was time to involve my husband. Why does he get to enjoy his time, while I am struggling? (by enjoying his time I mean he was working.)
I roasted one batch of eggplant and chopped walnuts in peace — a total of eleven minutes alone in the kitchen. Then my husband entered with our son in his hands and asked, how long it would take. He came back again five minutes later to ask if it was ready yet — he was hungry. And another five minutes later to announce he was about to start a conference call.
At that point, I was stuffing and rolling at the speed of the Energizer Bunny. One might think my hobby is selling joints, not developing recipes. One would be wrong: thirty bite-size eggplant rolls were snuggly arranged on a serving dish, scarlet droplets of pomegranate molasses shining on their roasted flesh.
I divided sweet potatoes between three plates — careful to put the unsalted ones for my son — accompanied by the least pretty eggplant rolls. I sent my husband back to his home office (aka the bedroom), mixed what I thought was unsalted potatoes with bulgur for my son and grabbed my own plate, only to realize the potatoes were bland. It's ok, I thought, I can have my son's bland potatoes. But my son thought differently and ate both mine and his portions.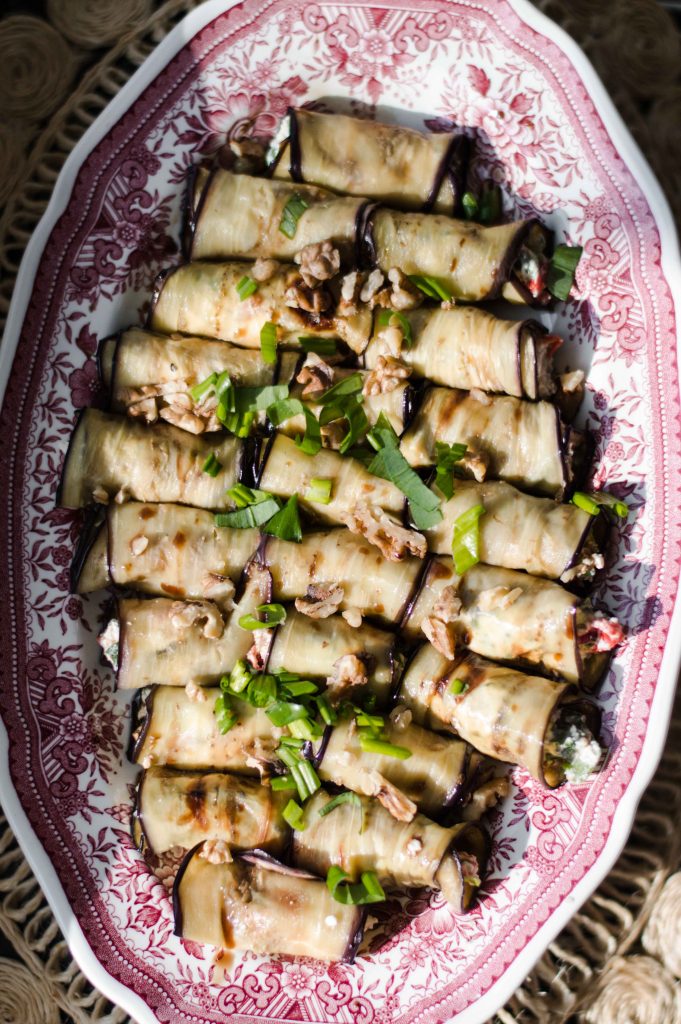 As having lunch seemed not to be in the stars for me, I picked up the camera and took a few photos of the eggplant rolls in the afternoon sun. Between the camera battery dying on me every ten minutes — I am still using my very first Nikon — and the sun disappearing behind the clouds every two, I managed two get a dozen shots.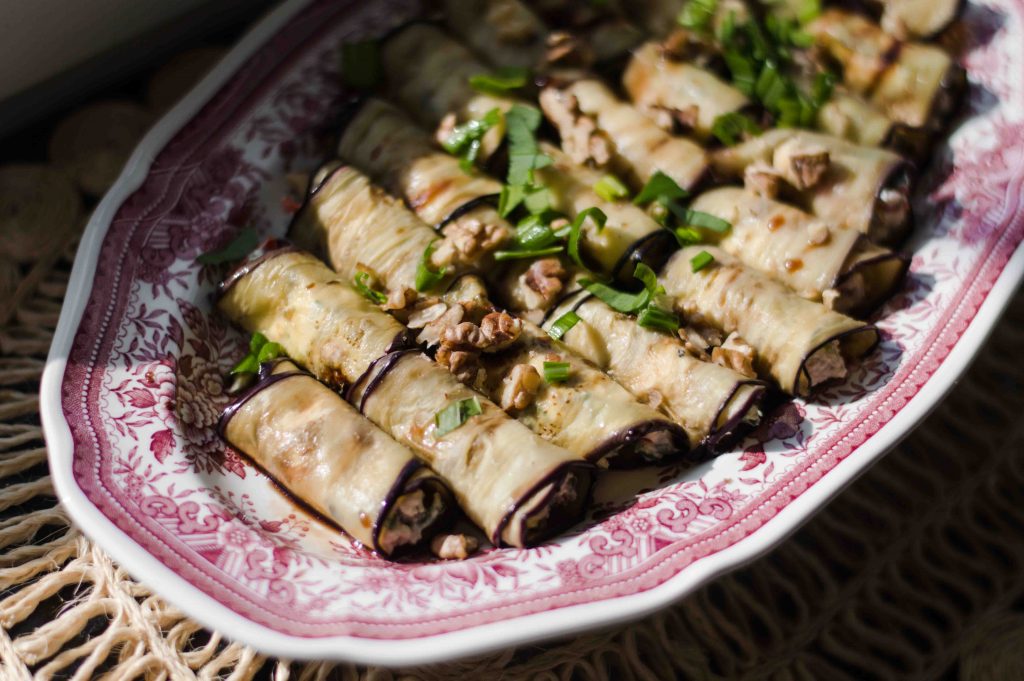 One of my readers recently wrote to me that she likes my aesthetic that feels so thought-through. I don't know, I said. From where I stand it feels like I constantly put our fires and catch myself thinking "I could do better, but this will have to do".
Such is the story of eggplant rolls with tvorog, walnuts and ramp. I could probably do a better job at styling and photographing, but will have to live with this. The taste, however, did not suffer. I ate a dozen rolls in place of the lunch I missed.
Yield: 30 rolls
Eggplant Rolls with Tvorog, Walnuts, and Ramp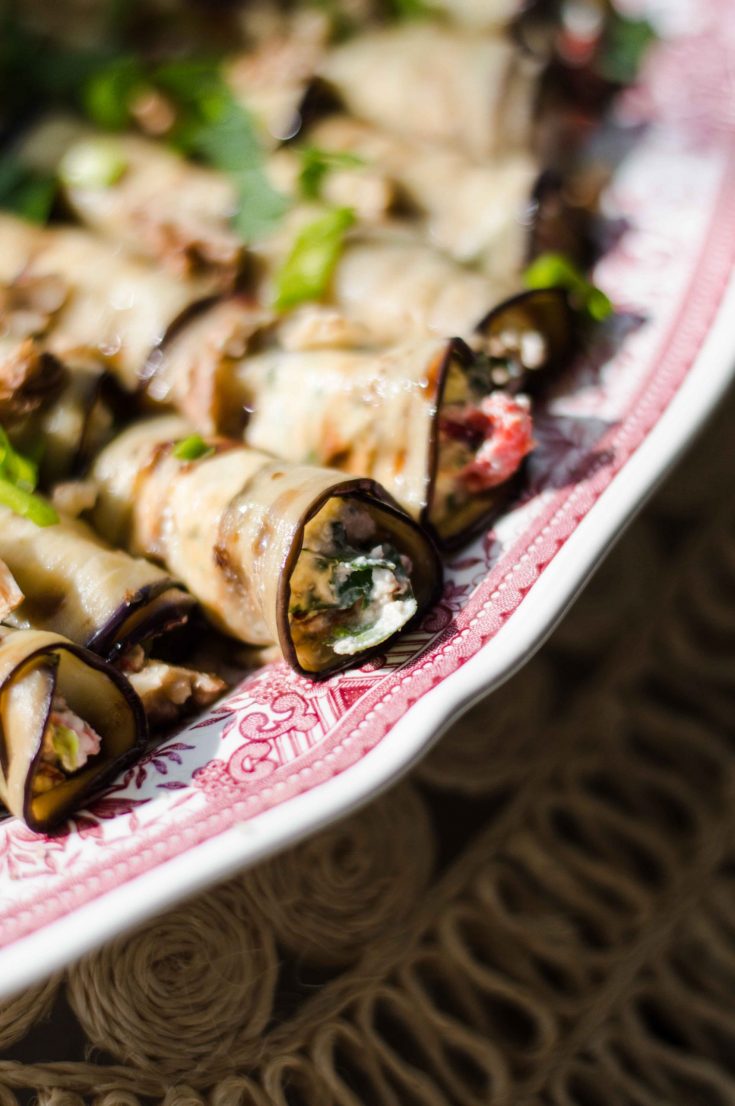 Georgia-inspired eggplant rolls with tvorog (Russian-style cottage cheese), walnuts, baked peppers and ramp. They are great as an appetizer or as a vegetarian side dish.
Additional Time
10 minutes
Ingredients
14 tablespoons (210 ml) extra virgin olive oil
2 sweet pointed peppers (230 grams)
2 medium eggplants (450 grams)
1 cup, firmly packed (180 grams) tvorog (Russian-style cottage cheese)*
4 tablespoons sour cream
1 big bunch (50 grams) ramp**, chopped
1/2 cup (50 grams) walnuts, chopped
Zest of half a lemon
1 tablespoon lemon juice
1/4 teaspoon salt for the filling + more to sprinkle on vegetables
A good grind of black pepper
1 tablespoon pomegranate molasses (optional)
Instructions
Preheat the oven to 220°C (425°F). Cut the peppers in half and remove the stem and the seeds. Arrange the halves on a baking tray, sprinkle with salt and pepper, and pour 2 tablespoons of extra virgin olive oil over. With your hands, massage the oil on the peppers (does this sounds too sensual?). Place the tray in the upper third of the oven and roast for 20 minutes, until the peppers are soft and the edges are blistered. Take the peppers out and reduce the heat to 200°C (390°F). Once peppers are cool, remove the skin and chop the flesh.
While the peppers are in the oven, prepare the eggplants. Cut one eggplant lengthwise into 3 mm slices (I get 15 slices). Mandolin is the best tool to do this quickly, but you can also use a very sharp knife.
Place the eggplant slices on a tray lined with baking paper. Pour 6 tablespoons of olive oil into a cup and brush each slice on both sides with olive oil. Sprinkle with salt and pepper lightly. Place the tray with eggplants in the middle of the oven and roast until the slices start to brown (for 11 minutes). Repeat the whole process with the second eggplant.
If you have any cut-offs or slices with holes in them, roast them too — you can use them later for salads or grain bowls.
Make the filling. In a bowl, combine tvorog with sour cream. Add ramp and walnuts, reserving a tablespoon of each for decoration. Add baked peppers, lemon zest and juice, salt and pepper and mix to get a smooth paste.
Assemble the rolls. Place a teaspoon of the filling on the short end of the eggplant slice and roll it up. Repeat to the rest of the slices and arrange the rolls snuggly on a serving dish. Pour pomegranate molasses over (if using) and sprinkle the reserved walnuts and ramp on top.
Notes
*You can find tvorog in Eastern-European grocery shops or make it yourself at home.
If you can't get your hands on ramp, 1 medium clove of garlic and a big bunch of parsley can be substituted for it.
Nutrition Information:
Yield:
10
Serving Size:
1
Amount Per Serving:
Calories:

231
Total Fat:

20g
Saturated Fat:

3g
Trans Fat:

0g
Unsaturated Fat:

16g
Cholesterol:

3mg
Sodium:

58mg
Carbohydrates:

14g
Fiber:

3g
Sugar:

6g
Protein:

1g