A hearty warming parsnip and lentil soup with mushrooms
inspired by Sri Lankan dhal curry.
I almost didn't post this recipe. You might think of a dozen legitimate reasons why: a lack of time, the soup didn't taste great, or I simply changed my mind. But only if you are a fellow food blogger would you be able to guess the actual reason: it is too hard to rank in Google for a lentil soup recipe.
So today, instead of sharing a heart-warming (not unlike this parsnip lentil soup with mushrooms) story about my granny making this soup during the cold winter months in Russia (she didn't), I thought I'll take you behind the scenes of blogging. What do you think?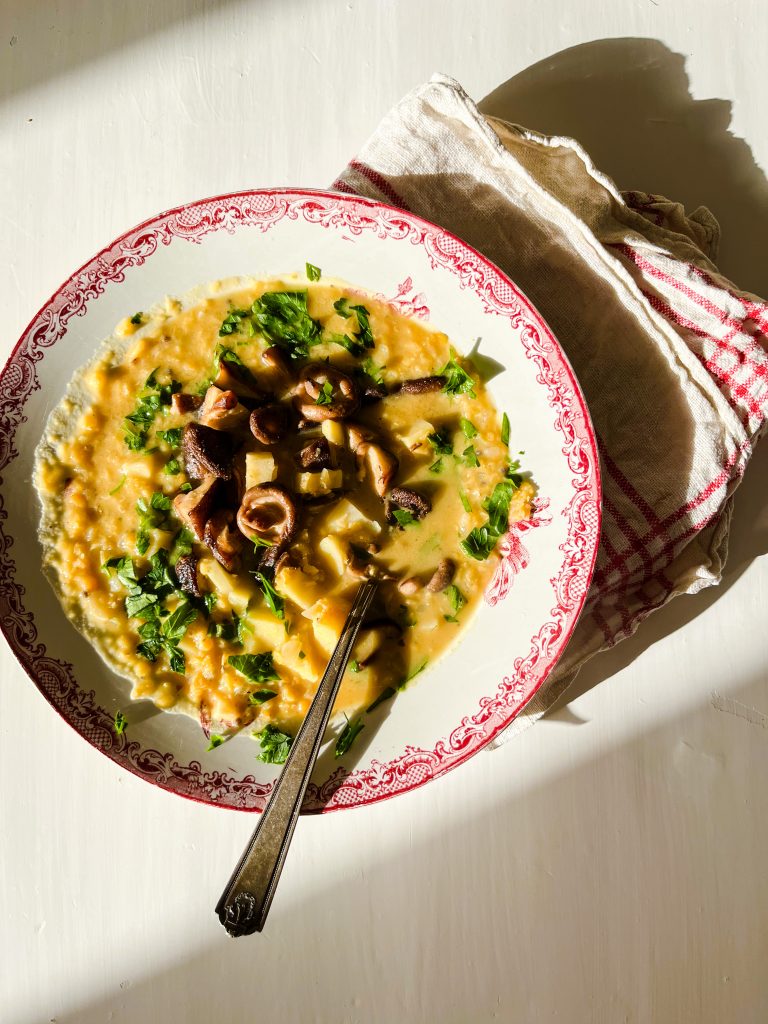 Have you ever seen those tweets (some by celebrities no less) about how every recipe on the Internet starts with a story of a blogger's grandma and why should I read about your grandma, just tell me how to make the damn soup?
This is one of the most annoying comments for any food blogger, right up there with "I have made ten different changes to your recipe, but for some reason it didn't work. Your recipe sucks."
There are many reasons why blog posts start with grandma stories (that is to say personal stories in general), the main being — because I want to. This blog is my creative space, in which I invest all of my free time and quite a bit of money too. So if I want to write about my grandma's hate of cooking or balancing work with having a baby before providing a free foolproof recipe of vatrushki or eggplant rolls respectively, I will do just that. 
Imagine coming to someone's house and asking for a cup of tea, but when the host starts telling you about their day over the said cup, you reply with: "Would you just shut up? I don't want to hear about your day, can I just have my tea?" It's like that.
But if this reason is not compelling enough, there are actually many more logical and pragmatic ones. The main one is called Google. You see, the recipes you find on the first page of Google when searching for, well I don't know, a parsnip lentil soup with mushrooms, for example, are not there by accident. Google has a few dozen requirements for the blog post to rank high, but even were I to tick off every single one of them on my list, I am still not guaranteed a coveted spot in the top ten.
One of the requirements is the post being long enough. An ingredient list and a method simply don't have enough characters to satisfy Google, which is part of the reason bloggers have to be chatty.
Another requirement is having the name of the recipe, a.k.a. the keyword, mentioned x amount of times in the text. So if I want to write something more inspiring than: "Today I made a parsnip lentil soup with mushrooms. My parsnip lentil soup with mushrooms tasted really good. Here's my recipe for parsnip lentil soup with mushrooms" I have to come up with a longer story.
Without boring you too much with technicalities, I'll just say that were it not for grandma stories, the recipe wouldn't make it to the first page of Google and you would never even see it.
In the spirit of full disclosure, I have to mention one selfish reason for writing long stories and that is money. The way many bloggers earn is through advertisement. The more paragraphs — the more space for ad blocks. Simple as that.
Yesterday was another cold rainy gray day in Hamburg, so I have made a hearty parsnip lentil soup from the scraps of ingredients I had lying in my fridge for ages. My husband was out working, my son was taking a nap. I sat at the dinner table with a bowl of soup and my laptop and ate while watching Harry Potter. Midway, as if by magic, sun came out, illuminating the whole scene.
It may have been the sun or the rare opportunity to eat in peace, but that bowl of soup was the highlight of my day: warm, creamy, with a hint of fennel, chewy spiced mushrooms, and a bunch of parsley on top. My immediate thought was: "It's so incredibly good, I must share the recipe!"
My second thought was: "I will never be able to rank for a lentil soup so why bother?" Just to clarify: if you are not on the first page of Google, your recipe is as good as invisible, meaning no one will find it, read it or cook it, meaning you will not earn a cent, meaning you just spent five to six hours (minimum) required to test a recipe, write the text, edit the pictures, format the blog post, and proof read it in vain.
I googled "lentil soup" just to confirm that I would have to compete against BBC and Food Network. Then I ran "parsnip lentil soup" through my keyword research program (an example of where my money goes when it comes to blogging) — still quite a bit of competition. Then I tried "parsnip lentil soup with mushrooms" and bingo! Much easier to rank for this keyword, only one problem — no one's searching for that.
Exhausted by debating myself, I've finally decided to publish the recipe if only for my long-time readers. If you have come here from Google, it is possible that a little miracle has happened and this blog post is ranking for one of the keywords. In that case, do rate the recipe and leave a comment, it will help my permanent struggle to convince Google my blog is good enough.
Tips on Making Parsnip and Lentil Soup with Mushrooms
This soup is largely inspired by Sri Lankan dhal curry, Sri Lanka being the country where I first tried a lentil curry (or any curry for that matter). A trick I learned from my mother-in-law is to cook lentils in water until almost ready and add coconut milk at the last stage. The soup will still be rich and creamy, but with a bit less fat.
If you have Sri Lankan unroasted curry powder, it is most welcome in this recipe. It is not on the ingredient list because I've never been able to buy it outside of Sri Lanka. The curry powder one can get in the U.S or in Germany, where I live now, is a completely different mix of spices. Don't use that.
Fresh curry leaves are another amazing addition, unfortunately, almost as hard to find as curry powder. But if you are lucky enough, do add a few leaves when you are frying the fennel and mustard seeds.
Yield: 2 large servings
Parsnip and Lentil Soup with Mushrooms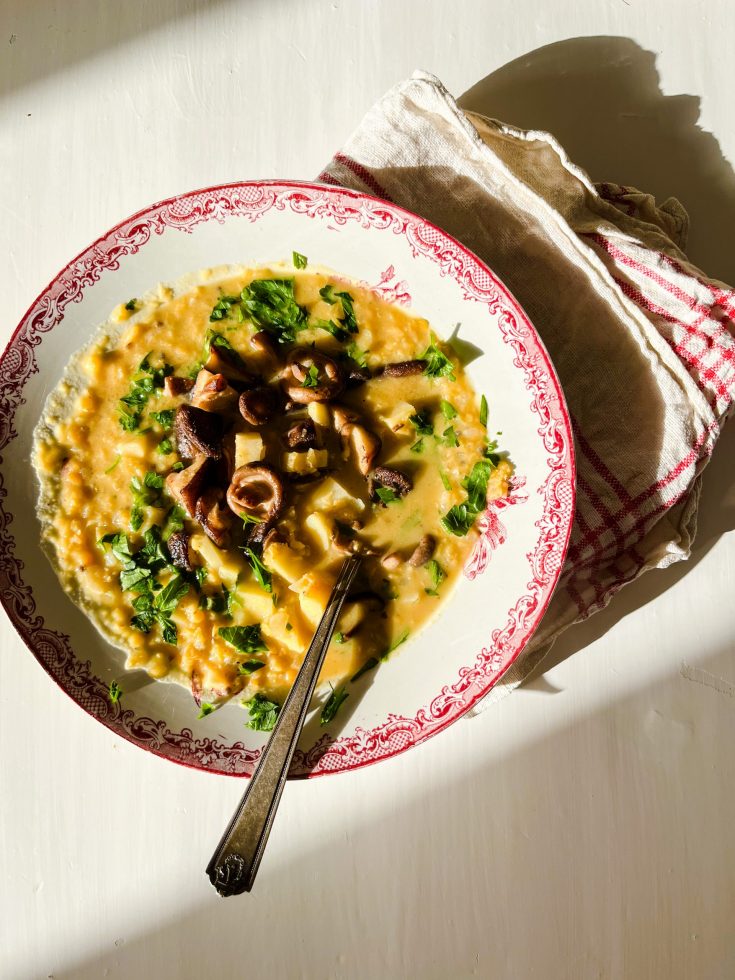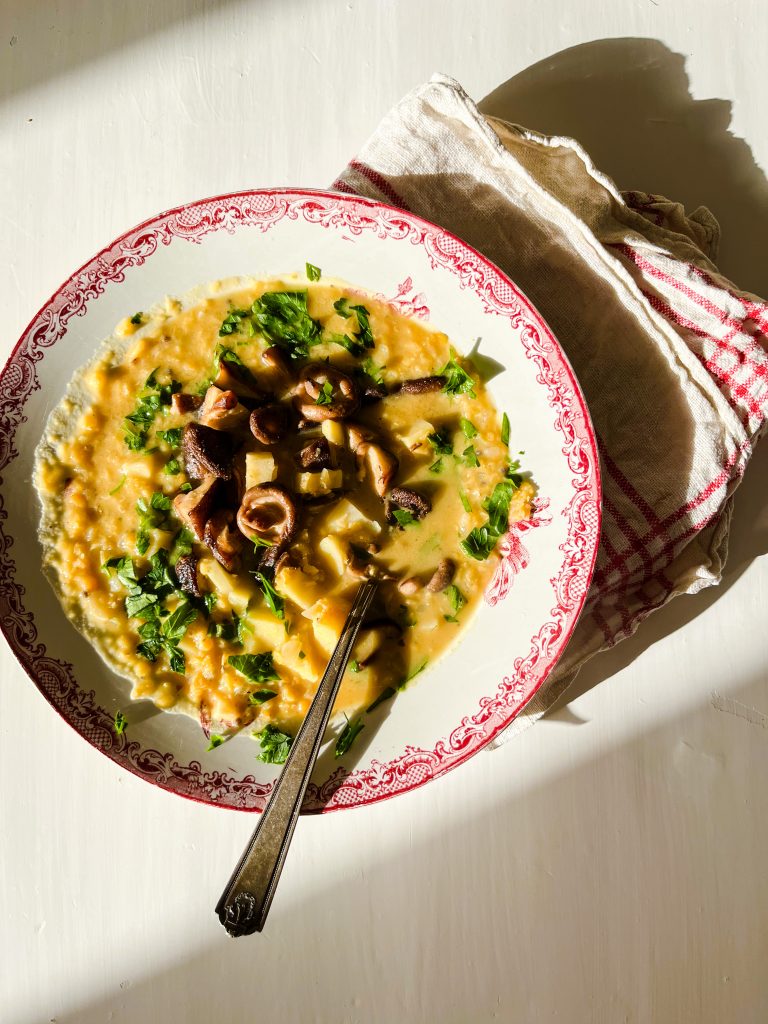 A hearty warming parsnip and lentil soup with mushrooms inspired by Sri Lankan dhal curry.
Ingredients
2 tablespoons olive oil (separated)
1 teaspoon fennel seeds, roughly chopped
1 teaspoon mustard seeds
1 onion, peeled and diced
1 stick celery, diced
2 garlic cloves, peeled and diced
1 cup red split lentils, well rinsed
3 small parsnips, peeled and cubed
Salt
1 cup coconut milk
200 grams shiitake mushrooms, big ones quartered
Freshly ground black pepper
1 small bunch parsley, stems removed, chopped
Instructions
In a heavy-bottom pan, heat 1 tablespoon of olive oil over medium heat. Add fennel and mustard seeds and fry them until fragrant and mustard seeds start to pop.

Add onion, celery, and garlic and fry for 6-7 minutes until they become soft and onion turns translucent.

Place red split lentils and cubed parsnip into the pan and cover with 720 ml (3 cups) water. Bring to a boil, add salt and reduce the heat to low. Cover with a lid and let the soup simmer until the lentils soak up almost all of the water, for about 20 minutes. The lentils should be soft and turn from red to yellow in color. Parsnip should be soft when poked with a knife (or just try it).

Add coconut milk and let the soup simmer for another 5 minutes. Taste and adjust salt, if needed.

While the soup is simmering, heat up 1 tablespoon of olive oil in a frying pan. Add shiitake and fry them until browned on all sides, for about 5-6 minutes. Add a pinch of salt and a lot of freshly ground black pepper for a spicy hint.

Serve the soup topped with mushrooms and chopped parsley immediately.
Pin for later