Let me start by saying, that if you want people to pronounce a city's name as Port-SMITH and not Ports-MOUTH, please, spell it that way. I don't see any other reason behind this spelling but to confuse unsuspecting visitors and make fun of them when they mispronounce it time and again.
This is my second visit to Portsmouth, although I live just an hour away. First time was last November, it was cold as hell, I was running around, stopping by every coffee shop to warm up. One year and 2 weeks later it's a sunny winter day, +12°C (53°F) and not one snowflake. Christmas tree is up on the Market Square, and every shop's window is featuring a Santa figure, fir branches and bauble wreaths.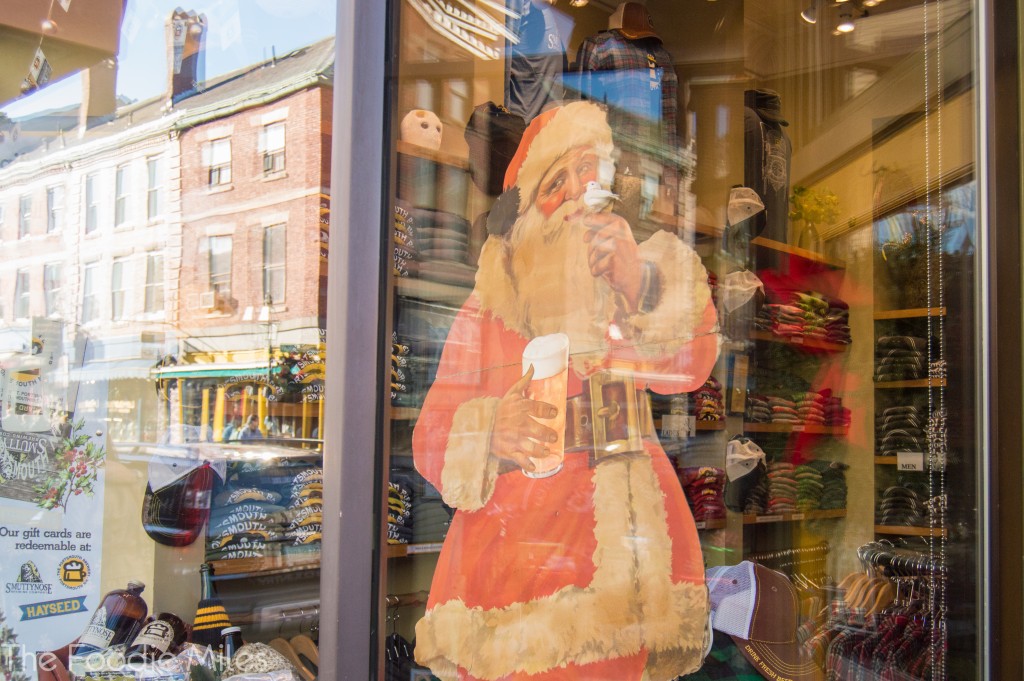 I feel like hopping, and skipping, and singing along with recorded Christmas songs coming from open doors of the shops. You just can't help it here – Christmas is all around. So I hop down Congress Street and into The Friendly Toast. We have lots to see, but it's Sunday and therefore – brunch time! My plan for the day is to try all things local and all things natural, and Portsmouth makes this task an easy one.
There are so many restaurants in this little seacoast town that I truly wish I could have 8 meals per day instead of 3. Not only there are plenty of them, they are all incredibly good with fresh locally sourced produce and sophisticated menus featuring pig head terrine, scallop ceviche and many other things I have to google before ordering. The prices are very fancy, too.
For brunch we choose a laid-back funky place with all-day breakfast menu. The atmosphere inside is that of a vintage shop with bright green interior, light signs, posters on the walls and giant toys hanging from the ceiling. The line for brunch can get pretty long here, so we decide to have a quick meal at the bar.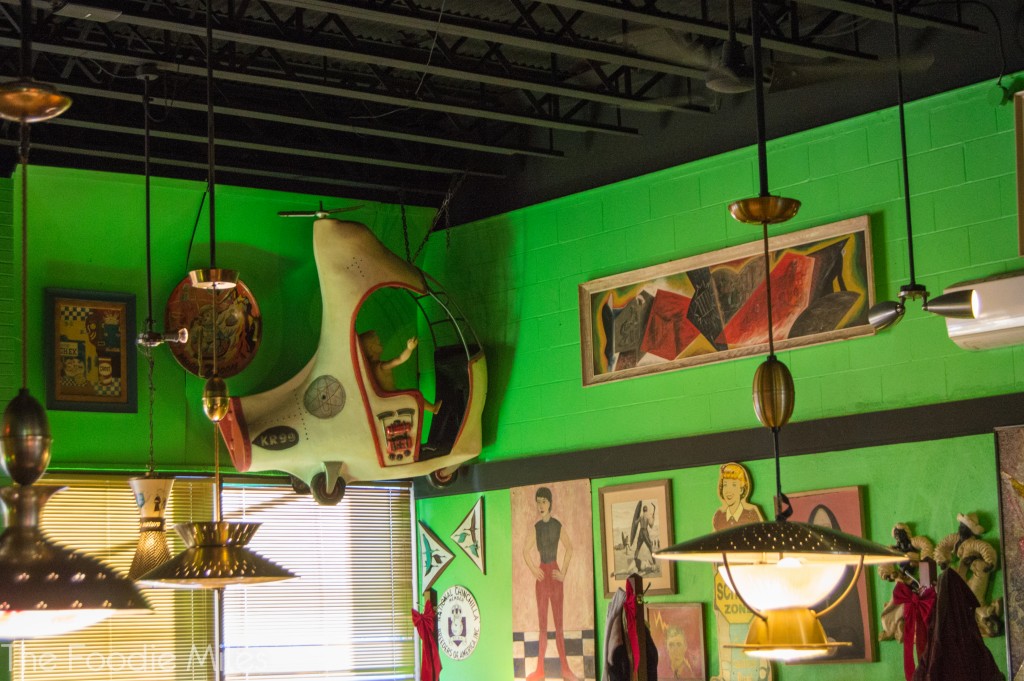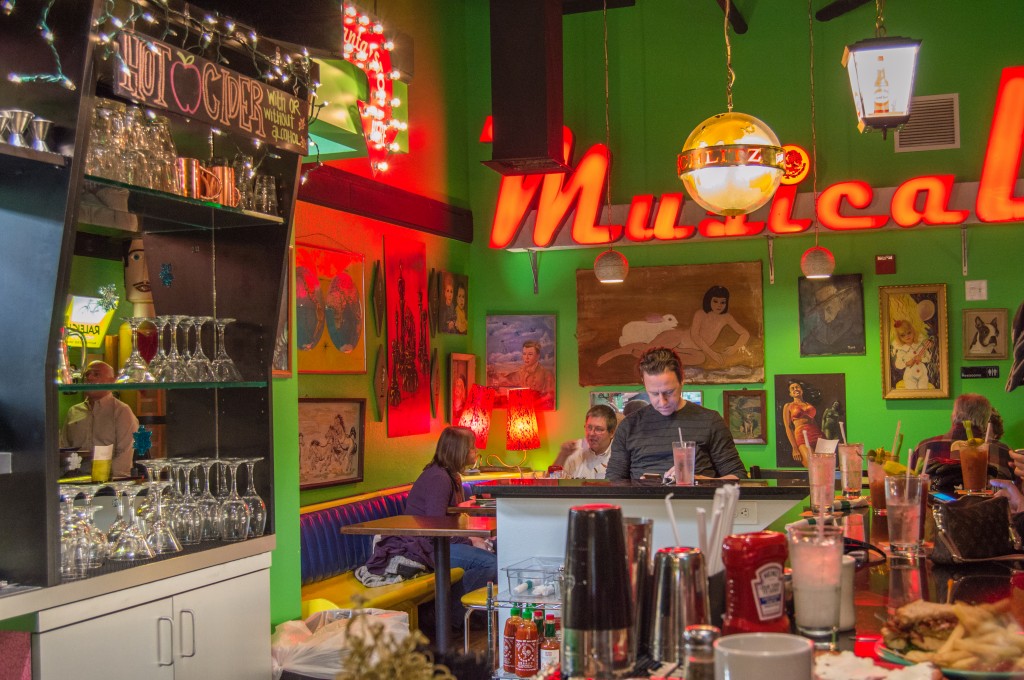 They have pancakes and waffles, omelettes and scrambles, and – woop! woop! – fit and healthy options like house-made granola, egg white scramble with spinach, and rolled oats with fresh fruits. So I opt for healthy today: writing about food is no easy task, I should tell you. My waist line is definitely not a fan of this new venture.
A whole wheat toast with smoked salmon, two poached eggs and French fries substituted for tomatoes and avocado. Simple and good. Bread is made in house, and it does feel different from your average breakfast toast, eggs are cooked to perfection. These guys get the freshest ingredients from local farmers. They also recycle, compost and use green packaging – always a plus on my mental check-list.
Now I am full and happy and ready to explore the town. Just steps away from The Friendly Toast, on the wall of Cabbot House, is a large mural of whales.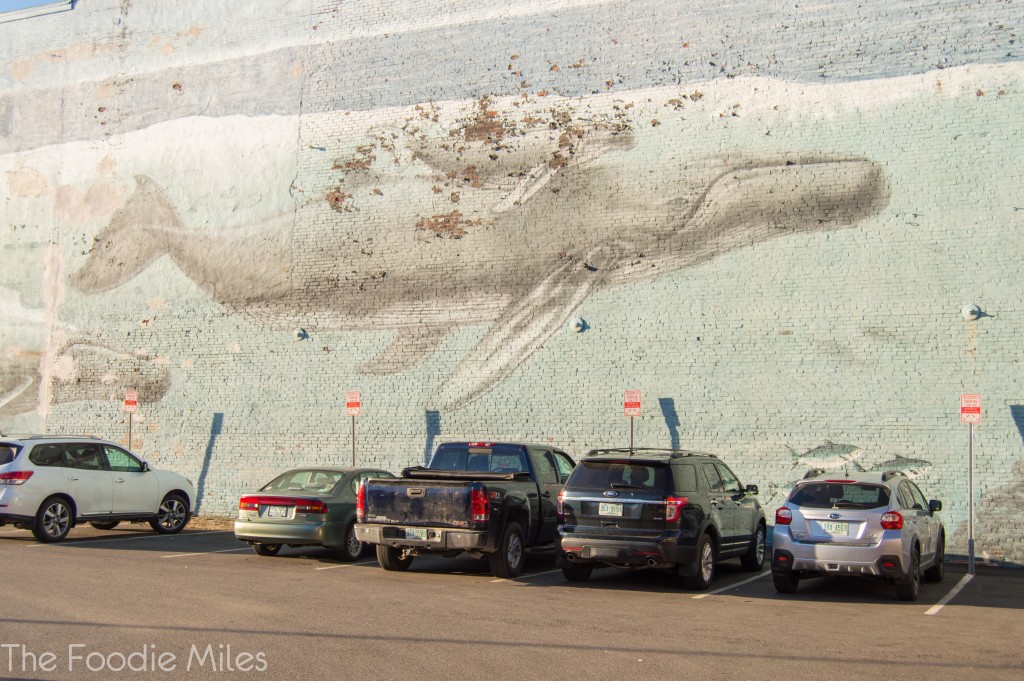 Large is not even the right word, it's enormous. This mural was painted in life-size dimensions. It is one of 100 life-size marine murals that were painted by artist Robert Wyland to raise awareness about marine life conservation. The mural was painted 22 years ago and is not in great shape now, but very impressive, nevertheless. We take a short walk through downtown and in no more than 10 minutes find ourselves at harbor side.
Tucked away in a small Ceres Street right near the waterfront is Annabelle's Natural Ice Cream, a little ice cream shop with big following.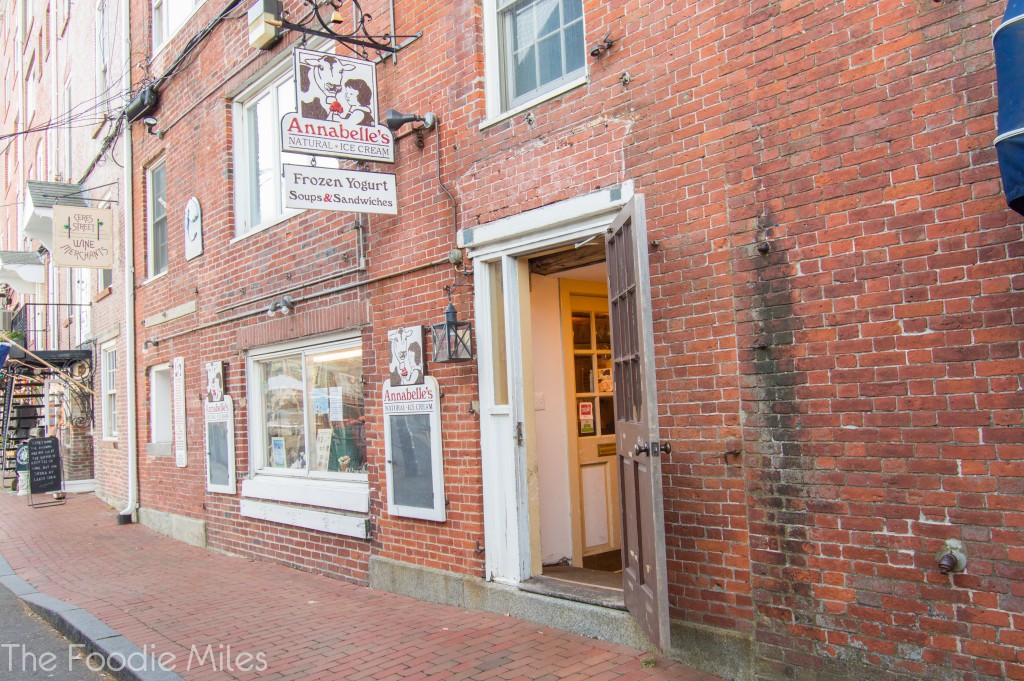 The shop has been here for over 30 years and earned a reputation of one of the best ice cream parlors in New England. Only natural ingredients, no artificial colors, and very low air injection. Perfect place for my "all local and natural" plan of the day. But I am going to take it one step further and get a scoop of New Hampshire Pure Maple Walnut. You absolutely have to try it when in New England – local maple syrup makes everything better.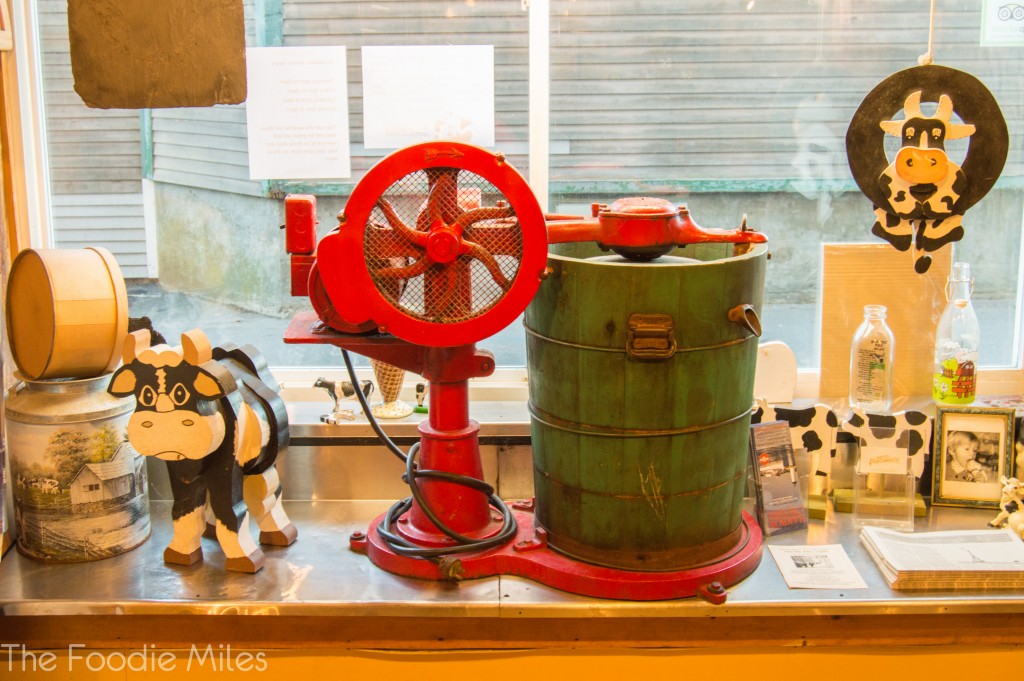 Who would have thought – ice cream in December! But it's so warm outside that we take ice cream to go and continue our stroll. More creative murals on the way.
More local designer shops selling everything from hand-made jewelry to knitted hats and mittens.
More cafes and restaurants.
And this little guy.
Final destination of the day – The Franklin Oyster House.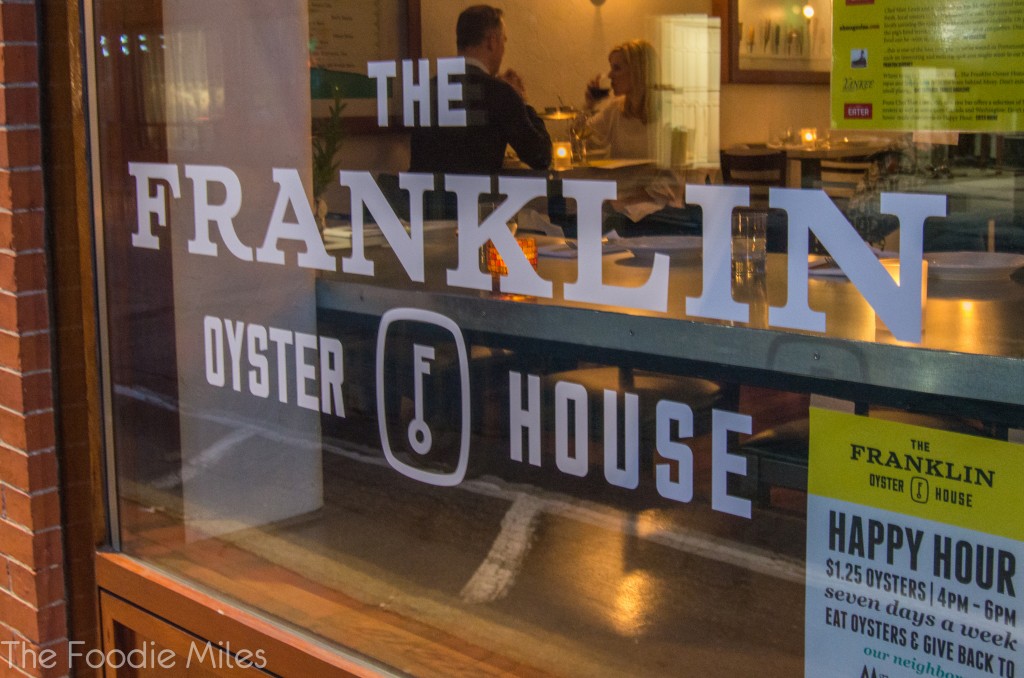 Why this place? First, you can't miss out on sea food when you visit a seacoast town. Second, this is one of the few specialized oyster places in Portsmouth. Third, they have happy hour every day of the week from 4 to 6 pm!
This place was opened a little earlier this year, but what's interesting is that almost 150 years ago in the same exact spot was another Franklin House of Fleet Street serving oysters to locals. Now this new dedicated oyster bar revives the tradition.
The horse-shoe shaped bar counter takes up most of the space inside. Spread of oysters on ice is the first thing you see upon entering. At $1.25 per piece these babies are a bargain, and 25 cents goes to The Music Hall, a local nonprofit arts organization.
The suppliers vary from local New Hampshire farms to West Coast to Canada. We tried Moose Cove Petit from Great Bay, New Hampshire; Ruisseau from Eel Lake, Nova Scotia and Dabob from Dabob Lake, Washington.
Oysters are served with Franklin cocktail, Mignonette and lemon. But there's a range of other sauces to pick from like Cucumber-Lime Explosion, Green Goddess of Fire, Bacon Jam and Citrus-Orange Blossom. I am no oyster specialist, but these little suckers paired with some crisp white wine go really smooth.
Apart from oysters Franklin Oyster House has amazing range of charcuterie, or cold cuts.
Rabbit sausage and Franklin ham are great. Duck rillette, that I mispronounced when ordering (it's ree-yet, just in case), was excellent. For rillette tender duck meat is mixed with crème fraiche and topped with pickled mustard seeds. Probably, it's the foreign sound of the word that makes me fall in love with it. All the cold cuts and pickles are made in house. You can even get a jar of pickles home if you like.
We scrape the last bits off of charcuterie board, thank our knowledgeable sever for answering my 99 questions, and finally head home.
As soon as we leave the bar and cross Fleet Street, there it is – Gilley's Diner, that I read so much about, with its big board saying "Best Burger in New Hampshire". There are way too many great restaurants per square kilometer here! I try to avert my eyes and walk faster promising myself to come back to this beautiful coast town again.
Address: 113 Congress Street, Portsmouth, New Hampshire, USA
Hours: Sun – Wed: 7.00 am – 8.00 pm, Thurs: 7.00 am – 9.00 pm, Fri – Sat: 7.00 am – 2.00 am
Address: 49 Ceres Street, Portsmouth, New Hampshire, USA
Address: 148 Fleet Street, Portsmouth, New Hampshire, USA
Hours: Sun – Thurs: 4.00 pm – 9.00 pm, Fri – Sat: 4.00 pm – 10.00 pm
Pin for later: