The first time I've heard the name Brighton Beach was in a popular Russian comedy called (bear with me here) "Weather is good on Deribasovskaya, it rains again on Brighton Beach".
The movie is set in the years following the end of Cold War when Russian and American presidents are planning a meeting to discuss current affairs. The main character is a handsome KGB agent Fedor Sokolov who, with the help of a hot CIA agent Mary Star, tries to prevent Russian mafia from disrupting the officials meeting. You can't imagine a movie about Russians without mafia, right? That would be outrageous!
I learned from the movie that Brighton Beach is a Russian neighborhood in New York full of happy immigrants who escaped from Russia and now prosper in capitalist America. "Oh, those lucky lucky people!" I thought to myself.
Coming to Brighton Beach almost 20 years later is quite an experience! The movie, of course, is not my only reference now, so I don't have unrealistic expectations about Little Russia. Nevertheless, when I step out of the car my excitement gradually turns into shock and then into disappointment.
Brighton beach Avenue, where most of the shops and restaurants are located, is right under the bridge. Usually, you would imagine a bridge crossing the street perpendicularly, but that's not the case here. The street is parallel with the bridge covering it on top. The trains pass by often, and loud rattling sound follows you everywhere. The neighborhood is grey, dirty and looks somewhat like Russia in the beginning of "wild 90-s", its most difficult and harsh years. I get a feeling that people, who moved to USA decades ago, tried to preserve the idea of their homeland the way they remembered it. While Russia was quickly developing over the past 20 years, Brighton Beach got stuck in the past.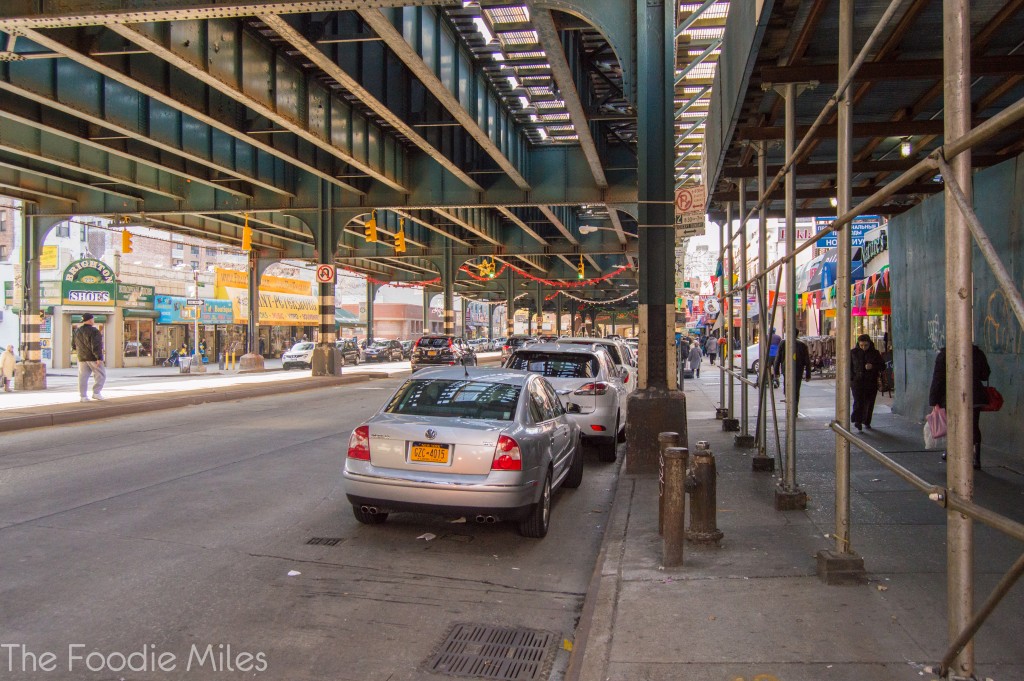 It's surreal: I can see signs in Russian, I can hear Russian speech and I can even smell Russia when I step inside food shops. But instead of feeling happy and proud, I feel embarrassed. My Sri Lankan friend, curious about Russian cuisine, joined me on this small trip. I have to admit, I don't want her first impression of Russia to be based on this neighborhood.
The fact that I am Russian, obviously, makes my opinion biased. Gayani seems neither shocked nor disappointed: she understands that this neighborhood lives its own life and is not a representation of Russia today. After all, we came here to eat Russian food, and there's no better place in New York to get a taste of borcsh, pirozhki and pelmeni.
I have to admit upfront this is my first attempt at travel photography (and holding a DSLR camera), so bear with me and my ugly pictures! First, we randomly walk into grocery shops. Seeing familiar foods I have been eating since childhood brings heartwarming memories to my mind and a smile to my face. Almost every shop has freshly baked pastries.
Napoleon cake is a Russian version of mille-feuille, a French puff pastry traditionally layered with custard cream (crème pâtissière). Napoleon is filled with cream to the brim, so you are likely to make a mess of yourself at the first bite. Flakes of pastry get stuck to your lips and cheeks, cream is oozing out. All in all, it's impossible to look decent while eating Napoleon, so don't order it on your first date.
The pastry in the left top corner of the picture above is called kartoshka, which literally translates as "potato". The name comes from the looks of the pastry (not that there's potato inside). Kartoshka is made of finely blended cookies mixed with butter and condensed milk. Another one of my childhood favorites (read more about this timeless Soviet dessert here).
Before heading to Brighton Beach we had breakfast at Dominique Ansel Kitchen. It makes me wonder, how you can enjoy something as sophisticated as Dominique Ansel's Cinnamon Spun Roll with flavors carefully chosen to complement each other, then come to Little Russia, get yourself a mix of cookies, butter and condensed milk and enjoy it just as much!
Next are cold cuts or kolbasa in Russian. Kolbasa is a general name for all types of salami, bologna, and other kinds of ground meat shaped into a roll. Kolbasa is a staple in Russian fridge and can be used in sandwiches, salads, soups, or just eaten on its own if you are very hungry or very lazy.
A stack of white bricks on the right is salo – cured pork fat (picture above). Salo is a Ukrainian delicacy, but it's equally popular in Russia. Sliced thinly, it is best on top of rye bread. You can also use it instead of oil to fry potatoes: ridiculously delicious. Lastly, salo goes well with vodka. So do pickles.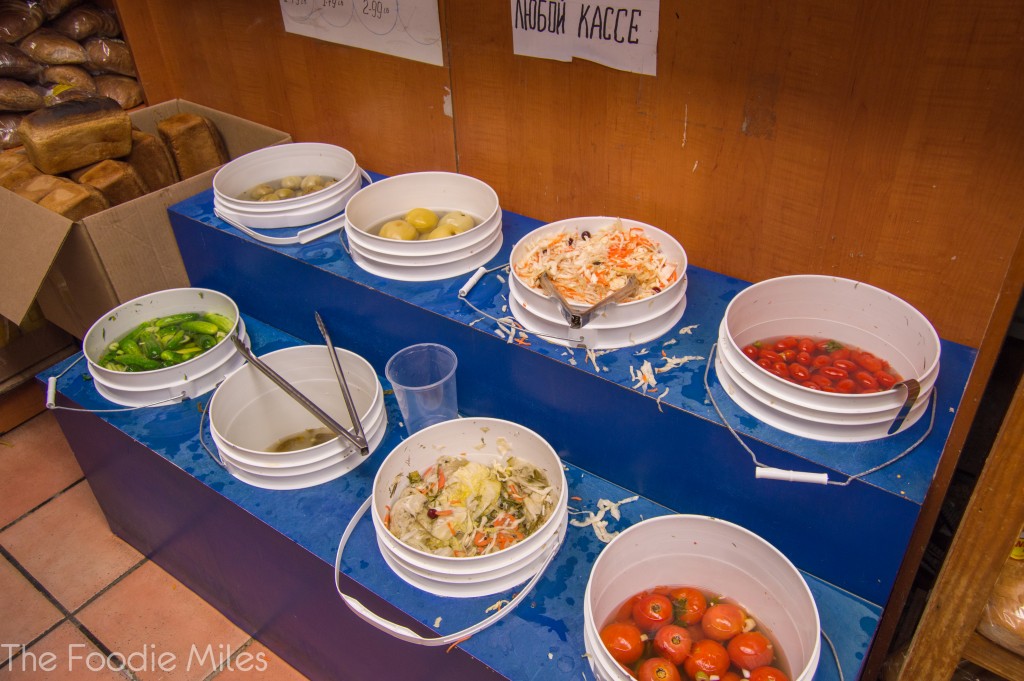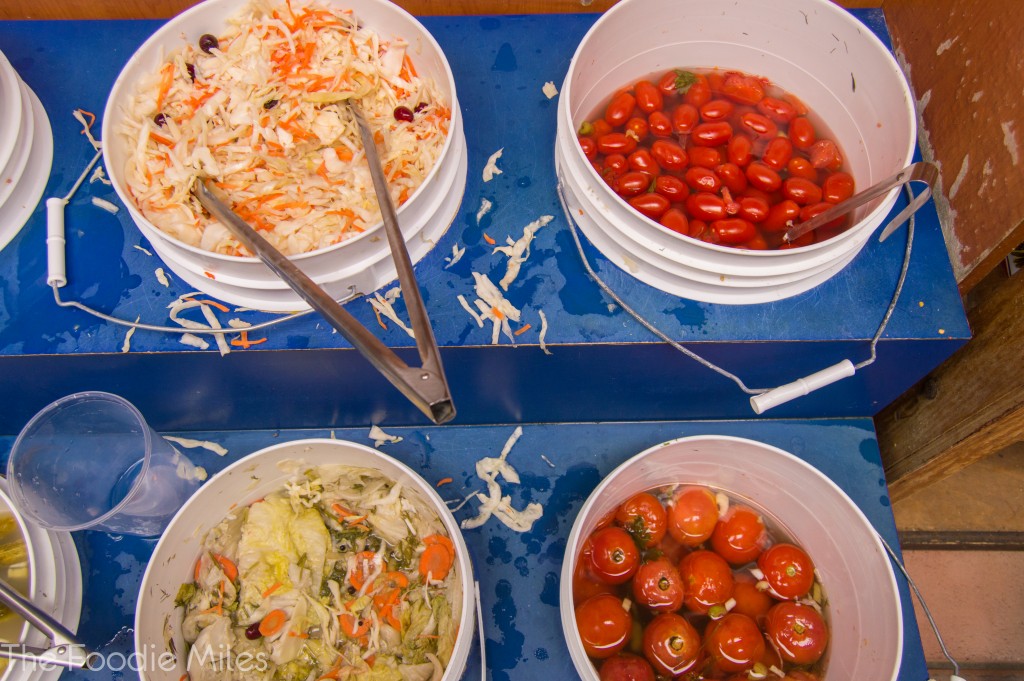 I miss my granny's pickles. One of the most common dishes in winter is boiled potatoes with pickled cucumbers, tomatoes and cabbage. So simple.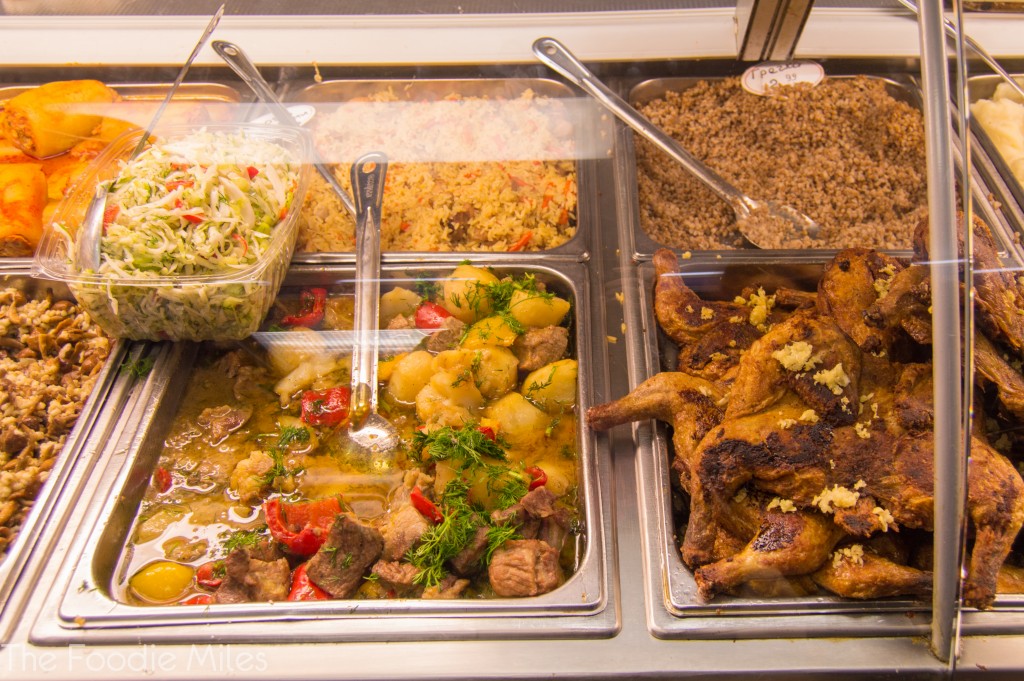 Let's go clockwise here starting with the left tray in the back (picture above). That's plov, or rice pilaf with meat, carrots, onions and spices, which originally comes from Uzbekistan. Right tray in the back is buckwheat – another staple in a Russian kitchen, usually served as a side dish. In the front left tray is potato and meat stew. Fried chicken legs in the right front tray. Do you know a place in the world where fried chicken isn't popular?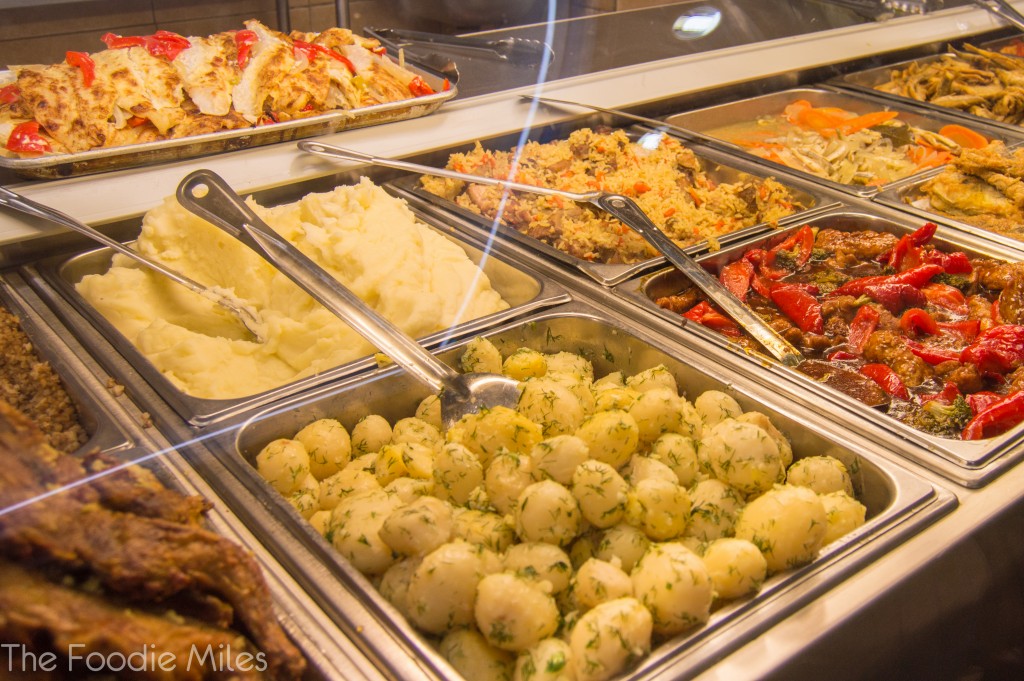 I wish I could try some of these dishes, but we are heading to a Russian restaurant Skovorodka for lunch. Continue reading about my little adventure in Brighton Beach here.
Pin for later: