When it comes to food, I am a creature of habit. This defies logic because as a food blogger I am supposed to be adventurous, seek out the most trashy looking hole-in-the-wall types of restaurants, and try fried insects on a daily basis… which I do when I travel. But at home, I am as predictable as teen novels about vampires falling in love with shy, she-doesn't-know-how-beautiful-she-is type of girls. 
I eat two eggs with toast and avocado every morning. I eat baked vegetables at least four times a week for dinner. And the most important and consistent feature of mine — in any city where I live I have a favorite coffee shop where I work and get my daily fix of caffeine. I always order the same type of coffee, of course.
The cafe has a lot of requirements to meet. Excellent coffee is a must. Free wi-fi and plugs are essential. A garden or patio where I can sit outside on warm days is an added bonus. Lastly — and this one is extremely subjective — the cafe has to have the right vibe. I just have to enjoy hanging out there because I become the most loyal customer that cafe has ever had.
In Colombo, such cafe for me was Plus Nine Four. For those unfamiliar: the name is a reference to the international code of Sri Lanka; every phone number here starts with +94. The cafe was opened less than a year ago by Shana Dandeniya, a Sri Lankan native who spent most of her life in London until returning to her homeland three years ago. Plus Nine Four is her second venture, the first one was cafe Kumbuk which I also love dearly.
I saw Shana many a time at Plus Nine Four, always in comfy jeans and a T-shirt, with a top knot, working away on her laptop. Many a time I wanted to approach her and ask for an interview. I find her creations progressive for Sri Lankan dining market, both in the sense of the food they serve and the ambience they offer. So talking to the woman who built these businesses from the ground up was exciting. On the last day of my nine-months stay in Sri Lanka, hours before my flight, we sat down to chat. 
From University Project to Colombo's Favorite Hang-out Spot
"It started with cafe Kumbuk three years ago. Actually, I studied in uni in London, and in my final project we had to create a brand. So I thought: what about a cafe concept? I never thought that I would actually gonna come and do it here, it was only on paper. I created the concept and I remember I was looking for Sinhala words that sound organic or have a meaning of a flower or a plant… when my friend suggested "kumbuk", and the name just made sense." Kumbuk is the name of a tree commonly found in Sri Lanka, it's tall, and strong, and you can actually  find a piece made of kumbuk tree inside the cafe: the panel on the main counter.
When Shana moved to Colombo from London three years ago, cafe Kumbuk was still no more than a university project. In fact, after graduating with a degree in Creative Advertising, she was looking for jobs in advertising agencies. But the pay was low and prospects — not promising. "[I started thinking] what else I can do that would fulfill me and make me happy. A couple of weeks later, I was in Singapore, and a friend of mine who is a yoga teacher called: 'By the way, we are opening a yoga lounge and a cafe, would you be interested in doing this?' I said: 'Let's go and have a look!" I came back and instantly fell in love with the building. I think anyone who walks in feels this way." 
To that, I can testify. When I first walked into cafe Kumbuk, I couldn't believe my eyes. It was open, bright, spacious, with beautiful wooden furniture, hand-drawn pictures and maps on the walls, carefully chosen dishes and the most gorgeous tile flooring. Cafe Kumbuk has distinct Bali vibe. Not that I've ever been to Bali, but from what I've seen on Instagram that is exactly it (and Instagram is obviously a reliable source). 
In the past three-four years the dining scene in Colombo has changed significantly. Cafe Kumbuk was one of the first in the new wave of restaurants whose owners care about creating a unique menu, pay attention to design and go the extra mile to work with local producers and invest in sustainable products.
When I first came to Sri Lanka this kind of cool casual cafes simply didn't exist. And here I walk into cafe Kumbuk eight years later only to wonder: "Is Sri Lanka hip now?"
The Mother-Daughter Powerhouse Behind Cafe Kumbuk and Plus Nine Four
The first person to come see the place for cafe Kumbuk with Shana was her mom, Dinali. "When everything started evolving my mom asked: "Ok, shall we do it together?" We were both on the same wave. She was at the point in her life where my sister and I both grew up. She didn't have to take care of anyone". 
The talents of the two women created a perfect symbiosis. While Shana takes care of the concept and design, Dinali's strong side is food and baking: "I definitely love to eat, but I am not necessarily good at cooking. I love the idea of creating spaces where people can come together, that's my element. My mom has her focus on food", Shana shared.
Both Dinali and Shana spent most of their lives in England. Although Shana was born in Australia, when she turned three the family moved to London: "I've been in England my whole life. But then I did come here [to Sri Lanka] to school for two years. So there was a very small blip when I was here and then I went back."
Returning to the Roots
After graduating from university Shana decided to move to Colombo: "I just felt a sense of belonging here. I always loved Sri Lanka, it has always been one of my favorite places, like home away from home. It's my cup of tea, the weather and everything… Also, my parents moved back while I was in university. It just made sense to come back here after uni was finished".
Having struggled with living away from my home country myself, I was wondering what it feels like to come back to one's roots and adapt in a place that is supposed to be your home. To Shana, it wasn't a struggle: "My parents did something good for us…which was… every year they would send us back here. And I would willingly come… It was a big part [of my life] to learn how to speak the language, get involved in the community, build friendships. So when I finally had to move back, everything just fell into place".
Was it scary? In a way. "I think the scariest part was that first year at Cafe Kumbuk when I was trying to find my feet. I had to brush up on my Sinhala, communicate with the staff, make things work…The hardest part? Reading your first bad review. There are always people that won't like what you do. In general in Sri Lanka there are a lot of opinions that you kinda have to brush off. You know? And I wasn't used to it cos in England it's not like that."
But this tight-knit community is a coin of two sides. "[There's] a sense of community where people are willing to reach out and help each other. Maybe I have a friend who makes furniture… or a friend who's an interior designer… in way starting things off in England would be much harder. I think that six-degrees-of-separation thing is great and bad at the same time."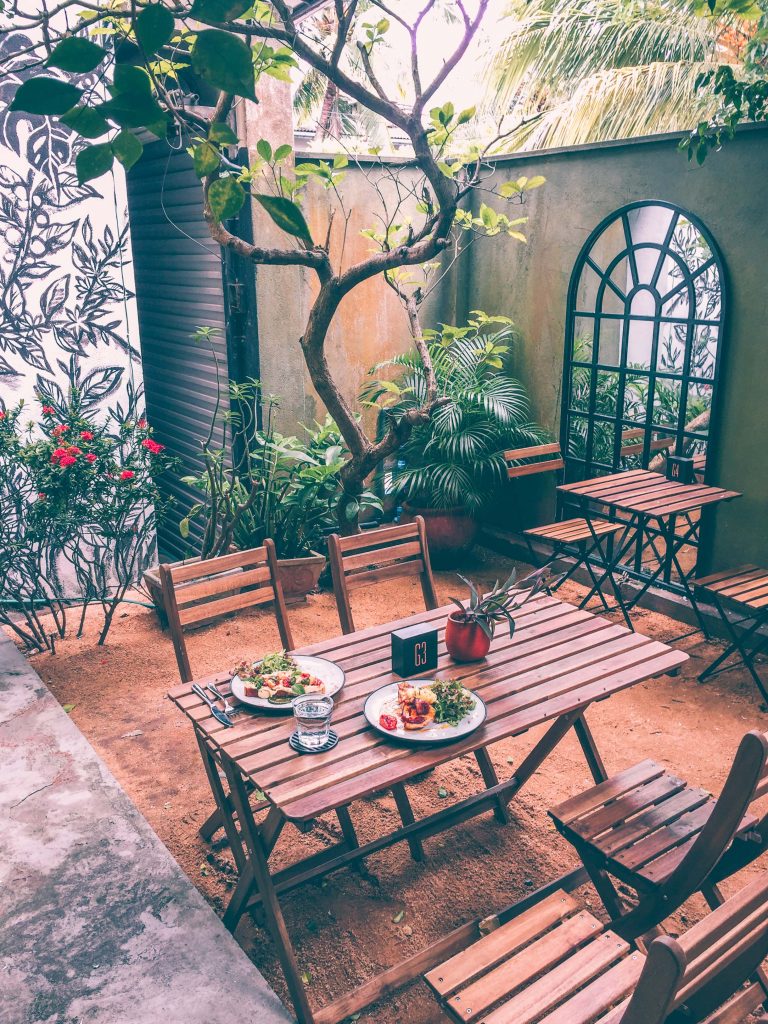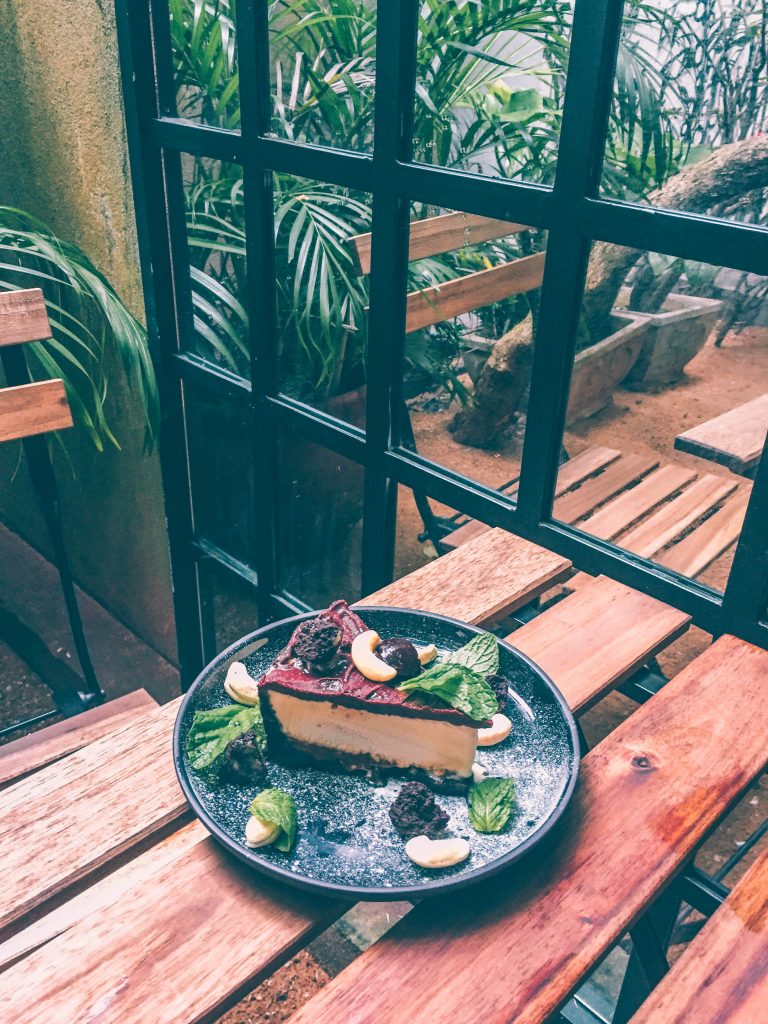 Plus Nine Four
Two years after opening cafe Kumbuk Shana and Dinali started working on a new project — a small cozy garden cafe. Although cafe Kumbuk and Plus Nine Four have a lot in common like an open-space floor plan, the use of local and — whenever possible — organic ingredients, and sustainable practices, the two have distinctly different focus. While cafe Kumbuk is all about healthy food, fresh juices, and smoothies, Plus Nine Four is a place to get you caffeine fix which is why it was opened in partnership with Soul Coffee, a local company that offers sustainably grown Ceylon coffee beans. 
The cafe is one of those rare spaces in Colombo where one is not in danger of catching a cold from an air conditioning unit working full blast. Plus Nine Four, with its shady garden, is like a breath of fresh air, both literally and metaphorically.
But creating the cafe turned more challenging than Shana could have expected: "I think I forgot how stressful it was to start up a cafe. As soon as we got into this project, about two months in… I remember looking around the place… It was under renovation and I thought: 'What am I doing? Am I gonna do this again?' It took me about good six months to wrap my mind around the fact that I put myself in this position again. You should see me… I am a mess whenever I am doing this kind of thing. In the process, I am crying like 90% of the time… Now, after everything is done and we've been operating for a few months, I am so happy… feeling this sense of achievement. When I set my mind to something it's a big test for me personally. But more than that, it's just having more small coffee shops in Sri Lanka that people can come to and enjoy."
Sri Lanka is indeed becoming more hip and fancy. Every time I return to the island after a long break my jaw drops at the sight of newly opened places. Pol sambol sandwich is served open-faced with a slice of bacon. Hand-crafted cocktails are made using achcharu, local pickled fruits. Plastic straws in cocktail glasses are replaced by paper and metal alternatives.
Using local ingredients, reinventing traditional dishes, and implementing sustainable practices definitely becomes a trend. But I don't mind trends being the reason behind these changes as long as we do in fact produce less trash, search for the roots of our cuisines, and pay fair wages to workers. Along the way, trends turn into a conscious effort. 
"So what's in the future?" I ask Shana. "I think I'll be here for the foreseeable future. I have the option of going to Australia or England, and at some point I see myself doing it." "What would happen to the cafes?" "Everyone keeps asking that. I don't know. I want to be here as much as possible. We have a five-year plan for the cafes. Hopefully, by that time the cafes will be in a position where they can run themselves without me constantly be there. My personality has to evolve in other ways. My business will have to adapt to that."
Cafe Kumbuk — Prana Lounge 60 Horton Place, Colombo
Plus Nine Four — 35 D. S. Fonseka Rd, Colombo
Pin for later: