Sometimes I think I am so smart, so creative. Beet greens pesto — who would have thought of that? Then I open Google. Turned out: thousands of people before me.
I got a few beets the other day to make svekolnik, a cold beet soup popular in Russia during hot summer months. The thing about beets is that they are either sold with leaves cut off or the leaves look so depressed and wilted that eating them doesn't seem particularly exciting.
But this time I got the freshest beets with the most flawless, deep-green, crunchy leaves. I am going to cook them, I thought. I am going to be so environmentally-friendly: saving the greens from the compost bin. And all that nutritional value: Vitamin K, copper, manganese, iron! I can tell people: "Why, yes, this is a beet greens pesto. What do you do with your beet greens?" Never mind that this was my first time cooking them.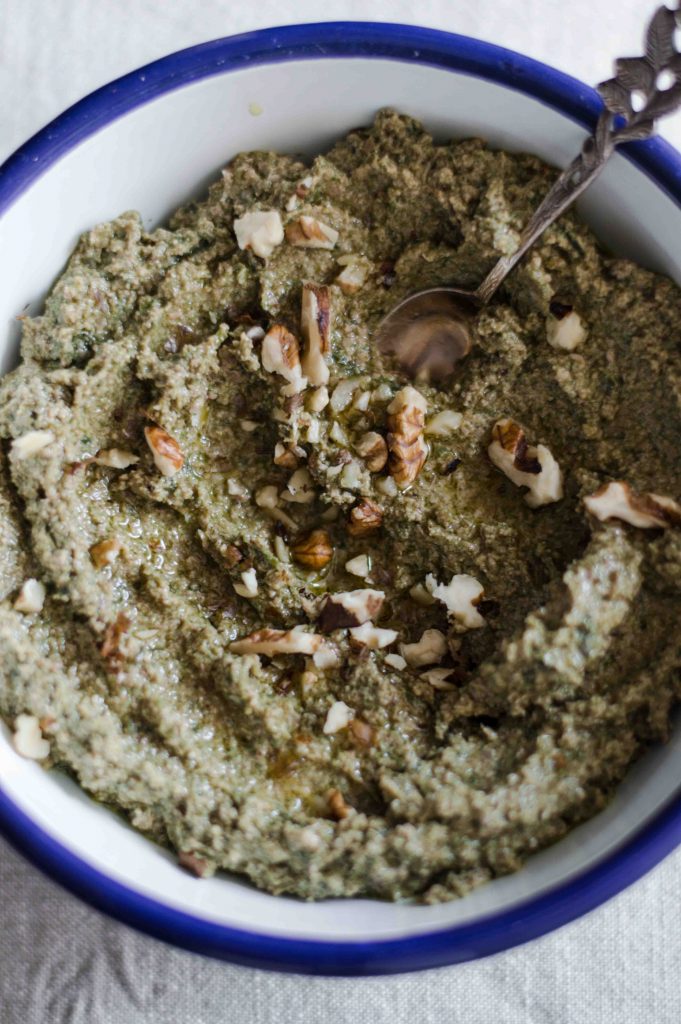 The pesto idea didn't come out of nowhere. Last year I bought How to Eat a Peach cookbook by the wonderful Diana Henry. The very first recipe I prepared was for scallions and pistachio pesto. My recipe is heavily inspired by hers. Now, it may seem far-fetched that a beet greens pesto with walnuts is inspired by scallions pesto with pistachios, but I like to give credit where credit is due.
Before Diana Henry I didn't realize pesto can be made with any greens and nuts, not just basil and pine nuts. I know, I am ridiculously late to the game. Ever since that recipe I've been a pesto daredevil. Can I make pesto with parsley and ramps? I think I can. What about radish leaves? Let's just try it, shall we? So now it was beet leaves' turn. And since I had a few scallions that were about to go out of business I threw them in too.
A Few Tips on Making Beet Greens Pesto
When choosing the beets, look for deep-green firm intact leaves, with no signs of discoloration.  Tear the leaves off the stems. The stems are too hard for pesto, but can be added with other vegetable scraps into stocks and stews.
In her recipe, Diana Henry suggests to sweat the scallions for a bit until soft, and that's what I do to beet leaves too. Heat up two tablespoons of olive oil over medium heat, add the beet greens and scalions and sweat for about 4 minutes, mixing from time to time, until soft, but not browned.
The walnuts — as good a paring for the leaves as they are for beets themselves — must be toasted. I toast mine in a pan on the stove top. You don't need to add oil. Heat up the pan over medium heat and place the walnuts in a single layer. Toast them, stiring occasionally, until they brown and you feel the nutty aroma, for 2-3 minutes.
As for cheese, I use two types — ricotta and parmesan — like Diana Henry does in her recipe. The two work great to add texture and flavor to pesto.
If you haven't decided yet what to do with the beets themselves, may I suggest this beetroot and rhubarb dip, this beet salad with tvorog, or vinegret, a root vegetable salad.
Beet Greens Pesto with Scallions and Walnuts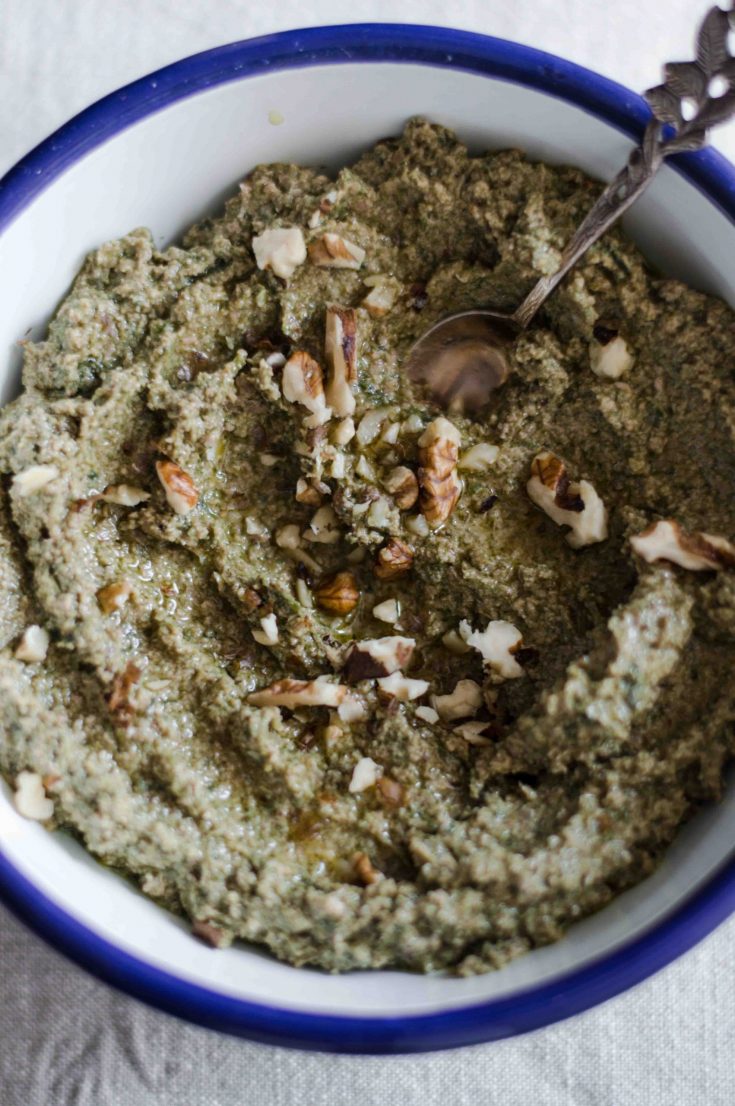 Beet greens pesto made with scallions and walnuts. Perfect for pasta or as a spread on top of bread.
Ingredients
130 ml/4.5 ounces + 2 tablespoons extra virgin olive oil
160 grams/5.5 ounces beet leaves (from approximately 2 medium beets)
70 grams/2.5 ounces scallions (3 pieces)
100 grams/3.5 ounces walnuts, toasted
5 small cloves garlic, peeled
85 grams/3 ounces ricotta
40 grams/1.5 ounces parmesan, grated
Lemon juice of 1/2 small lemon
1/2 teaspoon salt
A good grind of black pepper
Instructions
Tear the leaves off the stalks and chop them up roughly (reserve the stalks to use later in a soup or stew). Chop the scallions too.

Heat up 2 tablespoons of olive oil in a pan over medium heat. Add the beet leaves and scallions and fry them, stirring occasionally, until soft, but not browned, for about 4 minutes.

Add the beet leaves and scallions, walnuts, garlic, and 130 ml (4.5 ounces) of olive oil into a blender and blend until you get a smooth uniform paste. Transfer to a bowl. Add ricotta, parmesan, lemon juice, salt and black pepper and mix well.
Pin for later