I've been slightly obsessed with greens lately (case in point: this beet leaves pesto, this sorrel soup, and the carrot top pesto I am about to tell you all about). Can you blame me? It's summer and I happen to live in a country where buying produce from local farmers is a way of life. Germany is cool like that.
After three years in Nuremberg, I finally know exactly where to get all my fresh produce. There is, of course, the market in the Old Town. I have two trusted vendors there who don't mind my broken German and always give an apple or a strawberry to Kroshka, my one-and-a-half-year-old.
While the market is open all week, the best day to visit is Friday. On Fridays, there's an additional stall that sells not only local, but organic vegetables and a whole range of greens, like dandelion, Thai basil, sorrel, and sage to name a few.
I've also got not one, but two online markets that help to connect farmers to consumers, so I order in either one interchangeably or in both when I am too greedy (or forgetful). Last, and — opposite to how the saying normal goes — also least, there are supermarkets, my last resort.
It makes me immensely happy to get fresh produce pretty much straight from the garden bed. It is a privilege that I recognize and treasure. So much so that sometimes I have to spend a whole evening sorting through, washing, and drying greens, because I accidentally bought several bags worth of produce. Some people can't restrain themselves at a candy store, I go crazy when I see bunches of fresh parsley and arugula.
On days like that, I make pesto. You see, greens are wonderful, but moody. Don't you dare leaving them on the counter, with a rubber band tied around the stems. One must give them a nice cool bath, preferably changing the water a few times, pat them dry with a clean towel, and then store in the refrigerator, making sure the delicate leaves are not squished. A greens spa, if you will. But even after all that trouble you only have a few days to use them up. That's why pesto is my best friend: it keeps for a week in the fridge or a few months in the freezer.
Out of fear that my precious greens will wilt before I get to use them, I've been making all kinds of pesto lately, carrot top pesto being one of the top contenders for my favorites. The bright green tops somehow turn dark, moody green when blended.
I use sunflower seeds instead of nuts and a few dates for added sweetness, a trick I learned from Bon Appétit: they suggest serving lamb meatballs with raisin pesto. "You can do that?" was my first reaction, but now I came to love adding dried fruit to greens.
The only drawback I noticed with making carrot top pesto is that carrot leaves, not unlike eggplants, soak in all the olive oil, no matter how much you keep adding. It's easily solved, though. If you keep your pesto in the fridge and it looks a little dry and crumbly, add a few tablespoons of olive oil right before serving it.
A Few Tips on Making Carrot Top Pesto
Get the freshest carrots with bright green tops that almost stand upright. Make sure the leaves are neither wilted, nor discolored. 
Wash the carrot tops well. I leave them in a salad bowl with lots of cold water for 10-15 minutes, until sand and dirt come to the bottom. I hold the greens to the side of the bowl and discard the water. Fill the bowl again and leave for another 10 minutes. Repeat 3-4 times until the water is completely clean. 
Remove all the stems — they are too rough for the carrot top pesto. 
Refrigerate the pesto for up to a week in the fridge or a few months in the freezer. 
If the pesto looks a little dry when you take it out of the fridge, add a few tablespoons of olive oil. 
Carrot Top Pesto with Dates and Sunflower Seeds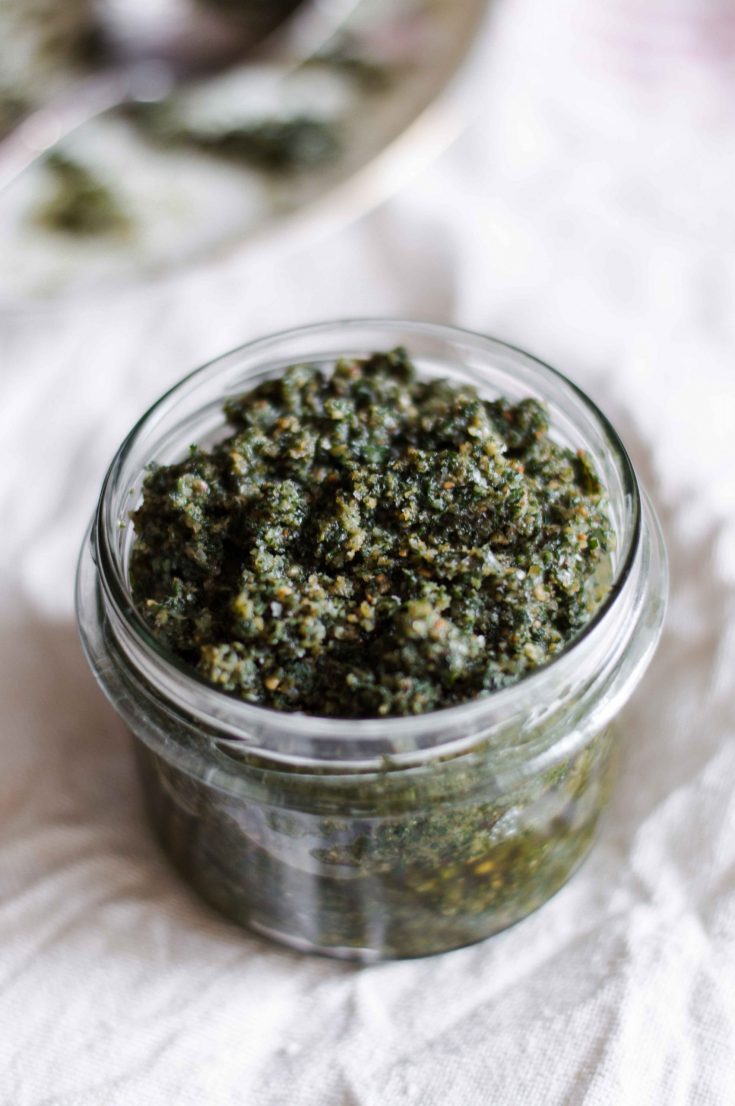 Carrot top pesto is a wonderful way to avoid food waste and use up every part of the vegetable.
Ingredients
65 grams (2 cups, tightly packed) carrot leaves without stems, washed and dried
50 grams (1/3 cup) sunflower seeds, toasted
2 dates, pitted
2 medium garlic cloves, peeled
120 ml (1/2 cup + 1 tablespoon) extra virgin olive oil
1/3 teaspoon salt
35 grams (2/3 cup) grated Parmesan
Instructions
Place the carrot leaves, sunflower seeds, dates, and garlic cloves into a blender and pulse until the ingredients are thoroughly ground. Add olive oil and salt and pulse again a few times till you get a smooth paste. Transfer pesto into a bowl and fold in grated Parmesan. Refrigerate if not using right away.
Pin for later