Oladushki with apple is my first spin-off on the classic Russian oladushki, plump fluffy pancakes every babushka makes in copious amounts whenever grandkids come over.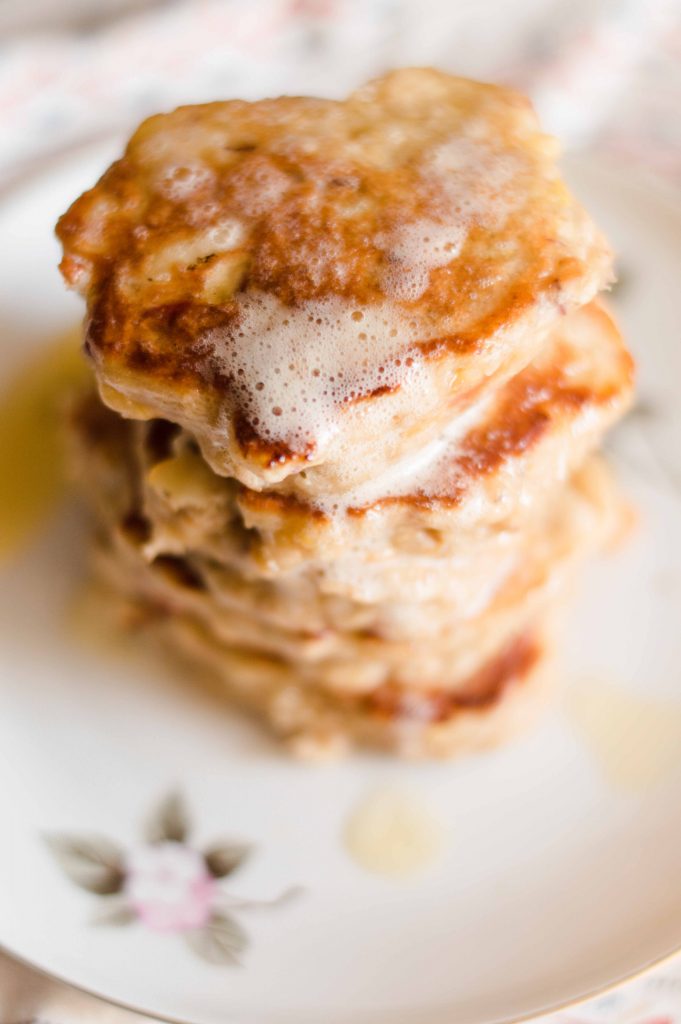 In the works are oladushki with pumpkin, tvorog, and gingerbread spices. But since it's fall and no visit to the farmers market is complete without getting two bags full of apples — a kilo of sweet ones and a kilo of sour ones — I've been making apple pancakes obsessively.
The traditional version of oladushki is lovely in every way. They serve as a delicious fatty vessel to transport sour cream and jam right into one's mouth. They are quick and easy to make too.
There's no rule in my house that pancakes (whatever they may be: American-style blueberry pancakes, French crepes, or Russian blini) happen only on the weekend. I say, Monday is just as perfect for pancakes as Sunday. Wednesday is not too shabby too.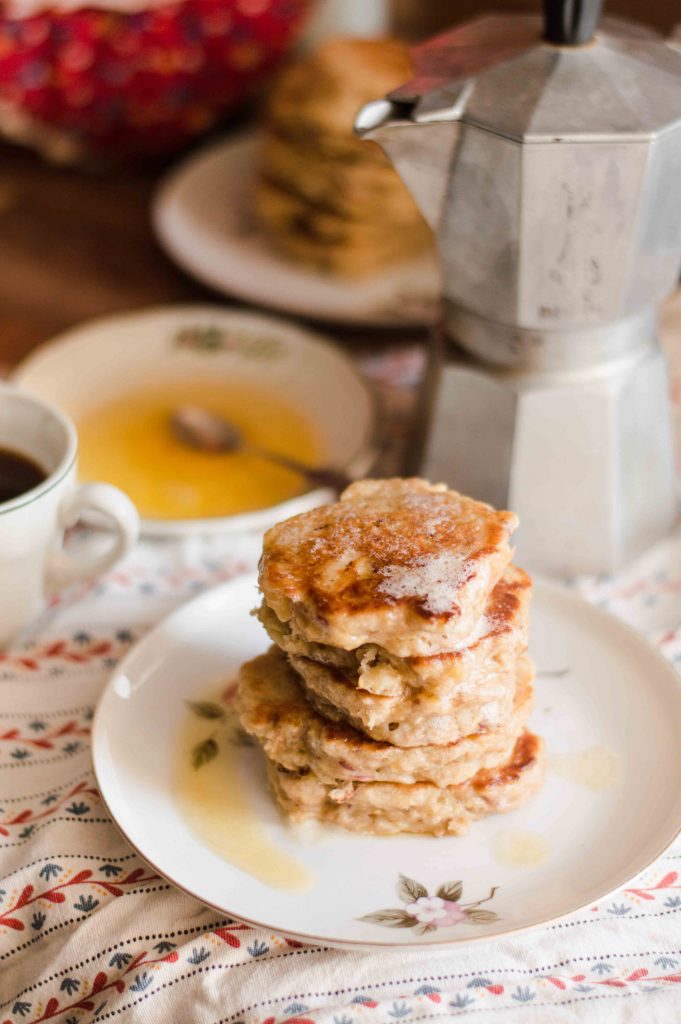 The batter for classic oladushki is made within minutes and there's no need to rest it. Quite the opposite: since this recipe uses baking soda, you should start frying as soon as the batter is ready, while baking soda is reacting with kefir.
I tried various ways of preparing them: peeling and not peeling the apples; grating them on the small holes of a box grater and blending them in a food processor; using yogurt and kefir as a wet ingredient.
So far the recipe below is my favorite. I find that leaving skin on and blending apples roughly results in the most intense apple flavor in the end. It's also much less work on my part — happy coincidence!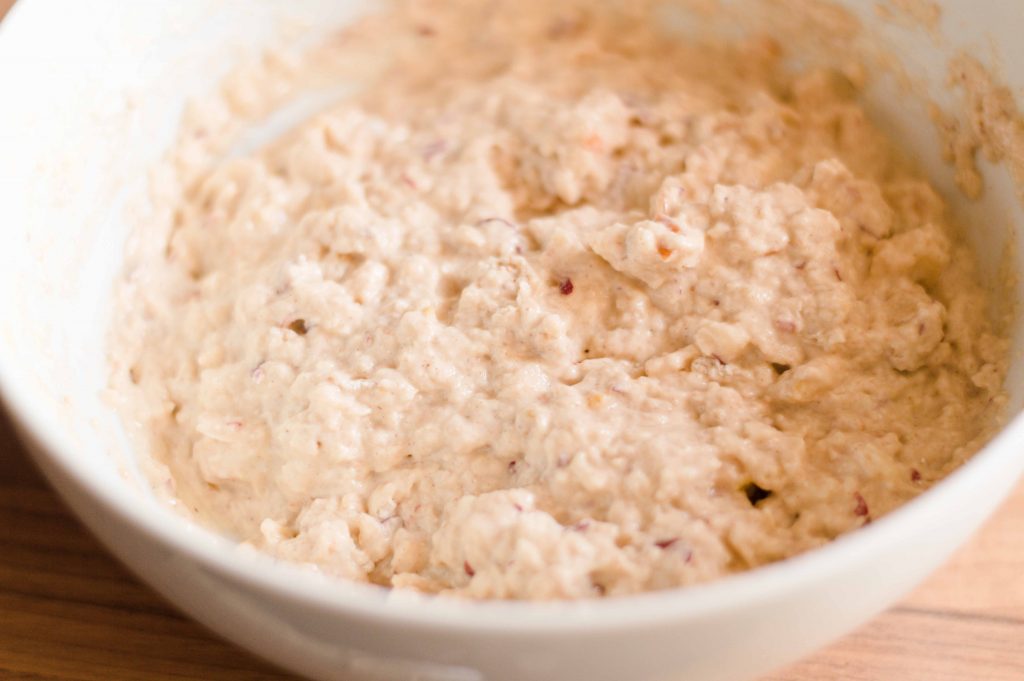 If you prefer a more subtle apple flavor and uniform texture, peel the apples and grate them into fine puree. There's going to be lots of juice, so you might use just a little less kefir in your batter, otherwise it'll be too runny.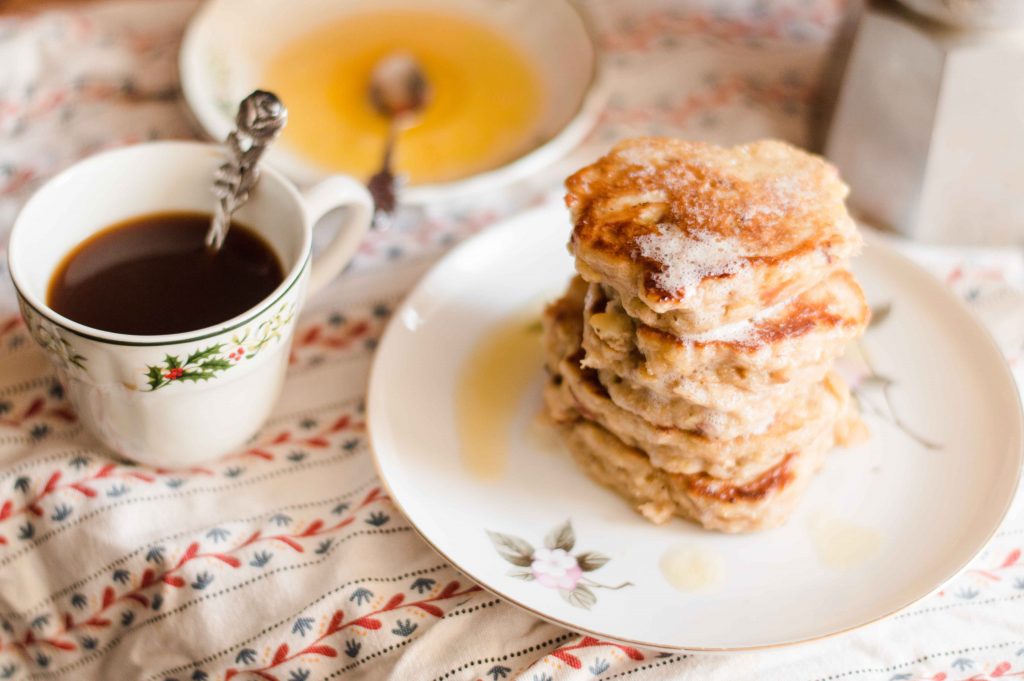 Adding cinnamon and grated nutmeg to batter is my own initiative, it's not too common in Russia. But once you bite into oladushka, the aroma is so incredible that I don't mind stepping away from traditions.
To my mind, apple oladushki are so intensely flavorful they don't necessarily need a topping. Where a classic oladushka is fatty, doughy, and rather neutral, an apple oladushka is moist, juicy and bursting with flavor. I find that most jams and even sour cream overpower that sweet apple note.
The one topping that doesn't take over and is perfect in every way is melted butter. That's really all you need. I melt butter in a saucepan and keep it over medium heat for just a bit too long to brown it slightly and get that nutty note.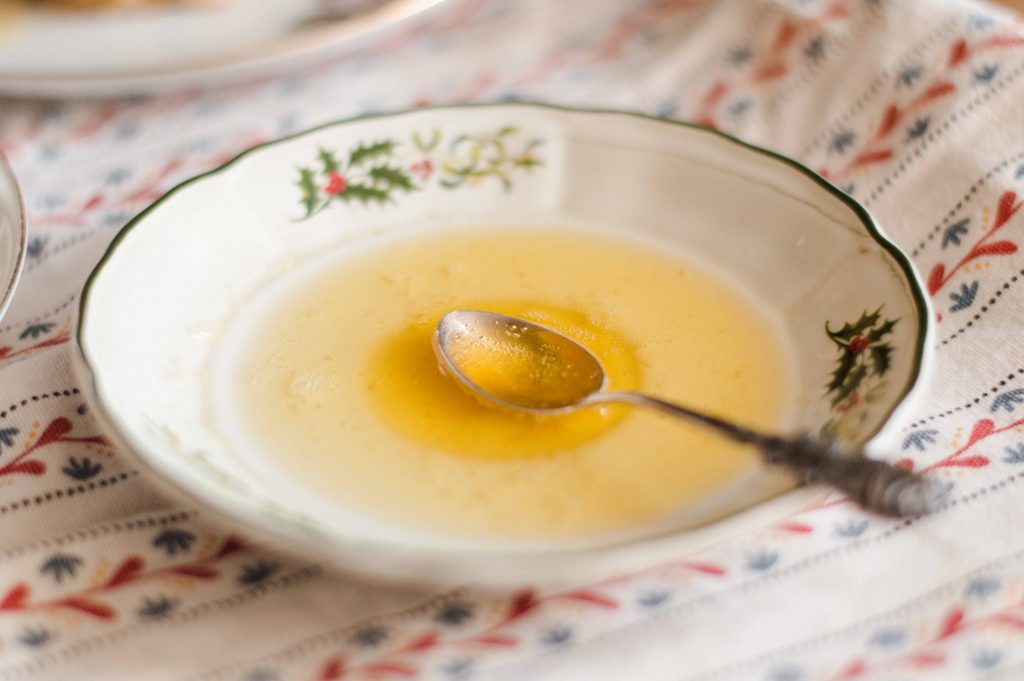 Oladushki should be served hot off the pan (although they will stay hot for a bit longer if you stack them). Once the first batch is fried, plate oladushki immediately and give it to whoever is lucky enough to be closest to the stove.
Pour melted butter from the saucepan into a saucer or straight over the oladushki. But do reserve one oladushka for yourself and — the most important part — scrape off all those browned bits from the bottom of the saucepan with it. Eat while frying the next batch.
Yield: 13-15 oladushki
Apple Oladushki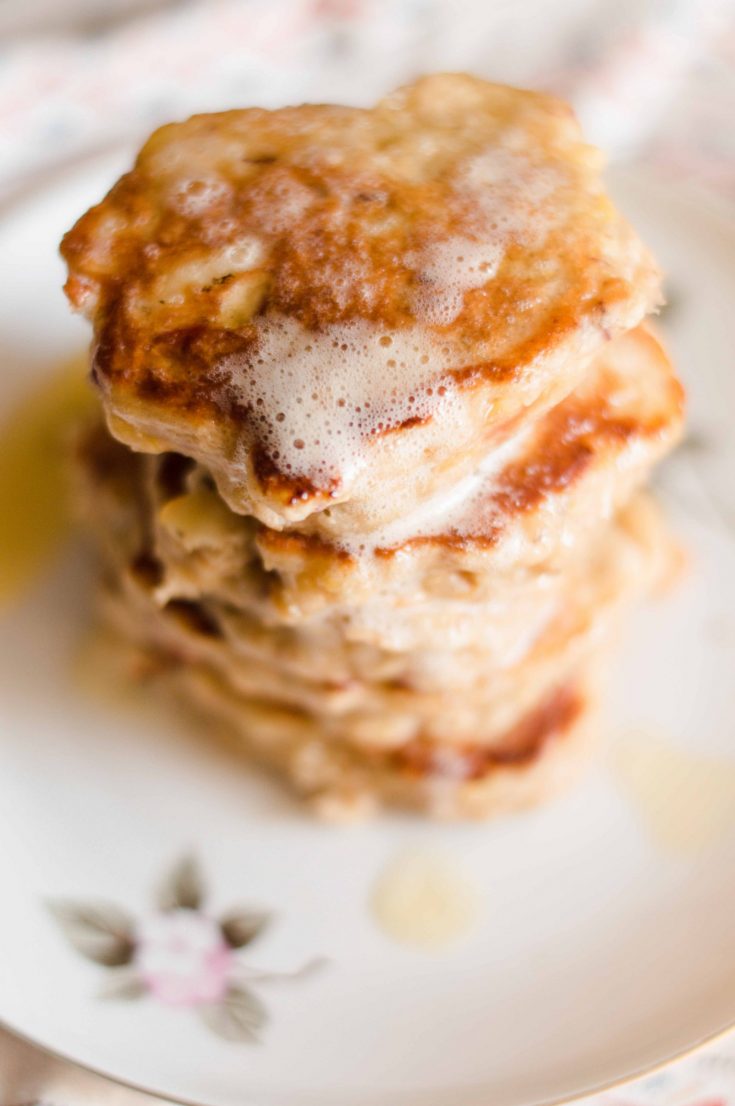 Small and plump Russian pancakes with apple and spices.
Ingredients
200 g flour, sifted
1/4 tsp baking soda
2 pinches of salt
2 tbsp caster sugar
1/2 tsp cinnamon
A grind of nutmeg
Grated zest of half a lemon
180 g kefir
2 medium apples (330 g)
Sunflower oil for frying
Melted butter for serving
Instructions
1. Mix sifted flour, baking soda, salt, sugar, cinnamon, nutmeg and lemon zest in a bowl. Set aside.

2. Pour kefir into a saucepan and heat it over low heat until just warm to touch. Don't let it become hot, or your egg will cook in it, once mixed in.

3. Quarter and core the apples. Place them in a food processor and blend until they turn into a puree. There might be odd bits and pieces of peel here and there, that's ok.

4. Whisk in an egg into warmed kefir. Then add apple puree.

5. Fold in kefir-apple mixture into dry ingredients and mix until you see no streaks of flour.

6. Heat up a pan over medium heat (I use cast-iron, but non-stick will work too) and cover the bottom with a thin layer of sunflower oil. Immediately reduce the heat to low.

7. When the oil is hot and almost splattering, spoon the batter in. One spoonful makes one oladushka. They should be about 5 cm (2 inches) in diameter. Fry on low heat for about 2.5-3 minutes, until the bottom is golden brown and the edges are set. Flip oladushki on the other side and fry for another 1.5-2 minutes. Repeat to the rest of the batter, adding oil before each batch if the pan looks dry.

8. Serve immediately with melted (slightly browned) butter. You can also serve it with sour cream, honey, or jam, but I find that butter complements these oladushki best of all.
Nutrition Information:
Yield:
3
Serving Size:
1
Amount Per Serving:
Calories:

449
Total Fat:

10g
Saturated Fat:

4g
Trans Fat:

0g
Unsaturated Fat:

6g
Cholesterol:

13mg
Sodium:

340mg
Carbohydrates:

81g
Fiber:

6g
Sugar:

24g
Protein:

10g
Pin for later