So I hear Milan isn't a favorite among people visiting Italy. The city is too large, and too commercial, and too gloomy, and too noisy, and not at all like the rest of Italy, and… and… and… How come I loved it though? My 2 days in Milan itinerary is meant to make you fall in love with this "un-Italian" city as much as I did.
Maybe the reason for me being so charmed with a business-like town is that Milan was only my second destination in Italy. The first one was Venice which, by the way, is also rejected by many tourists on account of it being too crowded (I loved Venice, if you are wondering).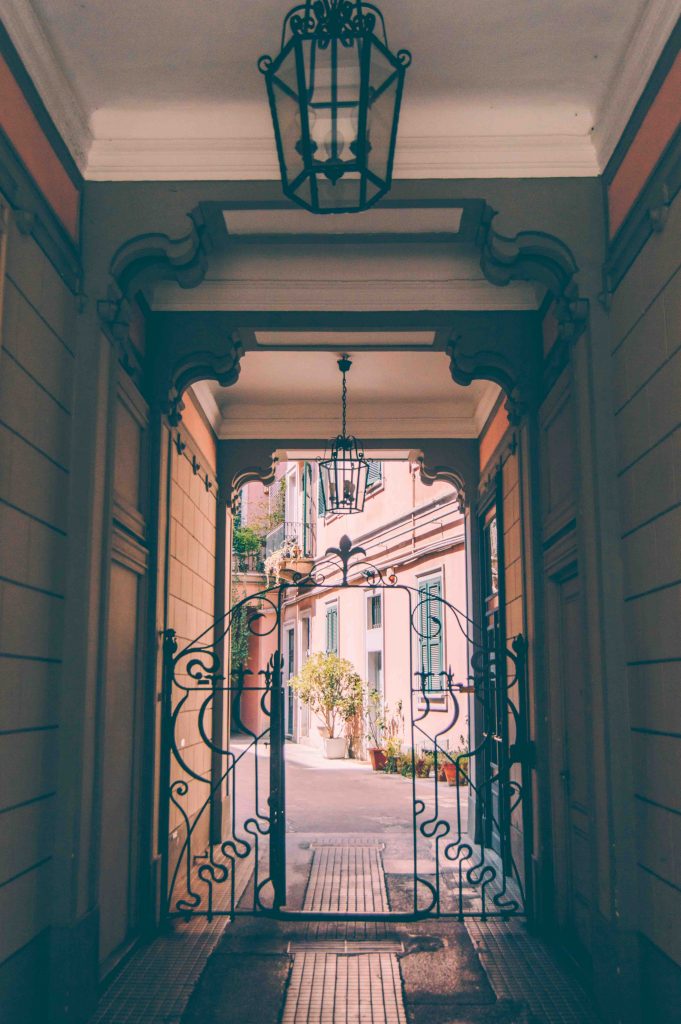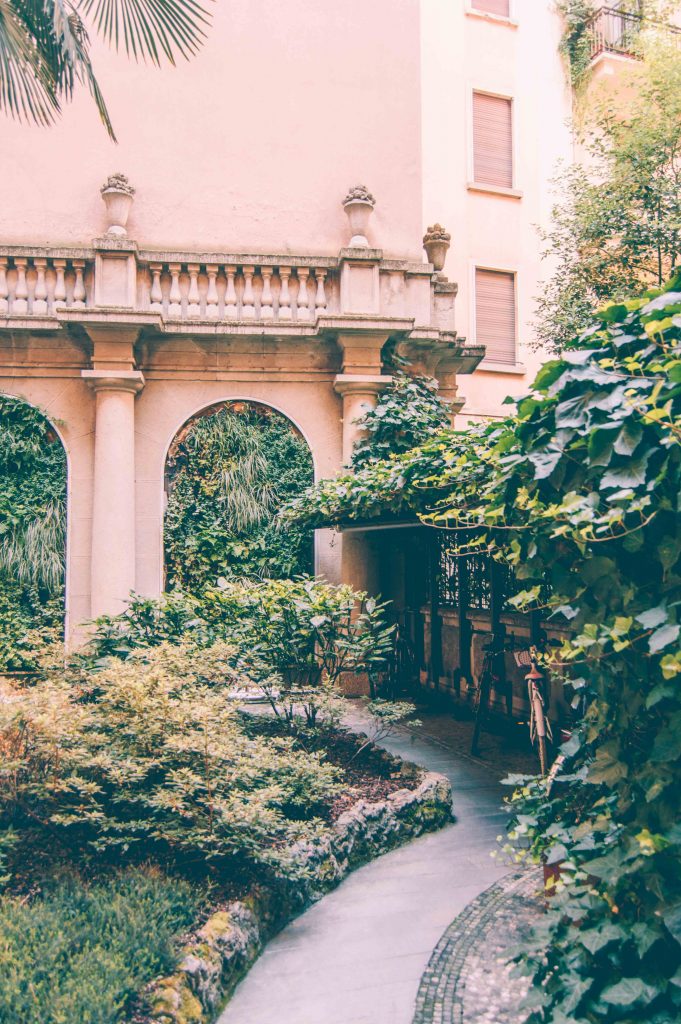 Maybe the reason is that Milan's beauty is meant to be deserved, and I spent many hours planning my visit: looking for the most delicious food, gorgeous garden cafes, and pretty side streets. You have to dig a little deeper to discover the real Milan: walk away from Duomo, leave behind the Instagram-worthy corridors of Galleria Vittorio Emanuele, and discover neighborhoods beyond the fashion district.
Do not worry, though, we will visit all of the above during our 2 days in Milan, after all, they are a must for first-time visitors. But we'll also make a stop in Porta Venezia for some of the best brioches you'll ever have, sip coffee by the pool at a 1930-s villa, and peek at pink flamingos chilling in a courtyard.
Disclosure: this post contains affiliate links which means if you buy something by clicking the link I will earn a small commission at absolutely no extra cost to you.
What to Do (and Eat) for 2 Days in Milan
Day 1
Neighborhoods: Porta Venezia, Brera, Centro Storico
Distance: 4.5 km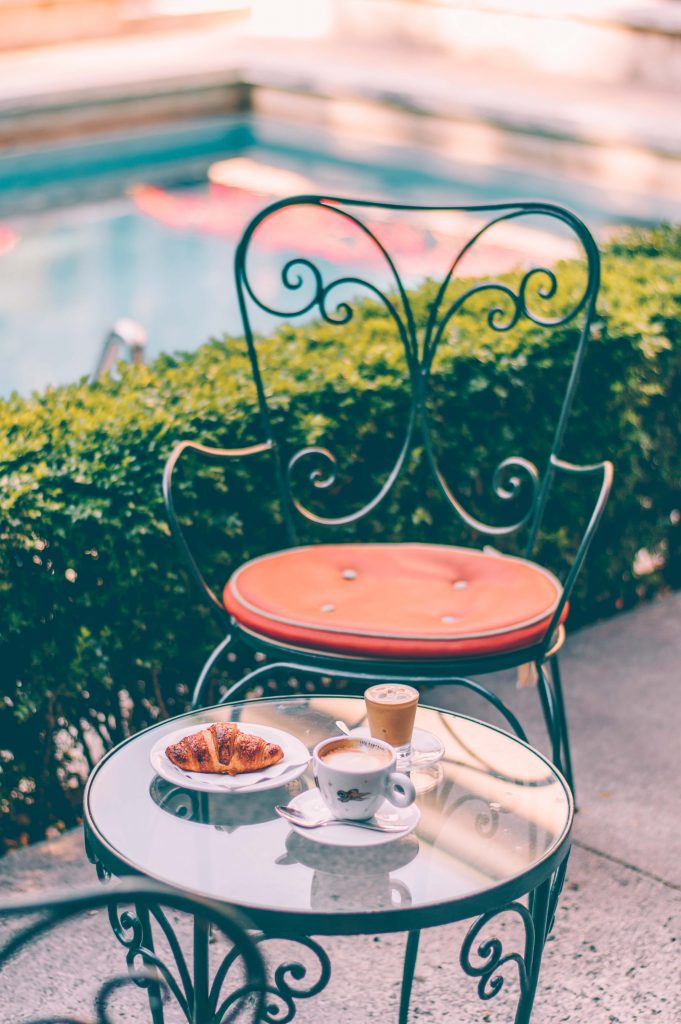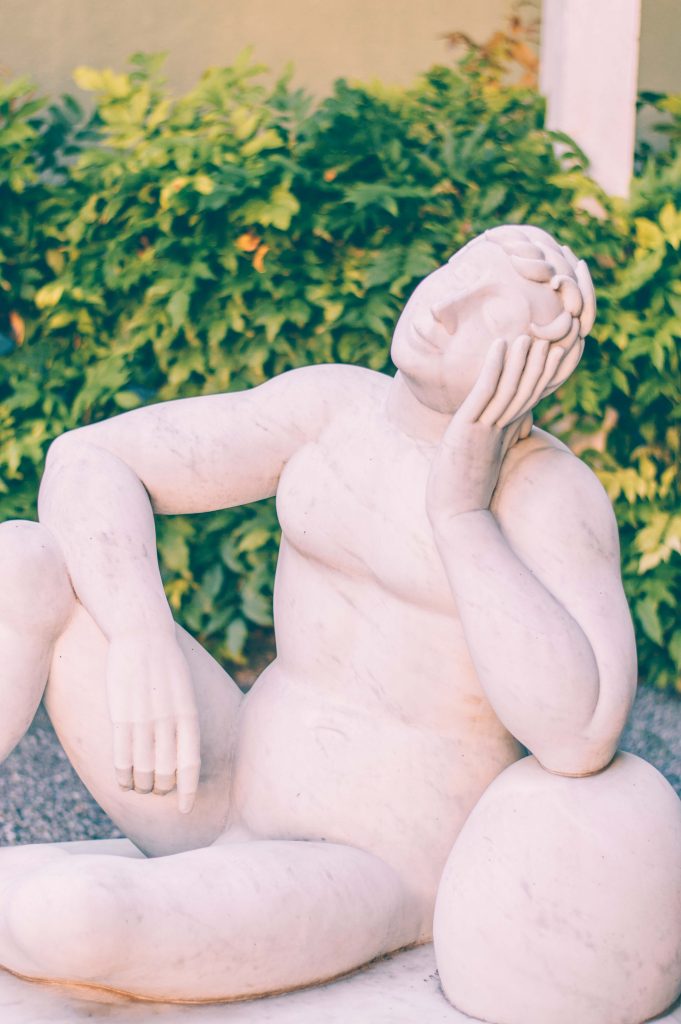 9.00 — Breakfast at the Gorgeous Villa Necchi Campiglio
Not your average breakfast spot, I should warn you, but admittedly, one of the most picturesque and magical spaces in Milan. The villa was built in the early 1930-s by the architect Piero Portaluppi, and belonged to sisters Nedda and Gigina Necchi and Gigina's husband Angelo Campiglio.
Located in Quadrilatero del Silenzio (the District of Silence), the villa is a quiet paradise hidden from the eyes of passersby. The premises feature a vegetable garden, a pool surrounded by flowers, and a tennis court.
But the best part? There's a cafeteria with ample sitting around the pool! Do not expect to find omelets, cereals, and pancakes on the menu. Here, you have to enjoy breakfast the Italian way: a cappuccino and brioche is your best bet.
Alternative: if your prefer a slightly heavier breakfast, check out LùBar (7 minutes walk from Villa Necchi Campiglio). Situated at the Villa Reale which houses the Modern Art Gallery, LùBar with its large arched windows and flower pots all over the place reminds of a green house.
Cafeteria at Villa Necchi Campiglio — Via Mozart, 14
LùBar — Via Palestro, 16
10.00 — Pink Flamingos and a Bronze Ear in Porta Venezia
5 min walk from Villa Necchi Campiglio
After having breakfast at Villa Necchi Campiglio, stroll around Porta Venezia neighborhood. You can walk in no particular direction, admiring the buildings many of which are several centuries old. But make sure to seek out Palazzo Invernizzi, a private mansion with a gated courtyard where you can take a peek at pink flamingos. Going inside isn't possible, but even taking a look through the fence is pretty amazing.
Another attraction located in Porta Venezia is Casa Sola-Busca, or as it's also called by locals "House of the Ear". Back in the day, a giant bronze ear right next to the main entrance was a way for visitors to announce themselves. An early intercom, if you will. People would shout directly into the ear upon arrival. Today, shouting doesn't make sense, since the apparatus is disabled, but you can still take a look at it.
Palazzo Invernizzi — Via Cappuccini, 7
House of the Ear — Via Serbelloni, 10
11.00 — Art, Books, and Coffee at Palazzo di Brera
20 minutes walk from Palazzo Invernizzi
Palazzo di Brera is a palace in the Brera neighborhood of Milan that houses several important cultural institutions. The ones you can visit include Pinacoteca di Brera (Brera Art Gallery), Orto Botanico di Brera (Brera Botanic Gardens), and Biblioteca Nazionale Braidense (Braidense National Library).
Pinacoteca di Brera
Hands down, one of the most stylish galleries I have ever visited. Walking around is pure pleasure, even for a person who doesn't know much about art.
The gallery was established in 1809 at the request of Mary Therese of Austria to give the students of Brera Academy (also located in Palazzo di Brera) the opportunity to see the masterpieces up close.
Unlike many museums that start as private collections of wealthy noblemen, Brera was purposefully created as the center for artworks gathered from all areas of Italy conquered by the French army during Napoleonic Wars. Today, you can see the statue of nude Napoleon (albeit an extremely flattering one) in the courtyard of Palazzo Brera.
Brera Botanical Garden
A 5000-square-meters green oasis in the heart of Milan, Brera Botanical Garden was established with the purpose of medicinal plants cultivation. Just like Pinacoteca di Brera was a way for students of the Brera Academy to learn about art, so the garden was created for students to study medicine first-hand.
It can be accessed both from inside Palazzo di Brera and from a private street behind the palace.
Braidense National Library
While you are in Palazzo di Brera, don't miss out on seeing the beautiful halls of Braidense National Library. According to their official website, the library was made public when in 1770, Maria Theresa decided that Milan was in need of "an open library for the common use of anyone who wants to cultivate his mind, and acquire new knowledge".
Today, you can marvel at the beautiful halls and enormous old books, although from a slight distance: walking into reading rooms is not allowed.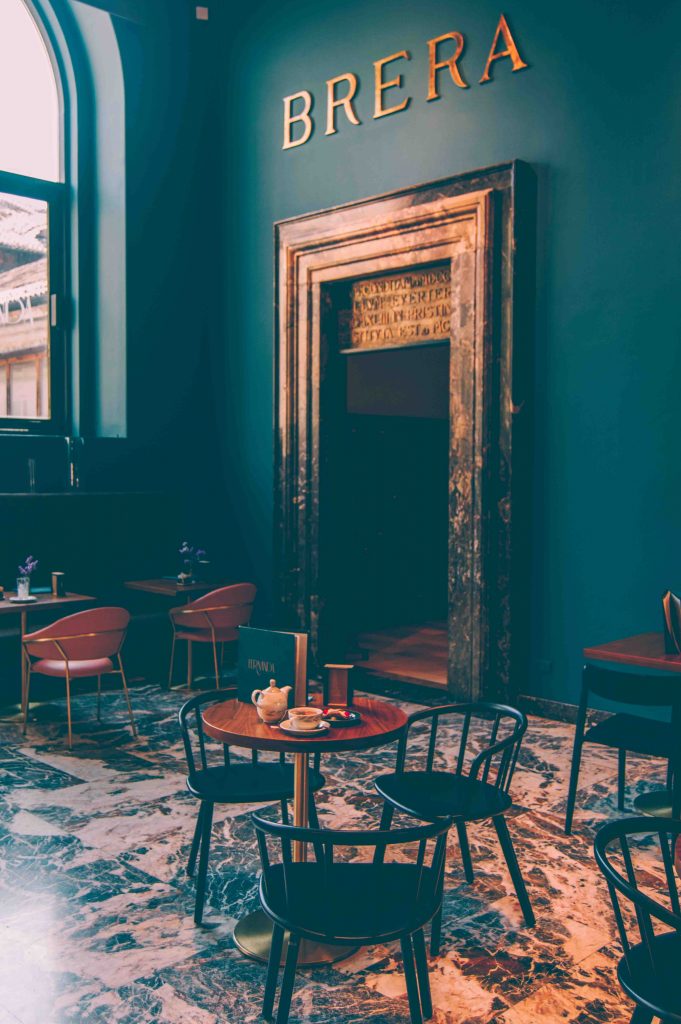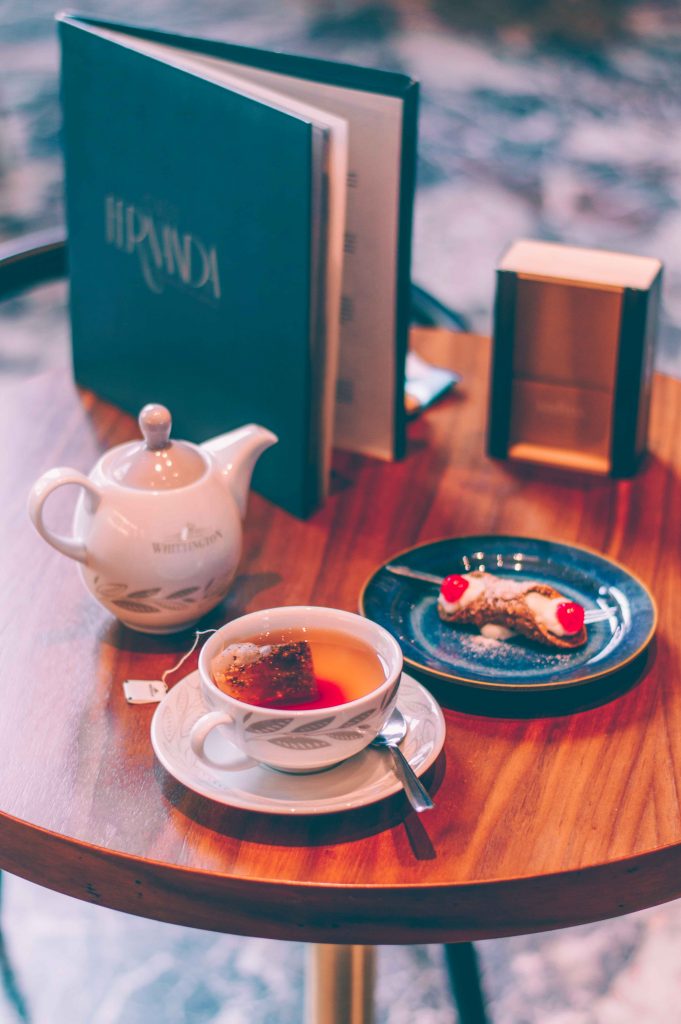 Caffè Fernanda
Lastly, make a stop for a cup of coffee at Fernanda, a cafe located in the former entrance hall of Pinacoteca di Brera. It's impossible to miss as the cafe is right at the end of the exhibition, not unlike souvenir shops in other museums.
Palazzo di Brera — Via Brera, 28
14.00 — Lunch at The FisherMan Pasta
6 minutes walk from Palazzo di Brera
I would fly back to Milan just for the sake of this pasta alone! I tried their candies with octopus in basil sauce (candies are the shape of pasta, not confectionary), and it is easily one of the best pasta I've ever had. Mind you, I've only been to Italy twice, but Milan locals seem to agree with me (better said, I agree with them).
Pasta is served with a few slices of bread, so in the end you can soak up all the delicious sauce left it the pan. The pasta and a bottle of water only cost me 10 euro, so it's a budget-friendly place to eat, too. Wins all around!
The FisherMan Pasta — Corso Garibaldi, 12
15.30 — Teatro alla Scala and Quadrilatero della Moda
11 minutes walk from The FisherMan Pasta
After lunch we are going to make our way to the most touristy part of town — Centro Storico. With only 2 days in Milan, covering the main attractions is a must, no matter how crowded they are.
From The FisherMan Pasta walk towards Duomo and the main square, passing Teatro alla Scala and Quadrilatero della Moda on the way.
Teatro alla Scala
Teatro alla Scala is one of the leading opera and ballet theaters in the world. Ideally, it would be great to catch a show here. Maria Callas made her official debut at La Scala, and the likes of Anna Netrebko perform regularly at the theatre.
However, you can get inside even if you can't see the show. La Scala has daily guided tours at 16.00 and 16.45 (duration is 45 minutes). You can book your tickets here.
Quadrilatero della Moda
Quadrilatero della Moda, or the Fashion District of Milan, is an upscale shopping area in Centro Storico. This is where you go if in desperate need of a designer bag or shoes. Or where you wander around with mouth wide open (the prices!) and window shop.
To give you a better sense of direction, the district is surrounded by four streets: Via Montenapoleone, Via Manzoni, Via della Spiga, and Corso Venezia.
17.00 — Duomo and the Rooftop
10 minutes walk from Quadrilatero della Moda
No trip to Milan is complete without visiting Duomo Milan Cathedral. Needless to say, this is the heart of the city where tourists flock to take a picture with hundreds of impudent pigeons. The construction of the cathedral took almost six hundred years, and it is considered the largest church in Italy (and the fourth largest in the world).
Here, you have to do two things (at the minimum): get inside Duomo and then go up to its rooftop. Entering the cathedral is free of charge, unless you want to skip the line (that's what I did). You can book skip-the-line tickets at the official website.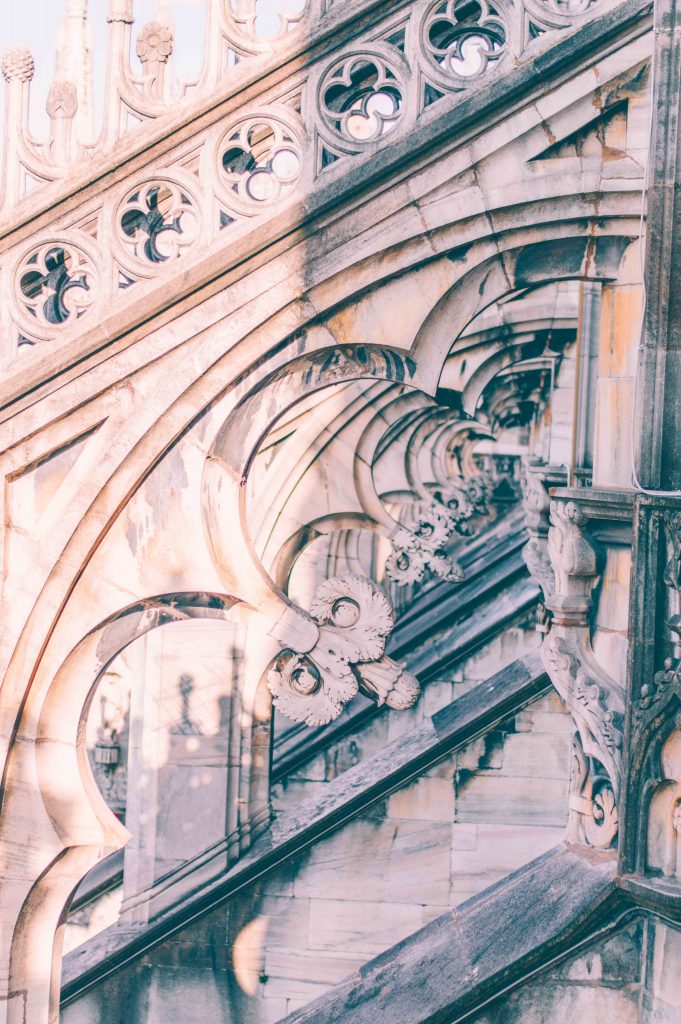 More importantly, you must go up to the rooftop! Not only will you get a bird's eye view of the square and surroundings, but you'll see the intricate ornaments of Duomo up close. To go up you need to buy a ticket. Choose between walking up a staircase or taking an elevator (slightly more expensive).
If you want to learn more about the history of Milan and Duomo, you can take a guided tour of Duomo or a tour of both the Cathedral and the rooftop. The price of the guided tour usually includes a fast-track pass.
Tip: admission to both the cathedral and rooftop ends at 6.10 pm (although they are open til 7pm), so make sure to come on time.
Tip: if you have more than two days, there are 3 more gorgeous churches in Milan you should visit.
18.30 — A Break for Coffee, Aperetivo, or Gelato
3 minutes walk from Duomo
Now that you've covered the major attractions, it's time to have a break with a glass of Aperol spritz or a cone of Italian gelato.
Only three-minutes walk from Duomo, in a narrow side street, is located Cioccolati Italiani. It's an Italian cafe chain that specializes in chocolate. They use "fino de aroma" cocoa which is considered the finest cocoa in the world. Their dark chocolate gelato tastes more like chocolate than chocolate itself — if that even makes any sense!
Right by Cioccolati Italiani is situated Lavazza flagship store if you feel more like coffee or a drink. That's where traditional Italian espresso meets creativity. Think: coffee popcorn and coffee caviar. They also have coffee based alcoholic drinks for a perfect aperetivo.
Cioccolati Italiani — Via S. Raffaele, 6
Lavazza Coffee Design — Piazza S. Fedele, 2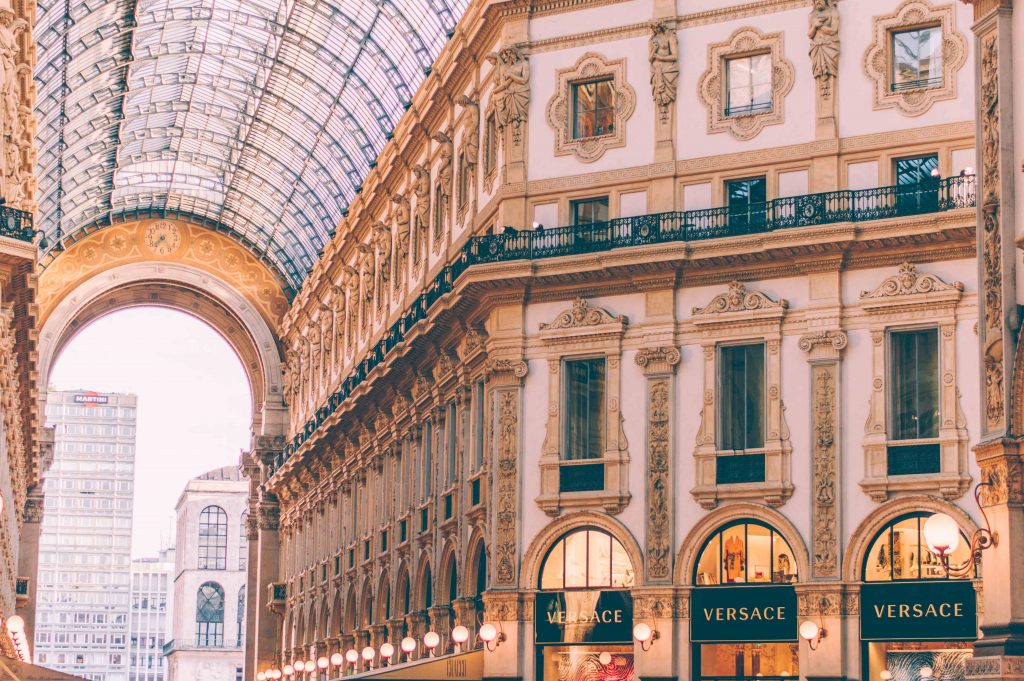 19.00 — Galleria Vittorio Emanuele II
2 minutes walk from Cioccolati Italiani
Galleria Vittorio Emanuele II is Italy's oldest shopping mall and the place where you can take all those Instagram-worthy pictures with the arched hallways and glass ceilings. It was designed in 1861 and completed by 1867. The name comes from Victor Emmanuel II, the first king of the Kingdom of Italy.
Pay attention to the Prada store on the ground level — the first one in the world, opened in 1913. Another stop worthy of your time might be Marchesi 1824, a cafe located on the second floor of the Galleria (atop Prada store). It's the second location of the famous Milanese coffee shop, perfect for a quick coffee break.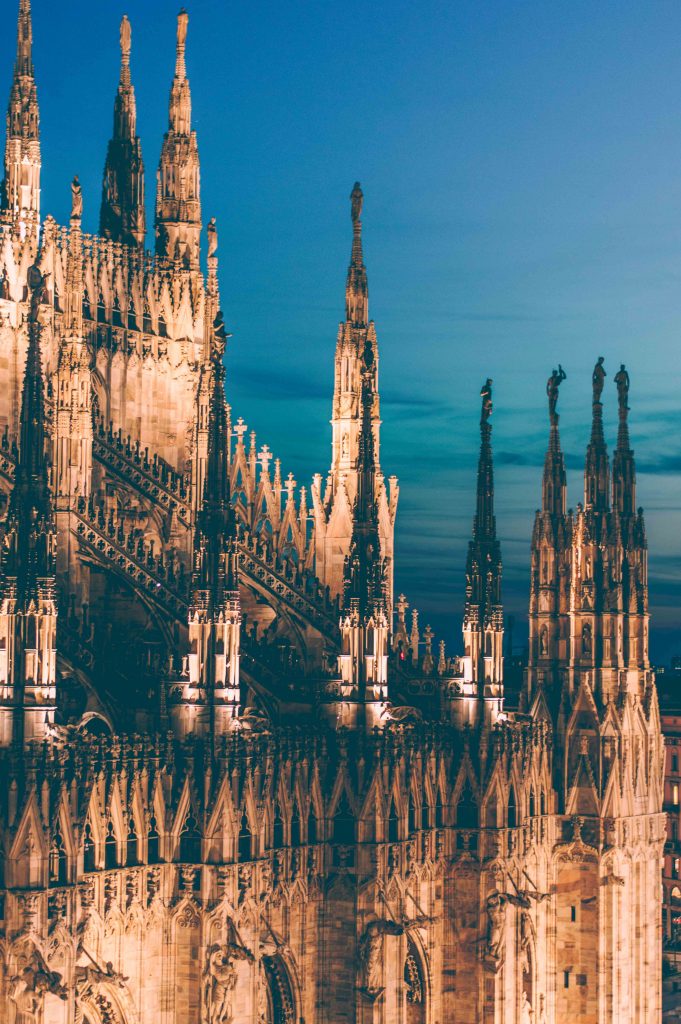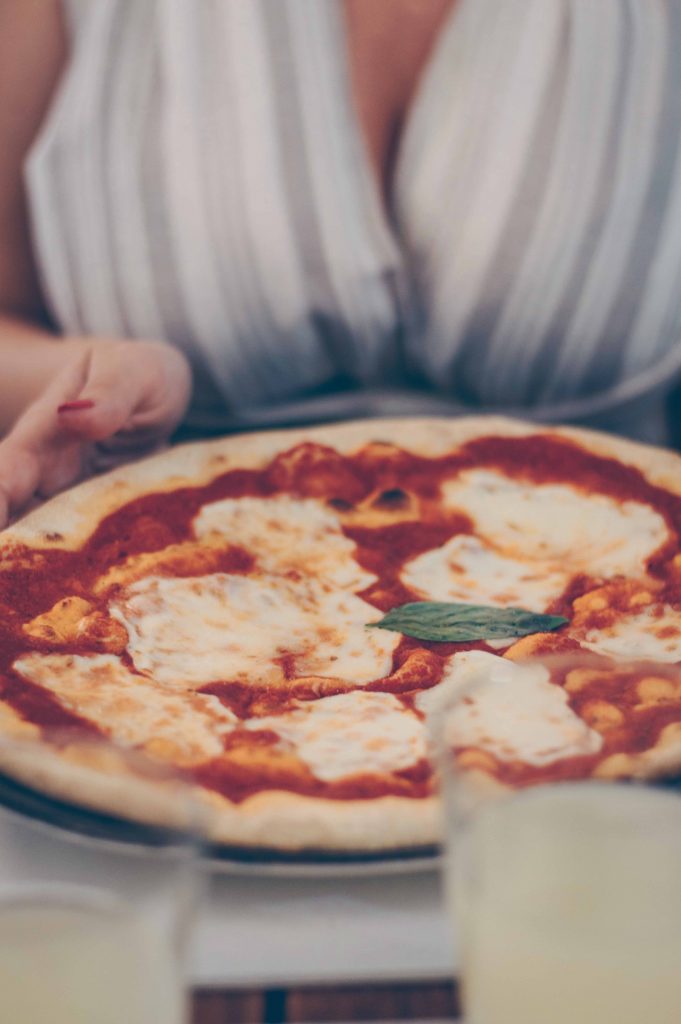 20.30 — Dinner at Obicà Mozzarella Bar
2 minutes walk from Galleria Vittorio Emanuele II
Let's finish the first of our 2 days in Milan with a hearty dinner in Centro Storico. In fact, all you have to do is take an elevator up the 7th floor of Rinascente Milan in Piazza Duomo.
Obicà Mozzarella Bar is an Italian restaurant specializing, you guessed it, in mozzarella. They serve the freshest Mozzarella di Bufala Campana DOP and classic Italian dishes prepared with it: from crostini to pasta to pizza. Best of all, though, is the view of Duomo from their terrace.
Obicà Mozzarella Bar — Via Santa Radegonda, 1
2 Days in Milan Itinerary
Day 2
Neighborhoods: Porta Venezia, Porta Nuova, Porta Sempione, Navigli
Distance: 6 km
9.00 — Breakfast at Pavè Milano
Let's start our second of 2 days in Milan with a satisfying breakfast. Pavè in Porta Venezia neighborhood has some of the most amazing baked goods I've ever had, and is among the top 3 of my favorite bakeries in the world.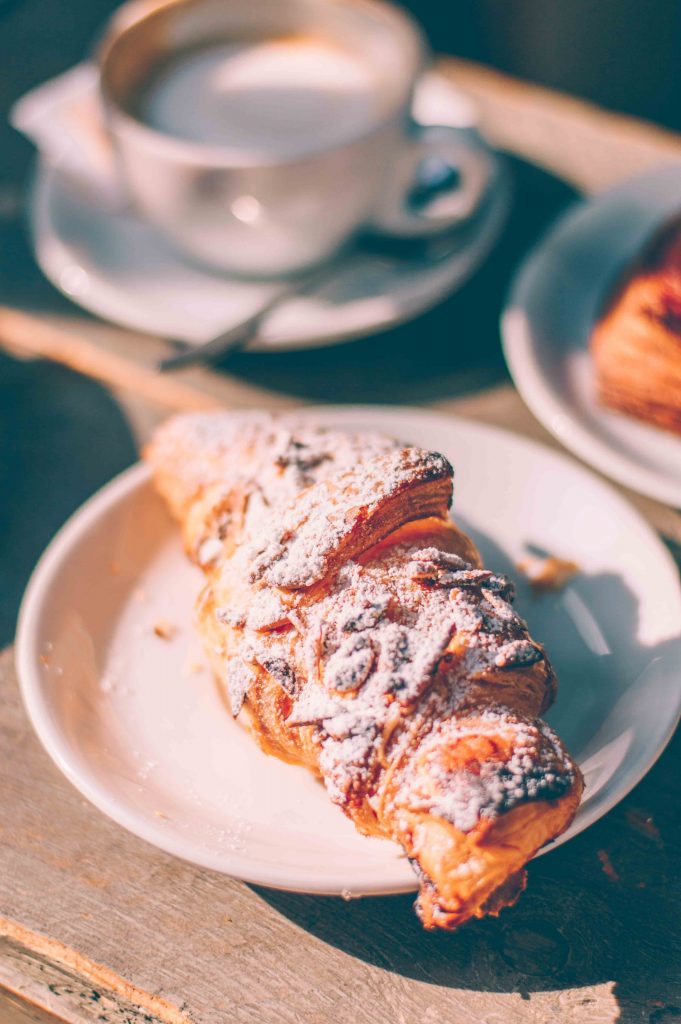 Just remember that breakfast in Italy means a sweet pastry and cappuccino. Although Pavè, being a modern spot, definitely has more options that your normal Italian pasticceria. That includes savory options like brioche with salmon and ricotta or prosciutto that I highly recommend.
Pavè Milano — Via Felice Casati, 27
10.30 — Chill Time at the Library of Trees
15 minutes walk from Pavè Milano
After breakfast take a walk to Milan's most unusual green space — la Biblioteca Degli Alberi, or the Library of Trees. The park contains diverse plant life — over 135,000 plants representing a hundred different species.
While here, you get a view of another Milan's attraction — Bosco Verticale. Vertical Forest, as it's called in English, is two residential buildings covered in greenery. Together, the two towers contain over 900 trees on their terraces.
From the park, it's only a two-minutes walk to Piazza Gae Aulenti, a modern square surrounded by contemporary skyscrapers and shops. If you are in need of a coffee break, stop at illy Caffè (illy is one of the most popular Italian brands of espresso).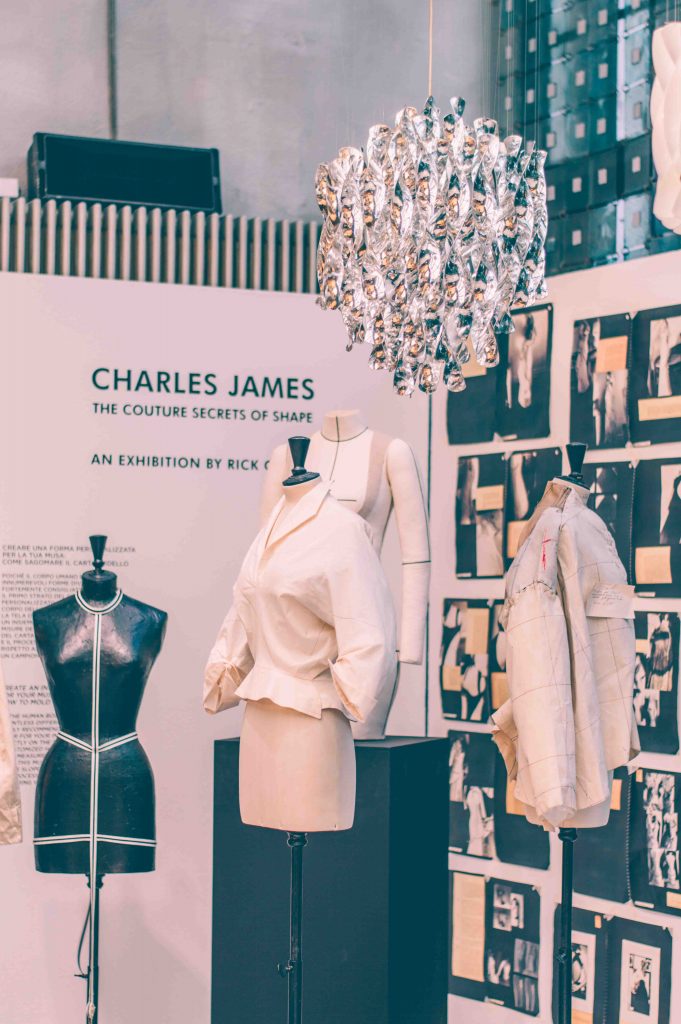 12.30 — 10 Corso Como
7 minutes walk from the Library of Trees
Next, make your way to 10 Corso Como. It's both the address and the name of an awe-inspiring space that stands on the crossroads of fashion, culture, and art. You'll find a garden cafe and a shopping area on the ground floor. The second floor features an art-space and a really cool book store. At the rooftop is a beautiful terrace with tables and chairs — perfect spot to chill with a cup of coffee and a book.
13.30 — Eataly Milano Smeraldo
3 minutes walk from 10 Corso Como
Just around the corner from 10 Corso Como is Eataly, one of the largest indoor markets in Milan. You might have visited Eataly in other cities around the world: they have locations in Boston, Munich, Rome, and beyond. The idea behind is to bring together the best products from every Italian region.
Eataly is a place where you can do groceries, have a cup of coffee at Lavazza, grab a meal, and even attend educational workshops and lectures. This is a great place to buy a few foodie souvenirs to take home (I got some salami, cheese, and coffee).
You can have your lunch at Eataly. They have options for every budget: from a pizza by the slice on the ground floor to a Michelin-starred restaurant on the top floor. Or you can walk a few minutes to have some great seafood sandwiches nearby.
Eataly Milano Smeraldo — Piazza Venticinque Aprile, 10
14.30 — Seafood for Lunch at Pescaria Milano
5 minutes walk from Eataly
Pescaria is a small Italian chain of seafood sandwich shops with two locations in Milan. This is a perfect option for lunch: quick self-service, fresh ingredients, and great prices. One of the most popular menu items is their fried octopus sandwich. I opted for octopus without the bread — simply grilled and served with a green salad. Their fritto misto is also good, albeit a lemon wedge would be a nice addition.
Pescaria Milano — Via Nino Bonnet, 5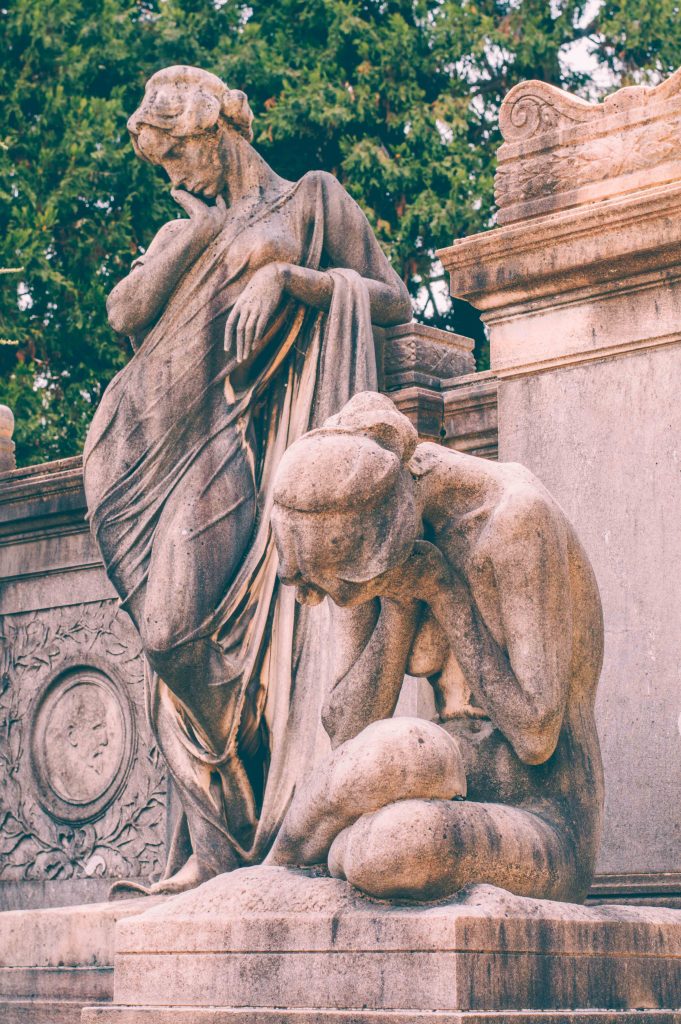 15.30 — Quiet Time at Cimitero Monumentale
10 minutes walk from Pescaria Milano
This was, hands down, one of the best things to do on my 2 days in Milan itinerary. Cimitero Monumentale is one of the two largest cemeteries in Milan and is known for abundance of beautifully designed tombs, chapels, and monuments.
Located only a few steps away from popular tourist attractions like Eataly and Corso Como, the cemetery, however, is quiet and peaceful. The tree-lined alleys provide shade on hot summer days. The entrance is free of charge.
17.00 — Sempione Park: from Arch of Peace to Sforza Castle
20 minutes walk from Cimitero Monumentale
Time to get back to the crowded part of Milan and explore some popular attractions. Make your way to Sempione Park, one of the largest green spaces in the heart of the city. The park is designed in a way to create panoramic views of two major attractions: Arch of Peace and Sforza Castle, located on either side of the park.
Arch of Peace (Arco della Pace)
Arch of Peace is a triumphal arch built in the early XIX century to celebrate Napoleon's victories. It is considered to be one of the most important neoclassical monuments in the city.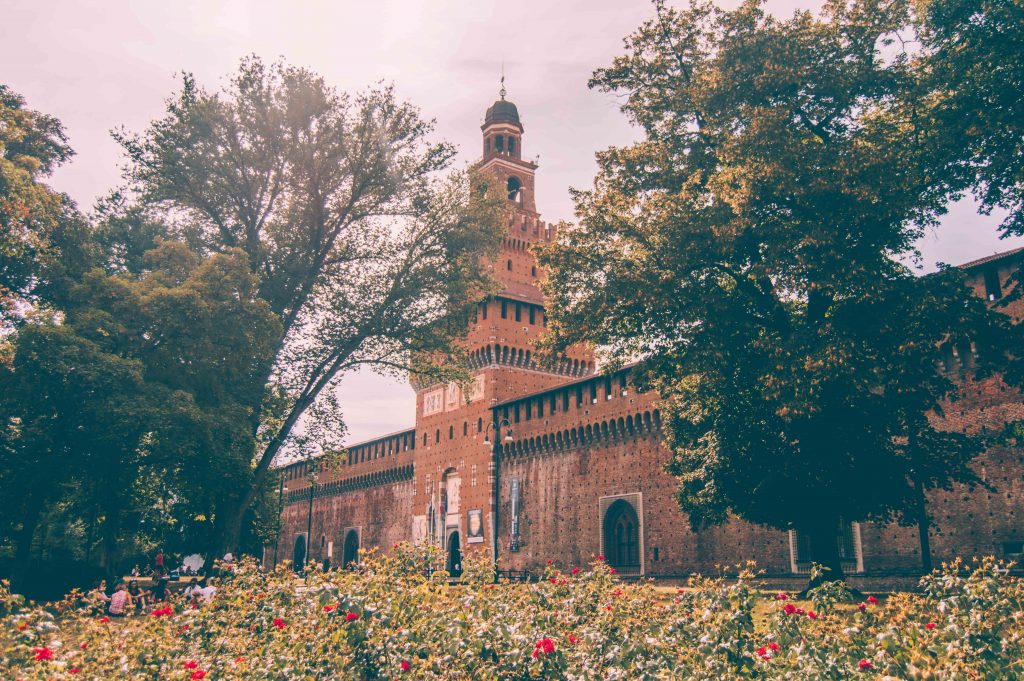 Sforza Castle (Castello Sforzesco)
Sforza Castle is an iconic red-brick castle on the edge of Sempione Park built in the 15th century. Originally a home for Sforza dynasty that ruled Milan, today Castello Sforzesco houses several important museums and art collections, including Michelangelo's last artwork, the Rondanini Pietà.
19.00 — Pasta for Dinner at Miscusi
5 minutes walk from Sforza Castle
Miscusi is a small local chain of pasta restaurants that currently has 5 locations in Milan. It is meant to be somewhat of a pasta fast food: the service is quick and the prices will make you happy. Besides, you can create your own pasta: choose the shape first, decide whether it's wholewheat or normal, and pick what sauce you'd like.
But here similarities with fast food chains end. The ingredients at Miscusi are of the highest quality. The pasta is prepared fresh on the premises. And the ambience is very homely and welcoming.
I ended up eating here 3 times during my stay in Milan, partly because the food is so good, partly because I visited in August, and everything else was closed.
Miscusi (Cardona) — Via G. Leopardi, 13
20.30 — Late Night Drinks at Navigli
15 minutes train ride from Miscusi
Navigli is a neighborhood of Milan famous for its interconnected canal system that was used to transport goods from the nearby lakes and rivers back in the day. Today, the canals are not used for shipping, but you can still see tour boats floating around.
The neighborhood is bustling at night, with many restaurants and bars located by the canals. You'll feel way more like a local here than in the crowded Centro Storico. The easiest way to get to Navigli is by metro. A 15-minute train ride will take you straight to the staton Porta Genova.
Navigli was the one neighborhood I really wanted to see, but didn't have enough time. If you are not too tired after 2 days in Milan, I suggest you go to Navigli for late-night drinks.
But What About the Last Supper?
I know, Leonardo's masterpiece is a must on any Milan itinerary for first-timers. However, it's pretty impossible to simply squeeze it into your plan. Rather, you'll have to arrange your whole Milan itinerary around seeing the Last Supper.
The problem is that tickets are sold out months in advance. If you are still months away from your trip, I suggest you go right ahead and book (or at least try to) your tickets now at the official website.
If you are anything like me and this is a spontaneous trip, booking a guided tour of the Last Supper organized by a third party is your only option. It's more expensive, but there's no other choice. You can also book a longer city tour that covers several major attractions, including Da Vinci's masterpiece. For example, this tour includes the Last Supper and Sforza Castle, while this is a guided art tour with the focus on Leonardo and Michelangelo.
If you still want to follow this 2 days in Milan itinerary, you can see the Last Supper instead of visiting Palazzo di Brera on the first day, then continue as planned.
What If I Have 3 Days in Milan?
If you have an extra day in Milan, spend it on beautiful Lake Como which is only a short train ride away. There are many little villages around the lake you can visit to enjoy the view of magnificent Italian Alps, but the 3 most popular ones are Como, Bellagio, and Varenna.
Majority of guides recommend to visit all 3 villages on a day trip. That's exactly what I did. Didn't love it. Cramming 3 towns (even small ones) in one day is stressful. What I'd do instead is visit 2 towns: Varenna and Bellagio. And if you want to visit Como after all, here's a guide to Como city. But let's start from the beginning!
Day 3 — Day Trip to Lake Como
Morning — Breakfast at Gelsomina
A little gem of a cafe that serves amazing breakfast! By the way, I have a post with all of my favorite breakfast places in Milan, if you are interested. Gelsomina is a beautiful spacious cafe with white-washed walls and wrought-iron furniture. They make the most amazing croissant with pistachio cream, as well as a range of savory baked goods.
Gelsomina — Via Carlo Tenca, 5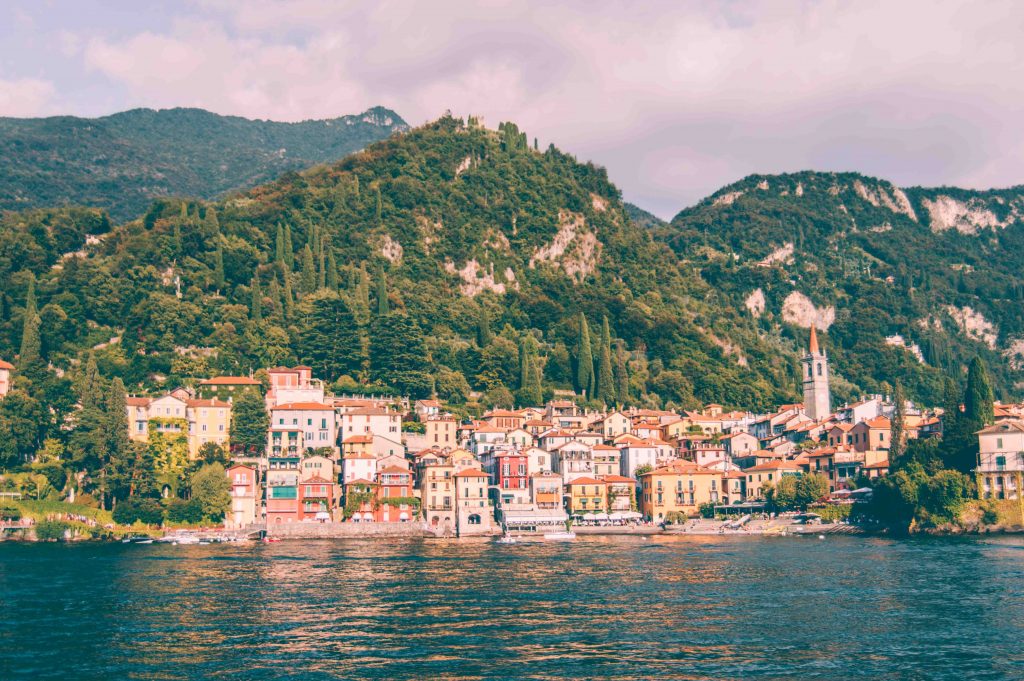 Afternoon — Explore Varenna and Bellagio
An hour train ride from Milan Central Station
After breakfast at Gelsomina, head to Milan Central Station and take a train to Varenna. You can buy the tickets online beforehand or right at the station (buy a return ticket Milan — Varenna — Milan).
Important
Before boarding the train make sure to validate your ticket! If you don't, you'll have to pay a fine, even though technically you bought a ticket.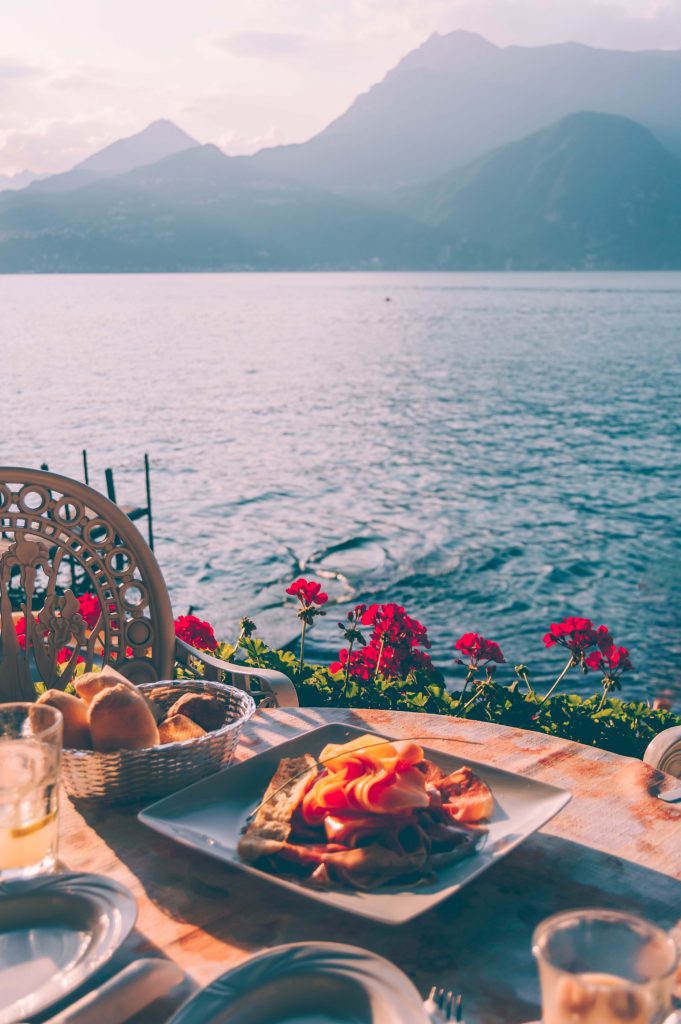 The train ride takes about 1 hour. Spend your day exploring Varenna, walking the narrow streets, and checking out a gazillion souvenir shops.
When you've spent enough time in Varenna, take a ferry to the nearby village of Bellagio. It's only a 15-minutes ride away. Bellagio was my favorite village of the three.
Tip
It's best to buy all your tickets right away. So in the morning, when you arrive to Varenna train station, walk to the ferry station and get your ferry ticket to Bellagio (they are not timed, ferries go fairly often). Once you reach Bellagio, buy your ferry ticket back to Varenna while you are at the ferry station.
Your journey for the day will look like this:
Milan Train Station — Varenna (by train) — Bellagio (by ferry) — Varenna (by ferry) — Milan Central Station (by train).
Alternative
If you don't want the hustle of buying your own tickets and figuring out timetables, you can always book a guided tour to Lake Como which includes all 3 villages.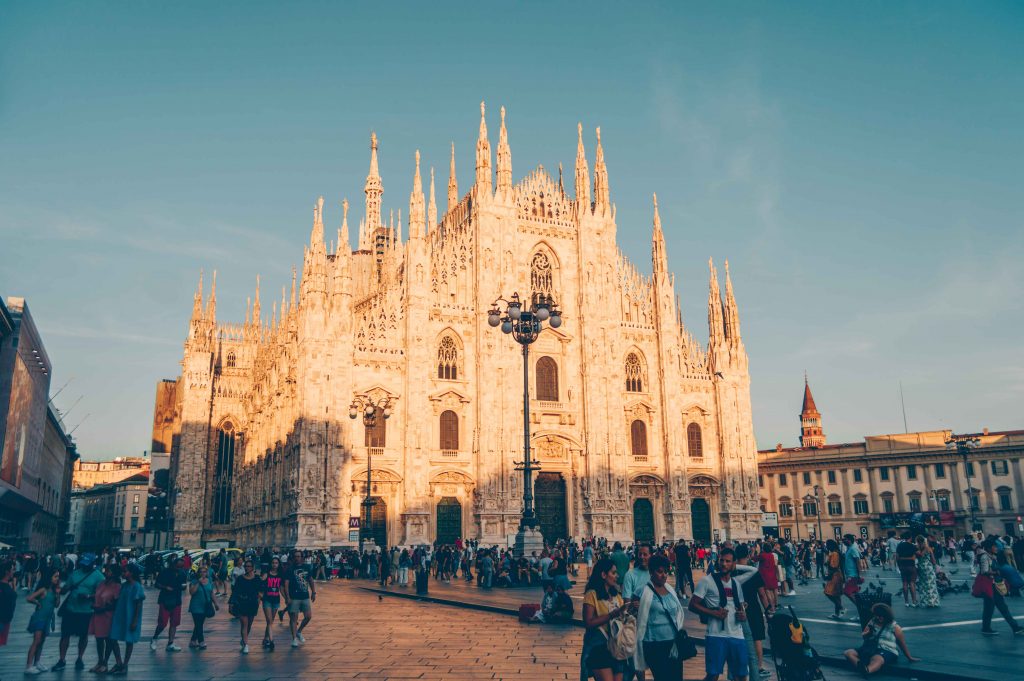 Where to Stay in Milan?
I stayed at an AirBnB in Porta Venezia neighborhood. If you haven't used AirBnB before, you can click here to get 40$ off your first booking.
If you prefer to stay at a hotel, below are a few options that I would consider. Keep in mind that Milan is an expensive city, so staying at a hotel in the city center will cost you a pretty penny. To reduce the cost, you need to book a hotel either further away and take public transport or go for a hostel.
Luxurious options
Senato Hotel Milano is housed in a historical building completed in the early 1900's. The interiors are monochrome with plenty of black and white, complemented by brass lamps and fixtures. The bathrooms feature Carrara marble. Everything about this place is sleek and stylish. And the location near Brera neighborhood is unbeatable.
The Yard Milano is best for people who love quirky interiors. Each suite and apartment is uniquely designed based on a sports theme. Think: tennis rackets on the walls, rugby balls and trophies on the shelves, and vintage posters. Located in the Navigli neighborhood, this hotel is great if you want to feel like a local in Milan. Besides, some of the best bars in the city are within a stone's throw away.
Mid-Range Options
Eco-Hotel La Residenza is an eco-friendly hotel with a beautiful garden. Although the location is a bit far from the city center, there's a metro station 300 meters away from the hotel with a direct line to Duomo. The train ride will take about 20 minutes.
Meininger Milano Lambrate is another affordable hotel in Milan. It's located near Lambrate Train Station, away from the city center. Nevertheless, the metro station is only 5-minutes walk away providing easy access to major attractions. The rooms are sleek and modern. The hotel features a shared kitchen, laundry area and games room.
Budget Options
Babila Hostel is located in a beautiful restored Neo-Gothic building in Milan's city center. Duomo is only 10 minutes walk away, but thanks to a back-street location the area is quiet and peaceful. The hostel provides beds in dormitory rooms at great prices, as well as private rooms.
Ostello Bello is another hostel in Centro Storico (10 minutes to Duomo). The shared areas are quirky and have plenty of character. There are 3 terraces with hammocks where guests can chill after a busy day in Milan. The bar is a popular place with both locals and travelers for music performances and art exhibitions.
Both hostels offer private rooms which means you get to stay in the city center while paying the same as for mid-range hotels located further away.
Finally, Don't Forget About Travel Insurance!
I can't emphasize enough how important travel insurance is when you are planning a trip to a foreign country! So many things can go not exactly as planned (like that time I got food poisoning and
got robbed of all my luggage
in San Francisco).
I use
World Nomads
in my travels. You can buy and claim insurance online (even if your trip has already started). And their service is impeccable: fast and polite. You can get a customized quote for your trip below!
I hope this 2 days in Milan itinerary was helpful in planning your trip! If you want to read more about Milan, I have a post with my favorite breakfast spots.
If you are planning to visit Venice too, here's my 3-day itinerary for Venice, as well as a guide to the traditional Venetian foods.
Pin for Later: