They say, if you are eating badly in Italy, you are probably in Venice. Yikes! Venice was supposed to be my introduction to Italy, and I was not about to let a few touristy restaurants with overcooked pasta spoil my first impression of the country that's been on my bucket list for the past decade.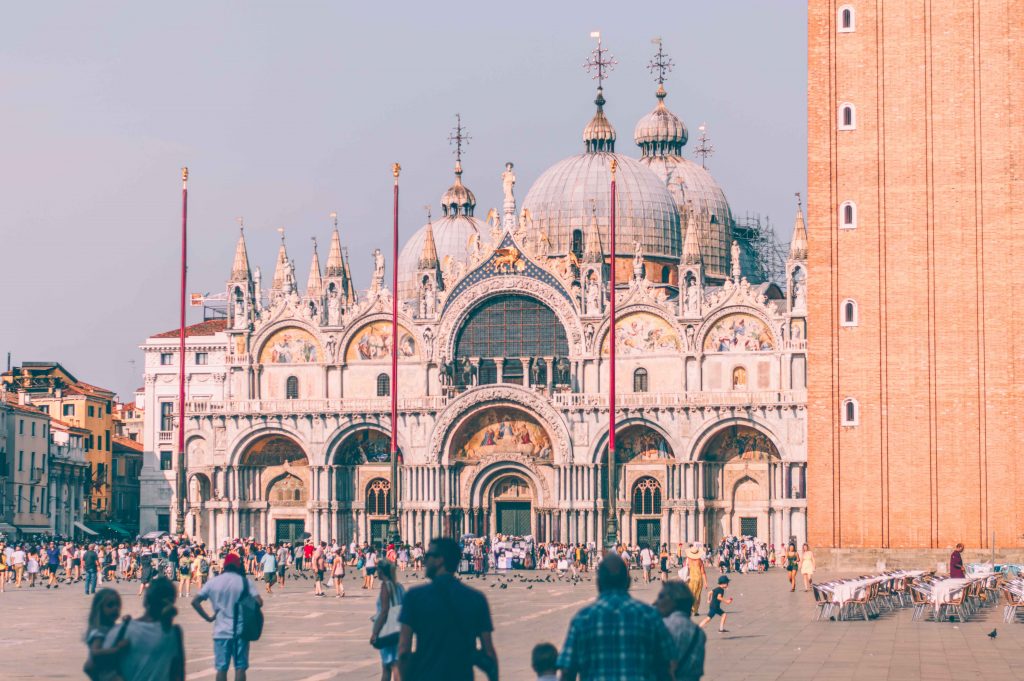 So I did what I do best — lots of research. I searched for "the best restaurants in Venice", and for "must-try foods in Venice", and, finally, for "where locals eat in Venice". Right! As if in a city of 50 000 residents any local ever shared his favorite spots with 20 million tourists arriving yearly. I get it. I wouldn't share either.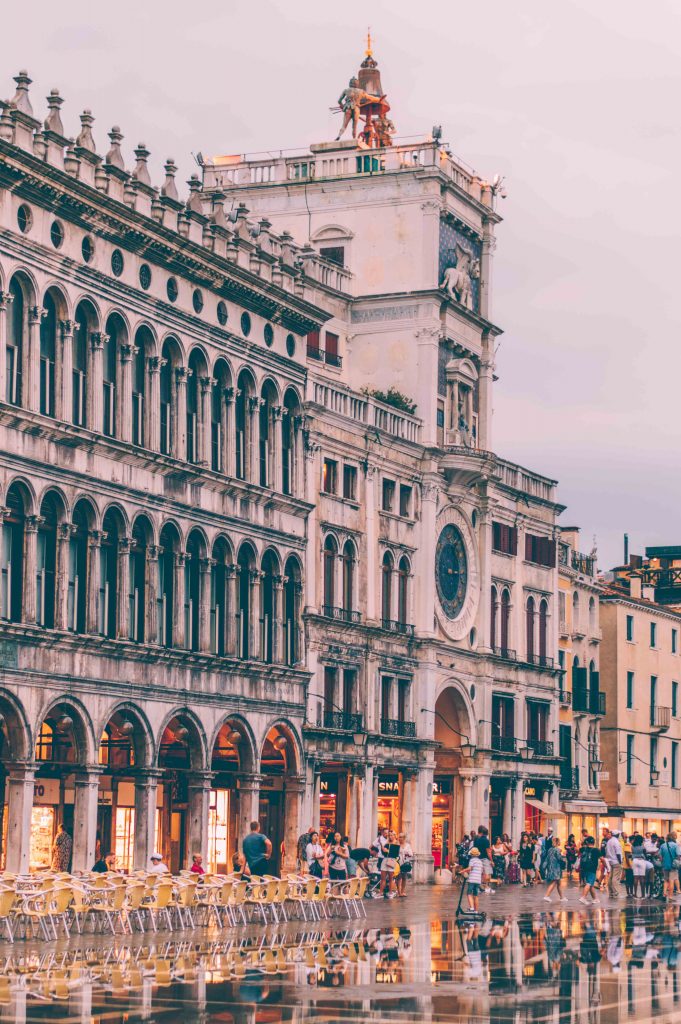 Nevertheless, I managed to put together a comprehensive list of bakeries, cafes, and restaurants to try on my visit. Not a single meal, of which there were 16, was left to chance. With so many tourists, you just can't hope to stumble upon a precious gem of a restaurant with delicious food by accident. So I stuck with my list, even if it meant walking for 15 minutes under pouring rain to get dinner.
The result? A strong conviction that Venice has plenty of incredible food, as long as you know where to find it. This list comprises 12 spots I absolutely loved in Venice: from coffee and croissants for breakfast to cheap sandwiches for quick lunch to multi-course dinners that last until late night.
12 Restaurants I Absolutely Loved in Venice
Breakfast
Pasticceria Rosa Salva
Breakfast the Italian way means a cup of coffee and a sweet pastry, which is why all three places I recommend for your morning meal are bakeries. Pasticceria Rosa Salva, located right in the center of San Marco neighborhood, is frequented by both locals and tourists.
You can tell one from another by their strategic positioning in the pasticceria: locals are standing by the counter, sipping their espresso and chewing on croissants; tourists are sitting at the tables, sipping the same espresso and chewing the same croissants at twice the price.
That's right! If you want the comfort of placing your behind on a horizontal surface, you have to pay more. I say, be like locals. Two cups of cappuccino and two croissants cost my husband and I only 5 euro at the counter.
Tip: they have the most amazing almond croissant! Here you can also try the famous local cookie bussola that comes from the nearby island of Burano.
Location: San Marco neighborhood, 3 minutes walk from San Marco Square
Pasticceria Rosa Salva — Sestiere di S. Marco, 950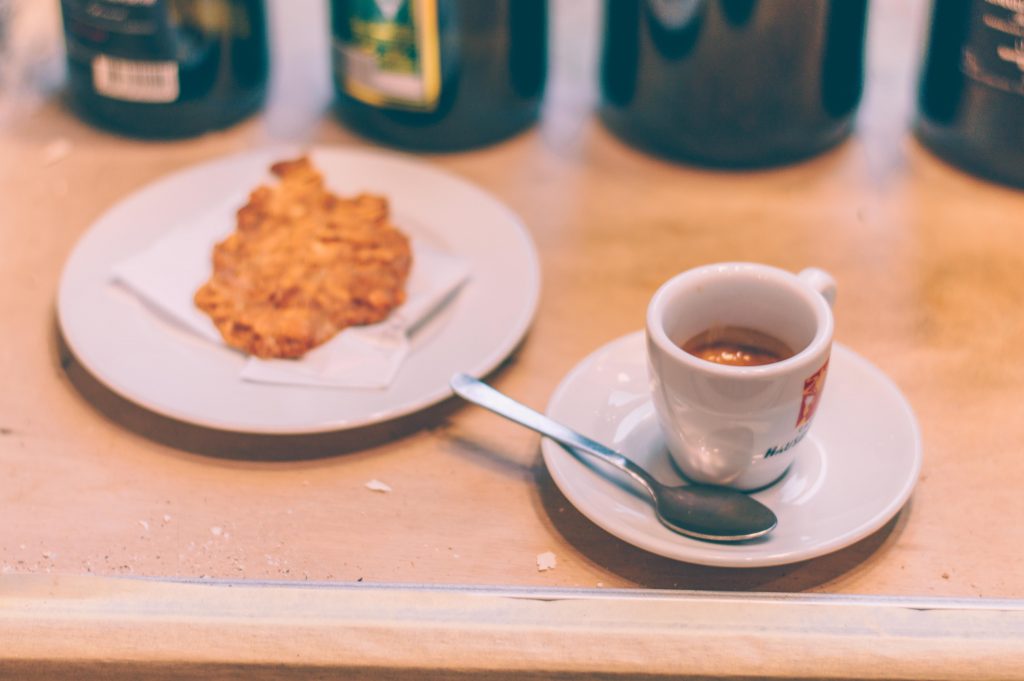 Pasticceria alla Bragora
A family-run business, pasticceria Alla Bragora offers freshly baked pastries every morning. From croissants with almond paste to brioches with jam and custard to savory buns. I ran to this bakery in Castelo under pouring rain, and their hot chocolate was a real savior.
Notice, how even under heavy rain I didn't run into a random coffee shop, but deliberately made my way to one of the pasticcerias on my list. I am weird like that, and my husband has to put up with that.
Location: Castello neighborhood, but within walking distance to the main attractions.
Pasticceria alla Bragora — Salizada Sant'Antonin, 3604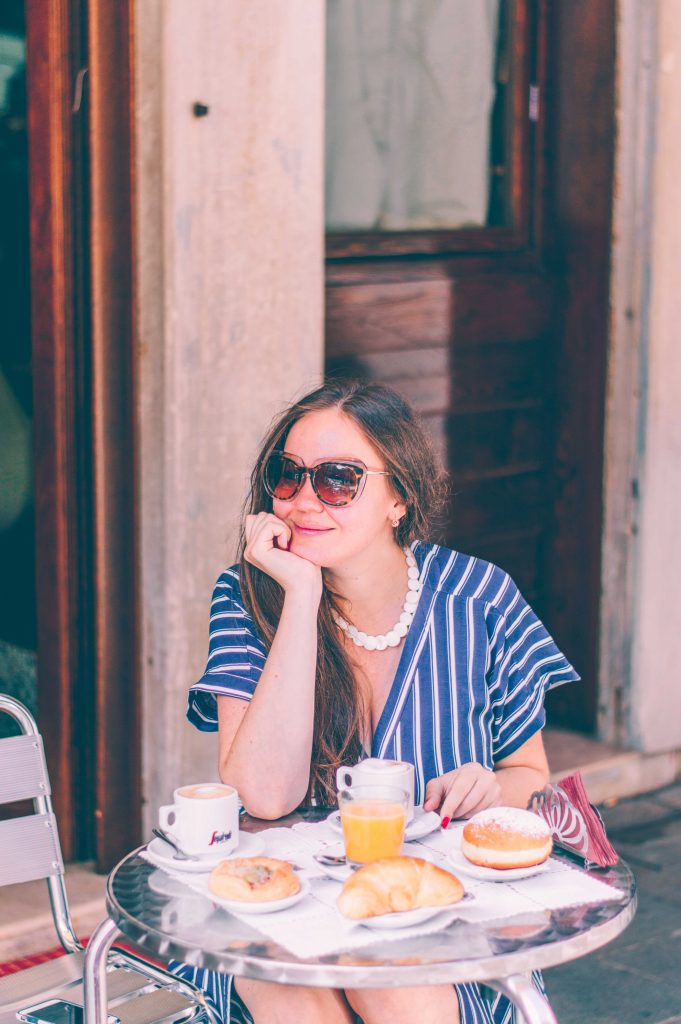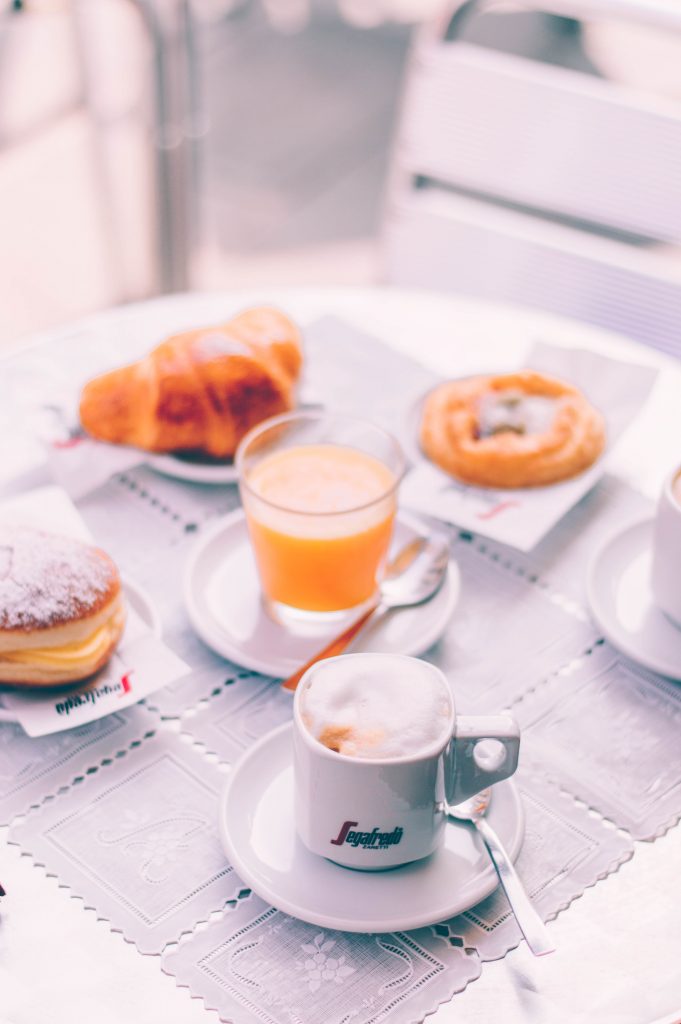 Pasticceria Italo Didovich
This small bakery with outside sitting on Campo Santa Marina has been around for over forty years. Run by Italo and Laura Didovich, it offers a great range of classic Italian and Venetian pastries, like brioches, kimpfels (stuffed doughnuts), and fritelle (mini doughnuts).
Looking at the picture above you might be thinking: Yulia, but you told me to always have my breakfast standing at the counter. Guilty as charged. This was my last day in Venice, I have walked 60 000 steps in the previous 3 days, and I just could not stand any longer. I thought: "Screw it! I am Russian, I am a tourist, I am going to sit!"
And you know what? It was fabulous. Also, a little embarrassing since 70-year-old Italian ladies didn't seem to have any problem drinking their coffee at the counter. But my butt was extremely grateful. My wallet — not so much. 20 euro for 2 cappuccinos, 2 pastries, and an orange juice. Sitting down is not cheap.
Tip: apparently, at lunchtime they serve hot meals like pasta and polpette (meatballs), so stop by if you are in the area.
Location: central, 5 min walk to Rialto Bridge.
Pasticceria Italo Didovich — Campo Santa Marina, 5908
Lunch
Birreria Forst
I once believed that if a restaurant is close to the major attractions, without a doubt, it offers mediocre food at sky-high prices. Italy changed my mind. Sometimes it's true and sometimes it's not. You just need to know which narrow alley will take you to the most delicious food in minutes.
Birreria Forst, for example, is located barely 3 minutes away from Doge's Palace, but serves some really great tramezzini, one of the must-try Venetian foods. Tramezzini are triangular-shaped sandwiches, usually prepared with white bread (crust cut off) and stuffed with anything from beef to tuna to eggs.
At Birreria Forst, they make tramezzini with brown bread instead. The sandwiches cost only a couple of euro. Pair it with a bottle of beer and you got yourself a nice lunch under 10 euro. The space is small and crowded, but the high quality ingredients and reasonable prices are worth it.
Locations: 3 minutes walk from Doge's Palace
Birreria Forst — Calle de le Rasse, 4540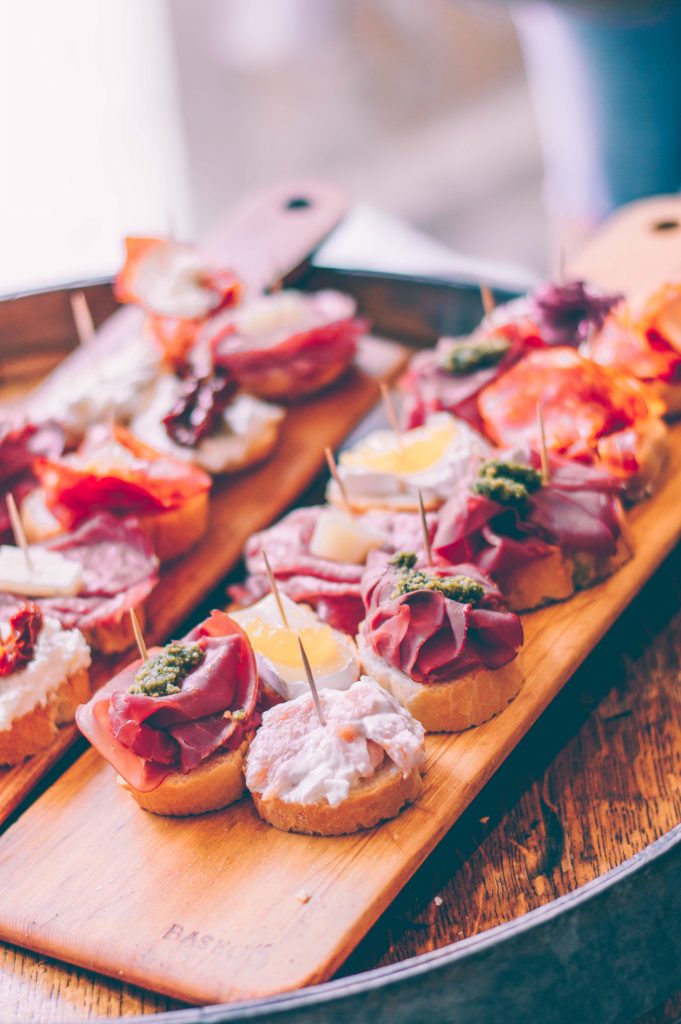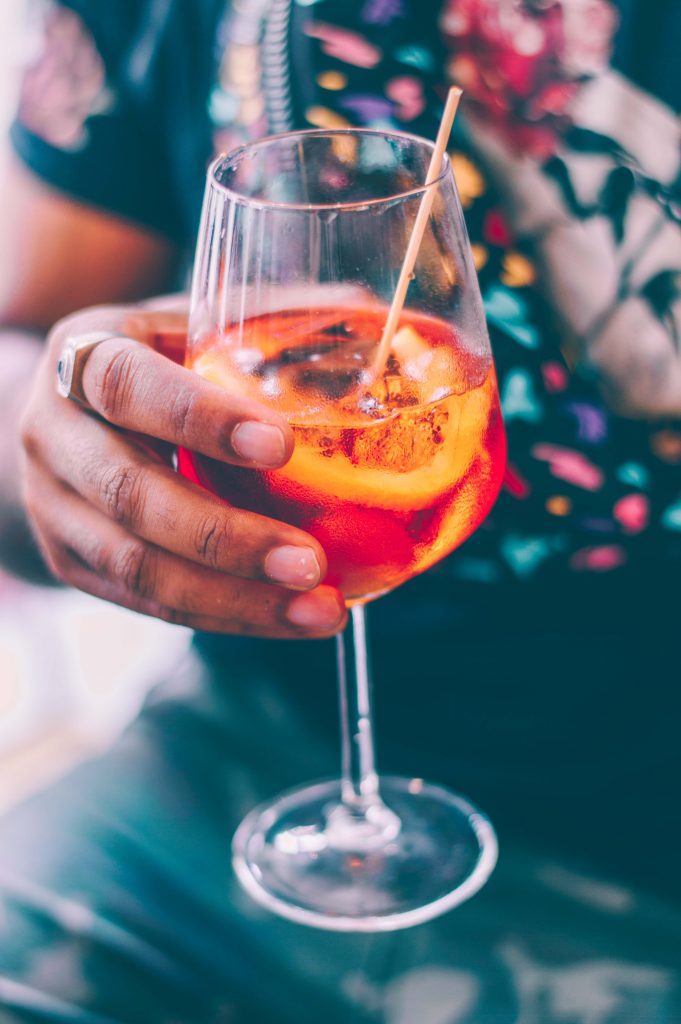 Basegó
Another great option for affordable lunch is traditional Venetian cicchetti which are similar to Spanish tapas — do not, however, use the word "tapas" in Venice under any circumstances.
Usually served on slices of bread or polenta cakes, cicchetti are topped with dozens of different ingredients: from fish to salami to cheeses. The word cicchetti can also refer to any bite-sized food, like chicken wings or meat balls.
Basegó is a popular among locals and tourists ciccheteria. The name Basegó translates to "basil" from Venetian dialect of Italian. Here you'll find classics like cicchetti with baccalà mantecato (creamed dried stock-fish) and cichhetti with Sopressa (a locally produced salami), as well as modern variations like tuna fish cicchetti with avocado mayonnaise. The indoor sitting is limited, with wine barrels and shelves playing the role of tables, making the space cozy and intimate.
Tip: Basegó can double as an aperetivo place: cicchetti and a glass of wine will make for the best pre-dinner meal.
Location: San Polo neighborhood, 10 minutes walk from Rialto Bridge
Basegó — Calle del Scaleter, 2863
Acqua e Mais
If you dig a little deeper into the roots of Venetian cuisine, you'll learn that pasta — the most Italian of Italian dishes — is not a staple in the region. Instead, Venetians prefer polenta. You'll see polenta served in liquid form as porridge or in solid form as grilled cakes.
Acqua e Mais, which translates to "water and corn", specializes in quick eats served on polenta. Here you can try many Venetian classics like baccalà mantecato, sarde in saor, or grilled baby octopus.
Being a street food joint, Acqua e Mais has no sitting area. The food is served in a scartosso, a folded paper cone, so you can have your lunch while strolling along the canals.
Location: San Polo neighborhood, 6 minutes walk from Rialto Bridge
Acqua e Mais — Campiello dei Meloni, 1411-1412
Lunch or Dinner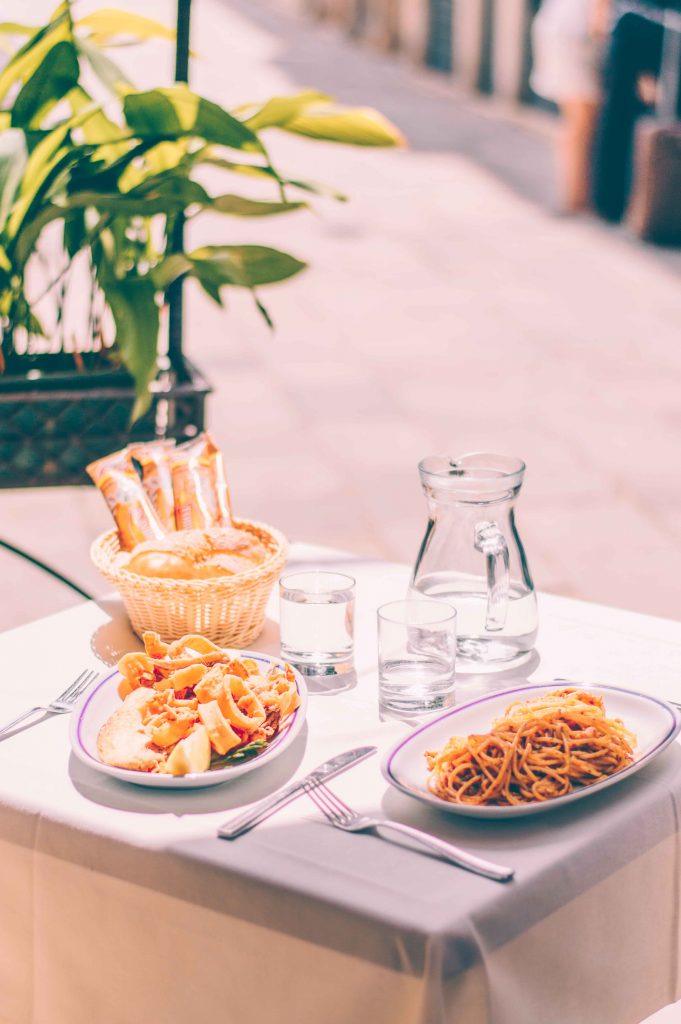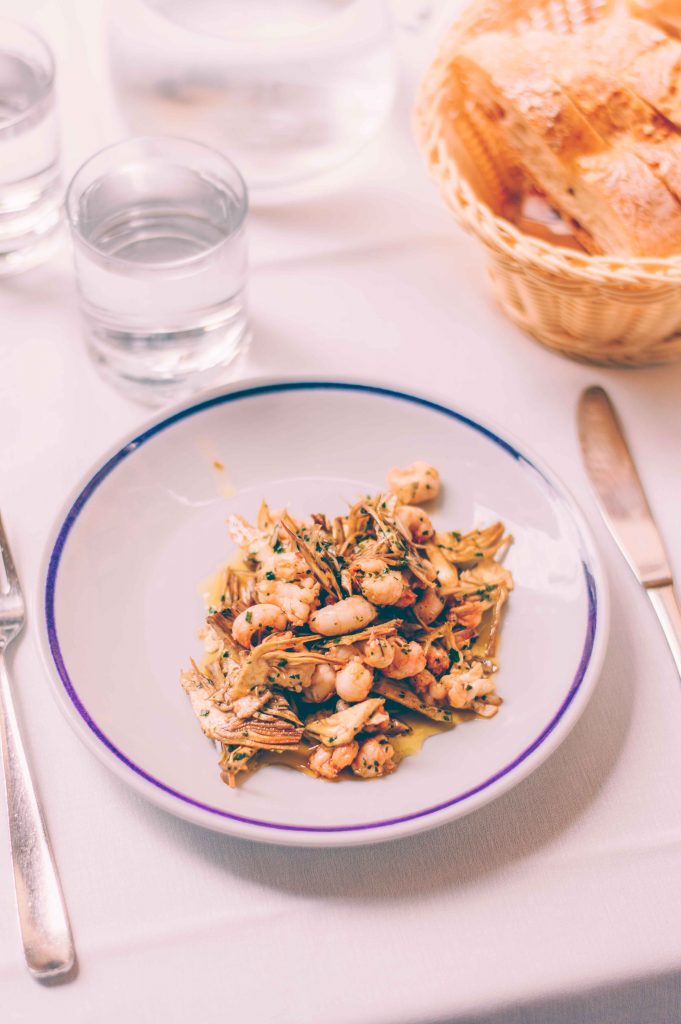 Trattoria da Bepi Già 54
A perfect stop for lunch or dinner if you are exploring the neighborhood of Cannaregio, Trattoria da Bepi Già 54 serves Venetian classics. The owner welcomes you at the door with a huge smile and makes sure everything is done to your taste. I tried the artichoke and scampi salad, fritto misto, and pasta with scampi, all of which were excellent.
There's some confusion online as there seems to be two restaurants under the name of Trattoria da Bepi in the neighborhood. The one I recommend is located near Campo Santi Apostoli. The other one is situated right by a canal and, apparently, is a tourist trap with seriously horrible reviews. Make sure to find the right restaurant!
Location: Cannaregio, near Campo Santi Apostoli
Trattoria da Bepi Già 54 — Cannaregio 4550, SS Apostoli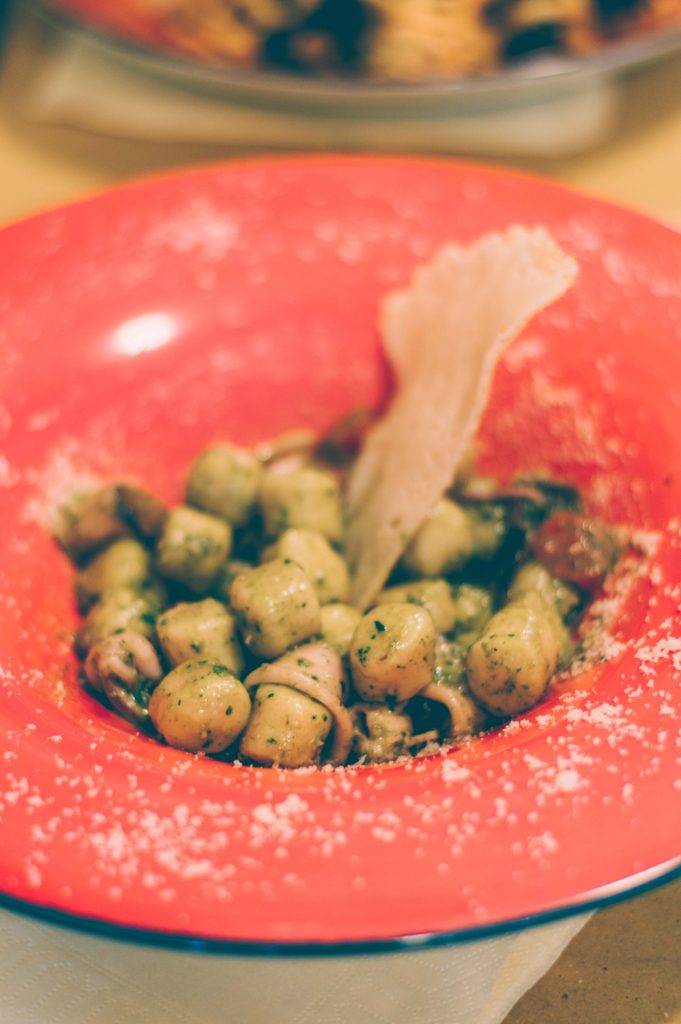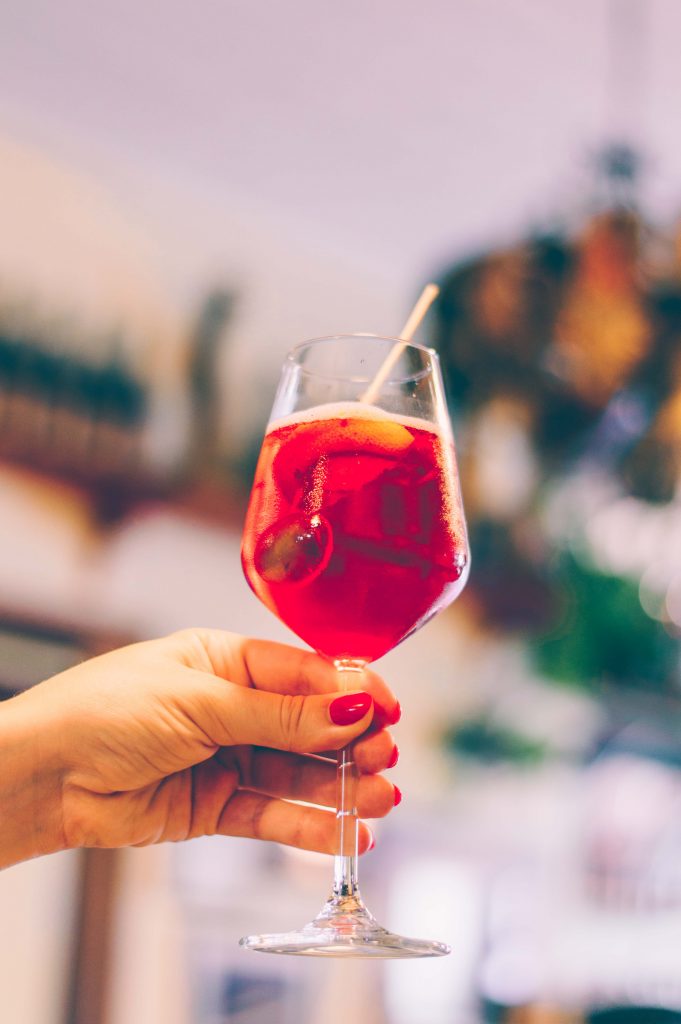 Osteria Al Bacco
Another great restaurant in Cannaregio located right by quiet Canal delle Capuzine. Al Bacco is one of the oldest osterie in Venice great for a slow dinner after a day of exploring the city. Start with seafood antipasti, move on to a pasta al nero sepie (squid ink pasta is a Venetian specialty), and order a whole grilled fish as a main.
The best spot is at one of the tables lining the canal or in the backyard garden, but their indoor dining room is cozy too.
Location: Cannaregio
Osteria Al Bacco — Cannaregio, 3054
Trattoria da Jonny
In one sentence: the best dining experience I had in Venice. Trattoria da Johny is close to the center, yet hidden from the eyes of passersby in Campiello de le Gatte. The dining room features exposed brick walls, while outdoor seating is simple but elegant.
The restaurant was opened by a Venice local, and you can clearly feel it in the menu: classic Venetian dishes prepared of the freshest local ingredients with a modern twist. I tried the grilled octopus, ravioli with cheese and potato, and squid in its own ink served with polenta cakes. Then finished it off with an espresso and a tiramisu. Perfection!
Location: Castello
Trattoria da Jonny — Campo de le Gate, 3210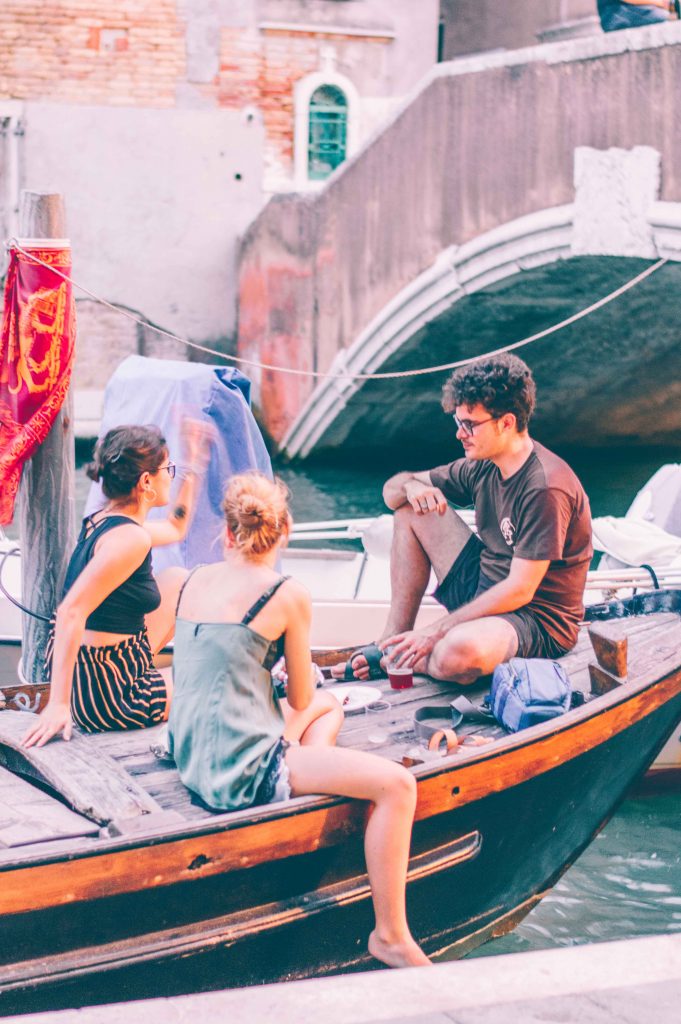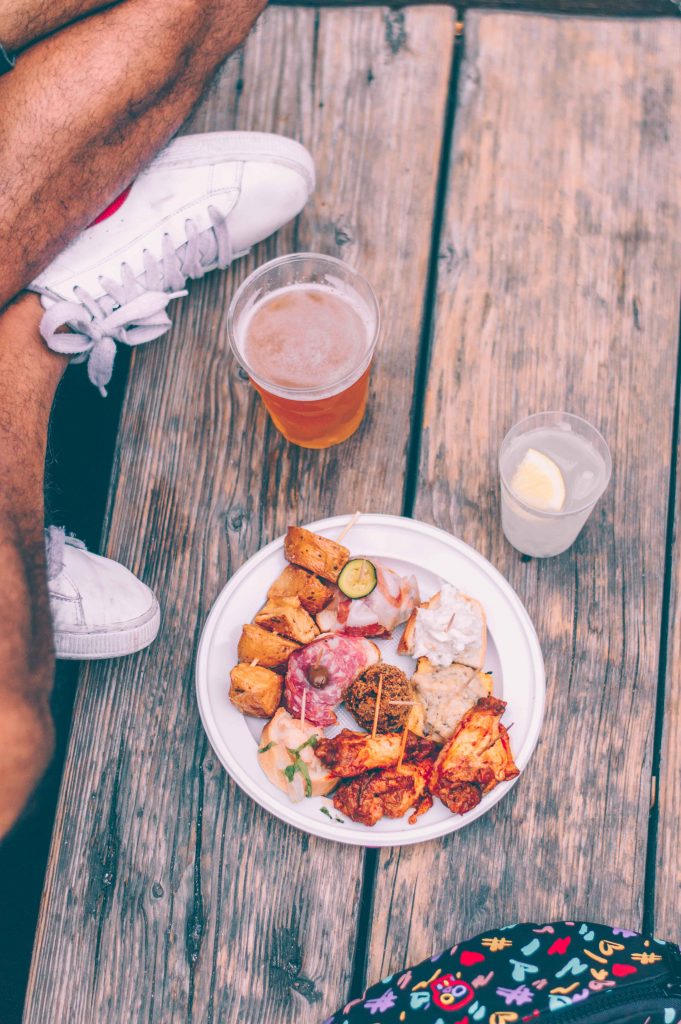 Al Timon
Al Timon is the place where young Venetians hang out. Or, at least, dining there felt that way. "Dining" is too big of word, though, since I wasn't seated at a table covered by crisp white table cloth, but on a boat parked right in a canal.
The space is limited but if you manage to secure a spot, eating cicchetti — Al Timon's specialty — on the deck of a boat, surrounded by enthusiastic locals is one of a kind experience. People don't mind scooting a bit to give room for newcomers.
You can have dinner at a table too which is a lot more banal, but necessary if you go for steak — another specialty of Al Timon.
Tip: they are only open for dinner
Location: Cannaregio
Al Timon — Fondamenta dei Ormesini, 2754
Pizza
Birraria La Corte
In my own post 15 Foods You Must Try in Venice and 1 You Shouldn't I clearly state that pizza is a no-no in Venice. The reason is simple: true Italian pizza must be made in a wood-fired oven which were prohibited in the city due to fire hazard.
"But I am in Italy! Do you really expect me to not eat pizza?" you might wonder. Exactly my thoughts. Not only was Venice my introduction to Italy, it was also the only city I was going to visit on that trip. I simply had to have a slice.
I did some research and found that locals recommend two spots for good pizza. I tried both, and Birraria La Corte was a clear winner. Delicious light crust — the kind you eat, not leave on the plate. Cheese and vegetables that taste fresh. And a good mix of tourists and locals at the restaurant. They have a large choice of pizza toppings. Go for something simple. I enjoyed their pizza Margherita a lot.
Location: San Polo
Birraria La Corte — Campo San Polo, 2168
Coffee
Torrefazione Cannaregio
The perfect coffee spot for your afternoon pick-me-up if you are in the neighborhood of Cannaregio. Unlike many pasticcerias where Italians normally get their cup of coffee in the morning or afternoon, Torrefazione is more of a third-wave coffee shop than a bakery.
Here you'll find all those fancy flat whites and cold drips, as well as plenty of seating space. In fact, I didn't see anyone having their coffee at the counter. The place is too cozy, and customers tend to stay for a bit and have a chat at the table.
Location: Cannaregio
Torrefazione Cannaregio — Fondamenta dei Ormesini, 2804
* * *
These are the 12 restaurants (bakeries and cafes) I absolutely loved in Venice. Of course, the city has a lot more to offer, but with only a few days to explore I think I did pretty good. What made me most happy is that despite many complains from tourists about horrific dining experience, I managed to enjoy every single meal I've had.
If you are looking for more information about Venice and its food, here are a few posts you can read.
To learn about traditional Venetian dishes one must try while in the city, check out this post on my blog.
If you have 2 or 3 days in Venice, I have a step-by-step itinerary that combines the most important sights with the best eats (+ a day trip to the island of Burano).
Looking for more recommendations of the best restaurants in Venice? Read this post by Nicoletta, a Venice local. Her blog Naturally Epicurean was extremely helpful in planning my trip.
If you've had an extraordinary meal in Venice, share your experience in comments! I'll be glad to hear from you!
Pin for Later: