Breakfast the Italian way requires some mental preparation for a person who's used to having omelettes, avocado toast, and pancakes in the morning. Before my first trip to Italy I was terrified: how can a person sustain on a single croissant until lunch? Turned out — perfectly fine! These 6 cafes serving breakfast in Milan made me fall in love with the concept of light and sweet morning meal.
Before we get into details of where exactly you should have breakfast in Milan, let's make it clear what breakfast the Italian way means.
Breakfast is Light and Sweet
In the early hours of the day Italians tend to have only a coffee and a pastry. While I consider a big solid breakfast a source of energy, Italians think it makes one drowsy.
The norm in Milan is a coffee and a brioche. Brioche, as it's called here (in other parts of Italy you'll hear "cornetto"), is a relative of French croissant, but not exactly that. I think Italians would be quite offended if you called their beloved morning pastry by the French name, so stick to "una brioche" when ordering at a local pasticceria (bakery).
The coffee can be a simple shot of espresso, a cappuccino, or pretty much any type of coffee you like (I don't mean pumpkin frappuccino, though). Remember that coffee with milk, like cappuccino or caffe latte, is only consumed in the morning, so this is your chance to enjoy it.
Breakfast is Local
Ideally, find a bakery in the neighborhood where you are staying. If you booked a room in the hotel, I'd skip the breakfast. There are way too many options for breakfast in Milan that are both awesome and affordable.
I stayed at an AirBnB in Porta Venezia, and there were at least 5 bakeries within 5-10 minutes walk from the house. Mornings cannot get better when you get ready quickly, walk a few blocks to the closest pasticceria, and rest your eyes on the baked goodies filled with chocolate, pistachio cream, and jam!
Breakfast is Quick
If you want to have your breakfast like a true Italian, you'll have to stand. Order at the bar and have your cappuccino and brioche right there, while the bartender is serving other customers. Italians have their morning coffee incredibly quickly. Two sips, two bites, and they are on the go!
It's not uncommon for cafes to have different prices on the menu, depending whether you eat al banco (at the bar) or al tavolo (at the table). The advantage here is that having a coffee at the bar will save you some money. The price for a cappuccino can be twice higher at the table.
If you do feel like sitting down for a more relaxed breakfast (it's your holidays after all), there's nothing wrong with that either. In fact, several cafes on this list are modern and hip and have plenty of sitting space, beautifully decorated.
6 Cafes that Serve Outstanding Breakfast in Milan
Pavé
Pavé is one of those modern and hip spaces where breakfast is reimagined. Gourmet breakfast, actually, is what set them apart from other spots in Milan. Here, you don't rush after gulping down your shot of espresso. At Pavé, the first meal of the day is meant to be enjoyed amidst vintage decor and with a view of the open kitchen.
You will find the most perfect cappuccino here, as well as an array of pastries from cakes to croissants to kipfels. They also offer savory pastries, like brioche with salmon and ricotta that produces a crunch that can be overheard within a fifty meters radius when you bite into it!
Pavé made it to my top three favorite bakeries around the world, along with Dominique Ansel's Bakery in NYC and Tatte in Boston. You absolutely, no questions asked, have to make it here for breakfast in Milan!
What to order: cappuccino, croissant with Madagascar vanilla cream, salmon and ricotta brioche.
Location. They have two locations: Pavé Milano in Porta Venezia and Pavé Break in Porta Romana.
Tip: you can also come here for lunch from 12 to 3 pm when they serve healthy sandwiches, salads, and soups; or come by for aperetivo later in the afternoon!
Pavé — Via Felice Casati, 27 and Via della Commenda, 25
Gelsomina
Another little gem in Porta Venezia neighborhood whose brioche with pistachio cream blew my mind (not to mention left green fatty mess all over my face, but I am not complaining). Like Pavé, Gelsomina is a new-wave type of cafe.
Spacious, with white-washed walls and the longest pastry counter, Gelsomina has the vibes of an old home, the kind where you belong and everyone knows your name. There's even a large wooden table in the middle of the cafe, meant to be shared by patrons.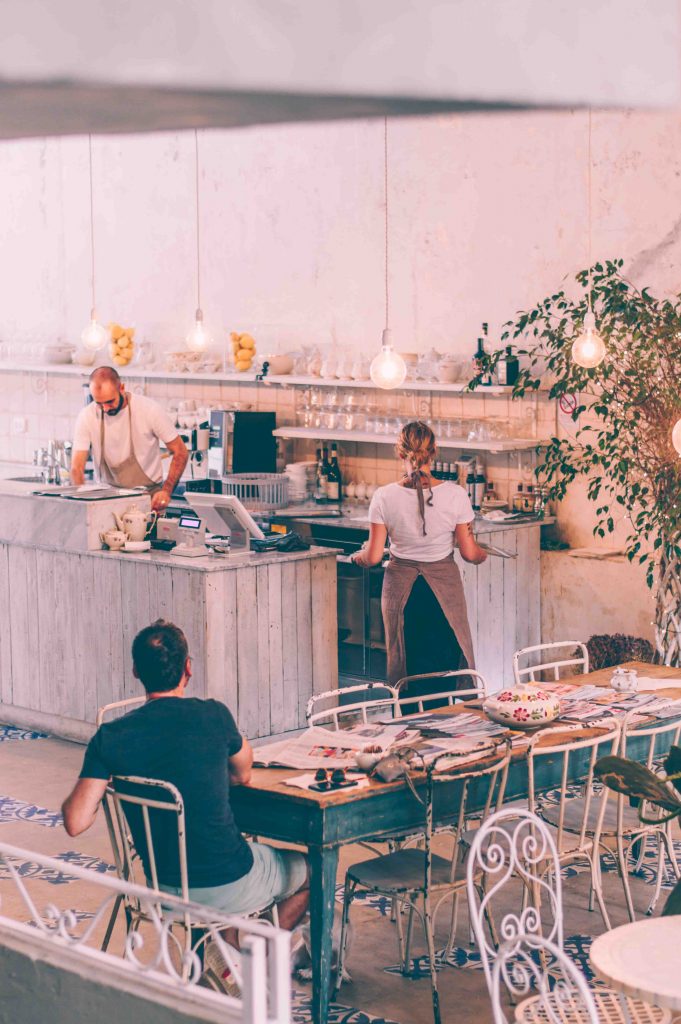 Choose between standing at the counter or sitting at a table to enjoy the atmosphere. The amount of pastries is seriously overwhelming. There's maritozzo, a bun bursting with whipped cream; brioche filled with anything your heart might desire from creme patissiere to pistachio cream to chocolate; cannoli and so much more.
Being a new-wave Italian cafe, Gelsomina has a range of savories too. I tried the ricotta tart and croissant with ham, both of which were lovely.
What to order: cappuccino, brioche with pistachio cream.
Location: Porta Venezia
Tip: they are open until 4 pm, so you can stop by for a satisfying and affordable lunch.
Gelsomina — Via Carlo Tenca, 5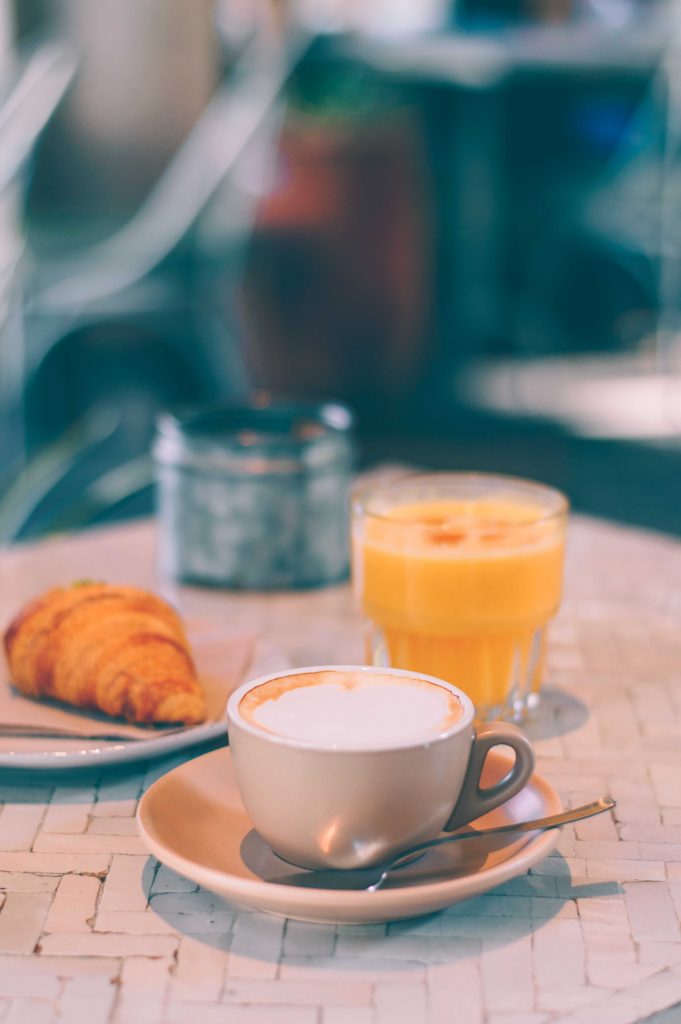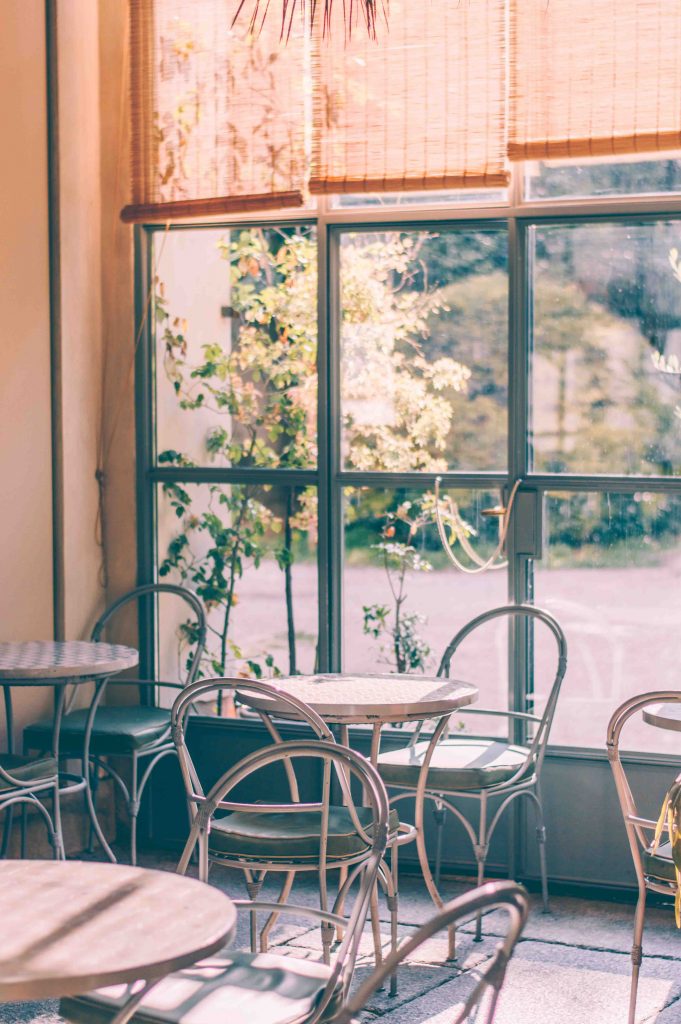 LùBar
Come here for the cozy green house vibes, stay for the delicious brioche with pistachio cream and cannoli. Conveniently located in central Milan, LùBar occupies a wing at the Villa Reale which houses the Modern Art Gallery.
It was opened by three siblings who trace their roots to Sicily, hence the menu features plenty of Sicilian classics like cannoli with ricotta cheese, arancini, and wines of the region.
The space features original 17th century arched windows overlooking the courtyard of Villa Reale on one side and a public garden on the other. Pots with palms and cactuses take over the cafe, and morning light gives the whole place a magical vibe.
Unfortunately, they don't allow to take pictures with camera inside, so my shots don't do this place justice. You'll have to believe my word that LùBar is a green paradise that is worth your time.
What to order: cappuccino, brioche with pistachio cream, cannoli, arancini.
Location. LùBar has two locations: the original cafe is 10 minutes walk away from Quadrilatero della Moda (Milan's fashion district); there's also a smaller cafe inside Milan Central Station.
Tip: the original location is open until midnight and serves lunch, dinner, and afternoon drinks.
LùBar — Via Palestro, 16, and Milan Central Station
Cafeteria at Villa Necchi Campiglio
The cafe is located inside Villa Necchi Campiglio, a beautiful home compete with a garden, a swimming pool, and a tennis court, that is open for visitors. The villa was originally built in the early 1930s by the architect Piero Portaluppi at the behest of sisters Nedda and Gigina Necchi and Gigina's husband Angelo Campiglio.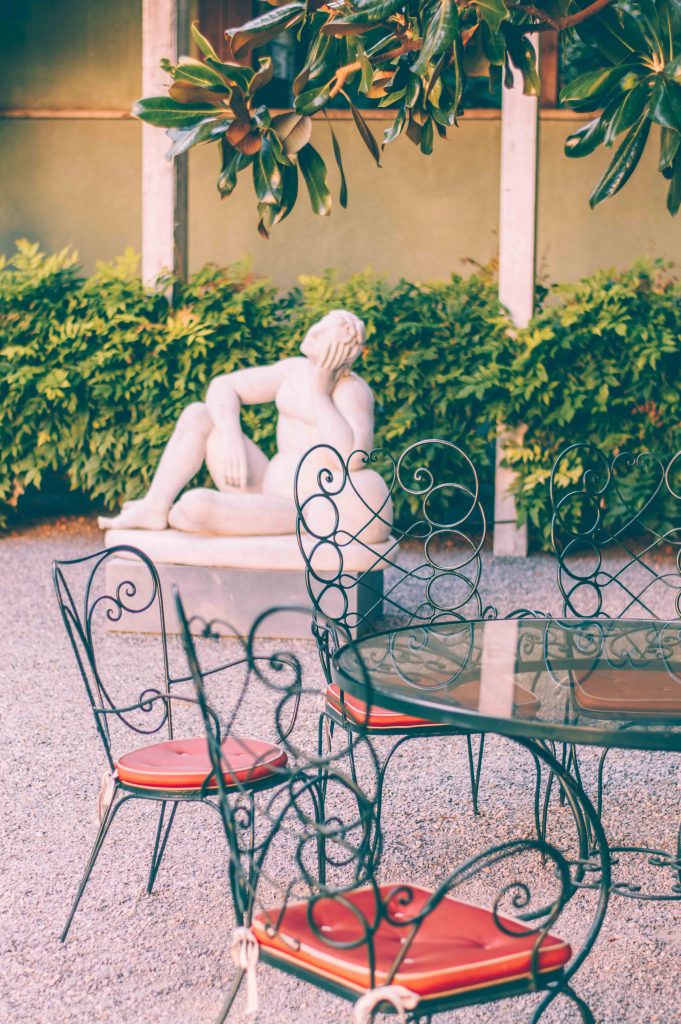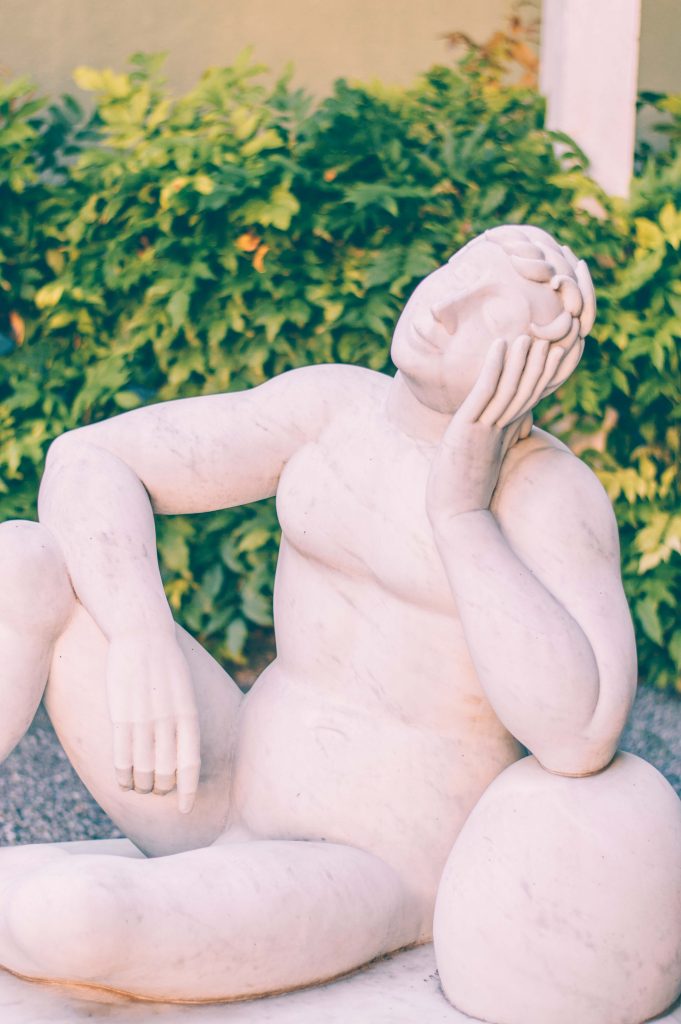 Today, apart from touring the gorgeous rooms of the villa, you can enjoy a cup of coffee with a brioche at the cafeteria. They have ample sitting around the pool, in the shade of the trees. The pastries menu might be short, but the view beats it all!
What to order: breakfast menu is rather short so go for the classic cappuccino and brioche. You can also try their caffe d'orzo, a caffeine-free drink made of ground barley.
Location: the villa is located in Quadrilatero del silenzio, close to Milan's fashion district.
Tip: they serve lunch too.
Cafeteria at Villa Necchi Campiglio — Via Mozart, 14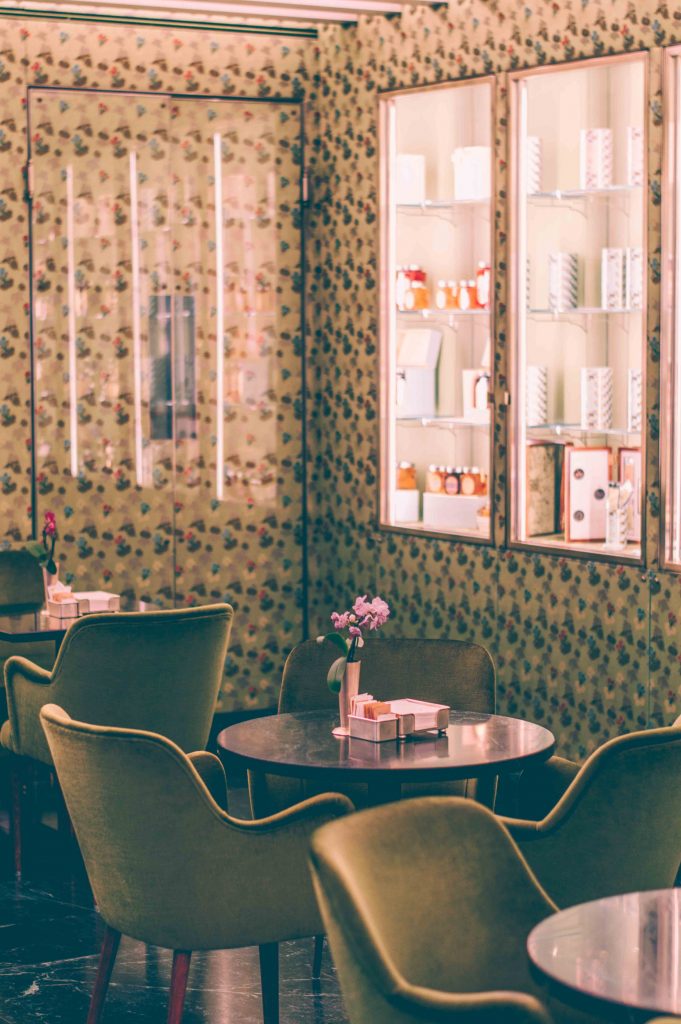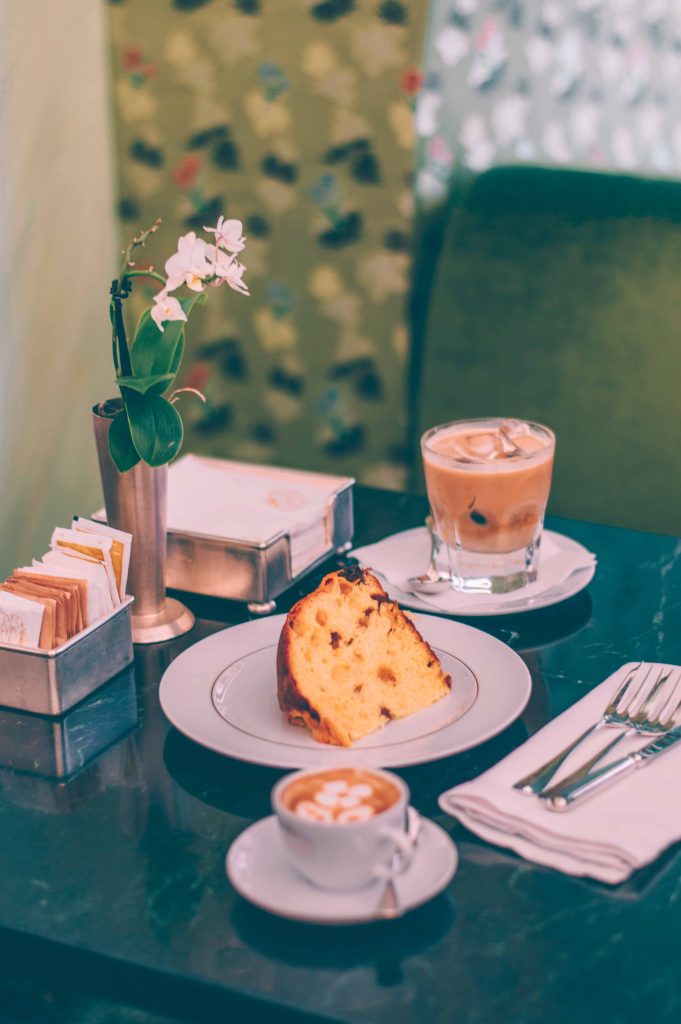 Marchesi 1824
The number in the name of the cafe, as you might imagine, refers to the opening year. Just think of it: you can have your morning coffee at a cafe with almost two centuries of history! Marchesi is the name of the family that gave life to this historic Milanese institution.
By the way, the pastry shop is still run by the same family. The grandson of Angelo Marchesi, who is also named Angelo, overlooks the operation.
The original pastry shop has maintained its authentic atmosphere and design, featuring early XX-century furnishings, mirrors, and ceilings.
At Marchesi, it's best to have your breakfast standing at the bar, like Italians, because the prices at the table are ridiculously high.
What to order: the quintessential cappuccino and brioche, of course, but they are also famous for their fine chocolate.
Location. Marchesi has three locations in Milan. The original shop opened in 1824 is located not too far from Castello Sforzesco. Another pastry shop is situated in Galleria Vittorio Emanuele II (on top of the Prada store). The third shop is right in the middle of Quadrilatero della Moda (fashion district).
Tip: you can buy foodie souvenirs at Marchesi. They have pretty boxes with candies, jams, chocolates, and what not. It will cost you an arm and a leg, though.
Marchesi 1824 — Via S. Maria alla Porta 11/a; Galleria Vittorio Emanuele II; and Via Monte Napoleone, 9
Lavazza Coffee Design
If you think central location near the main attractions means bad food and drinks, think again. I definitely changed my mind after a visit to Lavazza Coffee Design which is situated within three minutes walk from Duomo.
On the one hand, this cafe is the quintessential Italian tradition. Lavazza is synonymous with great Italian coffee. The first shop was opened back in 1895 in Turin. On the other hand, it's one of the most modern and creative coffee spaces in Milan.
You can, of course, go for the cappuccino and brioche, but you'd be missing out. At Lavazza Coffee Design, the coffee grounds are roasted on the premises, and espresso is used to create surprises like coffee popcorn and coffee caviar.
In one sentence, it's traditional Italian coffee presented in the most unexpected way!
What to order: talk to the waiter or bartender to make your choice, their menu features way too many gems to recommend just one.
Location: right next to Duomo
Tip: they have coffee-inspired cocktails and creative snacks, so coming here for aperitivo is also a great idea!
Lavazza Coffee Design — Piazza S. Fedele, 2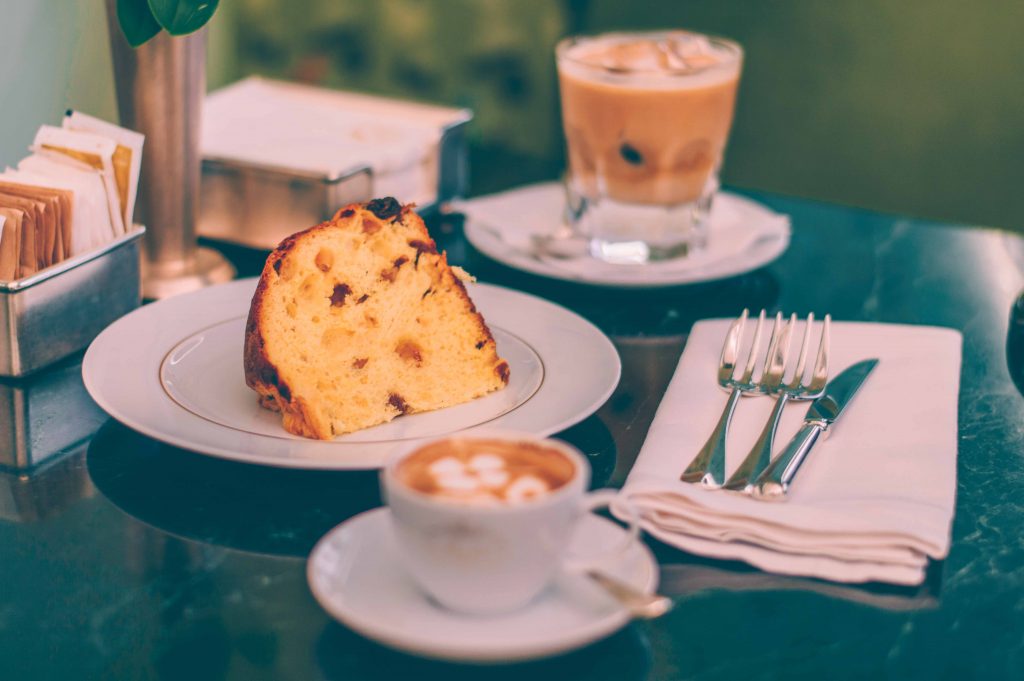 5 More Places to Have Breakfast in Milan
These are a few cafes and bakeries that were on my must-visit list, but I didn't have enough time to check them out on my trip to Milan. I hope you'll give them a try, and if you do — let me know how it went!
Giacomo Caffè — a literary cafe located a few minutes walk from Duomo.
Sissi — a small and cozy bakery designed in bohemian style and serving some of the best baked goods in Milan (try their croissant with almond cream!)
Cova — historic Milanese cafe opened in 1817 right in the center of Milan's fashion district.
Riad Food Garden — a relaxed modern space serving coffee, pastries, and healthy lunch options in Porta Venezia.
Fioraio Bianchi Caffè — a flower shop turned bistro in Brera neighborhood of Milan.
* * *
I hope this list of places serving exceptional breakfast in Milan was helpful. Let me know if you try one (or all 6) out! And have an extra brioche with pistachio cream for me!
Pin for Later: