My grandmother Toma hates cooking. She lives alone and survives mostly on bread and cheese. Sometimes she makes a big pot of soup that lasts her a week or kasha that can be stretched for a few days. As a kid I never realized that cooking was a burden for her. First of all, because my job was to eat — where the food came from rarely bothered me. Second, because grandma Toma taught me to bake vatrushki.
How could someone who willingly took up a baking project with an 11-year-old hate being in the kitchen? That must have been an act of love, I realize now. Much bigger and devoted love than that of grandmothers who love mixing dough and baking cookies, if you think of it.
When I say my grandmother taught me to make vatrushki, what I mean is she let me plonk the filling on the proofed rounds of dough. We baked three variations: classic one with tvorog (Russian-style cottage cheese), bright and slightly sour one with lingonberries, and what I can only describe as pizza-vatrushka with tomato sauce, cubes of bologna and shredded cheese. Guess which one was my favorite?
Vatrushka with tvorog, although filling and satisfying, was the most boring of all. As a kid, I had tvorog almost daily — simply mixed with sour cream and sugar or, better yet, in the form of sirniki.
Vatrushka with lingonberries was too sour for my chocolate-obsessed pre-teen self. It's the kind of taste that you only appreciate as a grown-up.
But the monstrosity of a pizza-vatrushka was the real deal. I could eat four or five in one go and, as I was in charge of distributing the filling on the dough, always tried to make more vatrushki with bologna (an atrocity painful for me to write even now, twenty years later) than with tvorog or berries.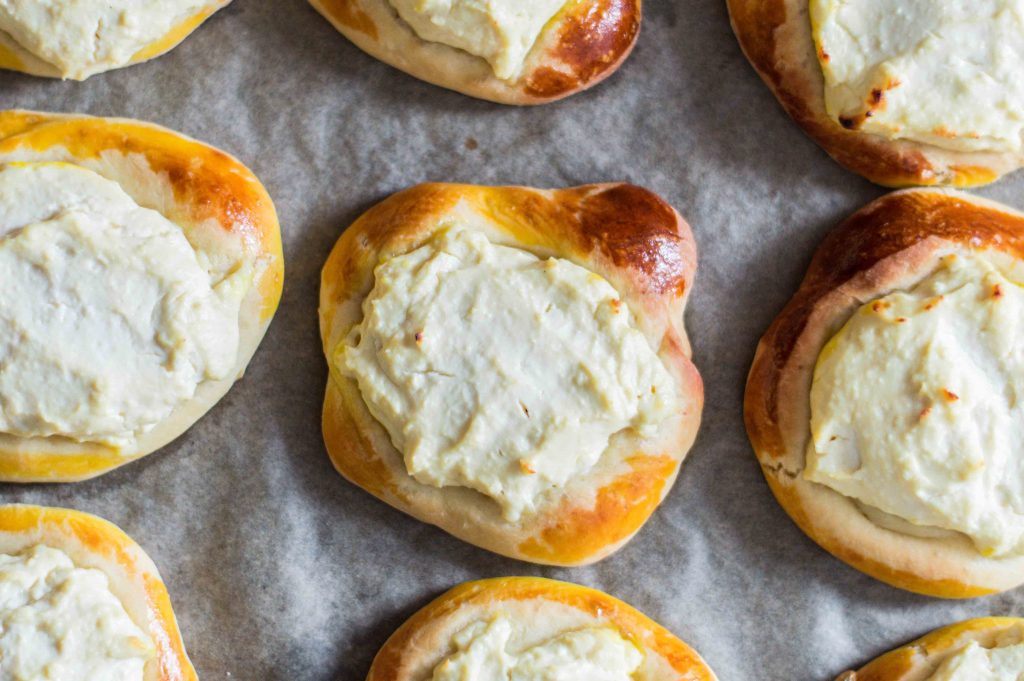 Twenty years and traveling the world is what it took to realize that what I used to call pizza is not even a long-lost second cousin of pizza's husband. But — more importantly — to appreciate such simple ingredients as tvorog and lingonberries. Only now, as I don't live in Russia, it's that much harder to get my hands on them.
I learned to make tvorog at home almost a decade ago. But I baked vatrushki for the first time only last weekend, after coming across the recipe in Darra Goldstein's Beyond the North Wind. Coincidentally, the book is about the cuisine of the Russian North and that's where my grandma Toma is from. She spent the majority of her life in a small town Polyarniye Zori, not far from Murmansk.
Darra Goldstein's vatrushki are the closest to my memories of what I made all those years ago with my grandmother, since my grandmother — sure enough — doesn't remember the recipe. The dough is pillowy-soft, the cheese — tender and almost imperceptibly sweet. Fresh out of the oven, vatrushki are simply irresistible. And resist them you should not, because they taste best warm with a cup of strong black tea. 
A Few Tips on Making Vatrushki
The recipe below is almost exactly the same as in Beyond the North Wind. The only changes I made was adding 2 tablespoons of flour to the dough, as mine was a bit too sticky, and omitting vanilla extract as I didn't have any on hand.
When working with yeasted dough, remember that your kitchen must be warm. You probably already know that, and I knew that too, however, having not used yeast for a while I forgot quite how warm it should be.
If a family member walks into the kitchen while the dough is proofing, the appropriate reaction on her side should be: "Holy Moly! Are we in Hawaii?" That's how you know you are doing it right. In order for the dough to rise I had to crank up the heating to maximum and switch on the oven (I threw a few beetroots inside to kill two birds with one stone).
Another important thing is to read the instructions on the packet of yeast you are using. I killed the first batch of dough exactly because I failed to read that my yeast was supposed to be mixed with flour first and only then with liquid. The instructions were written in German, though, which, I believe, justifies my lack of desire to read them (if you are new here, I migrated to Germany not too long ago).
A final warning on the topic of yeast is to make sure, it fully dissolves in liquid. That's how I almost killed the second batch of dough: the yeast, once added to warm milk, caked together and I had to break the pieces with my fingers.
I know it sounds like a lot, but the dough actually comes together fast and easy. After proofing, it's so soft and supple and an absolute pleasure to work with. Once vatrushki are out of the oven, serve them immediately. They are best when still warm with a cup of tea.
I hope the long introduction doesn't scare you off, this is only to make sure you learn from my mistakes, not yours. You can follow Darra Goldstein on Instagram and buy Beyond the North Wind: Russia in Recipes and Lore here. Now let's get to it!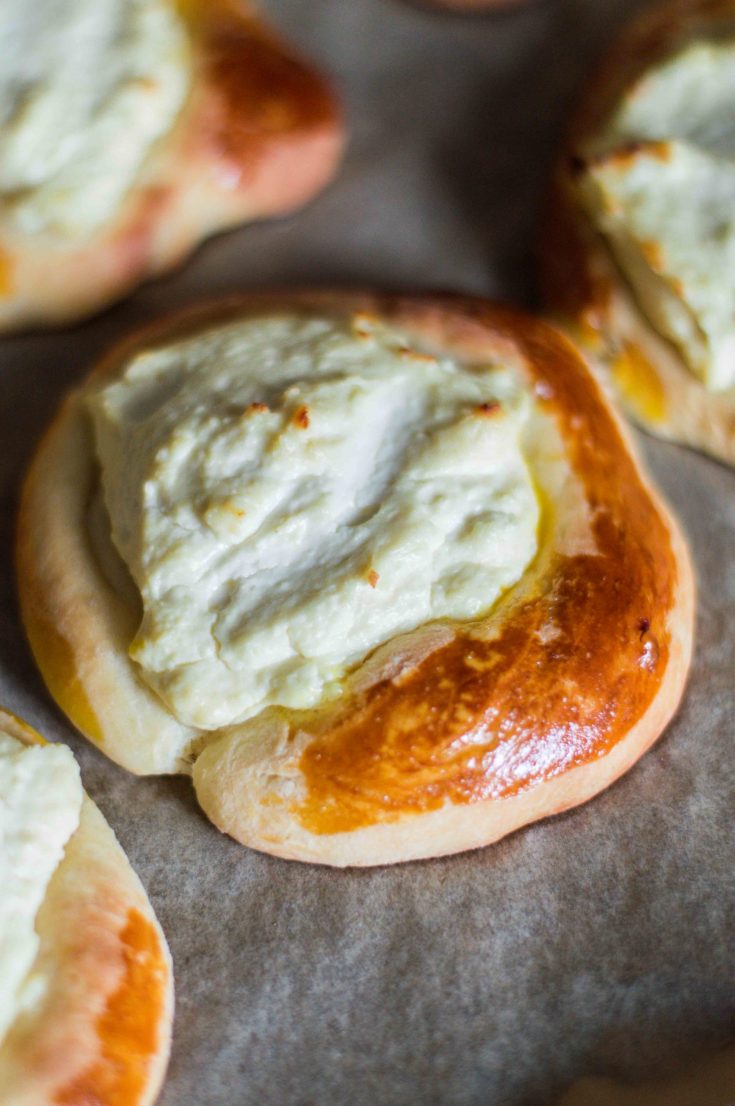 Russian sweet buns made with tvorog (Russian-style cottage cheese)
Additional Time
1 hour
25 minutes
Total Time
1 hour
47 minutes
Ingredients
For the dough
1/2 cup (120 ml) lukewarm whole milk
4 tablespoons (57 grams) melted unsalted butter
1 tablespoon sugar
1 egg, lightly beaten
Rounded 1 teaspoon instant yeast
1/4 teaspoon salt
1 3/4 cups + 2 tablespoons (245 grams) flour
For the filling
2 cups (1 pound/450 grams) tvorog, homemade or store-bought
1 egg lightly beaten
2 tablespoons sour cream
2 tablespoons sugar
1 teaspoon flour
Pinch of salt
For brushing
Instructions
Make the dough

In a large bowl, mix together, the milk, butter, sugar and yeast. Make sure the yeast is fully dissolved before you proceed. Add the egg and salt, then beat in the flour. At this stage the dough will be quite sticky.


Turn the dough onto a surface dusted with flour and knead for a few minutes until it becomes smooth and supple, being careful not to incorporate too much extra flour. Grease a large bowl with oil and place the dough in it, then turn it over so it's oily on both sides. Cover the bowl with a towel and leave in a warm place for about an hour, until it doubles in size.

Make the filling

Mix all the ingredients for the filling in a bowl to get a smooth paste.

Shape and bake vatrushki

Line a baking tray with parchment paper. Punch down the risen dough and shape it into a 12-inch (30 cm) cylinder. Cut the cylinder into 12 equal pieces. With your hands, stretch out each piece of dough into a 4-inch (10-cm) round right on the baking tray. Cover the rounds with a towel and leave to rise for the second time for about 25 minutes.


Preheat the oven to 400°F (200°C).


With a bottom of a 2-inch glass or jar, make a depression in each round of dough. Beat the egg yolk and brush it over the edges of the dough, around the depression. Fill each depression with 2 tablespoons of the filling. Bake vatrushki for about 12 minutes, until the filling is puffed and the sides are golden. Transfer to a wire rack to cool, then serve immediately.

Pin for later