"I am cooking Sri Lankan, you are ok with Sri Lankan, right?" That's how I met Shashika. Over lunch of rice and curry at her apartment which is so similar to our own you can play a game "find 10 differences". It is due to the fact that we live in the same apartment complex and also to the fact that all of us moved to United States only a couple of months ago and, for obvious reasons, purchased the furniture in one famous Swedish store.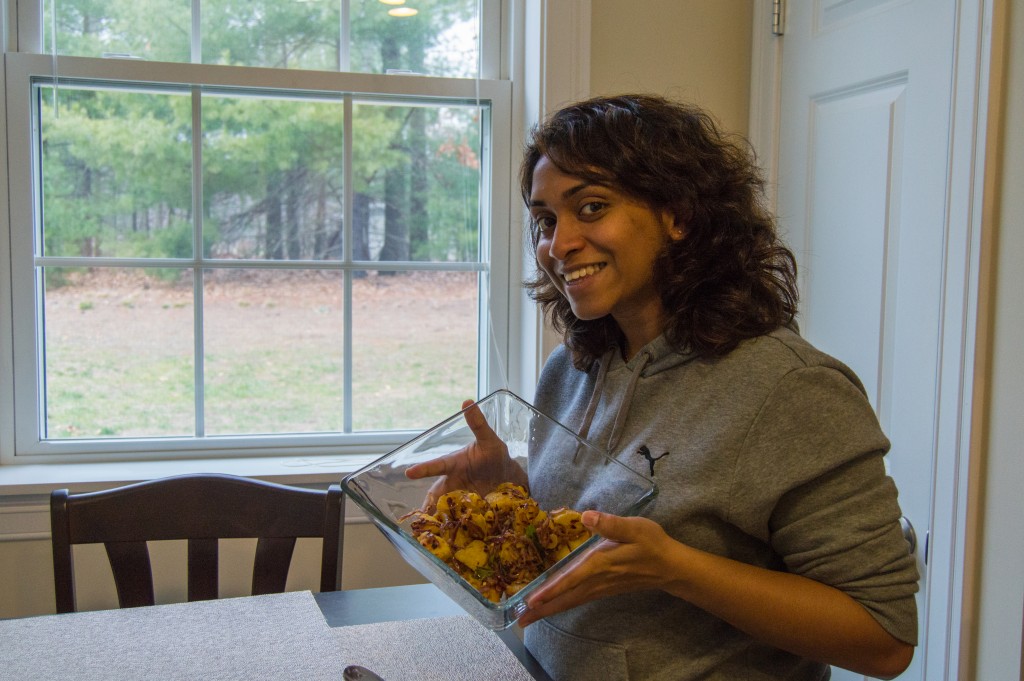 This lunch was one of many to come. We had rice and curry on rainy Saturday afternoons and snowy Sunday evenings. We even had rice and curry while watching New England Patriots defeat Seattle Seahawks in 2015 Super Bowl. Chicken wings and pizza don't stand a chance when 3 out of 4 people watching Super Bowl are Sri Lankan. And the remaining one is a Russian girl.
So this time is no exception. I casually ask what's for lunch, although I already know the answer. It's rice and curry. Today we have to travel to Hartford, Connecticut, in order to enjoy it.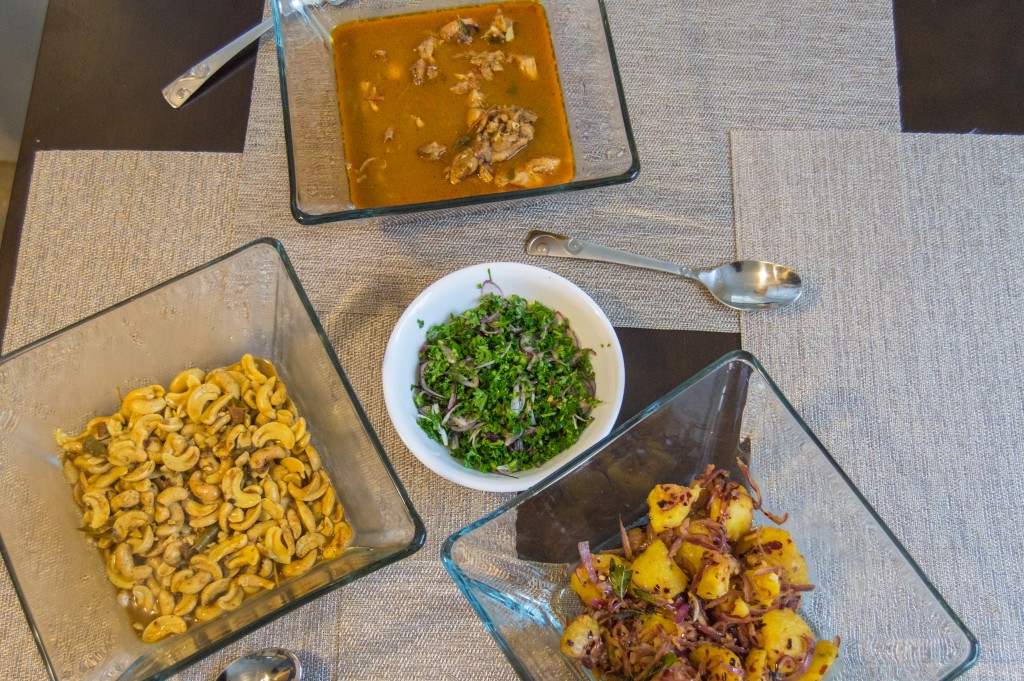 We arrive early to watch the magic of Sri Lankan cooking. Shashika makes rice and curry every day. Every single day. What it means is that creativity and innovation are her two best friends. A normal Sri Lankan lunch includes at least 3-4 curries; and they don't repeat day in and day out.
By the time we arrive she has done all the preparations: cashews were soaked in water for 8 hours, chicken thighs are cut into pieces, garlic and onion are peeled, and rice cooker is on.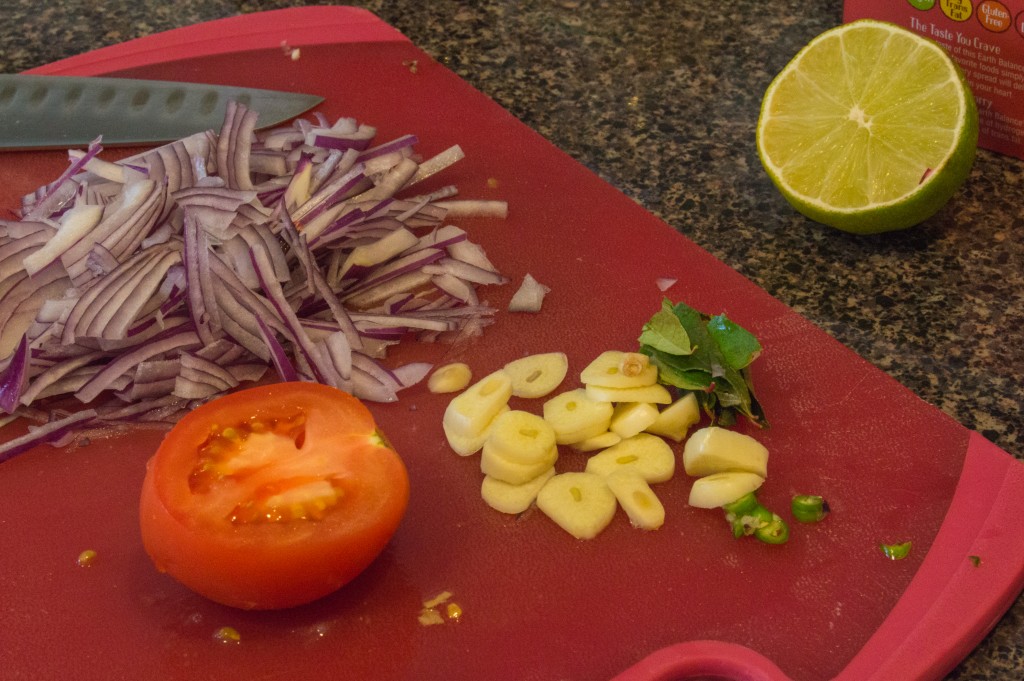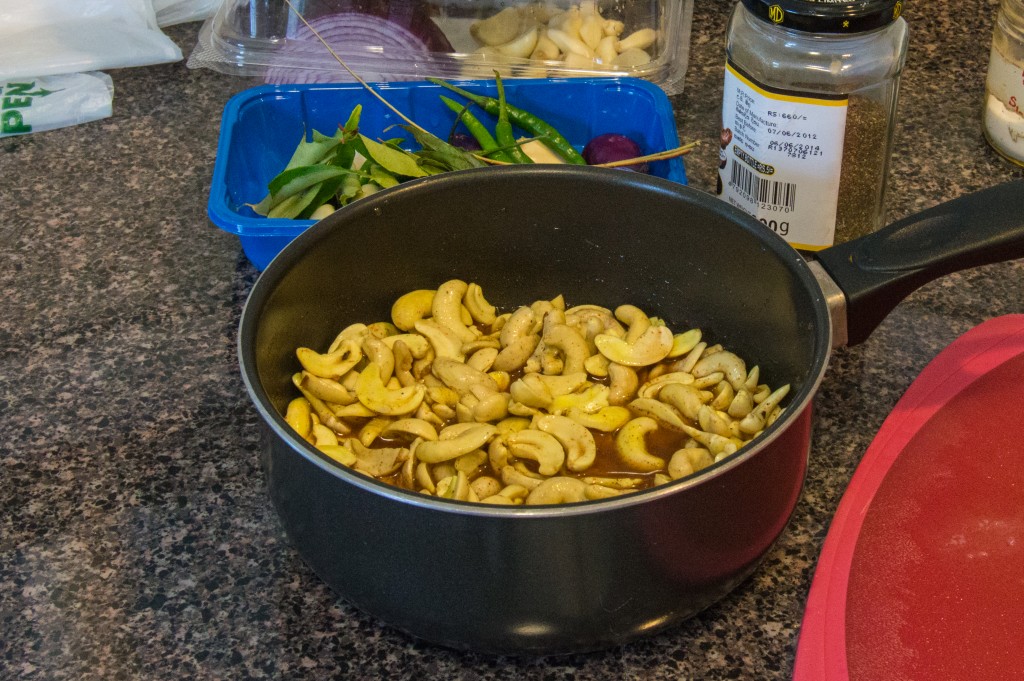 What I love most about cooking curries is that you can add pretty much all the spices, garlic, onion, curry leaves and any other condiments at once in the very beginning. No complicated process of adding one after another in a certain sequence. I also learn to use the stems of curry leaves. I used to pluck the leaves off and throw the stems away, but Shashika carefully cuts them and adds to chicken: stems bring a lot of flavor.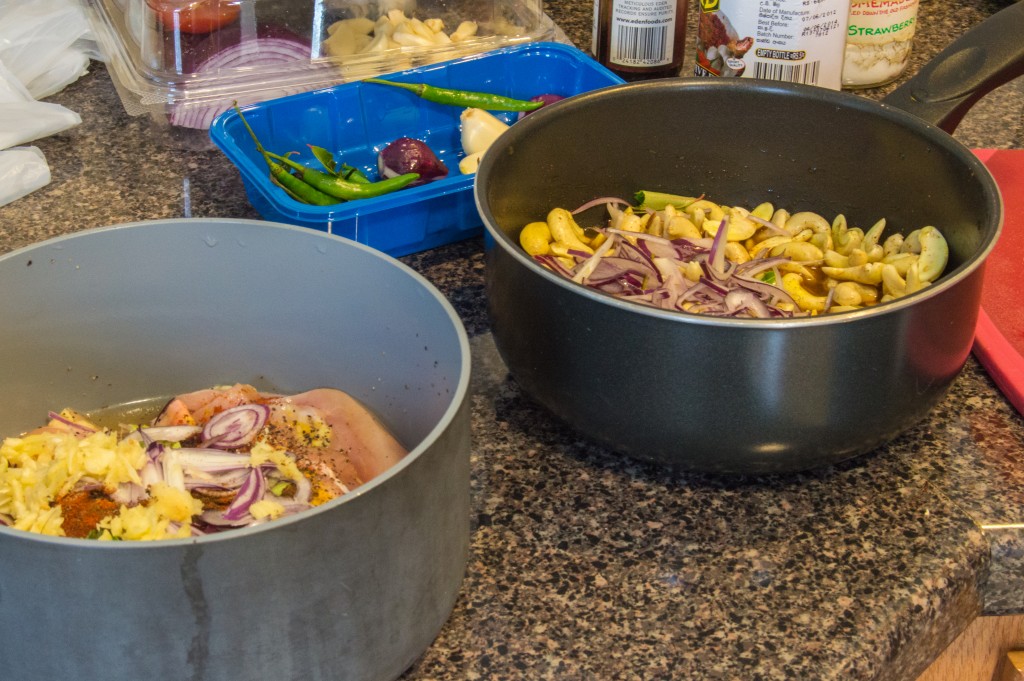 One of the main ingredients to make your curry a success is spices. Sri Lankans use curry powder – a blend of coriander, cumin, fennel, mustard seeds, dill, cinnamon and cloves – in many recipes.
Curry powder can be roasted – which means that all the ingredients were roasted prior to grinding process – or unroasted. In Sri Lanka Shashika's mom would make curry powder herself, choosing and measuring all the spices, roasting them and then giving it to the mill for grinding. Her dad, in his turn, would stay in the mill during the whole process to make sure the workers didn't mix in any flour to increase volume. But after going through all the trouble you get something truly staggering: the smell of spices fills in the room the moment we open the bag. With every trip to her home country Shashika brings dozens of spices back – store bought spices in USA are far from perfect.
As a rule of thumb, one uses roasted curry powder for cooking meat and fish and unroasted for cooking vegetables. But as with any rule there are exceptions, Shashika adds roasted curry powder to cashews.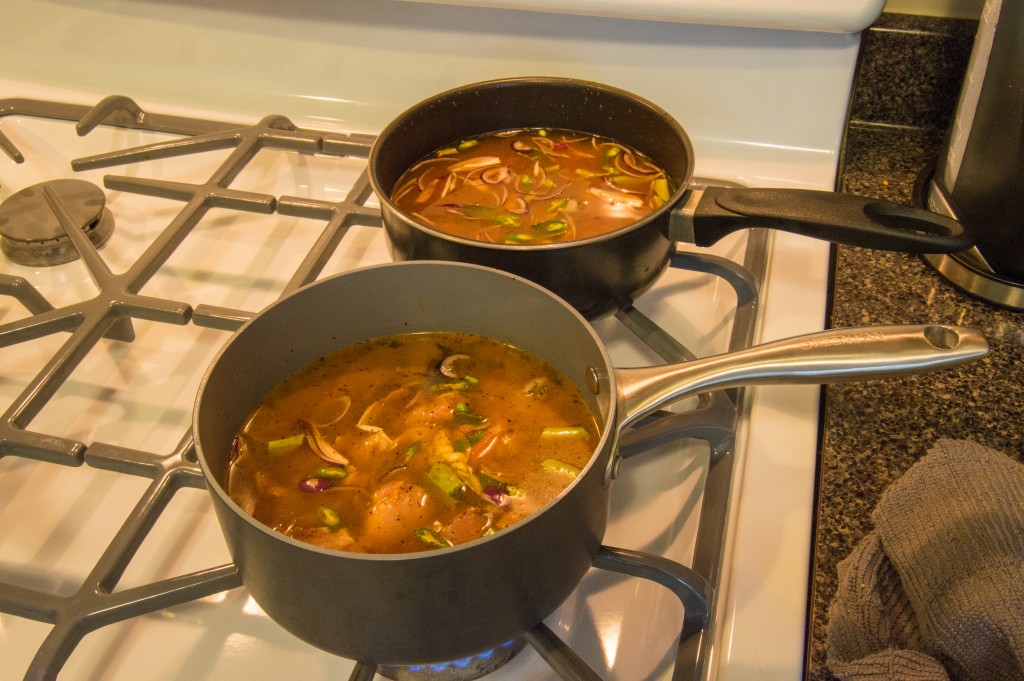 Next she covers chicken and cashews with water and places them over medium heat. Before I know it she is busy with tempering potatoes and preparing sambol.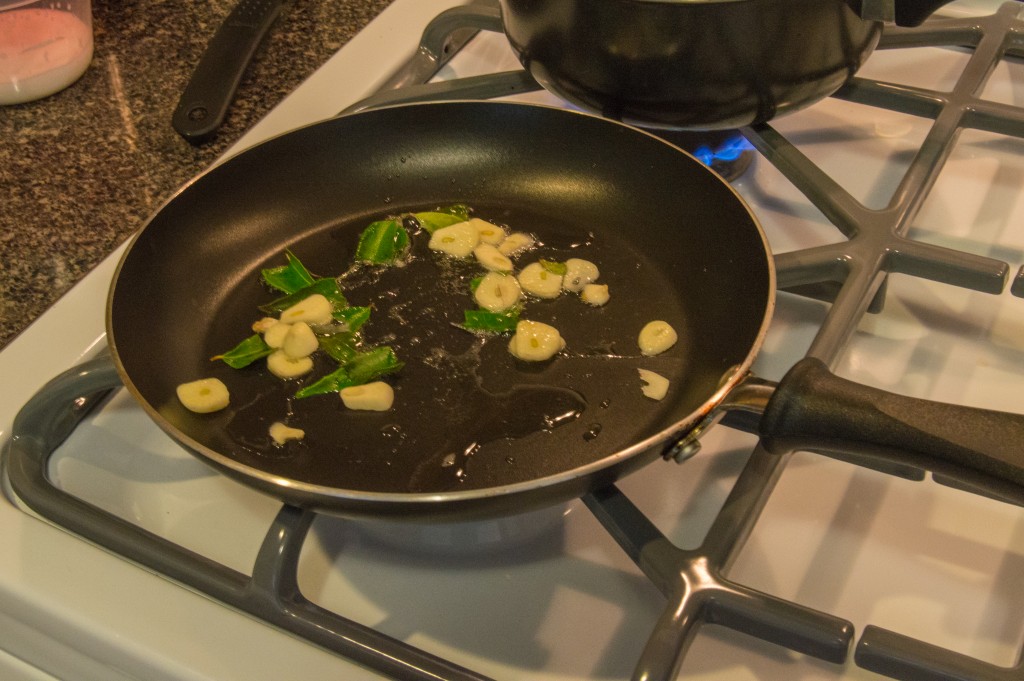 Sambol is a Sri Lankan relish that is served along with rice and curry to enhance the flavor. The most popular varieties are pol sambol (coconut sambol), sini sambol (onion sambol) and gotu kola sambol.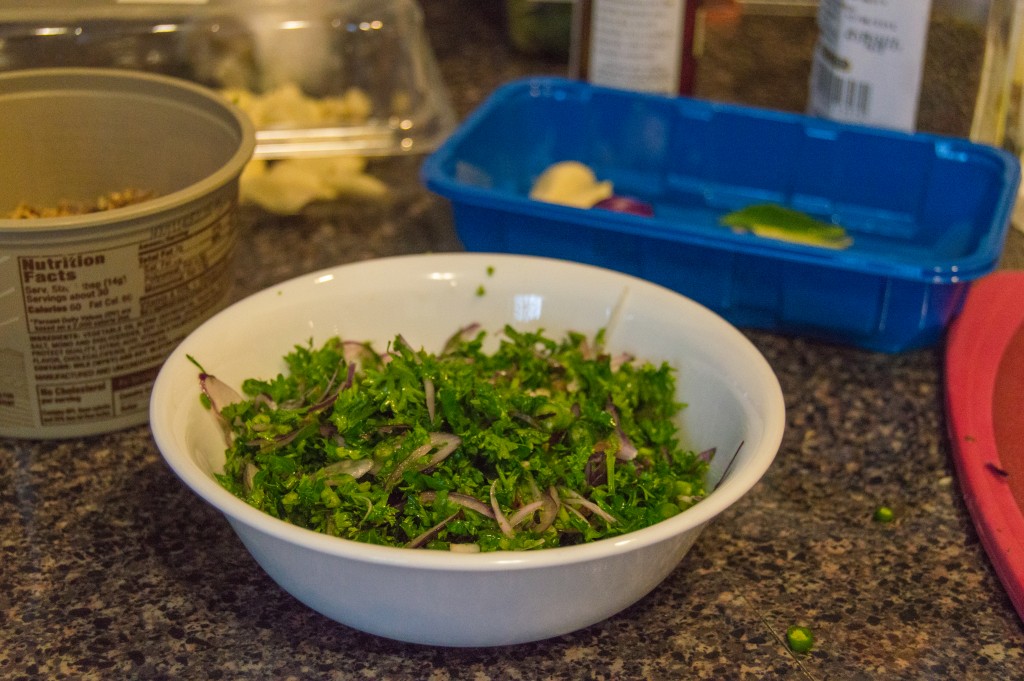 Gotu Kola is a leafy green widely used in Sri Lanka, but not so easily found in the USA. So for today's lunch we are breaking the rules of traditional cooking and making a parsley sambol. Add some onions, salt and lime, mix with hands releasing the juices and it's ready in less than 5 minutes.
There's one little detail that catches my attention. The way Shashika tries curry for readiness: not trying it off the spoon, but pouring a tiny bit of gravy from spoon onto her open palm and licking it off. This is how all Sri Lankan women do it. Such a small thing but it instantly brings memories of the island to my mind.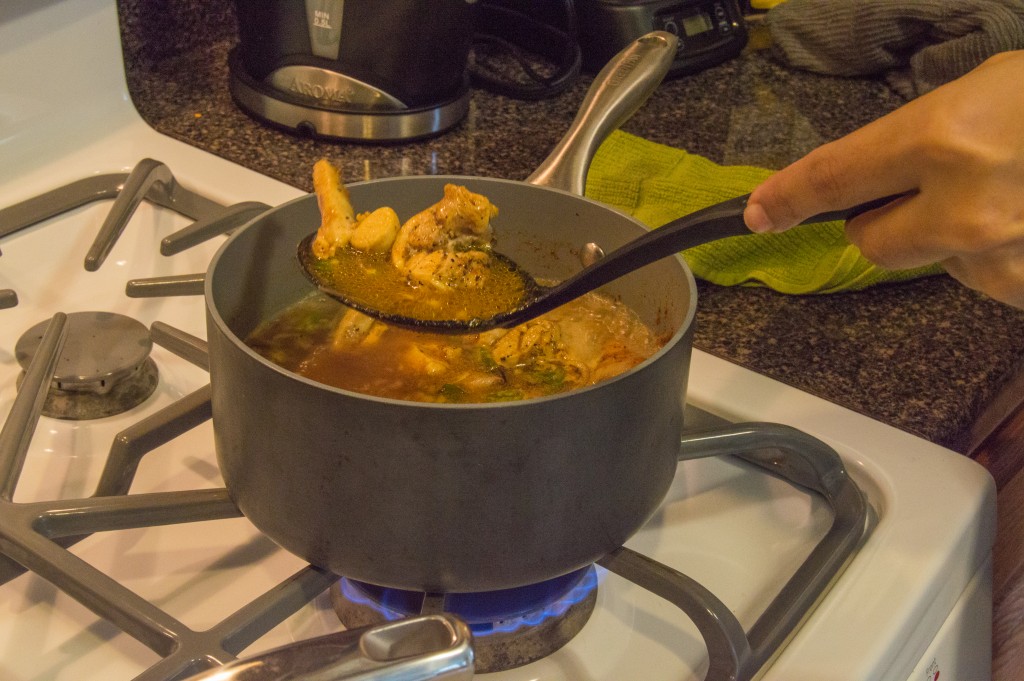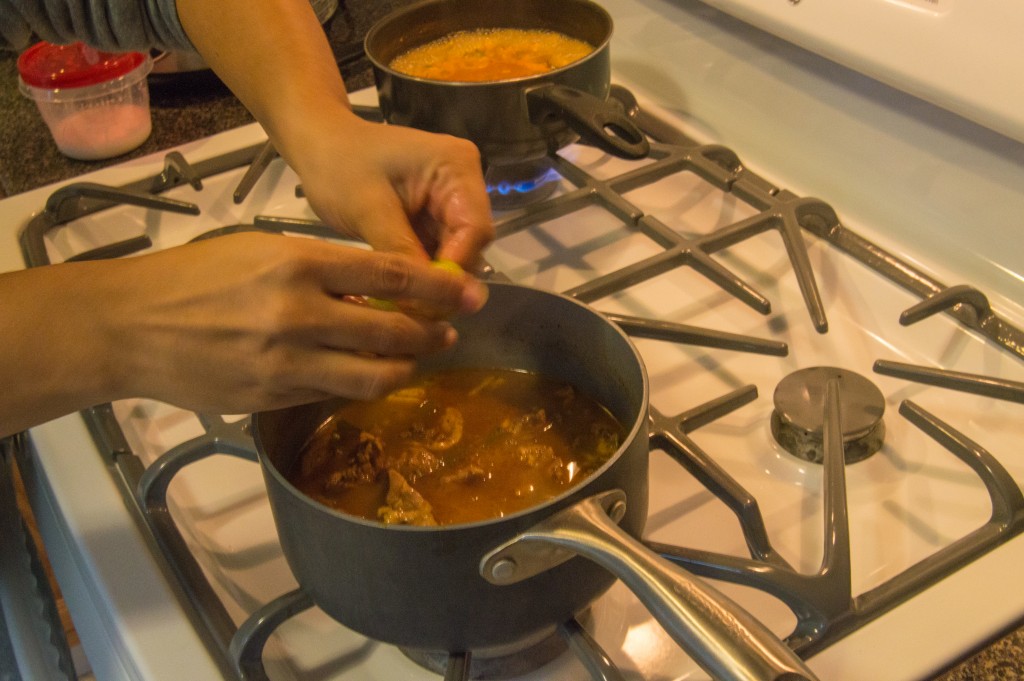 Watching Shashika's hands move quickly and expertly over the stove, stirring potatoes and mixing coconut milk with cashews I can't believe that she started cooking only 2 years ago after getting married. But I guess you have to learn quickly when you live in a foreign country with nobody to help you out. Then again, try making 3-4 different curries every day of the week for two years and you will undoubtedly master it fast. She tells me how she learned cooking from her mom and how her dad loves cooking, too. He is usually the one to make appetizers when friends gather for dinner and drinks at their place in Colombo.
Talking, laughing and drinking wine makes an hour of cooking fly by. We arrange all the curries on the table and sit down for lunch. Steam is rising from rice. The flavors of curries blend together wonderfully. Parsley sambol adds a fresh kick to the meal. Food is good and eating it with hands makes it taste even better.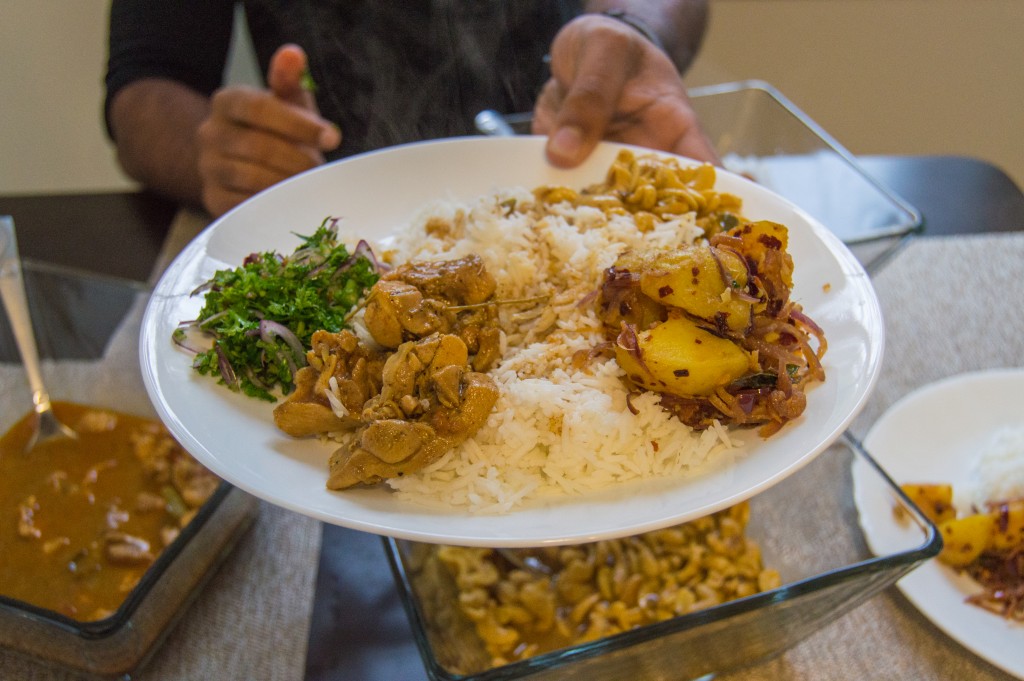 You can find all the recipes for Sri Lankan curries below.
Pin for later: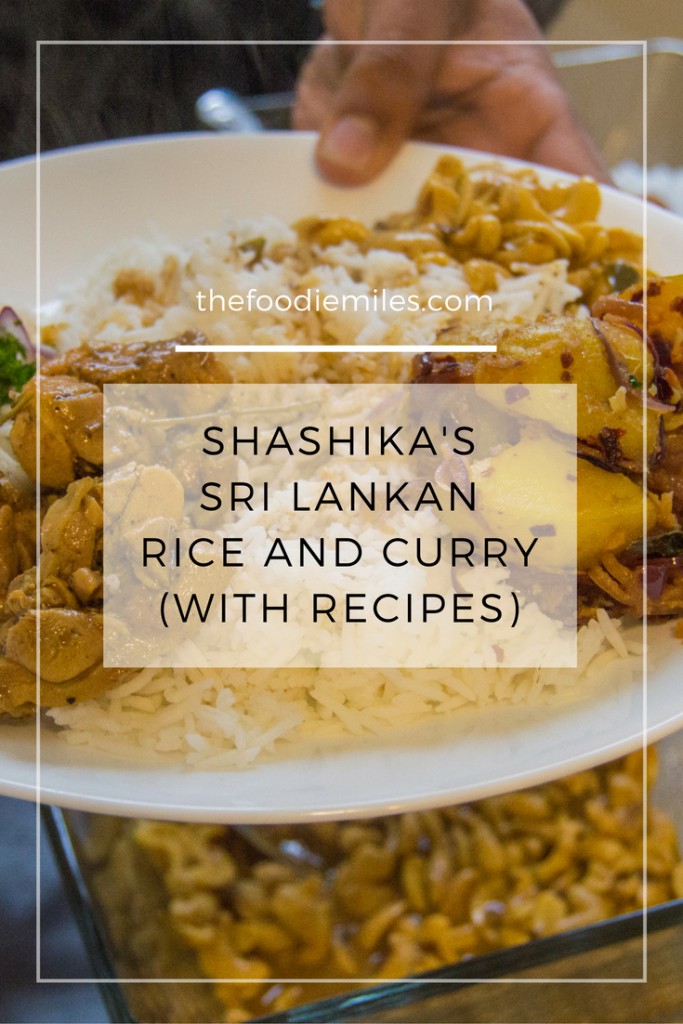 [yumprint-recipe id='1′][yumprint-recipe id='2′][yumprint-recipe id='3′][yumprint-recipe id='4′]