While many people around the world buy expensive air tickets and book hotels half a year in advance to visit European Christmas markets, I happen to live within 20 minutes walk from one of the most popular markets in Germany and, possibly, Europe. Nuremberg Christmas Market has been around since XVI century, with the first written mention dating back to 1628. These guys had 400 years to perfect the tradition!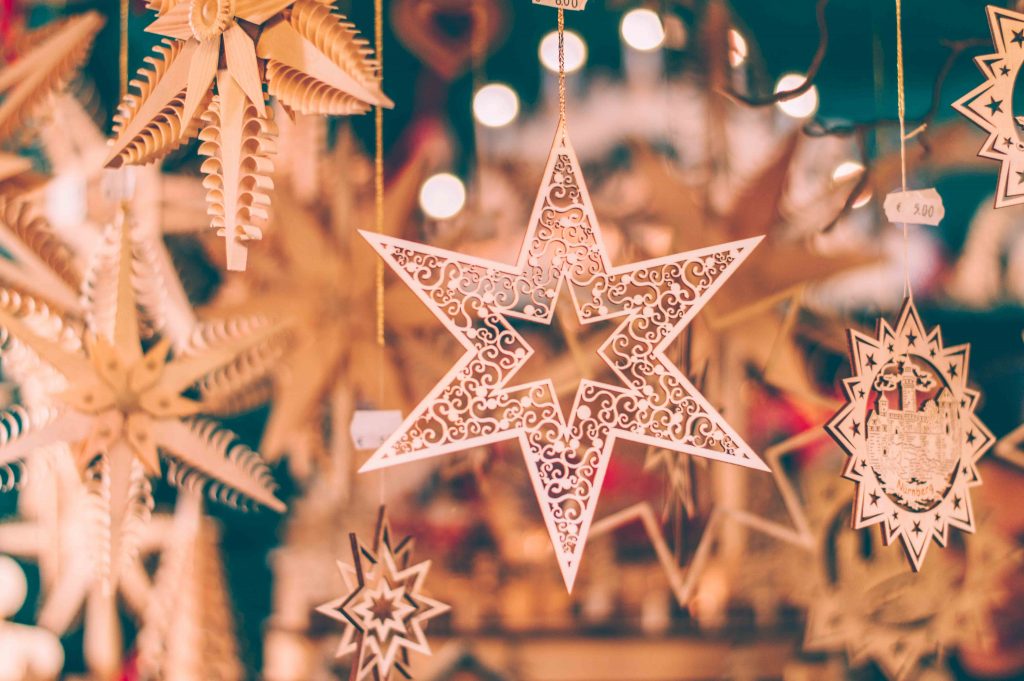 A little over a year ago I moved to Bavaria during Oktoberfest, which was one hell of an introduction to my new home! The next big thing I was looking forward to was Nuremberg Christmas Market. Prior to moving to Germany I had never been to Europe (except for the European part of Russia where I was born and raised). To say that I was excited to finally visit a Christmas market is an understatement.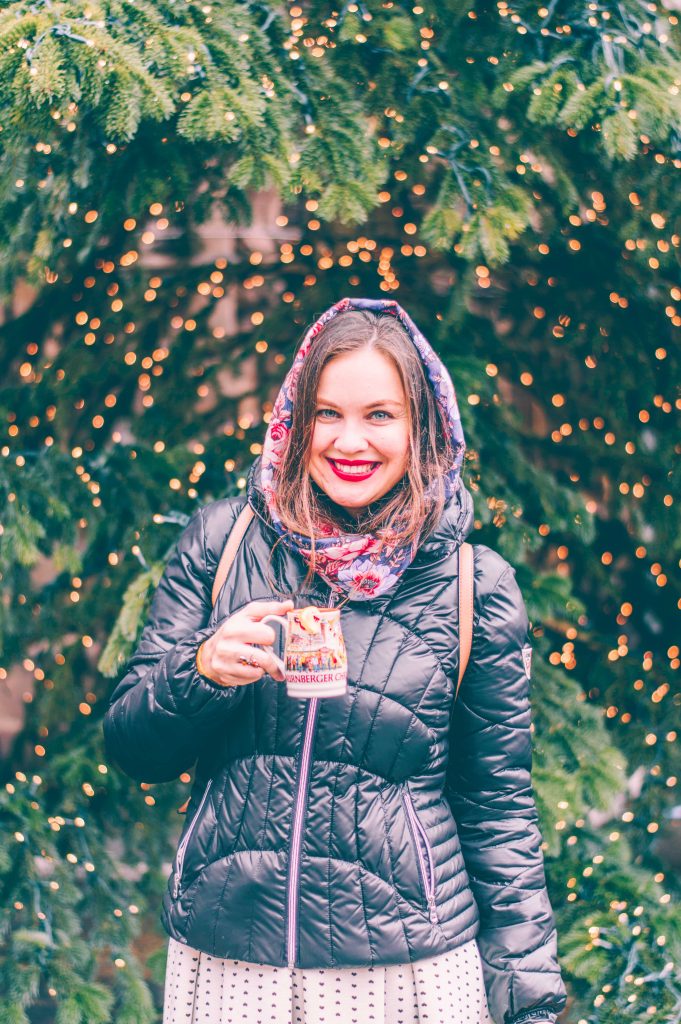 Here I was sipping hot fragrant glühwein, one of the most popular drinks in Germany, mesmerized by the bling-bling of Christmas decorations — a holiday dream come true. Only better. Once the day was over I could come back again the next day. And the day after that. And pretty much every day for a whole month. Who else gets so lucky?
This is my second year of experiencing Nuremberg Christmas Market, and I am ready to share my best advice and favorite finds with you. We'll cover everything from history of the market, to the most delicious foods, to to the best gifts to take home.
Disclosure: this post contains affiliate links which means if you buy something by clicking the link I will earn a small commission at absolutely no extra cost to you.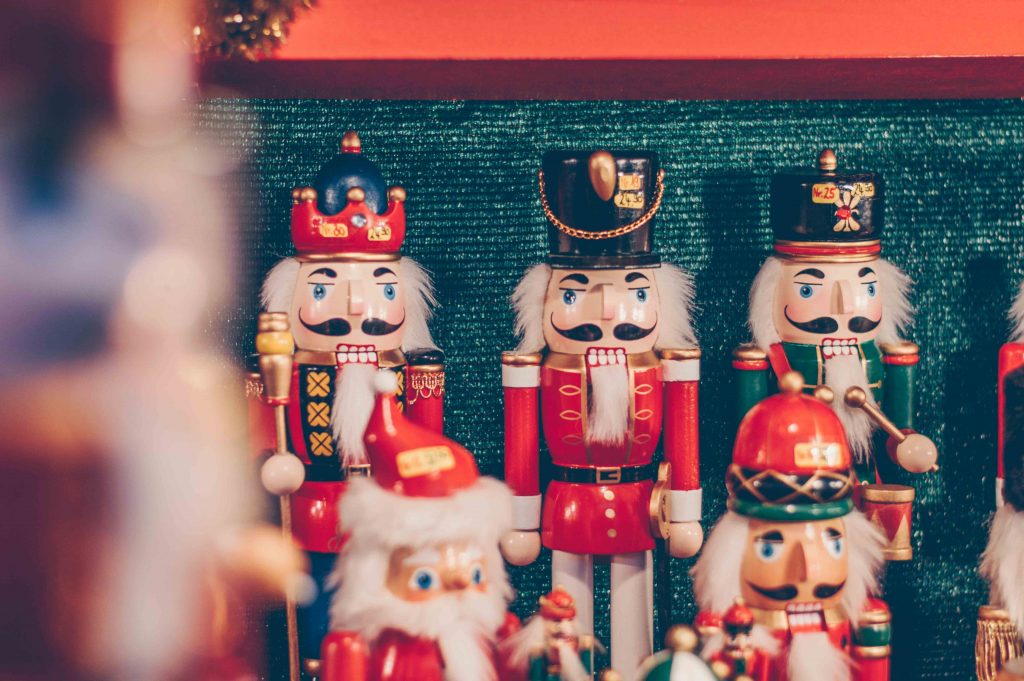 When Does Nuremberg Christmas Market Take Place?
In 2019 the market is open from 29th of November to the 24th of December from 10 am to 9 pm. The opening ceremony is scheduled for 5.30 pm on the 29th of November.
And Where Exactly Is It?
Technically speaking, Nuremberg Christmas Market consists of five locations, each with its own theme. Worry not, though, they are all situated within a few steps from each other, so you won't miss out.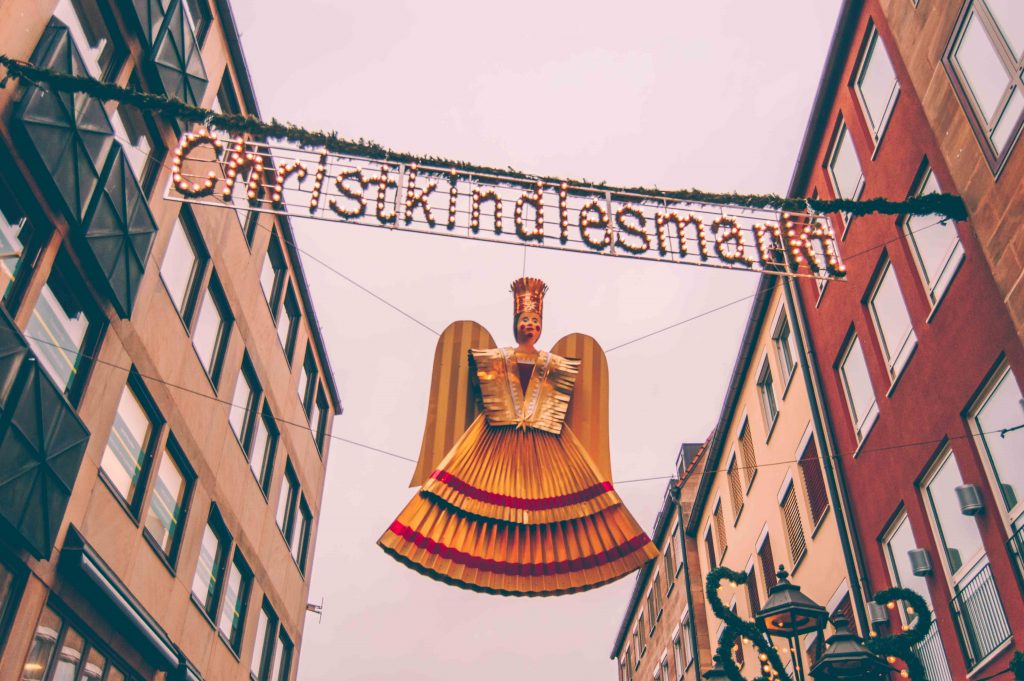 Christkindlesmarkt, the Main Christmas Market
Location: Hauptmarkt (the main square in front of the Church of Our Lady)
The biggest and the most important of all, Christkindlesmarkt should be your first stop in Nuremberg Old Town. Located right on Hauptmarkt, the market features 180 little wooden houses with white and red roofs where you can get all kinds of delicious food, dazzling Christmas decorations, and holiday gifts. The opening ceremony (of which we'll talk in a bit) also takes place here.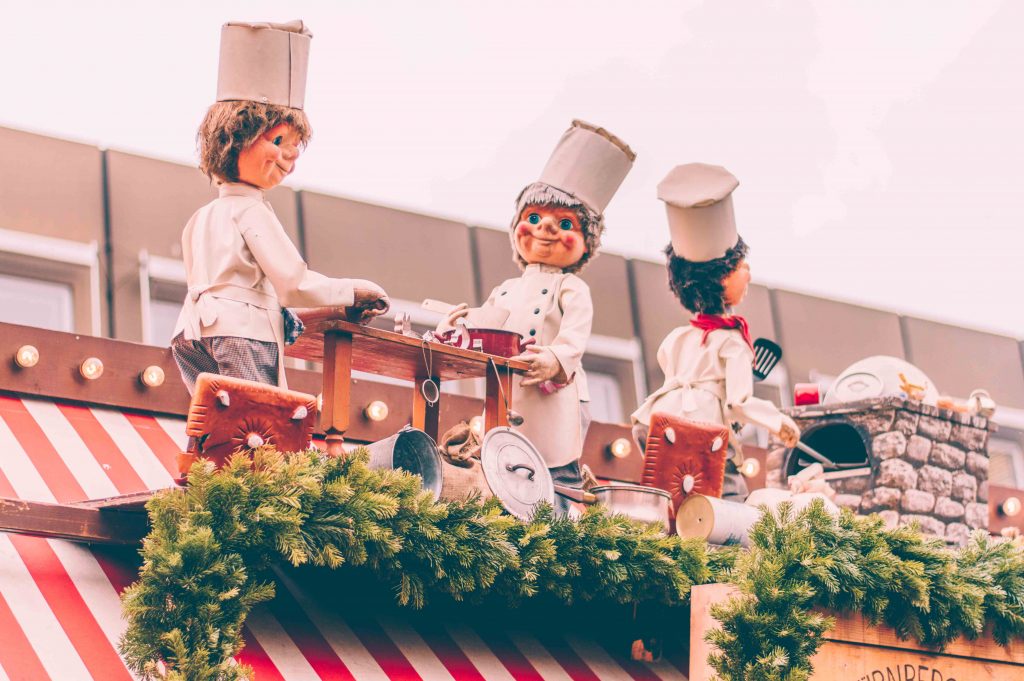 Kinderweihnacht, the Children's Christmas Market
Location: Hans Sachs Platz (3 minutes walk from the main market)
Squeezed on the tiny Hans Sachs Platz is Children's Christmas Market. If you don't have kids, do not let the word "children" in the name stop you from visiting this charming space, featuring a merry-go-round, a Ferris wheel, and even a miniature railway. Ok, you might not actually ride on these, but it's cute as hell!
If you do have kids, this place will blow their minds! There are all kinds of hands-on workshops for children: from baking gingerbread cookies, to making candles and personalized Christmas cards, to creating pictures with colored sand — all for just a couple of euro.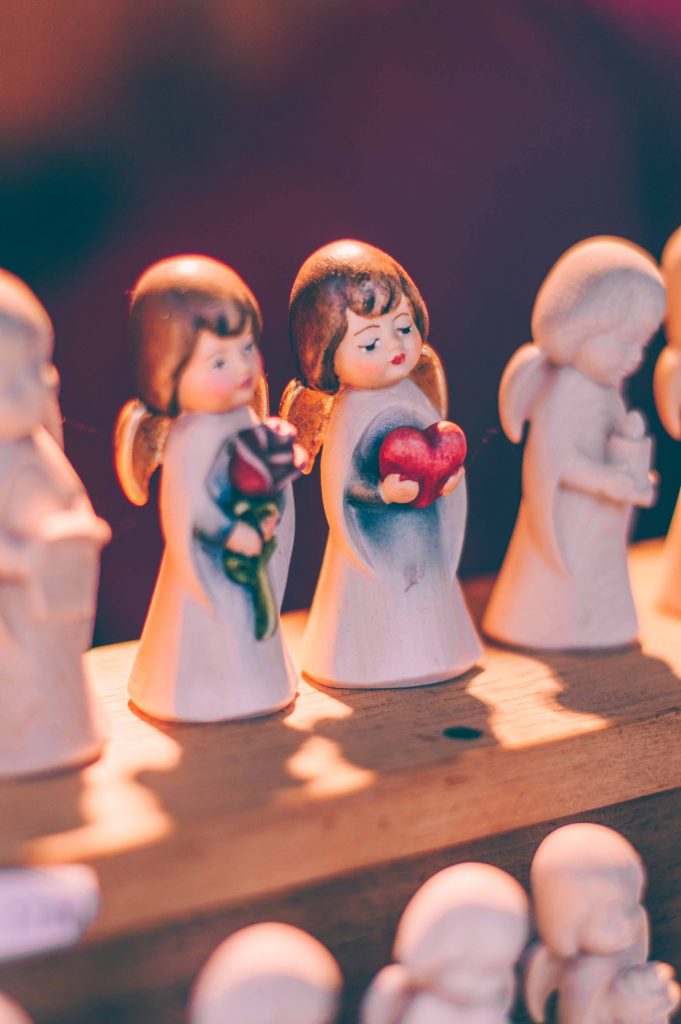 Markt Der Partnerstädte, the Market of Sister Cities
Location: Rathausplatz (1 minute walk from the main market)
If you've had enough of German specialties like bratwurst and stollen for the day, Nuremberg Christmas Market has you covered. Take a few steps away from the main square and you'll find yourself at the Market of Sister Cities.
Here, Nuremberg's partner cities from all over the world are represented by 24 booths. You can find the most unexpected foods and souvenirs like hot apple cider with whiskey from Atlanta, matreshkas from Kharkiv, shortbread from Glasgow, and what not.
Original Regional
Location: several booths by Saint Sebald Church (1 minute walk from the main market)
Original Regional is not a market in and of itself, but rather a few booths located by Saint Sebald Church, a natural extension of the Christkindlesmarkt. Here, you will find goodies produced locally in Franconia, like handmade soap, bee-wax candles, jams and preserves, honey, wool, and much more.
Feuerzangenbowle Village
Location: below the Fleischbrücke, right by Starbucks (5 minutes walk from the main market)
Feuerzangenbowle Village is where you head to witness the largest punch bowl in the world and sip on delicious hot drink made of red wine and rum. The bowl (2.5 meters wide and 3.4 meters high) contains 9000 liters of punch!
Beside the punch bowl you'll find six little huts where you can get something to eat. With its old-timey songs and cuts from the 1944 movie "Die Feuerzangenbowle" on a big screen, the village feels like going back in time.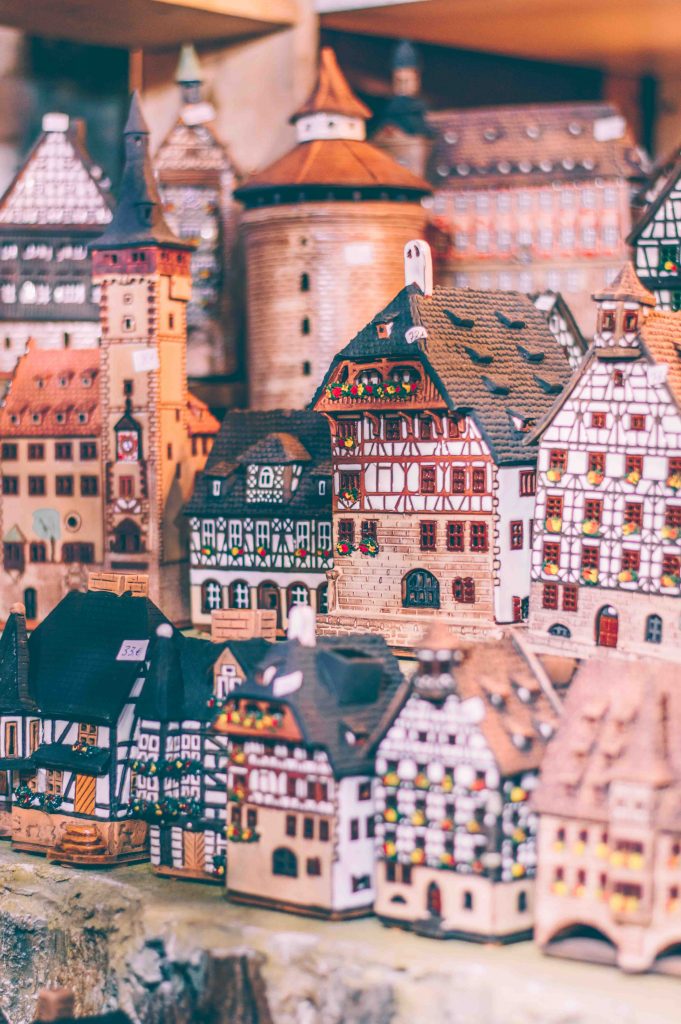 They Say Nuremberg Christmas Market Is One of The Oldest in Germany?
Yes! The first mentions of a market held in Nuremberg during Advent date back to 1530. Nuremberg has been an important center for spice trade in the XVI century. In one of his letters, Willibald Pirckheimer, Nuremberg Town Council member, wrote that the nuns from Bergen Convent "sent for spices from the Market". The market in question is probably Nuremberg market.
But if you need a more solid proof, there's an inscription in ink on the bottom of a wooden box with the following text:
Sent to Regina Susanna Harßdörfferin by Miss Susanna Eleonora Erbsin (or Elbsin) on the occasion of the Kindle's Market (Christmas Market) of 1628.
If you pay a visit to the Germanisches Nationalmuseum, you can see the box for yourself. It is considered the first official written mention of the Nuremberg Christmas Market.
After the war, in 1948, the Christmas Market took place despite the Old Town being largely destroyed. This is also the year when an actress was hired for the first time to represent the Christkind.
The Market of Sister Cities was added to the Christkindlesmarkt in 1986, and the Children's Christmas Market took place in 1999 for the first time.
So What's Special About Nuremberg Christmas Market?
The Christkind! I mentioned the Christkind before, so let me tell you why she is so special. In Germany, Austria, Switzerland and some other European countries the Christkind is believed to bring presents for the holidays, not unlike Santa Claus in the USA or Grandfather Frost in Russia.
Translated from German, Christkind means "Christ child". However, the depiction of the Christkind is usually a blond angelic girl with wings. So it's a little confusing. Here's what apparently happened.
Back in the XVI century, the holiday gifts were brought to children on the 6th of December by Saint Nicolas. The protestant reformer Martin Luther, trying to steer away from the Catholic traditions of honoring saints, told his kids that the presents were brought by the "Holy Christ". He also changed the date of gift giving from the 6th of December (Saint Nicolas' Day) to Christmas Eve. Soon, this became a widespread tradition in Lutheran families across Germany.
So how did "Christ child" turn into a blonde girl? Apparently, back in the day many Christmas plays featured an Angel of the Annunciation as the main character and that's where the transformation started. As angels began to be portrayed as girls and not only boys, the Christkind took on new appearance.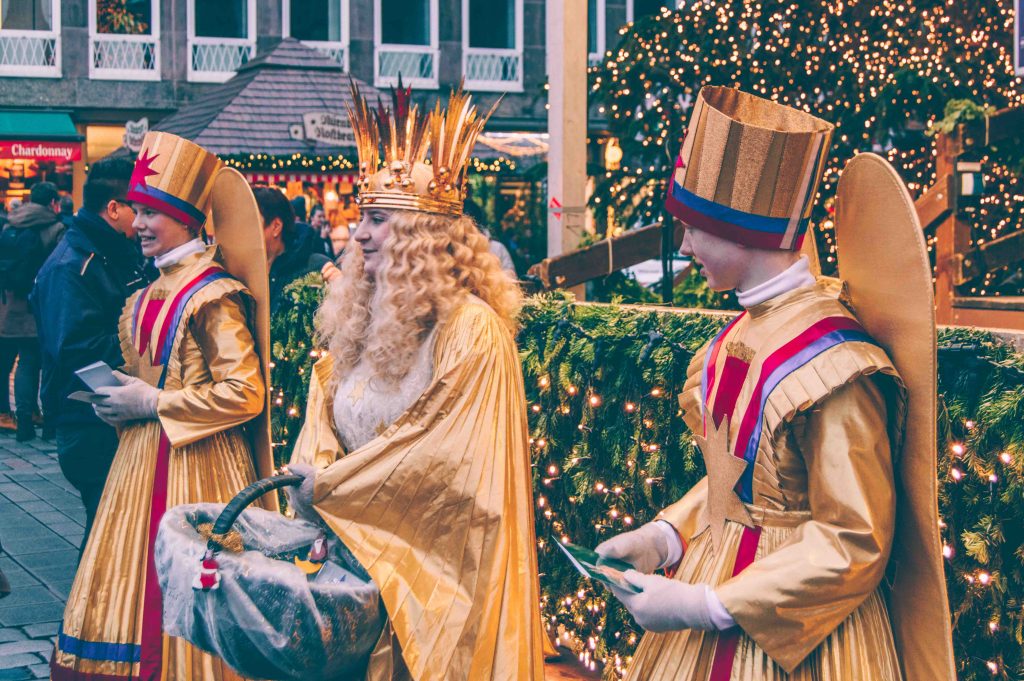 But You Said Christkind Is Popular in Many European Countries…
True! But Nuremberg Christmas Market is the only place where you can actually meet the Christkind! The city of Nuremberg holds a competition every two years to elect a local girl who'll be representing the Christkind. The girls should be between 16 and 19 years old and born in Nuremberg (or live here for a long time).
The photographs of 12 finalists are printed in a local newspaper and posted online for readers to choose their favorite. The 6 girls who get the most votes are then interviewed by a jury panel. The chosen girl gets to represent the Christkind for the next two years.
You can meet the Christkind on the opening day of the Christmas market as she reads a prologue from the balcony of the Church of Our Lady. She also pays a visit to Christkindlesmarkt (named after her) and Children's Christmas Market several times a week.
What Should I Know Before Going to the Market?
Nuremberg Christmas Market is one of the largest in Germany, with around 2 million visitors a year coming from all over the world. So it should come as no surprise that booking accommodation way ahead is essential. A few weeks before the start of the market most of the options are long gone and the remaining ones are incredibly expensive. 
If possible, look for hotels within walking distance from the Old Town (or inside the Old Town) as you are likely to spend most of your time in this area. But don't get frustrated if those are unavailable or too expensive. Even if you book a room outside of the city center, it's pretty easy to get to the market as Nuremberg is well connected by public transport. 
The market is less crowded in the morning hours and during the day, but more spectacular during the evening hours when the lights are on. 
Have some cash on you. Not all the vendors accept credit cards, and those that do sometimes have a minimum amount to be charged on the card. 
Speaking of cash, don't be surprised to pay a fee for a cup when you buy mulled wine. The fee is only a few euros and will be returned to you when you bring the cup back. The cups are branded with Nuremberg Christmas Market logo and holiday drawings. After you are done with mulled wine, you can take the cup home as a souvenir — that's why the fee is paid upfront. 
To see Christkind, the symbol of Christmas in Nuremberg, attend the opening ceremony of the market. Christkind reads a prologue from the balcony of the Church of Our Lady. It is extremely crowded during the opening ceremony, so make sure to arrive at least an hour early and get a spot in front of the church. Afterwards you can meet the Christkind from Tuesday to Friday at 3 pm at the Christkindlesmarkt. 
If you are looking for locally-produced foods and gifts from Nuremberg, pay attention to the booths that have an official Christkindlesmarkt logo on them. These booths sell so-called "licensed products" which are unique to the Nuremberg Christmas Market. 
This is a pretty obvious fact, but Nuremberg has a lot more to offer than its Christmas Market. It makes sense to stay here for an extra day to explore the Old Town, visit one of over 30 (!) museums, see the Nuremberg trials memorial, and enjoy traditional Franconian food. 
If you decide to stay in Nuremberg for several days, the city offers a Nuremberg card for visitors that allows free admission to all the museums and attractions, as well free travel on public transport within Nuremberg, Furth and Stein for two consecutive days for 28 euro.
Once you have explored Nuremberg, venture out to see other cities in Bavaria. Munich in winter is gorgeous and is only an hour away by train.
What Do I Eat and Drink at the Nuremberg Christmas Market?
Nuremberg Christmas Market has dozens of options for a satisfying meal, however, I'd like to pinpoint a few regional specialties that you won't be able to find anywhere else.
Heidelbeere Glühwein — Blueberry Mulled Wine
While glühwein is the drink of choice at most of European Christmas markets, in Nuremberg you can try a special variety — blueberry glühwein. It is made of locally produced blueberry wine and spiced with natural extracts of anise, cardamom, orange and lemon peel, cinnamon and nutmeg to name a few. Nuremberg mulled wine is protected by EU laws against imitations.
Where to try it: the booth of Gerstacker, a local family-run winery.
Winter Wärmer — Local Spiced Beer
For those who prefer beer over wine, Winter Wärmer is a great alternative. Produced by a local brewery, Hausbrauerei Altstadthof, for the first time in 2015, this drink became a staple at the Nuremberg Christmas Market. Winter Wärmer is brewed with hops, malt and a mix of nine spices.
Where to try it: Hausbrauerei Altstadthof booth.
Feuerzangenbowle — Red Wine and Rum Punch
Although Feuerzangenbowle is not exclusively Franconian and can be found at the markets all over Germany, I think the fact that Nuremberg Feuerzangenbowle is the largest in the whole world makes it pretty special.
The name of the drink — Feuerzangenbowle — loosely translates to "fire tongs punch". The tongs are used to hold a rum-soaked cone of sugar over the punch bowl. The sugar caramelizes, melts and drips into the wine in the bowl, thus giving it its unique flavor. Feuerzangenbowle has been around for over two centuries, although back in the day it was known as Krambamboli.
Given that the bowl is heated outside in low, sometimes sub-zero temperatures, it takes 48 hours to heat the punch to desired 70C.
Where to try it: Feuerzangenbowle Village (below the Fleischbrücke, right by Starbucks)
Drei im Weggla — Three in a Bun
Nuremberg bratwurst, tiny sausages that weigh only 25 gram, are an absolute must-try in the city. At the restaurants, they are served on a metal plate with a side of sauerkraut or potato salad. At the Christmas market, you get a simpler version of 3 sausages stuffed into a bun and smothered with mustard.
The recipe and the size of the sausages were established back in the XIV century. Today, Nuremberg bratwurst is protected by EU law which means it has to be produced within city limits according to an official recipe.
Where to try it: there are several booths at the market making drei im weggla.
Lebkuchen — Gingerbread Cookies
Another Nuremberg specialty protected by EU law is lebkuchen, or gingerbread cookies. Do not confuse these with lebkuchenherzen, cookies shaped as large hearts with inscriptions on them. The hearts are purely decorative and taste like paper.
The original Nuremberg lebkuchen, on the other hand, is a thing of beauty. Prepared with honey and a blend of spices, these round (or sometimes rectangular) treats are delicious, especially when fresh out-of-the-oven.
Lebkuchen last for weeks which makes them a perfect gift to bring home from Nuremberg Christmas Market.
Where to try it: the booth of Wolfgang Woitinek, a local bakery. Apart from traditional lebkuchen, they also offer lebkuchen candies — cubes of lebkuchen dipped in chocolate — that taste heavenly!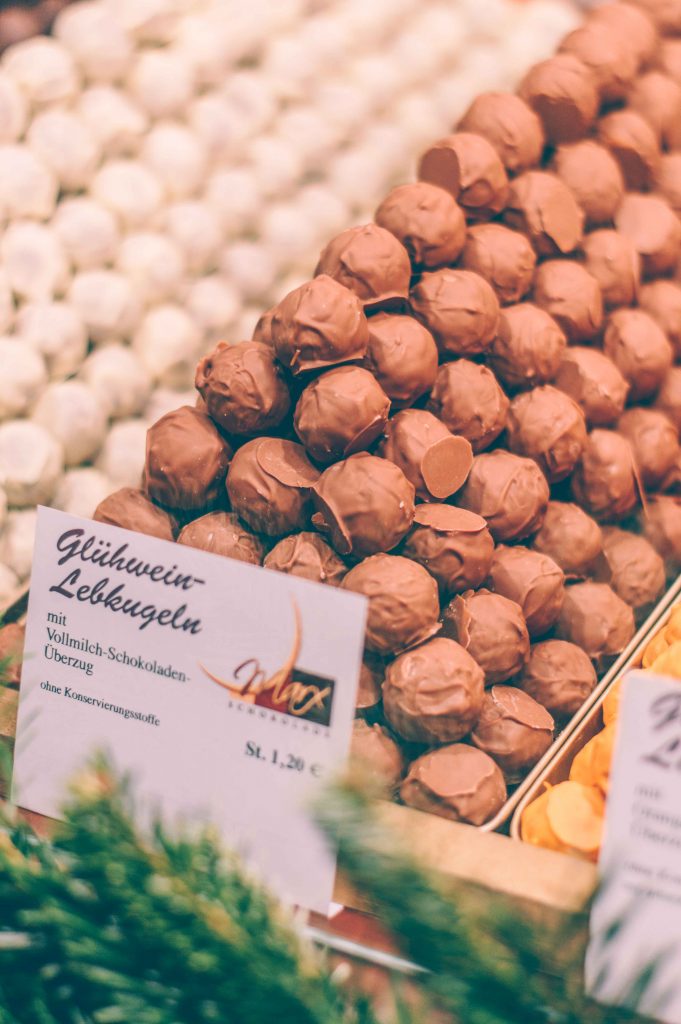 Lebkugeln — Truffle with Lebkuchen and Glühwein Flavor
Lebkugeln is not a traditional Franconian treat, but a modern twist on beloved Christmas staples. A local chocolatier makes these truffles with chocolate, original Nuremberg gingerbread, cream, and spices. While you can find some of these year-round at his shop, for the Christmas Market he makes a limited edition of 12 lebkugeln flavors. And some of them contain glühwein!
Where to try it: at the booth of Marx Schokolade.
Now, What Local Souvenirs Do I Get at the Market?
There are dozens upon dozens of options for your holiday shopping, but here I will only touch upon gifts that you can only get at Nuremberg Christmas Market.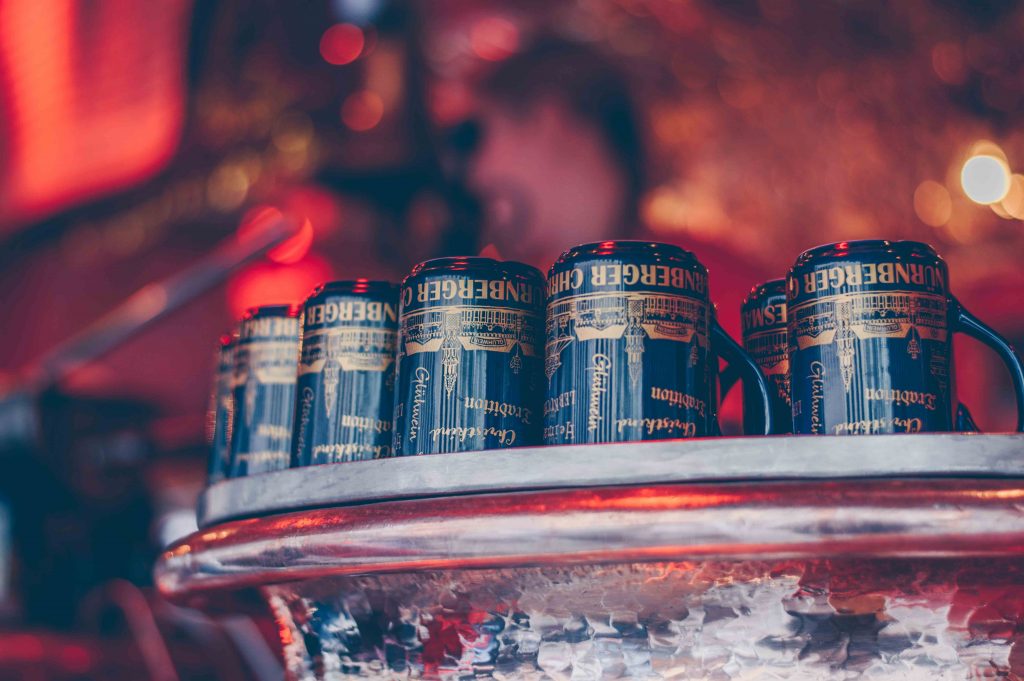 Glühwein Cup
The most obvious and easy present is the cup you had your glühwein in. When buying any hot drink at the market, you'll pay pfand (deposit) for the cup (about 3 euro). It's done so you can take the cup home afterwards if your heart desires. Otherwise just return the cup to the vendor and get your money back.
Where to find it: any glühwein booth at the market.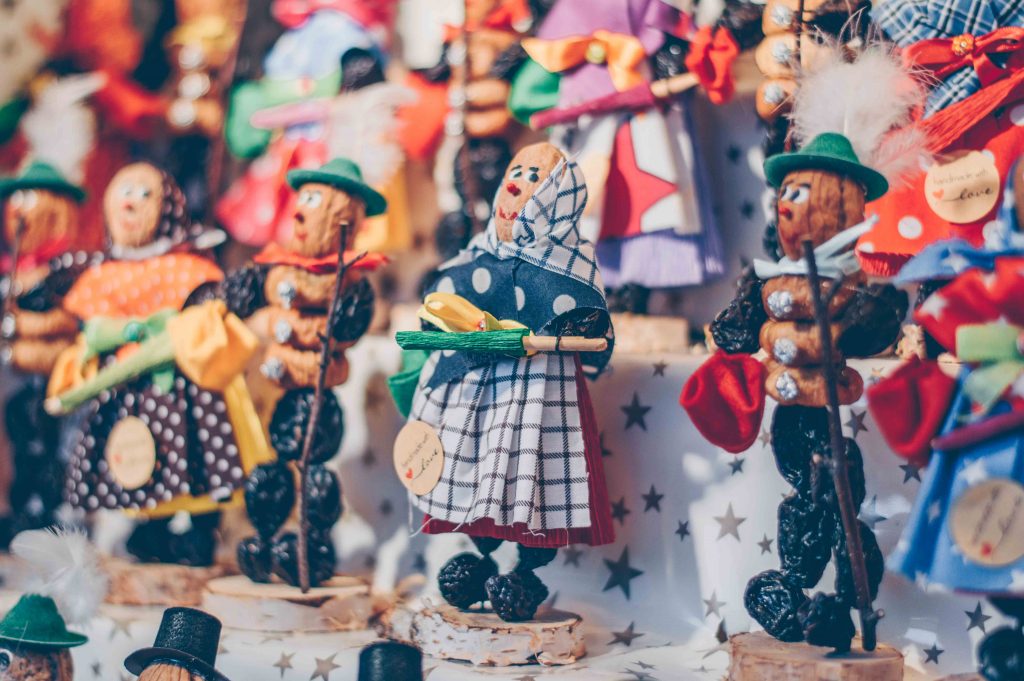 Zwetschgenmännle — Prune Men
Prune men are, possibly, the most popular souvenir to get at the market. Legend has it, these seemingly edible (don't risk it) toys were invented in Nuremberg back in XVIII century and sold at the Nuremberg Christmas market for at least a couple of decades.
Zwetschgenmännle are little figurines made of dried prunes, figs, and walnuts. They are mounted on pieces of birchwood with the help of a wire for stability. Prune men take up a bunch of different roles. You'll find farmers, musicians, newlyweds, and pretzel sellers to name a few.
Where to find it: several booths at the market make and sell Prune Men.
Rauschgoldengel — Gold Foil Angel
Another figurine with deep routes in Nuremberg history is Rauschgoldengel. Back in the XVI century, the city was famous for its metal workshops. At the time, many craftsmen used paper-thin brass-foil, which boasted the shine of real gold and produced a fluttering sound of foil. Put together "sound" ("rausch") and gold (surprisingly also "gold" in German) and you got Rauschgold, the name of the material. Now "engel" stands for "angel". See? German is easy!
Around the same time, the legend was born that Christkind brings presents to kids. Most likely, the angelic girl with blond hair served as inspiration for the Rauschgoldengel.
Today, the angels are not made of brass-foil, but of golden-colored paper or golden foil instead. You can find them at the booths with Christmas ornaments, but the largest Rauschgoldengel greets visitors at the entrance to the market.
Where to find it: several booths at the market that sell Christmas decorations.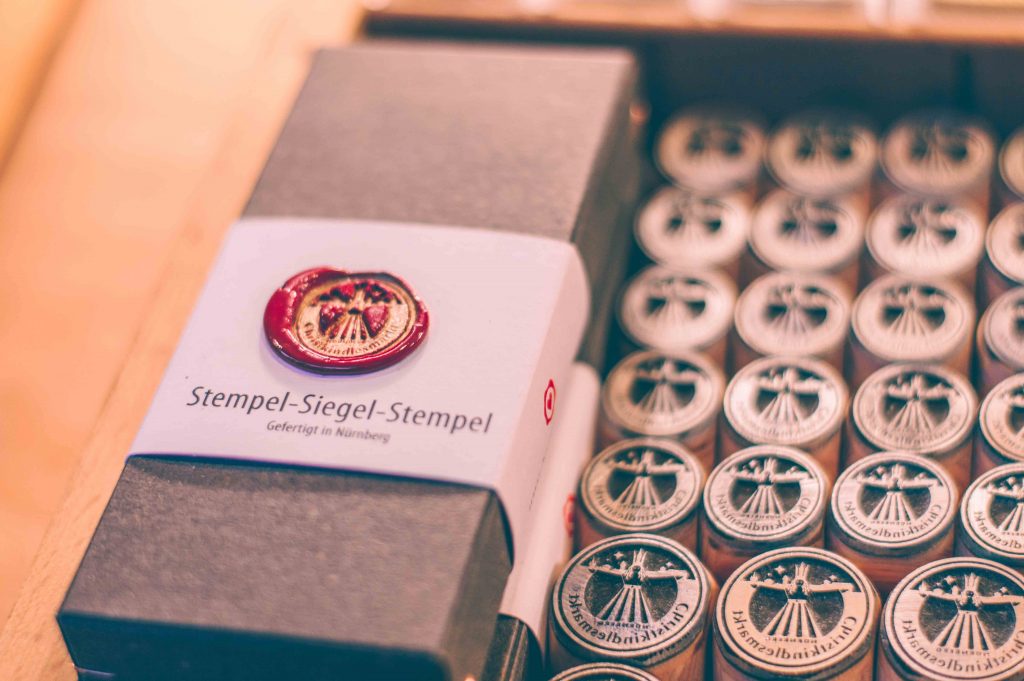 Stamp with Christkind Silhouette
A stamp with the logo of Nuremberg Christmas Market — the Christkind — will make your letters and postcards look unique and old-fashioned.
Where to find it: at the booth of Stempel & Siegel by Charlotte Grunow.
Christkind-shaped Cookie Cutter
The cookie cutter will serve as a yearly reminder of your visit to Nuremberg Christmas Market. Come December — which should be officially known as the cookie time — and you'll think of your time in Nuremberg while baking. For every cookie cutter sold, 1 euro is donated to Hospice Mögeldorf.
Where to find it: at the booth of Petra Strauß.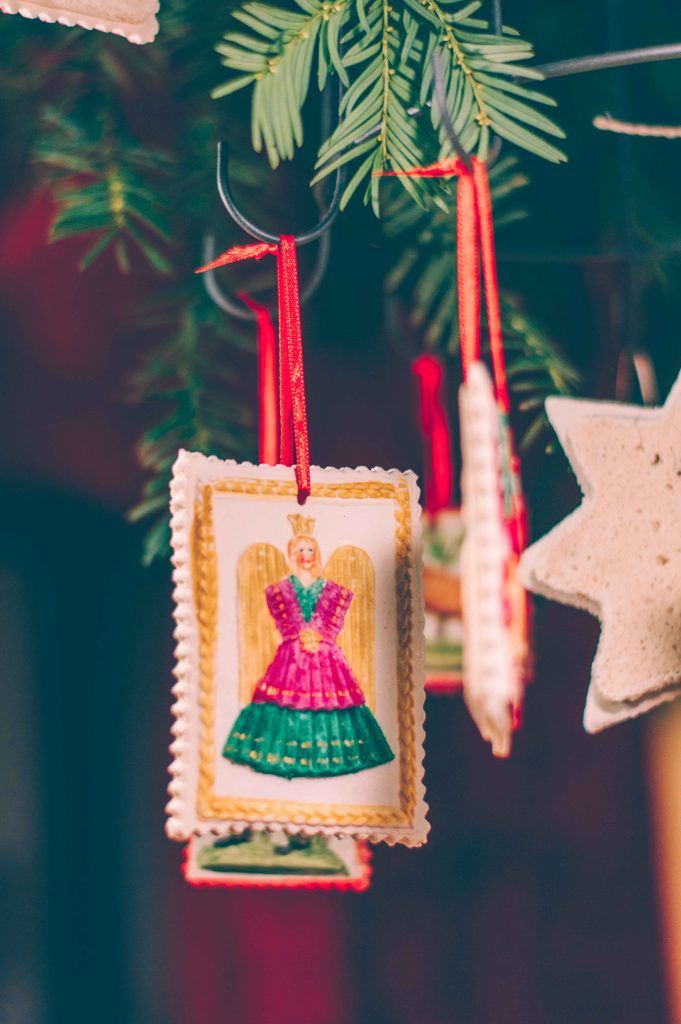 Springerle and Springerle Molds
Springerle is a type of German cookie with an embossed design. The patterns are made by pressing a mold into the dough, letting it dry and then baking the cookies. They can be plain white or colored. At the booth of Lebzelterei Art & Delikat you can find both ready-made springerle with Nuremberg-inspired designs and the molds to make them yourself.
Where to find it: at Lebzelterei Art & Delikat booth.
Candle Decoration with Nuremberg Motifs
Atelier Janoschke represented at the Nuremberg Christmas Market makes the most intricate wooden decorations inspired by city landscapes, holidays, and religious motifs. Hand-drawn and laser-cut designs come alive once wrapped around a lit-up candle. Choose the one with Nuremberg skyline to take home as a reminder of your trip.
Where to find it: Atelier Janoschke booth.
Christmas Tree Decorations with Nuremberg Motifs
Made from wood and wood-shavings by hand, these decorations include stars of all shapes and sizes, including some featuring Nuremberg skyline and Christkind. They are produced in a workshop in the suburbs of Nuremberg by Gabriele Ulrich.
Where to find it: at the booth of Gabriele Ulrich
What Else to Do at the Market Except for Eating, Drinking and Shopping?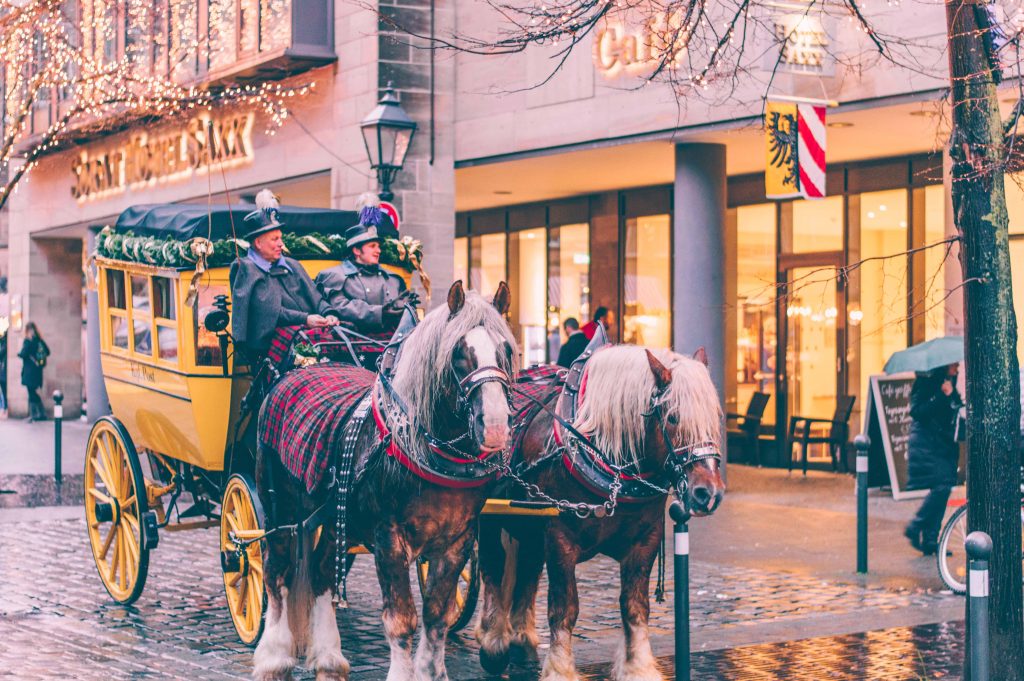 Take a Stagecoach Tour
A minute walk away from the main market, by hotel Saxx, is a stagecoach station where for a moderate price of 4 euro (2.5 euro for kids) one can buy a ticket for a ride around Christmas market and feel as if time has stopped.
This tradition is at least a quarter of a century old. There's a total of 17 horses working at the market for three to fours hours at a time. The stagecoaches are provided by the Museum for Communication and look straight out of a fairytale.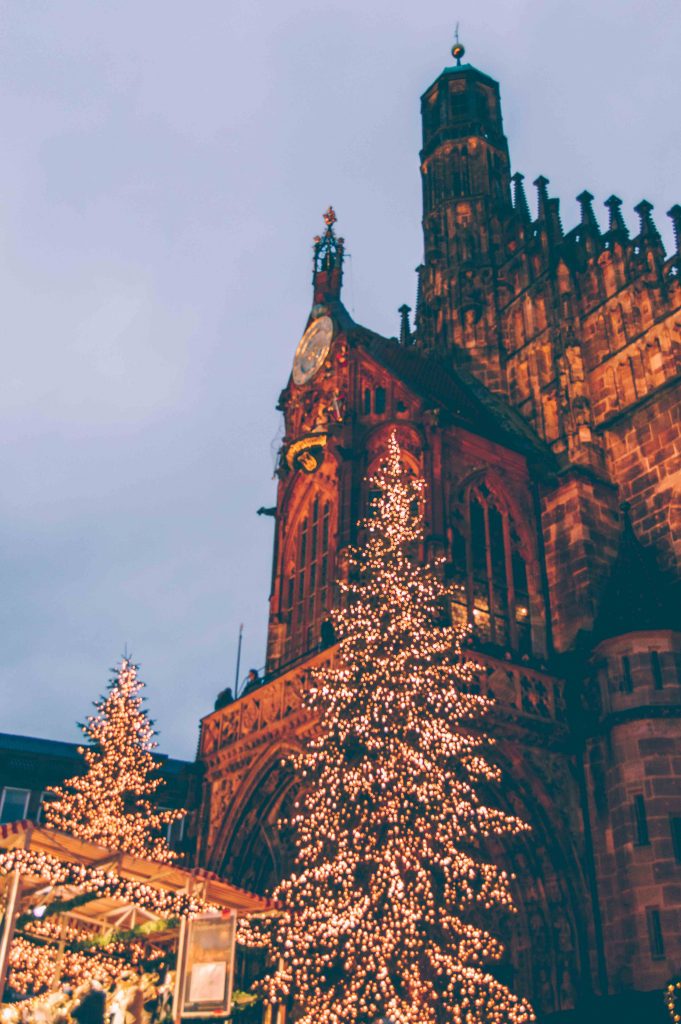 Climb to the Top of the Church of Our Lady for the Views of the Market
As the main Christmas market is located right in front of the Church of Our Lady, its balcony makes for a perfect viewing point. The balcony is where the Christkind reads the prologue on the opening day of the market. You have a chance to see the market from her perspective for just a couple of euro.
Send a Postcard with Nuremberg Stamp
Right across the road from Hotel Saxx, you'll find a little booth (marked with DHL logo) where you can buy a postcard, get a Nuremberg-inspired stamp on it, and send it to your friends and family. No need to look for a post office.
Explore the Rest of Nuremberg
As I mentioned before, Nuremberg is so much more than its Christmas Market. You'll find history every step of the way on the streets of the Old Town, in the city museums, and at important landmarks like Nazi Party Rally Grounds or Nuremberg Trials Memorial. You can explore these places on your own or take a guided tour in English.
Where to Stay During Nuremberg Christmas Market?
Don't you just love to stay at hotels that are unique to the city you are visiting? Not the regular white walls and soul-less albeit expensive beds and tables, but quirky unique furniture and out-of-this-world deco. I do! And Hotel Drei Raben provides just that.
Every room is designed to tell a story about Nuremberg and its heritage. One room may be called Albrecht Dürer in Rome, while another is Toy Town, and the next — what do you know! — Gingerbread Moon.
The 4-star hotel is located in the Old Town, opposite Neues Museum. It will take you about 6 minutes to get to the Christmas market on foot.
Check the Price
Hotel Elch — for Modern Rooms in a XIV century Building
Elch is a family-run boutique hotel located inside a half-timbered building from the XIV century that are so representative of German architecture. While on the outside it's all history and tradition, inside you'll find modern rooms with all necessary amenities.
The hotel is conveniently located in the castle district, within 5 minutes walk from the Nuremberg Christmas market.
Check the Price
As you might have guessed from the name, Adina provides not rooms, but fully equipped studios and apartments that feature a kitchen, en-suite laundry, work desk, and basically everything one might need to spend a few days away from home. This hotel is highly recommended by my husband, who stayed here for several months during his work trips to Nuremberg, before our move to the city.
Located right by Germanic National Museum, the hotel features a fitness center, pool and sauna. During Christmas time, you can have a cup of glühwein at their rooftop terrace with the view of the Old Town.
Check the Price
Lastly, Don't Forget About Travel Insurance!
I can't emphasize enough how important travel insurance is when you are planning a trip to a foreign country! So many things can go not exactly as planned (like that time I got food poisoning and got robbed of all my luggage in San Francisco).
I use World Nomads in my travels. You can buy and claim insurance online (even if your trip has already started). And their service is impeccable: fast and polite. You can get a customized quote for your trip below!
Pin for Later: