Before moving to Germany almost two years years ago, I've been told that European restaurants and cafes don't have wi-fi and a glass of water easily costs five euro. For a blogger, who loves writing with a cup of coffee in hand at the sound of people buzzing around, that was a low blow. Upon arrival, I set out to find the best cafes in Nuremberg that offer excellent coffee, cool vibe, unlimited wi-fi, and free water.
I am here to report that there are a few spots that fit all the criteria. Whether you are looking for a place to hang out with friends over a good cuppa, a spot to work remotely, or a third-wave coffee shop, Nuremberg has it all.
I made notes explaining why you should visit and what to expect at every coffee shop. Hope it helps you find exactly what you are looking for!
Third-Wave Coffee Shops in Nuremberg
These are cream of the crop cafes in Nuremberg that serve specialty coffee and pay attention to every detail: from coffee beans origins to roasting process to barista skills.
Machhörndl Kaffee
Hands down, my favorite cup of coffee in Nuremberg. Following the best traditions of third-wave coffee shops, Machhörndl looks for the highest quality coffee grounds around the world and roasts them on its own premises. 
Most of their coffees are single origin, which lets you explore the variety of coffee flavors. Machhörndl was the pioneer of light roasting in Germany. They usually have 3-4 filter coffees and 2 espresso varieties on the menu. 
The coffee shop was started in 2008 by Armin Machhörndl and over the past decade grew into a team of fifteen with three locations in Nuremberg. 
If fair trading is important to you, you'll be pleased to know that Machhörndl relies on smaller green coffee traders or buys directly from coffee producers, making sure they get fairly compensated.
Pro tip: they have delicious pastel de nata served piping hot!
Machhörndl Kaffee — 3 locations: an espresso-bar in the Old Town and 2 cafes in Gostenhof (near Nuremberg Trials Memorial).
Why come here: the best coffee in Nuremberg and hip atmosphere.
What to order as per the owner: "As we tend to buy microlots or just small amounts of each coffee to show how broad the offered coffee range is, you will be able to discover many different coffees at our places. We recommend trying our fruity coffees as they are rather rarely found in 'normal' cafés as well as our Iced Espresso during the summer months."
Wi-fi: only at their location near Bärenschanze metro station.
Rösttrommel Kaffeerösterei
Rösttrommel is my go-to spot when I need to get some work done. Their location on Äußere Laufer Gasse, close to Old Town, is always buzzing. People come to work, study, and meet friends.
Like Machhörndl, Rösttrommel is not just a coffee shop, but a roastery that specializes in so-called microlots. Microlots are coffee beans that are grown under special attention due to their unique tasting qualities and processed separately from the rest of the coffee in the farm.
Rösttrommel has a monthly rotating coffee menu that includes three varieties of espresso and two varieties of filter coffee. Besides, they offer new single origin coffee options every month that come from all around the world: from Rwanda to Guatemala to Nicaragua and beyond.
The company employs over 60 people between their four cafes, roastery, coffee school (yes, you can learn barista skills here!) and a bakery.
Rösttrommel Kaffeerösterei — three coffee shops in Nuremberg (one is named Next Door Coffee Club), check the details on their website.
Why come here: amazing coffee, free unlimited wi-fi.
What to order: the Rösttrommel team recommends to try the hand brew (pour over) or Espresso No. 3: "This is the most fruity and juicy one. You might be scared by the acidity first, but it will be exciting for sure".
Wi-fi: yes, unlimited
White Bulldog
There are so many things I love about White Bulldog, starting with the fact that it's a coffee shop run by a Russian-Kazakh family. So I always get a chance to chat with them in Russian about the latest news. Olga, Yakov, and their son Maxim keep the coffee shop open every day, which you shouldn't take for granted in Germany. It's a popular spot for brunch on Sundays.
The family roasts beans on the premises in small batches and makes some of the best coffee in Nuremberg. Apart from coffee, White Bulldog also serves food. The menu is short and sweet, mainly breakfast items. I highly recommend their avocado toast and homemade honey cake.
The place is beauiful: lots of space, huge windows, and central location. On top of that all, they have unlimited wi-fi, so working and studying here is awesome!
White Bulldog — Hirschelgasse 1
Why come here: superb coffee, free unlimited wi-fi, best avocado toast in town.
What to order: my go-to is cappuccino or flat white. In summer they also offer nitro coffee, which is cold brew infused with nitrogen. It's creamy, refreshing, and simply a fun new flavor to try.
Wi-fi: yes, unlimited
Bergbrand
When exploring Nuremberg, you will most definitely come across its prettiest street Weißgerbergasse which features one medieval half-timbered house after another. Right at the top of the street, where everyone takes pictures, you will find Bergbrand, a small coffee shop and roastery.
Bergbrand's motto is "Inspired by nature, roasted with love". The company makes it a point to source coffee beans sustainably, ensuring ethical cultivation practices and fair trade. Coffee beans, that come from Guatemala, Costa Rica, Brazil, and Panama to name a few, are roasted using a drum roaster.
The space is small with distinct rustic vibe, what with all the wooden furniture, exposed light bulbs and coffee bags for chairs. When the weather allows, get a table outside and watch a non-stop flow of tourists take pictures for instagram.
Bergbrand — Weißgerbergasse 38
Why come here: superb coffee, rustic vibes inside, the view of Weißgerbergasse if you get a table outside.
What to order: my go-to is classic cappuccino.
Wi-fi: no
Kaffe Hörna
It's time to leave the Old Town in search of great coffee shops in Nuremberg! We will be back, though, not to worry. But for now let's wander to Scheurlstrasse, not too far from the Central Station. Here, you will find a tiny cosy Kaffe Hörna. The interior is intended to remind you of relaxed Scandinavian cafes.
Kaffe Hörna sources coffee grounds from roasters across Nuremberg, Germany, and Europe. I don't often make it here, but when I do I am rewarded with silky-smooth coffee that has not the slightest presence of bitterness.
Besides, they offer a range of baked goods, including cinnamon buns baked according to the original recipe from Gotenburg, Sweden, home of the biggest cinnamon bun in the world. I am yet to try those myself!
Kaffe Hörna — Scheurlstraße 11
Why come here: third-wave coffee, Scandinavian vibes
What to order: any coffee + a cinnamon bun
Wi-fi: no
Best Franchise Coffee Shops in Nuremberg
Despite the fact that I usually choose stand-alone, local cafes (and restaurants in general) there are two franchise coffee shops in Nuremberg that won me over.
Espresso Lab
Venturing out to Espresso Lab in North Nuremberg is worth it if only for the sake of spending an hour (or two) at their gorgeous premises. Located inside a former warehouse, Espresso Lab is one of the best examples of industrial chic design in town. The space reminisces a huge living room with exposed red bricks and wood all around.
Despite the enormous size of the coffee shop, getting a table on weekends can be a challenge. Luckily, there's additional sitting outside: a wooden staircase with built-in wooden tables.
Espresso Lab is a franchise chain of coffee shops that originated in Turkey with 66 coffee shops around the world. So it is no wonder that their branch in Nuremberg was opened by a Turkey-native named Kawa who has over 15 years of experience in the coffee business. He is the head roaster at the Espresso Lab.
Organic arabica beans from around the world are sustainably sourced, roasted on the premises (you can see the roasting drums inside the cafe), and served within 48 hours. The beans at the Espresso Lab are roasted slightly lighter to achieve minimum acidity.
Espresso Lab — Schillerstraße 14
Why come here: delicious coffee, gorgeous interior design, perfect vibes for meeting with friends.
What to order: the team of Espresso Lab recommends cold brew that can be mixed with tonic water or used to prepare specialty drinks. If you are more into classic options, try their espresso or cappuccino made with Ethiopian beans.
Wi-fi: yes
Traveler's Coffee
Having opened its doors in November 2019, Traveler's Coffee is the new kid on the block. However, their great coffee and convenient location quickly drew people in. It's a perfect place to work (yay, unlimited wi-fi!), people-watch (yay, huge floor-to-ceiling windows!) and have some rest after exploring old town (yay, central location behind the Frauenkirche).
Traveler's Coffee is originally a Russian coffee shop chain that was born in Novosibirsk. So that is one more reason to visit for me personally.
The company has over 150 locations in Russia, Ukraine and Kazakhstan, and Nuremberg location is the first one to open in Germany. The head roaster of the chain, Arseniy Kuznetsov, is the current coffee roasting world champion.
Traveler's Coffee — Bindergasse 6
Why come here: great coffee, convenient location in the Old Town, unlimited wi-fi.
What to order: cold brew and specialty drinks made with cold brew.
Wi-fi: yes
Coffee and Drinks till Late Night
Cafe Bar Katz
As most of the coffee shops in Nuremberg close at 6 pm (that's right, who needs coffee after 6?), Cafe Bar Katz is one of the few options available for late-night coffee. If you are not too much into coffee, they serve alcohol too. And cakes. And a daily menu of panini, salads and soups in rotation. All in all, it's an excellent spot to hang out at night, after you are done with exploring the city.
The space, with its old-timey couches and armchairs, art pieces on the walls, and window-sills used as benches, has vintage vibes. During warm summer months you can sit outside facing Hans Sachs Platz and people-watch.
Cafe Bar Katz — Hans Sachs Platz 8
Why come here: great coffee and cocktails, perfect spot for people-watching if you sit outside, open till late.
What to order: latte, house-made lemonade in summer.
Wi-fi: yes, but only for one hour.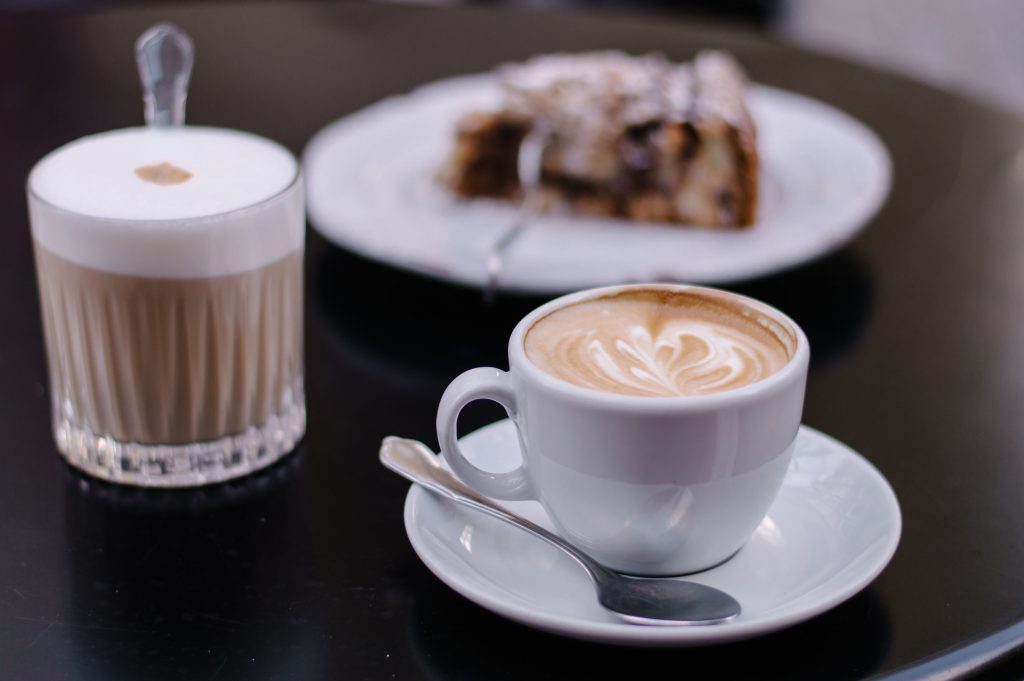 Kaffe Lebemann
This little gem of a cafe, located right in the center of Old Town, seems to be the secret locals keep to themselves. I happened to run into it in search of shelter on a rainy day and was flabbergasted by the cool interior. How come it has almost zero presence online (at least in English) is beyond me.
Anyways, the interior! Imagine a cozy living room where bohemian 20's meet industrial design. This is Kaffe Lebemann: hardwood floors with area rugs, velvet and leather couches, a wooden bar counter taking up almost the whole length of the cafe, exposed bricks on the ceiling.
But the best part, unexpectedly, is the door leading to the restroom if you manage to find it. A hint: it's hiding behind book shelves.
The cafe is located under the Victory column on Köpfleinsberg, at the bottom of the beautiful staircase between Adlerstrasse and Kaiserstrasse. In summer, the steps of the staircase are occupied by cafe visitors drinking coffee and cocktails. Ah yes! If you are undecided whether you are craving a cup of Joe or an Aperol spritz, Kaffee Lebemann has it all.
Kaffee Lebemann — Adlerstraße 28
Why come here: a choice of both coffee and alcohol, perfect spot for people-watching if you sit on the steps, open till late (which is rare!).
What to order: filter coffee that you make on your own.
Wi-fi: yes
Coffee from Around the World
Vietnamese Coffee at Le Bánh Mì
If you love your coffee on the sweet side, Vietnamese version is just what doctor ordered! Le Bánh Mì is a real gem of a Vietnamese street food restaurant in North Nuremberg that, on top of pho, spring rolls, and bánh mì, serves traditional Vietnamese coffee.
It comes in a glass cup with a drip filter on top. Hot water slowly trickles through the coarsely ground coffee beans into a cup with condensed milk on the bottom. The result is a strong, but intensely sweet drink.
I happened to pass by Le Bánh Mì on the way to an Asian Fusion place for lunch, but the crowd in front of this tiny joint made me change my course. The space features only two tables inside and two outside, but the line can get pretty long around lunch time. It moves fast, though, and you can see how the food is made right in front of you.
Le Bánh Mì — Pirckheimerstraße 68
Why come here: apart from Vietnamese coffee, they make delicious fresh spring rolls, fried noodles, and bánh mì.
Turkish coffee at Krummbeere
If you are more of a Turkish-coffee-kinda girl (or guy), then head to Krummbeere in Nuremberg's Gostenhof. Just like Le Bánh Mì, this was my accidental find. I used to go for German classes nearby and was drawn in by the smell of freshly baked potatoes (I am Russian after all!).
Krummbeere specializes in making Turkish kumpir, a huge baked potato, mashed and topped with everything from bratwurst to veggies and hummus to Russian salad. After you have your fix of kumpir, order a cup of coffee. Don't forget to mention whether you want it sweet, medium-sweet, or sugar-less upfront.
Turkish-style coffee is served with coffee grounds on the bottom of the cup which is why mixing sugar in is impossible once the coffee is served. Krummbeere also has a variety of delicious cakes.
Krummbeere — Südliche Fürther Str. 31a
Why come here: apart from coffee, Krummbeere is worth a trip to Gostenhof for their freshly-made kumpir and the cutest ever interior design.
Do you know any other awesome cafes with great coffee in Nuremberg? Let me know in comments! I'd love to check them out. 
Pin for Later: