I live within fifteen minutes walk from Nuremberg Old Town. It's incredible how being so close to beauty, so immersed in history makes it feel almost ordinary. Why yes, I had my lunch at the restaurant that's been serving bratwurst for over five centuries! Haven't you? But of course I buy my books at the oldest bookstore in Germany — it's right on the way to my dentist. I have to remind myself that this is not normal. This is not how most people live or how I, for that matter, lived for most of my life, until I moved here. 
The old and the new are intertwined in the Nuremberg Old Town. I guess that is the case for most historic old towns in Europe. An ice cream shop right by the 650-year-old Church of Our Lady. A shopping mall opposite the grandiose gothic St. Lawrence Church. And sometimes the old and the (somewhat) new are one and the same: a traditional German restaurant located in what used to be a hospital a few centuries ago.
That is the charm of Nuremberg Old Town, as I see it: to sip exceptional coffee from a third-wave coffee shop while marveling at half-timbered houses, to buy bread and mortadella from a century-old deli before getting the rest of the groceries at the supermarket, to take a picture of Albrecht Dürer's house, then jump into a tram and head home, to my blessed-with-running-water-and-electricity apartment. 
I hope this guide to Nuremberg's Old Town will help you to get to know and appreciate the best of the city. Not only will you find the most popular things to do in this post, but also my favorite places to eat, drink and shop. If you are looking for more things to do in Nuremberg that are outside of the old town, check out this post of mine. 
Things to Do in Nuremberg Old Town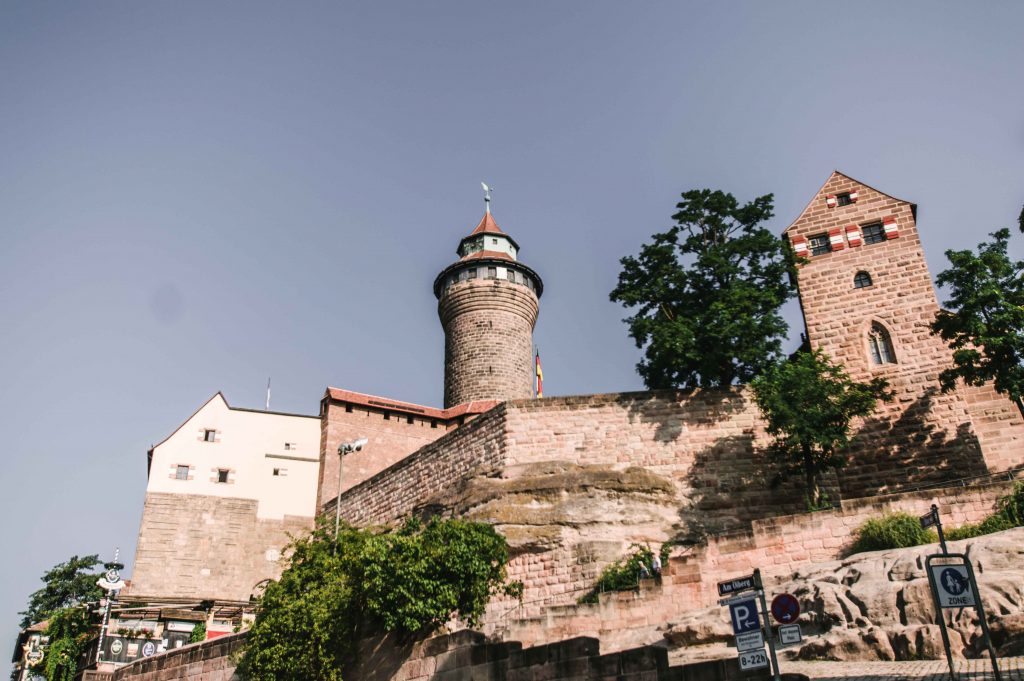 Imperial Castle and the City Walls (Kaiserburg Nürnberg)
Nuremberg Old Town is surrounded by city walls that, together with the Imperial Castle, were some of the most impressive medieval defense systems in Europe. As Nuremberg was one of the most central and important cities in the Holy Roman Empire, most of the Emperors visited on multiple occasions and stayed at the Castle. The Castle, actually, is not one pompous building, as you might imagine, but rather a chain of unembellished buildings and towers, located on a hill. It's not too difficult to climb, and the view of the Nuremberg Old Town from the top is all worth it.
The Market Square (Hauptmarkt)
The market square is the heart of the Old Town, most famously known as the place where the Christmas market takes place. If you are not visiting during Christmas holidays, it is still worth exploring, as a few of the most popular sights are located at the square. Besides, the red-and-white stalls selling fruits and vegetables are here year-round.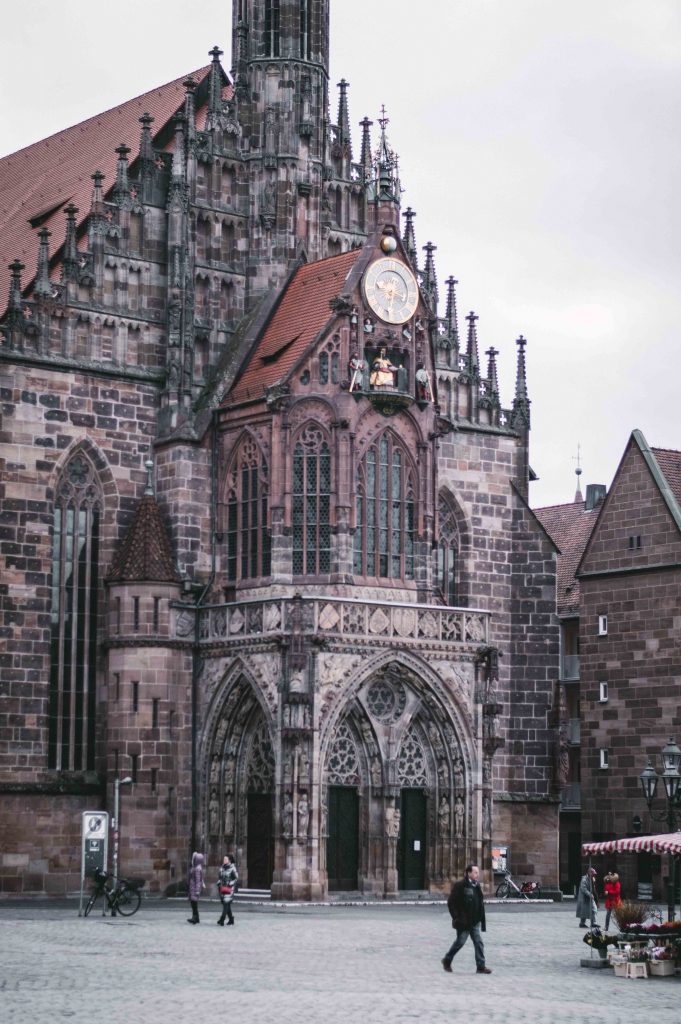 The Church of Our Lady (Frauenkirche)
The Church of Our Lady is located on the eastern side of the market square. Every day at noon, Männleinlaufen, the mechanical clock on its facade, comes alive with the figurines representing the Holy Roman Emperor and prince-electors moving around. It's a fun thing to see if you find yourself at the market square around midday. The Church of Our Lady is the first of the three main churches in Nuremberg.
Beautiful Fountain (Schöner Brunnen)
Another popular attraction at the market square is the Beautiful Fountain, which is indeed pretty majestic, but unfortunately doesn't work anymore. It was built in the XIV century and resembles a spire of a Gothic church. On the fence surrounding the fountain, one can find two brass rings that are said to bring luck — all you need to do is turn them around and make a wish. One is mostly used by tourists, another — by locals. You'll know which one is which by the amount of people lining up to make a wish.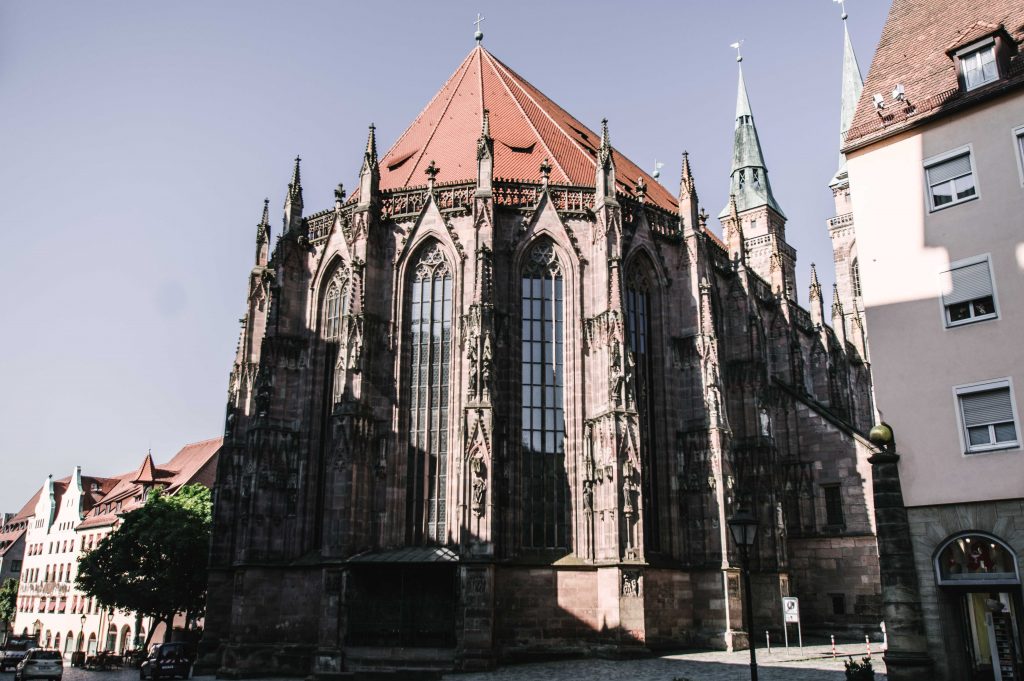 Saint Sebald Church (Sebalduskirche)
Saint Sebald Church, located a few steps away from the market square, is the second of the three main churches in Nuremberg. It was named after the patron saint of the city and houses the shrine of Saint Sebald. Built in 1215, Sebalduskirche is also the oldest church in Nuremberg. It was destroyed during the WWII and reconstructed and reconsecrated in 1957.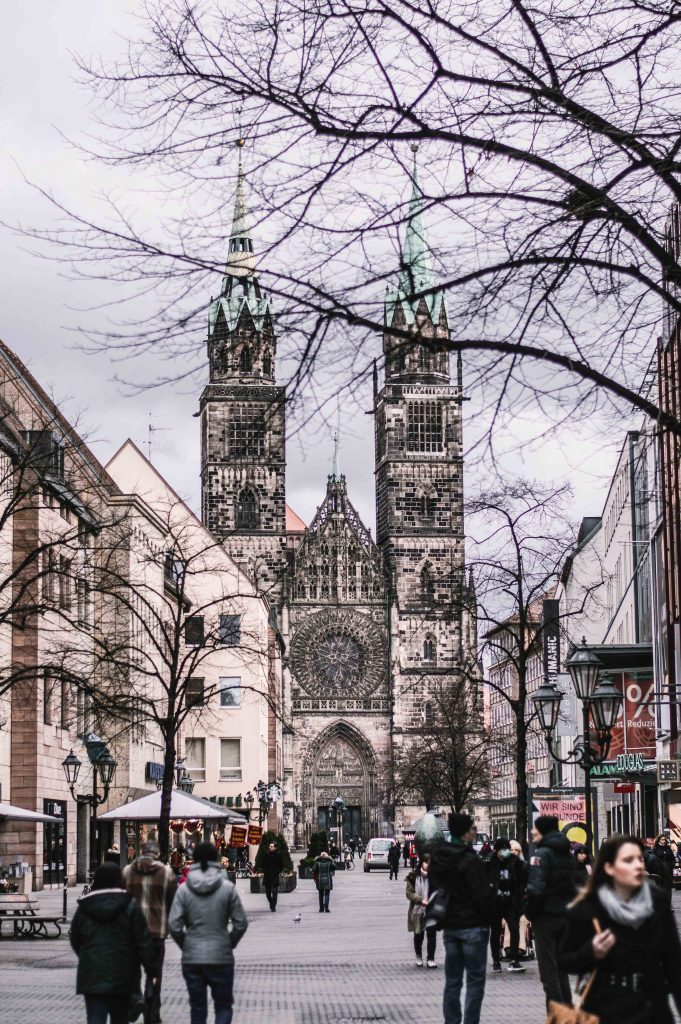 Saint Lawrence Church (Lorenzkirche)
As you might have guessed, St. Lawrence is the third of the tree major churches located in the Nuremberg Old Town. All three are within steps from one another, each beautiful in its own way. The imposing Gothic-style facade of Lorenzkirche is looming over Königstraße, a pedestrian street famous for its many shops. Right opposite the church you will find a little stall called Brezen Kolb, the best place in town to get your pretzel fix!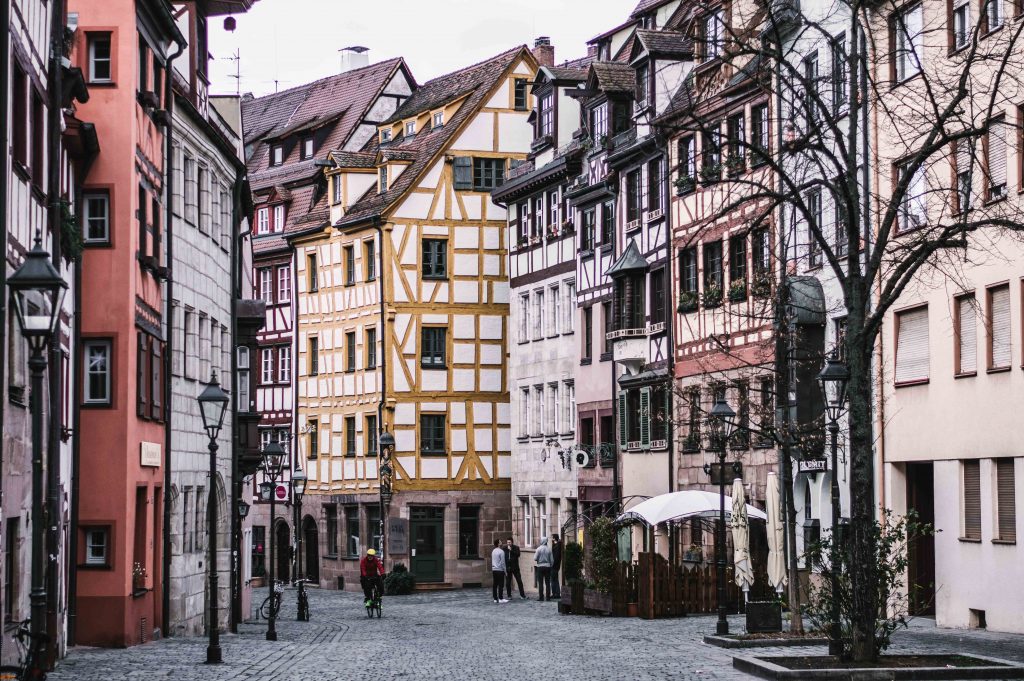 Weißgerber Lane (Weißgerbergasse)
Weißgerbergasse is, hands down, the prettiest street in Nuremberg. If you had an idilic picture of a romantic European town in your head, this street will meet your highest expectations: rows of half-timbered houses, ornate golden signs, cobblestones. And if this wasn't enough, it is on this street that you'll find one of the best cups of coffee in town and some of the best ice cream too. I'll tell you all about both in a bit.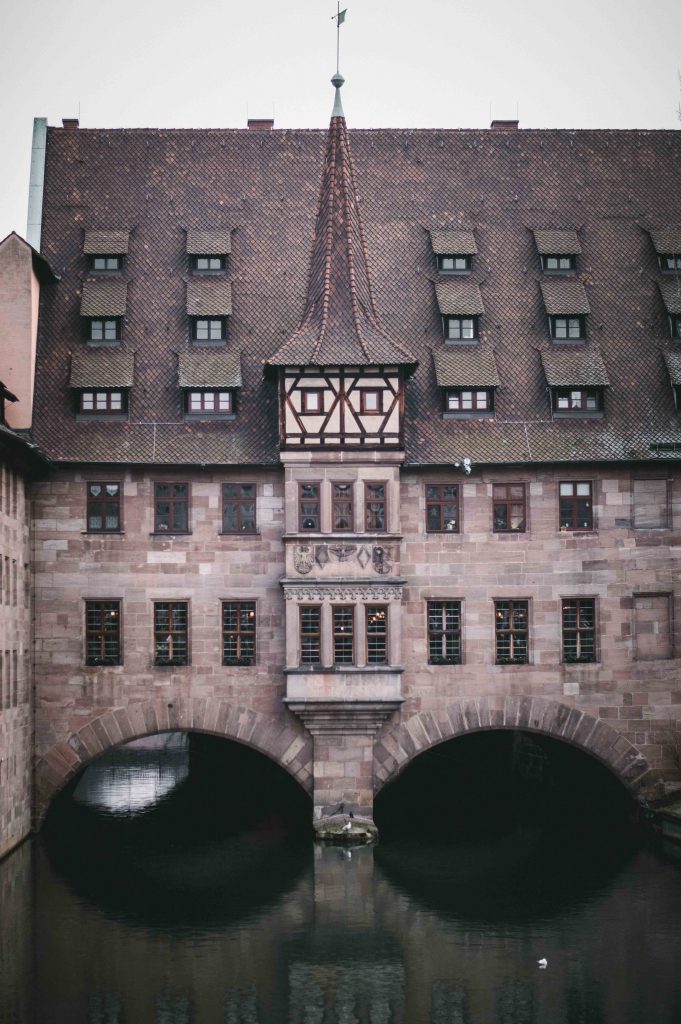 Hospital of the Holy Spirit (Heilig-Geist-Spital)
Hospital of the Holy Spirit is one of the most beautiful and, probably, most photographed spots in Nuremberg. It is simply impossible not to snap a photo of a building floating over Pegnitz river while you are crossing the Museum Bridge (Museumsbrücke). The church of the hospital (not reconstructed after the 1945 air raids) was where the regalia of the Holy Roman Empire was kept. While Heilig-Geist-Spital doesn't serve as a hospital any more, you can have a traditional franconian lunch or dinner in the namesake restaurant inside.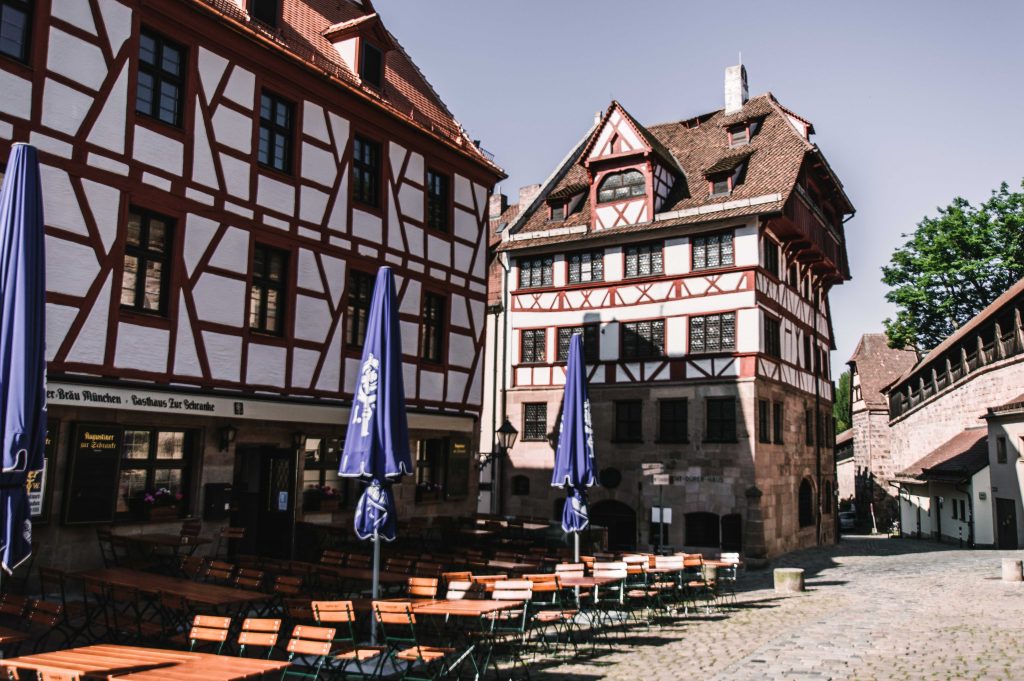 Albrecht Dürer's House (Albrecht-Dürer-Haus)
Albrecht Dürer, one of Germany's most prominent painters, was born in Nuremberg and lived in the house near the Tiergärtner Gate for almost twenty years. Today, you can visit the museum set inside his house that features copies of his works (the originals are in the best museums of the world), as well as rooms decorated with period furniture and a recreation of Dürer's workshop.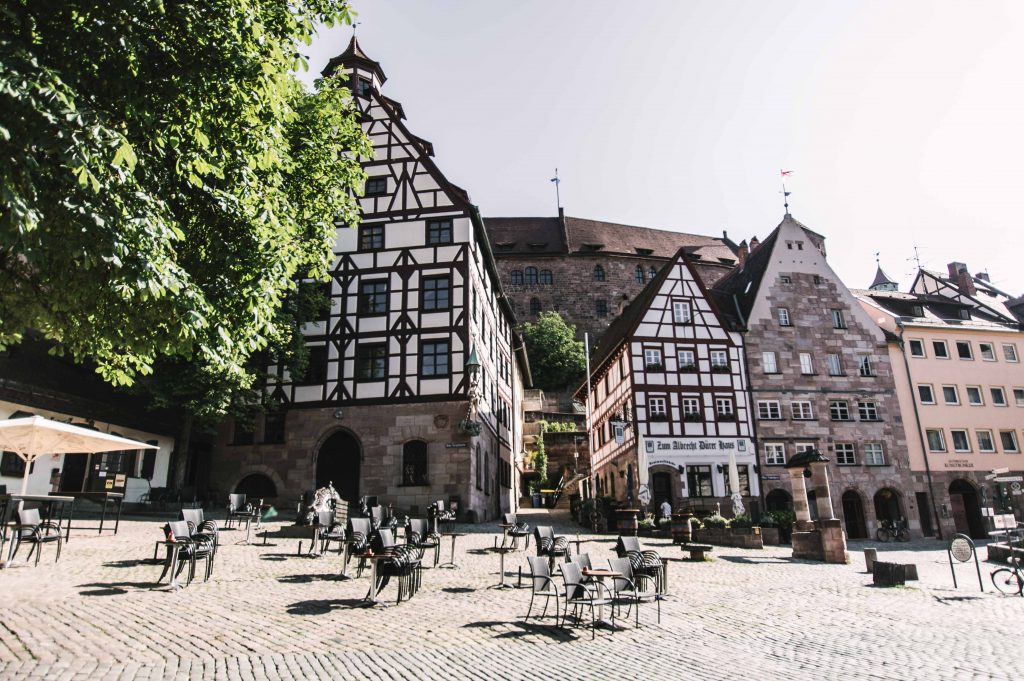 The Hare at Tiergärtnertor Square (Dürers Hase auf Tiergärtnertorplatz)
Right outside Albrecht Dürer's House, on a beautiful square by Tiergärtnertor, you'll find one of the most bizarre statues in the city — and Nuremberg has quite a few, as you'll see soon. It is a statue of a rather ugly, some might even say crazed, rabbit. Created by Jürgen Goertz, this hare is a nod to the famous painting "Young Hare" ("Feldhase") by Albrecht Dürer. You can look it up online  (or see it in person if you ever find yourself in Vienna) — Dürer's hare looks rather normal and extremely realistic. The only known reason for why the bronze hare looks the way he does is to puzzle unsuspecting tourists.
Marriage Merry-Go-Round (Ehekarussell)
The other bizarre statue Nuremberg can boast about is Ehekarussell that represents the stages of marriage from meeting to death. Spoiler alert: marriage does not look pretty, at least according to the artist, Jürgen Weber. While you walk around the bronze fountain, you'll see the progression of a relationship: from lovers, to a husband pulling a chain wrapped around the wife's neck, to two skeletons, one strangling the other.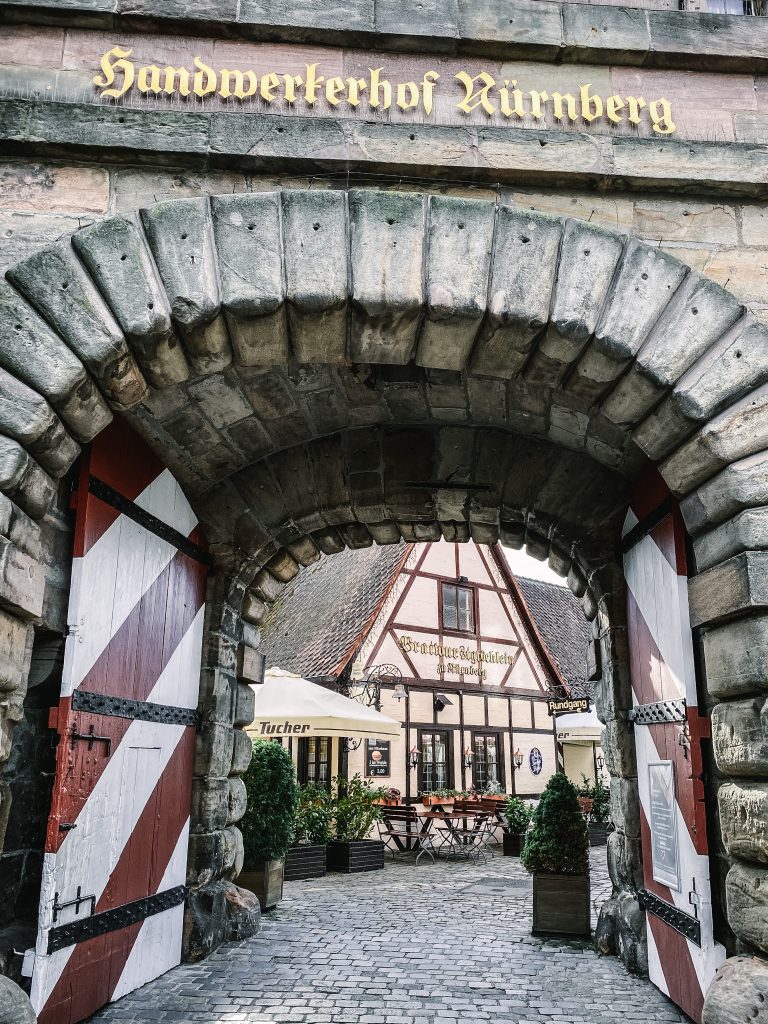 Craftsman's Courtyard (Handwerkerhof)
Handwerkerhof is a romantic German village inside the Old Town, if it makes sense? The concentration of cute half-timbered houses is over the top here, and every one of them houses a shop where you can find handcrafted souvenirs, be it Christmas decorations, wooden toys or ceramics. It is located close to the Nuremberg Central Station (Hauptbahnhof), and if you didn't arrive to Nuremberg by train, do come out of the city walls and check it out – the building is magnificent! 
Rock-Cut Cellars at Hausbrauerei Altstadthof (Historische Felsengänge)
One of the most amazing things about Nuremberg Old Town is that a chain of rock-cut cellars runs underneath it. The cellars date back to the XIV century, when a law was passed that obliged every brewer to have his own cellar for fermentation and storing of the beer. The cellars not only survived to this day, but withstood the air raids during the WWII and served as a safe space for the citizens of the city during bombings. Part of the cellars is still used today by the Hausbrauerei Altstadthof for fermenting beer. The tour that takes you through the cellars ends at the brewery where you can sample the famous Nuremberg red beer. The tours in English take place every Saturday and Sunday at 11.15 am.
Historic Art Bunker (Historische Kunstbunker)
While we are on the topic of cellars, let me recommend another way of exploring them: at the Historic Art Bunker museum. During WWII, some of the cellars were reconstructed into a climate-controlled bunker that was meant to preserve important pieces of art. While most of the Nuremberg Old Town was destroyed by the end of WWII and had to be rebuilt, such treasures as the works of Albrecht Dürer, the mechanical clock from the facade of the Church of Our Lady, and the earliest surviving globe were safeguarded.
Germanisches National Museum (Germanisches Nationalmuseum)
Speaking of the earliest surviving globe, Germanisches National Museum is where you can find it today. While the globe seems to be one of the main reasons for tourists flocking here, the museum actually houses 1.3 million objects, making it Germany's largest museum of cultural history. The most peculiar feature, to my mind, is that a former monastery is located within the walls of the museum. The contrast between the modern architecture and the dimly-lit cloisters separated by nothing more than a glass door is pretty mind-blowing.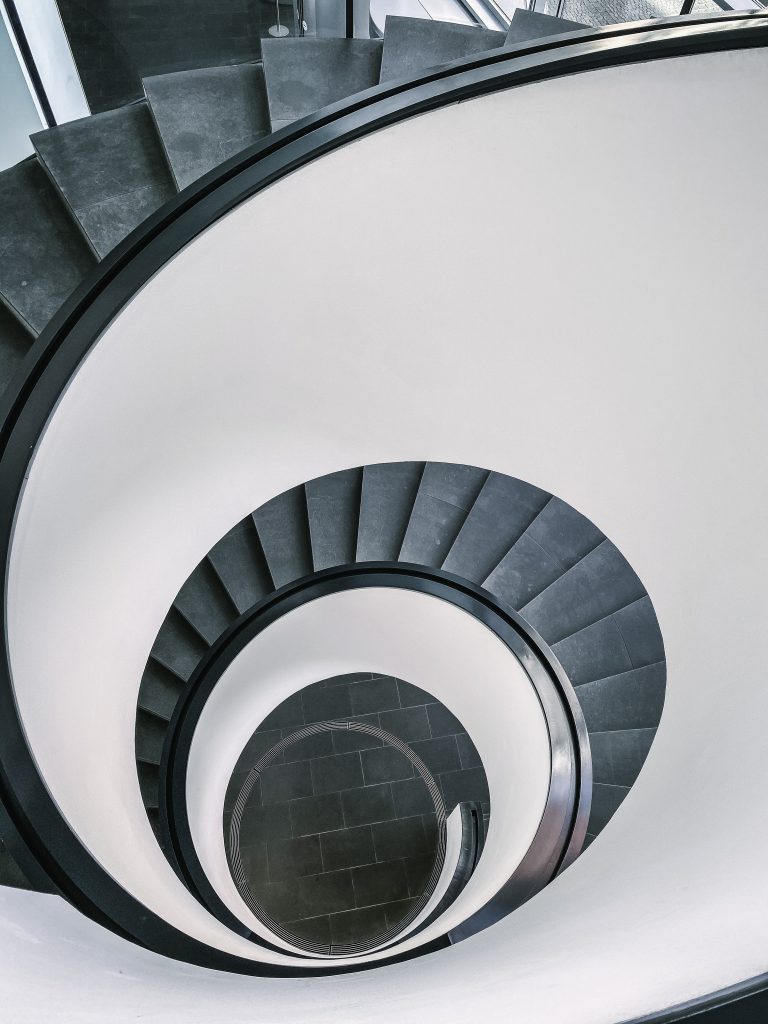 New Museum (Neues Museum)
Neues Museum exhibits pieces of art and design from the 1950s to the present day spread over several floors and almost 3000 square meters. The building itself is located right behind the Handwerkerhof, providing a stark contrast between the fairy-tale-like craftsman's yard and the modern look of a 100-meter-long glass facade of the museum. One of the most impressive spots inside the museum is actually not an exhibit, bit a spiral staircase, a piece of art in its own way.
Toy museum (Spielzeugmuseum)
The cultural history of toys is showcased through a vast collection of 85 000 objects at the Nuremberg's Toy Museum (not all of them are on display). It may come as a surprise, but Nuremberg has a long history of being the center of toy making industry, dating back 600 years. Today, the largest toy exhibition in the world takes place here every year. At the museum, you will see the progression of toys through times: from Lehmann tin toys to the toys popular during the Nazi rule to the modern Barbie and Lego. 
Where to Eat in Nuremberg Old Town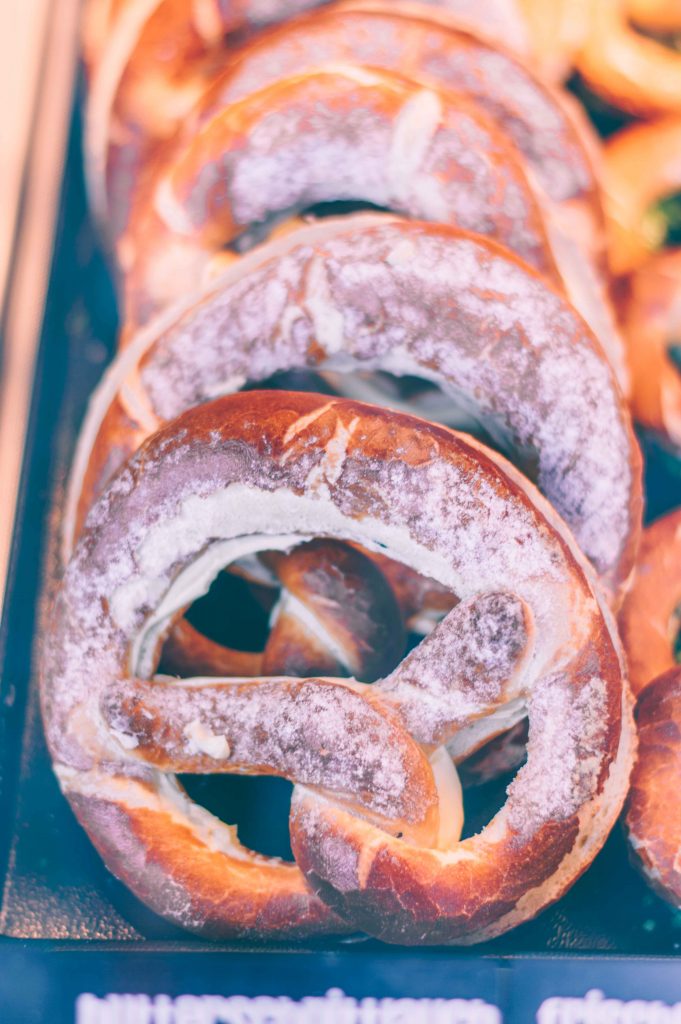 Brezen Kolb
Brezen Kolb is a local chain of stalls and cafes that serve freshly-baked pretzels. Whether you are looking for a satisfying traditionally-Bavarian breakfast or a snack on-the-go, Brezen Kolb is a great choice. Apart from plain pretzels with or without salt, they serve pretzels stuffed with all kinds of fillings: from Brie to ham and pickles to salami to butter and chives. 
Brezen Kolb on Äußerer Laufer Platz is a tiny cafe where you can have your pretzel with coffee for 2.5 euros. The other locations in the Old Town are stalls with no coffee or tables, so they are best if you want to grab a snack. 
Das Paul
For a proper sit-down breakfast head to Das Paul. They offer all the modern favorites like American-style pancakes, avocado toast, and scrambled eggs with bacon. The coffee is good too.
The restaurant is part of a hotel and you can have lunch or dinner there too. While I stop by Das Paul for lunch sometimes, at dinner time it gets quite busy and noisy. Good if you are planning to party later on, not great if you have kids.
Five Diner
Another great breakfast spot is Five Diner where you'll find typical European breakfast, namely a spread of cheeses and cold cuts, a bread basket and soft-boiled eggs (eggs can be cooked any other way too, but a single soft-boiled egg served in a special egg cup is one of the most German things about Germany to me). The coffee is nothing to write home about, so you can skip it and head to a good coffee shop afterwards if you need a caffeine fix (I'll tell you where exactly in a bit).
On the plus side, if you follow a special diet, they are happy to accommodate: a vegan breakfast option is available, as well as gluten-free bread. At lunch and dinner they serve burgers.
Heilig Geist Spital
Remember how we talked about the Hospital of the Holy Spirit, one of the most photographed buildings in the city that's floating over the river? Inside, you'll find a namesake restaurant that serves traditional German and Franconian specialties (Franconia being the region where Nuremberg is located). Consider trying Krustenschäufele, roasted pork shoulder with potato dumplings and sauerkraut, or Fränkischer Sauerbraten, braised beef served with Gingerbread sauce — both are Franconian specialties.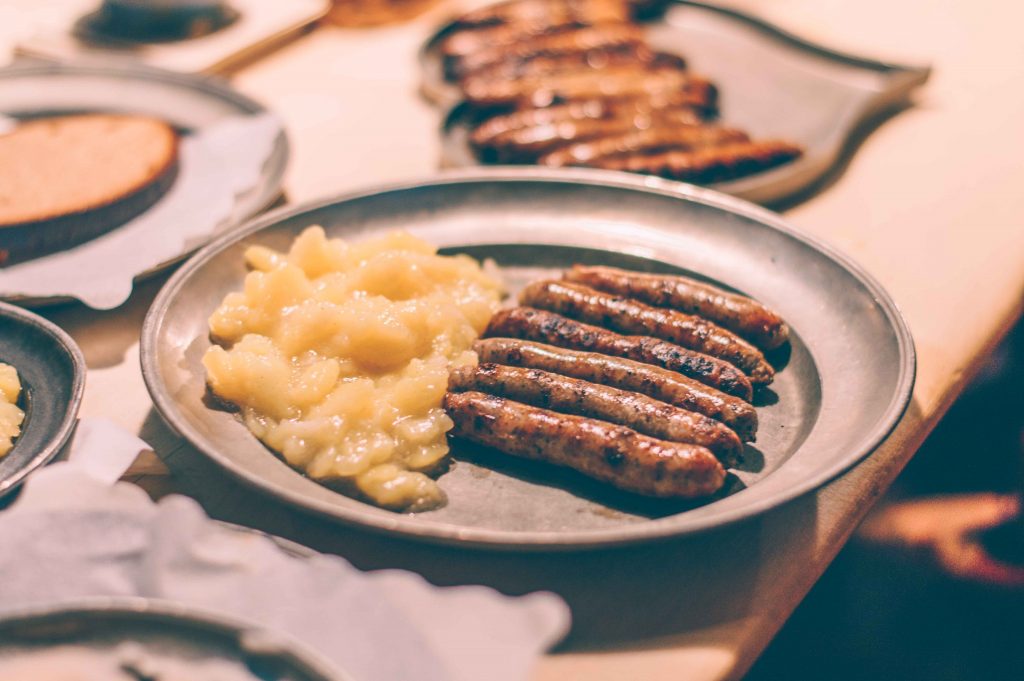 Bratwursthäusle bei St. Sebald
Bratwursthausle is my go-to for traditional Nuremberg sausages. To be fair, every German restaurant in Nuremberg will have these iconic sausages on offer, but Bratwursthausle happened to be the first place where I tried them upon moving to Nuremberg. It was late fall, but the weather was still great. My husband and I were seated outside, on the terrace, in the shade of St. Sebald Church. The church bells were ringing, the bright yellow leaves landed in a slow dance onto our table, and I was having my very first try of German food — in Germany that is. So I may be biased. But we did take every single family member and friend here when they visited. I think it says a lot.
Hütt'n
Hütt'n, a traditional Franconian restaurant, is located close to the Imperial Castle and offers such regional staples as Nuremberg sausages, roasted pork shoulder and fried pork neck in dark beer sauce. The interior of the restaurant is rather rustic with old-world wooden furniture and odd pieces on the walls: a copper baking form here, an accordion dangling from the ceiling there. But what I love most about this place is the atmosphere of a big family gathering: busy, loud, and heartwarming. Be prepared that you might be seated next to complete strangers as the place is usually packed.
Zum Gulden Stern
Zum Gulden Stern is the (self-proclaimed) oldest bratwurst restaurant in the world. I don't know if it is indeed the oldest, but given that it was officially mentioned in documents as early as 1419, I think it's reason enough to be fascinated. The restaurant takes up both floors of a beautiful little house on Zirkelschmiedsgasse, close to the city wall. They serve, as you might have guessed, sausages.
As you walk towards the tables, you will pass the grilling station: the grill is set over open birch-wood fire, which is the only way Nuremberger rostbratwurst should be cooked. It was the first sausage to obtain protected geographical indication, which means that it's recognized by EU as a traditional, locally-produced specialty and must be made within city limits according to a specific recipe.
Schlemmer Eck
Ok, one last mention of Nuremberg sausages, and I am done! Promise! While you can order them at a restaurant as a meal — the sausages (6, 8, 10, or 12 as you wish) come on a metal plate with sides of sauerkraut, horseradish or potato salad — another popular option is to grab a bun stuffed with 3 sausages from one of the many street stands. The most popular stand among locals is called Schlemmer Eck, located on Brunnengasse.
Globo
We are officially done with sausage, let's move on to international flavors! If you asked me for one restaurant recommendation in Nuremberg, just one, I would have to say Globo. Several of my birthdays and at least one wedding anniversary were celebrated here. It was also the place I chose to visit right before lockdown started, as my last dinner out.
Farm-to-table, as overused as this expression is, describes Globo well. They source the best local ingredients at the height of their season, then bring them to the kitchen, sprinkle some magic dust over and voila! You've got a white asparagus soufflé in May on the menu. Who has ever heard of asparagus soufflé? I've only tried white asparagus soup and steamed white asparagus before.
However the atmosphere in Globo is relaxed and easy-going. When the weather allows, book a table outside, on the Theresienplatz, facing the statue of Martin Behaim. 
Einzimmer Küche Bar
Einzimmer is the sister-restaurant of Globo, albeit a little more upscale and pricey. The principles of cooking only with high-quality local ingredients are followed here just as strictly. The focus is on vegetarian dishes, and when it comes to meat, the motto is "Lieber klein und gut, als groß und billig" — "Better small and good than big and cheap".
The dining room, small and cozy, fits only about 10 tables. And pretty much from any seat, you'll be able to see the teeny kitchen and the cooks creating your meal. Do reserve a table in advance, as the restaurant is always full for both lunch and dinner.
Kokoro
Kokoro, located right by the Neues Museum, is the perfect spot if you are craving Asian flavors. Japanese cuisine is the basis of the menu, but they feature popular dishes from other Asian countries too, like Tom Yam, Pho, and Jakarta Bay curry. The service is very quick and they almost always can find a table at lunch time even without a reservation. I like to stop here after a visit to the Neues Museum or a walk around Handwerkerhof.
Da Gallo
Da Gallo is a teeny-tiny Italian restaurant that serves almost exclusively antipasti and pasta. The place is so small that the tables are set within mere centimeters from each other (at least until the pandemic they were) and it's not uncommon to brush elbows with someone at the next table. The pasta is the best I've had in Nuremberg and is as close to what I've tried in Italy as can be. Reserve a table beforehand.
Die Kleine Eismanufaktur
Die Kleine Eismanufaktur is Nuremberg's favorite ice cream shop, located on Weißgerbergasse, the prettiest street in Nuremberg with rows of half-timbered houses. It's only open during warmer months in summer and early fall, but you can find their ice cream in many coffee shops in Nuremberg, for example at Machhörndl Kaffee, of which I'll tell you in a minute. The ice cream is made of organic milk, sourced from a local farm. And the flavors vary from pistachio to mango lassi to mascarpone and cranberries. They also make chocolate ice cream for kids that is vegan and sweetened with dates instead of sugar — it's not on display, you have to ask for it.
If you'd like more recommendations of great restaurants in Nuremberg (both in and outside of the Old Town), check out this post of mine.
Where to Drink in Nuremberg Old Town
Bergbrand
While you are at Weißgerbergasse, enjoying your ice cream from Die Kleine Eismanufaktur and marveling at half-timbered houses, make another stop at Bergbrand for a cup of good coffee. The ice cream parlor and the coffee shop are situated within a few steps from each other. Sitting outside of Bergbrand with a cappuccino and people-watching is one of my favorite things to do in Nuremberg.
Machhörndl Kaffee
One of the most well-known third-wave coffee shops in Nuremberg and my personal favorite (although I maybe be partial, as my friend works there as a roaster and barista) is Machhörndl Kaffee. They have several locations in the city, with one right in the heart of Nuremberg Old Town, on Brunnengasse. Any coffee you order here is going to be made to perfection, but I especially love their ice latte in summer.
Espressolab
Apart from its' top-notch location right by St. Lawrence Church, Espressolab is one of my favorites because they open way before any other coffee shop in the city (at 8 in the morning) and close only at 8 in the evening, while their competitors work till 6 pm. Not to mention that the coffee is really good, which was a pleasant surprise given that Espressolab is a world-wide chain of cafes.
Cafe Bar Katz
Katz is a chill-out cafe on Hans Sachs Platz. They offer a small daily-changing variety of soups, sandwiches and bowls, as well as coffee, cakes, and a range of alcoholic drinks. It's especially fun in summer, when you can sit outside and enjoy an Aperol Spritz or a glass of wine, while people-watching. It's one of the few cafes in Nuremberg Old Town that's open till 1 am. 
Di Simo
Di Simo is another great spot if you are looking for coffee and drinks late at night. To be fair, they are open all day, you can even stop by for an Italian-style breakfast (coffee and cornetto), but in the evening there's a special buzz, with people spilling out of the limited space inside the cafe onto the bridge.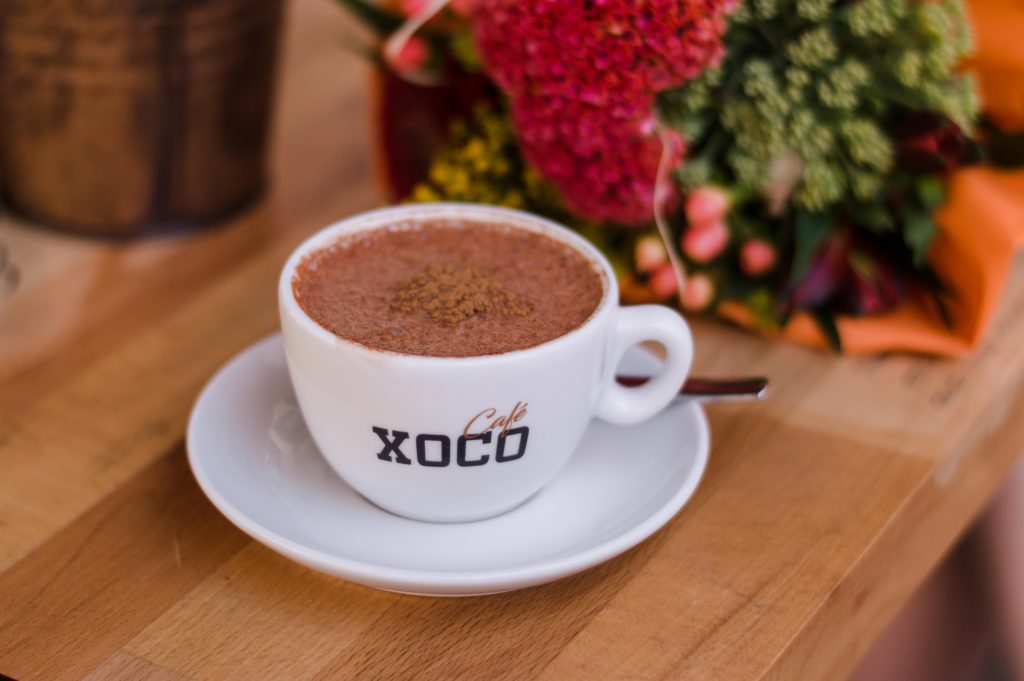 Xoco Cafe
Xoco Cafe makes outstanding hot chocolate, which comes as no wonder as they are not just a cafe, but a roasting company with a focus on Latin American beans. When it comes to chocolate they control the whole process: from bean to bar. My favorite has to be the chocolate with chili: the spiciness, not obvious at the first sip, beautifully undercuts the richness of the chocolate. You only feel a hint of spice in the back of the throat once it's coated by the sweet creamy chocolate layer. Ah, I got goosebumps just writing about it!
Where to Shop in Nuremberg Old Town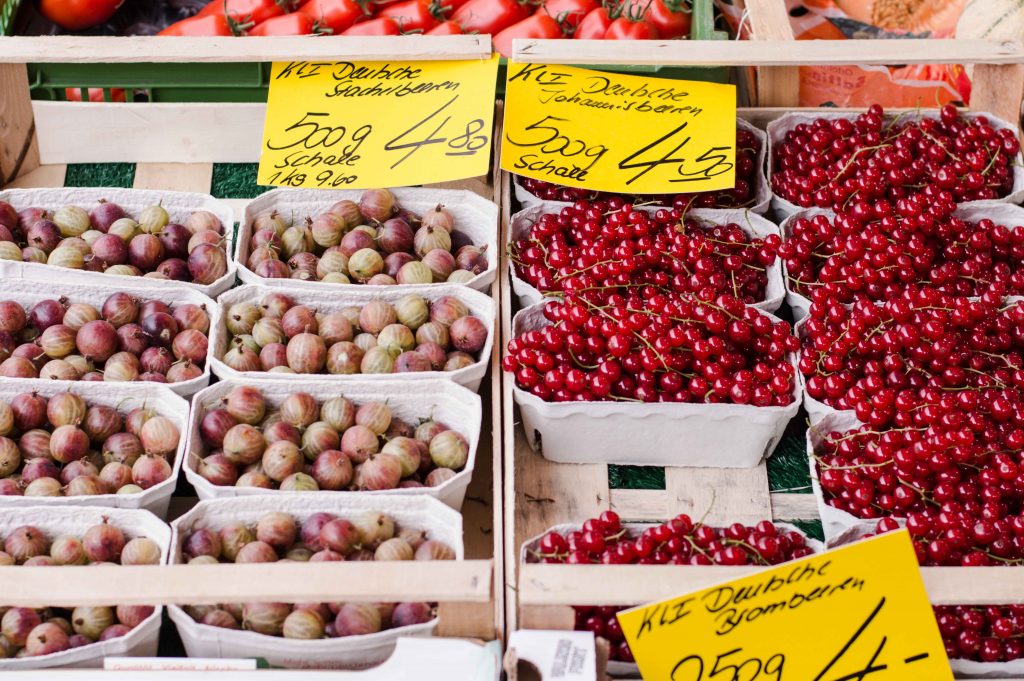 The Market Square
If you are staying at an Airbnb and planning to cook, there's no better place to get locally-grown fruits and vegetables than at the market square. However, you need to know at which stalls to shop. The majority of the fruit stands actually sell imported produce which is easy to spot, as oranges, mangoes and pineapples are piled high on the counters. You need to seek out the few stalls that only sell local produce — look for the smaller, less colorful stands that are located closer to the Wicklein Lebküchnerei.
Tourist Information am Hauptmarkt
Not only is the tourist center a good place to get all the information about the city, but you will find a range of tastefully-done Nuremberg-themed souvenirs here. I got my son a gorgeous book à la "Where is Wally?" here, only every page is an illustration of the famous Nuremberg spots and you need to find Albrecht Dürer going about his business with a painting tucked under his arm. 
Kathe Wohlfahrt
Kathe Wohlfahrt is one of the, if not the most, popular Christmas decoration shop in Germany. The brand comes from a small fairytale-like town of Rothenburg ob Der Tauber, only an hour away from Nuremberg, and has a branch in the Nuremberg Old Town. You'll find everything your Christmas-spirit-loving heart desires: from wooden nutcrackers, to musical carousels, to snow globes. 
Steiff
Another shop that did not originate in Nuremberg — but I feel that I must include it on the list — is Steiff, simply because it's an iconic German brand. Steiff has been making the highest quality teddy bears and other stuffed animals for over a century. True, the bears cost a small fortunate, but if you are looking for a special present to bring home from Germany for a kid, I can't think of a better, more recognizable gift. The tag with a sign "Knopf im Ohr" ("Button in Ear") attached to every stuffed animal's ear is a distinctive feature of all Steiff toys.
Wicklein Lebküchnerei
Finally, a Nuremberg legend! Wicklein Lebküchnerei is located right on the market square and specializes, as you might have guessed on Elisenlebckuchen and all things lebkuchen-related: think lebkuchen liquor and lebkuchen-spiced chai. While lebkuchen is known as Germany's delicious gingerbread, Elisenlebkuchen is a variety that is tightly connected to Nuremberg. For a gingerbread cookie to be named Elisenlebkuchen it has to be made with an addition of ground nuts instead of flour. At Wicklein, you'll find many pre-packed options of ELisenlebkuchen and other popular German cookies that make for a wonderful edible gift to take home.
Madlon Scharff
Now, if you want to bake your own lebkuchen (it's easier than you think), you will need a special mix of spices, named appropriately "lebkuchen mix". For that, head to Madlon Scharff, a tiny spice shop, located in an alley by the market square. Stepping inside the shop feels like going back in time, what with their ornate sign above the door, a myriad of tiny cabinets and an old-school set of scales.
Brot Schwarz
For a quick snack and simply to check out one of the oldest delicatessen in Nuremberg, stop at Brot Schwarz that has been around since 1923 and offers a selection of freshly baked bread, cured meats, sausage, and prepared foods. It's only a few steps away from Madlon Scharff.
Korn und Berg
A few more steps away from both Brot Schwarz and Madlon Scharff is Korn und Berg, the oldest book shop in Germany. Yes, you heard it right! It was founded in 1531, although at the time, when book publishing was in its early stages, Korn und Berg was more of a printer's shop. It survived almost five centuries, until during the bombings of Nuremberg in 1945 it was reduced to rubble. It was rebuilt and reopened again in 1952.
* * *
Thank you for reading this massive guide to Nuremberg Old Town. I spent several weeks writing this piece, during which I moved to Hamburg. I felt that all my knowledge of the little nooks and corners of Nuremberg shouldn't go to waste, so I did my best at writing down all of my favorite restaurants, coffee shops and stores. I hope it helps you to spend a wonderful day (or two) in a city that I called my home for three years.
If you want to read more about Nuremberg, check out these posts I'd written previously:
37 Things to Do in Nuremberg: a Local's Guide
Best restaurants in Nuremberg: a Local's Guide
11 Cafes in Nuremberg that Make a Mean Cup of Coffee
Nuremberg Christmas Market: Everything You Need to Know
Pin for later