Baking banana bread while in lockdown became a cliche rivaled, probably, only by making sourdough. The former requires much less skill, patience, and time, though, so here we are.
I am not afraid of being a cliche — after all, I did have a crush on Leonardo Di Caprio and stood in line for cronut at 7 am on a trip to New York — the question is which one out of a bazillion recipes on the Internet to use.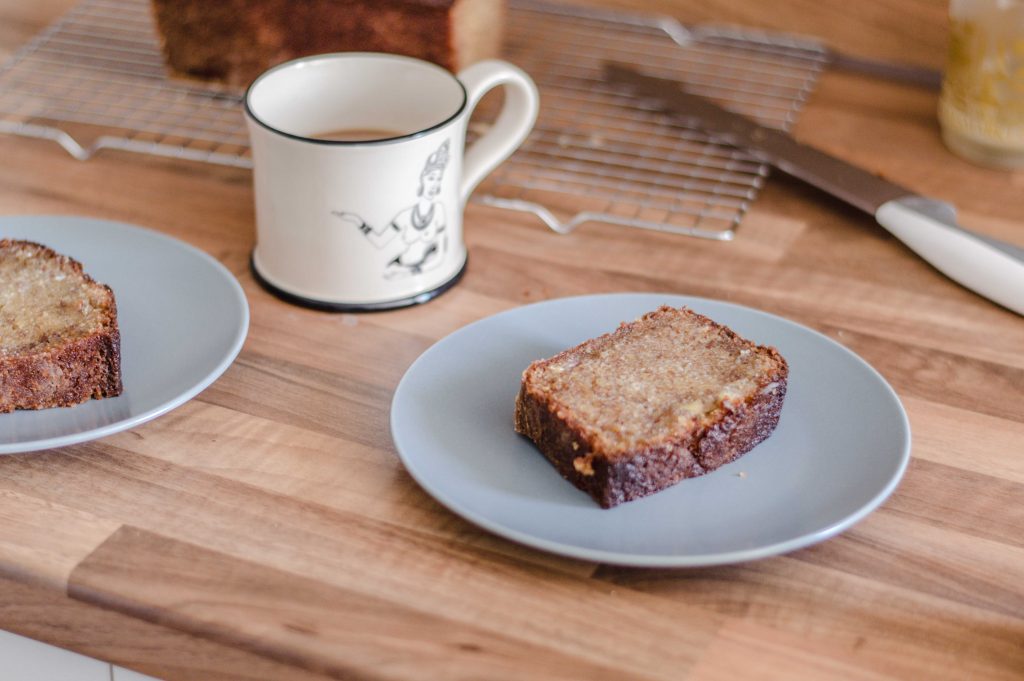 As I was scrolling through Instagram one day, I saw Dominique Ansel prepare banana bread from his new book on IGTV. And, let me tell you, I love Dominique Ansel. See the cronut note above! Not only was it seven in the morning when I joined the line to get his world-famous hybrid of croissant and doughnut, it was also pouring rain.
I love Mr. Ansel's attention to detail. I love how humble he is. But most of all — given that I've never actually met the man — I love his creations and make sure to stop by his bakery every time I am in New York (which is not often, I thought it just sounds fancy).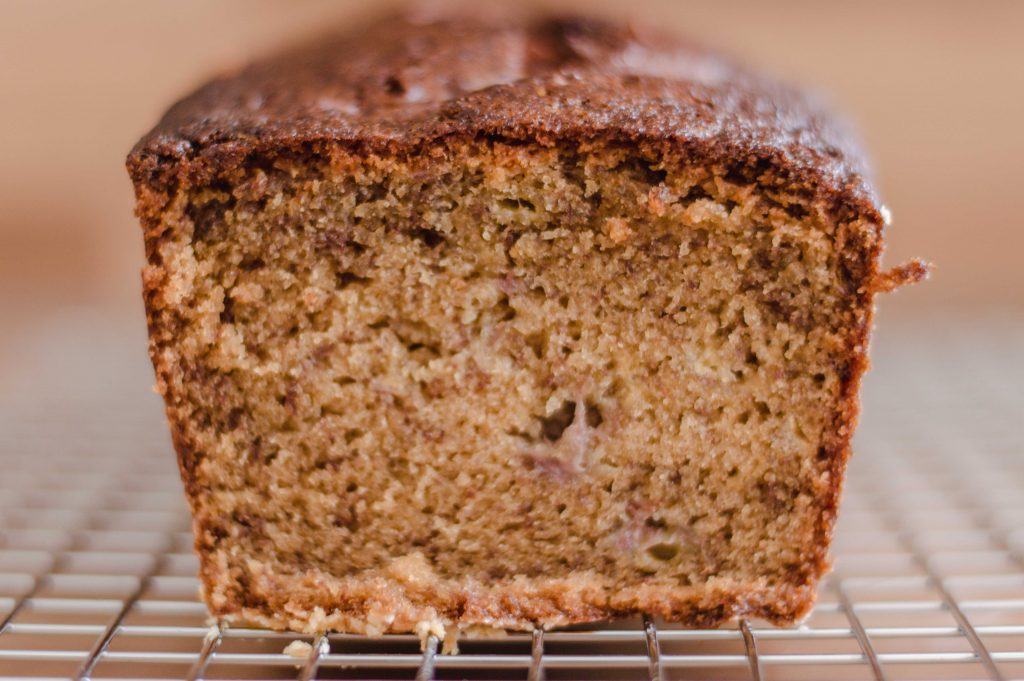 So here's the chef himself in the comfort of his home kitchen showing step by step how to make banana bread. The description below the video starts with a little preamble and a list of ingredients, the first of which is sugar, to be exact, 400 grams of sugar. If you are American, that's almost a pound.
I'll be the first to admit, I paused for a second and gasped. But then it's Dominique Ansel, right? The inventor of cronut, the creator of DKA, the magician behind the melt-in-your-mouth madeleines. He won't steer me wrong.
A scroll down revealed the comments section:
"Dominique, can we please skip the sugar or replace it with something? Now in the quarantine we are constantly hungry and we ate a whole banana bread in 2 days last time."
And "We don't use any sugar and it's more than sweet enough… also a dash of maple syrup does the trick too."
And my favorite "Can you use crushed pineapples instead of banana? I have some extra cans of crushed pineapple, trying to make it into bread."
Ok, people, let me break it down. If Dominique Ansel tells you to use 400 grams of sugar to make a loaf of banana bread, you just go ahead and put those 400 grams of sugar right in. No questions asked.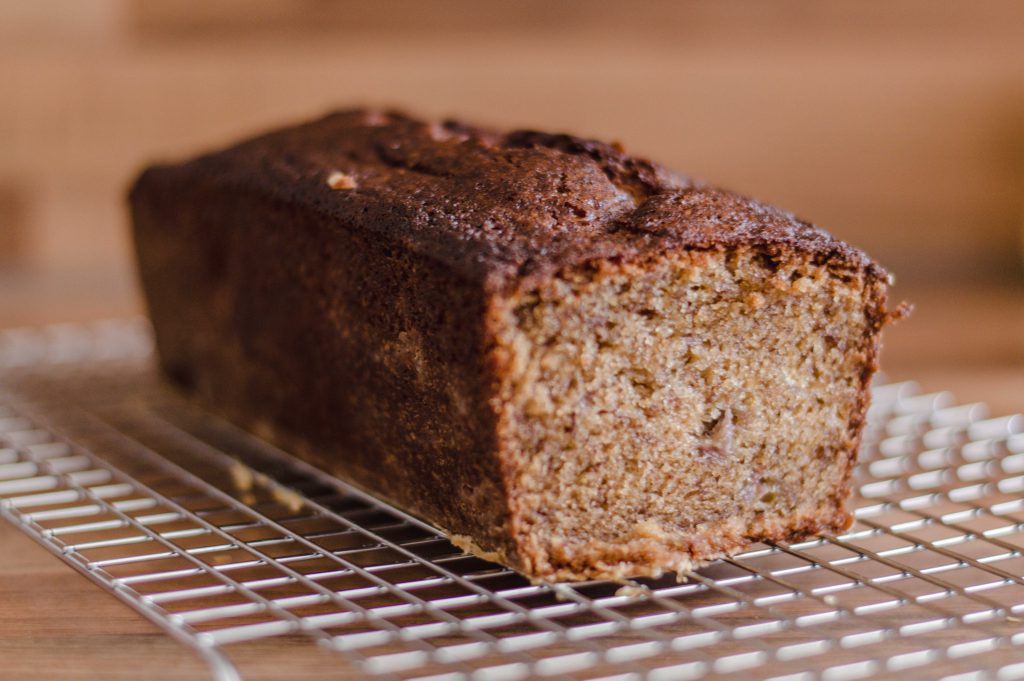 You don't comment on a video of LeBron James showing how to dunk with "yea… it's all cool, LeBron, but can I like… not run, but just walk up to the ring? Also, instead of jumping you could just lift your arms up. I tried it once and it totally did the trick. And while we are at it, could I throw a golf ball instead of a basketball? I've got a couple lying around that I'd like to put to good use."
Mr. Ansel actually replied to those comments (not the pineapple one) and gave his full permission to use less sugar, no sugar, or any sugar substitutes. Because he's nice. All I have to say to those commentators is "How dare you!"
I shared my feelings about the 400-gram-sugar banana bread on my Insta stories, and my friend Nour sent a message suggesting I try her boss's banana bread recipe too. I replied with, "I'd trust your boss's recipe with my life" because Nour works at Flour Bakery in Boston and her boss is Joanne Chang.
In (not so) short, that's how an idea for this blog post was born. A side-by-side comparison of Dominique Ansel's and Joanne Chang's banana breads would be ideal. But I am but a time- and sleep-deprived mama who's had a child five months ago.
Besides, the woman from the comments section who's "constantly hungry in quarantine and ate a whole banana bread in 2 days" has a point. I didn't want to break her record and be the woman who ate two whole breads in 2 days.
Dominique Ansel's Banana Bread
The following Sunday I made Dominique Ansel's banana bread. I even bought some kitchen essentials I was missing for the occasion: a loaf tin, a brush, and 150 packets of baking powder because that was the smallest amount available on Amazon.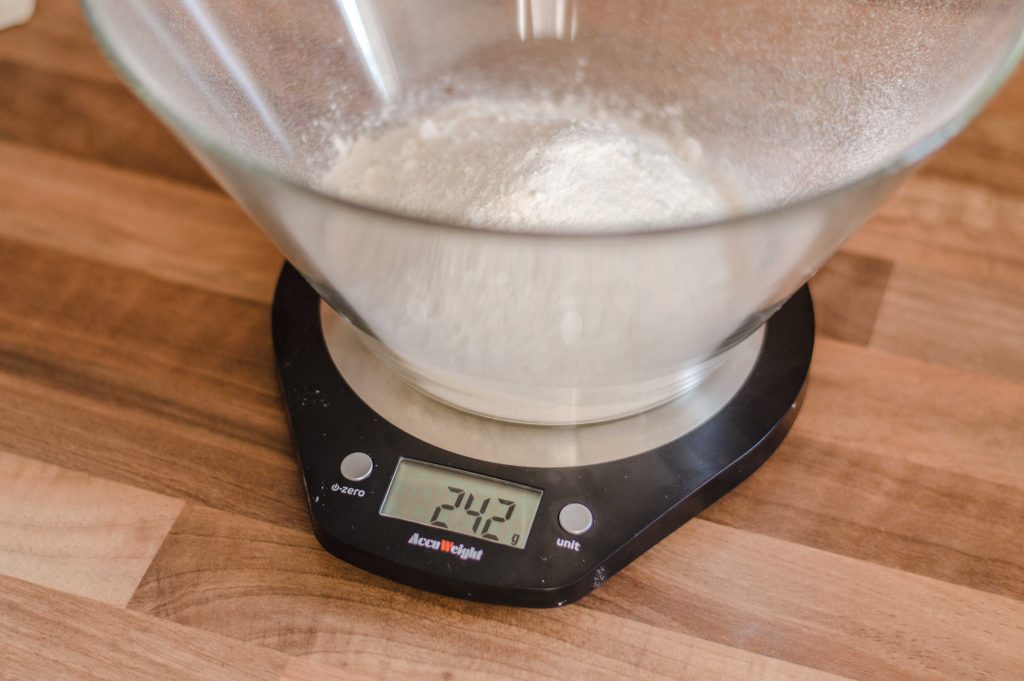 What I didn't realize until I started weighing ingredients is that I forgot to buy enough flour. I was 8 grams shy of requested 250 grams.
Lo and behold, here I was finally measuring 400 grams of sugar and fearlessly mixing it with other dry ingredients. It felt good. Just as satisfying as mashing ripe bananas. Even better? Melting butter and adding it to batter at the very end.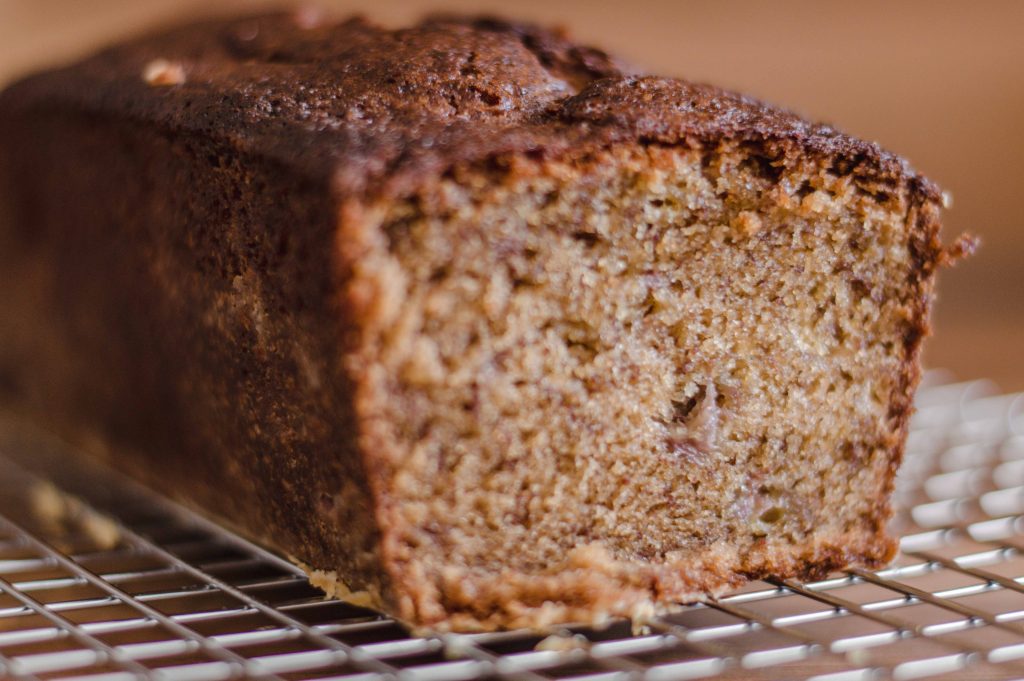 The loaf came out of the oven dark brown, with thick, almost caramelized crust. Thank you very much, sugar! The melted butter did its job too. The bread was crunchy on the outside and incredibly moist inside. (Here's a cliche if there ever was one in food writing. But as I mentioned, I am not scared of cliches.)
Joanne Chang's Banana Bread
About a week later I got my hands on more ripe bananas. It was time to make Flour Bakery's banana bread. Joanne Chang's recipe is not as provocative or eyebrow-raising, but not without its twists.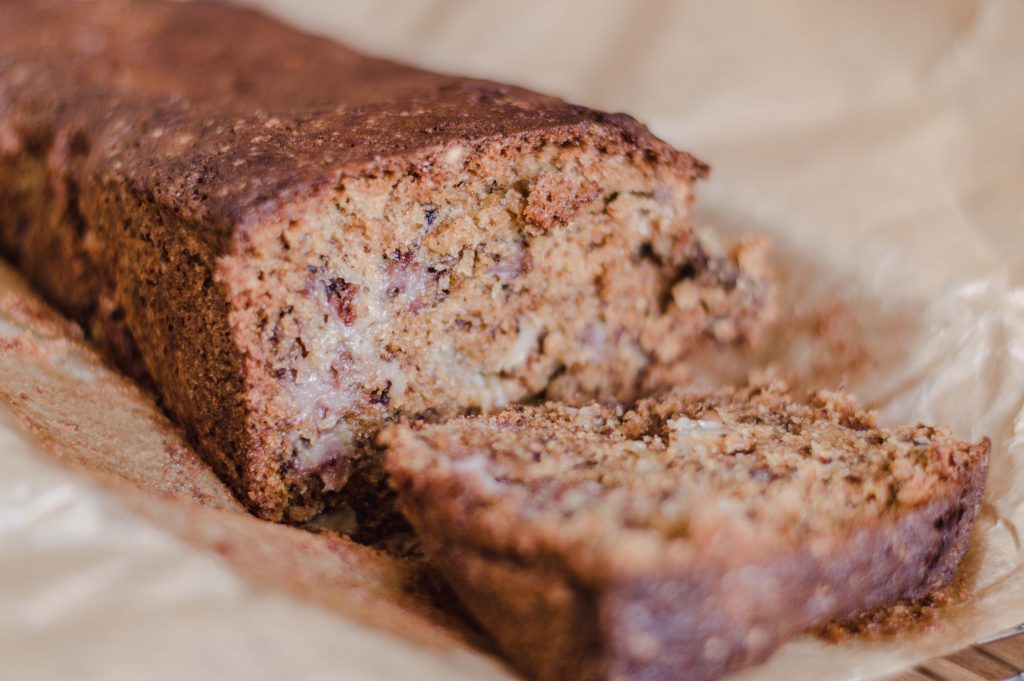 Unlike Dominique Ansel's banana bread, it features oil instead of butter and a few tablespoons of sour cream.
Where Dominique Ansel uses nutmeg, Joanne Chang adds a dash of cinnamon. Flour Bakery recipe also calls for walnuts, which are always a great pairing for bananas. And then, of course, there's twice less sugar.
The Verdict
Now, y'all probably can't wait for the verdict: which banana bread is better? If you opened this blog post because of the click-bait-y title, I am sorry to disappoint you.
From the start my goal was to eat as much banana bread as humanly possible, not to judge two incredible chefs who created some of the most delicious foods I've ever eaten (looking at ya, Boston cream pie and kouign amann).
But to satisfy your curiosity, I'll say that 400 grams of sugar were totally justified. With my major sweet tooth, Dominique Ansel's banana bread stood out a little more.
If you are looking for a decadent treat (oh hey, another food writing cliche, didn't notice you there!), then Dominique Ansel's banana bread it is! If you make banana bread fairly often and would like to stay on the healthy-ish side, Joanne Chang's recipe to the rescue.
Both recipes are below. If you want to get them at the source, you can buy Dominique Ansel's book, Everyone Can Bake, or check his IGTV — the video recipe and all the instructions are there.
As for Flour Bakery's banana bread, I used the Food Network's recipe which mysteriously disappeared since.
If you make both banana breads and have a more comprehensive analysis than my rant here, leave a comment below — I'd love to hear which one you preferred!
Dominique Ansel's Banana Bread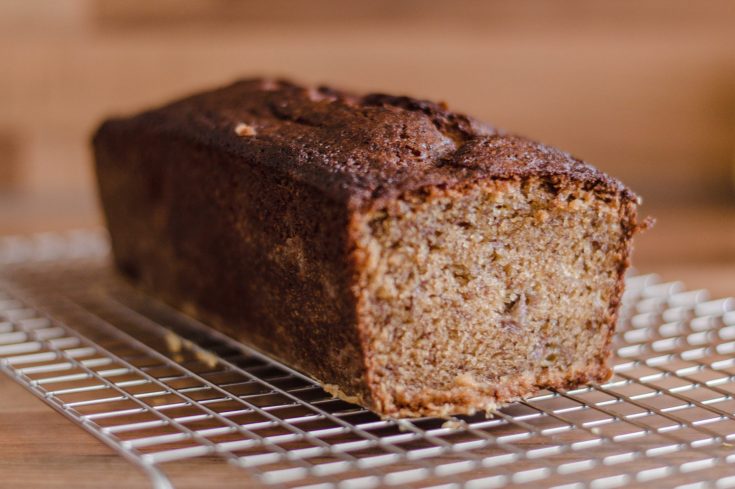 Dominique Ansel's banana bread with intense amount of sugar and melted butter, as well as a dash of nutmeg.
Total Time
1 hour
15 minutes
Ingredients
400 g (2 cups) sugar
250 g (2 cups) all purpose flour
3 g (3/4 tsp) baking soda
2 g (3/4 tsp) ground nutmeg
5 g (1 tsp) salt
5 g (1 tsp) baking powder
150 g (3 large) eggs
400 g (2 cups, about 3-4) overripe bananas, peeled
200 g (14 tbsp) unsalted butter, melted, plus more for greasing
Instructions
Preheat the oven to 350ºF (175ºC).
Take a loaf pan (I used 10-inch) and grease the bottom and sides with butter. Dust the loaf pan with flour and shake off any execess.
In a large bowl mash bananas, leaving some big pieces.
Add all the dry ingredients and mix with a spatula.
Add eggs and mix until all the ingredients are combined.
Stir in melted butter.
Pour the mixture into a loaf pan and place in the oven. Bake until golden brown on top and an inserted knife comes out clean (about one hour).
Take the pan out of the oven and let it cool for 15 minutes, then take out the banana bread.
Notes
In my case baking time was 1.5 hours and I blame my oven. Start checking in on your banana bread after one hour. If a knife comes out wet, place the pan back in for 10-15 more minutes. If the top starts to brown too fast, cover it with foil.
Nutrition Information:
Yield:
10
Serving Size:
1 slice
Amount Per Serving:
Calories:

439
Joanne Chang's Banana Bread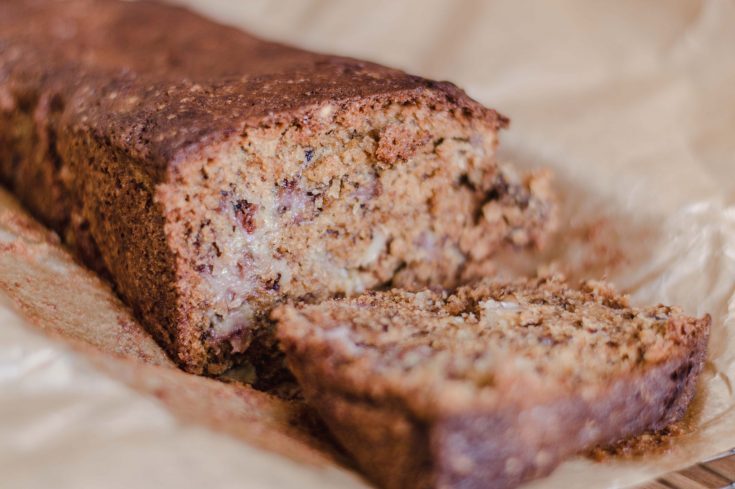 Joanne Chang's banana bread (the famous banana bread from Flour Bakery).
Total Time
1 hour
15 minutes
Ingredients
210 g (1 2/3 cups) all purpose flour
1 tsp baking soda
1/4 tsp ground cinnamon 
1/2 tsp salt
230 g (1 cups + 2 tbsp) sugar
100 g (1/2 cup) oil (I used olive oil)
3 1/2 ripe bananas, peeled and mashed
2 tbsp sour cream 
1 tsp vanilla extract
1 cup walnuts, roasted and chopped roughly
Instructions
Preheat the oven to 325°F (165°C).
Line a loaf pan with parchment paper and set aside.
Sift flour, baking soda, cinnamon and salt into a bowl and set aside.
With a mixer beat together eggs and sugar for about 10 minutes.
Add oil, sour cream, mashed bananas, and vanilla extract and mix untill well comined.
Fold in the flour mixture into the bowl with wet ingredients and carefully mix in with a spatula.
Add walnuts to the batter.
Transfer the batter into the loaf pan and place in the oven.
Bake for about 1 hour.
Notes
Once again, my bake time was 1.5 hours. Start checking on your bread after one hour by inserting a knife. Once it comes out clean the banana bread is ready.
Nutrition Information:
Yield:
10
Serving Size:
1 slice
Amount Per Serving:
Calories:

389
Pin for later: