Writing about the best food I've had in a year has become a December ritual. It feels good to sit down and reminisce on all the beautiful places I was lucky enough to visit and the amazing food I tried there. This is my version of the achievements list everyone drafts by the end of the year. After all, if getting up at 6 am and standing in line under pouring rain to get your hands on Dominique Ansel's cronut before they sell out fifteen minutes after the bakery's opening is not an achievement, I don't know what is.
In 2020, reminiscing on the past trips seems ridiculous. I did try some of the best noodles of my life in Berlin in February, pre-corona-madness. And had a bite of the most mind-bending white asparagus soufflé right here in Nuremberg during the short period when restaurants opened up after the first lockdown. But for me, like for most people around the world, this year was all about home cooking.
This is not to say, that I didn't cook before and 2020 has changed that. I've been always cooking a lot. Eating out was not a thing in my family or even my town, for that matter. Cooking three meals a day is not special. But I did become obsessive about trying new recipes and seeking out unfamiliar ingredients in March, with the start of the lockdown in Germany.
There's another reason why cooking has become so dominant in my life as of lately and that is becoming a mama. Which seems illogical at the first glance — when is a new mama supposed to cook? But in a year when all of my time was devoted to another human being and the blog I've been working on for the past five years has lost 80% of its traffic, cooking gave me a sense of achievement. Fast. In under an hour (30 minutes if the recipe is easy), I could get the sweet feeling of having created something wonderful, of succeeding. That's the kind of high that helped me get through 2020.
That's What She Had in 2020 is all about my favorite food cooked at home. Some of the recipes are my own. Some belong to the chefs and food writers I admire. Some are more of an inspiration rather than an actual recipe. But all of them, without exception, have made me happy in a way only truly good food can.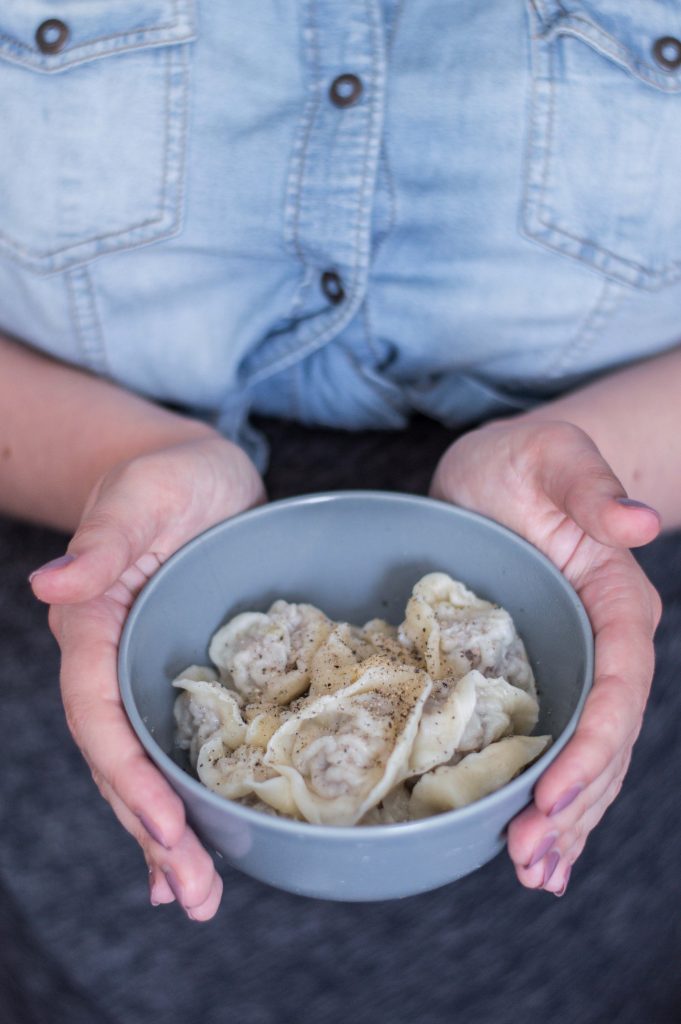 Pelmeni
It all started with pelmeni. I first posted this recipe in 2015 and it has quickly become one of the most popular posts on my blog. I wasn't quite happy with the dough, but making Russian dumplings from scratch is such an undertaking that I've been postponing it for years, until a perfect moment has arrived: the start of a global pandemic coincided with my three-month old son going though a sleep regression.
I rolled up my sleeves and spent several evenings testing the dough. There was a day when I made the dough and then a hundred pelmeni in one go. There was another day when my son woke up every twenty minutes. So I'd start mixing the ingredients, hear a distant cry, and run to the bedroom. Then back to the kitchen and back to the bedroom a few minutes later. Looking back, I think that was a special kind of masochism. I wouldn't do that to myself again.
It turned out perfect in the end, and I am proud of this recipe. The dough is thin and soft. When done right, it wrinkles around the meat, creating a perfect little pouch for all the meat juices to collect. My favorite way to serve pelmeni is with butter and freshly ground pepper or with sour cream.
Get my pelmeni recipe here.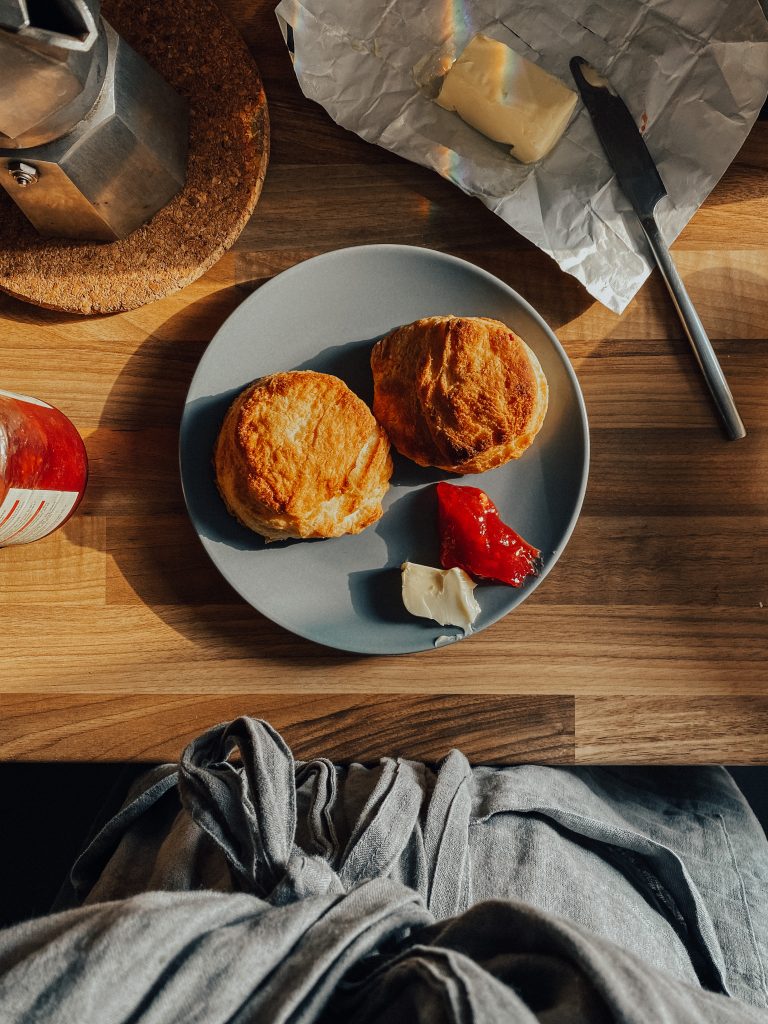 Kate Wood's Mini Buttermilk Biscuits
I've never been big on making other people's recipes (that is until March 2020). Primarily, because you are always missing one or two ingredients (in some cases — all of them). And going shopping just for those is annoying.
But something clicked when I saw these buttermilk biscuits on Katie's Instagram, so I went out for buttermilk — not a staple in my house — and made them at 6 am the next day, while my husband was looking after Kroshka.
These are southern-style biscuits, buttery and flakey and with lots of layers. They taste amazing smothered with — obviously — more butter and jam. One of the most satisfying breakfasts you can make for yourself.
Get Kate Wood's mini buttermilk biscuits recipe here.
Dominique Ansel's Banana Bread
If you haven't baked banana bread this year, were you even in lockdown? I made two loaves — Dominique Ansel's and Joanne Chang's (you can read my comparative analysis here) — and while both were incredible, the former was my favorite.
The recipe calls for an outrageous amount of sugar and melted butter which is exactly what makes this banana bread a dream come true. It's Dominique Ansel, all right. You can put your trust in him. You know it's going to be good.
Get Dominique Ansel's banana bread recipe here.
White Asparagus with Boiled Potatoes and Ham
You don't need a recipe for this one. You can pretty much figure it out just by looking at the picture. But you do need patience, because the season for white asparagus comes in spring. In May, this was my go-to meal almost every other day: so uncomplicated, so fresh.
White asparagus is called "the white gold" in Germany. Once the season starts, you'll see it in every shape and form: Spargel soup, Spargel soufflé (of all things!), roasted Spargel.
But this here is the most basic way of preparing it: simply boiled or steamed (unlike green asparagus, white asparagus must be peeled beforehand), served with boiled potatoes and ham. I put a piece of butter on top, but if you want to turn things fancy, pour hollandaise sauce over.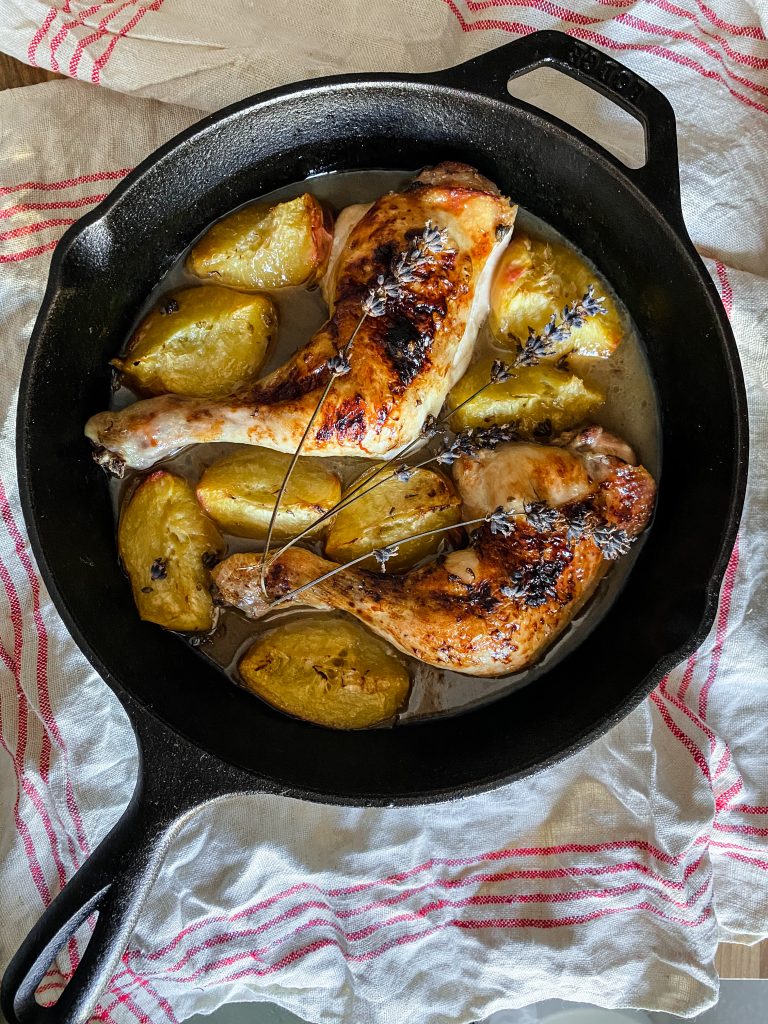 Diana Henry's Roast Chicken with Peaches and Lavender
If you followed my local and seasonal posts this year, you already know that around June I fell in love with Diana Henry. In fact, you might be tired of my incessant praising of her recipes.
This chicken with peaches and lavender is how it all started. The first recipe by an unfamiliar food writer is crucial to understand whether the two of you click. And judging by this chicken, Diana Henry is my soulmate.
It's everything a chicken should be: soft flesh, crisp skin, juices splashing out once you cut into it. And on top of that: the sweetness of peaches and the flowery aroma of lavender. If you haven't discovered the amazing and delicious world of Diana Henry for yourself yet, this chicken is a great and surprisingly easy way to get acquainted. If you already love her, this is yet another dish that will turn a success.
Get Diana Henry's roast chicken with peaches and lavender recipe here.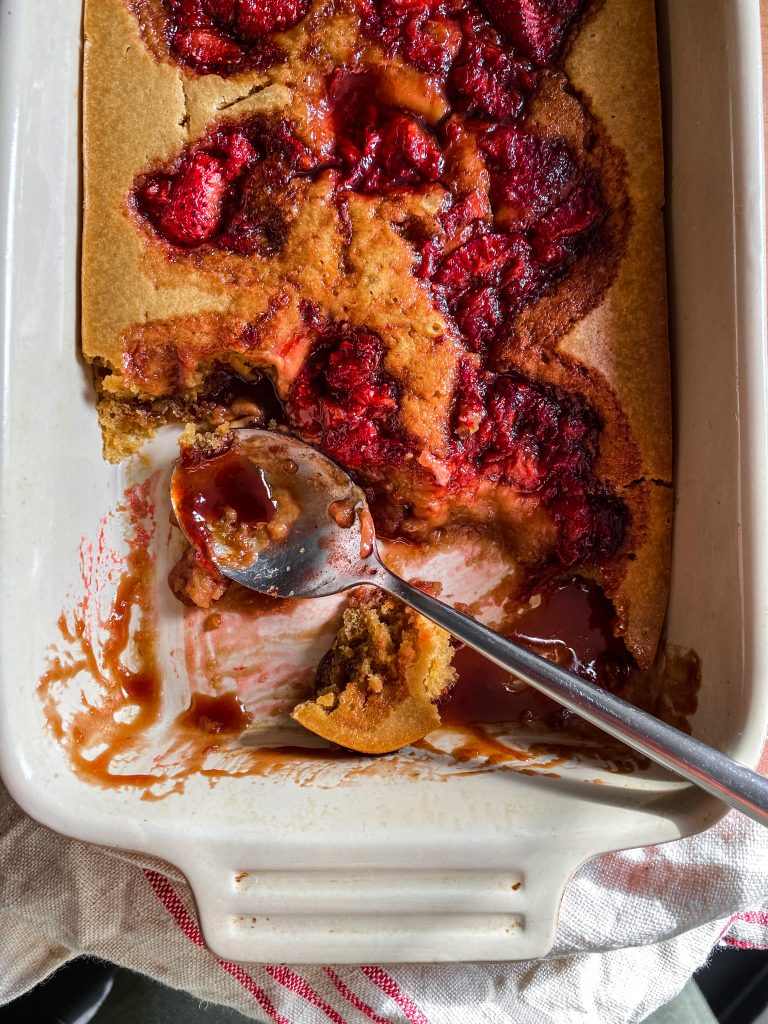 Jerrelle Guy's Strawberry Spoon Cake
If you make only one recipe from this post, make this one. I am lucky to eat good food day in and day out, but every once in a while I cook something that makes me go: "Oh my God!" — after the first bite. That was the case with this strawberry spoon cake.
The recipe says you should let the cake cool for three to five minutes before spooning. I don't know whether it is humanly possible to wait once the cake, in all it gooey, juicy, bright-red glory, comes out of the oven. I did't even bother spooning it into bowls, I just spooned it straight into my mouth.
This cake has a five star rating from almost 3500 reviews on NYT Cooking, so I rest my case.
Get Jerrelle Guy's strawberry spoon cake recipe here.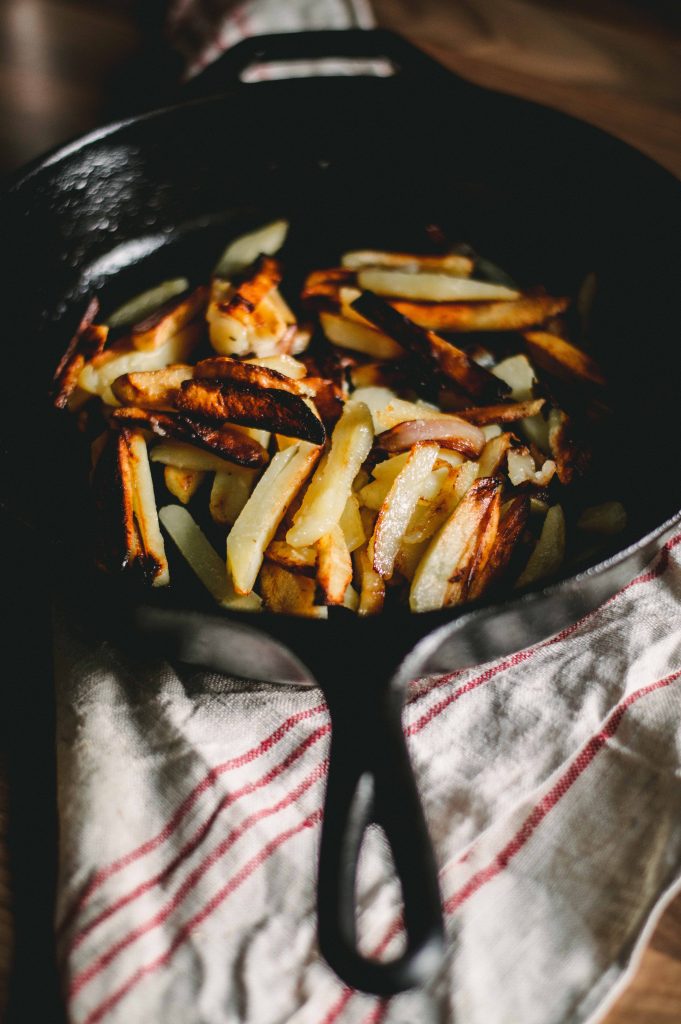 My Mom's Pan-Fried Potatoes
My mom fries the crispiest potatoes. I always knew they were pretty amazing, but I also —mistakenly — thought they were easy. Peel, cut, throw on a cast-iron pan. Done. So peel, cut, and throw I did, only to watch my potatoes turn soggy and stick to the pan.
And since my mom's version of a recipe sounds like: "cut thinly, fry over high heat, under a lid", I had to try and try for months. Mostly, the results were edible, even good on occasion, but they just didn't taste like my mom's potatoes. Until a happy accident occurred. It wasn't that difficult after all, you just need to know a few tricks.
Get my mom's pan-fried potatoes recipe here.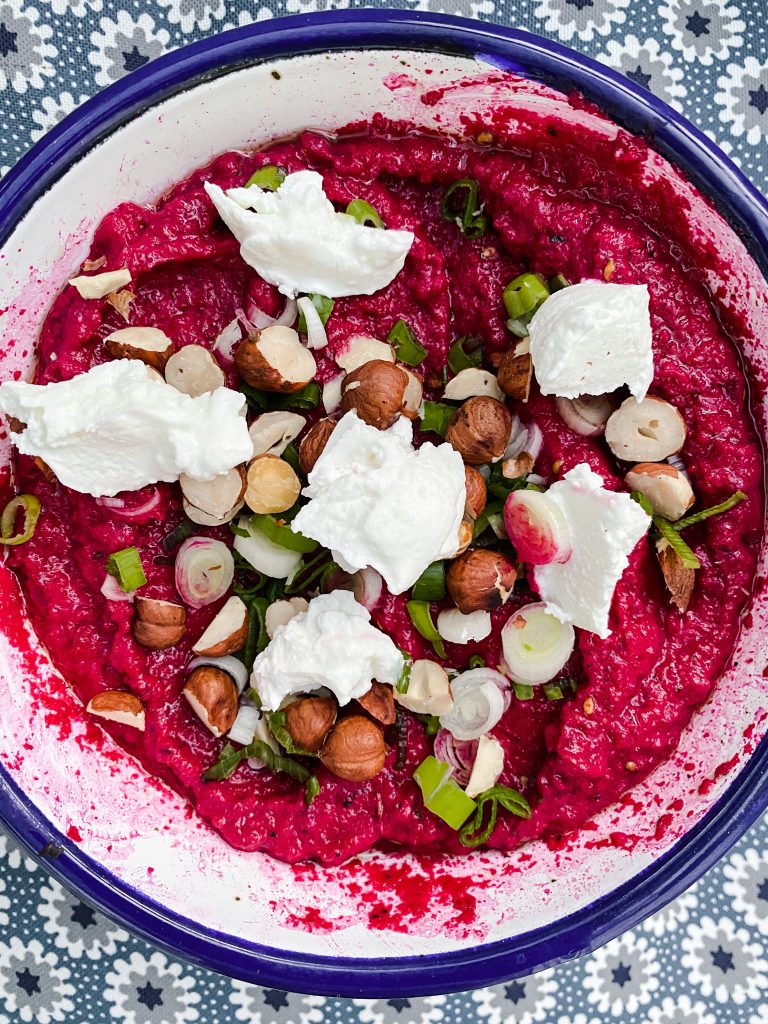 Yotam Ottolenghi's Beetroot Dip
I am about eight years too late, but in 2020 I finally got Ottolenghi's Jerusalem. My pantry now boasts the likes of tahini paste, pomegranate molasses and za'atar. After flipping through pages for days, I finally set on the first recipe I was going to try — a beetroot dip with goat cheese and hazelnuts.
I know it would make more sense to start with hummus or shakshuka, but the Russian in me was craving beets. If you don't count the time to bake the beets — and even then all you do is just throw them on a tray and close the oven door — the recipe takes you no longer than ten minutes. Once the beets are cool, peel them and blend with yogurt, garlic, chili, olive oil and spices. Decorate with goat cheese and roasted hazelnuts.
After the success of this recipe, I was inspired to cook all the way through the Vegetables chapter of the book. But this dip, so far, is the only recipe I make on repeat.
It also doesn't hurt that it turns this beautiful pinkish-red color that brightens cold winter days.
Get Yotam Ottolenghi's beetroot dip recipe here.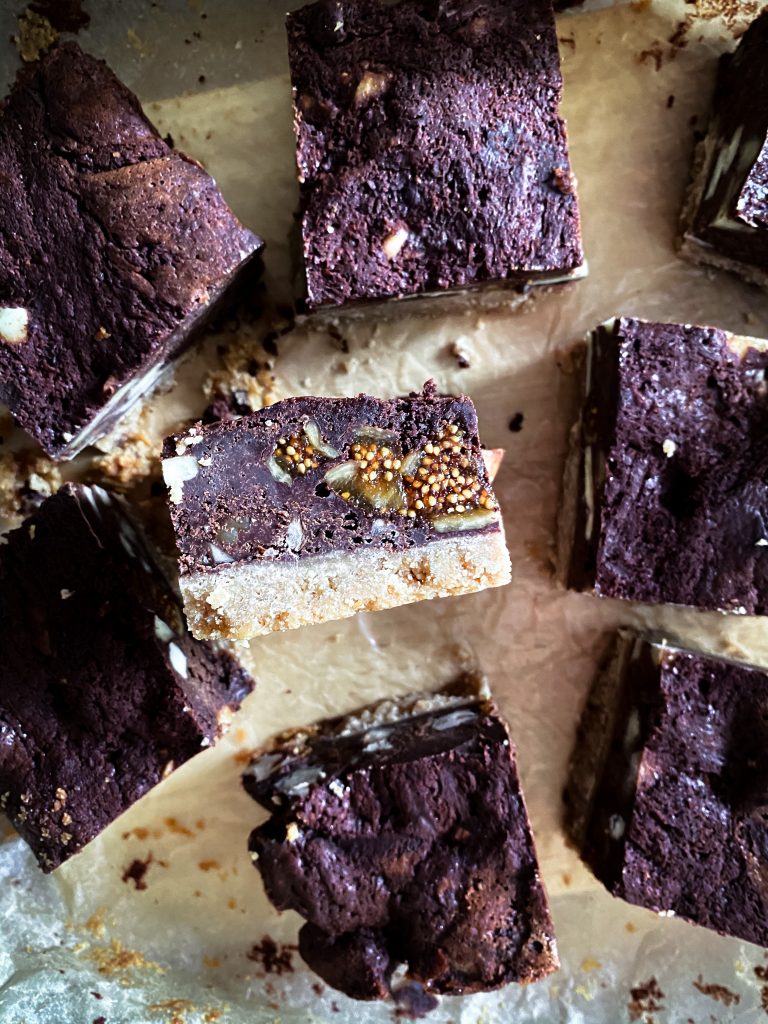 Yotam Ottolenghi's Chestnut Chocolate Bar
Another Ottolenghi, I know! But he's just that good to take two out of ten spots on my list. This recipe is not from Jerusalem. I found it while figuring out what to make of chestnuts, which were my new ingredient of the month in November.
I've had fire-roasted chestnuts at street stalls in Germany, but this was the first time I cooked them myself. The easiest way is to roast them in the oven and enjoy as a snack. But I am not looking for easy ways.
So after roasting and peeling a kilo of chestnuts — do not repeat unless you enjoy burning and scratching your fingers repeatedly — I used them as a filling for the most chocolatey chocolate bars. There are also figs and pieces of white chocolate in it. It's insanely good. Finished-the-whole-tray-in-two-days kinda good.
If you ever decide to cook your own chestnuts, this recipe will make the pain of peeling them worth it.
Get Yotam Ottolenghi's chestnut chocolate bar recipe here.
Luisa Weiss's Elisenlebkuchen
In a perfect world, Elisenlebkuchen, traditional gingerbread cookie from the city of Nuremberg, Germany, where, coincidentally, I currently live, is supposed to be made exclusively around Christmas time.
But we live in a world, where one needs a gingerbread cookie a lot more often than once a year. So I not only give you permission, but strongly encourage you, to bake Elisenlebkuchen, even though Christmas is over.
If you are a purist, by all means, wait until the next year, but it only means that you are delaying the immense satisfaction of biting into the richest, nuttiest, most aromatic cookie by 365 days. And who wants that?
Luisa Weiss is the author of Classic German Baking, probably, the most comprehensive cookbook on the subject. As a person who had her fair share of Elisenlebkuchen over the past two years since I moved to Germany, I am here to say that Weiss's recipe is the closest you can get to tasting this iconic cookie without traveling to Nuremberg.
I baked mine on the night before Christmas as the final touch for my bunter Teller, a plate of assorted German cookies. It was, by far, my own and my husband's favorite cookie on the plate!
Get Luisa Weiss's Elisenlebkuchen recipe here.
After the initial panic-shopping and stocking up for weeks ahead, lockdown turned out to be good for home cooking. This year, I baked an array of German Christmas cookies from scratch, cooked venison for the first time in my life (another delicious Ottolenghi recipe), and stepped up my oladushki game. I only wish I tried making sourdough in 2020. Oh well, I'll get there!
P.S. If you want to read more of my yearly reviews, here is what I had in 2016, 2017, and 2018. 2019 is missing because I was taking care of a newborn last December. I am still debating whether to write it because it bothers me that one year is missing and also because I had an amazing trip around Russia in 2019 with lots of good food. Am I crazy?
Tell me! What was the best food you've had at home in 2020?