Moscow is huge. I mean huuuuuge. And wide. And overall overwhelming. Funny enough, the capital of my own homeland overwhelms me much more than any foreign city ever could. Especially when it comes to choosing the best out of some 12 000 restaurants the city boasts. Even when we look at only the authentic Russian restaurants in Moscow, the result is dozens upon dozens of options.
Admittedly, this list doesn't even scratch the surface of the vast gastronomic market of Russia's capital. But that is not my intention. I am simply sharing some of the best experiences I personally had while looking for Russian food in Moscow.
As I usually stay in Moscow only for a day or two, my search is rather slow, but I hope to add more places to this guide every time I travel back home. For now, here are 5 Russian restaurants in Moscow that serve outstanding food.
5 Russian Restaurants in Moscow to Get Your Borsch and Pelmeni Fix
Grand Café Dr. Zhivago
Hands down, one of my favorite places to eat Russian food in Moscow. Anton Chekhov once said, "Everything should be first-rate in a person, his face, clothes, soul and thoughts." Used to describe a restaurant, this quote could sound somewhat like, "Everything should be first-rate in a restaurant, its location, interior design, service and food." Grand Café Dr. Zhivago offers all that and at reasonable prices too.
First of all, the location is unbeatable: right by the Red Square. In fact, if you are lucky to be seated near the windows or at their terrace during summer, you get a nice view of Red Square and Kremlin with your meal.
Second, the interior design. My personal pet peeve is Russian restaurants that jumble up all possible stereotypes, like balalaika, shapka-ushanka, samovar, and even a stuffed bear (true story) to decorate the space. Dr. Zhivago, on the other hand, is a thing of beauty. White-washed walls and crispy white linens combined with bright-red accents of furniture, flowers and china, give the space its modern, stylish look with a Soviet touch.
The service is impeccable. The waitresses wear typical for Soviet times grey-and-white uniform and not-so-typical bright-red lipstick.
Most importantly, the food never fails to surprise me. You'll find traditional Russian dishes prepared with a modern twist on the menu. I try to stop by this place every time I visit Moscow. From rich breakfast to quick lunch to family dinner, my experience at Dr. Zhivago has always been fantastic.
One tip before we move on! If you have a sweet tooth, try their Soviet-style coffee which is blended with halva or popular Soviet candy called "Bears in the North".
Grand Café Dr. Zhivago — Mokhovaya St, 15/1.
Price: $$-$$$
What to see nearby: Red Square, Kremlin, Gum, Tverskaya Street.
#SibirSibir
#SibirSibir is my latest find on the culinary map of the capital. "Sibir" in Russian means "Siberia" as you might have guessed, and the menu is largely inspired by the region's specialties.
In order to do the research, the chef and his team went through hundreds of pages of culinary books and traveled to remote Siberian villages. The result is a highly regional menu that combines traditional ingredients and techniques with a modern touch.
This is not just a place for your borsch and blini fix, although both are on the menu. Here, you have to be adventures and order, say, venison stroganina (frozen meat shavings), Siberian stag jerky, or wild boar stew.
The interior design deserves a special mention. Every wall and column is decorated in its unique way. While one features shiny samovars, another is covered with birch tree bark, and the next is all glass bricks. The ceiling is a work of art with its dozens of old decorative window panes, collected from the villages all over the country.
If you go for breakfast, make sure to oder a simple chicken stock (yes, for breakfast!) and green buckwheat porridge with parmesan and vegetables — both were exquisite.
#SibirSibir — Smolenskaya Ulitsa, 8.
Price: $$-$$$
What to see nearby: Arbat street.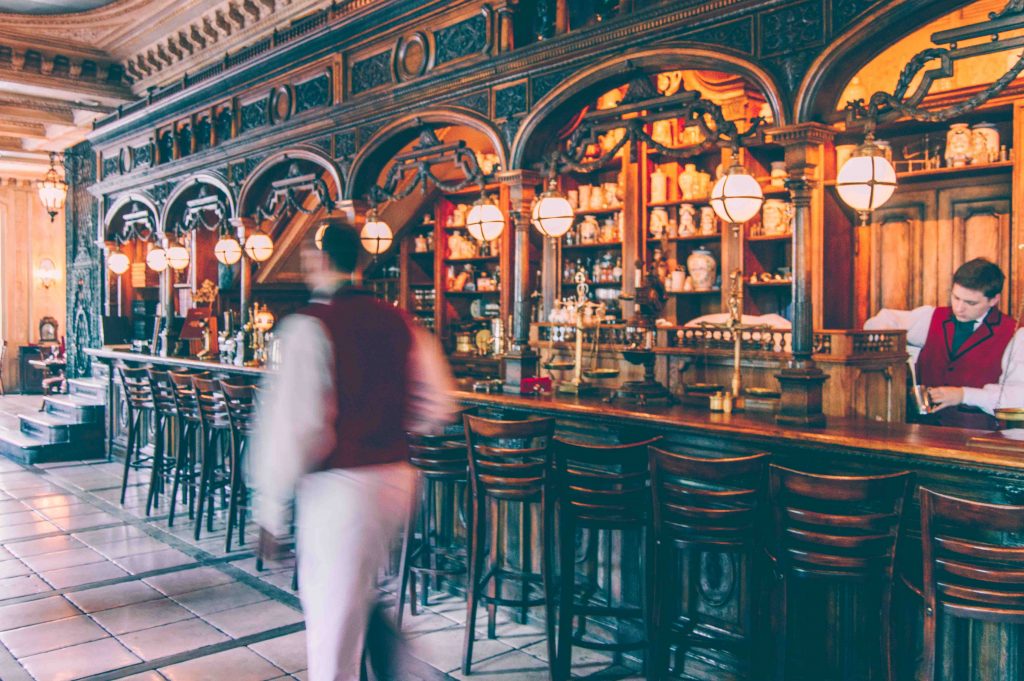 Café Pushkin
You might have noticed we love our literary heritage in Russia. If Grand Café Dr. Zhivago was named after Pasternak's Nobel winning novel, Café Pushkin is the namesake of one of Russia's greatest poets Alexander Pushkin.
The place is not just popular, I'd say it has a certain notoriety in the city. Considered by some one the best Russian restaurants in Moscow, by others — an overpriced tourist trap, Café Pushkin certainly knows how to make an impression.
The concept is meant to transport you back to the first half of the XIX century, when Pushkin-the-poet was in the midst of creating his masterpieces. Everything — from the interior design, to the old-school language of the menu, to the cuisine inspired by Russian nobility — serves that purpose.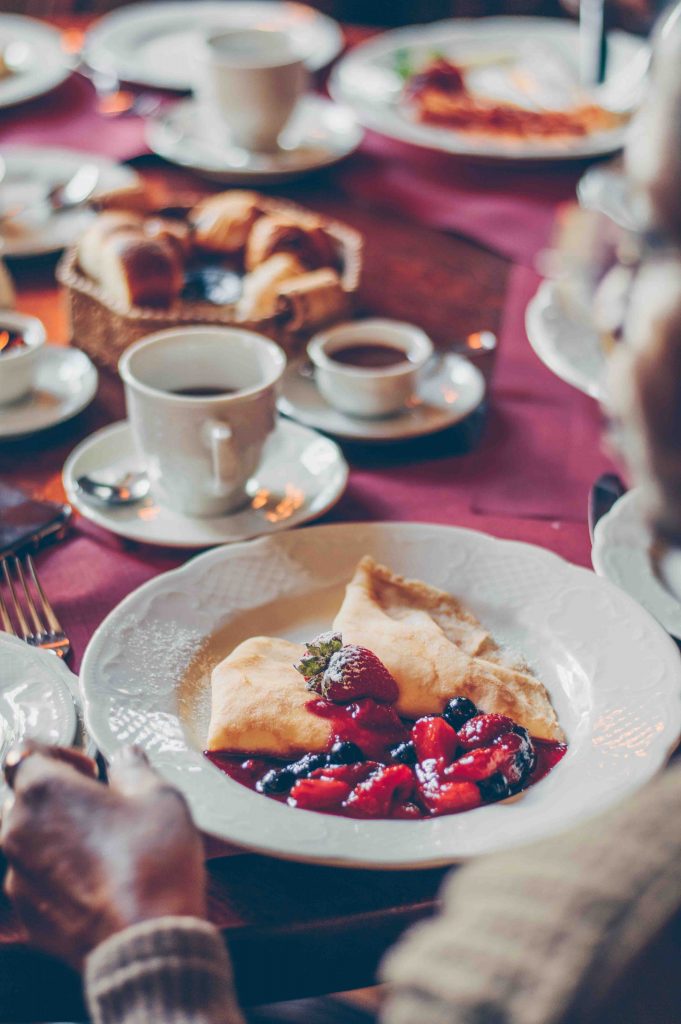 The chef, Andrei Makhov, worked on developing the menu for a year to combine both Russian and French dishes that would represent Pushkin's times as best as possible. And the prices of those dishes reflect the overall aristocratic character of the place.
I have to stay, I'd recommend coming here if only for the interiors. The restaurant features several themed halls — the Fireplace Hall, the Pharmacy, the Greenhouse, and the Library —designed to resemble a XIX century mansion.
If you don't want to pay a pretty penny for this extravagant experience, book a table for breakfast or lunch. The prices are more "democratic", as we say in Russia, compared to dinner time.
Café Pushkin — Tverskoy Blvd, 26А.
Price: $$$$
What to see nearby: Pushkin Square, Eliseevsky store, Red Square (15 minutes walk away).
Stolovaya №57 at GUM
"Stolovaya" is Russian for "canteen", and Stolovaya №57 is one of the most famous canteens in the country. This down-to-earth affordable joint is located inside one of the most expensive department stores in Moscow — GUM on Red Square. Just pass all the Cartier, Dior, and Fendi stores and find your way up to the third floor.
Here you'll see a long line of people. Join in and fear not: the line moves quickly. The most important thing to know at a Soviet-style stolovaya is that you have to make decisions quickly unless you want the staff to scold you in Russian (it's terrifying).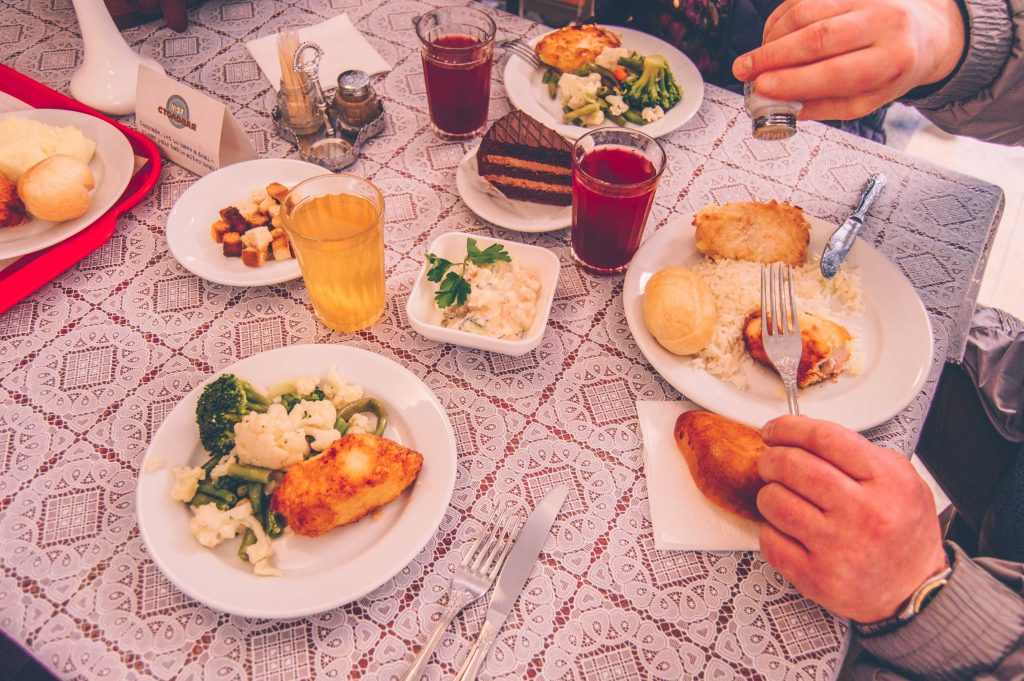 Self-service is what makes a meal here cheap and quick. Take a tray and fill it up with plates of olivier, beef stroganoff, and pirozhki. Do not forget about kompot (a warm fruit drink) and maybe a Napoleon cake for dessert.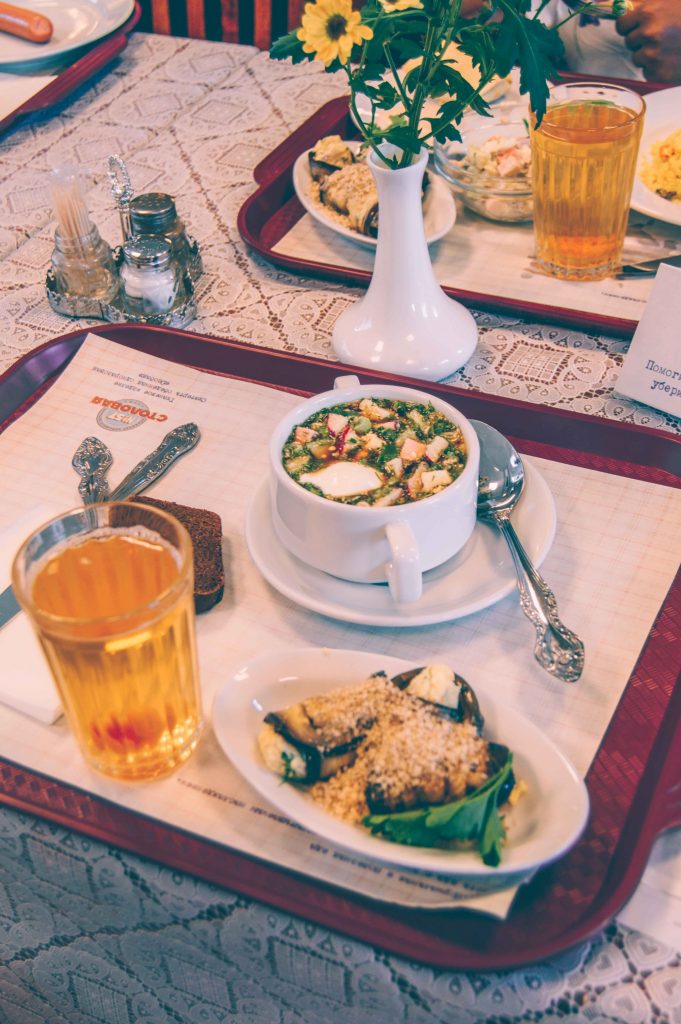 My favorites here are eggplant rolls filled with cheese and an insane amount of garlic, Olivier (referred to as "Russian salad" outside of Russia), and okroshka (cold summer-time soup).
A little know-before-you-go: at Russian canteens it's not nice to occupy a table before you get your food. Get in line first, pay the bill — an empty table will be there waiting for you, not to worry.
I always say that Moscow GUM is not for shopping, it's for eating. Besides Stolovaya №57, you'll also find an awesome grocery store and Soviet-style ice cream on the ground floor. You can read all about them in this post of mine.
Stolovaya №57 — inside GUM, Red Square, 3.
Price: $-$$
What to see nearby: GUM itself is a masterpiece of architecture, Red Square is just outside, Kremlin — a few steps away. Also nearby is the newly built Zaryadie Park.
White Rabbit
I'll say it upfront, this is the one place in the guide I haven't been able to try personally. White Rabbit has been on the top of my culinary wish list for a couple of years now, which is why I include it here and hope you'll realize my dream!
If there's one Russian restaurant in Moscow you must try, it's White Rabbit. I feel so confident recommending it as in 2019 it took 13th place among the 50 best restaurants in the world. The only Russian restaurant to receive this prestigious award.
The chef, Vladimir Mukhin, is dedicated to reviving pre-revolution Russian cuisine and adapting it to the modern world. His focus on seasonal and local ingredients results in a menu that brings the best from diverse Russian regions: from Black Sea oysters and mullet, to Murmansk cod, to Sakhalin shrimps and beyond.
Every season opens with a tasting menu, but à la carte menu is also available. The restaurant is located under a glass dome on the 16th floor of Smolenskiy Passage, so impressive views of the capital are an added advantage.
By the way, Netflix's Chef's Table featured Vladimir Mukhin in one of the episodes of season 3. Check it out for a closer look into the daily life of the chef and his restaurant.
White Rabbit — inside Smolenskiy Passazh, Smolenskaya Square, 3.
Price: $$$$
What to see nearby: Arbat street.
My list of the best Russian restaurants in Moscow shows just a fraction of the amazing dining scene of the capital. I hope to visit more places next time I travel home. Meanwhile, I hope you enjoy your time in Russia and savour its amazing rich cuisine.
What Else to Read About Russia?
If you are looking for more information about my homeland, I have a few posts on the blog that might be helpful. Here you will find 50 important tips for traveling in Russia. This post will give you sneak peek of Eliseevsky store in Moscow (more of a palace than a supermarket). And here you can read why GUM is an amazing place for food lovers.
If you want to learn more about Russian cuisine, read this article about the most delicious mayo in the entire world, this article about traditional Russian pastila and zephyr, or this article about weird wobbly meat jello we call kholodets.
To learn more about the Russian spirit, check out this post about the meaning of kitchen in a Russian home, this post about living an immigrant life, or this one about evil Russians in Hollywood movies.
Pin for Later: