"Little pouches of happiness" seems like an incredibly vague description of tamales that doesn't give you much information about the looks or the taste of it, but, boy, does it sound promising!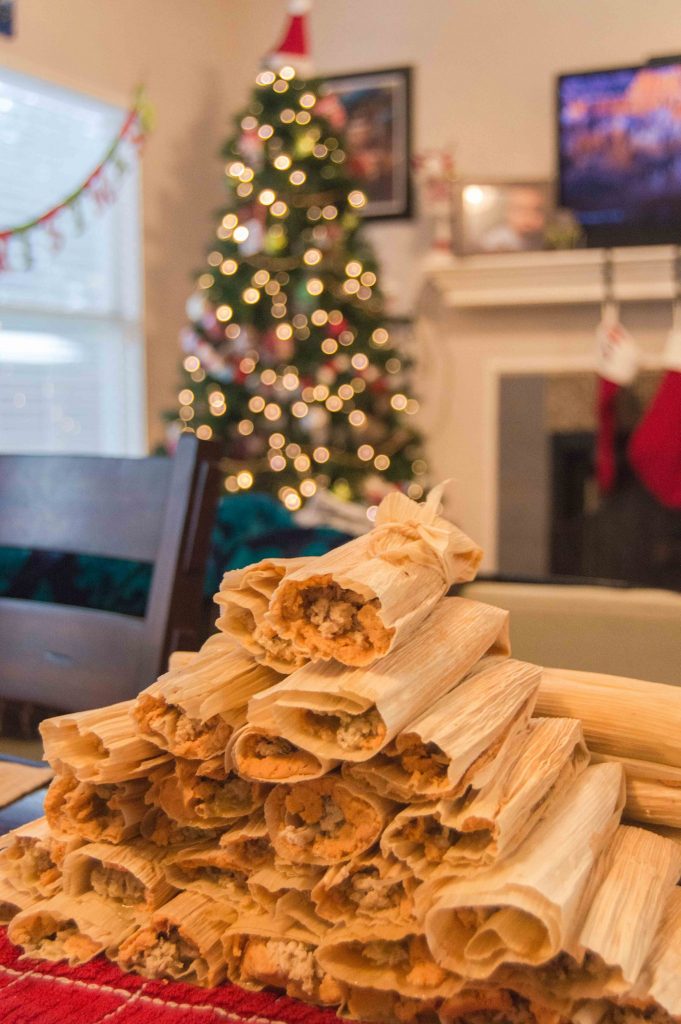 I wouldn't even ask for more information were it not for one embarrassing story I'd heard from a local comedian. Having moved to Austin recently, the poor guy had no idea what tamales are and how to eat them, much like myself, so instead of unwrapping the corn husk he sucked the filling out of it.
To avoid getting myself into yet another awkward situation I was determined to learn more about tamales. And, as it always happens, when you wish for something bad enough, it comes in the most unexpected way. Given that I have never tried tamales in my life, receiving two invitations to tamales-cooking sessions within one week was a sign from above.
One rainy Saturday in the beginning of December I spent 7 hours making tamales from scratch with Adriana, Austin-based blogger behind Jack's mom in Austin, and her sister Christina. Their parents moved to USA from a small town of Teran, Mexico, before Adriana was born. The girls were raised in Edinburg, Texas, just half an hour away from the border with Mexico.
Being an immigrant myself, I couldn't help thinking what it might feel like to live in a foreign land, but at the same time have the opportunity to go back within 30 minutes. Going home for me would mean spending 15 hours and a thousand dollars. Going home for Adriana's parents was an ordinary trip every other weekend when her mother had to do groceries or her father wished to have a haircut at his friend's barber shop.
Staying so close to roots helps preserve family traditions, like making tamales before Christmas. For many Mexican families tamalada – the process of getting together with your loved ones for a day of cooking tamales – is a way to teach younger generation about the culture and the concept of sharing everything from work responsibilities to delicious meal by the end of the day.
Making tamales has always been largely a women's domain when grannies and mothers would pass their knowledge and experience to younger girls in the family. When I come to Adriana's house early that Saturday, she says herself and Christina "are piecing together the memories of their grandmother preparing tamales and cheating a little by watching YouTube videos."
To give me a more descriptive definition of tamales, Adriana suggests to think of corn dough with a filling inside, all wrapped in corn husk and steamed.
The preparation began the day before when she soaked corn husks in water overnight and slow-cooked the chicken for the filling. By the time I come Adriana starts working on masa, dough made of corn flour. After less than a year of living in Texas, the smell of corn is tightly bound with Mexican cuisine in my mind. How smells can revive memories so strong as if you relived them is a mystery to me. But just as the smell of mandarins always makes me think of New Year, the smell of corn will forever be associated with Mexican food and my life in Texas.
Corn, or maize as it's also called, has always been the centerpiece of Mexican diet. M. Dustin Knepp, who specializes in Latino and Latin American Cultural Studies at the University of Central Arkansas, wrote in his essay "Spreading Tradition: A History of Tamal-making and its Representation in Latino Children's Literature":
"As the staple crop of the Americas, maize was the "all-important carbohydrate source the lack of which meant famine and the presence of which, even alone, meant that one was fed and contented". Capable of being consumed in a plethora of ways, two of the most pervasive preparations of maize were in the form of tortillas and tamales."
Another important ingredient in tamales is animal lard. Cornmeal and fat make the body of masa, while adding spicy sauce prepared of chili peppers, onion, garlic, oregano and cumin add flavor and color to the dough.
Tamales had been a staple in Mexico long before Spaniards arrived. But here's where the main difference lies: while indigenous people used plant-based oils or, according to some accounts, no oils at all, after Spanish import of pork, animal lard became a widely used ingredient.
In the same essay M. Dustin Knepp mentions,
"… many records exist indicating the indigenous dislike of and aversion to animal fats used widely by the Europeans. This fact, combined with the absence of large meat-producing animals like goats, sheep, pigs and cattle prior to the conquest, helps to illustrate two of the biggest changes in tamales over the centuries. Indigenous tamales would have been greaseless with a denser masa, filled with native ingredients like turkey or other meat sources like rabbits, amphibians, and rodents, or available greens, herbs, plants, and fruits. Today, the masa for tamales is typically mixed with large quantities of some sort of lipid, whether shortening, oil, or lard, and pork is one of the more common fillings, especially in parts of Mexico and the borderlands of the southwestern United States."
While mixing cornmeal with lard in a kitchen processor, Adriana recalls that her family in Mexico lived a humble life:
"There were four or five tiny streets that were not even paved, just dirt road with small houses and farms… and that was the whole village. When I was little, coming from South Texas to visit scared me a lot: dirt floor, no running water, a toilet located outside the house. It was like a little shed. And my mother would always put a toilet sit on top so you don't end up with splinters in your behind. I wish appreciated it more at the time… It's like camping for Americans."
Since many families lived poor, killing a pig meant you have to use every part of it and utilize it quickly because there was no place to store the meat. Not only pork lard became an essential part of masa, but pork meat – a common filling for tamales.
When masa is thoroughly mixed, Adriana checks readiness by using her grandmother's trick and dropping a little ball of dough into cold water. If the ball floats, the masa is perfect. Sitting around the table covered with bowls of masa, chicken filling, refried beans and salsa verde, we start the rolling process. Spreading masa on a corn husk is not as easy a task as it may seem. The dough sticks to the spoon, hands, and anything else around, but the corn husk.
The problem was solved by one Mexican grandma who, in a recent YouTube video, suggested to use a construction spatula in order to easily spread masa on the corn husk. Grandmas know what they are doing. The spatula makes the process way faster.
For tamales de pollo we use chicken thighs and salsa verde, for tamales de frijole – refried beans and queso fresco (a type of cheese). The variations of fillings are countless: from different types of meat to vegetables to fruits and raisins (in case you want a sweet option).
Each tamal is rolled up, and some are even tied with a bow for an extra fancy look. I have to admit that I rolled not more than 5 tamales, while Adriana and Christina did several dozen each within the same amount of time. Half way through we have a lunch break and enjoy Torchy's tacos without ever realizing that even our quick meal this day has Mexican influence.
To cook tamales one needs a tamalera. If that sounds scary think of a steaming pot. This is probably the biggest pot I have ever seen, but when you cook seven dozen tamales your tamalera better be a spacious one.
Three hours of steaming give us plenty of time to chat about American food, healthy alternatives to not-so-healthy but delicious Mexican recipes, and kids. Adriana is a mother of almost three-year-old Jack for whom that day was an introduction to tamales. Just as it was for me.
Although, prior to our cooking session Jack had received a children's book "Too many tamales" by Gary Soto from his mom, so I can confidently say that he knew much more about tamales than I did.
In the book, a little girl Maria is making tamales with her mother, and in an attempt to play grown-up the girl puts on mom's wedding ring while kneading masa. When tamales are ready, she realizes the ring is gone and it's most likely inside one of the corn husks. Before mom can notice the loss, Maria asks her cousins to help her eat all the tamales and find the ring, which they happily do. It turns out later that Maria's mother had found the ring in masa right away, but a whole batch of tamales is now gone. So all the family members gather to make more.
What's really shown to kids in this book is how tamales bring the whole family together. When analyzing "Too many tamales" M. Dustin Knepp says,
"In Soto's book, the collective effort is doubly presented, first when the children come together to help Maria eat the tamales in the attempt to find the ring, and second when the extended family works together to help create another batch of tamales and to rescue Maria from her feelings of guilt and embarrassment."
It's hard to underestimate the power of tamales in making family members closer and shaping traditions, especially when I see Christina showing off a cute red dress that, as it turns out, she bought for little Adriana with her first hard-earned money. Or when Adriana and her husband have an argument about wrapping tamales which ends unexpectedly with:
– Your tamales are gorgeous!
– You are gorgeous!
As we sit on the couch chatting, munching on Gamesa cookies – another bow to the Mexican food filled day – and waiting for tamales to steam, I can't think of a better way to describe tamales than "little pouches of happiness".
http://https://www.youtube.com/watch?v=gky4GjPEpG8&t=20s
Traditional Mexican Tamales
Ingredients
For chicken tamales filling:
12-15

boneless skinless chicken thighs

8

oz

(1 cup) of chicken broth

4-5

cans

Herdez salsa verde
For beans and cheese tamales filling:
2-3

cans

refried beans

0.5-1

lb

queso fresco or cotija cheese
For tamale masa:
5

lb

Maseca corn flour for tamales

4-6

cups

lard

(or olive or coconut oil for vegetarian option. See notes)

56

oz

chicken broth

(vegetable broth if you want to make it vegetarian)

1

yellow onion

1

bulb of garlic

2

tbsp

Mexican seasoning

(I used Frontier Organic)

2

tbsp

paprika

6-8

tsp

baking powder

6-8

tsp

salt

6-8

ancho chili peppers

4-6

guajillo chili peppers
Instructions
Preparation on the night before:
Soak corn husks in warm water overnight. Take them out of water in the morning and set aside.

Place chicken thighs in a crock pot, add a cup of chicken broth and set on low for 8 hours. Note: if you are using a 32 oz carton of chicken broth, you will need to add a quarter of it to the crock pot.
Making the chicken filling:
Pull out the chicken thighs from the crock pot and if you have a kitchen aid mixer – do yourself a favor and toss them in there with the paddle and turn it on at level 3 for about a minute and voila! You've got shredded chicken in under one minute. Set the broth from the crock pot aside.
Making the masa:
This is for a batch at a time. The batch is whatever I found able to fit in my kitchen aid mixer so you'll have to remake this batch 3 to 4 different times depending on how full you fill the tamales.

Strain the broth from the crock pot to get all those bits of leftover chicken fat and little chunks out of the broth. Pour it into a large pot, add another 24 oz (3 cups) of broth and set over medium heat. Note: if you are using a 32 oz carton of chicken broth, add the remaining ¾ of the carton (you used ¼ for chicken thighs the night before).

Cut the chili peppers open and take out all the seeds. It should be easy since they are dried. Toss them into your broth on low/medium heat for 20 minutes or until simmering and low boil. Once it's simmering turn off the heat and pull the peppers out. Add them to a blender with about a cup of the broth. Add the Mexican spices, paprika, a quartered onion, and an entire bulb of garlic. Blend until smooth but thick. Add 1 more cup of broth and blend again. Set aside. Note: this amount of chili sauce is enough for all 3-4 batches of masa.

Add 1 ¼ cup of lard to your kitchen aid mixer and whip for a couple of minutes. (If you are making vegetarian/vegan tamales - use coconut oil or olive oil that has been kept in the freezer for a few days). Make sure you clear whatever sticks to the paddle and whip it. You can use any other mixer if you'd like but I've only ever used a kitchen aid.

In a bowl mix 4 cups of corn flour, 2 teaspoons of baking powder and 2 teaspoons of salt. Set aside.

Add 1 cup of broth and ½ cup of the chili mixture to your whipped lard and stir in (do not turn on mixer) about one or two stirs, just to incorporate. Add corn flour mixture and stir a couple more times. Then start the mixer at level 3. Once masa looks mixed and has nice light orange color, take a pinch and drop it into a cup of water. If it floats, it's ready!

Scoop the masa out of the bowl and onto a cutting board to easily spread onto the corn husk.

Before starting make sure that you repeat this 2 to 3 more times so you have all your masa ready to go.
Assembling tamales and cooking tamales:
Try to set up a station right away. Set your corn husks on a cutting board or large bowl in the center of a table. Put the chicken filling in a bowl and set on the table as well. Go ahead and set a bowl with salsa verde on the table too (at least 4 cans worth).

You can get friends and family to help and set stations for different types of jobs (spreading masa, adding fillings, rolling) or everyone can work on making one tamal at a time.

First you'll grab a corn husk and feel the texture. The side that has the least ridges or that is smoother will be the side that you place the filling on. Using a spoon, your hands (wearing plastic gloves), or a tamale paddle (found at Fiesta grocery store) spread masa to your liking onto the leaf at the widest point. Make sure you leave the narrow part clear as this will be your tail and you'll be folding it in. Once it is spread, use your hands or a spoon to grab some chicken, again as much or as little as you'd like. Add a spoonful of salsa verde and then roll it together: similar to swaddling a baby or a burrito. The tail should then be folded up and back. If you want tamales to look pretty, tear a long string off of a corn husk and use it to tie a bow around your tamal. It will help to hold the tail. Plus it looks fancy. Set aside and repeat until you have a nice giant pile of tamales.

For vegetarian option, repeat all the steps described above, but fill tamales with refried beans and a slice of queso fresco instead of chicken and salsa verde.

You'll need a tamalera to put the tamales in but if you are making a smaller batch just use a pot shallow enough to hold a steaming basket and tamales standing upright. If you're using a tamalera place an empty small bowl or cup in the center and start adding your tamales clockwise with open end up. The bowl or cup will act as the centerpiece and will help tamales to stand upright. Work your way around until they are tight and together. Keep growing your pyramid so that they stack upwards.

Let tamales steam for 3 to 4 hours and make sure your water doesn't run out. You can tell if you don't see steam rising up. If this happens add about 6 to 8 cups of water. Let them steam on medium heat and add a cup or two of water after about 2 hours.

You know they're done when the masa doesn't stick to the cornhusk. Eat immediately or freeze for up to 6 months!

To prepare tamales after they've been frozen you can use either of three options: heat them in the microwave oven, bake them in the oven or fry them on a pan.
Recipe Notes
Purchasing the items for tamales is difficult and depends on availability. Living in Texas makes shopping for these ingredients a little easier but even then I had to go to Fiesta, a grocery store in Austin known for carrying food items typically found and sold in Mexico or border towns. This recipe will make 5 to 7 dozen tamales.
Pin for later: