I am back on the streets of Brighton Beach, a small neighborhood in Coney Island. If you want to try Russian food in New York, there's no better place than Brighton Beach Avenue to satisfy your cravings. I have started my story about Little Russia in the previous post here. Today we are going to explore some street food and have lunch in a Russian-Ukrainian restaurant.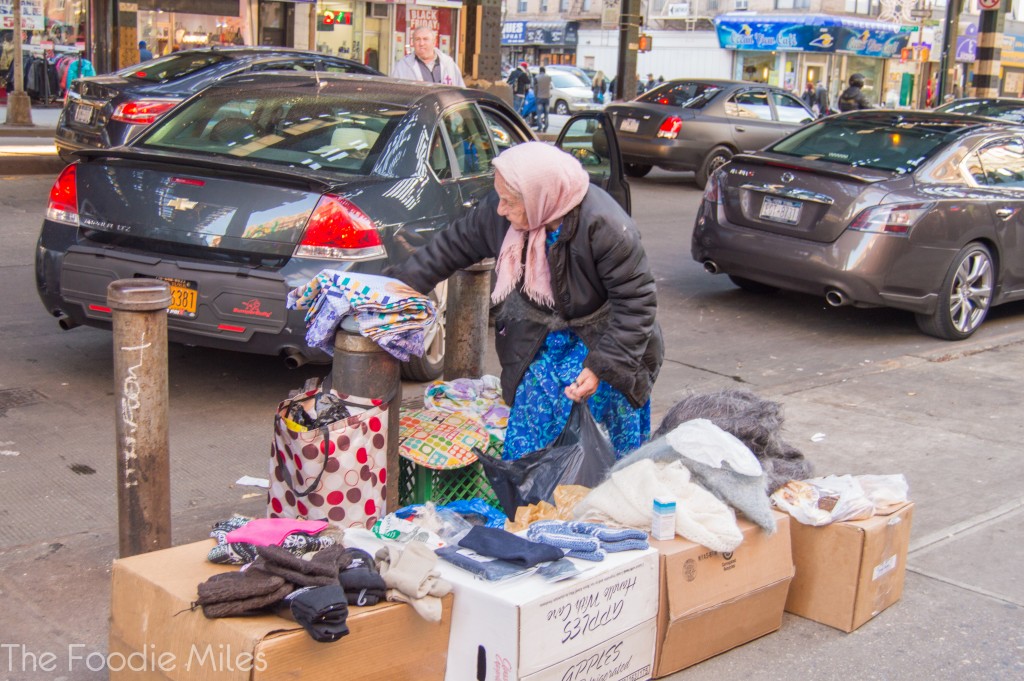 Strolling down the avenue you see a lot of vendors on the sidewalk selling everything from books to clothes to food. Most of the food is imported from Russia: familiar brands of tea, coffee, candies and condensed milk that are not available in the US.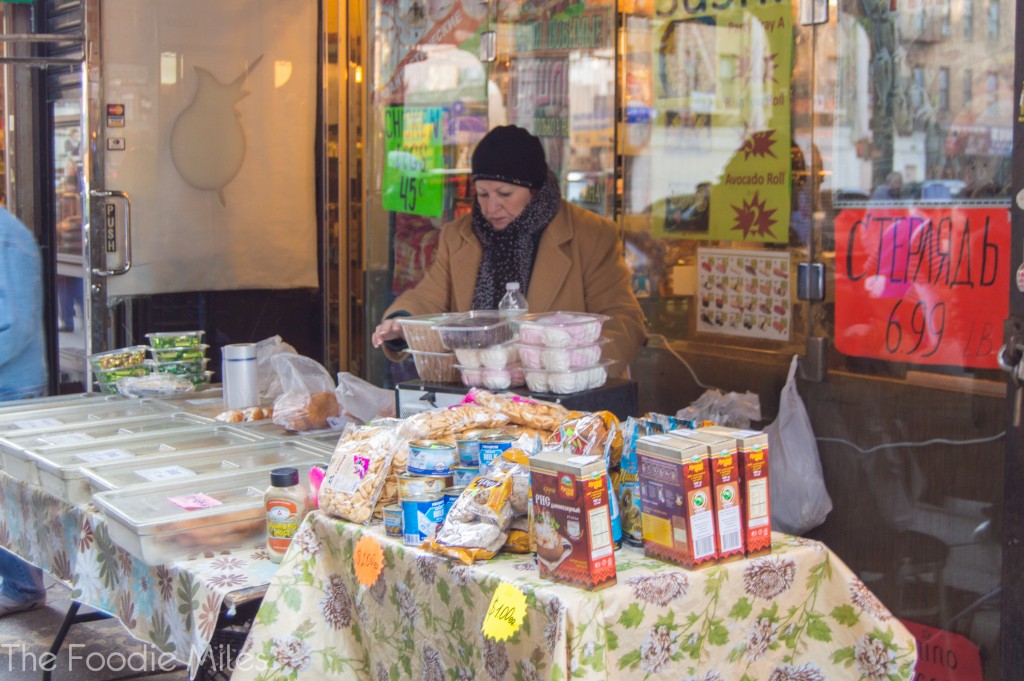 Some sell baked goods like famous pirozhki, which means "patties" in Russian. Filling can vary from potato to meat to berries. Patties can be either baked or fried in oil. These ones are fried.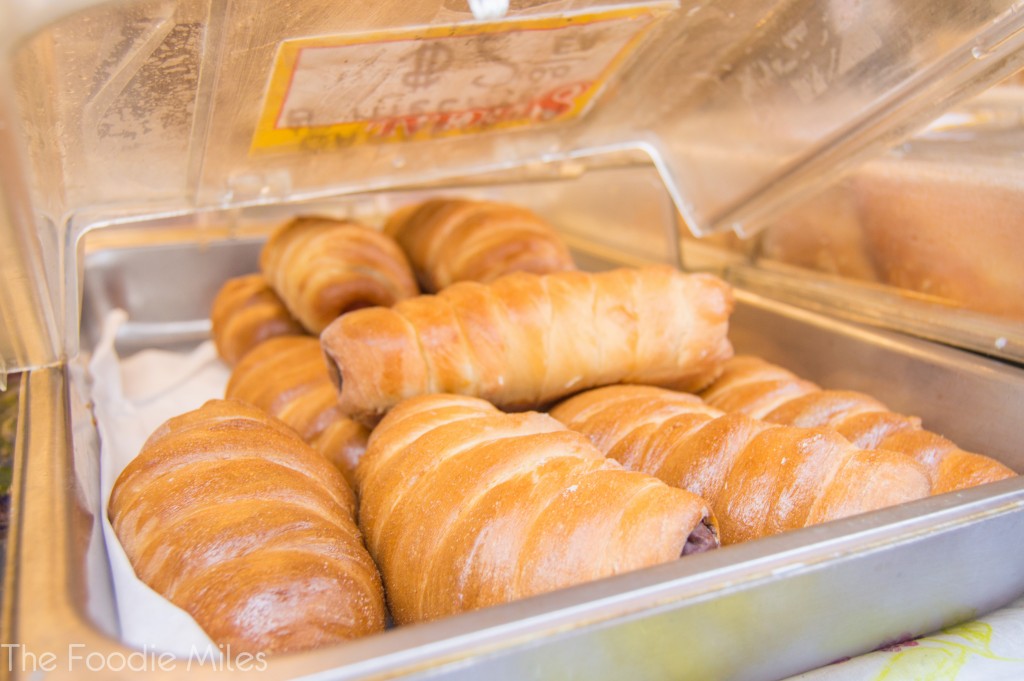 Sausages wrapped in dough are somewhat like a hot dog, but instead of placing sausage in a bun you wrap dough around sausage and bake it.
Craving some Russian food, my friend picked a cheburek – deep-fried patty with ground meat inside. Unleavened dough is the reason why it has flat shape. Lamb and beef are the most popular fillings, but these are made with chicken. Although its origins are Turkish, cheburek is very common in Russia.
Sweet buns are called bulochki in Russian. On the display are some of the most common varieties: cherry, raspberry, apricot, apple, poppy seed, and ricotta and raisins.
You see people crowding near stalls here and there. These guys must have something good on sale! The picture reminds me of Soviet times when supermarkets were empty and people had to stay in line for just about anything: from soap to vodka.
After a short stroll we finally made it to the restaurant called Skovorodka – "frying pan" in Russian. Like a true novice blogger I started clicking pictures the moment we came inside and instead of welcoming "hello" got a cold reprimand from the manager for taking pictures. Ah… feels like homeland! You may think you are in America, but really you are in Russia now!
To be just, I should say that it was the only incident and we were well taken care of afterwards. We ordered a bowl of borscht, potato vareniki and beef shashlik.
Borscht in my mind is as Russian as it gets. Although some people claim it to be Ukrainian. I am not going to take sides. No matter where it comes from, it is one delicious hearty soup. Served with sour cream, a bowl of borscht will make you feel warm and cozy on cold winter days. The name on the menu is Ukrainian borscht – so let it be it. Actually, most of the restaurants here market themselves as Russian-Ukrainian. And the neighborhood is full of people from both countries.
Vareniki are served with sour cream too. I once read a saying: If you want to make it Italian – add olive oil, if you want to make it French – add butter, if you want to make it Russian – add sour cream. Couldn't have said it better! Vareniki is half-moon shaped dough with filling inside. Close to Chinese dumplings with the exception that they are not fried, but boiled in hot water instead. The filling can be mashed potatoes, mushrooms, cherries or cottage cheese. The sweet varieties can be served as dessert. But if the filling inside is ground meat (usually a mix of beef, pork and chicken) then you call it pelmeni.
And finally beef shashlik. What is shashlik? It's a Russian word for meat kebab marinated for hours and then grilled on skewers.
Marination usually takes place a day or two in advance. Chunks of meat are slow-cooked on mangal – a metal box with charcoals inside. Shahlik is meant to be cooked and enjoyed outside, during family outings. In a restaurant, of course, you don't get a view of a nearby river but it's good nevertheless. Tender pieces of beef served with marinated onion on top and fried potatoes on side.
To conclude, I want to say that food here tastes like home, I only wish the restaurant was true to its Russian-Ukrainian theme and didn't include items like Caesar salad and Frutti di Mare on the menu.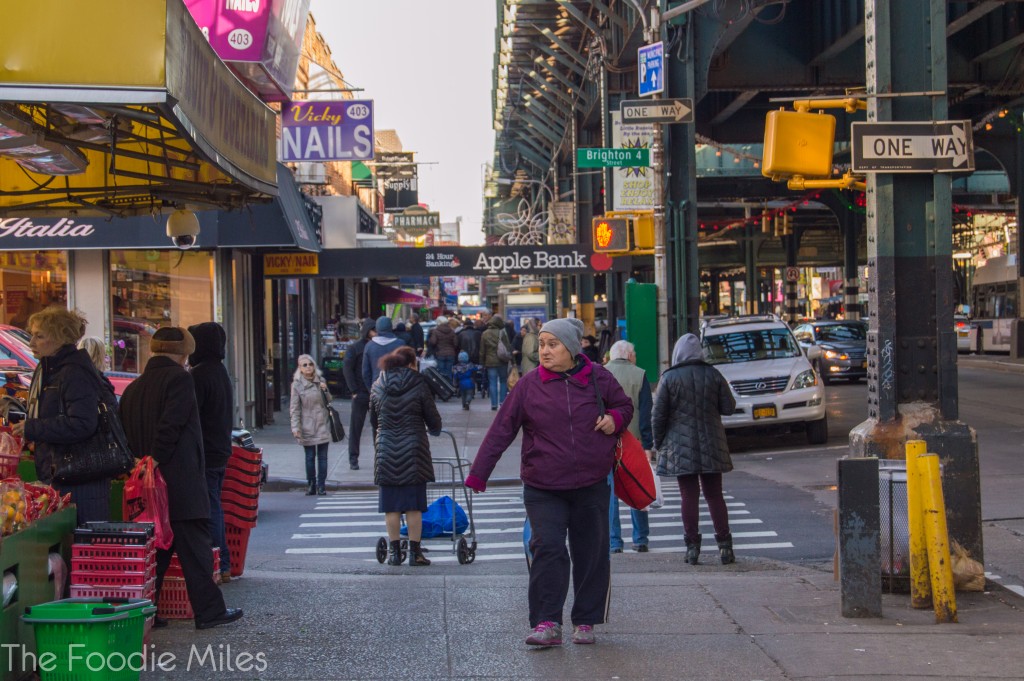 During our short trip to this neighborhood my husband kept asking me whether I feel like home. Honestly, I had mixed feelings. It does bring memories of Russia, but as much as I hate to admit it, not great memories. It is not the kind of Russia I know today. I would come here once in a while to stock up on cookies, condensed milk and salted herring. But I would never in a million years imagine this my home.
Address: 615 Brighton Beach Ave, Brooklyn, NY 11235
Hours: Sun – Fri: 11 AM – 10 PM, Sat: 11 AM – 11 PM
Pin for later: